The Best Lenses for the Sony a7
This discussion is to identify the best lens for the Sony a7.
The Sony a7 is a full-frame mirrorless single lens digital camera. It is built around a 24.3-megapixel EXMOR CMOS sensor and comes with Sony's extremely capable BIONZ X image processor.
Designed as a serious shooter, the Sony a7 has since been succeeded by the Sony a7 II. Both the Sony A7 and the Sony A7 II are made for FE mount lenses and are also compatible with Sony's E-mount system (crop mode) and others with adapters.
The original Sony a7 has seen quite a bit success; no wonder photographers continue their love affair with the camera. In this discussion, however, we are not delving into the features of the camera, rather looking to establish which is the best lens for Sony a7.
Related Post: Full Frame Cameras don't have to be Big – Review of the Sony a7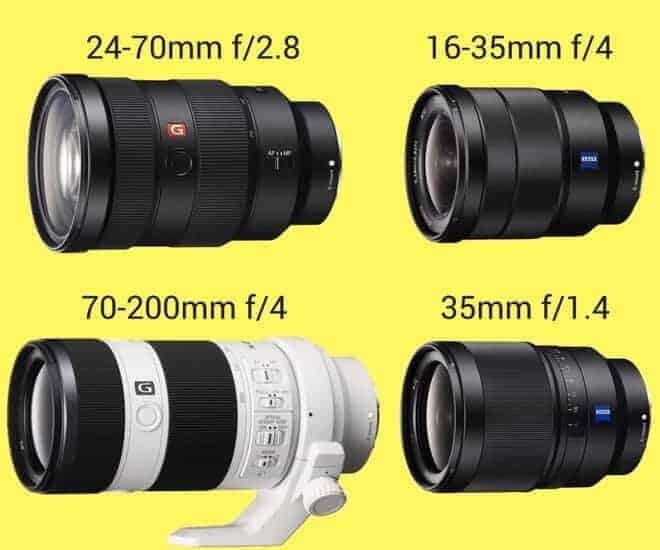 Please note, Sony's full-frame digital cameras like the Sony a7 in this article, does not work with all E-mount lenses. Lenses that bear the acronym FE are the only ones that are designed to work (at its best) with these full-frame e-mount cameras.
When you mount a normal E-mount lens on cameras such as the Sony A7 it would automatically trigger the crop mode.
4 Top Lenses for the Sony a7
1. The Sony FE 24-70mm f/2.8 GM Lens
Sony SEL2470GM E-Mount Camera Lens: FE 24-70 mm F2.8 G Master Full Frame Standard...
SONY EMOUNT LENS: 35mm full frame format, instant auto / manual focus selection, focus hold button. The minimum focus...
NATURAL, LIFELIKE IMAGERY: ED and Super ED glass elements deliver breathtaking texture and detail
REDUCED ABERRATION: Two aspherical elements and an extremely precise XA element maximize resolution
9 BLADE APERTURE: SEL2470GM lenses have a 9 blade circular aperture for a gorgeous bokeh effect
NANO AR COATING: Allows for accurate light transmission to improve clarity, contrast and quality
What would a full-frame camera do without a capable 24-70mm f/2.8 glass?
It is probably the most often used lens at weddings, events and pretty much the entire spectrum of photojournalism. It is easily the walk around lens for pros. A 24-70mm comes in more than one maximum aperture iteration.
This one's a f/2.8. That means shallower depth of field and a stop of extra light compared to the Sony Vario-Tessar T* FE 24-70mm f/4 ZA OSS Lens.
Plus, it helps that the aperture diaphragm consists of 9-blades, resulting in softer and smoother bokeh.
This lens is designed for the full-frame E-mount system cameras. Lens construction consists of a total of one XA element, two aspherical elements, one ED element and one super ED element.
Apart from that the lens also features Nano AR coating. This coating ensures better ghosting and flares suppression.
The lens features Sony's direct-drive SSM auto-focusing technology. Focusing is entirely internal. Therefore barrel length remains constant as you turn the focus ring from near to infinity.
The overall design of the lens incorporates some amount of resistance to dust, dirt, and moisture. The Sony FE 24-70mm f/2.8 GM is a top contender for the title of the best lens for Sony A7.
Sample Image of the Sony FE 24-70mm f/2.8 GM Lens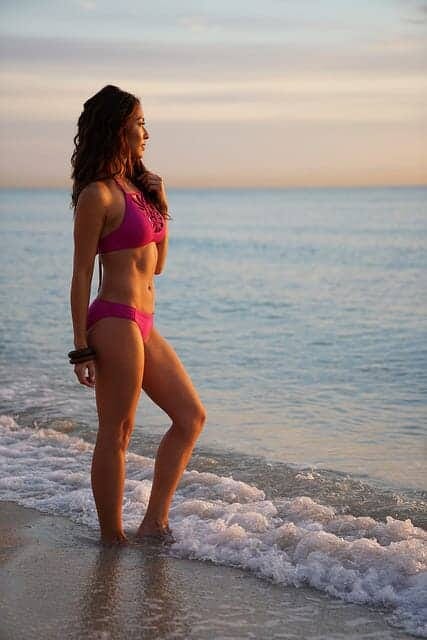 2. Sony Vario-Tessar T* FE 16-35mm f/4 ZA OSS Lens
This discussion of the best lens for the Sony A7 camera brings us to the next contender for the title. In many ways, the 16-35mm is an excellent choice as a walk-around lens for your Sony A7. It is also, probably the only lens you ever need if you live to shoot landscapes.
The 16-35mm has very little less barrel distortion for an ultra-wide angle lens. The maximum aperture on the lens is a constant f/4. However, wide aperture is rarely the sort of thing that landscape photographers need; that is except when you are shooting Milky Way photography. That being a notable exception.
For selective focusing, however, you can opt for the Sony FE 28mm f/2 or the ultra-quick Sony – Distagon T* FE 35mm f/1.4 ZA. We will check the latter shortly.
The 16-35mm f/4 has one Advanced Aspherical element. It also includes four aspherical elements and three ED elements. Aspherical elements suppress spherical aberrations. ED elements suppress light dispersion. Additionally, the lens also has Zeiss T* anti-reflective coating. This ensures that the light reflection is very little adding to better clarity and better contrast.
Optical image stabilization is not always a necessity for ultra-wide angle lenses. As long as you shoot at a shutter speed faster than one over the focal length image stabilization is not necessary. But then image stabilization does give a bit of freedom to work with, especially when you are working hand-held.
The Sony Vario 16-35mm f/4 comes with four stops of optical image stabilization. It means you can use up to four stops of slower shutter speed when hand-holding the camera. Seven blades make up the aperture diaphragm. The lens comes with dust and weather resistance.
You can check some sample images of the Sony Vario 16-35mm f/4 here.
Related Post: A Review of the Sony Alpha 6300
3. Sony FE 70-200 f/4 G OSS
The 70-200mm f/4 G OSS compliments the Sony FE 24-70mm f/2.8 GM that we discussed at the start; albeit at one stop slower aperture. The 70-200mm f/4 is designed for the larger image circle of full frame e-mount lenses.
The lens construction includes two ED elements and one Super ED element. It also includes two AA (Advanced Aspherical) elements and one Aspherical element.
The presence of Nano anti-reflection coating ensures reflections are suppressed. Auto-focusing is powered by dual linear motor auto-focus system.
Optical SteadyShot image stabilization has been provided too. Optical SteadyShot is necessary for a number of reasons:
First, the lens is heavy and that makes it difficult to use.
Second, this is a long lens.
You are likely going to use this for shooting sports and a bit of wildlife and that means hand-holding the lens more often.
The slightest bit of hand movement will magnify the problems of image blur. Image stabilization would be extremely helpful in such situations.
Construction quality of this all-metal lens is extremely good. It has both dust and mister resistance making it an ideal all weather lens. It weighs 840 grams, making it disproportionately heavier than the Sony A7.
Dual linear auto-focusing ensures fast auto-focus. Focusing is internal which means barrel length remains the same all through. Just like some of the more established A-mount lenses, the 70-200 f/4 G OSS comes with focus hold as well as a focus range delimiter button. The latter allows you to set the focus hunting range and that means faster AF performance. The former is a focus locking button.
Related Post: How Long Lenses Can Work Wonders in Landscape Photography
The 70-200 f/4 G OSS is an extremely versatile lens with great features. The 70-200mm focal length serves a wide range of shooting requirements. I would still not rate this as the best lens for Sony A7 because it lacks the wide angle aspect.
You can see some great sample images of the Sony Fe 70-200mm f/2.8 GM OSS here.
4. Sony Distagon T* FE 35mm f/1.4 ZA Lens
Sony SEL35F14Z Distagon T FE 35mm f/1.4 ZA Standard-Prime Lens for Mirrorless Cameras
A perfect match for α7 series, 35mm full-frame E-mount cameras, Outstanding optical performance in a versatile 35mm focal...
Filter diameter (mm): 72 mm.Minimum Focus Distance : 098 ft (03 m), Maximum Magnification ratio : 018x, Focal-Length : 138 in
Bright F14 maximum aperture, Aperture ring designed for still or movie shooting, Corner to corner sharpness w/Advanced...
Dust and moisture resistant design, 9-blade circular aperture contributes to gorgeous bokeh, Direct Drive SSM (DDSSM) for...
The Distagon T* FE 35mm f/1.4 ZA would be a favorite lens for many street, candid, wedding and portrait photographers.
I love the zoom capabilities of the 70-200mm. It is an excellent all-purpose lens. Make no mistake about it. But it is not practical for all purposes. The 70-200mm is too heavy and unwieldy if you plan to shoot for long durations.
Plus, it is too obvious when you need to blend in. The 35mm f/1.4 ZA does a better job when you need to be inconspicuous. The 35mm f/1.4 isn't as small as the Canon 40mm f/2.8 pancake. But it is smaller than the 70-200mm that we discussed above.
The reason the 35mm is loved and regarded so highly is because it is a simple fixed focal length lens with a fast wide aperture of f/1.4. It is designed for the full-frame E-mount cameras and gives an angle of view that is close to being standard. At f/1.4 you can capture a lot of light, even in low light conditions. That makes it possible to shoot with a fast shutter speed freezing the moment in time.
Plus, fast wide apertures are great for selective focusing. Selective focusing is a technique where the photographer uses the shallow depth of field produced by a lens' wide aperture to focus on a small area of the frame, thereby blurring everything else in the frame.
Some photographers swear by the capabilities of a 35mm lens. They love it more than they love the 50mm for the extra slice of the scene that they can capture. The 35mm is traditionally not considered as a portrait lens, though I mentioned it would be liked by a portrait photographer. Heavy distortions around the corners of the frame are a reason for it. But they do work as portrait lenses if you can keep the subject right in the middle of the frame.
The lens construction consists of one advanced aspherical element, three aspherical elements, and Zeiss T* Anti-reflective coating. Auto-focusing is powered by Direct Drive Super Sonic wave AF.
The lens comes with some amount of dust and moisture resistance making it suitable for outdoor shoots as well. A circular 9-blade aperture promises nice bokeh when you use the lens at its widest aperture.
To see sample images of the Sony Distagon T* EF 35mm, click here.
---
As an Amazon Associate we earn from qualifying purchases. Certain content that appears on PhotoWorkout.com comes from Amazon. This content is provided 'as is' and is subject to change or removal at any time.