For many, the a6600 is a perfect intermediate camera choice for photographers. But, whether you're switching over to mirrorless or purchasing your first camera body, finding the perfect lens is a daunting task.
The secret to getting the perfect pairing? Knowing that a lens should bring out the best your camera has to offer rather than slow it down.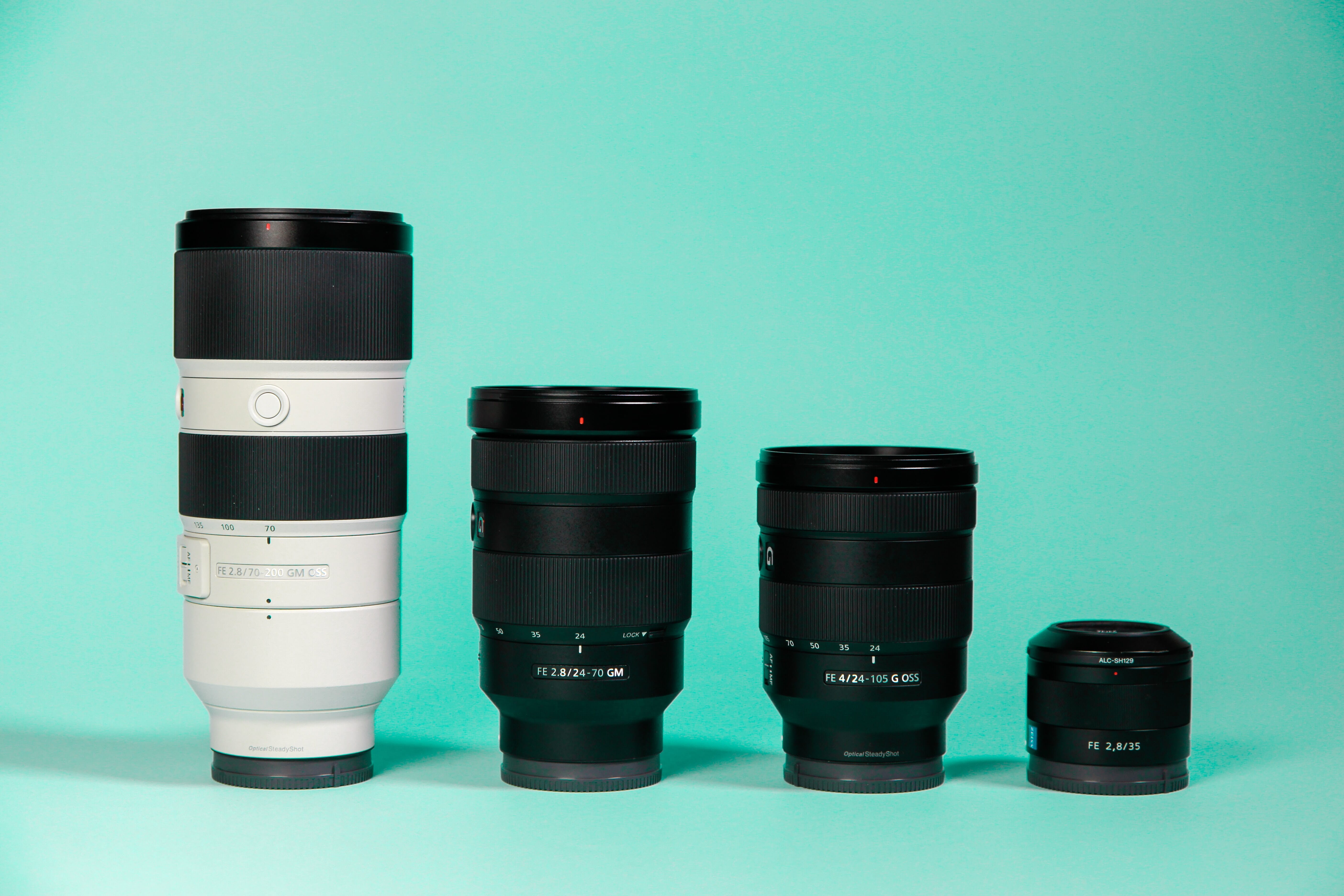 Best Lenses for the Sony a6600:
We've broken down the strongest aspects of the a6600 – and found the lenses that prop those strengths up. No matter what type of photographs you'd like to make, what focal lengths you need, or what budget you have to offer, there's a fit waiting for you. After sifting through the options, here are the best lenses for the Sony a6600.
When you buy through links on our site, we may earn a commission at no cost to you. We evaluate products independently. Commissions do not affect our evaluations.
About the Sony a6600
What sets the Sony a6600 apart from the rest? For starters, it seriously blurs the lines between enthusiast and professional equipment. That's not to say that previous releases in the Alpha line haven't featured plenty of promising qualities. Rather, the a6600 has a few exciting improvements that should appeal to a wide range of photographers.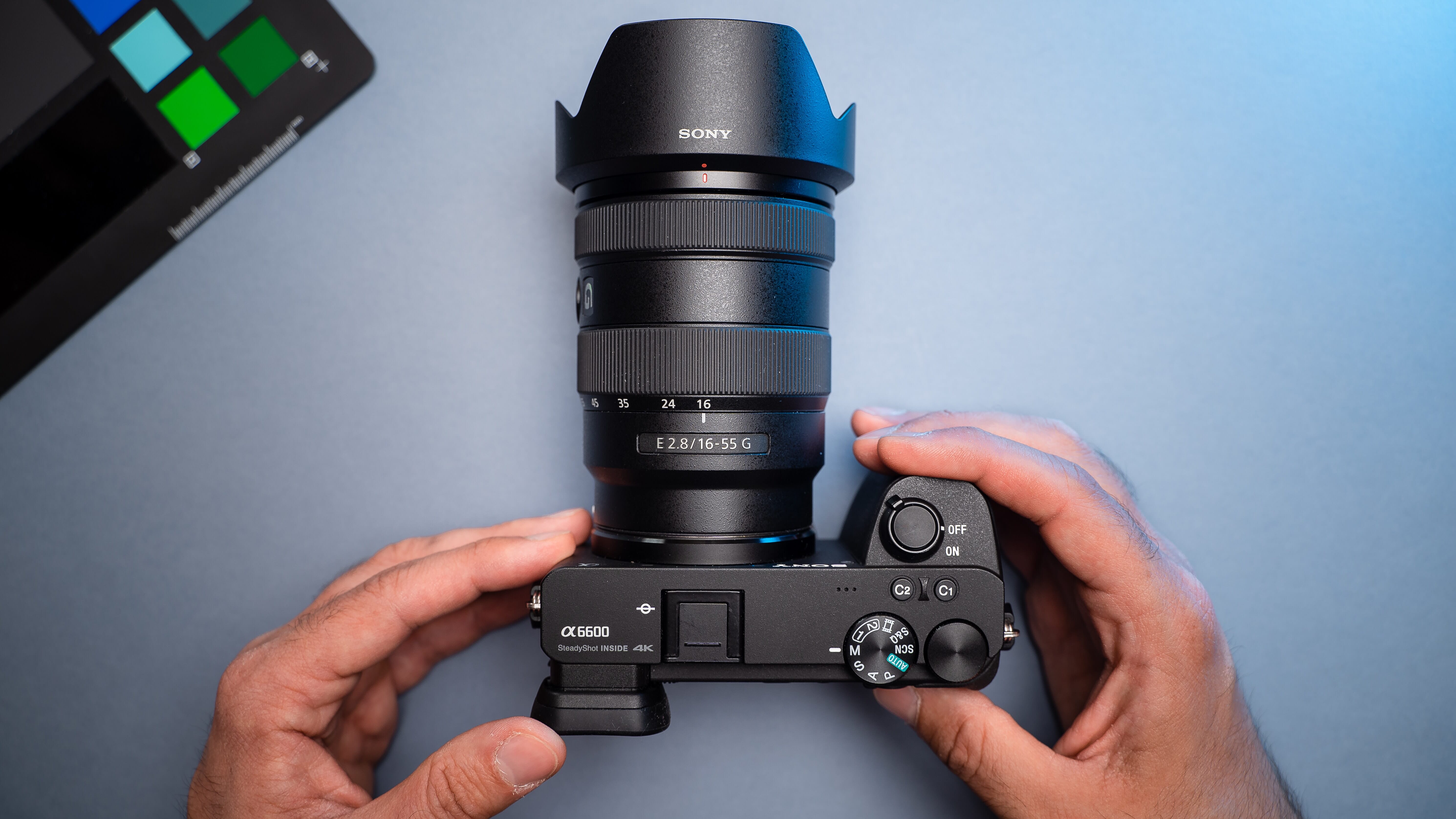 Specifically, Sony aimed to cater to vloggers and videographers with the a6600. Therefore, the most dramatic changes add to the device's recording potential. Alongside the unlimited 4K video, the camera boasts Sony's fastest AF system yet. Its accuracy allows for real-time focus tracking and crisp capture of movement.
Another one of the a6600's most notable features is its diminutive size. Weighing just over 1lb and measuring just under 5″ on its longest side, it's an ideal choice for those that want something small but effective. In part, the compact design is possible due to the camera's APS-C cropped sensor.
Users should keep in mind that focal lengths work a little differently when working with an ASP-C sensor. Because it's a medium format sensor, it has a closer field of view than what you'd find on a full-frame or 35mm sensor. For instance, a 50mm lens APS-C sensor will actually give you the view a 75mm lens would on a full-frame.
The Sony a6600 is compatible with any Sony E-Mount lenses. However, not every lens takes full advantage of the a6600's build and features. Luckily, we've found a few capable of making stellar shots.
Best Prime Lenses
Everyone needs a reliable prime lens to fall back on. But which one will work best with the Sony a6600?
Unfortunately, Sony doesn't show its APS-C sensor products the same degree of love that goes into the full frames. While full-frame designated lenses will work so long as they're E-mount compatible, you'll run into cropping issues. The images you get might not look exactly as advertised. For best results, you'll want to choose from the relatively small pool of APS-C specific lenses.
Even though there's not a ton of variety, there are still some choices worth looking into:
1. Sony E 35mm f/1.8 Prime
Great Lens for Everyday Use
It may not be the most exciting lens out there, but you can really depend on the 35mm in a pinch. Perfect for travel and fast enough to endure low-light scenarios, this 35mm is ready to tackle just about anything
To kick off our list, we're featuring a reliable Sony 35mm prime. With a 52.5mm equivalent field of view, this is an excellent all-purpose lens piece capable of tackling a variety of tasks.
While it's a bit pricey at over $450, the lens speed makes it justifiable. Weighing in at 5.5 oz, it also won't weigh down the lightweight a6600. The Sony lenses we've chosen all feature internal focusing mechanisms, which allow for compact designs and more responsive autofocus.
The 35mm is straightforward, which may be boring for some. But, with a minimum focus distance of 1ft and the ability to work well in low light situations, there's not a whole lot that this camera can't accomplish. If you're strapped on space and need a dependable lens to back up your kit piece, this is the choice for you.
Pros
Middle-of-the-road FOV makes it usable for a wide range of tasks
Small, lightweight build
Wide-open aperture allows for night photography and shallow depth of field
Cons
Costs over $450 USD, which is a bit pricey for what it is
Subjects must be at least 1ft away for proper focusing
2. Sony E 30mm f/3.5 Macro
An APS-C Friendly Macro
For those seeking to get up-close and personal, look no further. This macro lens can focus on subjects placed just a few centimeters from the glass element.
As of right now, the Sony 30mm macro is one of the only macro options APS-C users have to fall back on. Even so, it has redeeming qualities that won't make you feel like you're missing out.
As light as the 35mm prime we mentioned above is, the 30mm macro is even lighter at just 4.9 oz thanks to the same internal focusing system. Like many Sony lenses, it also features extra-low dispersion (ED) glass designed to increase contrast and color fidelity. In turn, this helps out the contrast-detection points that drive Sony's autofocus technology.
With a 1:1 magnification ratio, users can work as little as 2.4cm from their subjects. A rounded seven-blade aperture further compliments up-close images with more natural-looking bokeh. The best part of all? This lens will cost you under $300, making this macro really stand out among the selection of Sony a6600 lenses.
Pros
Sony-native macro lens with 1:1 magnification
Weighs less than 5 oz
Works as little as 2.4 cm from subjects
Cons
Sony's only real APS-C macro lens currently available
Could stand to let in a bit more light
Best Zoom Lenses
Prime lenses don't always offer all the versatility a photographer needs in order to thrive. For this reason, it's never a bad idea to keep a zoom lens or two on hand.
Sony has a few APS-C specific zoom lenses to choose from. In fact, they have a significantly larger selection of zoom lenses available in comparison to their prime collection. They also boast a much wider range of focal lengths, running from as little as 10mm to as long as 350mm
Zoom lenses can a bit finicky and less sharp in comparison to their fixed focal length companions. Even so, there is plenty to embrace about the convenience of a zoom. We've listed some of the most appealing solutions below.
3. Sony E 10-18mm f/4.0 Wide Angle Zoom
Excellent Wide-Angle for a6600 Landscapes
With a 15mm-27mm equivalent FOV, this ultra-condensed zoom lens is great for wide shots. At only 7.9 oz, it's a perfectly suited match for the portable Sony a6600.
For aspiring landscape photographers, the Sony SEL1018 E Mount - APS-C 10-18mm F4.0 Wide Angle Zoom Lens is a must-have accessory. It's not cheap, but it's certain to take any sort of expansive photography to the next level.
With a 15mm-27mm equivalent view, it's a solid wide-angle that largely avoids distorting subjects. Further improving image quality is the Optical SteadyShot feature, which prevents handheld blur. The 10-18mm also uses the same ED glass used in the fixed lenses to reduce chromatic aberrations.
Worth noting is its extremely compact build, especially for a zoom lens. At 7.9 oz, the weight is on par with most prime lenses. While Sony generally does a good job of avoiding bulky builds, we feel that the small size of this zoom especially suits the lightweight a6600.
Pros
Very compact for a zoom lens
Despite the wide-angle, avoids drastic distortions
Cons
Range is a little limited
At over $775 USD, asking price is steep
4. Sony E 16-55mm f/2.8 G
Versatile Zoom with Fantastic Specs
If you can get past the heavy barrel and heavier price tag of this lens, it's sure to never let you down. The craftsmanship of the G-Series ensures excellent imagery every time you snap the shutter.
If money isn't an issue, the Sony 16-55mm zoom is among the best Sony a6600 lenses you can buy. Part of the G-Series lens collection, it utilizes the most advanced imaging technology Sony has at its disposal. From an industry-leading actuator for more precise focus to extreme aspherical lens elements, a lot goes into making G lenses worth your while.
Throughout its entire zoom range (24-82mm equivalent), users can expect "corner to corner" resolution. It's about as fast as a zoom lens can get at f/2.8, which compliments the a6600's improved ultra-fast AF features. In addition, an XD linear motor uses the camera's speed to smoothly (and silently!) track moving options.
It's a bit bulky at 17.5 oz, and the price tag is well over $1200. But, if you can get over these minor irks, you won't be disappointed in the results this lens delivers.
Pros
Sony G-Series step up from other lenses, uses advanced optics for best possible images
Excellent resolution throughout its zoom range
Cons
Most expensive lens on our list, well over $1200 USD
Weighs 17.5 oz, making it heavier than the camera body
5. Sony E 55-210mm f/4.5-6.3 Telephoto
Far-Reaching Photos that Won't Weigh You Down
For the most part, the Sony a6600 isn't the best choice for a telephoto lens. But, the adaptations made to this zoom make it a great choice for far-off subject matter.
If you're looking for a zoom on a tight budget, the Sony 55-210mm telephoto might be a worthwhile purchase. While it's by no means perfect, it's certainly a step up from your basic kit lens.
Equivalent to an 82.5-315mm on a full-frame, it does an excellent job of capturing far-away subjects without being unruly. This glass is capable of attaining 3.8x zoom, which is further supported by OSS built-in image stabilization. Thanks to Sony's internal focusing, an aluminum alloy finish, and a light 12.2oz barrel, it's also capable of functioning without the support of a tripod. For customers looking to take advantage of the a6600's portability, the lack of fuss involved is ideal.
This lens can't do everything – the minimum focus distance is 3.3′, making it a poor choice for close-ups. That said, its build and price point make it excellent for a6600 users looking to break into nature or sports photography.
Pros
Zoom supported by OSS built-in image stabilization
Rare telephoto lens that works handheld without additional support
Inexpensive option
Cons
While its lightweight for a telephoto lens, it's still one of Sony's heavier lenses
Quality is on the lower end of the spectrum, may not meet the needs of more advanced photographers
Best Third-Party Lenses
Honestly, it's a shame that Sony has a somewhat limited selection of APS-C options. But the bright side? There are a number of third-party providers that make their own E-mount compatible lenses.
Most customers agree that Sigma's E-mount lenses offer the best value (although the collection is mainly composed of fixed-lenses). But, there's plenty of other companies that sell a6600-friendly products. Providers include Rokinon, Tokina, Fujifilm, Neewer, and many more. For a complete list, check out this super helpful compatibility guide.
Here's the scoop on three of our personal favorites:
6. Sigma 30mm f/1.4 Prime
A Fast Lens at a Fantastic Price
When you see all that this Sigma has to offer, you'll wonder why you didn't always stick to third-party manufacturers. For half the price, this lens delivers just as much as its closest Sony equivalent.
The Sigma 30mm contemporary lens encompasses everything we love about third-party accessories. For half the price of the Sony 35mm we referenced earlier, you can actually buy this slightly wider, slightly faster Sigma. As part of the contemporary line of lenses focused on incorporating advanced technology in a compact package. In other words, it practically begs to be paired with the a6600.
Despite not being a native Sony product, it works beautifully with the a6600's autofocus. It's a little noisier and there are some slight differences in performance time. However, these setbacks are forgivable considering that it functions seamlessly with the camera's AF system.
With an equivalent focal length of 45mm, it's a well-rounded, versatile prime lens. Though it may not be ideal for every scenario, it manages to compete with or surpass Sony on most levels.
Pros
Less expensive than similar Sony model
Fast lens that lets in plenty of light
Cons
A little slower and noisier than a Sony native lens would be
Not available directly through Sony
7. Sigma 60mm f/2.8 Art Lens
A Longer Focal Length Prime for APS-C Users
Great for portraiture and fine art photography, this longer 60mm lens (90mm FOV equivalent) allows you to do more with your Sony a6600 than other primes might.
As it turns out, some of the best Sony a6600 lenses don't come from Sony at all. We love the Sigma 60mm art lens for its masterful balance of build and budget.
One of the most frustrating aspects concerning Sony's APS-C primes is the fact that they stop short at 50mm (75mm equivalent). By searching outside of Sony's confines, we were able to find some longer lengths for portraiture and telephoto imaging. As a part of Sigma's Art line, this 60mm (90mm equivalent) is well suited for such creative endeavors.
As we mentioned above, Sigma's efforts certainly make their products on par with Sony. Much like their ED glass elements, Sigma uses Special Low Dispersion (SLD) glass to maximize image quality. Also similar to Sony, Sigma lenses use rounded nine-blade apertures to create more natural-looking bokeh. Combined with a light 6.7 oz build and a price tag under $300, this fixed focus beauty is difficult to turn down.
Pros
Goes beyond Sony's range of focal lengths for prime lenses
Nine blade aperture vs. seven blade aperture for more realistic shallow DOF imaging
Cons
Can be difficult to find online at times
Not available directly through Sony
8. Zeiss Touit 50mm f/2.8 Macro
Precise Optics with Sony in Mind
Zeiss has a good reputation for good reason. Specially treated glass and an aspherical design combine to deliver excellent image quality.
Who wouldn't want a 50mm Zeiss lens in their collection? Renowned for their carefully crafted optics, photographers dream of getting their hands on this glass. Despite having a high price tag, Zeiss makes their products worth every penny.
Although there's not much in the APS-C lens line, Sony has incorporated Zeiss optics into a number of their premium lenses. Therefore, Zeiss is one of the safer, more compatible third-party providers to use with a Sony product. It's important to keep in mind that not all third-party options work equally effectively. But the familiarity and high-quality build behind Zeiss take some of the uncertainty out of the equation.
Featuring an aspherical design and an anti-reflective coating, you can expect a high quality of light with minimal aberrations every time you shoot. The added resolution and contrast aid the a6600's already excellent autofocus capabilities. Combined with smooth-running AF mechanisms within the lens itself, you can confidently track focus just as well as you would with a Sony lens.
Pros
Consistently high-quality imagery and lens construction
Zeiss works closely with Sony, making it a dependable third-party option
Cons
Very expensive, espectially for a prime lens
Not available directly through Sony
Our Takeaways
There's a lot to love about the Sony a6600. Frankly, we'd be ecstatic to see some more lenses released in the near future. But, even with a fairly sparse pool of candidates, there's plenty that can bring out the best that this mirrorless has got to offer.
While Sony's selection of prime lenses isn't very diverse, it's easy to supplement with third-party producers. Plus, some of the slack is picked up with APS-C compatible zoom lenses of all focal lengths.
Aside from all of the other awesome amenities packed into every Sony camera, the a6600 excels at autofocusing. In addition, its small size makes it a perfect travel companion. If you keep those aspects in mind and choose a lens that compliments those strengths, the rest will fall into place.
Did we miss any of your favorite Sony a6600 lenses? What would you like to see Sony add to its APS-C lens collection in the future? Let us know in the comments!
---
Disclosure/Disclaimer: As an Amazon Associate, we earn from qualifying purchases. Certain content was provided "as is" from Amazon and is subject to change or removal at any time. Product prices and availability: Amazon prices are updated daily or are accurate as of the date/time indicated and are subject to change. Any price and availability information displayed on Amazon.com at the time of purchase will apply to the purchase of this product.