Having the right lens can set your pictures apart, especially in the case of portrait photography.
A good lens has the ability to enhance the visual aesthetic of your portrait shots. It's also capable of creating a beautiful bokeh effect that'll make your subject stand out. Fortunately, top Sony lenses excel at capturing portraits, whether in a professional studio photoshoot or a casual outdoor session.
This comprehensive guide lists the 10 best Sony portrait lenses you can buy. By the end, you should know which lens suits you, your photography style, and your budget.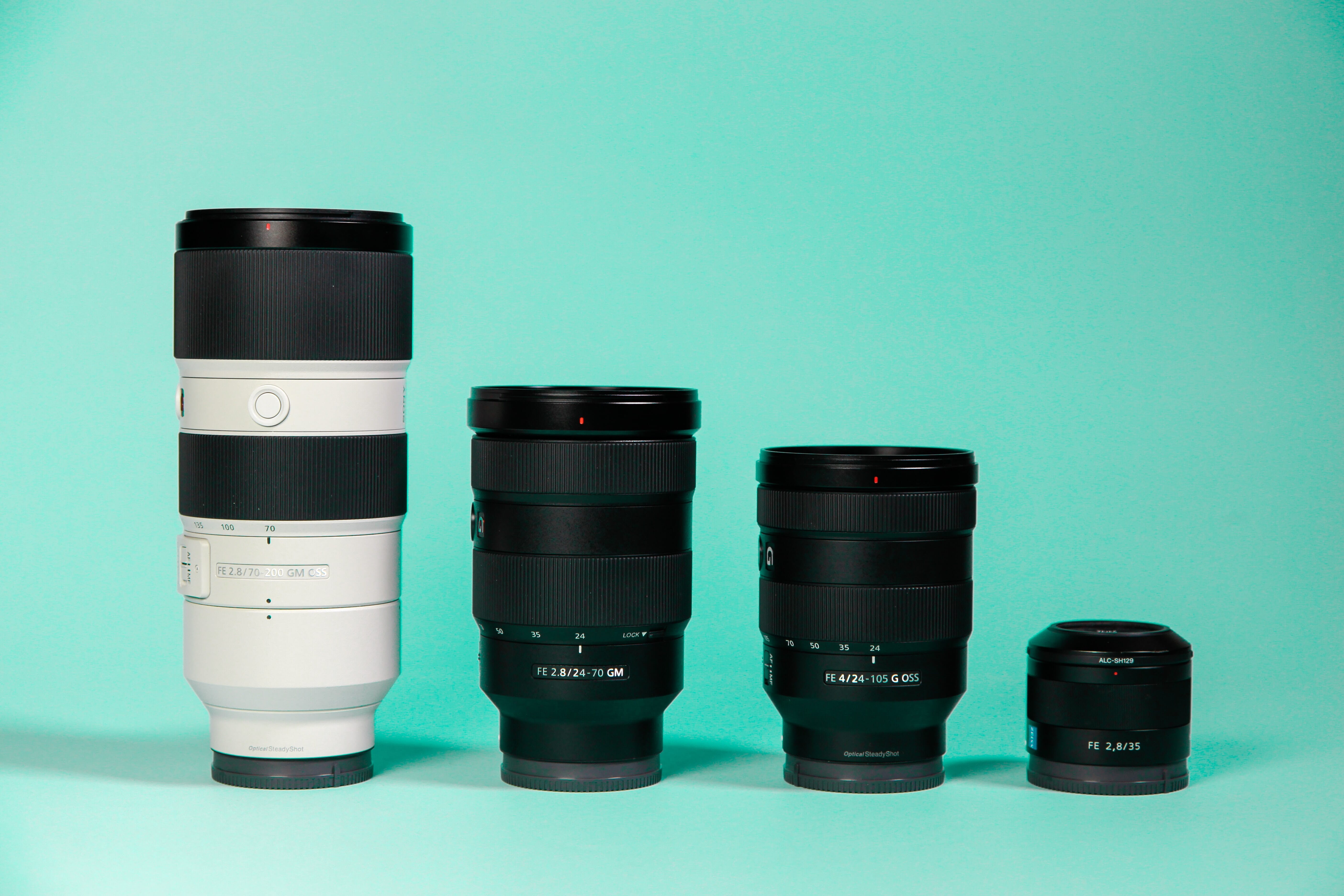 Best Sony Lenses for Portrait Shots:
When you buy through links on our site, we may earn a commission at no cost to you. We evaluate products independently. Commissions do not affect our evaluations.
1. Sony FE 24-70mm f/2.8 GM
Best portrait zoom lens
This lens features a flexible focal length, allowing you to capture wide, standard, and telephoto portraits as needed.
Pros
Smooth zoom and focus rings
Comes with a focus-lock button
Fast and precise autofocus
The Sony FE 24-70mm f/2.8 GM is an outstanding lens for portrait shooters. It offers multiple focal lengths to choose from, and thanks to its flexibility, you can capture stellar portraits in various environments, including outdoor events and indoor photo studios.
The lens creates a beautiful bokeh effect that makes the subject stand out, and the f/2.8 maximum aperture can be enabled on any focal length, leading to crisp snaps, even in the dark.
Though the manual focus might be a little hard to handle at first, it is still something you can gain control of over time. If you like to shoot outdoors a lot or you simply prefer working with an all-in-one zoom, this lens is a good option.
2. Sony Sonnar T* FE 55mm f/1.8 ZA
Best for crispness
This 55mm f/1.8 provides exceptional image quality in a small and lightweight package.
Pros
Convenient size and weight
Lightning-fast f/1.8 aperture
Sturdy build quality
Dust and moisture resistance
Cons
Lack of buttons
No image stabilization
Next up is the Sony Sonnar T* FE 55mm f/1.8 ZA lens. This lens is praised for its super-fast autofocus and on-point color rendition, plus the optics and the sharpness of this lens are outstanding.
The f/1.8 maximum aperture helps create a creamy background for portrait shots, regardless of the location. Plus, thanks to the nine-blade aperture, the quality of the bokeh effect is phenomenal.
This lens is a portrait photography powerhouse, and it's just as amazing for taking videos (in other words, you are getting the complete package!). The build quality and small size of this lens make it very convenient to carry around and take to any photoshoot.
3. Sony FE 24mm f/1.4 GM
Best wide-angle lens for portraits
The 24mm f/1.4 is perfect for capturing stunning environmental portraits in any lighting.
Pros
Limited distortion
Compact and manageable size
Amazing low-light performance
Cons
No image stabilization
Engineered for full-frame mirrorless cameras, the Sony FE 24mm f/1.4 GM is a prime wide-angle lens with the ability to beautifully capture every element in its field of view.
This lens consistently delivers outstanding corner-to-corner resolution even at its maximum f/1.4 aperture. With the wide-angle focal length, the f/1.4 maximum aperture lets you isolate your subject while maintaining pleasing blur in the foreground and background.
The 24mm f/1.4 has amazing light-capturing capabilities, too, and thanks to the circular 11 aperture blades, the bokeh effect is like none other. With its pleasant rendering of colors, this lens is guaranteed to give you nothing but professional results.
4. Sony E PZ 18-105mm f/4 G OSS
Best for its powerful zoom
The 18-105mm f/4 is a good pick for photographers looking to take snaps at variable ranges with consistent performance.
Pros
Comes with optical stabilization
Does not have any focus-breathing issues
Uniform and powerful zoom design
Cons
Soft edges in some pictures
The Sony E PZ 18-105mm f/4 G OSS Lens is a versatile zoom lens – and if you don't mind carrying a little extra weight, this lens is the complete package for every type of photography you might want to do, including portraiture. The super-fast autofocus and the constant f/4 aperture allow you to capture a subject at any distance.
Even though the bokeh effect is sometimes soft at the edges, it can easily be corrected in post-processing.
This zoom lens from Sony is a good option that comes at a lower price. If you are looking for an all-around lens to take portrait pictures in addition to stable videos with out-of-focus backgrounds, then it is a great pick.
5. Sony E 16-55mm f/2.8 G
Best complete package for portraiture
The 16-55mm f/2.8 isn't designed for full-frame cameras, but its results are professional quality.
Pros
Fast f/2.8 maximum aperture
Convenient custom buttons
Lightweight
The 16-55mm f/2.8 G is one of Sony's best APS-C lenses. Although it does not shoot full-frame, it is still capable of producing professional-looking results with proper contrast, exposure balance, and shallow depth of field.
The autofocus is fast and performs well in good lighting. A nine-blade circular aperture contributes to a marvelous bokeh effect. All in all, this lens has everything you need to isolate your subject for portrait shots.
If portrait photography is your hobby, or if you are a beginner who doesn't want to spend thousands to get amazing results, then this lens is a standout pick.
6. Sony FE 85mm f/1.4 GM
Best portrait lens for professionals
The 85mm f/1.4 includes all the premium features a professional would look for in a portrait lens.
Pros
Premium build quality
An f/1.4 aperture makes low-light snaps look crystal clear
Customizable button
The FE 85mm f/1.4 GM is the ultimate Sony portrait lens – assuming you can afford the cost. Sony put all their lens-making prowess into developing this one, most known for the on-lens ring that lets you control the aperture from within the camera.
The lens provides a deep, out-of-focus background and a nice and short telephoto perspective. The 85mm focal length is considered the sweet spot for studio portraits or beauty sessions, as it allows you to get close to the subject, isolate them, and focus on the minute details. A maximum f/1.4 aperture captures more light and delivers a stunning effect in the final product.
It is a versatile lens for professionals working on portrait projects. Although the price is slightly high, it's often a good financial investment if you consider all the gains in productivity you can achieve with this lens.
7. Sony E 35mm f/1.8 OSS
Perfect for beautiful wide-angle portrait images
The 35mm f/1.8 may not be flashy, but it's perfect for portrait beginners.
Pros
Photos are free of distortion
Comes with optical stabilization
Wide f/1.8 maximum aperture
Cons
Does not come with weather protection
The Sony E 35mm f/1.8 OSS is one of Sony's most popular prime lenses. The effective focal length is around 50mm on an APS-C camera, which makes it a versatile prime lens that allows you to snap both landscape and portrait photos with great quality.
The compact and minimalist design makes it convenient to carry around and use if you're planning a long photoshoot. Autofocus is snappy and discreet, and the OSS delivers smooth-looking shots.
With this lens, you can gain control over the depth of field thanks to the f/1.8 maximum aperture. The minimum focus distance is short, making it a good option for studio sessions. If you do not have any problem with the lack of weather protection, this is one of the best prime lenses you can buy.
8. Sony FE 50mm f/1.8
Best budget portrait lens
The 50mm f/1.8 will let you shoot beautiful portraits without breaking the bank.
Pros
Wide f/1.8 maximum aperture for shallow depth of field effects
Inexpensive
Produces pictures that don't need much correction
If you are just beginning your journey into photography, the Sony FE 50mm f/1.8 is an amazing standard lens to buy. It doesn't cost too much, and the quality of the pictures is breathtaking. The sharpness and clarity are on par with many of its expensive counterparts.
Sony managed to incorporate a bunch of top-notch features into a lens that comes at such a low price. A stunning bokeh effect can be expected from the seven-blade aperture structure. Though the autofocus is a little slow, it is not a major hindrance. This lens will also help you explore your creative interests, even as you capture beautiful portraits.
With precise attention to detail and a lovely defocused background, you're sure to end up with pro-looking images. However, you should note that this lens is best if you are only looking to do photography, as it is not great for videography.
9. Sony FE 70-200mm f/2.8 GM OSS
Best telephoto lens for portraits
The 70-200mm f/2.8 packs 11 aperture blades for beautiful bokeh effects.
Pros
Premium build quality
Top-notch bokeh
Comes with weather sealing
Includes image stabilization
The Sony FE 70-200mm f/2.8 GM OSS is an outstanding pro-level lens (Sony used all their lens-making expertise to design this beast!). The metallic body adds to the quality of the lens. The lens includes three customizable buttons, which you can personalize based on your needs. The autofocus performs brilliantly and is precise no matter the target.
The lens's world-class sharpness brings out the key details in every image. The out-of-focus background is dreamy and professional.
Another thing about this lens that makes it a game-changer is its image stabilization. Plus, thanks to the telephoto focal length, the final image is beautifully compressed to make the subject seem closer to the lens without any distortion.
10. Sony E 50mm f/1.8 OSS
Best for portrait beginners
The 50mm f/1.8 is one of the best budget portrait lenses thanks to a minimalist design and easy-to-use features.
Pros
Image stabilization
Fast and quiet autofocus
Affordable
Cons
No weather sealing
To wrap up our list, we have another affordable APS-C lens from Sony: the Sony E 50mm f/1.8 OSS. This lens is lightweight and great for beginners looking to deep dive into portrait photography.
You do get image stabilization, which will help you capture sharp photos in low-lighting conditions. And the simple lens design will help you get comfortable, fast. Due to the small size, the 50mm f/1.8 is perfect for traveling.
Ultimately, this lens offers some premium features without being too complex. Start your journey and explore portrait photography with this excellent starter lens.
How to Choose the Perfect Sony Portrait Lens
Choosing a portrait lens can be overwhelming. However, you need to consider only a handful of specs and details when choosing between the top portrait lenses for Sony cameras.
Here's a list of features you should think about:
Image Stabilization
When taking handheld shots, the image stabilization corrects any jitteriness caused by shaky hands so you can produce a smooth, crisp picture.
Lenses that come with image stabilization tend to cost more, but if you do handheld photoshoots, then it is a good feature to have.
Autofocus
In human portraiture, the eyes need to be the sharpest part of the image. The built-in autofocus gets the job done for many Sony lenses so you will not have to meddle with the manual settings. Some lenses have better autofocus than others, however, and a lens with good autofocus will be able to isolate the subject more quickly and precisely.
Focal Length
The perfect focal length depends on the type of look you want, your available working space, and the subject in question. For example, a telephoto lens is generally used for close-up shots or studio sessions. On the other hand, a wide-angle lens is good for outdoor environmental shots.
A decently long focal length, combined with a wide aperture, is optimal for a pleasing background blur and a shallow depth of field. A lens with an 85mm focal length and an f/1.8 or f/2.8 maximum aperture is usually the sweet spot for many.
Are You Ready to Capture Beautiful Portraits?
Picking the best Sony portrait lens can be a tough job. But at the end of the day, it all boils down to your budget, the type of photos you want to take, and the lens's compatibility with your camera.
So choose the lens that's right for you. And do some fun portrait shooting!
---
Disclosure/Disclaimer: As an Amazon Associate, we earn from qualifying purchases. Certain content was provided "as is" from Amazon and is subject to change or removal at any time. Product prices and availability: Amazon prices are updated daily or are accurate as of the date/time indicated and are subject to change. Any price and availability information displayed on Amazon.com at the time of purchase will apply to the purchase of this product.