As a Sony user, you have access to a range of wide angle Sony E-mount lens options. But, you'll need to decide which lens is the most suitable for your photography work. In this article, we take a look at the best options on the market giving you five great picks for both full frame and crop sensor camera bodies.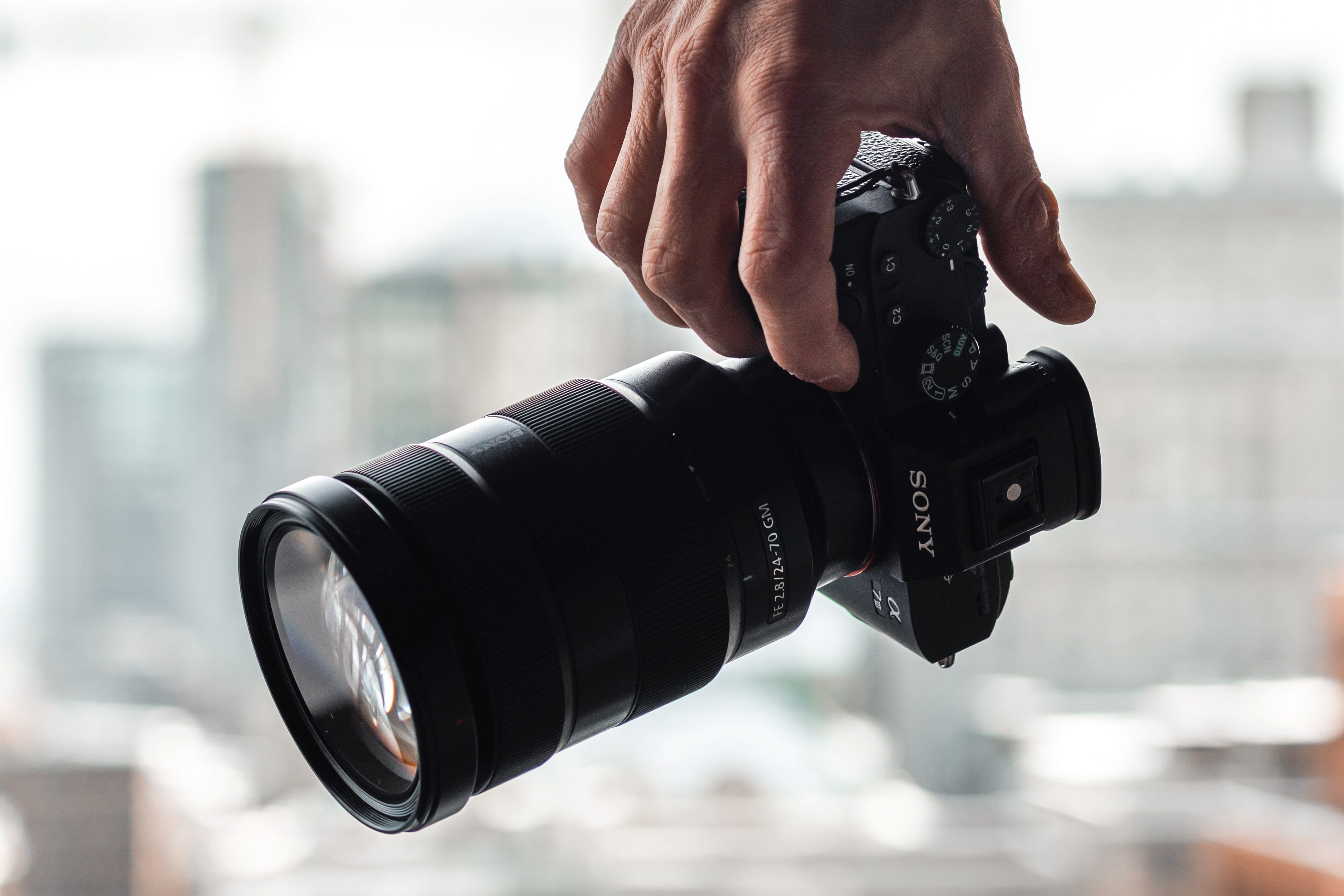 When you buy through links on our site, we may earn a commission at no cost to you. We evaluate products independently. Commissions do not affect our evaluations.
Best Wide Angle Lenses for Full Frame Cameras
Here are five of our favorite wide angle lenses for full frame sensors! These can also be used on APS-C or crop sensor cameras, but will change your effective focal length (just keep that in mind).
1. Sigma 14mm f/1.8 DG HSM Art
Our Pick
Wide apertures for great light
The focal length is classic for a wide angle, paired with the ultra bright f/1.8 aperture and you have a winning combo.
Pros
Communicates perfectly with Sony cameras
Very wide f/1.8 aperture for shallow depth of field and lots of light
Dust and splash proof
Cons
Very expensive
On the heavy side
Our first lens on the list is the Sigma 14mm f/1.8 DG HSM Art. Sigma is a third-party lens manufacturer that creates lenses for all camera brands – including Sony! Although once upon a time, using third-party gear was a lesser option, today the lenses are extremely high quality and respected. 
The 14mm f/1.8 lens is spectacular all around; the 14mm focal length makes it an excellent companion for architecture and landscape photography, and the f/1.8 aperture helps astrophotographers capture the night sky. You can always narrow the aperture for more in-focus areas.
This lens was specially designed for mirrorless systems, which means that it communicates flawlessly with the cameras. This lens retains all of Sony's autofocus features, making it very easy to use.
The construction is nicely dust and splash-proof, keeping the lens free from contaminants in your shooting area.
2. Sony FE 16-35mm f/4
Most Versatile
Edge-to-edge sharpness galore
Great focal range for a very sharp lens, this will keep you going for a long time!
Pros
Great 0.92 feet minimum focus distance
Stabilization built in
Fantastic edge to edge sharpness
Cons
Very expensive
f/4 aperture isn't the brightest
The next wide-angle Sony E-mount lens is the 16-35mm f/4. This lens would be a great choice for landscape photographers. But, with a minimum focus distance of 0.92 ft, it's useful for other applications as well.
It has built-in stabilization to minimize quality issues from camera shake. Plus, the design of the lens is dust and moisture-resistant.
With an aperture of f/4, the images created with this lens are crisp and full of detail. Its refined optics deliver stunning images. Although, it wouldn't be great for shooting in low light conditions because of its aperture. But, what it can do to make up for this fact is have edge-to-edge sharpness – meaning if your subject touches the corner, it will still be as sharp as if your subject was in the center of the frame.
For photographers focused on capturing wide-angle perspectives with high-quality detail, this lens is perfect.
3. Sony FE 12-24mm f/4 G
Great corner-to-corner resolution
If you're looking for a zooming wide angle with great edge-to-edge sharpness, you've found your best friend here.
Pros
Small, light, and compact in size
Great corner to corner sharpness
Integrated lens hood with dust and splash proof coating
Cons
No filter thread
No stablization
F/4 aperture isn't as wide as comparable lenses
Our next full frame wide angle Sony E-mount lens is the 12-24 f/4.
It has a G Lens design to ensure corner-to-corner sharpness and minimal vignetting.
Additionally, the lens has a starting aperture range at f/4. A cool feature on many Sony lenses, including this one, is the constant aperture. That means that if you set your aperture to f/4 while shooting at a wide angle such as 12mm then increase your focal length, say to 24mm, the aperture stays put at f/4. Not all lenses are capable of this, so the Sony lenses get some brownie points for having the feature.
An interesting detail offered with this lens is its 7-blade circular aperture. This creates the appearance of soft, appealing bokeh. Definitely a plus in our book.
The internal mechanics make the lens fast, yet quiet. And we wouldn't be doing this lens justice without mentioning how lightweight and portable it is. It weighs just 1.25 lbs.
4. Sony 28mm f/2
Can easily become a go to lens
Budget-friendly and rather sharp, this can become an easy go-to piece of glass for wide angle enthusiasts.
Pros
Bright f/2 aperture
Budget-friendly
Lightweight design
Cons
Limited close focusing distance
Edges are soft at f/2
The fourth wide angle Sony E-mount lens is the 28mm f/2. If you're shopping on a budget, this lens offers the best bang for your buck. And even if you're not on a budget, this lens still delivers the goods. Besides being the most affordable option, the optics of this lens are simply outstanding.
And I say that from personal experience shooting with it. It's the go-to lens when I'm shooting with my A7r III.
With a 28mm focal length and bright f/2 aperture, it produces great photos in multiple shooting situations from street photography to lifestyle shots as well as landscapes. The lens has a 9-blade circular aperture that adds to the soft bokeh effect you want from your portrait images.
Another perk is that it's compatible with Sony's a7 series cameras and 35mm full-frame E-mount cameras.
This lens not only creates stunning images but is easy to carry with its compact and lightweight design. It's a professional tool that's fast, easy to use, and produces high-quality portrait and landscape images for photographers.
5. Sony E-Mount 20mm f/2.8
The lens pancake
The pancake design makes this lens inconspicuous and easy to throw in a bag anywhere.
Pros
Ultra thin design, looks like a pancake
Very sharp optics with wide field of view
Option to use fisheye converter
Inexpensive
Cons
Some distortion
Not splash or dust resistant
Our fifth wide angle Sony E-mount lens is the 20mm f/2.8.
It is another budget-friendly lens on our list, making the budget-conscious very happy. If small is your style, this is the smallest, most compact lens on the list that still creates superior image quality!
Now, this lens doesn't offer image stabilization, but to be honest, that's not too big of a deal on such a wide angle lens. Typically, the wider the focal length, 20mm in this case, the less impact the camera shake has on the quality of the image.
One thing customers have raved about this lens is the lack of distortion it creates. Ever seen a wide angle landscape shot with a curved horizon? This lens performs well at reducing, if not eliminating such distortion. Of course, lens distortion is easy enough to correct in post-production. But if you can do it in-camera, that's even better!
Best Wide Angle Lenses for Crop Sensor Cameras
APS-C or crop sensor cameras require lenses that are specially made for them in order to maintain the focal length! Make note that crop sensor lenses cannot be used on full frame cameras.
1. Sony 10-18mm f/4 OSS
Guaranteed to create dynamic images
If you want shots that look dynamic, unique, and eye-catching; this lens works great.
Pros
Ultra wide field of view
Exclusive for crop-sensor cameras
Includes optical stabilization
Cons
Only an f/4 aperture
No dust or splash proof coating
Our first crop sensor-exclusive wide angle Sony E-mount lens is the Sony 10-18mm f/4 OSS. This lens has a very wide angle perspective, with the focal length starting at a minimum of 10mm and a maximum of 18 mm.
The aperture of this lens goes from f/4 to f/22. That's a useful enough range for landscape, street, and real estate photography. However, make note that f/4 isn't always the best for low light situations. If you find yourself in such situations, you're going to want to bring some external lighting with you to support your shoot.
The 10-18mm lens is guaranteed to create dynamic and different perspectives for your images. And, your images will be sharp and crisp. What more can you ask for?
2. Sony Zeiss 24mm f/1.8
Our Pick
The the Sonnar optical choice
If sharpness and quality matters to you, it may be worth to dish out the price for this lens.
Pros
Optical quality that is hard to beat
Ultra sharp edge-to-edge sharpness
Minimal distortion
Cons
Expensive
No weather sealing
The next wide angle Sony E-mount lens is the Zeiss 24mm 1.8. This lens is designed with the Sonnar optical system which improves image dimensionality and presence.
What we like about this lens is the wide aperture of f/1.8. There are a few reasons that are important but the main reasons include the benefits of wider apertures.
At f/1.8, you will have a gorgeous shallow depth of field image, providing you with great subject separation. Not only that, f/1.8 can go all the way up to a deep depth of field when needed, so you have tremendous flexibility. For low-light shooters, the bright f/1.8 aperture lets in a great amount of light, helping utilize the ambient illumination you have.
What's more, this lens also allows you to shoot 1/4 macro. That means you can focus on your subject as close as 6.2-inches away, helping you maximize small locations as well.
The Sony 24mm lens has a fixed focal length. It has a direct manual focus and the operations are fast, smooth, and quiet. This lens is a quality choice for any photographer who prefers a fixed focal length with high-quality performance.
3. Sony Alpha 16-55mm f/2.8 G
Most Versatile
Compact pro-grade option
Small but mighty, this may not be as wide angle as the other lenses but it's worth consideration.
Pros
Bright f/2.8 aperture throughout its entire range
Very quiet autofocus
Specially designed to maximize crop sensor cameras
Cons
Expensive
Passes into standard lens focal length
Sure, this is a costly lens, but the versatility is well worth the investment. The Sony Alpha 16-55mm f/2.8 G is pretty awesome for having a consistent f/2.8 aperture throughout its entire zoom, keeping your shots nice and bright. Although the longer side of this lens is no longer a wide angle (wide angles end at 35mm), it still covers the full range from 16-35mm.
This makes the lens very versatile, as it could just be the one lens you throw on your camera during travels! This lens has good corner-to-corner resolution, as is known from the G lenses, and has a great internal system to prevent chromatic aberration. Chromatic aberrations are the neon outlines on your subject in high contrast shooting.
This lens's autofocus is also very quiet, keeping you inconspicuous if you like to dabble in the likes of street photography with a wide angle lens.
4. Sigma 16mm f/1.4 DC DN Contemporary
Shallow depth of field galore
The ultra wide aperture of f/1.4 produces incredible depth of field in this nifty contemporary lens.
Pros
Ultra wide f/1.4 aperture
Affordable
Very sharp
Cons
Some visible barrel distortion
Wide apertures galore here! If the other lenses on our list weren't shallow enough for you, the Sigma 16mm f/1.4 Contemporary is here to impress! 16mm is a nice wide focal length for many different subjects, and the ultra-wide aperture helps keep everything even brighter in low light. It is great for capturing indoor events, interiors, and the night sky.
The Contemporary line is a lot more budget-friendly and tends to be smaller and lighter than other Sigma lens lineups. Although the construction is not as sturdy as the Art or Sport lines, this nifty guy will still do wonders outdoors for you.
It's got a great lens coating that helps reduce flaring, ghosting, and chromatic aberration. It also ensures dust and dirt slide right off.
5. Sony 16–50mm f/3.5–5.6 OSS
Least expensive image stabilizer lens
If you need image stabilization but are not looking to pay a premium, this lens is a great compromise.
Pros
Inexpensive
Has great image stabilization
Very quiet autofocus
Cons
Variable aperture that is quite narrow
Focal length passes into the standard lens length
A lens that's a great price, size, and has image stabilization! Although this lens isn't terribly impressive compared to the other ones, for someone that wants inexpensive and needs image stabilization, the Sony 16–50 mm f/3.5–5.6 OSS is the lens for the job.
The lens aperture varies and is quite narrow, but that makes it pretty good for landscapes and architecture. Both of which tend to do best with image stabilization, especially if you are going handheld!
This lens is pretty durable and is pancake-style, keeping it small.
Wide Angle Sony E-Mount Lens Comparisons
As you can see, our list gives you a variety of choices for your next gear purchase. In fact, each of these lenses offers different selling points such as high-quality detail, soft bokeh backgrounds, and fast, professional performance. Depending on which type of look and style you are hoping to achieve, there's a lens that's perfect for your photography.
Our favorite full-frame lens is the Sigma 14mm F1.8 DG HSM Art thanks to its incredible wide aperture and superb sharpness! For crop sensor users, there is an equivalent version made for your camera, the Zeiss 24mm 1.8. For photographers that like the versatility of a zoom more than the wide aperture of a prime, the 16-35mm F4 is great for full frame cameras! The Sony Alpha 16-55mm F2.8 G is our favorite for crop sensors.
---
As an Amazon Associate, we earn from qualifying purchases. Certain content was provided "as is" from Amazon daily and is subject to change or removal at any time.