Tripods are essential for both photography and video recording. They help you get rid of motion blur, smoothly track subjects, and implement creative techniques that you just can't pull off when handholding your camera.
In other words, if you don't already own a sturdy tripod, you should grab one right away. There are plenty of good brands, but Manfrotto – a veteran tripod manufacturer celebrated for its ultra-stable designs – is one of the best. The challenge is selecting the right product from the huge array of options, and that's where I come in.
I've done the heavy lifting for you and rounded up the eight best Manfrotto tripods for photographers and videographers in 2023. Below, you'll find the cream of the Manfrotto crop, including travel tripods, tabletop tripods, and even some hefty full-sized tripods for heavier mirrorless and DSLR cameras.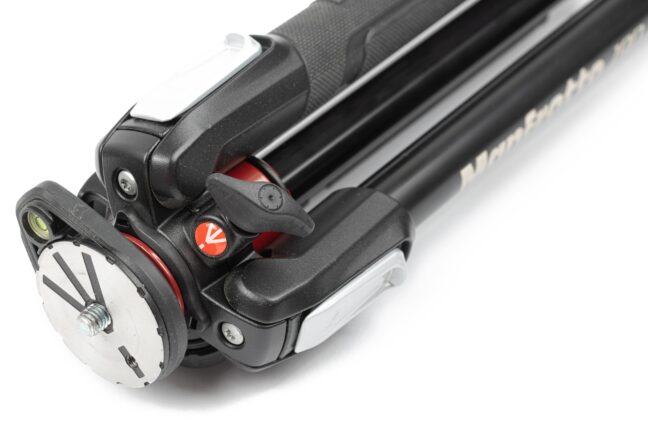 The 8 Best Manfrotto Tripods:
When you buy through links on our site, we may earn a commission at no cost to you. We evaluate products independently. Commissions do not affect our evaluations.
1. Manfrotto 055XPRO3
Our Pick
Great for general use
The Manfrotto 055XPRO3 is an amazing pick thanks to its quick setup, exceptional stability, and tough aluminum build.
Pros
Rugged construction
Quick leg extensions to make height adjustments
The leg angle can be preselected
The center column can be used in vertical or horizontal orientation
Extremely sturdy
Cons
Heavy
Head costs extra
My number one choice is the Manfrotto 055XPRO3. It's an all-star tripod, boasting a sturdy design, user-friendliness, and unshakeable stability. Whether you're a hobbyist or a pro, it's perfect for any slower-paced photo or video work.
The tripod weighs in at 5.5 lb (2494 g), can hold up to 44 lb (20 kg), and stretches out to 67 in (170 cm). That means it'll easily handle most mirrorless cameras, although it is on the heavier side, so if you're planning to head out with your kit on long hikes, it might not be the best choice.
What also stands out to me is its practicality and speed. A quick-locking system lets you deploy the legs in a flash, which certainly comes in handy when dealing with rapidly changing light. Plus, you can preset the leg angle before extending the tripod, ensuring you achieve that perfect composition in record time.
This Manfrotto model is incredibly resilient, so if you're looking for a tripod that can handle heavy equipment, it's a top pick. Its legs and center column are crafted from powerful aluminum, and while the product doesn't include a head – you'll need to buy that separately – there are some great options out there for a very sturdy kit.
2. Manfrotto Element Traveller Small
Also Great
Great for easy carrying
Weighing in at just 2.5 lb (1133 g), the Manfrotto Element Traveller Small comes with a stylish carry bag, making it easy to sling over your shoulder when moving from place to place.
Pros
Advanced ball head with tilt and rotate functions
Good load capacity
Strong aluminum construction
Extends to 56.3 in (136 cm)
Cons
The ball head can be tough to figure out
If you simply need a trusty travel tripod, the Manfrotto Element Traveller Small has got you covered. It's a breeze to pack, it weighs a mere 2.5 lb (1133 g), and it comes with a nice but lightweight head.
In fact, the head's adaptability is a game-changer, especially if you're into video recording or need to track moving subjects. Twist it, turn it 360 degrees, tilt it; you can direct it however you like thanks to the intuitive twist dial.
This tripod can handle most setups with its 8.8 lb (3991 g) weight limit. Even if you plan to mount a heavier mirrorless camera with a reasonably sized zoom lens, I'd still expect the tripod to stand strong. Once you've tightened the head, your camera isn't going anywhere!
And for those who like to carry a tripod on buses, in taxis, and even on planes, don't worry about trying to fit it in your camera backpack. It comes with its own Manfrotto case, making it ultra-easy to take with you.
3. Manfrotto Befree GT
Great for stability
The Manfrotto Befree GT boasts several handy features and guarantees a steady base for your camera no matter the terrain.
Pros
Maximum weight capacity of 22 lb (9979 g)
Easy twist-lock leg clamps for quick height adjustments
Ball head offers great security and stability
Cons
Ball head isn't great for panning
The plastic sandbag hook is not very durable
The Manfrotto Befree GT is an excellent choice for travel shooters as well as those who enjoy photography day trips, as it boasts durable construction and impressive stability.
It's the little details on this tripod that stand out, like the rubber feet at the bottom of its legs. These provide a solid grip and reduce the chance of your camera slipping; they're what I'd want if I were shooting in the snow or rain. The leg clamps have a modern twist-lock design, which I find to be faster and more convenient than the older clasp versions.
This model is also notable for its weight capacity as it can hold up to 22 lb (9979 g). To put that into context, a Canon EOS R6 Mark II combined with an RF 100-500mm lens weighs only about 4.5 lb (2030 g). So you shouldn't have any concerns about camera weight or stability when using this tripod!
The aluminum construction adds to the tripod's durability, and when it comes to subject tracking as well as cinematography, the ball head offers great flexibility with its rotation and tilt capabilities. While a different type of head might be ideal for videography, the included ball head will perform well in most still photography scenarios.
4. Manfrotto 290 Xtra
Great for cinematography
Optimized for video capture, the Manfrotto 290 Xtra features dual handles, ensuring fluid control over the tripod head's rotation and tilt.
Pros
Solid aluminum construction
3-way head for fluid camera movements
Included carry bag for easy transportation
Decent weight capacity of 8.8 lb (4000 g)
Cons
Uses the older leg clamps as opposed to twist-lock clamps
The Manfrotto 290 Xtra stands out as one of Manfrotto's best tripods for videography, especially because of the included 3-way head. This head allows for 360-degree rotation and tilting, but what really makes a difference are the two handles that ensure smooth control over both these movements.
This setup lets you make minor camera adjustments and is ideal for capturing cinematic shots. Both the head and handles are built to last and can handle intensive use, too, so I wouldn't hesitate to recommend this model for more serious videographers.
A slight drawback is the head's size, which can make packing it into the provided carry case a tad challenging. Nevertheless, the tripod is relatively lightweight at 5.6 lb (2540 g). It's easy to pack it up, sling it over your shoulder, and head to your next filming location.
For those worried about the tripod's ability to handle heavy cameras, the model can support up to 8.8 lb (4000 g), which is more than enough for most camera and lens combinations. The legs have two height adjustment options but use traditional leg clamps instead of the newer twist-locks.
5. Manfrotto 190X
Great for speedy setup
With the Manfrotto 190X, adjusting the leg angles and heights is easy, courtesy of the speedy leg locks.
Pros
Tough aluminum construction
Excellent weight capacity
Maximum height of 63 in (160 cm)
The Manfrotto 190X is a versatile pick that's mainly designed for photography. It's very sturdy and can comfortably support weights of up to 15.43 lb (7000 g), ensuring your low-light mirrorless camera and telephoto lens remain steady even when capturing long exposure photos.
I'm a fan of its sturdy aluminum construction. The legs and the center column are robust, and the tripod's overall stability is enhanced by its angled rubber feet. What's even better is that each leg is easy to adjust individually, so you can set up your camera at practically any angle.
This model is particularly convenient for on-the-go adjustments. The legs open in an instant, and the center column can be modified with a simple button press. While the tripod does come with a decent head, serious photographers might want to think about getting a high-quality ball head to enhance its functionality.
6. Manfrotto 055XPRO4
Great for professional use
The Manfrotto 055XPRO4 is constructed entirely of carbon fiber, making it ideal for professional outdoor use.
Pros
Full carbon fiber construction
Excellent maximum weight capacity
Easy center column adjustments
Fantastic stability
Cons
Expensive
Head not included
For those who plan to regularly use a tripod and are in search of a rugged model that can withstand demanding use, the Manfrotto 055XPRO4 stands out. It's not exactly a beginner tripod – it comes with a very hefty price tag – yet it offers exceptional carbon fiber construction that blends durability with a lightweight design.
Thanks to the carbon fiber build, the tripod weighs just 3.6 lb (1650 g) and is super easy to carry. In my experience, once you try carbon fiber, it's tough to ever go back to aluminum! Despite its minimal heft, the tripod can support loads of up to 15.4 lb (7 kg). This means you can comfortably mount bigger mirrorless cameras such as the Canon EOS R5 and Nikon Z 7II – even if they're attached to bulky telephoto lenses.
I'm especially fond of the center column. With the press of a button, you can swiftly boost the height for added flexibility. The legs are pretty versatile, too, and extend to 53.1 in (135 cm), though they're fastened using conventional tripod leg clamps. The biggest downside is that the tripod doesn't include a head, so you will need to invest in a separate ball head to get started.
7. Manfrotto PIXI EVO
Great for traveling with limited storage
Compact and easy to stow away, the Manfrotto PIXI EVO is your go-to tabletop tripod and will certainly come in handy when traveling the world.
Pros
Incredibly stable
Easy to tighten the head
Head allows for 360-degree rotation and portrait orientation
Large maximum carrying capacity of 5.5 lb (2500 g)
Cons
Head isn't great for videography
Height range is limited
I'm a travel photographer, so I completely understand that lugging around a hefty tripod can be a real pain. That's where the Manfrotto PIXI EVO comes into play. It's an amazingly compact tabletop tripod, and it's also incredibly steady.
I've tested this tripod with a Canon EOS R6 paired with a standard kit lens, and it supported the weight without any sag. Plus, the PIXI EVO is so easy to use. Securing the tripod plate and head is a breeze; just turn the side dial with a bit of pressure, and the head will be locked into place.
As one of the smallest Manfrotto tripods here, the PIXI EVO can still bear up to 5.5 lb (2500 g), so you shouldn't worry about using it with a basic mirrorless camera, assuming your lens isn't huge. And while this mini tripod might seem short next to full-sized models, its legs can extend or even flatten out for added flexibility.
Its head design is uncomplicated, which is good for ease of use, though it's not great for panning when shooting video. It features a standard tripod mount, and the ball joint allows full 360-degree rotation, plus you can position your camera in both landscape and portrait modes.
8. Manfrotto PIXI Xtreme
Great for action cameras
The Manfrotto PIXI Xtreme is equipped with a GoPro head attachment so you can capture dynamic sports moments and cinematic shots from a range of heights and perspectives.
Pros
Stable GoPro head to use with action cameras
Durable build quality
Head is easy to secure
Cons
Very short
Only suitable for smaller cameras
Since GoPro cameras use a unique clamp instead of the usual tripod screw, the Manfrotto PIXI Xtreme is one of the best tripods for stabilizing a GoPro HERO action camera.
This small, handy tripod mirrors the original PIXI in design but boasts a special head attachment designed for GoPros and other budget-friendly action cameras. I appreciate how it effortlessly screws onto the tripod head, providing a stable base for the GoPro.
When it comes to weight capacity, this little tripod can hold up to 2.2 lb (997 g); in other words, it's ideal for GoPro action cameras, which typically weigh only 5.6 oz (158 g) with the battery inside. But it's not just for action cameras! You can also use the standard tripod screw to mount smaller mirrorless cameras or point-and-shoot models.
Although this mini tripod isn't especially flexible, it's great for sports photography and videography. You can use it to capture moments from the ground or in specific positions and record sports such as skateboarding, snowboarding, and more.
Create Sharp Photos with the Best Manfrotto Tripods
If you're after a sturdy tripod, you certainly can't go wrong with Manfrotto. The products are impeccably designed, built to last, and a joy to work with, whether you're doing photography or videography. But which model is best for you?
For those seeking a compact, basic tripod for travel, consider tabletop options like the Manfrotto PIXI EVO or the Manfrotto PIXI Xtreme.
On the other hand, if you're looking for something more substantial yet still portable enough for travel photography or day trips, the Manfrotto Element Traveller Small and the Manfrotto Befree GT are both stellar picks that won't weigh you down.
Finally, for those in search of unmatched quality, load-bearing capacity, and durability, professional-grade tripods like the Manfrotto 055XPRO3, the Manfrotto 055XPRO4, and the Manfrotto 190X stand out.
---
Disclosure/Disclaimer: As an Amazon Associate, we earn from qualifying purchases. Certain content was provided "as is" from Amazon and is subject to change or removal at any time.