Today we shall be looking at the best Manfrotto tripods that you can buy. When it comes to the sharpest and the best images that one could shoot, one accessory immediately comes to mind. That accessory is the tripod. Really, photography of most kinds is incomprehensible without this trusted three-legged thingy.
But buying a tripod isn't as simple as walking down to a farmer's market and buying some vegetables. There are so many things to decide before you can pick up the one that you really need. Of course, if you don't care about budget and don't worry about the nitty gritty, you can simply spend a thousand dollars and pick up the first one that comes across to you. But if you really are into photography and prefer to buy things rather than have things pushed upon you, then read along.
Best Manfrotto Tripods
Also Read: Best Tripod Heads
1. Manfrotto MT055XPRO3 Aluminum Tripod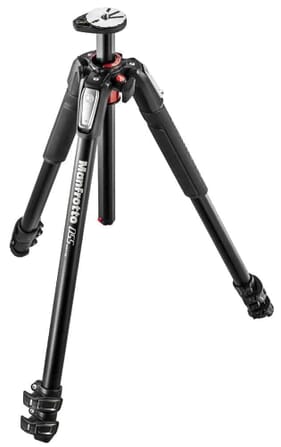 This aluminum built tripod works best when you pair it with the 410 Junior Geared head kit. Built out of aluminum the MT055XPRO3 is tough and durable. The thing is it weighs just about 2.5 kilos. So, it's heavy and sturdy. It can support up to 9 kilos of photography gear. When the legs are extended the tripod reaches a maximum height of 72″. A useful feature of the tripod is that you can use just one hand to unlock the legs. The company calls this the Quick Power Lock System, making this one of the best Manfrotto tripods in the business.
Related Post: Best Tripods for Video Shooting
The MT055XPRO3 has a number of features that make it a great choice regardless of the type of photography you do. The central column can be fixed in vertical position above the legs. Or it can be swung down all the way. Alternatively, you can swing it horizontally just like a boom, giving you a lot of shooting flexibility. The individual tabs on the legs allow you to set them up in a squatted position while the camera is set up horizontally giving you excellent position for shooting macro photos.
2. Manfrotto 190Go! Carbon Fiber Tripod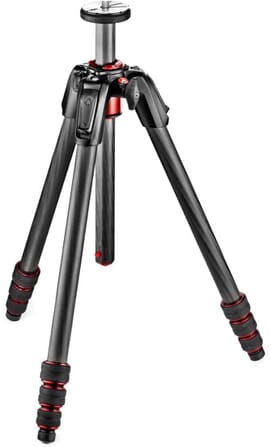 The ball head is probably the most commonly used tripod head. It is easier to set-up in whichever way you want it to. The Manfrotto 190Go! is compatible with the 496RC2 ball head. We have separately detailed about the ball head at the end of this review. Let's first take a look at the tripod legs.
Carbon fiber is good for durability and it is a lightweight material. The 190Go! weighs 1.8 kilos and it can support a total weight of 6 kilos. When extended, the tripod reaches a height of 61.8″. The legs come with standard twist locks. These allow quick extension and setting up.
Just like any other good quality tripod, the central column can be positioned at an angle of 90 ˚ which would be horizontal to the ground. The leg can be minimized and that would give you a minimum height of just 2.75″ from the ground to work with.
3. Manfrotto MT190XPRO3 Aluminum Tripod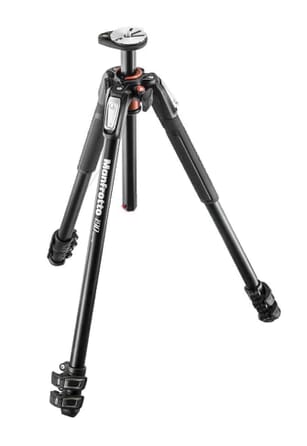 The MT190XPRO3 is an aluminum alloy crafted tripod with a total load carrying capacity of 7 kilos. The tripod itself weighs just 2 kilos making it suitable as a travel tripod, something you can haul for long distances on a trek or when sight-seeing.
When fully extended the three section of the legs can push the tripod to a height of 68.1″. The flip locks labeled as "Quick Power Leg Locks" can be operated using one hand only. All you need to do is flip the locks out and the extensions fall in place.
The central column can be set up in a vertical position as well as dropped to a 90 ˚ horizontal angle to the ground to be used like a boom. Just like the MT055XPRO3, you can then take advantage of the enlarged tabs on the individual leg sections to further push the legs down for a working height of only 3.5″. That is perfect for macro photography.
Related Post: Best Monopods for DSLR Video Shooting
Additionally, there are easy link plugs built into the tripod's spider which allow you to hold lights and other accessories for precision shooting requirements. An integrated bubble right around the base where the head will attach to the 3/8″-16 screw is easy to use. It can be turned towards you regardless of the type of head for easy viewing.
The tripod feet are rubber crafted and do not come with spikes which means it would be ok to work on studio floors but not so much on rocks or wet uneven surfaces.
4. Manfrotto MT055CXPRO3 Carbon Fiber Tripod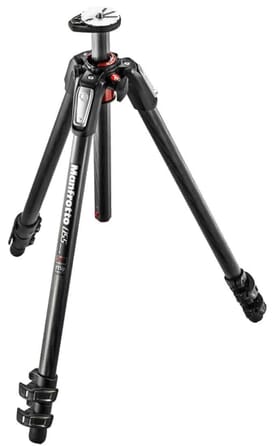 Carbon fiber tripods are the best in the business. They are both lightweight and extremely durable. Thus they are the best choice when it comes to a lightweight sturdy travel tripod. This particular tripod weighs about 2 kilos and can support up to 9 kilos.
When fully extended with the central column raised vertically, the MT055CXPRO3 tripod reaches a height of 66.9″. The head mounts to a 3/8″ – 16 screw that holds it steady in place. There is also a bubble level indicator located on the base plate right beside where the head mounts. The bubble indicator rotates which means you can always point it towards you regardless of the head you have mounted.
The legs of the tripod come with Manfrotto's Quick Power Lock System which ensures that you can unlock them and have them in extended with just one hand. Out in the field with no assistants, this is what you would want.
Related Post: Choosing the Best Lavalier Mic
Just as the rest of the best Manfrotto tripods out there the MT055CXPRO3 too comes with enlarged tabs on the legs and individual leg angle selectors. This free-swinging feature allows you to set up your tripod over uneven surfaces and or set it up at a very low angle right above the ground. This shooting position is just perfect for any type of macro work, especially when outdoors.
Thanks to the way the central column has been designed you can use it either in a horizontal position which in collaboration with the low set legs is perfect for macro work, or choose to shoot with the central column set vertically.
Additionally, to assist you in your work you can use one of the legs hold lights giving you better shooting options to shoot macro and other demanding work.
5. Manfrotto MT055CXPRO4 Carbon Fiber Tripod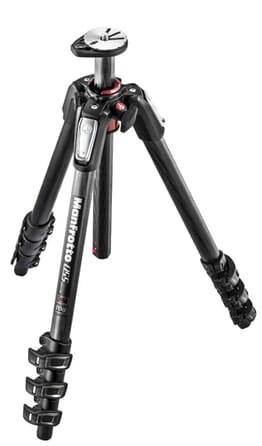 Manfrotto 055 Carbon Fiber 4-Section Tripod with Horizontal Column (MT055CXPRO4)
Premium Carbon Fiber Legs Offer Unprecedented Strength and Rigidity
Manfrotto's Q90 Center Column Boasts Quick One Finger Operation
Easy Link Connection for Adding Accessories
Upper Disk with Rotating Bubble Level to Level on All Planes
Next-Level Power for Professionals; Shoot from new perspectives thanks to the 90° column system
Between the MT055CXPRO4 and the MT055CXPRO3 that we just finished reading, the differences are subtle. You really have to open the spec sheet in order to put a finger on them. For example, when folded, the MT055CXPRO4 is slightly shorter than the MT055CXPRO3. 21.3″ compared to 24″. That means extra convenience when you are carrying it to the location or packing it inside a bag for air travel. Another difference is the weight. The MT055CXPRO4 is slightly more on the heavier side than the MT055CXPRO3, albeit just by 100 grams.
Some differences, however, are apparent. Such as the leg sections. The MT055CXPRO4 has four leg sections whereas the MT055CXPRO3 has three leg sections. Does that change the maximum working height of the tripod? Not really. It remains the same as the MT055CXPRO3, i.e., 66.9″. However, the advantage lies in the fact that you can adjust the height of the tripod more precisely that before.
The rest of the features on the MT055CXPRO4 are the same as the MT055CXPRO3. They have identical load bearing capacity, the same bubble level indicator, Quick Power Leg Locks and central column.
You can pair this with the 405 Pro Digital Geared head for precise shooting or buy a compatible ball head. We love the carbon fiber design. This is the best in the business making the MT055CXPRO4 one of the best Manfrotto tripods in this price range.
Related Post: Manfrotto 535 Tripods with the 504HD Video Head
6. Manfrotto MT057C3-G 057 Carbon Fiber Tripod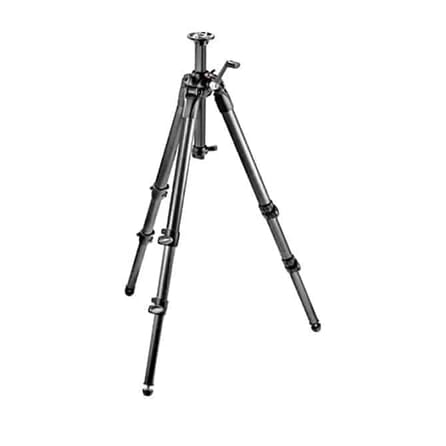 The Manfrotto MT057C3-G 057 is a carbon fiber tripod that is the top of the line from the Manfrotto stable. With a total load carrying capacity of 12 kilos, this sturdy support system will be suitable for even the heaviest of DSLRs and professional tele lenses and even the heaviest of medium format systems.
The maximum working height of the tripod is 61.8″ with the minimum being just 8.7″. At that height, the tripod can be used for macro work reasonably well. The legs have three sections which can be extended by unlocking the flip locks.
Related Post: Best DSLR Tripods for Photography Enthusiasts (6 Amazing Picks)
The overall weight of the system is 3 kilos, making it the heaviest of all the tripods that we have on this list of the best Manfrotto tripods. This is certainly not the kind of tripod that you would be looking to haul to a destination wedding or a hike up the mountain.
However, a special feature of the tripod feet makes it perfect for shooting on uneven surfaces in case you manage to haul it up. Retractable spiked feet makes it ideal for outdoor shooting. A built-in bubble indicator comes in handy when shooting stills or panning videos. The retractable feature of the feet means when you don't need, such as when shooting on the tiled floor, you can simply retract them.
A 3/8″ – 16 screw mounts any tripod head to the system. Ideally, this system would go well with the RC4 057 magnesium ball head.
7. Manfrotto 475B Professional Tripod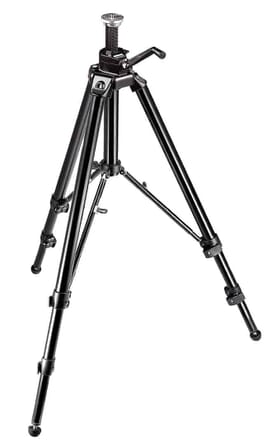 Manfrotto 475B Pro Geared Tripod without Head (Black)
All black anodized aluminum construction and unrivaled in stability
Unique center brace strut system
Reliable quick-action leg locks
Non-rollback three-faceted center column, spirit level and rubber/metal spiked feet
74-inch maximum height with center column, 26.5-pound maximum load
The Manfrotto 475B is one of the best Manfrotto tripods in the market. This is a professional tripod designed for heavy duty camera systems. It can support a whopping 12 kilos of weight. This is a tripod that is not designed for travels or treks as but more for studio or large budget works. Made out of aluminum alloy it weighs a good 4.3 kilos. The Manfrotto 475B is a giant when in full working height. At 74″ it towers over other tripods.
The three section legs will lock in place with a flip-lock mechanism. The legs do have independent spread which means you can set them up at different angles from each other allowing you to stoop low if required or get a good grip even over uneven surfaces.
Speaking of uneven surfaces, the feet of the Manfrotto 475B comes with retractable spikes. That gives additional traction, especially on slippery surfaces.
You can attack a professional PT head or one of the aluminum die-cast heads that will allow you to mount a professional DSLR with a heavy lens or a medium format or even a small video camera. The head mounts via a 3/8″ – 16 screw. There is a built-in bubble level indicator for stabilizing the camera when shooting.
Tripod Heads
You can't work with a tripod without some sort of a head, be it a ball head or a geared one or a PT head. The best Manfrotto tripods are basically walking sticks without one. So here we are, with some recommendations for a head for your favorite set of tripod legs.
1. 496RC2 Aluminum Ball Head
The 496RC2 is an aluminum ball head. The ball head has a maximum load bearing capacity of 6 kilos. It itself weighs roughly 420 grams. That should be more than enough for professional DSLRs with a medium telelens attached. You could even mount a small sized medium format camera without problems.
The head can be adjusted to tilt +/- 90 ˚ and pan 360 ˚ without issues. However, there is no built-in bubble level indicator. The die-cast aluminum head comes with ¼"-20 male thread for the quick release plate. Safety measures built into the system ensures that the camera does not fall off at any time while in use.
2. 410 Junior Geared Head Kit
The 410 Junior Geared Head is designed for precision. It can support up to 5 kilos. If you think that it is a limitation on the weight bearing capacity of the tripod, it is not. You'd rarely be using anything over 5 kilos. And even if you do you can always change the 410 Junior Geared for a different higher capacity head.
On the plus side, however, you get the advantage of 360 ˚ pans, +90 ˚ to -30 ˚ front tilt and the option of +90 ˚ to -30 ˚ lateral tilt as well. The head comes with a bubble indicator which comes in handy when shooting outdoors. The large quick release plate ensures that the camera has a stable platform to sit on.
There is something precise about geared heads. In case you don't like them you will hate them every time no matter what. But if you like them the first time you will enjoy working with these geared heads because of the high degree of precision and control they give you. I would still say that a geared head is more of a personal choice than a professional.
Related Post: Geared Head Review: Manfrotto 405
---
Note: As an Amazon Associate we earn from qualifying purchases. Certain content that appears on PhotoWorkout.com comes from Amazon. This content is provided 'as is' and is subject to change or removal at any time.