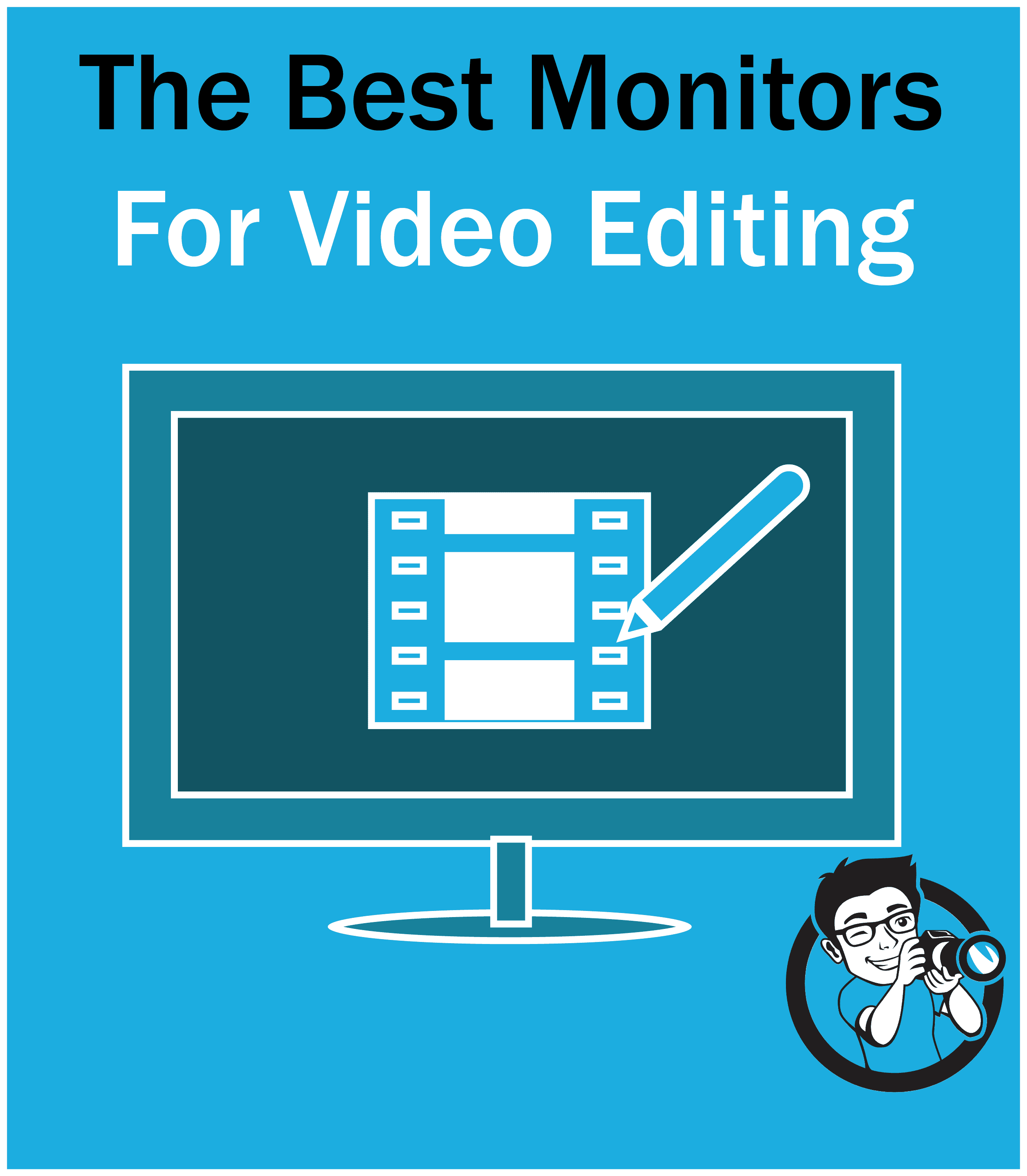 The best monitors for video editing offer a combination of brightness, support for HDR content, 4K resolution, and a high-quality display panel among a few other parameters.
In this article, we look at whether the monitor has HDR support and whether it supports 100% of the Adobe and sRGB color gamut.
Without further ado, let's take a look at the best monitors for video editing.
The Best Monitors for Video Editing:
The best monitors are able to display a high range of contrast, the Dell Ultrasharp Monitor is able to do just that. The brightness range means you're able to get nice, deep blacks and saturated colors. Perfect for real-life color rendering when editing your videos.
Speaking of color, this monitor has 100% coverage for a range of color spaces, including the Adobe RGB color space. This means that you should have no issues with viewing your videos with the utmost precision in video editing software such as Adobe Premiere.
Add to that the 4K resolution and you know you're onto a video editing winner. If this monitor doesn't meet your needs, we don't know what will!
Dell Ultrasharp U2718Q 27-Inch 4K IPS Monitor
Exceptional details, ultimate efficiency — a 27" 4K screen with incredibly thin bezels — ideal for multiple monitor...
Hone in on every task with a multi-monitor setup and experience a virtually seamless view thanks to ultrathin bezels
Dell HDR combines greater depth of colors, remarkable clarity and a high contrast range of shades to create strikingly...
Connect up to six compatible RF devices or Bluetooth 4.0 through Dell Universal Pairing. Dell Display Manager Compatibility....
Brightness 350 cd/m².Pixel Pitch:0.1554 mm x 0.1554 mm
Related Post: Best Video Cameras Under $1000
If you want a monitor that sports an impressive display, look no further. This BenQ Video Production Monitor is a beast. When you're editing videos, you'll have a perfect preview of your production. While this monitor doesn't offer a 4K display, it still produces high-quality visuals and has very accurate color representation.
In terms of color spaces, this monitor has pretty good coverage, including a 99% coverage of the Adobe RGB color space which means you'll fair pretty well using this.
All in all, this monitor is a great option and will render good image quality for all your video editing needs.
BenQ PV270 27" Video Post-Production IPS Monitor, 2560x1440 QHD, 96% DCI-P3,...
27"W Large Screen 2560x1440 QHD Resolution
100% Rec. 709 and 96% DCI-P3 with IPS Technology
Hardware Calibration and Color Accuracy
Palette Master Color Calibration Software. Operating Temperature-0˚C - 40˚C. Operating Humidity (non-condensing)-10% - 90%
Brightness Uniformity Function. OS Compatibility- Windows 7,Windows 8,Windows 8.1Windows 10,MAC
Related Post: Best Computers for Video Editing
BenQ produces a number of 4K monitors keeping in mind the demands of content creators like video editors and photo editors. This particular unit comes with a display size of 27" and a resolution of 3840 x 2160 dots. The large display and the extra dots of resolution ensure that you are able to manage your video on a larger scale.
The IPS monitor supports 99% of the Adobe RGB color space as well as 100% of the Rec.709 and sRGB color spaces. Video editing requires that your monitor is able to display a higher dynamic range than what the standard dynamic range of everyday use monitors do. The minimum is HDR10 which the BenQ SW271 provides.
Thanks to the higher dynamic range this monitor can produce higher contrast images. Add to that the fact that it has 10-bit color support and you can see why this monitor is considered one of the best monitors for video editing.
A final touch that some studio editors will love is the detachable shading hood that comes with this monitor. Since our workplaces can have variable lighting, it prevents interference from external light and minimizes glare and reflections.
BenQ SW271 27 Inch 4K HDR Professional IPS Monitor |10-Bit with 14-Bit 3D LUT...
27 INCH 4K UHD RESOLUTION: Exceptional clarity of fine details
HIGH DYNAMIC RANGE (HDR): for sharpened brightness and incredible details.Dimensions (HxWxD mm) (w/o Base) (with shading...
AQCOLOR TECHNOLOGY: 99% Adobe RGB coverage, hardware calibration support for accurate colors for photography. Card Reader...
USB TYPE-C: Transmit data and video signal with one cable for easy hardware calibration. Video Signal Data : Horizontal...
HARDWARE CALIBRATION WITH PALETTE MASTER ELEMENT SOFTWARE: Tune and maintain the color performance of the monitor at its most...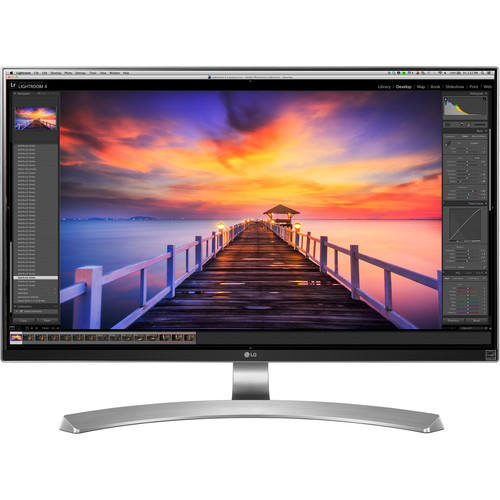 If your videography needs are not as high-end, and your videos only get shared on sites like YouTube, you might be more interested in something on the budget end of the spectrum. You won't get 10-bit color support, but you wont need it.
That's why we included this LG monitor in the mix. It offers 8-bit color support, which is more than enough for YouTube videos. You'll still be able to have high-quality video edits for a fraction of the cost.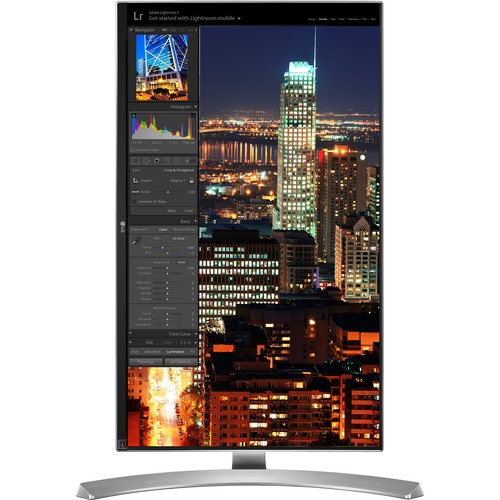 In terms of brightness and contrast, you'll still have high performance with this monitor. Add to that the color space support, 99% of sRGB support, and you're doing pretty well.
An added bonus feature of this monitor is the calibration tools that it comes equipped with. You'll be able to tweak calibration settings with ease thanks to the added hardware and software.
When it comes to editing, we're firm believers in the statement, the bigger the better. So when we saw this 32, we knew it was a winner. With a 4K display, we really couldn't complain.
Add to that the HDR-10 functionality and you know it's going to be perfect for video editing, you'll get high contrast and plenty of detail.
Brightness settings further enhance this stunning display option making this a no brainer. The LG 32UD99-W is an incredible monitor for video editing.
LG (32UD99-W 32" Class 4K UHD IPS LED Monitor with HDR10 w/Accessories Bundle...
LG 32" Class 4K UHD IPS LED Monitor with HDR10
Outstanding Ultra HD performance is assured by the specially designed 4K display panel with in-plane switching (IPS),...
INCLUDED IN THE BOX:LG 32UD99-W 31.5" 16:9 HDR10 FreeSync IPS Monitor - Power Cable - Limited 1-Year Warranty
BUNDLE INCLUDES:LG 32UD99-W 32" Class 4K UHD IPS LED Monitor with HDR10 - 2x 6ft High Speed HDMI Cable (Black) - Universal...
Here's another BenQ 4K monitor added to the list of the best monitors for video editing. This one has a display size of 31.5" and 4K resolution. It's another one of those, the bigger the better cases.
The BenQ PD3220U comes with 100% of the sRGB and Rec. 709 color gamut and 95% of the DCI-P3 color gamut. Plus you also get HDR10 for better contrast and detail.
But the most interesting thing about this monitor is that it supports 10-bit color for a maximum of 1.07 billion colors. That means this monitor would be suitable for professionals as well.
The maximum brightness of the monitor is 300 CD/m² with a static contrast ratio of 1000:1. Maximum brightness is definitely on the lower side as some of the other best monitors for video editing we have discussed here but it's still not terrible.
BenQ PD3220U 32 inch 4K Monitor IPS, HDR, AQCOLOR, Display P3, DCI-P3, sRGB, Rec.709,...
32 inch, 4K, 3840x2160 resolution, advanced IPS monitor for wide viewing angle and stunning images
AQCOLOR TECHNOLOGY: 95% DCI-P3 and Display P3, 100% of sRGB and Rec. 709 color spaces, 10-bit color
LIGHTNING FAST THUNDERBOLT 3 CONNECTIVITY: Daisy-chain two 4K monitors for fast data/audio/video transfer, HDMI, DisplayPort,...
PROFESSIONAL MONITOR CAPABILITIES: View files side-by-side with DualView. Easily compare/edit photos and videos in...
PRODUCTIVITY BOOSTS: Keyboard Video Mouse (KVM) Switch to display files, photos or videos from two computers on one screen....
Best Monitors for Video Editing: Concluding Thoughts
As you can see, there are numerous options when it comes to the best monitors for video editing and really, it all boils down to your individual needs and budget. Some options are specifically geared towards video editors, but with these, you might find yourself shelling out extra cash.
If you use a different monitor for video editing, why not let us know in the comments section below?
---
As an Amazon Associate we earn from qualifying purchases. Certain content that appears on PhotoWorkout.com comes from Amazon. This content is provided 'as is' and is subject to change or removal at any time.