When it comes to choosing the best PC for photo editing, you're going to want a high-performing computer. Editing software takes a pretty big toll on your PC's memory and overall performance when in use.
And so if you don't have high enough specs, you'll find your PC handling editing programs in a rather sluggish manner.
In other words: Picking the perfect model matters, which is why we've filled this article with our favorite photo-editing PCs available in 2022.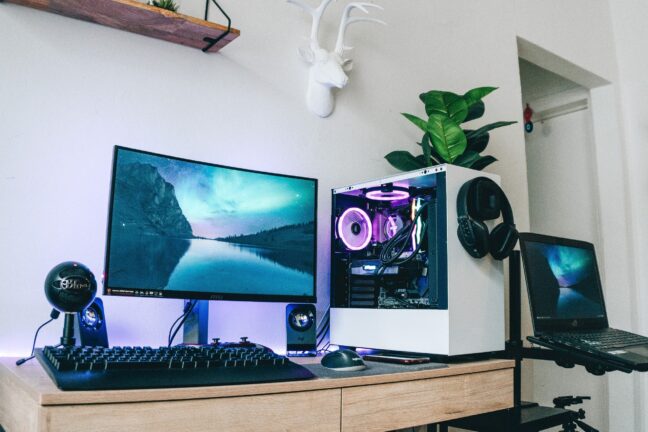 When you buy through links on our site, we may earn a commission at no cost to you. We evaluate products independently. Commissions do not affect our evaluations.
The Best PC for Photo Editing: All-In-One, Budget, and Gaming
We have divided this article into three parts.
The first part covers the so-called "all-in-one PCs." These are ideal for those who want a complete unit ready to use straight out of the box. These PCs come with a tower, a (usually large) display unit, and a keyboard. Some, like the Apple iMac, come with a pointer device, too.
The second part covers the best budget PC units. These are great for everyday office work and are built better than your average office PC. We haven't gone for the absolutely dirt cheap units because they can struggle to run Photoshop.
The third part covers (gaming) PCs which, due to their processing power, are ideal for photo editing. But you will have to buy a monitor for photo editing separately, and you may want to buy a good editing keyboard, too. Finally, a graphics tablet is advisable for maximum editing convenience.
Best All-In-One PCs for Photo Editing
1. HP Pavilion 27" All-In-One Desktop (Bestseller)
Gorgeous 4K display
The HP Pavilion 27" All-In-One Desktop has a superior touchscreen display capable of 4K resolution. It is also incredibly powerful and can easily cope with even the most resource-intensive editing software.
Pros
Superb 4K display
1 TB SSD storage
Ample RAM for RAW editing
Cons
Relatively expensive
If you are looking for a simple all-in-one solution, the HP Pavilion 27'' Desktop is a great photo-editing PC and easily rivals the specs of the Mac computers on this list. It's a powerful device that features 16 GB of RAM and a spacious 1 TB SSD drive.
The monitor itself is of amazing quality and offers full HD resolution and touchscreen capabilities. You can view and edit your photos in 4K resolution, and the housing of the monitor is made from durable aluminum. You can also adjust the monitor from a tilt of -5 degrees through to 25 degrees.
This all-in-one solution features a high-powered Intel Core i7 processor, which can be boosted to speeds of 4.5 GHz. Also, it boasts 16 GB of DDR4 memory that can be further upgraded to 32 GB if required. The graphics card is okay (it's only a basic Intel UHD Graphics 630 card, but it's more than suitable for photo editing).
The HP Pavilion features two storage drives: a 1 TB SATA HDD and a 512 GB PCIe SSD. This should provide excellent storage for your photos and any software you wish to install.
2. iMac 27" 5K 2020
A fantastic all-in-one device
The perfect combination of power, usability, and looks.
Pros
Great processor
Excellent 4K display screen
Powerful AMD Radeon graphics
Cons
Some may not love the design
The Apple iMac with Retina 5K offers a combination of looks and power – power that can easily handle some of the most demanding editing and retouching processes.
The latest 27-inch iMac is powered by the 3.8 GHz 10th Generation Intel i7 processor. There are several other variants available that you could opt for. One with the 3.6 GHz Intel Core i9 would be a powerful beast, but it also costs a lot more.
The base memory on our pick is 16 GB DDR4. But you can stretch it up to 128 GB 2666 MHz DDR4.
The base variant comes with the Radeon Pro 5500 XT and a 8 GB GDDR6 GPU. Needless to say, you can upgrade that, too. You can opt for the Radeon Pro 5700 XT that comes with 16 GB of GDDR6 memory in a special, customized order.
The base variant comes with 256 GB of SSD storage. But this unit comes with 1 TB of storage.
3. Lenovo IdeaCentre 5i
Great for multi-tasking
The Lenovo IdeaCentre 5i has a powerful 64 GB of high-bandwidth RAM and an octa-core processor that allows for multi-threading and running multiple programs at once.
Pros
Excellent 64 GB RAM capacity
Powerful Intel Core-i7 processor
High-quality touchscreen display
Cons
The Intel graphics could be better
The Lenovo IdeaCentre 5i is a relatively new release and marks Lenovo's entry into the all-in-one computer market. This is certainly a top PC for photo editing due to its stylish design and incredible system specs. You can also benefit from an improved space-saving design that essentially includes just the monitor and a small unit within the base.
This photo editing PC has 64 GB of high-bandwidth RAM, which is more than enough to handle powerful editing software like Lightroom and ON1 Photo RAW. It's complemented by an Intel Core i7-10700T processor with 8 cores and 16 threads, and you get a huge 2 TB SSD that ensures you can access and transfer photos quickly.
A wired keyboard and mouse are both included along with WiFi and Bluetooth connectivity. We like the high-quality display, which has a resolution of 2560×1440, uses IPS technology and has anti-glare properties. Additionally, it has touchscreen capabilities, so you could even use a pen for minute editing adjustments.
The graphics processing could be improved as this PC only has an Intel UHD Graphics 630 card; however, you should still have no issue running virtually any software. This is the best desktop for photo editing if you prefer something different from Apple or HP.
Best Budget PCs for Photo Editing
4. Skytech Archangel Gaming Computer
Supreme power and performance
This gaming computer has an immense 6 GB GeForce GTX graphics card and 8 GB of DDR4 memory for optimal editing performance.
Pros
Beastly graphics card
Stylish RGB lighting
Powerful cooling to maintain high performance
Cons
Only has a 512 GB SSD storage drive
Skytech has a fantastic range of gaming computers and the Skytech Archangel Gaming Desktop is the best PC for photo editing that the company offers. It has a sleek and stylish design with a gorgeous silver case and plenty of interior RGB lighting.
Aside from the style, this computer has fantastic specs. One of the best features is the NVIDIA GeForce GTX 1600 graphics card – this beast has 6 GB of dedicated memory! Combine this with the 8 GB of DDR4 gaming memory and the AMD 6-core processor, and you get one of the best photo editing models on the market. You can expect supreme performance from programs like Lightroom and ON1 Photo RAW.
To keep this computer running smoothly so you can edit for prolonged periods, the Archangel also packs plenty of dedicated cooling fans. The graphics card has a fan, and there is a high-performance AMD Wraith Cooler for the motherboard.
5. Skytech Blaze II
Great for performance and style
This desktop computer looks incredible, and it also performs well thanks to an AMD Ryzen 5 processor and 8 GB of DDR4 gaming memory.
Pros
Transparent side panel case
Powerful NVIDIA GeForce GTX 1650 GPU
Ample internal cooling
Cons
The 500 GB SSD could be larger
The SkyTech Blaze II Gaming Computer looks epic with its RGB lighting system and offers superb performance for both photo editing and gaming. If you want a great desktop computer that'll wow your friends, this is the right pick.
Before we look at the specs, let's discuss the build. The PC has a transparent side panel so you can see the components in all their glory. It also has three RGB RING fans that look dazzling and provide efficient cooling for all that processing power.
To run photo editing software smoothly, this beastly rig has an AMD Ryzen 5 3600 6-Core processor, which clocks in at a standard speed of 3.6 GHz. There's also 8 GB of DDR4 3200 RAM and a powerful NVIDIA GeForce GTX 650 GPU with 4 GB of dedicated memory.
Admittedly, the storage capacity could be larger, but it is still an SSD, which is so much faster than traditional HDDs. And you can always add an external hard drive if space gets too limited.
5. HP Pavilion Gaming Desktop
Great for fast file transfers
The 500 GB NVMe M.2 SSD gives this HP Pavilion Gaming Desktop superior boot times and fantastic file handling capabilities.
Pros
11th Gen Intel Core-i7 processor
32 GB of high-bandwidth DDR4 RAM
Multiple connection ports
Cons
The SSD, while fast, may not be large enough at 500 GB
If you don't want an AIO computer but still prefer well-known brands, the HP Pavilion Gaming Desktop could be an excellent pick. It is primarily meant for gaming purposes, but its intense specifications make it an option for photo editing, too.
The case looks great and has a compact design with a vertical front panel of ports including 4x USB Type-A slots. It is also equipped with multiple air vents and an advanced thermal cooling system to ensure the components never overheat.
The important specs are more than enough for advanced photo editing and include 32 GB of high-bandwidth DDR4 RAM. It also has an 11th Gen Intel Core i7-11700 Octa-Core processor with clock speeds of 2.50 GHz per core. The NVIDIA GeForce RTZ 3060 GPU is outstanding, and to finish things off, you have a PCIe NVMe SSD, which provides super-fast boot times and effective handling of large RAW image files.
7. iMac 24" 2021
Great for precise editing
The 4.5K-resolution display of the iMac 24" 2021 offers superb clarity and color accuracy for professional editing.
Pros
Next-generation Apple M1 chip
Unified memory for improved performance
Multiple ports including 2x Thunderbolt
Cons
The basic storage drive is limiting for large photo collections
Apple continues to revolutionize its devices and introduce new technologies. One such feature is seen in the Apple iMac 24'' 2021: the Apple M1 chip. This is a dual-function processor with an 8-core CPU and an 8-core GPU. It offers incredible performance that makes this iMac one of the best computers for photo editing.
The 24" iMac has 8 GB of RAM. This might not seem like much, but the memory is unified, so it works better with the processor and offers optimized performance. And you can choose to upgrade the iMac to 16 GB of RAM if you feel you need more power. For storage space, the basic model has a 256 GB SSD. This may be a little small for some photo collections, but there is a 512 GB option available.
The display is one of the best features of this all-in-one computer. It boasts a 24" retina display with 4.5K resolution and a wide color gamut. The brightness is incredible, and the colors of your photos will look realistic, which is a must for professional photo editing. Lastly, it benefits from two Thunderbolt ports and four USB ports, all of which allow for excellent connectivity and fast file transfer from external devices.
Best (Gaming) Desktop PCs for Photo Editing
8. CyberpowerPC Gamer Xtreme VR Gaming PC
Epic power for professional editing
This gaming PC has some of the best features available and will provide a smooth editing experience when using power-hungry programs like ON1 Photo RAW.
Pros
8-core Intel processor
16 GB of DDR4 RAM
Dedicated 8 GB graphics card
If you want the ultimate PC for photo editing, the CyberpowerPC Gamer Xtreme VR Gaming PC is a monster rig. This computer is primarily used for gaming, but it is more than capable of running resource-intensive editing software such as Photoshop.
Liquid cooling ensures that the rig is able to dissipate heat much better and offer better performance even when running demanding applications. Do remember: This is an out-and-out gaming PC, so for photo editing, it may be overkill. But if you want to invest in a PC that can handle photo editing, video editing, and pretty much anything else, this is the one you should go for.
The CyberpowerPC Gamer Xtreme has 16 GB of DDR4 RAM, which can easily be upgraded. It also has a powerful Intel Core i9-9900K 3.6 GHz processor. This should be more than enough to cope with processing RAW images and managing large libraries of photos.
We also like that it has the NVIDIA GeForce RTX 2070 Super 8 GB. And the 16 GB of DDR4 and 1TB PCI-E NVMe SSD round out its feature set.
9. iBUYPOWER Pro Gaming PC
A great budget option
This budget gaming PC is great for photo editing thanks to 8 GB of RAM and a powerful NVIDIA graphics card.
Pros
Great NVIDIA GeForce GT 730 card
Powerful AMD Ryzen processor
Stylish RGB lighting and tower
Cons
Only has a 240 GB SSD as standard
iBUYPOWER is a lesser-known brand, but they have an excellent range of desktops for photo editing. One of the best options is the iBUYPOWER Pro Gaming PC. This is a desktop computer that is both functional and stylish. For those who want a cool-looking tower, this model features RGB lighting on the inside.
For photo editing, you'll benefit from an NVIDIA GeForce GT 730 2 GB graphics card and 8 GB of DDR4 RAM. This should give plenty of processing power for detailed editing. It also has a quality AMD Ryzen 5 processor capable of 3.6 GHz clock speeds.
You can also buy different variations of this desktop computer that include accessories – like a mouse and a keyboard or an upgraded processor.
10. OMEN GT12-0030 Gaming Desktop PC
A fantastic PC with superb processing power
The OMEN GT12 is a great model and a true powerhouse for editing with its 16 GB of DDR4 RAM and AMD Ryzen 7 processor.
Pros
Stylish glass-sided tower
AMD Radeon graphics
16 GB of DDR4 RAM
Cons
Only has a 512 GB SSD as standard
The OMEN - GT12-0030 is a quality product with a host of excellent specifications. First, the case looks fantastic; it has a glass-sided panel so you can see the inner workings of your PC.
It also has everything you need for photo editing. This includes an AMD Ryzen 7 3700X processor, an AMD Radeon RX 5500 graphics card, and 16 GB of DDR4 RAM. The processor can clock at speeds of up to 3.6 GHz, and the graphics card has 4 GB of dedicated memory. Photo editing and video editing should prove no issue at all.
For storage, it only has a 512 GB SSD, which some may find limiting – though you can always purchase an external SSD for a relatively cheap price.
11. Dell G5 Gaming Desktop
A smart and compact tower
This powerful computer can easily be upgraded and has great specs for photo editing.
Pros
Toolless upgrade system
16 GB of DDR4 RAM
Powerful NVIDIA graphics card
Cons
On the pricier side
The configurations are a giveaway. The Dell G5 is powered by an Intel Core i7 10th Generation processor. This is a very powerful gaming computer and should be able to handle your photo editing and video editing tasks with great effectiveness.
The other specifications of the PC include 16 GB of DDR4 RAM, an Nvidia GeForce RTX 2060 Super GPU, and 1 TB SSD storage. The NVIDIA GeForce RTX 2080 is faster, and this is one area where you may lose out on some video-editing performance. But there will be no lag time for photo editing. For that purpose, the Dell G5 is more than enough.
We like the smart design of the tower – it looks fantastic. Also, this desktop computer has a simple upgrade system. You can easily open the side panel and remove different components without the need for tools. This makes it the best computer for photo editing with easy access.
Key Things to Consider When Choosing the Best PCs for Photo Editing
Available storage space
Amount of RAM
Type of processor
Type of graphics card
Price
As a photographer, having access to your files and also having enough storage space to install and run your programs is key. You'll ideally want the best PC for photo editing with 1 TB of storage.
The best PCs have ample RAM; this allows you to handle performance-heavy programs with ease. Look for a PC with 8 GB of RAM at a minimum.
Processors and graphics cards vary from PC to PC, but you ideally want high-performers on both ends. The latest Intel i5 or above is a great choice; pair it with a powerful NVIDIA or Radeon graphics card.
Price is the final factor, one that comes down to your personal budget. If you have a tight budget, expect to make cuts in some of the above areas to find a PC in your price range.
Get the Best PC for Photo Editing: Final Words
As you can see, there is a great range of computers for photo editing. If you want an all-in-one solution, something like the HP Pavilion 27'' Desktop is an excellent choice. Alternatively, you may want a small compact tower to sit under your desk, in which case, the Dell G5 Gaming Desktop is a good option. Finally, if you want a computer built for gaming and photo editing, why not consider something like the CyberpowerPC Gamer Xtreme VR Gaming PC?
Photo Editing PC FAQs
Does Photoshop benefit from a better graphics processor?
Yes, it does. There are some tools in Photoshop that won't even work with particular GPUs. In addition, when working with Camera RAW or using one of the Blur Gallery tools, a fast GPU will get you a much smoother experience than when using a slower or outdated GPU.
AMD Ryzen vs Intel Core: Which one should I choose?
AMD-powered PCs have come along in leaps and bounds, and today's Ryzen 9 powered systems are ahead of their Intel Core i9 processors in terms of raw power. 12 cores and multi-threading capabilities allow the Ryzen 9 to handle 24 processes, compared to 16 processes on an 8-core i9.
What is an ideal amount of RAM for a photo-editing computer?
Ideally, you want at least 8 GB, as this is the recommended amount for most editing programs. However, 16 GB or even 24 GB will offer superior performance.
---
As an Amazon Associate, we earn from qualifying purchases. Certain content was provided "as is" from Amazon daily and is subject to change or removal at any time.