When it comes to photo editing, you're going to want a high-performing PC to do the job. Editing software takes a pretty big toll on your computer's memory and overall performance when in use.
If you don't have high enough specs, you'll find your PC handling the program in a rather sluggish manner. With all this in mind, there are certain factors need to consider when choosing the best PCs for photo editing.
Key Things to Consider When Choosing the Best PCs for Photo Editing:
Available storage space
Amount of RAM
Type of processor
Type of graphics card
Price
As a photographer, having access to your files and also having enough storage space to install and run your programs is key. You'll ideally want a PC with 1TB or more in storage.
The best PCs have ample RAM, this allows you to handle performance-heavy programs with ease. Look for a PC with 8GB of RAM at a minimum.
Processors and graphics cards vary from PC to PC, you ideally want high-performers on both ends. The latest Intel i5 or above is a great choice, paired with a powerful NVIDIA or Radeon graphics card.
Price is the final factor and one that comes down to your personal budget. If you have a tight budget, expect to make cuts in some of the above departments to find a PC in your price range.
We have divided our research and writing in two parts.
The first part covers the so called All-in-One PCs. These are ideal for those who want a complete unit ready to use straight out-of-the-box. These units come with the processing tower, a display (usually large) unit and a keyboard. Some, like the Apple iMac comes with a pointer device too.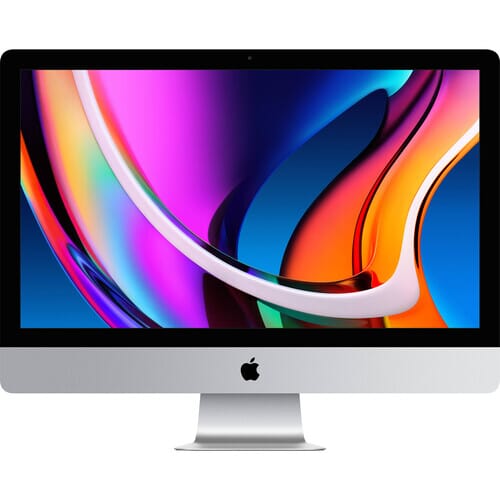 Apple iMac (27 Retina 5K display)
3.8 GHz Intel Core i7 8-Core, 1TB Storage, 16GB RAM;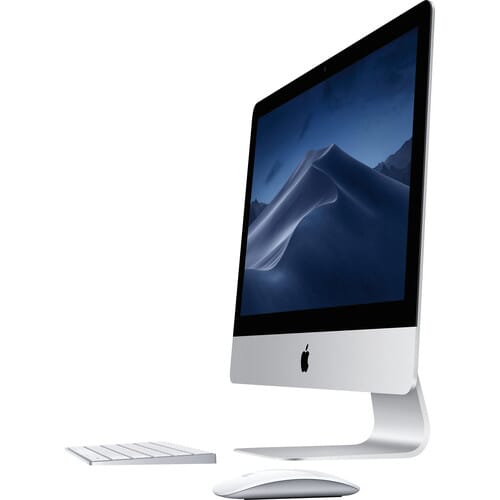 Apple iMac 21.5" 4K (Early 2019 – Refurb)
3.2 GHz Intel Core i7 6-Core, 1 TB Fusion Drive, 8GB RAM;
Microsoft Surface Studio 2 28″
2.9 GHz Intel Core i7, 1 TB hard drive, 16GB RAM;
HP Pavilion 27″ All-in-One Desktop
Intel Core i7-10700T 6-Core, 1TB hard drive, 16GB RAM;
The second part covers the best budget PC units. These are great for everyday office work. A little bit better build than your average office PC. Just so that they can take the additional responsibility of photo editing whenever necessary. We have not gone for the absolutely dirt cheap units because they can be a frustrating experience when you are using Photoshop.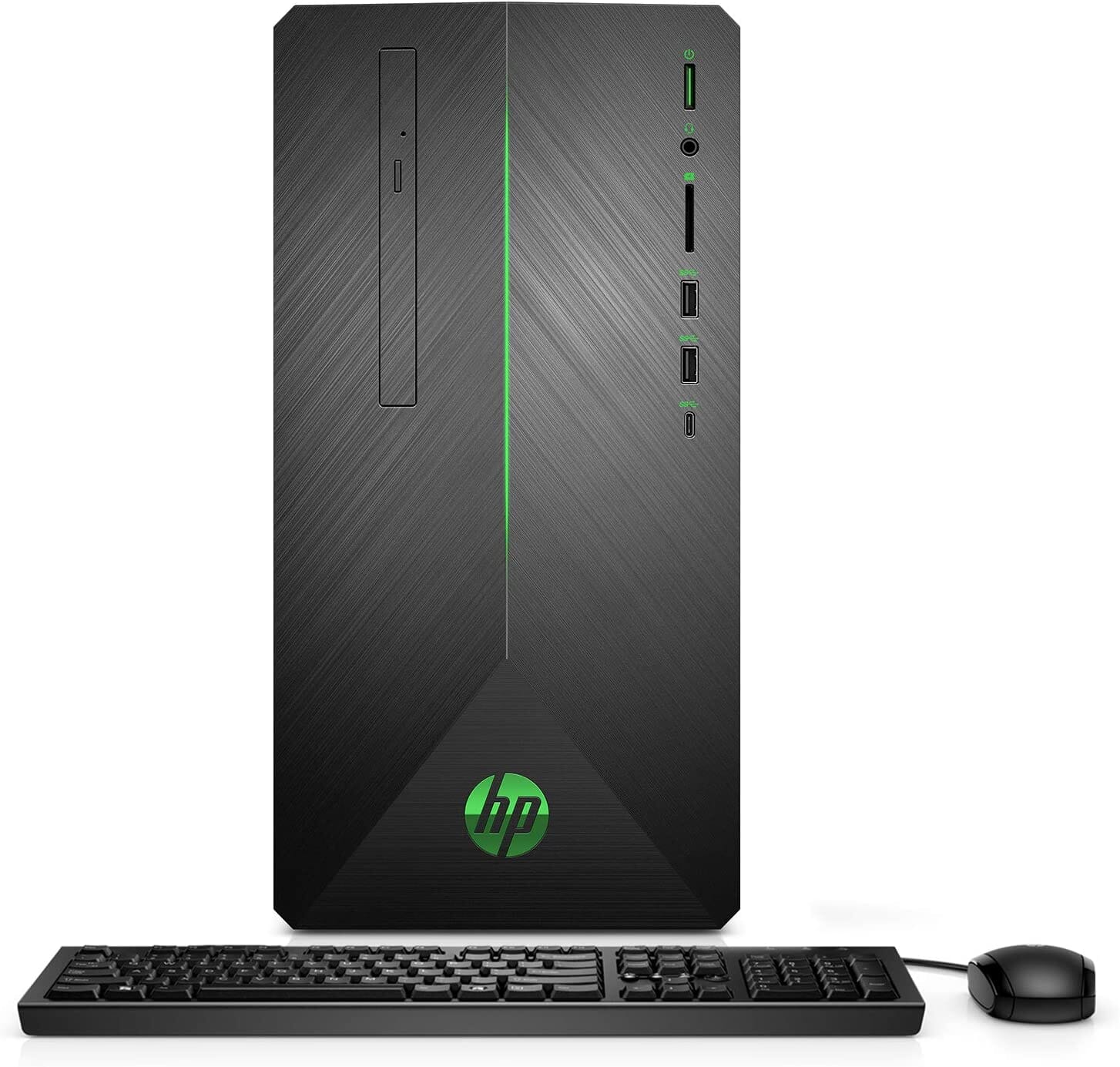 HP Pavilion Gaming 9400F
Core i5 9400F processor, 256 GB SSD hard drive, 16GB of RAM;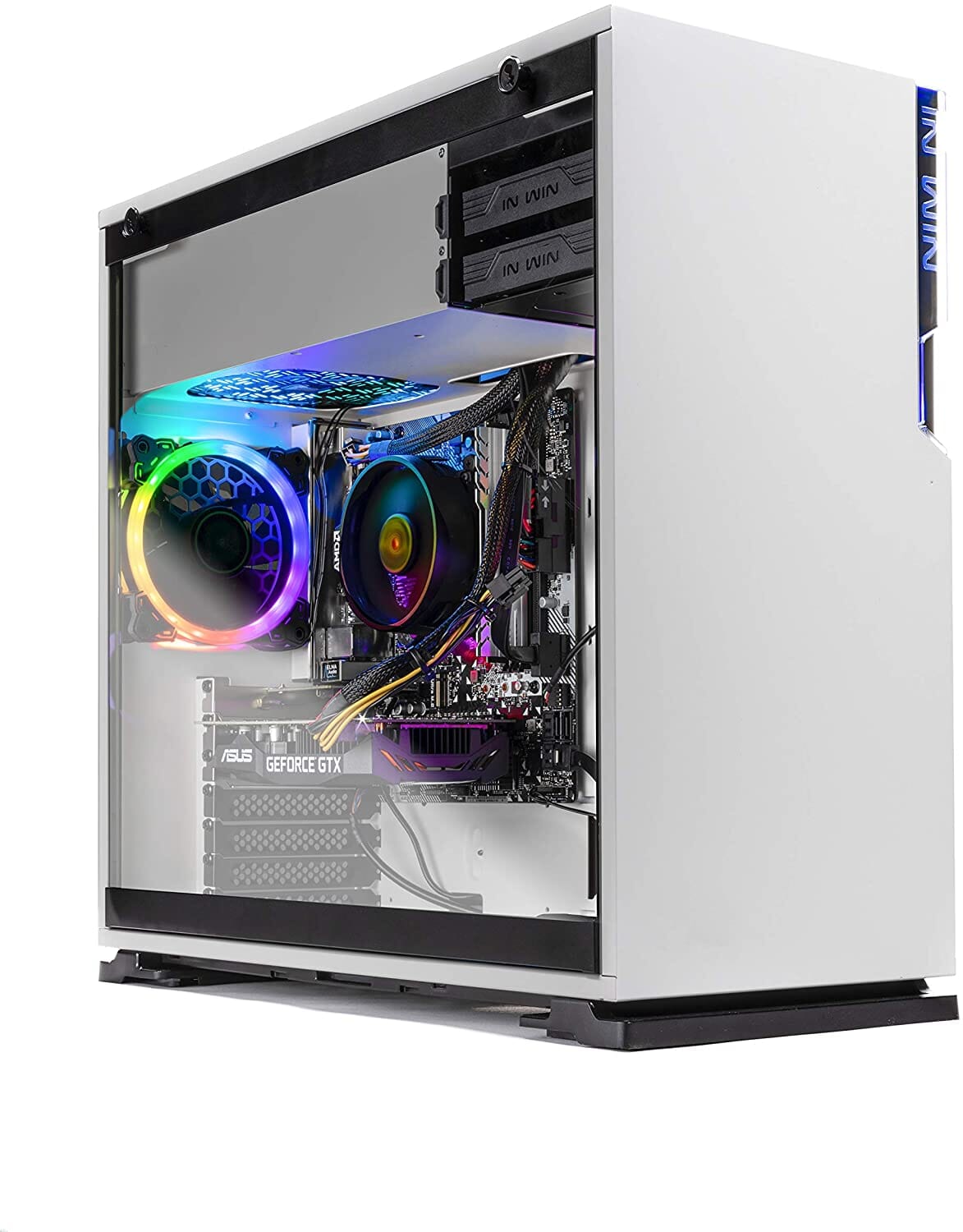 Skytech Shiva
AMD Ryzen 5 2600 6-core processor, 500 GB SSD hard drive, 16 GB DDR4 RAM;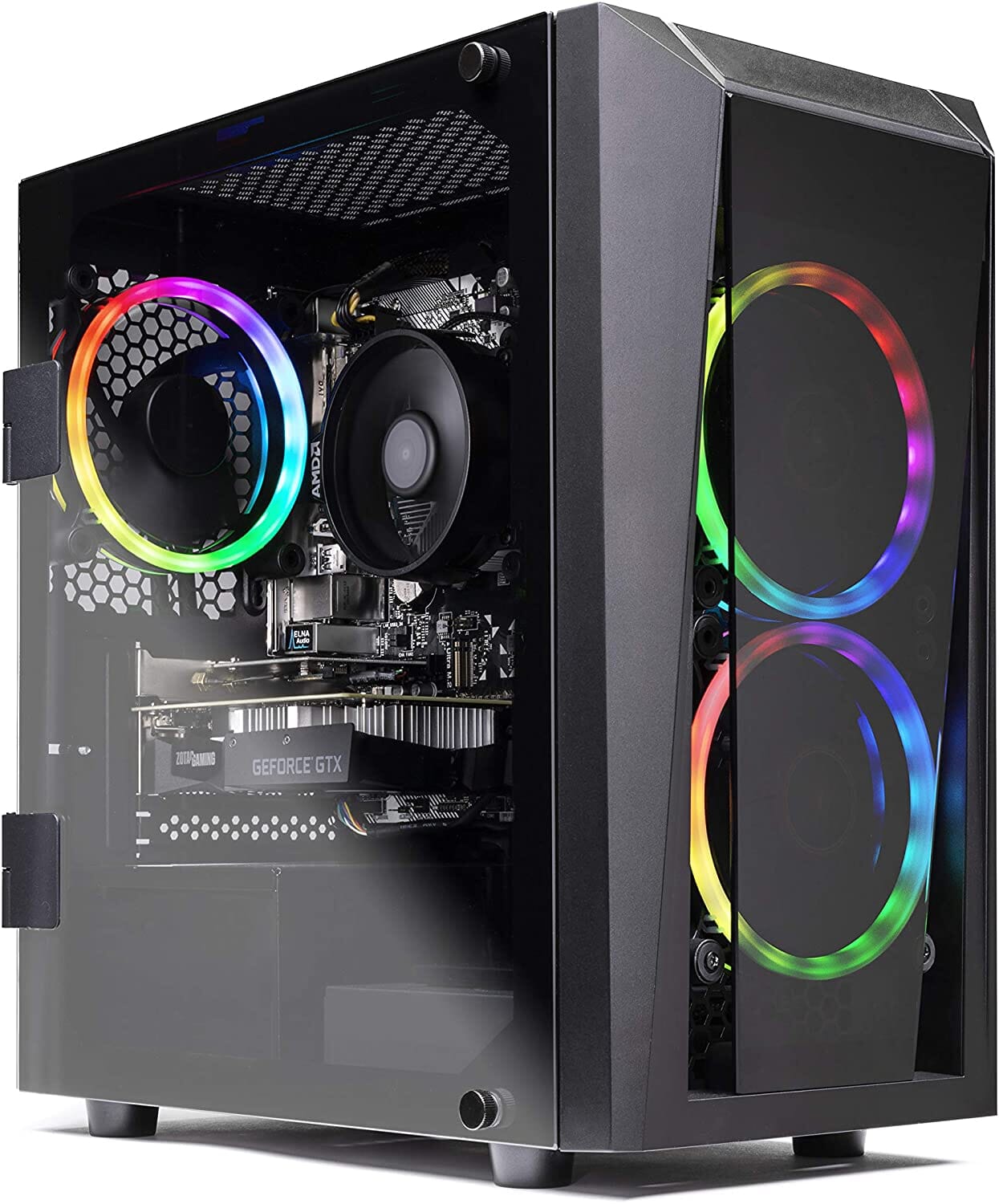 Skytech Blaze II
Ryzen 5 2600 6-Core processor, 500 GB SSD hard drive, 8 GB DDR4 RAM;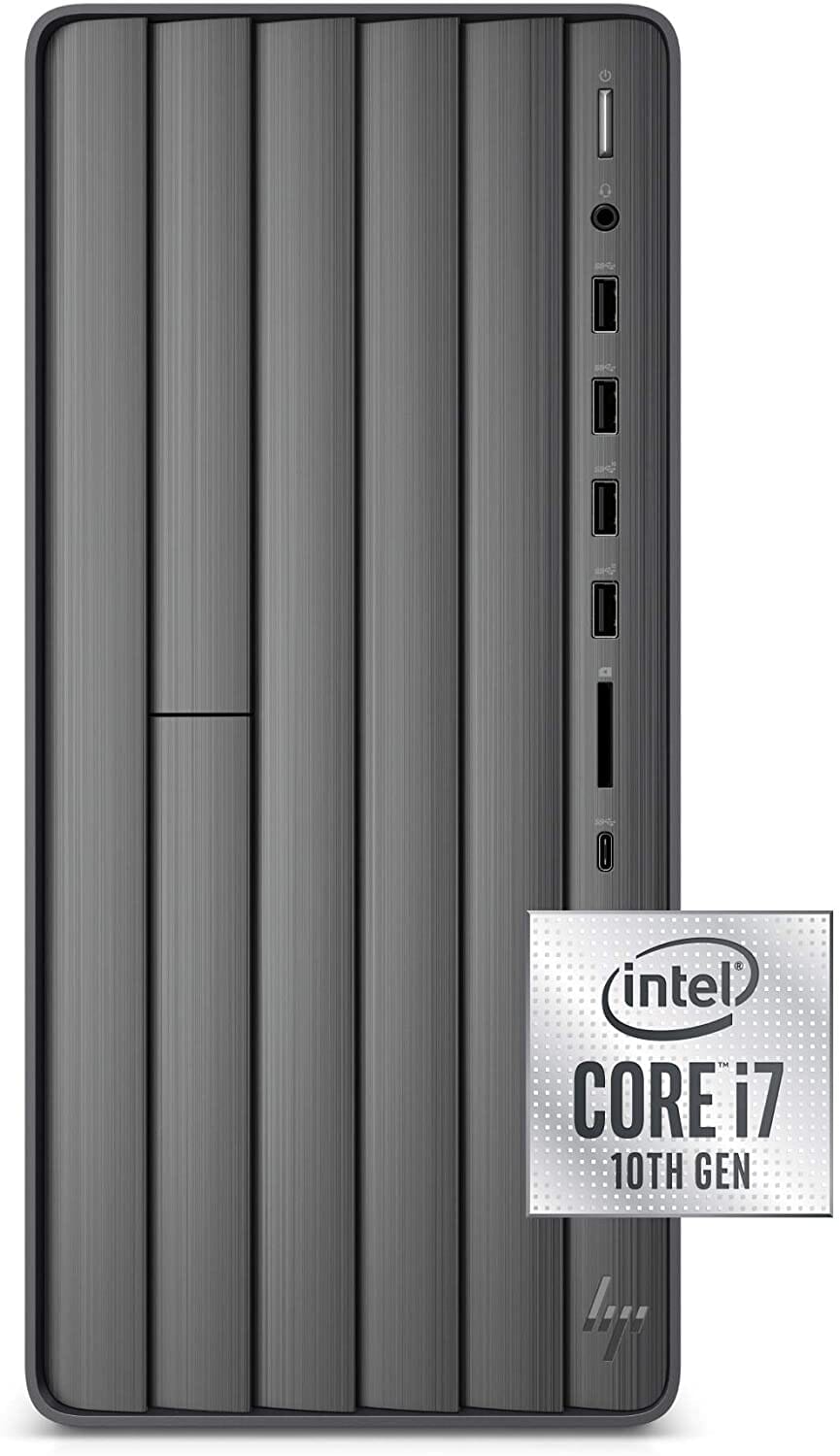 HP Envy Desktop Computer
10th Gen Intel Core i7-10700 8-Core processor, GeForce RTX 2060, 1 TB PCIe NVMe M.2 SSD Storage, 16 GB DDR4 RAM;
The third part covers (gaming) PCs which due to their processing power are ideal for photo editing. You will have to buy a monitor for photo editing separately. Also, you may want to buy a non-gaming keyboard. Finally, an editing tool like the Wacom tablet is advisable for maximum editing convenience.
Best

All-in-One PCs

for Photo Editing
Best

Budget PCs

for Photo Editing
Best (Gaming)

Desktop PCs

for Photo Editing
Best All-in-One PCs for Photo Editing
1. iMac 27" 5K 2020 (Best AIO for Photo Editing in 2021)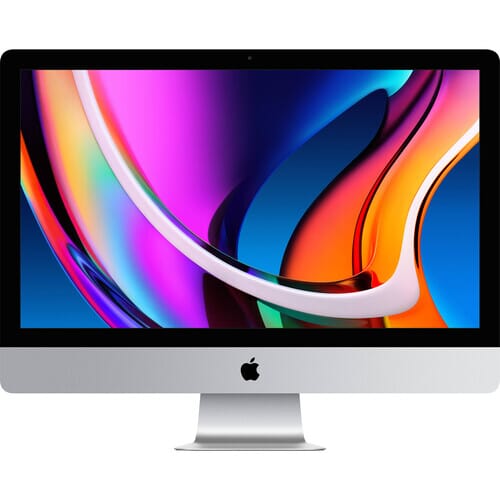 The latest iMac is a combination of looks and power. Power that will make cakewalk of some of the most demanding editing and retouching processes.
The latest 27-inch iMac 2020 is powered by the 3.8 GHz 8-core 10th-Gen Intel i7 processor. There are several other variants available that you could opt for. One with the 3.6 GHz Intel Core i9 10- Core is a powerful beart. But it also costs a lot more.
The base memory on our pick is 16GB DDR4. But you can stretch it up to 128 GB 2666 MHz DDR4.
The base variant comes with the Radeon Pro 5500 XT with a 8 GB GDDR6 GPU. Needless to say, you can upgrade that too. You can opt for the Radeon Pro 5700 XT that comes with 16 GB of GDDR6 memory as a special customized order.
Related Post: Best iMac Options for Photo Editing
The base variant comes with 256GB GB of SSD storage. This unit, though comes 1 TB of storage.
Considering that Apple has already announced its intention to move towards Apple's own Arm-based chips in the near future (with the first Macs a possibility as soon as the end of the year) it remains a gamble whether one should go for the current Intel based Macs or wait till the end of the year.
There could be arguments both in favor and against such a move. Apple has dropped hint that both Adobe and Final Cut Pro have had early access to the platform. And that only means good news for people who are overly dependent on these two software for their work. In that case it makes ample sense to wait.
But if you are not too much dependent on this two software, and run a lot of native apps and other software that are running fine on the current Intel-based macs (and probably won't transition well nor in time on to the new Arm based Macs) then it makes sense to buy the current Intel-based Macs in 2021.
Our Pick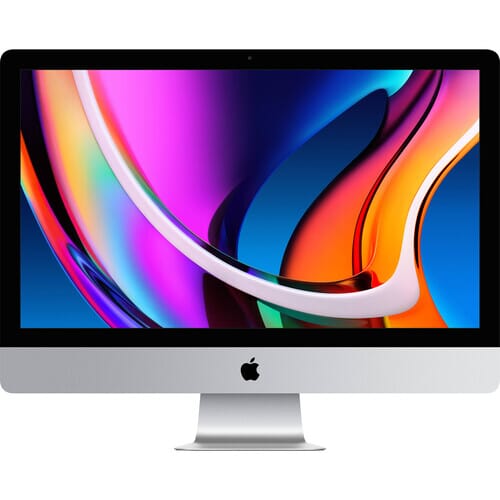 Our Pick
The perfect combination of power, usability and looks
2. Apple iMac 21.5" 4K (Early 2019)
While we absolutely adore a large bright and high-resolution display, the same may not be within the budget of most photographers. Especially, if you are considering upgrading to the Mac platform. Thus, many photographers would have to remain contented with a slightly smaller screen. like a 21.5" display.
Powering the iMac 21.5" is a 3.2 GHz Intel Core i7 6-Core processor. The 21.5-inch screen is practical and should be more than enough for editing images. The most important change from the mid-2017 version to this one is the bright 4K display. Now you would be able to display your images in full size much easier than before.
Other Specs
Internal memory is 8 GB DDR4. Graphics is powered by an Intel AMD Radeon Pro 555X graphics chip with 2Gb DDR5 VRAM. This particular configuration comes with 1 TB Fusion Drive storage.
3. Microsoft Surface Studio 2 28"
The Microsoft Surface Studio 2 is an All-in-One desktop unit designed keeping in mind the visual content creator. Photographers and video editors. With a stand design that lets you push the display all the way to your work desk to work like a flat piece of paper for maximum editing convenience.
We recently did a review where we compared the Surface Studio 2 against the Lenovo Yoga A940. The USP of these two computers are that they both feature a large high resolution display. The Surface Studio 2 is a very highly rated system, ideal for users who prefer a large palette that is capable of displaying their high-res images in almost 1:1 scale. The 28" display of the Surface Studio 2 has a resolution of 4500 x 3000 dots.
Specs
The power of the Surface Studio 2 comes from a 2.9 GHz Intel Core i7 – 7820HQ processor paired with 16 GB of DDR4 RAM. Graphics is powered by NVIDIA GeForce GTX 1060 GPU with 6 GB GDDR5 VRAM. Storage is entirely solid state drive. This particular iteration of the Surface Studio 2 comes with 1 TB SSD unit. Overall this is our preferred choice as the best pc for photo editing in the A-i-O segment.
Touch
A large 28" display that also supports touch. Multi-touch to be precise. There is nothing that gives more pleasure. Because when you are using the Surface Pen to edit your images, you can also pinch to zoom in and out and do much more than that using the fingers of your other hand.
Microsoft Surface Studio 2 (Intel Core i7, 16GB RAM, 1TB) - Newest Version
Our most powerful Surface yet with Intel Core i7 processors, discrete NVIDIA GeForce GPU, and SSD storage
The strikingly large 28" PixelSense Display is a stunning touchscreen with 13.5 million pixels of true-to-life color
Tilt the display weightlessly to work at 20 degrees down in Studio Mode or upright in Desktop Mode; Touch: 10 point...
Keep creativity flowing when you draw with the improved Surface Pen and use Surface Dial* for intuitive shortcuts
Runs intensive professional-grade software like SolidWorks,* Adobe Creative Cloud,* and Autodesk*
4. HP Pavilion 27" All-in-One Computer
If you are looking for a simple all-in-one solution, the HP Pavilion range of desktop computers makes a great choice for photo editing and easily rival the specs of MAC computers. The HP Pavilion 27-inch desktop is a powerful device that features 16GB of RAM, and a spacious 1TB SSD drive.
Display
The monitor itself is of amazing quality and offers full HD resolution and touchscreen capabilities. You can view and edit your photos in 4K resolution if possible, and the housing of the monitor is made from durable aluminum. You can also adjust the monitor from a tilt angle of -5 degrees through to 25 degrees.
Related Post: Best Laptops for Photo Editing (12 Laptops Compared)
Other Specs
This all-in-one solution features a high-powered multi-core Intel Core i7 processor which can boost up to speeds of 4.5GHz. Also, it boasts 16GB of DDR4 memory which can be further upgraded to 32GB if required. The graphics card is OK but is only a basic Intel UHD Graphics 630 card. This is more than suitable for photo editing.
For storage, this HP device features two storage drives. Firstly, it has a 1TB SATA HDD, and a 512GB PCIe SSD. This should provide excellent storage for your photos and any software you wish to install.
The HP Pavilion 27-inch All-in-One Desktop has a superior touchscreen display capable of 4K resolution. It is also incredibly powerful and can easily cope with even the most process-intense editing software.
Best Budget PCs for Photo Editing
5. HP Pavilion Gaming 9400F
Major Specs
This HP Pavilion is a gaming desktop powered by a Core i5 9400F processor and paired with a GeForce GTX 1660 Ti 6GB GDDR6 GPU. The processor is paired with 16GB of RAM. 256 GB SSD unit takes care of the storage. Solid state drives are faster than their HDD cousins and this has a significant bearing on performance. Whether you are playing games or editing videos an SSD gives you better smoothness.
The Hexa core processor can fire at up to 2.9 GHz when set to base. When maxed out the processor can reach a maximum clock speed of 4.1 GHz. But a lot of the processing is also handled by the GPU.
Why the HP Pavilion Gaming 9400F Makes Good Buying Sense
A standard desktop PC is never a standalone work unit. It doubles up as your entertainment hub time and again. And that is why the HP Pavilion Gaming 9400F comes with 5.1 Surround Sound output.
6. Skytech Shiva Gaming PC
Major Specs
The best PCs for photo editing not always have to be the elite gaming units. There are plenty of mid-range units powered by 7th 8th and 9th Gen Core i5 and i7 processors that can do a decent job. We have already recommended the HP Pavilion Gaming above which is powered by a Core i5 9400F processor. Now that one does not support hyper threading. But the one that we are going to recommend next does.
Yes, the Skytech Shiva is a gaming PC, but it costs much less than something like the CyberPowerPC Gamer Master or the MSI Trident X Plus we have recommended here. So, if you are looking for something in the budget segment then the Skytech Shiva is definitely a product you can take a look at.
The Skytech Shiva is powered by an AMD Ryzen 5 2600 6-core processor. The processor supports hyperthreading with each core having two logical cores (total 12 threads). The base clock speed of the processor is 3.4 GHz. It can be boosted to 3.9 GHz max.
Graphics is powered by an NVIDIA GeForce RTX 2060 GPU with 6 GB GDDR6 memory. The main internal memory of the processor is a 16 GB DDR4 3000 RAM. Storage is powered by a 500 GB SSD unit.
Why the Skytech Shiva Makes Buying Sense?
In reality, a system like this is probably more useful for handling video editing because of the multithreading capabilities. That said, this leaves options open when you do decide to shoot videos and edit them on your PC.
Skytech Shiva Gaming PC Desktop - AMD Ryzen 5 2600, NVIDIA RTX 2060, 16GB DDR4, 500G...
✔ AMD Ryzen 5 5600X 6-Core 3.7 GHz (4.6 GHz Turbo) CPU Processor | 1TB NVMe SSD | B550 Motherboard
✔ GeForce RTX 3070 GDDR6 8GB Graphics Card (Brand May Varies) | 16GB DDR4 3600MHz Gaming Memory | Windows 10 Home 64-bit
✔ 802.11AC | No Bloatware | Graphic output options include 1 x HDMI, and 1 x Display Port Guaranteed, Additional Ports may...
✔ 3 x RGB Fans | Powered by 80 Plus Gold Certified 750 Watt Power Supply | In Win 101 mATX Mid-Tower Gaming Case with...
✔ This powerful gaming PC is capable of running all your favorite games such as Call of Duty Warzone, Fornite, Escape from...
7. Skytech Blaze II
Major Specs
This is the second Skytech desktop PC that we have selected on this list. This one too is powered by a Ryzen 5 2600 6-Core processor. The base clock speed is 3.4 GHz but you can boost it up to a maximum of 3.9 GHz.
Graphics on the PC are powered by NVIDIA GeForce GTX 1660 GPU with 6 GB GDDR5 VRAM. A total of 500 GB SSD storage is preinstalled. Plus the PC also comes with 8 GB DDR4 memory.
But even though we are pushing this as a photo editing PC, it is basically a mid-range gaming PC. And being a gaming PC comes with its own perks. Such as 3 RNG ring fans powered by 550 Watts of power supply for maximum airflow when playing demanding games.
But then if you ever switch to video editing this is a PC that would be able to handle those resource-consuming processes.
SkyTech Blaze II Gaming Computer PC Desktop – Ryzen 5 2600 6-Core 3.4 GHz, NVIDIA...
Ryzen 5 2600 6-Core 3.4GHz (3.9 GHz Max Boost) CPU Processor | 500G SSD – Up to 30x Faster Than Traditional HDD | A320M...
NVIDIA GeForce GTX 1660 TI 6GB GDDR6 Video Card | 8 GB Gaming Memory DDR4 3000 with Heat Spreader | Windows 10 Home 64-bit
PCIe AC Wi-Fi with Antenna | No bloatware | 1 x HDMI, 1 x D-Sub, 1 x DVD-D | 4 x USB 3.1 Gen1 Ports, 2 x USB 2.0 | HD Audio...
3 x RGB RING Fans for Maximum Air Flow | Powered by 80 Plus Certified 500 Watt Power Supply | Skytech mATX Mid-Tower Tempered...
1 Year Warranty on Parts and Labor | Lifetime Free Technical Support | Assemble in the USA | This Powerful Gaming PC Capable...
8. HP Envy Desktop Computer
Major Specs
Let's say that you don't need to edit videos. Let's say that you need is a simpler box with enough processing power to give you all the photo editing joy you could get. In that case, this HP Envy Desktop Computer is more than a useful option for you.
The tower comes with a 10th Gen Intel Core i7-10700 8-Core processor. It is paired with a GeForce RTX 2060 GPU. 1 TB PCIe NVMe M.2 SSD unit takes care of the storage unit. Memory is powered by 16 GB DDR4 RAM.
Come to think of it, this PC can also handle some video editing tasks as well.
Does the HP Envy Makes Good Buying Sense?
Graphics is powered by GeForce RTX 2060. This is one of the most powerful GPS chipsets you can get. For video and photoediting on a budget you don't have to look beyond.
HP Envy Desktop Computer, NVIDIA GeForce RTX 2060, Intel Core i7-10700, 16 GB RAM, 1...
YOUR CREATIVE SIDEKICK: Render, edit, game, and stream better than ever before
HYPER-REALISTIC GRAPHICS:NVIDIA GeForce RTX 2060 graphics (6 GB GDDR6 dedicated memory). Enjoy incredible power to create and...
FAST PROCESSOR: 10th Generation Intel Core i7-10700 Processor, 8-Core, 2.90 GHz base frequency, up to 4.8 GHz with Intel...
MEMORY: 16 GB DDR4-2933 SDRAM memory (2 x 8 GB) (upgradable to 32 GB)
INTERNAL STORAGE: 1 TB PCIe NVMe M.2 Solid State Drive ( 2 HDD 3.5" expansion bays available)
Best (Gaming) Desktop PCs for Photo Editing
9. CyberpowerPC Gamer Xtreme VR Gaming PC
If you want the ultimate PC for photo editing, the CyberpowerPC Gamer Xtreme VR Gaming PC is a monster rig. This computer is primarily used for gaming, but it is more than capable of running photo editing software like Capture One and Lightroom.
Liquid cooling ensures that the rig is able to dissipate heat much better and offer better performance even when running demanding applications. Do remember, this is an out an out gaming PC and for photo editing this is an overkill. But if you want to invest in only one, and enjoy both tasks this is the one you should go for.
For processing power, this device has 16GB of DDR4 RAM which can easily be upgraded. It also has a powerful Intel Core i9-9900K 3.6GHz processor. This should be more than enough to cope with processing RAW images and managing large libraries of photos.
We also like that it has the NVIDIA GeForce RTX 2070 Super 8GB. 16GB DDR4 and 1TB PCI-E NVMe SSD rounds up the other specs.
Best Gaming PC for Photo Editing
This powerful device will cope with all your gaming needs but it will also excel at photo editing. This is achieved by the 16GB of DDR4 memory, and a powerful Intel Core i-7 processor.
10. MSI MEG Trident X 10SD-864US Enthusiast
If you want an ultimate desktop computer for advanced photo editing and gaming, the MSI MEG Trident X 10 is one of the best options available. This gaming computer is an absolute beast and boasts some of the best specs we have seen for computers for photo editing.
To ensure your photo editing programs run smoothly, this computer has a whopping 64GB of DDR4 RAM and a powerful Intel Comet Lake Core i7 8 core processor (5.1GHz per core). You should experience no lag at all when editing photos and you should be able to navigate through large RAW image folder with ease.
Related Post: Best Computers for Video Editing
There are several HDD options for this computer starting with the basic 1TB NVMe SSD option. The top option has a 2TB Samsun 970 EVO Plus SSD and another 2TB SSD. We advise purchasing one of the dual HDD options. By doing so, you can keep your photos on one HDD, and your software and games on the other.
Aside from being a behemoth, this desktop computer also looks fantastic and has a sleek black design. It also has several RGB lighting sections that you could coordinate with your peripherals and room lighting.
A powerful gaming computer with an impressive 32GB of DDR4 RAM, and an advanced graphics card perfect for photo editing.
11. ROG Strix G15CK Gaming Desktop PC
Powered by Intel Core i7 10th Gen processor and GeForce RTX 2070 Super GPU the ROG Strix G15CK is a super cool gaming PC that you can also use for photo editing and video editing purposes. Not that you need that much of graphics processor, but in any case it comes with the package.
In that case you can also opt for the scaled down version that comes with the less powerful RTX 2060 GPU.
This one though (Core i7-10700KF and RTX 2070 GPU) comes with 8 cores. The GPU comes with 8 Gigs of GDDR6 VRAM. The maximum boosted clock speed is 5.0 GHz.
The CPU supports multithreading. A total of 16 threads ensure multitasking and running of multiple applications at the same time a whole lot easier.
Storage is powered by a 512GB PCIe NVMe M.2 SSD unit. This has the fastest performance among hard drives and gives faster booting performance and super smooth processing of data when working on applications such as Photoshop and Lightroom.
16GB of DDR4 RAM takes care of the memory on this device.
The system uses the proprietary Flow Tech ventilation mechanism that ensures faster and more reliable cooling that really adds an edge to the system's performance. Especially when running resource-heavy applications.
Gaming Editing
Additional Muscle Power
Raw power for all your computing needs. Great for photo editing as well as for gaming.
12. New Dell G5 Gaming Desktop
The configurations are a giveaway. The DellG5 is powered by a Intel Core i7-10th Gen processor. This is a very powerful gaming computer and should be able to handle your photo editing and video editing tasks with equal elan.
Other Specs
The other specifications of the PC include 16 GB of DDR4 RAM, a Nvidia GeForce RTX 2060 Super GPU and 1 TB SSD storage. NVIDIA GeForce RTX 2080 is faster and this is one area where you may lose out on some video editing performance. But there will be no lag time for photo editing. For that purpose this is more than handful.
New Dell G5 Gaming Desktop, Intel Core i7-10th Gen, 16 GB RAM, 1 TB SSD, Nvidia...
Conveniently compact: The surprisingly compact design takes up minimal space, making it easier to adjust your full gaming...
Unforgettable design: A distinctive, gamer-inspired design with blue bezel LED lighting and optional clear window side panel...
Upgrades made easy: By loosening the two thumbscrews on the back of the system, you can easily remove the side panel to...
Package Weight: 9.321 kilograms
13. MSI MPG Trident 3 10SC-004US
The MPG Trident 3 10SC-004US is another powerful computer for both gaming and photo editing, and it is much cheaper than the ultimate Trident X setup. Despite being much cheaper, it still has impressive specifications and is a true powerhouse.
To ensure programs like Photoshop and Lightroom run smoothly, this desktop computer has 16GB of DDR4 RAM and an NVIDIA GeForce RTX 2060 Super 8GB graphics card. Combine this with the Intel Comet Lake Core i7 8-core processor, and your photo editing software should run without a hitch.
The 8-core processor will also ensure that you can deal with multiple tasks and programs at the same time, so you could run Lightroom, Windows Explorer, and a web browser simultaneously without any issue, for example.
Even if you have a large catalog of RAW image files, you should never run out of space either as this computer has two hard drives – a 512GB NVMe SSD, and a 1TB HDD. You can buy three different versions of this setup each with different RAM levels – either 16GB, 32GB, or 64GB. The 32GB version doesn't cost much more and we would advise paying that little bit extra for double the RAM – it will make a difference when photo editing.
The Trident 3 is a decent mid-range gaming computer that offers a cheaper alternative to the Trident X but still offers powerful specs for photo editing.
Does Photoshop benefit from a better Graphics processor?
Yes, it does. There are some tools in Photoshop which won't even work without a GPU that is unsupported. Thus, if you are working with 3D, or doing Smooth Brush resizing and your GPU isn't supported the tools won't work at all. In addition, when working with Camera RAW, or using one of the blur gallery tools you would definitely find a fast GPU helping you get a much smoother working experience than when using a slower or outdated GPU.
AMD Ryzen vs Intel Core: Which One Should I Choose?
AMD Ryzen powered PCs have come along in leaps and bounds and today's Ryzen 9 powered systems are ahead of their Intel Core i9 processors in terms of RAW power. With 12 cores and multi-threading possible on them allows the Ryzen 9 to handle 24 processes as compared to only 16 that are capable on the 8-core Core i9 processors from Intel.
---
As an Amazon Associate we earn from qualifying purchases. Certain content that appears on PhotoWorkout.com comes from Amazon. This content is provided 'as is' and is subject to change or removal at any time.