While photo editing programs like Lightroom, Photoshop, and Luminar Neo offer an extensive range of features, they can often be tedious and slow to use.
If you have hundreds of photos to edit, working with only a standard mouse and keyboard can be time-consuming. A quick and effective fix for this problem is to purchase one of the best photo editing consoles or keyboards.
Devices like these have specific features that improve your editing process. If you regularly edit photos using post-processing software, you'll definitely appreciate our top 11 console and keyboard picks!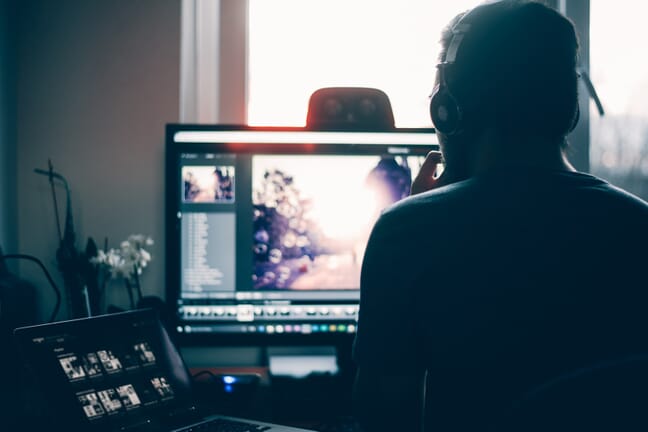 Images from Amazon
Best Photo Editing Consoles
Photo editing consoles typically work alongside a mouse and keyboard but can be substituted for them, too. They offer precise controls and have features like trackballs and customizable buttons to enhance your editing workflow.
1. Loupedeck+
The Loupedeck+ is widely regarded as the best photo editing console available. It has a sleek design but is highly functional, and it is compatible with a range of software, including Lightroom, Photoshop, Aurora HDR, and Capture One.
Related Post: Aurora HDR Review
This device is ideal for novices and professionals. Novices benefit from the default functions offered by the buttons, while professionals benefit from the level of control and customization. And if you sit somewhere in between, you're still going to love this console!
There are plenty of sliders, dials, buttons, and a master control device. You can fully customize these elements to suit your own editing style and needs.
2. Loupedeck Live
The Loupedeck Live offers a different approach to editing and is highly customizable with a series of deck buttons on the touchscreen that can all be changed. It's primarily meant for video editing on a powerful computer, but it can be changed to suit photo editing and streaming, too.
Photo editors will appreciate the native integrations with Lightroom Classic, Photoshop, Camera Raw, and Capture One Pro. Each of these integrations has a built-in profile with preset buttons and functions so you can get started immediately without spending time fiddling around.
Once you do get used to the controls, you have virtually unlimited customization options. This includes producing multiple pages of buttons for the touchscreen that you can scroll through. This console could be the perfect partner for a high-quality keyboard, and its build quality and ergonomics are fantastic, too. For example, the dials are made from aluminum and have superb tactile feedback when making small changes.
3. Tangent Element Tk
Tangent has some superb consoles for photo and video editing, and one of their best options is the Element Tk. If you prefer using fluid trackballs as opposed to buttons when doing things like color grading, the set of three on this device is ideal.
Each trackball can have a separate function, and the buttons can be used for options like setting a parameter. This gives you precise control. For example, you could set each trackball to adjust a different color channel in your favorite photo editing software. Compared to using a mouse and keyboard, the balls offer far greater control, which is essential if you edit professionally.
The device looks smart with its simple black casing and vivid red trackballs. You can also see data relating to your photo editing on the small LED screen located above the dials. The LED updates automatically when you change the function of one of the balls, so you should always know what each one does.
4. Tangent Wave2
The Tangent Wave2 is impressively compact, but it's also a well-developed console with a wide range of features.
Like the Element Tk, it has three tracker balls. It also has four dials and a host of customizable buttons. The tracker balls and dials offer excellent control and are extremely responsive.
The Tangent Wave2 is admittedly very expensive, but for professional photographers and designers, it's certainly one of the best editing consoles available.
5. TourBox NEO
The latest version of the TourBox NEO has some upgrades and an improved design. For example, it features greater accuracy and control in the knobs and dials, and you should be able to make precise adjustments more easily.
It is a simple device and incredibly compact so you can still have a full-sized keyboard, a mouse, and even a graphics tablet on your desk without feeling overwhelmed. Regardless of what computer you use for editing, it should be compatible as it works with both PCs and Macs. Add to that the customization of the buttons, and you have a very useful console.
On the main panel, you get an array of units, including a dial, a wheel, a D-pad, and a range of buttons. These controls are flexible; for example, you can operate them all independently or in combination. It should be easy to adapt the console to popular photo editing software like Lightroom as it has a range of presets and there are tutorials available discussing ideal button setups.
If you forget your button layout or shortcuts for different editing software functions, there is a handy tag feature and an HUD that displays on your screen. This means you shouldn't have to remember complicated shortcuts!
6. Contour Design ShuttleXpress
The Contour Design ShuttleXpress is perfect if you have limited space and just want a small console that provides additional functionality. It's similar to the Hotkey Puck G2 that works with some of the BenQ monitors and connects to your device via USB.
Due to its compact size, you can put the ShuttleXpress right next to your keyboard on the opposite side of your mouse, which greatly improves the versatility and control of your editing setup. It has five buttons, a dial, and a scroll wheel. These different items are well-built and robust, as are the base and chassis of the console.
More importantly, all of the buttons can be programmed and the device works with both PCs and Macs. If you are struggling to know where to begin, it comes with over 100 preloaded preset shortcuts to get you started with an array of popular editing software. This could be an excellent option if you are just getting into high-end photo editing and don't want to buy an expensive console just yet.
Best Photo Editing Keyboards
If you don't want a dedicated console, a high-level keyboard could be a good alternative. These keyboards usually have extra features like programmable buttons that can be linked to important editing tools.
1. Logitech Craft
The Logitech Craft combines a superb design with great functionality. First, it looks fantastic and has a sleek surface with increased key stability and a high-grade aluminum top bar. The keyboard also has both a USB dongle for wireless usage and a USB port for a wired connection.
For photo editing, the best feature of this keyboard is the creative input dial. This can be customized to fit specific functions in different editing software like Lightroom or Photoshop. For example, you can configure the dial to control image scrolling or image contrast.
The simple dial and the excellent design make the Logitech Craft one of the best editing keyboards available!
2. Corsair K95 RGB Platinum
The Corsair K95 RGB Platinum is generally considered to be a gaming keyboard, yet it also works great for editing. It is a mechanical keyboard that sounds amazing thanks to its clicking key mechanisms.
The K95 RGB Platinum has a wonderfully ergonomic design that is comfortable to use for prolonged editing periods. You also get a full backlight system and light edge.
Editors will appreciate the six programmable macro keys on the left-hand side of the device. You can customize these buttons to perform various functions while editing. These keys offer excellent control and can speed up the editing process considerably.
3. Microsoft Universal Foldable Keyboard
Microsoft has an excellent range of ergonomic keyboards suitable for photo editing. One such device is the Microsoft Universal Foldable Keyboard. This is another great option that could be perfect for those who edit while traveling.
Although it is a Microsoft product, this keyboard works with virtually any device, including iPads, iPhones, Android tablets, Android smartphones, and Windows computers.
The lightweight and thin design mean this keyboard can fit in your pocket or any small bag, which makes it an ideal accessory for travel editing. And despite its small size, it still features a full-sized keyboard layout for accurate editing.
4. Logitech MX Keys
Another superb keyboard for editing is the Logitech MX Keys due to its tactile keys, illuminated backdrop, and incredible build quality. If you use your keyboard daily and subject it to intense wear and tear, this metal model could be a fantastic option.
Everything about this keyboard screams ergonomics and comfort, and it is a joy to use. It's also compatible with quite a few systems, including Windows, macOS, Linux, and even mobile systems like Android and iOS. Combine that with Bluetooth connectivity, and you have a keyboard you can use for photo editing on multiple devices.
If you have a dual workflow or need to transfer photos between devices, this keyboard can actually be paired with up to three things at once. Therefore, you could have your photo editing PC open to Lightroom, photo organizing software open on your laptop, and a post-processing app open on your smartphone at the same time. You can switch between each device using the special easy-switch buttons near the number keypad.
5. Logitech G213 Prodigy
Our last choice is another gaming keyboard that doubles as an affordable option for beginner photo editors. The Logitech G213 Prodigy is a great general-use device for gaming, work, and editing. It also looks amazing due to the RGB backlit keys.
If you want to get fancy, you can pick the backlit colors from a selection of over 16 million hues. If you have other RGB Logitech devices, the lights can even be synchronized to create a uniform setup. Aside from looking the part, the G213 Prodigy is actually a great device with ergonomic keys and a large wrist rest for comfortable use.
It is a full-sized keyboard, and you can make your photo editing workflow easier with the fully programmable F keys (F1-F12). This means you can set them to important editing controls and tools that you regularly use. And the G213 Prodigy can also be used for video editing as it has a small set of built-in media control buttons above the number keypad.
Pick a Keyboard or Console and Get Editing!
As you can see, there are some fantastic photo editing consoles and keyboards available. These products will improve your workflow and allow you to get through those unedited images more quickly!
If you want a versatile console packed with buttons, models like the Loupedeck+, the Tangent Wave2, and the Loupedeck Live are outstanding choices.
Alternatively, you can get enhanced functionality and achieve faster editing speeds with keyboards like the Logitech Craft, the Logitech MX Keys, and the portable Microsoft Universal Foldable Keyboard.
---
Disclosure/Disclaimer: As an Amazon Associate, we earn from qualifying purchases. Certain content was provided "as is" from Amazon and is subject to change or removal at any time. Product prices and availability: Amazon prices are updated daily or are accurate as of the date/time indicated and are subject to change. Any price and availability information displayed on Amazon.com at the time of purchase will apply to the purchase of this product.