Tablets are perfect for both work and entertainment. What most folks don't realize, however, is that some tablets also feature powerful cameras. While tablet cameras may not be as high resolution as full-frame mirrorless cameras, they offer a convenient and inexpensive solution for on-the-go photography – and the cameras can be surprisingly capable, too!
In this article, we look closely at the photographic performance of the latest tablets, and we feature the nine best tablet cameras on the market today. Each tablet on this list is capable of capturing stunning images, and they all offer easy on-the-go editing as a bonus!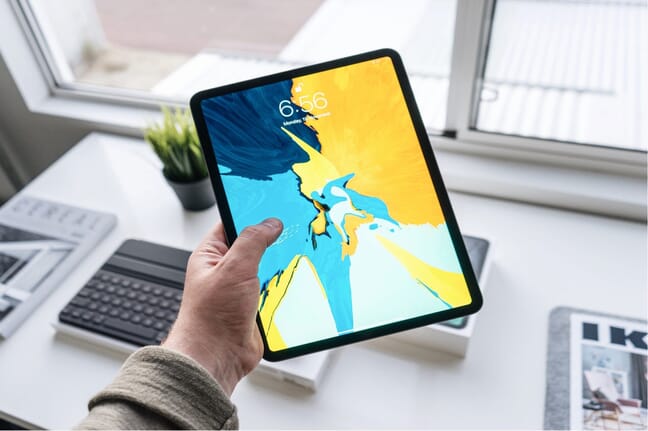 Images from Amazon
Apple iPad Pro 2022 12.9"
Our Pick
Features the latest M2 chip and high-resolution 12 MP cameras.
Apple iPad Pro 2022 11"
Also Great
Boasting a beautiful Liquid Retina XDR display and a trio of cameras.
Apple iPad Air 2022
Budget Pick
Portable, lightweight, durable, and with incredible performance, too.
When you buy through links on our site, we may earn a commission at no cost to you. We evaluate products independently. Commissions do not affect our evaluations.
1. Apple iPad Pro 2022 12.9″
Our Pick
Great for wide-angle photography
The Apple iPad Pro 2022 12.9" has three cameras, including a 12 MP wide-angle option, for plenty of versatility.
Pros
Beautiful display
Next-generation Apple M2 chip
Three different high-megapixel cameras
Cons
The basic 128 GB storage capacity may be limiting
If you want an incredible tablet that can be used for gaming and work and also features amazing photography capabilities, look no further than the flagship Apple iPad Pro 2022 12.9''. It's part of the latest generation of iPad Pros and has it all: a large Liquid Retina screen, a superb camera, and the latest M2 chip.
This iPad Pro is equipped with a 12 MP wide camera, a 10 MP ultra-wide camera, and another front-facing 12 MP camera. The cameras also use Apple's ProRes and Lidar technologies, too, which can help you create shots with more depth.
To improve your image processing and file management, this tablet uses the next-gen M2 processor chip, which packs an 8-core CPU, a 10-core GPU, and unified memory. And you can store plenty of photos due to the 128 GB hard drive (which is upgradable to a maximum 2 TB). Finally, when using photo-editing software, the Liquid Retina XDR display with its wide P3 color gamut support will ensure a high degree of accuracy and detail. It's one of the many reasons the iPad Pro is also a great tablet for Photoshop!
2. Apple iPad Pro 2022 11″
Also Great
Great for multipurpose use
The Apple iPad Pro 2022 11" is another versatile tablet thanks to its M2 chip and camera rig. You can use it for anything: taking photos, editing, gaming, and work.
Pros
High-speed internet
Fantastic clarity and detail
5G compatibility
Cons
No Liquid Retina XDR display
The slightly smaller screen on the Apple iPad Pro 2022 11'' makes it a more portable option without really taking away from its usefulness. In my view, the 11" iPad Pro is yet another excellent choice for photography as it gives you the exact same combination of cameras as the iPad Pro featured above, including the 12 MP front-facing ultra-wide unit and a rear wide-angle unit.
If you regularly travel or go out on day trips, this iPad Pro could be a perfect companion due to its fantastic battery life and durable build. You could also use the Apple Pencil or Magic Keyboard if you want to edit your photos with precision.
This device has an M2 chip, which boasts excellent processing speeds; that way, you can manage your images effectively, use advanced editing software, play games, and much more. It's an incredibly versatile tablet, and it comes with a slightly cheaper price tag than the 12.9" model.
3. Apple iPad Air 2022
Budget Pick
Great for general use
The Apple iPad Air 2022 is a perfect multipurpose tablet that gives you plenty of photographic tools, including two 12 MP cameras.
Pros
M1 chip
Available in five pastel colors
Two 12 MP cameras with Center Stage technology
Cons
64 GB of storage is limiting
Those who want a tablet primarily for gaming and streaming but who also plan to take some photos should check out the Apple iPad Air 2022. It's the latest-generation model in Apple's Air series and comes with plenty of notable features.
You get one fewer camera than the iPad Pro models shared above, but you can still snap some incredible pics using the 12 MP wide camera or the 12 MP ultra-wide camera. (Both of these cameras also feature Center Stage technology, which is great for video calls!)
While this iPad Air doesn't have the latest M2 chip, the M1 chip packs more than enough power and is far better than third-party processors and GPUs used in older iPad Airs.
Other great features that will enhance your photography and make photo management and editing easier include the 10.9" Liquid Retina display, fast Wi-Fi, and 5G connectivity for easy file transfers and social media uploads. We also like that this iPad comes in five different case colors: blue, pink, purple, space gray, and starlight.
4. Apple iPad 2022
Great for family use
The Apple iPad 2022 has two high-resolution cameras and could be perfect for families that want to stream movies, play games, and take casual photos.
Pros
Two 12 MP cameras
Fantastic battery life
Plenty of connectivity and collaboration features
Cons
The A14 Bionic chip is two generations old
Another cheaper alternative to the iPad Pros featured above is the Apple iPad 2022. If you want a high-quality tablet but don't need the extra power and specs the Pros provide, it's a solid option. In fact, it could be a perfect family household tablet that gets used for entertainment and holiday photos.
This iPad does take a step back in terms of its processing; its A14 Bionic chip uses a 6-core CPU and 4-core GPU. But it's still got some power and can handle basic editing software and plenty of games. The 64 GB of storage should be enough for most casual users, though paying extra for the 256 GB upgrade should be considered by more serious photographers.
The Apple iPad 2022 has a 12 MP wide rear camera and a 12 MP ultra-wide front-facing camera. The front camera also has Center Stage technology, which is great if you want to use the tablet for video calls or conferences. The 10.9" screen looks superb, too, and the tablet is available in four beautifully bold colors.
5. Microsoft Surface Pro 9
Great for high-end editing
The Microsoft Surface Pro 9 has a decent set of 10 MP cameras, but it really excels at editing due to the high-quality display, the excellent processing power, and the impressive storage.
Pros
Decent battery life of up to 15 hours
Edge-to-edge PixelSense touchscreen display
Has Thunderbolt ports for fast connectivity
Cons
Relatively expensive
The Surface Pro 9 is the latest iteration of Microsoft's popular device and is ideal if you need a robust and powerful tablet for photo editing and taking basic images. It is primarily meant for work and entertainment due to its array of useful features, but its photographic capabilities are still impressive.
This tablet boasts two cameras, both of which are 10 MP. While the resolution can't quite match that of the iPads, you'll appreciate the excellent autofocus and the 1080p HD recording. Additionally, the rear camera is 4K capable, so you can certainly use it for video calls and things like travel vlogging.
Once you've taken your images and videos, the 8 GB of RAM, 12th-Gen Intel Evo processor, and 256 GB storage capacity will provide superb editing and photo-management capabilities. The touchscreen functionality and build quality are also fantastic, while the compatible Surface Pro keyboard is absolutely worth the extra investment.
6. Samsung Galaxy Tab S8
Great for editing and creative work
The Samsung Galaxy Tab S8 comes with an S Pen for greater control and flexibility when processing photos.
Pros
Galaxy S Pen is great for editing
128 GB of storage
High-quality front-facing camera
Cons
It doesn't have as many cameras as the iPads
The Samsung Galaxy Tab S8 is the latest model in its series and comes with a great camera setup and high-level specs that offer nearly PC-like performance. It is powered by the Qualcomm Snapdragon chip and 8 GB of memory, plus it has an impressive 128 GB storage capacity.
The Tab S8 boasts a 12 MP ultra-wide front-facing camera, which is easily on par with Apple's iPad options. The superior 11" LTPS LCD display will also ensure you can view and edit your photos with a good degree of accuracy. Processing is made easier thanks to the included S Pen.
We like that the tablet looks great and is available in several pastel colors. You can take it anywhere thanks to its portable size and durable aluminum casing, and you won't need to charge it frequently due to the impressive 8000 mAh battery.
7. Lenovo Tab P12 Pro
A good all-purpose option
Thanks to a nice main camera and a solid processor, the Tab P12 Pro lets you take great photos and edit them, too!
Pros
13 MP main camera
Affordable
Good processor
Cons
Additional cameras are unimpressive
Lenovo has been making waves in the tablet industry thanks to devices like the Lenovo Tab P12 Pro. It's a solid tablet that offers excellent functionality and is relatively cheap, and it can be used for both photography and photo editing.
Out of all the tablets on this list, the P12 Pro actually boasts the highest-resolution camera (a 13 MP rear model that works beautifully). The other two cameras are not as impressive and are better suited for video calls and casual photography.
This tablet has 6 GB of memory and a Qualcomm Snapdragon 870 processor, which features 8 cores and clock speeds of 3.20 GHz. As a result, you should be able to run a good range of photo-editing and photo-management software, so if you enjoy processing and organizing your photos, this is a great pick.
8. Microsoft Surface Go 3
Great for travel use
The Microsoft Surface Go 3 is a highly portable tablet that has PC-like specs in addition to a decent 8 MP camera with impressive video-recording capabilities.
Pros
8 MP camera with HD video recording
Excellent battery life
4 GB RAM
Cons
The secondary 5 MP camera is not amazing
Do you prefer Microsoft devices and want a portable tablet to carry while traveling? If so, the Microsoft Surface Go 3 is a great option. It has numerous upgrades compared to previous Surface Go models and can easily fit in your luggage or even a backpack.
The Surface Go 3 sports a decent set of cameras, though the resolution is on the lower side. Nonetheless, you can still create fantastic images with the 8 MP rear camera and the 5 MP front-facing camera; you can also capture beautiful video as both of these cameras can record in 1080p.
You'll appreciate the 4 GB or 8 GB memory and the impressive Intel processor options (you can purchase the Surface Go 3 with either a Pentium Gold 6500Y or a 10th-gen Intel Core i3). As you'd expect, the 8 GB and 10th-gen options provide more power and flexibility for photo editing but add to the price tag.
9. Samsung Galaxy Tab A8
A great budget pick
The Samsung Galaxy Tab A8 is a solid budget pick that still boasts a nice 8 MP camera.
Pros
High-quality main camera
Great system specs
Highly affordable
Cons
Not the best for night photography
If you want a budget tablet that combines great performance and excellent camera capabilities, the Samsung Galaxy Tab A8 is a top option. This is the latest version of the Tab A series, and it's highly affordable, too.
The tablet has two cameras – an 8 MP rear camera and a 5 MP front camera – which is on par with most of the other models on this list. Both cameras are capable of recording in FHD at 30 FPS, and the rear camera even features a decent autofocus system and an optional flash. Both cameras offer consistent image quality, although they do struggle to capture photos in low light.
The Samsung Galaxy Tab A8 also boasts an octa-core processor and 3 GB of RAM. It has excellent battery life, so if you plan to travel without access to electricity, you won't have to worry about running out of charge.
Your Perfect Tablet Awaits!
We hope you found this guide to the best tablet cameras useful. As you can see, you don't necessarily need an expensive DSLR or a great smartphone camera to take high-quality shots. In fact, there are many great tablets for photography, including the Apple iPad Pro 2022 12.9'', the Apple iPad Pro 2022 11'', and the Lenovo Tab P12 Pro.
And if you want to capture and edit your photos, consider a tablet that offers decent cameras along with plenty of processing power, such as the Microsoft Surface Pro 9, the Samsung Galaxy Tab S8, or the Apple iPad 2022.
---
Disclosure/Disclaimer: As an Amazon Associate, we earn from qualifying purchases. Certain content was provided "as is" from Amazon and is subject to change or removal at any time. Product prices and availability: Amazon prices are updated daily or are accurate as of the date/time indicated and are subject to change. Any price and availability information displayed on Amazon.com at the time of purchase will apply to the purchase of this product.