It seems impractical to spend thousands on a field monitor since most cameras already give you a preview of your subject. But if you want to create intelligently framed shots with a creative punch, having one of the best field monitors can really hand you that competitive edge.
A field monitor serves as a window to all your shots. By giving yourself a wider view of your subject, you can find amazing new angles.
If you're done peeking through small holes, let's explore the best field monitors!
Best Field Monitors in 2023: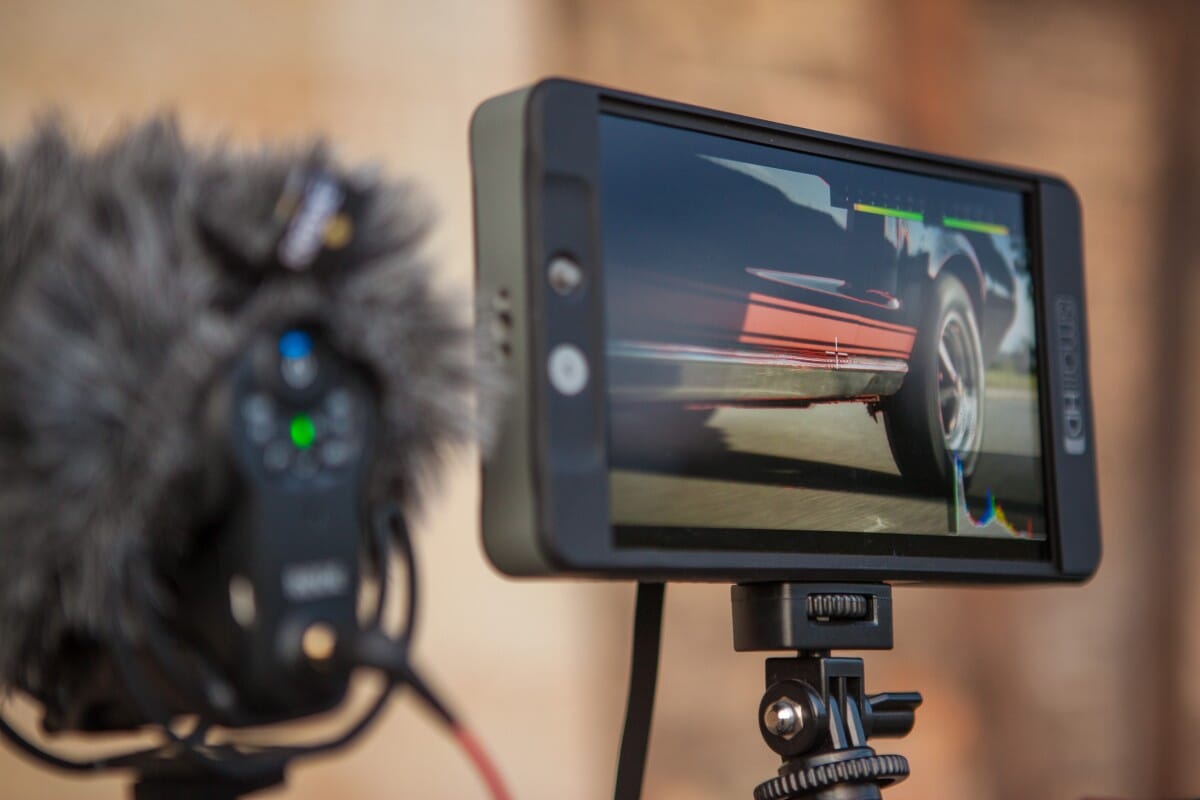 Images from Amazon
When you buy through links on our site, we may earn a commission at no cost to you. We evaluate products independently. Commissions do not affect our evaluations.
Best Field Monitors
1. Feelworld FW279
Our Pick
Perfect for shooting outdoors
Fully embrace outdoor shooting with the FW279. It's a remarkable monitor built to give a beautiful display even under direct sunlight.
Pros
2200-nit brightness setting is perfect for outdoor shoots
Loaded with monitoring tools
Great contrast ratio
Great price for its features
Cons
Built-in speakers do not produce great audio quality
Shooting under direct sunlight is probably a videographer's worst nightmare – that or a sudden downpour while working outdoors. While we can't do anything about the weather, the Feelworld FW279 is designed so you don't need to hide in a shady corner when the lighting is working against you.
Let's start with its standout feature: its 2200-nit brightness setting, which is over double the regular 1000-nit brightness of standard monitors. Paired with the monitor's max brightness capacity, the great pixel density, high-quality resolution, and 1200:1 contrast ratio work together to prevent the display from being washed out by ultra-bright sunlight.
As if that isn't enough, FW279 boasts color calibration technology, which allows for precise color reproduction. No distortion and only real colors captured in real-time; that's Feelworld's guarantee. Add in the great monitoring tools, and you've got yourself an impressive field monitor for high-level videography.
2. Feelworld T7
Also Great
Best for on-location shooting
A budget monitor that includes plenty of practical features in a portable design, the T7 is a great way to record video around the world.
Pros
Lightweight design
Includes monitoring tools rare for its price point
Great features for a low price
Cons
Low brightness setting
Another product that made our list is the Feelworld T7, a budget-friendly camera monitor that features some of the monitoring tools you'll see in FW279 but with different display features and a different price.
The 450-nit brightness is a far cry from FW279's whopping 2200, but this field monitor is still great thanks to its 160-degree viewing angle, which enables you to easily see your frames. Along with this is a range of monitoring tools. In addition to color-calibration technology, it comes with a peaking filter, a histogram, false colors, and other features that make recording a breeze.
And the design is lightweight and super slim, so it works great with portable systems.
3. Neewer F100
Budget Pick
Great for beginners
If you want a decent field monitor on a budget, the F100 is your best bet. It combines practical features and a bargain price.
Pros
Cheapest camera monitor on our list
Includes built-in speakers
Packed with practical features for basic photography
Cons
Low display resolution and brightness
Lacks advanced features
Budget monitors with decent displays were hard to find until the Neewer F100 completely changed the game. Designed with a built-in speaker, a headphone port, and composite inputs, this monitor is quite impressive. It's also capable of displaying images with an ultra HD 1280×800 resolution.
The F100 package comes with an AV/HDMI cable, a hot shoe ball head, a shoe mount, a sun hood, and other accessories that can help you enhance your shooting. The monitor draws power from a 12-volt AC adapter or L-series battery, enabling you to record anywhere. And the F100 has scan, zoom assist, and color peaking features that can help you make adjustments as you shoot.
The Neewer F100 falls short in terms of brightness, resolution, and other image-enhancing features. The good news: It makes up for it with an excellent 1200:1 contrast ratio.
Overall, if you want a budget monitor that does a great job and offers all the essentials, you can't go wrong with the F100.
4. Andycine A6 Plus
Outstanding performance for the price
A great device worth more than its price, this field monitor offers both basic and advanced features.
Pros
Built with highly functional video-assist tools
Beautiful touchscreen display
Supports 3D LUTs
Solid dual-battery mount
Cons
Tilt arm may need minor modifications for some devices
Finding a budget field monitor is tough. But while many inexpensive models lack advanced functionality, the Andycine A6 Plus gives you lots of power at a lower price point.
Its 5.5-inch 1920×1080 display delivers clear images for different shooting applications. It also has a 1000:1 contrast ratio, making it a great monitor for brightness adjustments.
What really sealed the deal for us is the touchscreen, which makes it easy for you to quickly access the menu by swiping and pinching the display. This comes in handy when you're shooting outdoors and want to change your zoom and brightness settings.
And this functional device has video-assist features that go beyond the basics. Other than the standard histogram, false color, and peaking tools, you also get 3D LUT support via an SD slot, which is more common on higher-priced field monitors.
A bonus feature is its 8V DC output, which is compatible with a range of video-capable DSLRs. We like the solid dual-battery mount, which can support Canon LP-E6 and Sony NP-F batteries.
5. Lilliput A7s
Great for 4K video
With the A7s, seeing your images on a wider screen is just one step away. The 7-inch display gives you better flexibility in the field.
Pros
4K HDMI input and loop output
Very versatile
Compact, lightweight, and durable
Cons
Not made for harsh outdoor conditions
The Lilliput A7s is built with a 7-inch display boasting a 1920×1200 resolution, and it does an impressive job of producing lifelike, natural images.
Its viewing angle is decent at 170 degrees, while its contrast ratio is 1000:1. As a rule of thumb, the higher the contrast ratio, the better your monitor will be at producing a viewable display even when shooting outdoors. But hey, there's nothing that a sun hood can't fix!
This HDMI-ready product gives you better flexibility in terms of inputs/outputs, which is a huge plus if you're looking for a versatile DSLR monitor.
It also offers a long list of monitoring tools, including focus peaking, a histogram, and a timecode display. Its biggest downside is its 500-nit brightness setting, which is decent but not outstanding.
6. Atomos Ninja V
Perfect for serious shooters
Rolling efficiency and precision into one compact package, this field monitor is great for advanced videographers and photographers.
Pros
Focus peaking and multi-level exposure
Includes audio inputs
Can record at 4K
1000-nit brightness setting
The Atomos Ninja V gives you the best and the most accurate previews of your photos and video footage. Compact in size but packed with features that boost efficiency, this device is a strong option for professionals.
Its 5-inch HD display offers a wide array of functionality, including a playback and recording option. Other external monitors can't directly record 10-bit 60p video, but the Ninja V steps up and shows the world that it's possible. You can even record 4K 10-bit HD video straight from your camera via an HDMI 2.0 cord.
These features, along with focus peaking, multi-level exposure tools, and a 1000-nit brightness setting, make the Ninja V a great monitor for all occasions.
7. Lilliput A11
Great for customizability
The Lilliput A11 has two programmable buttons that can be customized to adjust volume, sharpness, saturation, tint, and more.
Pros
Multiple mounting options
Includes two customizable buttons
High-quality 1920×1200 display
Cons
It does not have any power-saving features
The Lilliput A11 is another superb field monitor. It benefits from an excellent-quality 1920×1200-resolution screen fitted into a 10.1-inch 8-bit LCD display. This includes 320-nit brightness and full lamination technology so you can see everything as clearly as possible.
Additionally, it supports HDMI 1.4b, 3G-SDI, HD-SDI, SD-SDI, and more. It has a standard VGA port, too. This gives you fantastic versatility, and it is compatible with most FHD cameras.
We like the multi-angle mounting support complete with the ¼-inch multi-angled screw holes. Combine this with the VESA 75mm and gimbal brackets, and you have a versatile field monitor that you can position in a number of ways to complement your photography and videography. The basic package includes the monitor, an F970 plate, various mounts, an HDMI A/C and Micro HDMI cable, and a DC adapter.
One battery charge should give you approximately four hours of runtime. Furthermore, the Lilliput A11 has two customizable buttons, F1 and F2, which can be set to things like sharpness, saturation, tint, volume, etc.
8. Desview R5
Perfect for precise monitoring
Offering great value at a low price, the R5 keeps efficiency within your reach by focusing on practical features that result in a great shooting experience.
Pros
Loaded with high-end features that enable a better monitoring experience
Extra connectivity options
Quality build for great durability
Cons
Mic needs to be mounted on the side of the monitor
Another budget-friendly monitor is the Desview R5, which puts high-end features just a touch away – literally! With the monitor's touch-sensitive screen, you can make all the adjustments you want with just a single tap or pinch.
The R5 gets you access to high-tech monitoring features such as a waveform (for brightness), a vectorscope (for chrominance such as saturation and hue), and LUT support (for color manipulation). Likewise, this device enables you to adjust brightness and the color gamut via two modes: PQ and HLG. Together, these tools allow you to make essential adjustments while shooting.
In terms of connectivity, this device gives you more than just an HDMI input/output option as it also includes a 3.5mm audio headphone jack and an SD card slot. Thanks to its handy tools combined with impressive connectivity, the R5 is definitely a great option for the price.
9. Atomos Shinobi
Great for vlogging
The Atomos Shinobi lets you make tweaks on the go with its range of features and settings.
Pros
Unique processing system to extend battery life
Selfie mirror mode for vlogging
Handy view feature for simultaneous shooting and analysis
Lightweight design
Cons
It does not include cables and batteries
Could be better for videography than photography
The Atomos Shinobi is perfect for cinematographers and vloggers who prioritize great imagery. It even offers unique functions that make shooting more personal and hands-on.
The Shinobi field monitor won't let you down when you're shooting outdoors thanks to its 1000-nit brightness setting and 5-inch HDR display. You'll be able to see crisp images even when you're shooting in daylight. Nothing beats the Feelworld FW279 for outdoor shooting, but even so, the Shinobi's brightness setting is still very respectable.
Additionally, the compact and lightweight build make this a great outdoor monitor. Aside from its great on-the-go features, this device makes our list because of its unique technology. It includes a remarkable screen processing system that extends battery life and endurance, along with a selfie Mirror mode that makes vlogging simpler and more enjoyable.
Its major highlight is the new Analysis View feature, which gives you complete control over your shoots. It basically lets you view your shots while simultaneously allowing you to make tweaks via tools like the histogram, waveform, and vectorscope.
10. Portkeys LH5P II
Best for touchscreen lovers
The Portkeys LH5P II offers superb touchscreen controls and an advanced set of functions for enjoyable videography.
Pros
High-quality touchscreen display
Includes LANC and USB control cables
Durable metal frame for outdoor use
If you want touchscreen functionality, the Portkeys LH5P II is one of the best field monitors available. It has a large 5.5-inch touchscreen with a brightness of 2200 nits and a 1920×1080 resolution, and the glass is tempered for superior durability. The display is housed within a robust metal frame that should withstand the rigors of travel and on-site photoshoots.
The menus and interface have also been improved. Everything is easy to access, and you can also utilize a range of custom settings. The monitor has a built-in wireless control module that supports both BMPCC 4K & BMPCC 6K. And you can directly connect your camera using a control cable.
We like the various advanced features that allow you to improve the display quality and playback. Examples include check field, grids, audio meters, image flip, color temperature, peaking, zooming, direct camera control, and display flip. These allow you to get the most out of your camera and the field monitor.
Included in the set are the monitor, a short antenna, a LANC control cable, and a USB control cable. Additionally, you get a hard-wearing plastic carry case.
Buying Guide
The perfect monitor should be tailored to your specific needs. Do you focus on still photography or do you specialize in capturing videos? By setting priorities, you can ignore the features that won't add value to your workflow.
Recording Capability
News flash: Not all camera monitors have recording capabilities. But before we compare the difference between non-recording and recording monitors, let's first discuss the typical camera setting.
Basically, most cameras have a built-in internal recorder, but they are essentially designed for capturing still images, which in turn greatly impacts thermal management, data compression, and battery life. When used as a standalone device for recording live videos, these cameras often offer low bit rates.
Field monitors with recording capabilities cannot alter the details your camera produces, but they help you produce better outputs by reducing lossy data compression, which results in media distortion. Also, a recording monitor provides video outputs in a wider range of formats that greatly match popular video-editing software. And it doesn't stop there. When you're out on a shoot, a recording monitor will give you features that non-recording monitors lack.
Size
Most cameras offer a small preview on the rear LCD. But while this is useful, a field monitor will give you a larger view and better flexibility when setting up your compositions. And by identifying small issues in advance, you can make on-location tweaks that'll prevent you from spending extra time editing.
As a general rule, wider monitors require more head movements, making it more convenient to use monitors in the range of 5-7 inches. Also, these monitors usually come with extra tools such as a waveform, peaking, a vectorscope, and false color. Larger monitors are best mounted on a separate device for added comfort and stability.
Weight
Weight is an important factor for many on-the-go videographers. While lightweight monitors help boost productivity and lessen fatigue, heavy monitors can do the complete opposite. More importantly, weight can affect stability and balance, especially when you're shooting outdoors.
So if you're comparing two brands that have equally useful features, check the weights. It may not seem like much, but a monitor that's a few grams lighter can make a big difference.
Resolution and Pixel Mapping
By definition, video resolution refers to the density of pixels displayed on your device. Field monitors are commonly available in two types: High Definition (HD) and Standard Definition (SD).
SD videos usually start at 640×360, while most HD videos are at 1280×720 (720p) and above, with 1080p videos categorized as Full HD. While 4K resolution is emerging, Full HD is more than enough to help you get a clear view of your footage.
When you use a field monitor with a low resolution, it usually scales your footage to allow you to view your shots on the full screen. This introduces scaling artifacts, which can be problematic when you're reviewing your shots on-site.
What you want is to view unscaled footage that lets you see the real quality of the images you produce. You can do this by looking for a monitor with 1:1 pixel mapping, which is a display technology that gives you an exact preview of your output.
Brightness
Do you frequently shoot outdoors? There are camera monitors that give you better control over brightness, but generally, 1000 nits or so can give you the flexibility you need. You should also check on the field monitor's contrast ratio, which affects brightness and color.
Inputs and Outputs
The best camera monitors have HDMI and SDI inputs and outputs, but an HDMI interface is often sufficient.
HDMI is an interface used for processing two types of digital data: uncompressed video data and either uncompressed or compressed audio. The maximum length of high-speed HDMI cables reaches up to 49 ft (15 m), while regular HDMI cables are usually 16 ft (4.9 m) in length.
SDI, on the other hand, is the professional standard for processing signals. Depending on the quality, SDI cables can transfer digital data up to 390 ft (118.9 m) or, in some cases, 2,500 ft (762 m).
Tools and Scopes
While your camera may already have the tools you need, a good camera monitor can mean a significant difference in your shooting and editing workflow. Below are some of the tools you may come across as you look for the right field monitor:
Scopes are color analysis and exposure tools that rarely come with a still camera system. They help you better visualize exposure and luminance via waveform displays. Thanks to these waveforms, you can efficiently tweak contrast and exposure in different frame points.
Focus peaking, focus assist, and zoom tools generally help you keep your lens focused while shooting. Why do you need these when most cameras have an autofocus function? For one, these features come in handy when doing precision shooting, particularly if you're focusing manually.
Zebra stripes highlight areas of your images that are overexposed. The overlay won't appear in the final output.
Audio channels are not a necessity, but it's good if your monitor supports at least two audio channels. A handy tool for videography projects, an audio channel will help you efficiently track the sequence of your audio and video data.
Pick a Field Monitor to Enhance Your Shooting
Photography and videography are not just about finding the right angles. They also help you creatively tell stories. What better way to do that than with a monitor that can help you make major and minor tweaks while shooting? By investing in a field monitor that matches your needs and expertise, you can streamline your workflow and get amazing results.
---
As an Amazon Associate, we earn from qualifying purchases. Certain content was provided "as is" from Amazon daily and is subject to change or removal at any time.