Post-processing is an essential part of every photographer's workflow. However, finding the time to get your editing done, especially if you're frequently away from your desktop computer, can be difficult – and that's when a tablet comes in handy.
The best tablets for photo editing offer enough power to process your images on the go. They can easily run editing apps like Lightroom, so you'll have no problem enhancing your photos when you're out and about.
In this article, we look at the top photo editing tablets available in 2023, including options for all budgets!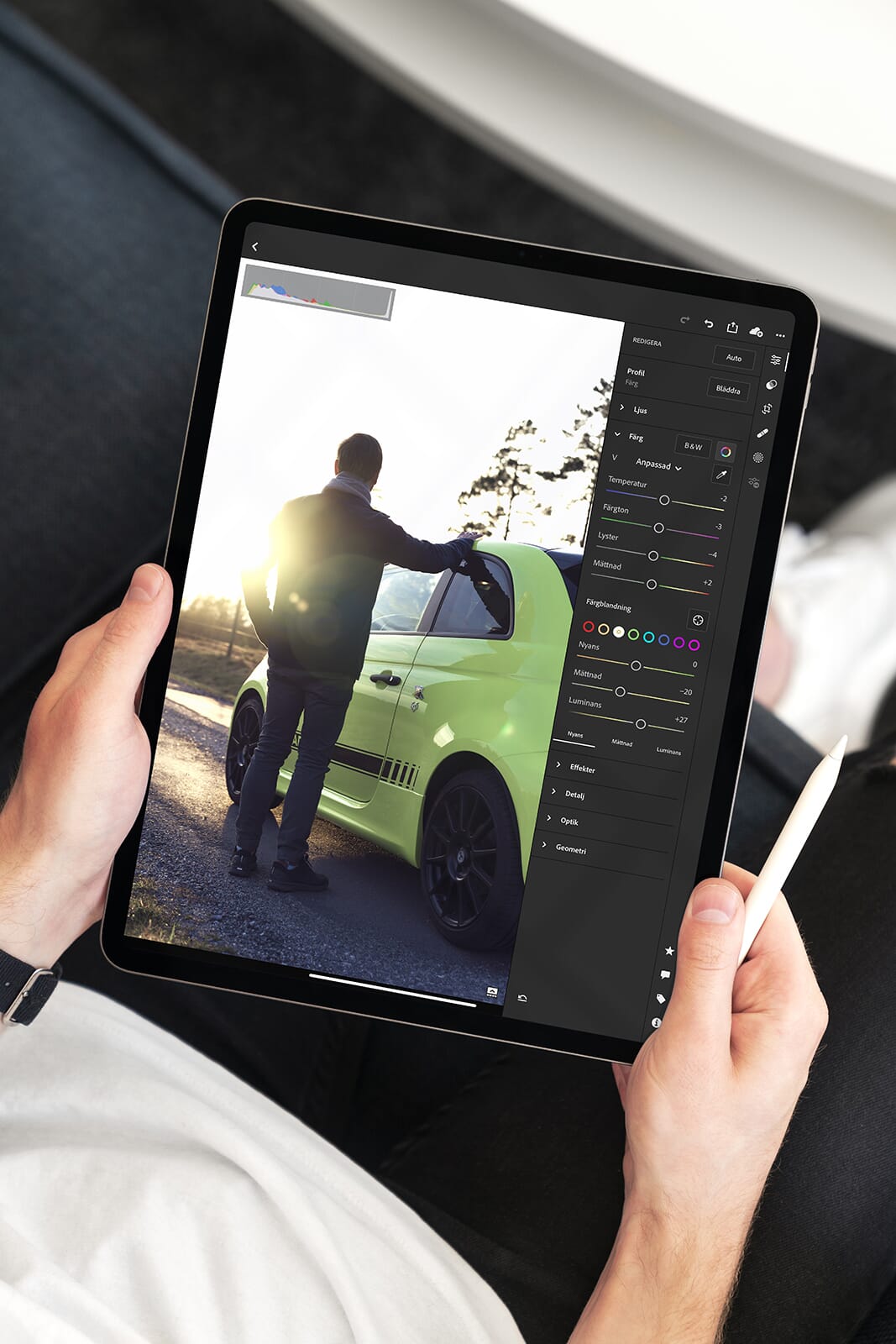 The Best Photo Editing Tablets:
When you buy through links on our site, we may earn a commission at no cost to you. We evaluate products independently. Commissions do not affect our evaluations.
1. Microsoft Surface Pro 9
Our Pick
Great for professional work
The Microsoft Surface Pro 9 offers the best in specs and performance and can easily run high-end photo editing software.
Pros
Up to 32 GB of memory
High-quality 13″ display
The battery can last for up to 19 hours
Good storage capacity
Cons
Just as expensive as buying a desktop computer
The keyboard and pen have to be bought separately
Our favorite editing tablet is the Microsoft Surface Pro 9, and it's a great option for professionals due to the fantastic specs. If you need a device that can edit to a high standard on the go, it's an outstanding pick.
You can purchase the Surface Pro 9 in a few different configurations, but the best processor option is the Intel Core i7, which gives you multitasking capabilities so you can use editing and organization software simultaneously. The base model also gives you 8 GB of memory and a 256 GB SSD for fast live editing and plenty of room to store your photo collections.
You do have the option to upgrade to 32 GB of RAM and 1 TB of storage; if you go this route, you'll have a great tablet for video editing, too. And you can edit for hours on end thanks to the 19 hours of battery life.
The 13″ touchscreen gives you an incredible viewing experience. You can expect your photos to look sharp, bright, and vibrant, which is always a good thing.
2. Samsung Galaxy Tab S8+
Also Great
Great for image previews
The Samsung Galaxy Tab S8+ has a high-quality 12.4″ display that displays photos in crisp detail and with accurate colors.
Pros
Compact design
256 GB of storage
Snapdragon processor
Reasonable price
Cons
Accessories like the pen and keyboard aren't included
The Samsung Galaxy Tab S8+ is one of our top tablets for photo editing due to its large storage drive, Qualcomm Snapdragon processor, and 8 GB of memory. These specifications give you a fantastic amount of processing power, and you can easily run the best photo editing apps.
The 256 GB storage drive is perfect if you have a large photo collection and regularly work with RAW files and 4K video. The Snapdragon processor is very impressive and ensures that resource-intensive editing tasks like masking run smoothly.
You get a slimline device that is easy to carry and handle. The screen itself is 12.4," so it has plenty of real estate to edit photos in fine detail and also offers ample screen space for a smooth workflow.
If you intend to use this tablet on the go, you'll love the long-lasting battery, and there's a fast charging feature so you can always have it ready to use. You might consider using the Galaxy Tab S8+ to take photos and edit them directly as it comes with a great tablet camera.
3. Apple iPad Pro 12.9″
Great for professional work
The Apple iPad Pro 12.9″ has the latest M2 chip, which offers fantastic processing power for high-end photo editing.
Pros
M2 chip with an 8-core CPU and a 10-core GPU
Plenty of ports
High-quality Liquid Retina display
Cons
The basic 128 GB storage option could be limiting
Expensive
The Apple iPad Pro 12.9'' is the best iPad on the market and benefits from the latest generation of Apple chip technology. The M2 chip has an 8-core CPU, a 10-core GPU, and unified memory, which means that performance is enhanced and tasks are processed intelligently to maximize efficiency.
You can easily run the most advanced photo editing software, and everything should feel smooth and responsive. Aside from the M2 chip, the tablet has a 128 GB SSD; this is decent, though there are 256 GB and 512 GB options available that do give greater flexibility if you need to store larger photo collections.
This iPad has a beautiful 12.9″ display. The Liquid Retina technology and features like ProMotion, True Tone, and P3 color gamut support mean your photos will look realistic and that you can edit with a high degree of accuracy. You can work quickly and transfer files from external devices thanks to the USB-C, Thunderbolt, and USB 4 ports.
If you are out and about and photo editing in different locations, the security features – including Face ID – should give you extra peace of mind.
4. Apple iPad Pro 11″
A slightly cheaper pick
The Apple iPad Pro 11″ is just as versatile as its larger sibling and gives you powerful photo editing with excellent security.
Pros
Uses the latest Apple M2 chip
Face ID for safe access and authentication
High-quality set of cameras
Cons
Only 128 GB of storage
Some may find the 12.9″ iPad Pro a little too expensive. Fortunately, there's also the Apple iPad Pro 11'', which is significantly cheaper but still has great specs and features. This device has an M2 chip with an 8-core CPU and a 10-core GPU, and the 8 GB of unified memory will give you outstanding performance even when you're working on large RAW files.
The 11″ screen uses Apple's Liquid Retina XDR technology, and the True Tone technology and P3 color gamut support will ensure that your images look amazing.
If you want to use a device that can edit and capture photos, this iPad is a great choice as it has an array of very nice cameras. That way, you can streamline your workflow by simply capturing photos on-site and then editing them immediately after.
Even if you are using the tablet's camera and some photo editing software, the battery has been improved compared to previous versions and will do just fine. We like that this iPad is compatible with the Apple Pencil and Magic Keyboard, though these are sold separately.
5. Microsoft Surface Go 3
Great for on-site editing
The Microsoft Surface Go 3 is highly portable, and you can edit constantly thanks to the all-day battery life and fast charging.
Pros
Multiple ports and a card reader
11-hour battery life
Adjustable stand
Cons
May struggle with high-end editing software
Only has 64 GB of storage
We get that not everyone needs an expensive tablet that they plan to use for high-end photo editing, and that's where the Microsoft Surface Go 3 comes in. It may not give you as much processing power as some of the other top models, but you can still use it for basic photo editing, and it doubles as a fantastic device for the whole family.
This tablet is incredibly compact and easy to take on day trips, holidays, and photography outings. The 10.5″ touchscreen display should give you plenty of room for detailed editing, and the responsiveness of the touchscreen is excellent. We do advise investing in the Microsoft Go keyboard, which is especially useful if you're a fan of keyboard shortcuts.
This tablet's processing power is somewhat limited, but the 4 GB of memory and the Intel Pentium Gold processor are perfect for basic photo editing and photo organization. You can also upgrade your device to 8 GB of memory, which won't add much to the price but will give you a performance boost.
You can easily connect external devices and view your files as the tablet has a MicroSDXC card reader and a USB-C port. Finally, if you're traveling and want to edit on a train, a bus, or a plane, the all-day battery life will be a big help (and you'll appreciate the fast charging, too!).
6. Lenovo Tab P12 Pro
Great for comfort
The Lenovo Tab P12 Pro has some excellent accessories, including a keyboard and a pen. There's even a stand, so you can edit in a way that doesn't strain your eyes or wrists.
Pros
High-quality display
Excellent battery life
6 GB of memory
Amazing price
Cons
The processor isn't the best
The Lenovo Tab P12 Pro is a great choice if you aren't obsessed with acquiring the latest Microsoft, Samsung, or Apple products. It offers comparable specifications to some of the tablets featured above, yet it costs a fraction of the price.
The 12.6″ touchscreen is superb and gives you great viewing quality for your photos and videos. You should have plenty of space to work with, and the ample real estate will allow you to customize your software layouts to improve productivity.
This tablet has a Qualcomm Kryo processor that offers clock speeds up to 3.2 GHz. It might not be as good as the Apple or Intel processors featured on other models, but Qualcomm is a well-known tablet processor producer, and when you combine the CPU with the 6 GB of memory, you should be able to use a variety of editing programs with no performance issues.
The 128 GB storage drive is a great starting point and should allow you to easily store thousands of RAW photos. We also like that the tablet has a stand on the back so you can keep the tablet propped up when editing photos. There is even an optional keyboard and tablet pen, and these can be great for improving your editing workflow.
7. Apple iPad Air
Great for editing while traveling
The Apple iPad Air is a lightweight and compact tablet that can easily be stored in a backpack or camera bag.
Pros
High-quality 10.9″ display
Compact design
Dual 12 MP cameras
Great price
Cons
Doesn't have the latest M2 Apple chip
The base 64 GB storage capacity could be limiting
If you simply need a tablet to take with you on your travels, the Apple iPad Air is a top pick. It's much lighter and more compact than the iPad Pro devices, but it still gives you plenty of processing power for editing, streaming, and gaming.
It weighs less than many mirrorless cameras and lenses, and the slimline casing and 10.9″ screen also mean that the overall size of the device is so small that you can easily store it in your camera backpack.
The base model has a 64 GB SSD, and while this is decent for general use, you may want to consider upgrading to the 256 GB version (especially if you want to store larger photo collections). The iPad Air packs the Apple M1 chip, which isn't the company's newest option but still offers excellent performance.
You should be able to run professional editing software without any problems, and you can even take photos using the dual 12 MP cameras. The battery should last thanks to its upgraded all-day performance, too!
8. ASUS Chromebook Flip C433
Budget Pick
Great for work and editing
The ASUS Chromebook Flip C433 functions as both a laptop and a tablet, allowing you to do standard office work and photo editing.
Pros
High-quality touchscreen display
Good processor
Multiple USB ports
Cons
8 GB of memory could make some software sluggish
Our last pick is a dual-purpose device that can function as either a tablet or a laptop. The ASUS Chromebook Flip C433 features a full keyboard, but you can flip the screen outward and – voila! – you'll have a tablet.
The touchscreen is responsive, and the 1080p display will ensure that your photos look fantastic and that you'll have plenty of screen real estate. Don't worry about importing your photos or connecting an external hard drive, either; this Chromebook has multiple next-gen USB ports and a microSD card reader slot.
You should be able to run most photo editing software with 8 GB of internal memory and the Intel Core M3 processor. However, some editing software does recommend 16 GB of memory, so certain editing processes might be a little slow. If you're a more casual editor, don't worry about this issue – the Chromebook should perform great when running both basic and mid-tier software.
Therefore, if you need a device that's primarily for work but can also handle photo editing as required, the Chromebook Flip C433 is a great option.
Edit Your Images with a Quality Tablet
A tablet can be just as effective as a laptop or desktop computer for photo editing, and it's a great way to get your processing done while traveling. The eight options we have chosen are certainly impressive, but the right pick for you will depend on your budget, intentions, and software of choice.
If you want a cheaper tablet for occasional editing and general use, devices like the Microsoft Surface Go 3, the Apple iPad Air, and the Lenovo Tab P12 Pro are great choices.
Alternatively, if you need the absolute best performance and want to run powerful editing software, high-spec options like the Microsoft Surface Pro 9, the Apple iPad Pro 12.9'', and the Samsung Galaxy Tab S8+ are all very capable.
Best Tablets for Photo Editing FAQ
Can you edit photos using a tablet?
Of course! It does depend on your operating system, however, because certain editing apps are only available for Android or iOS devices.
Can a tablet run Photoshop?
Yes, there are various versions of Adobe Photoshop available for tablets.
Do you need a pen to edit photos on a tablet?
Not necessarily. Some people prefer to use their fingers, while others prefer to use a traditional mouse and keyboard. Fortunately, most tablets for photo editing offer a variety of control options.
---
Disclosure/Disclaimer: As an Amazon Associate, we earn from qualifying purchases. Certain content was provided "as is" from Amazon and is subject to change or removal at any time. Product prices and availability: Amazon prices are updated daily or are accurate as of the date/time indicated and are subject to change. Any price and availability information displayed on Amazon.com at the time of purchase will apply to the purchase of this product.