If you regularly edit photos using software like Lightroom, you need a high-quality monitor.
This is essential if you want to get the best results, whether you're preparing your images for printing or posting them on social media. Having a large screen and a high-resolution display means you can see your photos in crisp detail when editing. Another benefit of a top-notch monitor is that you'll get a more accurate view of image colors.
We've split our list of the best monitors for photo editing into three categories: budget, enthusiast, and professional. This means you should be able to find a suitable monitor, regardless of your intent or level of editing experience.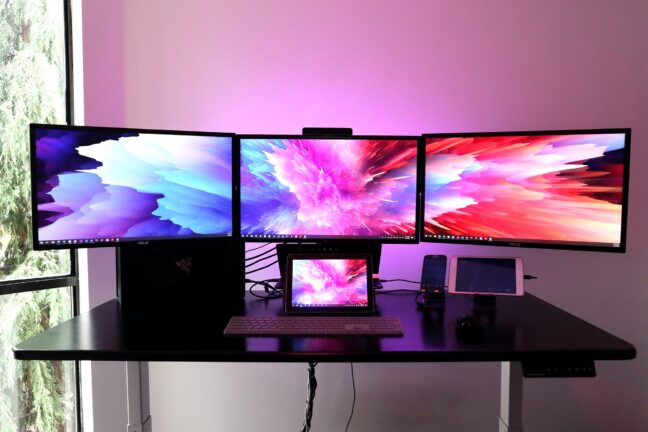 Best Monitors for Photo Editing:
Summary of Our Picks:
Images from Amazon
ASUS ProArt Display PA248QV
Budget Pick
Impressive tech specs at a fraction of the cost. Perfect for casual editing.
BenQ SW270C
Best Enthusiast
High viewing accuracy across the board. The generous screen size is perfect spending hours editing photos.
LG 27MD5KL-B
Best Pro
A beautiful, bright display boasting impressive color accuracy. Great for professionals in need of fast data transfer.
When you buy through links on our site, we may earn a commission at no cost to you. We evaluate products independently. Commissions do not affect our evaluations.
Best Budget Monitors
Let's start with our selection of budget options. These monitors are all relatively cheap but still provide excellent displays. If you are just getting started with editing or only occasionally use post-processing software, one of these monitors could be your best option.
1. ASUS ProArt Display PA278QV
Budget Pick
A great budget monitor for photo editing
This monitor offers lots of features, yet it costs far less than competitors. It also offers plenty of screen real estate for editing.
Pros
100% sRGB monitor
Various adjustment options
Multiple connection ports
Cons
Pre-calibrated but may need adjustments
If you want a well-rounded monitor for photo editing as a hobbyist, the ASUS ProArt Display PA278QV is the perfect pick. It supports 100% sRGB and 100% Rec. 709, which should be suitable for all but the most serious work and will let you edit your holiday snaps and creative photos in great detail.
This monitor is factory calibrated and verified, so it should be good to go out of the box. We like the ergonomics, too; the tilt, swivel, and pivot features give you flexibility when placing the monitor in your home office.
Lastly, we like the accessible design of the rear port panel and the fact that it has HDMI, DP, USB, DVI, and mini-DP ports. As a result, you should be able to connect multiple devices easily for faster file transfers.
2. Dell U2720QM
Also Great
Great for those looking for a larger screen size
The U2720QM boasts stunning color accuracy and supports a generous range of color gamuts; it's perfect for enthusiasts in need of an upgrade.
Pros
4K resolution with a good response time
Able to play back HDR photos
Fantastic color depth
The color accuracy and consistency of the Dell U2720QM makes it the best monitor for photo editing if you regularly work with brighter shots or even HDR files. It has a Delta-E rating of less than 2, which means you can expect precise colors out of the box and won't need to do any messy calibration.
The basic resolution and clarity will further enhance the appearance of your photos; it's a 4K monitor that offers amazing detail. Whether you prefer to edit in Lightroom, ON1 Photo RAW, or Luminar, you'll love the beautiful display and incredible sharpness.
If you have a setup with multiple monitors, you will find the vari-angle feature of the stand useful, too. This means you can adjust the monitor as required to create a multi-monitor setup that minimizes head turning. The port panel could admittedly be a little better positioned, but it does include all the ports you might need to connect external devices.
3. ViewSonic VP2468
Great for complete connectivity
This ViewSonic monitor is perfect for photographers searching for a highly accurate display. It also offers excellent ergonomics for comfortable viewing.
Pros
Good color accuracy
Borderless panel design
Multiple USB 3.0 ports
The smaller screen size and HD resolution of the ViewSonic VP2468 could be ideal if you only occasionally do editing and primarily use your PC for work purposes. The monitor may not be suitable for professional work, but the Delta-E accuracy and color gamut support will still enable you to view your images in all their glory.
The ViewSonic VP2468 is capable of displaying up to 4.39 trillion colors. Therefore, you can expect your images to look better than ever. This will also come in handy if you want to print your work – you could use an inkjet printer and preview the images beforehand to get a realistic idea of the end result.
We like the stylish design of this ViewSonic monitor, too. It has an ultra-thin bezel that is barely visible, which helps enhance the beauty of your display. And if you wear glasses or are prone to eye issues, the eye-care technology should reduce any lasting strain.
Best Enthusiast Monitors
Next, we have our midrange category. These monitors are more expensive and are suitable for enthusiasts. They're not high-end professional options, but for those who edit photos often and don't want to shell out too much money, this category of monitors provides the best options.
4. BenQ SW270C
Best Enthusiast
Great for color uniformity
If you need high viewing accuracy, the SW270C is a top choice. It also boasts a sizable screen.
Pros
Great color gamut support
AQCOLOR technology for exceptional color representation
HDR10 Support
Cons
Slower refresh rate of 60 Hz
The BenQ SW270C is perfect for those who want to step into serious editing but aren't quite ready to commit to a more expensive monitor. It's an excellent midrange option that gives up-and-coming photographers good quality at a decent price.
If you're dipping your toes into high-detail editing for clients, the 99% Adobe RGB, 100% sRGB, and 97% DCI-P3 color gamut support is essential. Combine this with the various color technologies that BenQ inserts into its monitors, and you should be able to wow your customers with realistic edits that are bursting with life.
We like that this monitor includes a shading hood, too. If your home office or studio is prone to glare, the hood will help ensure consistent viewing. The SW270C is hardware-calibration compatible, so you can get outstanding results with a monitor calibrator. That said, it is factory calibrated and comes with a full report!
5. LG 34WP65C-B
Great for a flexible workspace
The 21:9 ratio and high resolution combined with excellent color gamut support make the LG34WP65C-B a top option for those who need a versatile workspace.
Pros
Excellent 3440×1440 screen resolution
Curved design
99% sRGB color gamut support
Cons
Doesn't have a huge range of ports
The 34-inch wide-angle display of the LG 34WP65C-B makes it a superb monitor for those who want great accuracy together with extended screen space for workflow versatility.
The display is curved for a more pleasing and consistent viewing experience. Additionally, thanks to the ultra-wide format (21:9), you can easily work with multiple programs at once. For example, you could have Lightroom open on the left-hand side and photo-organizing software or a web browser open on the right. It really does give you excellent flexibility when editing.
The display accuracy and colors are fantastic, too. This is due to the 99% support for sRGB and the HDR10 capabilities. The monitor also has a brightness level of 400 nits, and the extremely thin monitor bezels on three sides further enhance your viewing.
Connectivity is decent, but this is an area that could be improved. Nonetheless, the LG 34WP65C-B has several USB ports, an HDMI port, and a headphone jack on the rear, and they are all easily accessible.
6. ViewSonic VP3268a-4K
Great for multi-angle use
The ViewSonic VP3268a is a 4K monitor offering a comfortable working area and IPS technology to ensure clear viewing from every angle.
Pros
Excellent screen uniformity
Great slim-bezel style
High-quality stand
Cons
Menu system is unintuitive
If you often work with portrait-orientation images, the pivot capabilities of the ViewSonic VP3268a-4K will definitely come in handy. This monitor can rotate 90 degrees and thus be used in full portrait mode. As a result, you can enjoy far more working space and a larger preview of portrait photos as opposed to smaller previews on more conventional monitors.
We like the ultra-thin bezel surrounding the screen. It gives the monitor a minimalistic look and enhances the screen real estate. This device is even classed as an all-in-one docking monitor due to the array of ports, so it's much more than a monitor for photo editing. Thanks to its 90W USB-C, charging, video, data, and audio ports, you can use the ViewSonic VP3268a-4K for plenty of purposes.
We've found that the various eye-care features can help reduce strain when editing for long periods. They include anti-flicker, reduced blue light, and eye-care technology. You should be able to stay fresh and edit entire photoshoots without fatigue.
7. BenQ Mobiuz EX3415R
Great for editing and gaming
The widescreen resolution, excellent color accuracy, and impressive customizability make the BenQ Mobiuz EX3415R a superb choice for both editing and gaming enthusiasts.
Pros
21:9 widescreen resolution
A great selection of ports
Various color-optimization options
Cons
The HDR function may not be the best
If you enjoy both gaming and photo editing, then you'll love the BenQ Mobiuz EX3415R.
First, as a gaming fan, you'll appreciate the ultra-wide 21:9 screen format, which will give you a more immersive experience as you play. Second, as a photographer, you'll find the 3440×1440 resolution ideal for editing images in fine detail. The monitor also features fantastic color gamut support and various optimization features so you can adjust the colors for gaming or photo editing as needed.
We like the varied range of ports, though the rear panel could be a little more accessible. You get an HDMI 2.0 port, a headphone jack, 2x USB 3.0 ports, a DPU.4 port, and a USB-B port. As a result, you can easily connect external devices such as a camera or even game consoles.
Best Professional Monitors
Finally, we have a selection of professional-grade monitors. If you work with photos in a professional capacity, these are the monitors for you. They offer the best quality but also come at a much higher price.
8. LG 27MD5KL-B
Best Pro
Great for fast data transfer
This is a stunning monitor for pros. Thanks to the 5K display and high color accuracy, your shots will look as accurate as possible throughout the editing process.
Pros
Excellent 218 PPI density
Includes a Thunderbolt 3 port
99% DCI-P3 color gamut
Cons
Only 26-inch display size
If you edit photos professionally, the 5K resolution, superb color-gamut support, brightness levels, and Thunderbolt connectivity on the LG 27MD5KL-B make it a top choice.
To ensure your client's images are viewed accurately and look amazing, this monitor supports 99% DCI-P3, 100% sRGB, and 100% Rec.709. It also has a brightness level of 500 nits. You should be able to see every detail and create previews that are comparable to how they will print.
Might you need to transfer large amounts of data from an external hard drive or your computer? This monitor is equipped with a Thunderbolt 3 port and a fast USB-C port. Although the bezel may be a little chunky, the monitor still gives you plenty of positioning flexibility due to the tilt, swivel, and height adjustment features.
9. BenQ SW271C
Great for accurate color reproduction
The BenQ SW271C is a pro monitor for those who need the best color accuracy and professional photo-editing features.
Pros
AQCOLOR technology for accuracy
A versatile set of connection ports
Paper Color Sync technology for accurate print previews
Cons
Not the lightest of monitors
The BenQ SW271C is an incredible monitor and is built for photo editing. If you need a dedicated monitor purely for image processing, it's arguably the best option.
First, it gives you excellent control due to the HotKey Puck G2. This simple control device allows you to quickly change color and input modes for effective results.
Second, the monitor has a handful of nifty features. These include an advanced B&W mode and a GamutDuo setting (where you can actually preview a photo in two different gamuts, such as sRGB and Adobe RGB, side by side).
Cool features aside, this BenQ monitor gives you fantastic accuracy, which is needed for high-end work. And it supports 99% Adobe RGB, 100% sRGB, 100% Rec.709, and 90% DCI-P3. Therefore, you can work with different file types and mediums without breaking a sweat.
10. Dell U4320Q
Great for fine detail work
The Dell U4320Q is an excellent pro option for those who want some serious screen real estate.
Pros
Huge 43-inch screen
Great choice of ports
5K screen resolution
Cons
Doesn't have the best color gamut support
Our last pick is the Dell U4320Q; if your main priority is screen size, then it's the way to go. Thanks to the 43-inch 4K display, you'll have all the space you need to handle several projects at once or screen share with clients.
The screen size is impressive, and the monitor also offers great color depth and gradation for pixel-perfect edits. It can display 1.07 billion colors and has a high pixel density of 103 PPI, so your images will always look beautiful.
The range of ports is also hugely beneficial when connecting devices, and while the monitor doesn't include anything like a Thunderbolt port, it does have 2x HDMI ports, 2x DP ports, various USB ports, and a headphone jack.
How to Choose the Best Monitors for Photo Editing: Buying Guide
When purchasing a monitor for photo editing, we suggest looking at the following:
Size
Resolution
Color support
Size is essential. By size, we mean the physical dimensions and screen size of the monitor. In this instance, bigger is nearly always better. A large monitor will provide a larger display. As a result, you can see more on your screen. The downside is that the monitor will require more room. Consider the available desk space you have. What size monitor can you realistically accommodate? Do you need to view multiple photos and have a larger visible working area?
You must also consider the screen resolution. As with size, a higher resolution is usually better. This means more pixels per inch are displayed. Images will look sharper, and you will be able to edit your photos in greater detail. It is worth noting that a larger screen will have a lower-quality display compared to a smaller screen (assuming the resolution is the same). Striking the right balance between size and display quality is key.
The final component to consider is the color support or color gamut of the monitor. Different monitors display different color gamuts, such as AdobeRGB and sRGB. Monitors display these gamuts to a percentage – and the higher the percentage, the more accurate the color representation. Ideally, you want a monitor that supports various colors to a 99% or 100% rating.
Grab Your Monitor and Start Editing
As you can see, there are plenty of excellent monitors for editing. So which should you buy?
If you're a beginner or an enthusiast in need of a budget option, check out the ASUS ProArt Display PA278QV, which looks great, is reasonably large, and won't break the bank.
More serious editors should consider the BenQ SW270C or the LG 27MD5KL-B; they cost significantly more than the ASUS monitor, but the displays are accurate and breathtaking.
FAQ
Is an HDR monitor good for photo editing?
An HDR monitor will provide a greater range of color and contrast, so having a monitor with HDR support is a good idea.
What is the best low-cost monitor for photo editing?
The ASUS ProArt Display PA248QV is our favorite low-cost monitor for photo editing. This monitor combines an affordable price with great quality and features. It supports 100% sRGB and 100% Rec.709, plus it has an ergonomic design.
Is 4K worth it for photo editing?
Yes! A 4K display offers better everything: a crisp display, sharper photos, and more accurate color representation. If you can afford a 4K or 5K product, the benefit over a standard 1080p monitor is certainly worth the increased cost.
Are gaming monitors good for photo editing?
They can be. Most gaming monitors are geared towards faster performance and higher refresh rates, but you can find gaming monitors that are also suitable for photo editing. A dedicated photo-editing monitor will generally offer better quality, however.
What is a good monitor resolution for photo editing?
That depends on the size of the monitor. Generally, a 24-inch monitor should have a resolution of at least 1980×1080. A 32-inch monitor should have a (4K) resolution of 3840×2160. At a minimum, you want 1080p resolution, but for photo editing, 4K is ideal.
---
Disclosure/Disclaimer: As an Amazon Associate, we earn from qualifying purchases. Certain content was provided "as is" from Amazon and is subject to change or removal at any time. Product prices and availability: Amazon prices are updated daily or are accurate as of the date/time indicated and are subject to change. Any price and availability information displayed on Amazon.com at the time of purchase will apply to the purchase of this product.