Price doesn't have to get in the way of having a good-quality camera to hand no matter where you are. If you're looking to purchase a camera to capture every moment, a digital camera under $100 is great. These are affordable options that still promise high quality for the relative price point.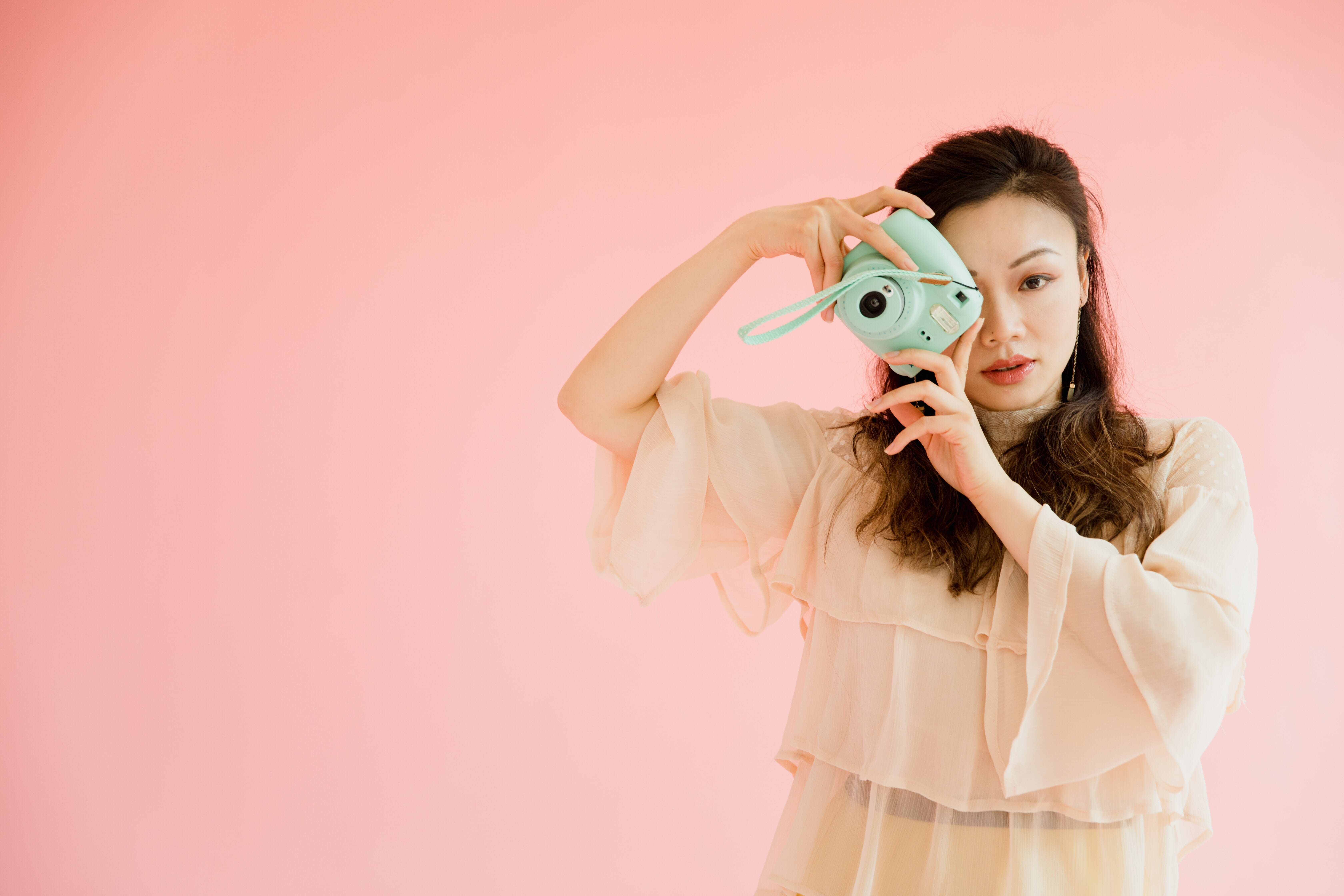 The Best Digital Camera Under $100: 10 Great Picks
1. Polaroid Underwater Camera
A GoPro Alternative in a Cute Style
Style, function, and a great price? It almost feels like you could have hit the jackpot with this camera from Polaroid.
Waterproof, bump-proof, very durable little camera
Impressively small size
Front facing screen as well for selfies and vlogging
18 MP stills and up to 4K video
The battery is built-in and cannot be changed, meaning that if you run out of juice, you have no spare battery to pop in.
The first camera on our list might strike you as an odd choice simply because the Polaroid Underwater Camera isn't a traditional digital camera. This underwater camera is more akin to the GoPros of the world! It's a small discrete action camera to capture all of your wild adventures! And from a known company with cute designs to boot.
The Polaroid Underwater Camera is small enough to be attached to almost everything. Where it really excels is at snapping videos and photographs of diving into the great waters. Weatherproof and waterproof, you don't need to worry about the camera's safety.
At 18 MP, this camera is no cheap feat! It offers images that are decently visible and of reasonable quality for the price point. Video can go all the way up to 4K, with 1080p as a default.
Thanks to a mini screen on the front, this camera can also dual as a vlogging or selfie camera, as you'll be able to see a preview in the front! With WiFi connectivity, all of the content can be quickly shared to social media through your phone.
The camera charges through a nifty USB cord, but the battery is not removable. The benefit of this is the lack of, well, the outdoor elements getting inside of the camera and mucking things up, but the downside is that you won't have any spare batteries if you run out of power.
2. Canon IVY REC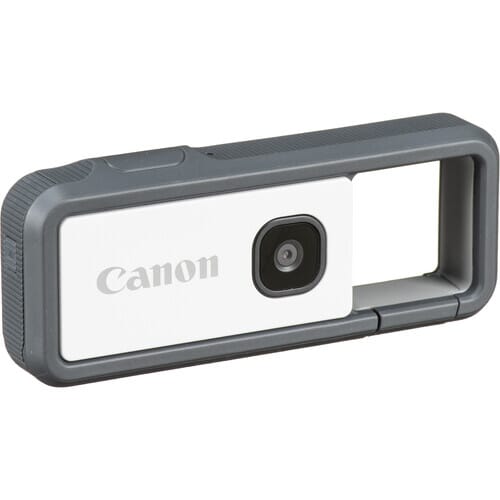 Canon's Plunge Into Small Action Cameras
With a caribiner built into the design that also doubles as a viewfinder, this camera deserves props on its ingenuity alone.
Teeny size with a brilliant design
Great sensor for such a small camera
6 foot water, weather, and shock proof
On the lower megapixels count for cameras under $100
Similar in vein to the camera above, the Canon IVY REC is Canon's solution to the teeny tiny cameras. With a long-standing reputation in the photography and digital imaging world, it was a surprise to find Canon stepping into the world of small action cameras.
With a small carabiner built into the camera itself, you can clip the camera on to almost anything you want! Featuring a surprisingly similar camera sensor to Canon's DSLR systems, the IVY REC has a 13 MP CMOS sensor. 13 MP isn't bad at all! This carabiner design has a dual purpose as well – the square shape is actually your viewfinder, you look through this hole to compose your shot.
Full HD video is supported, with the ability to record 60 frames-per-second at 1080pm high resolution (slow motion anyone?!). Although the camera doesn't have a screen, there is a smartphone app you can download to control the camera with your phone via WiFi and Bluetooth.
This nifty camera is also far more durable than it may appear, able to withstand and absorb shocks of a little over 6 feet! So a little drop won't hurt anyone. The camera is also water-resistant up to 6 feet.
3. Canon IVY CLIQ2
Instant Prints are Back!
The instant print craze has come back around, and Canon has a stylish offering within this niche.
Uses "ZINK" a zero ink printing technology
Prints on sticker paper that is smudge-proof and durable
Can be controlled via free smartphone app
Camera design is cute, stylish, and very compact (pocket-size)
Struggles immensely in low light
Equally as surprising as the Ivy REC above is Canon's IVY CLIQ2! Another bit of a Polaroid concept, this camera instant-prints your photographs much as cameras did many years ago.
Touted as "pocket-sized and portable", the IVY CLIQ2 really is small – easy to carry on any friend outing or vacation! Prints come out as 2" x 3" and are on sticker paper. This sticky back means they are easy to peel and decorate with (if one wishes).
The printing technology is actually the most impressive part of this camera, as the paper uses absolutely no ink! Coined as "ZINK", zero ink printing is a very convenient and cost-effective way to make an instant camera. The prints are well resistant to smudges and encourage much touching use and won't easily rip.
The camera itself has a neat design, featuring a "selfie" light that illuminates faces quite well as well as a selfie mirror. Considering paper has a limit, you definitely want to make sure you look your best before the shot is taken. Connect the camera to a phone for even more control, including the ability to edit the photographs!
Although the photo quality will never meet the standard of "wowing" someone, for $100, this is a great choice to capture memories that you can instantly have in your hand.
4. Polaroid iS048
A Step Up Underwater Camera
If you need just a bit more oomph in your underwater camera, this model is a direct step up from the underwater camera mentioned previously.
18mp with 4k recording, an improvement over the other Polaroid
Nicely sized back of the camera screen
Built in flash
Able to withstand depths of up to 10 feet under water
Battery cannot be removed
To hop back to Polaroid, if you need an underwater camera for under $100 that is a wee bit more powerful, the Polaroid iS048 is a good option. This 18 MP camera offers a decent resolution and is able to record 4K video. It is on the larger end, which is worth considering. But when it comes to going for a dive, you can record at a depth of up to 10 feet. This is incredibly impressive for such an inexpensive camera!
The 2.4" rear display is large enough to see all of the information you need fairly clearly. With WiFi and Bluetooth you can even utilize cell phone remote control of the camera. Unfortunately, this camera suffers from the same downside of not having a removable battery, but I suppose with its intended use to be quite… dangerous for most cameras… This is also a good thing.
What makes this camera really stand out is its option for both manual and auto modes! You can control your exposure in Manual settings. There is even a fairly bright flash built into the camera that can be used underwater.
5. Vivitar ViviCam
A Good Median Option
For a camera that doesn't require a learning curve, much effort, and provides decent images, this Vivitar is a solid choice.
Small in stature with multiple colors to choose from
Reasonable quality at 16 MP and 730 HD filming
4x digital zoom
Requires AAA batteries to operate, no rechargeable battery
If you've caught on to the theme of small, lightweight, and compact, the Vivitar ViviCam fits all three of those descriptions quite well. Coming in several different colors for extra fun, the ViviCam is a good general baseline of what you can expect from a camera at this price point.
The quality is decent, but certainly don't expect crazy low light or action photography brilliance from a little guy like this. However, for everyday family pictures or just something fun to muck around with, the Vivitar ViviCam does the trick. At about 16 megapixels and a video recording of 720p, it's a perfect median range for everyday use.
The camera features a 4x digital zoom, enough of a walkaround focal length to work in most situations! There is a built-in flash to help with some darker situations and a macro mode for close focusing needs.
The power source is three AAA batteries, which some enjoy and others don't find as convenient. There is standalone companion software that is free and can be used to help bring further benefits out of this little camera.
6. Kodak PIXPRO FZ53-RD
Most Lightweight Camera for Casual Applications
Ideal for everyday shoots, this device combines basic features that make it a smart buy for its price point.
Most lightweight point-and-shoot camera for casual applications
5x optical zoom range
Auto-detection feature (detects a smile, a blink, and a face)
Raising the banner for the Kodak PIXPRO collection is the FZ53-RD, a sleek point-and-shoot camera that's clean and intuitive inside and out. At 3.68 ounces, it is the most lightweight camera for everyday use, making it a great buy if weight is one of your main concerns.
This camera is impressive in terms of display size, offering a 2.7-inch screen. It also has a 5x optical zoom feature that accounts for better image quality. A pocketable version ideal for casual shooters, the FZ53-RD is capable of capturing images at 16MP and videos in HD at 720p.
This camera has auto settings that can detect a smile, a blink, or a face, making it extremely easy to use. This is pretty much a great camera for handheld shooting. The FZ53-RD does exactly what it's supposed to do without asking you to go through a complex manual.
The most obvious downside of using this camera is its image resolution, which is the lowest recorded on our list. But when used in optimal lighting conditions, the FZ53-RD is all-in-all a reasonably-priced camera that can deliver good, everyday shots.
7. Fujifilm Instax Wide 300
The Best Point, Shoot, and Print Camera for Wider Image Formats
Why focus on producing digital images when you can get quality, physical prints the moment you take a shot? A device capable of delivering images in wider formats, the Instax Wide 300 is sleek, compact, and easy to use.
Great quality images
Prints are double the size of Instax Mini
Simple and easy to use
Limited controls
Expensive films
A break from the cute, colorful Instax collection that has streamlined modern family cameras, the FZ53-RD Fujifilm Instax Wide 300 is twice the size and fun of the Instax Mini line-up. Despite producing wider, 2.4 x 3.9" photos, it still delivers crisp images perfect for instant printing applications, making it our top pick for cameras producing photos in wider formats.
As simple as pressing and printing, the Wide 300 model marries quality and user-friendliness through its easy-to-use build. It is highly consistent in terms of producing images that have great color saturation and exposure. So if image quality is your main concern but you're not a fan of small-sized Instax prints, this is the perfect option for you. Think of the classic polaroid wrapped in a sleek package and you've got this camera to back you up.
In terms of lenses, the Instax Wide 300 has two distant settings: 3 to 10 feet and 10 feet and above. The former is most ideal for portrait orientation, while the latter is best for landscape images. You might want to fire a few shots first to check the quality of the images before running an entire film to make sure you're on the right track.
A camera that brings you back to the basics of photography, the Fujifilm Instax Wide 300 is a simple device that produces great images. But while it's packed with fundamental features, it falls short in providing enough room for creativity since it has limited controls. Its flash, for one, automatically activates even if you want to retain the natural color of your subject. It also doesn't have long exposures and other modes that other, higher-priced cameras are loved for.
8. Fujifilm Instax Mini 9
The Best Point-and-Shoot Camera for Producing Small, Classic Prints
The Instax Mini 9 collects great memories and instantly converts them into print, making it a great option for commemorating special occasions. Available in a parade of playful colors, this bubbly, portable device is a great starting point for photography enthusiasts who like to
Great quality images
Fun, attractive design
Easy to use
Shooting under low light conditions result in lower image quality
Expensive films
The fun, younger sibling of the Fujifilm Instax Wide 300 comes in a playful package, making it a great option for family (or party) use. Fujifilm Instax Mini 9 The Fujifilm Instax Mini 9 is one of the best point-and-shoot cameras under $100 for providing instant images at the click of a button, but it doesn't stop there. Charming inside and out, this compact camera gets your memories printed out in seconds without sacrificing one critical feature: image quality.
Available in shades of blue, pink, green, and white, Instax Mini 9 is a perfect camera for teens and adults alike. It comes with a close-up lens designed for shooting at up to a 50-centimeter range. On the back, you'll see a viewfinder and a film exposure counter that helps you keep count of your shots. It also gets you access to a range of lighting options, including sunny, cloudy, and high-key modes. But frankly speaking, even with these options, it is difficult to capture high-quality images in low-light conditions.
A great bargain for capturing still photos with vibrant colors and great clarity, the Instax Mini 9 allows you to effortlessly immortalize memories with family and friends. But just like other contenders in the Instax department, the films are quite expensive, so you better slow down on film use.
9. Akaso EK7000 Pro
Great Value for Money
As one of the most inexpensive action cameras out there, this reliable device is packed with features that come close to the early GoPro versions.
Great features for its price point
Waterproof casing
Low image resolution
Video resolution is compromised at a higher fps
Another budget action camera, Akaso's EK7000 Pro is a device designed with features that are suited for its price point. Only a few dollars pricier than its basic model, the EK7000, the "Pro" version gives you more value for your money by offering some advancements on its features.
Is it comparable to GoPro's latest flagship models? Not a chance. But for its price, it's quite a steal. Externally, EK7000 Pro is packaged in a waterproof casing that works well even when you're 131 feet underwater. It is also designed with a HyperSmooth video stabilization feature, a touchscreen display, and additional fields of view, which the EK7000 lacks. Plus, it is capable of recording 4k videos at 25fps.
You also get a timelapse option and WiFi connectivity, allowing you to remotely control your camera via a 2.4-GHz wrist remote control. The wrist control is not waterproof, but it is quite handy when you're doing other outdoor sports activities.
While the EK7000 Pro is designed with great features, its image resolution isn't outstanding at 16MP. Also, just like Brave 6, its video resolution gets a downgrade when you try to increase the fps.
10. COOAU 4K Underwater Action Camera
The Most Inexpensive Point-and-Shoot Action Camera
Loaded with decent photo and video recording capabilities, this low-priced action camera allows you to bring your adventures to life without burning a hole in your pocket.
Reasonable features for its price point
Inexpensive
Easy to use
ideo quality needs improvement
Completing our line-up, another action camera that won't break the bank is the Cooau 4K Underwater Camera, a smart device that produces 4K Ultra HD footages a 25fps. Great for either cycling in the park or a quick dip in the lake, Cooau combines several basic features that make outdoor shoots efficient. Its image quality is also reasonable at 20MP.
Its anti-shake image stabilization, along with its WiFi connectivity and 2.4-G Wrist Remote Control, allows you to take fluid shots wherever you are, whatever you do. You can also adjust color and brightness via its built-in ISO and Exposure Value, making it easier for you to produce better image outputs while you're on the go.
Its time-lapse recording capability, on the other hand, gives you ultimate control over your frames. With this feature, you can speed up your videos to up to 30x so you can convert long clips into shorter, chunkier ones. A basic device that keeps you on the move, the Cooau 4K Underwater Camera is a great option if you are way under budget seeking the best point and shoot under $100.
What to Look for in a Camera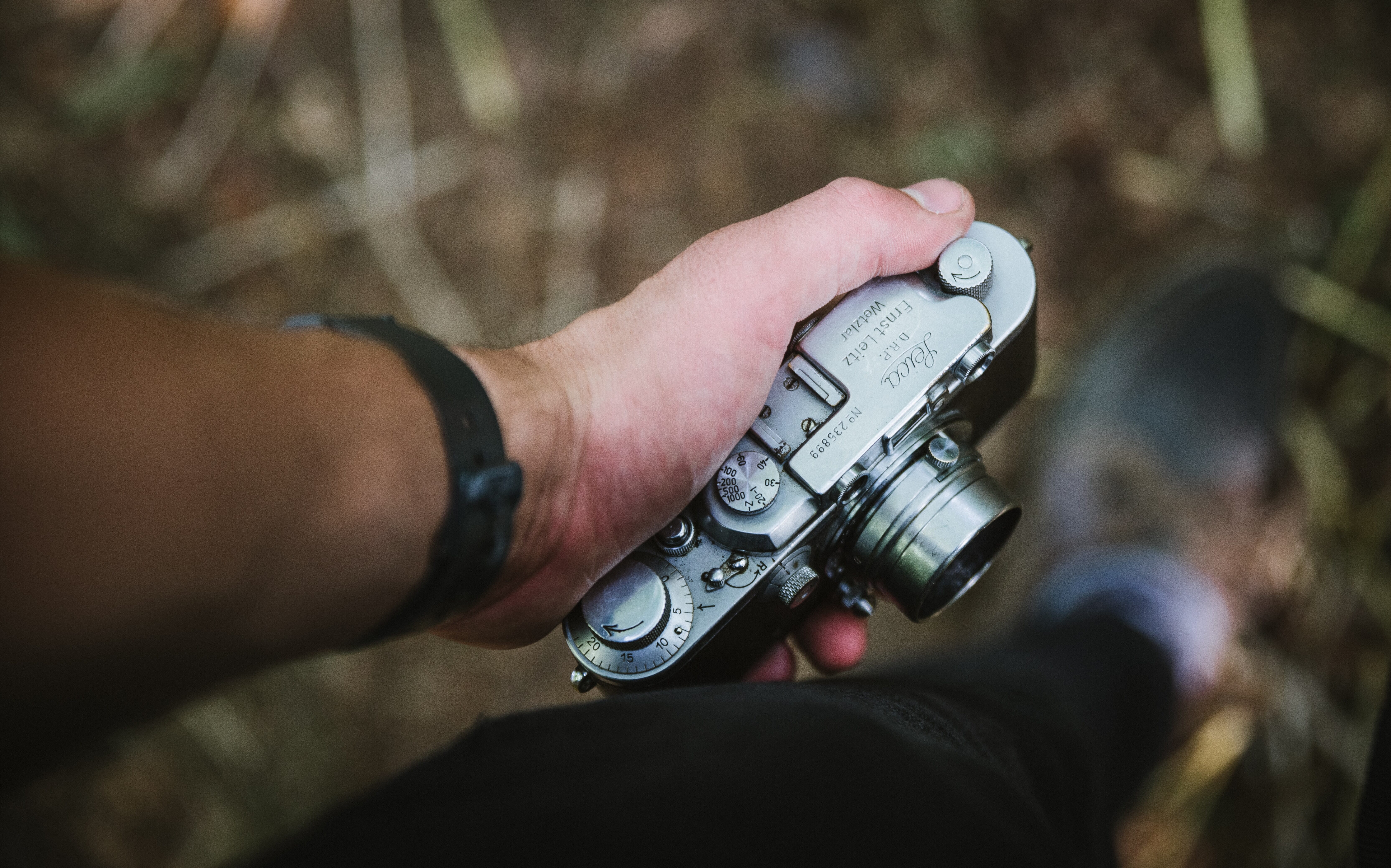 A digital camera under $100 should be a reflection of your personal shooting needs. Are you the outdoorsy type or do you just like taking random photos every once in a while? By setting priorities, you can find a camera suited to your needs.
Image Quality
In a point-and-shoot camera's case, a large number of megapixels doesn't always translate to a clearer and crisper image. If you frequently shoot in low-lighting conditions, look for a camera with a large sensor. A one-inch sensor gives you better image quality as compared to smaller-sized ones.
Zoom
There are two types of zoom: optical and digital. Between the two, optical zoom, also called true zoom, gives you better image quality. Digital zoom, by contrast, digitally re-sizes your images, consequently compromising quality. Some point-and-shoot cameras also offer both types of zooming capabilities, but if you have to choose one, go for optical zoom.
LCD Screen
A three-inch display size gives you a better preview of your shots, allowing for better image framing. If shooting under the sun is your priority, look for a high-end model equipped with an ultra-bright LCD screen.
Camera Modes
A camera's automatic modes are designed to help you get a better shooting experience. Some basic functions like scene recognition, along with Landscape and Portrait modes, handle most of the tedious parts of shooting, allowing you to continuously take different shots.
Auto Detection Settings
Auto-detection settings such as face recognition come as a standard in most point-and-shoot cameras. Aside from detecting a face, some models are also designed to detect a smile and automatically shoot your subject.
Wireless Connectivity
Wireless connectivity allows you to share and upload your images on social media sites. This feature also comes in handy when it comes to storing your images on your personal device.
Which of the Best Digital Cameras Under $100 Is Right for You?
Frankly speaking, a budget camera won't pack a punch if you're a professional photographer looking for high-end features. But if you're a casual photography enthusiast who just loves collecting memories, you can definitely walk down this alley and find a great device to help you on your journey. As such, we can't really pick a winner out of this selection of 10 cameras – each is different and special in its own way. The right camera is the one that works the best for you!
---
As an Amazon Associate we earn from qualifying purchases. Certain content that appears on PhotoWorkout.com comes from Amazon. This content is provided 'as is' and is subject to change or removal at any time.