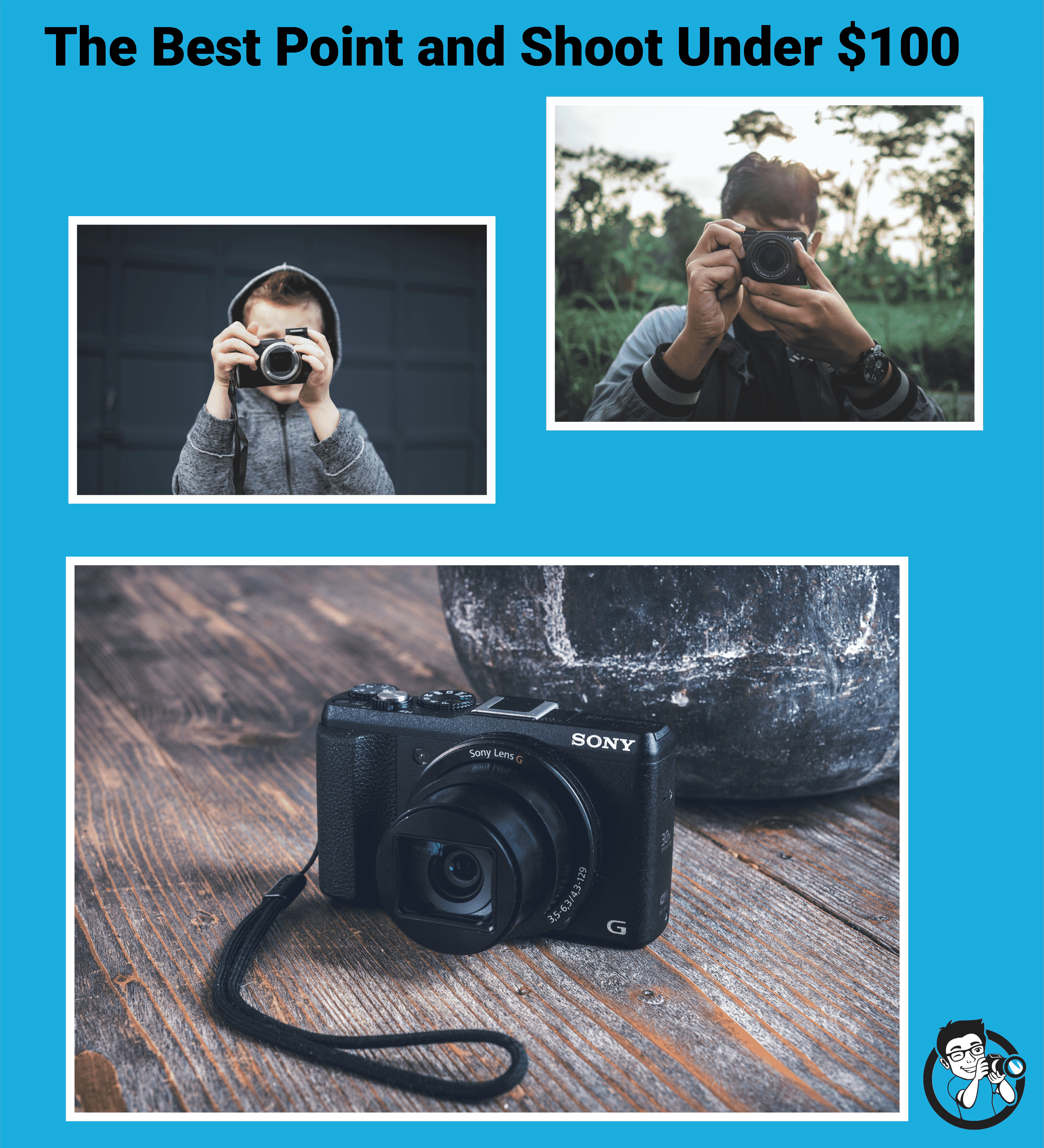 Point and shoot cameras are great, they're small, easy to use, and usually offer a pretty good image quality. However, the price of these cameras varies significantly and finding one to fit your budget can be a challenge. That's why we put together this list of the best point and shoot cameras under $100:
Cameras below $100 are perfect for those looking to use a camera from time-to-time, or want to gift a camera to children.
The Best Point and Shoot Cameras Under $100
Small yet robust and powerful. That is what sums up this digital camera designed keeping the active vlogger in mind. The camera is powered by a 24-megapixel sensor. It comes with a full array of features and functionalities that you would come to expect from your smartphone camera. That includes built-in Wi-Fi support and a built-in microphone. But as a bonus, you get a powerful flash and a 180-degrees flipping screen. The screen is 3" which is a perfect size for reviewing and composing images. And the 800 mAh lithium-ion rechargeable battery ensures that you have up to 120 minutes of working time.
Digital Camera Vlogging Camera 24MP Ultra HD 2.7K WiFi YouTube Camera with 3.0 inch...
📸 2.7K Full HD Digital Camera 📸 Supports 2.7K video resolution (Format: MOV.) and 24MP image sensor resolution (Format:...
📷 Digital Camera with WiFi 📷 This WiFi Digital Camera enables remote view, image capture and video shooting, so that...
📸 Camera with Flip Screen 📸 Just pop up the front flash light manually to illuminate a larger area. With the help of...
📷 Multifunction but Easy to Use 📷 Anti-shake, face detection, smile capture, continue shot, self-timer, 4X digital zoom...
🎁 Perfect Gift for Newbie/Students/Family 🎁 With exquisite looking and portable design, this compact camera which comes...
A small portable camera that shoots stunning images underwater is a great addition to your travel bag. After all, you wouldn't want to risk taking your phone down under and with it all your contacts and messages would you? An $80 compact waterproof camera is a much better bet. Especially if you are traveling with a 9-year-old who is adamant about taking some pictures with your phone camera.
This small waterproof camera can produce 48-megapixel images. There are twin displays on the camera. One on each side. For selfies and for normal photography purposes. The fixed lens on the camera has an f/2.9 maximum aperture.
An added bonus is that the Kansing Waterproof Camera also has an anti-shake feature. It compensates for any movements of your hands at the precise moment when you press the shutter release. This prevents your images from getting blurry.
Related Post: Best Diving Cameras
Waterproof Camera Underwater Camera Full HD 2.7K 48 MP Camera Selfie Dual Screens...
2.7K & 48MP Waterproof Camera: 2.7K video resolution for high-definition video images sharing a realistic and delicate visual...
10 Ft Underwater Camera: 10-feet in depth waterproof without casing for one hour per time. It's really handy and portable...
Dual-Screen digital Camera: This dual screen underwater camera is equipped with 2.7 inch rear screen and 1.8 inch front...
Continuous Shooting & Recording While Charging: You can take multiple photos in a short time, capture more interesting...
CUSTOMER SERVICE: Any after-sale questions will be replied within 24 hours in working days. This underwater digital camera...
If you have a youngster at home who is showing interest in shooting images why not gift a small camera to start off in the right direction? This is, after all, a great choice as a birthday or Christmas gift for someone in your family.
Beyond shooting stills this camera is capable of shooting HD videos as well (720p). Sure this is not the best when it comes to video shooting but it does make up for that in terms of still shooting.
The tiny 2.7" LCD screen works as the composing window as well as allow you to review your images later. You can insert an SD card to store your images and later review them on a computer.
Overall, this camera is great if you want to give a gift to a child without shelling out tons of cash.
Related Post: Best Camera for Kids
HD Mini Digital Cameras for Kids Teens Beginners,Point and Shoot Digital Video...
HD Mini Digital Camera-- 2.7" LCD display,8x digital zoom,Built in flash;18MP resolution for good photos&720P resolution for...
Shooting Modes&Scenes-- Face detection,Smile capture,Continue Shot;Auto/Night Portrait/Night...
Birthday&Christmas Gift-- It's a great choice for traveling,daily use also very popular for Birthday,Christmas,Thanksgiving...
Using Message-- Buy Class 10 SD/SDHC Card 32GB Max(over 80MB/S,no cards)for better using.Please update your computer USB...
Product Message--If your camera takes unclear pictures,or battery does not hold a charge overnight,or even picture transfers...
This pocket digital camera for backpackers comes in two beautiful colors – red and black. It is powered by an 18-megapixel CMOS sensor and can make beautiful images in most lighting conditions.
The camera is also capable of shooting 720p HD videos.
Some of the useful features on the camera include an anti-shake feature, that compensates for hand movements at the time of making of the images, face detection for better focusing, smile capture, which automatically triggers the camera when a face is detected, burst mode and 8x digital zoom.
Digital Camera,2.7 Inch HD Camera for Backpacking Rechargeable Mini Camera Students...
【Mini Digital Camera】18 Mega pixels CMOS sensor,support image capture and video shooting.The image format is JPEG,the...
【Pocket Cameras Digital with Zoom】8X digital zoom enlarges your picture,you can take the expected photos according to the...
【Compact Cameras for Photography】Compact small size 90*60*18mm, only Weight 150g, easy to carry around.Pho Tags Express...
【HD Digital Camera for Backpacking】Lanyard and pocket for portability, convenient for you to travel abroad.High-capacity...
【Digital Zoom Camera with Flash Light】Internal microphone and speaker (record sound videos),it support hot shoe interface...
Another cute little gifting option for someone young in the family. Someone who's beginning to show a bit of interest in photography. The bright sky blue color of the camera is ideal for a young pair of hands just beginning to learn how to make proper images.
And if your kid loves to swim and make images at the same time this camera is the perfect companion. It is waterproof up to a depth of 10′ for a maximum of 1 hour at a time. You don't need casing or anything if you don't use it for more than an hour underwater at a stretch. Just make sure that the battery compartment and any other open compartments are shut properly.
Twin screens have been provided on the camera. One is for regular photography and the other for selfie purposes. The main screen at the back is a 2.7" unit. The selfie screen is just 1.8". The buttons and controls on the camera are designed and positioned keeping in mind youngsters. Definitely one of the best point and shoot camera under $100 you can buy.
Related Post: 15 Photography Lessons for Kids
Waterproof Digital Camera Full HD 2.7K 48 MP Underwater Camera Video Recorder Selfie...
※2019 Upgraded 2.7K Waterproof Camera: With MAX 2.7K 20fps video resolution and 48 MP image resolution, this underwater...
☂10FT Underwater Digital Camera: Submersible up to 10 Feet in depth waterproof without casing for one hour per time. It is...
☪Lightweight and Easy to Use: The compact, lightweight and pocket size design make it easy to take this underwater camera...
✪Selfie Dual Screens Design: This waterproof digital camera features a rear-facing, 2.7-inch LCD display and a front-facing...
❤Friendly Service: This camera supports micro SD card up to 128GB, please purchase it separately. The battery compartment...
A number of the best point and shoot camera under 100 that we have listed here are basically underwater shooters. In other words, these cameras come with some form of waterproofing which ensures that they are able to make images even when submerged under several feet of water.
The accessible compartments such as the one holding the battery and the memory card once shut are completely seep-proof. That said, the maximum length of time you can use the camera underwater each time is about an hour.
This camera is able to produce 24-megapixel images. As well as full-HD videos. That gives it the added functionality of doubling up as a video content creator as well as an underwater still shooter. You can never imagine what interests a 9-year old or what the world looks like from their perspective. So every time you review the images and content there could be something interesting and surprising for you in it.
A majority of the systems we have discussed here are dual-screen units. This camera too comes with a 2.7" TFT LCD screen at the back and a 1.8" screen at the front. It also comes loaded with other features like face detection, anti-shake, continuous shooting, smile capture, to name a few.
Are point and shoot cameras still relevant in 2020?
Yes, if you are looking for features beyond what a smartphone camera offers. For example weather sealing. Not many smartphones under $100 come with weather sealing. And that is where these some point and shoot cameras under $100 give you an advantage.

Plus, these cameras make for great Christmas and birthday gifts. Perfect for a young eager mind to practice the basic rules of photography or just to go wild photographing anything that catches their fancy.
Which are the best point and shoot cameras under $100 I can buy?
These are essentially a selection of cameras that comes with fixed focal length and fixed aperture. They have a simple interface that assist in making images really quickly and are considered the best point and shoot cameras under $100.
---
As an Amazon Associate we earn from qualifying purchases. Certain content that appears on PhotoWorkout.com comes from Amazon. This content is provided 'as is' and is subject to change or removal at any time.