Adding creativity and flair to your images is often the biggest challenge for photographers. One easy way to add that extra spark is with a lensball; you can use it to get creative with composition and experiment with some neat effects.
In this article, we've picked 10 of the best options so you can get started with lensball photography, fast.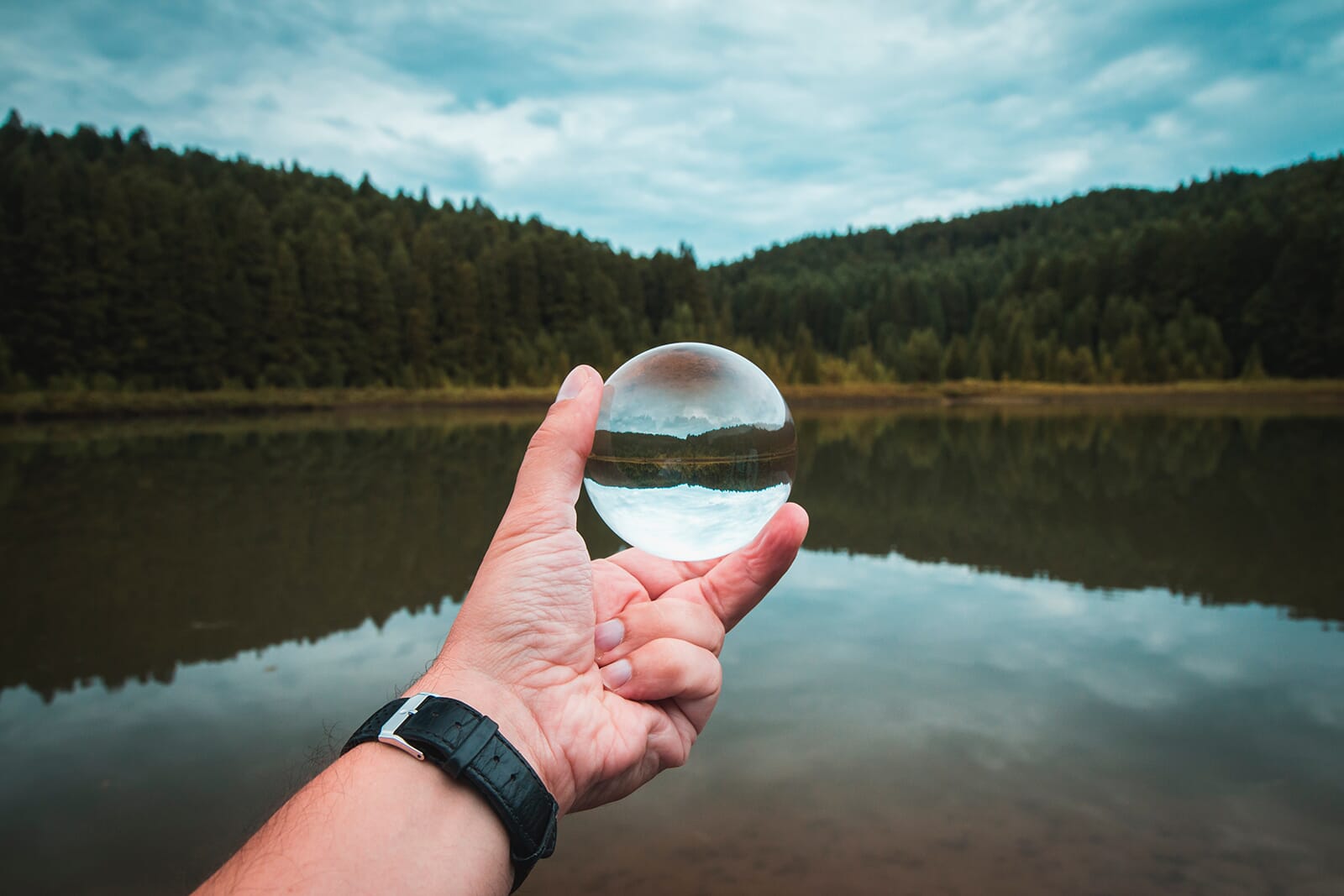 What Should I Look for in a Lensball?
While you might think buying a lensball is as easy as just picking any old glass ball and calling it a day, there are a few things you should consider before hitting that "Buy" button.
A major factor is going to be the size of your lensball. They can be really small or fairly large (think marble size to around the size of a softball). Depending on the subjects you want to shoot and how much of a scene you plan to feature in the lensball, your size needs will vary.
Someone who wants to shoot vast landscapes or landmarks is going to need something significantly bigger than someone who plans to use their lensball with macro subjects.
Another important component is the quality of the ball. As with any camera accessory, some lensballs are made with cheaper materials. Low-quality options are much more prone to scratching, and the resulting images likely won't be up to your standards.
Some lensballs come with details, like bubbles, fixed in the ball. If you want something more creative and less generic, finding a lensball with this kind of feature will suit you well.
One final thing to consider is whether you should purchase a lensball multipack. This will offer you lots more creative freedom than a single ball, but it also costs more. That being said, if you plan to really dive into lensball photography, it may be worth the investment.
1. MerryNine K9 Crystal Photography Ball
Our Pick
Great for versatility
The MerryNine K9 Crystal Photography Ball is great value and includes a comprehensive set of accessories for versatile lensball photography.
Great value for money
Made from excellent quality K9 glass
Includes a compact storage case
The base stand may not be the largest
Our top pick is the MerryNine K9 Crystal Photography Ball. This lensball has a combination of superior build quality, excellent price, and a good set of accessories.
The ball is 60 mm in size, making it highly portable but also still maintaining convenience for more vast shots. It is made from industry standard K9 premium optical glass. This provides superior optical performance and prevents distortions in the ball. Additionally, the glass should be on the more durable side, helping it withstand a knock here and there. There is even an additional coating for added protection.
This lensball really offers great value for money. Not only do you get your ball, but there is also a tripod stand with a base, a cleaning cloth, a storage box, and a storage carry case included in the package.
The carry case is worthy of its own special mention – it's perfectly proportioned to fit the lensball. This means you don't have to worry about the ball being jostled around in transit.
2. Ocular K9 80 mm Crystal Ball with Stand
Also Great
Good for more subject detail
The Ocular K9 80 mm Crystal Ball with Stand is a great buy and also includes a large 150 mm triangular glass prism.
Includes a triangular glass prism
High-quality microfibre storage bag
Includes a small glass stand
No storage bag for the triangular prism
If you're looking for a lensball on the larger side, the Ocular K9 80 mm Crystal Ball with Stand is a stellar pick. At 80 mm, you'll get a much larger viewing window through lensball which will allow you to frame more of your subject with ease.
Like the lensball above, this option is also made of K9 glass – the industry standard. In this set, you get an added bonus of a K9 glass prism too. The prism is 150 mm long and allows you to experiment with and add additional effects to your photos.
For simple storage, the set includes a high-quality microfiber drawstring pouch. This is great for storing the ball, and it keeps it clean in the process.
One shortfalling of this package is that there isn't actually anywhere to store the prism. So while it is a nice bonus, it requires some extra investment to ensure its longevity.
3. TULLIO Crystal Ball and Triangular Prism
Great for photography flexibility
This TULLIO set includes a premium 80 mm lensball and a 90 mm long triangular glass prism to experiment with different photo types.
Both items are made from K9 optical glass
Includes a durable padded case
Also includes a tripod stand and suction cup base
The storage case is not the most portable
As we saw with the 80 mm ball above, extra accessories are commonplace when purchasing a lensball. The TULLIO Crystal Ball and Triangular Prism is one such set. With a large lensball and a prism, your photographic opportunities increase significantly and that's one of the reasons we really love this combo.
The lensball itself is high-quality. Constructed from K9 optical glass, you will find no scratches, bubbles, or inclusions on this lensball. The 80 mm size is a great middle-ground for more creative photography in various genres.
The triangular prism can also be used to create a different range of effects like kaleidoscope and refraction photography. Combine this with the lensball and you have a great set of accessories that should stimulate your creativity.
The set also includes a tripod stand and padded case. The tripod stand screws to the suction cup base which makes supporting or holding the lensball easy. For storage, the padded case has enough space to fit the ball, prism, and stand. It also has a secure zip opening at the top for quick access.
4. Besnfoto 90 mm Crystal Ball
Great for more detailed photos
The 90 mm size of this Besnfoto lensball gives you more surface area to work with to create impactful lensball photos.
Larger 90 mm size for more detail
Includes a padded shock-proof storage bag
Also includes a handy tripod stand
It may not be the most portable lensball available
If you want something a little larger, the Besnfoto 90 mm Crystal Ball is a solid pick. A 90 mm lensball gives you a far greater surface area to work with so you can capture more of the subject in the lensball and really bring out the beauty in the subject.
This is another K9 glass option meaning it should have no imperfections throughout the glass. This means your photos will be incredibly clear and require minimum cleaning up in post-processing.
Besnfoto also provides a brilliant kit to accompany the lensball. You get a padded storage bag, tripod, suction cup, and cleaning cloth.
The tripod has a standard screw head and the suction cup stand attaches directly to this. This makes it easy to support the ball and take photos without holding it. The storage bag is also shockproof and has excellent padding to keep your lensball safe.
5. Omylens Professional 60 mm Lens Ball
Great for budget photography
The Omylens Professional 60 mm Lens Ball is an excellent budget option that still includes and extensive set of accessories.
Includes a microfibre cloth for cleaning
Also includes a drawstring pouch and stand
Made from high-purity K9 glass
The stand is not the largest
The Omylens Professional 60 mm Lens Ball is a great budget option, which makes it perfect for photography beginners.
Despite its budget cost, this lensball is made from the same high-quality K9 glass as our other top picks. You'll get the same imperfection-free style at a lower cost.
Even as a budget pick, you still get great value for money. You get the lensball plus a simple velvet cloth bag for storage, a small microfibre cloth for cleaning, and a simple glass base to stand the lensball on.
If you want something larger than 60 mm there is also an 80 mm version available. This also includes the same accessories.
6. MerryNine 80 mm Photography K9 Crystal Ball
Great for artistic photos
The MerryNine 80 mm Photography K9 Crystal Ball includes a stylish decorative metal stand that can be used for themed lensball photos.
Includes a high-quality decorative stand
The lensball has a durable exterior coating too
Available in four glass colors – transparent, black, red, and blue
The metal base may not be the largest
If you want a lensball that offers you additional flexibility and creative style, the MerryNine 80 mm Photography K9 Crystal Ball is a great pick.
This lensball comes complete with a decorative metal stand that could be used to create artistic photos with the lensball. If you want to be extra creative, you could even use it to make fortune-telling styled photos (probably with a little help from some editing software).
The lensball itself is 80 mm and made from top-grade K9 glass. MerryNine also treats their K9 glass with a special formula substance to improve its durability. It should be scratch-resistant and easy to clean.
In the basic pack, you get an 80 mm lensball, a decorative stand, a mirror cloth, and a storage box. You can also purchase this ball in three other glass colors – red, blue, and black.
7. EMART Clear Crystal Ball 3 Pack
Great for photography versatility
The EMART Clear Crystal Ball 3 Pack has a 60 mm, 80 mm, and 100 mm lensball for greater flexibility in your creative photography.
Includes three different sizes of ball
Made from premium K9 glass
Includes a microfibre cloth for cleaning
Does not include a carry case
If you want a range of different sizes at an affordable price, the EMART Clear Crystal Ball 3 Pack is just what you need. This is a versatile set that includes three different sizes of premium-quality K9 glass lensballs.
Offering the same high quality as other lensball options but giving you significantly more creative freedom, there's so much to love about this option for people who are serious about getting into lensball photography.
This particular set includes a 60 mm, 80 mm, and 100 mm lensball. Photographers hoping to capture big scenes will appreciate the 100 mm ball, which is definitely on the large side. The range of sizes can really be utilized in various different ways and you could even include more than one lensball in your photo with this kit.
8. ChezMax 100 mm Crystal Bubble Ball
Great for water effects
The ChezMax 100 mm Crystal Bubble Ball has an interesting bubble effect inside that allows you to create different styles of lensball photos.
Made from high-quality polished K9 glass
The bubble effect looks great
Available in four different sizes
Does not include any case or accessories
It is possible to get lensballs that have decorative interiors. Our favorite in this style is the ChezMax 100 mm Crystal Bubble Ball. With the added bubbles, you can play around with this lensball for some more unique shots.
This model is made from the same high-quality K9 glass. Yes, even with bubbles you can get that superior glass option. On this ball, the external surface has also been hand-polished for maximum refraction and clear photos.
The added bubbles create an interesting water effect that you can utilize in your photography. The bubbles are dispersed centrally and each one looks like a mini lensball within the lensball.
Aside from this bubble ball, ChezMax also has a range of other designs and styles. For example, they have a lensball with a galaxy inside, and one with a unicorn inside. You can also buy the bubble ball in four different sizes – 50 mm, 60 mm, 80 mm, and 100 mm.
9. Refractique 60 mm Premium Lens Ball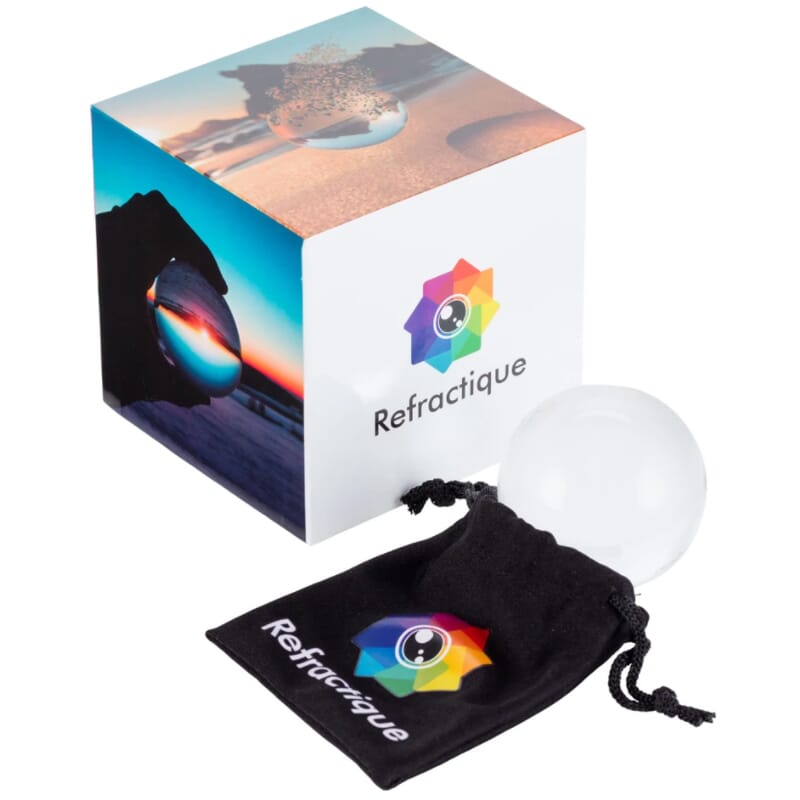 Great for travel use
The Refractique 60 mm Premium Lensball is a great portable option. At 60 mm, it can easily fit in your pocket, backpack, or handbag while traveling.
Highly portable and lightweight
Made from high-quality K9 glass
Includes a drawstring bag for carrying
60 mm doesn't give as much area for the photo subject
A great option that is on the pricier side is the Refractique 60 mm Premium Lens Ball. This photography accessory is extremely high-quality.
At 60 mm, you can easily store this ball in your pocket, in its included carrying pouch. This makes it super easy to bring this lensball on location with you and bring it out as and when you need it.
If you want a lensball that's going to give you a springboard into this creative niche, you also get a tips and tricks book with this set.
The manufacturer, Refractique, also offers a range of cool lensball accessories too. You can purchase a stand and a flex arm that helps support your ball, for example.
10. Lensball Pro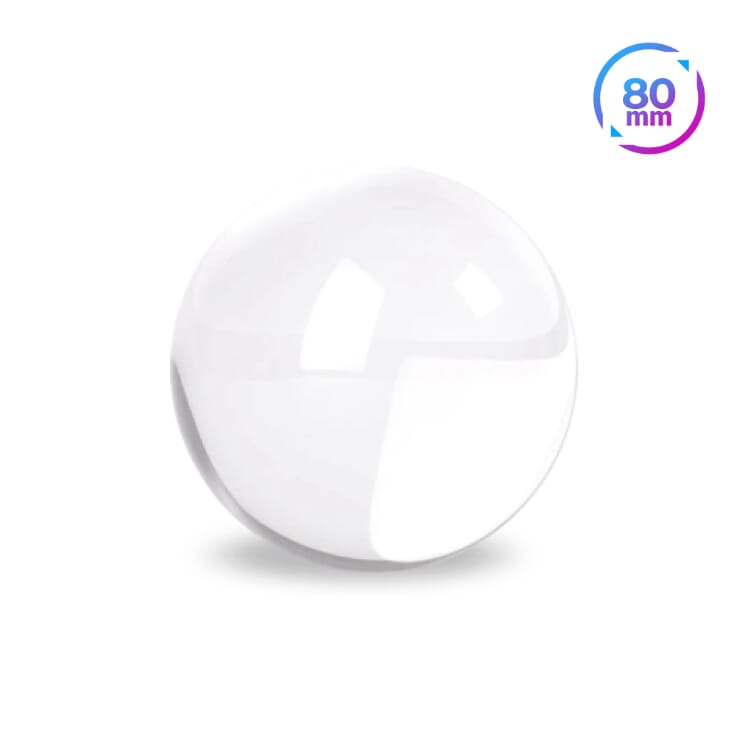 Great for clear photos
The Lensball Pro is the original lensball and offers some of the best quality K9 glass construction available for clear photos.
Excellent brand reputation
Made from premium K9 glass
Has a rigorous manufacturing and testing process
Much more expensive than other brands
Did you know that Lensball is the trademark name of one of the original manufacturers of these photography glass balls? As a result, the Lensball Pro is often considered the top lensball available.
This is a lensball original, made by the company that started this photography trend. The Lensball Pro is 80 mm in size which makes it a great mid-range product.
It's made from premium glass and the quality is excellent. You can expect no distortions in the glass for clean photos.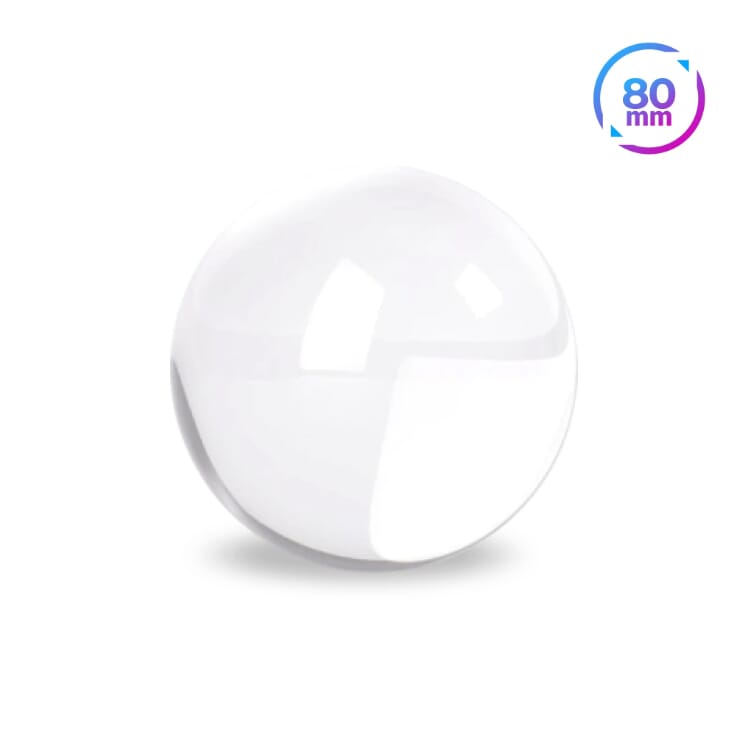 You also get a decent set of accessories in the basic Lensball Pro package. It includes a stylish storage box complete with the Lensball logo, and a premium drawstring pouch for portability. This manufacturer also has several other sizes including the Lensball Ultimate (100 mm). You can also purchase various accessories such as a crystal stand and wooden stand.
Pick a Lensball and Have Fun!
There are many lensballs out there and choosing the right one for your needs isn't easy. Cost and quality are always going to be put up against one another and size is also an important factor. Some of our favorites are the Ocular K9 80 mm Crystal Ball with Stand, Besnfoto 90 mm Crystal Ball, and Omylens Professional 60 mm Lens Ball. These are all good options in a range of sizes.

Think about what you want from your lensball and choose one that suits your needs!
---
As an Amazon Associate we earn from qualifying purchases. Certain content that appears on PhotoWorkout.com comes from Amazon. This content is provided 'as is' and is subject to change or removal at any time.