Today, we are going to look at some of the best macro photography camera choices that are out there in the market.
The thing about macro photography is that it is dependent entirely on the lens rather than the camera. More specifically, it is dependent on the ability of the lens to focus extremely close to the subject. A true macro lens, as it is defined, is the one that is capable of creating a life-sized representation (1:1) of the subject on to the medium of photography, the sensor or the film as the case may be.
Regardless of the camera that you may have, the lens assumes the position of importance in this case. With point & shoot systems the advantage is that the lens is built into the camera. You have just to check whether the lens can create a minimum of 1:1 life-size ratio of the subject on to the sensor before deciding on the camera.
With DSLRs and mirrorless systems, you don't have a clear winner. There is little to choose between camera bodies as they are ultimately not responsible for the image; at least the 1: 1 life-size aspect of the subject being photographed. The parameters to choose a DSLR camera for macro photography are different. You have to look for the weight of the camera, whether its weather sealed, full-frame or otherwise.
So, we will largely concentrate on point & shoot systems only as these are genuine macro photography camera choices:
1. Olympus TG-5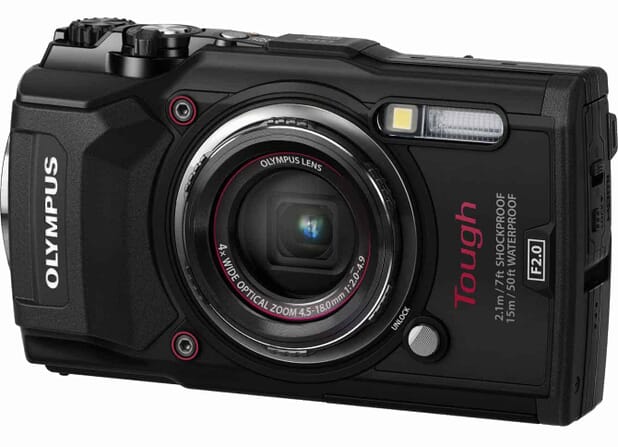 A point & shoot system that has been designed for shooting images in all types of conditions, the Olympus TG-5 is a versatile camera. It is waterproof, dustproof, crushproof, shock and freezeproof. At the heart of the camera is a 1/2.3″ CMOS sensor. It can produce 12-bit RAW and JPEG images of the size 4000 x 3000 pixels. It has a sensor-shift type image stabilization system.
The Lens of the Olympus TG-5
The aspect of the camera that we are interested in the most is the lens. The lens has a focal length range of 4.5mm – 18mm which is the 35mm format equivalent of 25 – 100mm.
The TG-5 is a great tool for shooting macro photos. It normally focuses from a minimum distance of 10cm to infinity in the normal mode. But when switched to the macro mode the lens can focus from a minimum distance of 1 cm (to infinity) for life-size reproduction of the subject being photographed. Thus, making it one of the best macro photography camera choices.
Related Post: Best Cameras for Safari (to Make that Wildlife Trip Amazing)
2. Ricoh WG-50 Digital Camera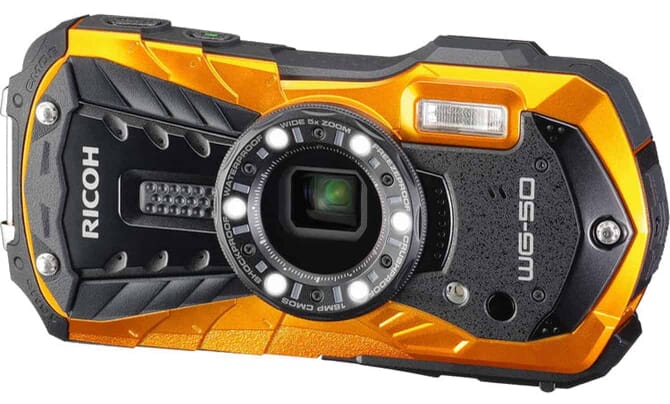 The Ricoh WG-50 is a point & shoot digital camera. At its core is a 16 megapixel 1/2.3″ CMOS sensor capable of producing JPEG images of the size 4608 x 3456 pixels. Please note there is no RAW support. The WG-50 comes paired with a built-in lens that extends from 5 – 25mm. That is the 35mm equivalent of 28 – 140mm. Maximum aperture of the lens is f/3.3 – f/6.6.
But what excites the most is the focusing distance of the lens. In its normal mode, the lens is capable of shooting from 50cm to infinity. In the macro mode that ranges from 10cm all the way to 60cm. There is an additional Super-Macro mode. In this mode, the lens can focus from a minimum of 1cm to 30cm. Thus, giving you a true macro perspective.
Related Post: Macro Photography Lighting Tips
What makes it one of the best macro photography camera choices is its built-in lights. To assist in shooting macro in outdoor/low light conditions the lens comes with an array of 6 LED lights that are arranged in a circle. This mimics a macro ring-light set-up and assists in producing great quality images when shooting small subjects in low light. The sort of you would normally shoot when shooting creepy crawlies or flowers in the forest.
Just like the TG-5 above the WG-50 is waterproof, freezeproof, shockproof, crushproof and dustproof. The ideal camera for shooting in inclement weather and dusty environments.
3. Panasonic Lumix DC-ZS70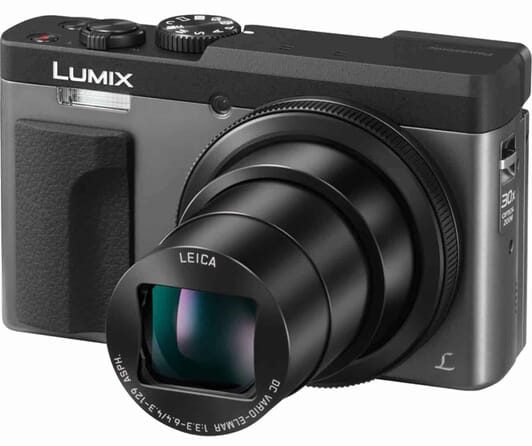 Focus stacking is a technique that is frequently used in macro photography for generating a larger depth of field than what is possible in a single frame. The Panasonic Lumix DC-ZS70 is a point & shoot camera that comes with this feature.
The camera is powered by a 20.3 megapixel 1/2.3″ MOS sensor. The camera is paired with a Leica DC Vario-Elmar 30x zoom lens. The lens has a focal length range of 27-720mm in 35mm format equivalency.
The lens can focus from 50cm to infinity in its normal mode. But when switched to wide macro it can focus as close to 3cm to all the way to infinity.
A 5-axis HYBRID optical image stabilization mechanism helps especially when shooting in low light conditions. The extra leverage that you get by not having to bump up the ISO means you can shoot handheld in low light at the lowest ISO possible and yet get away with clean images.
Related Post: Best Point & Shoot Cameras Under $500
The rear of the camera is dominated by a 1.166m dot electronic viewfinder and the 1.04m-dot tilting touchscreen LCD. The LCD touchscreen ensures that you can select focusing just by a tap of your finger, just like a smartphone. The tilting screen is what is recommended when shooting macro photos as you have a larger area to compose with. Also, you can take advantage of the tap to focus feature.
The feature that I like the most is the Focus Stacking mode. Normally, you can shoot at ten fps but for focus stacking the camera combines the 4K burst mode with the focus stacking feature. In this mode, the camera records at 30 fps with varying focusing points. These images are then combined to create an image with a large depth of field. This technique is particularly useful for a macro photography camera.
4. Panasonic Lumix DC-FZ80 Digital Camera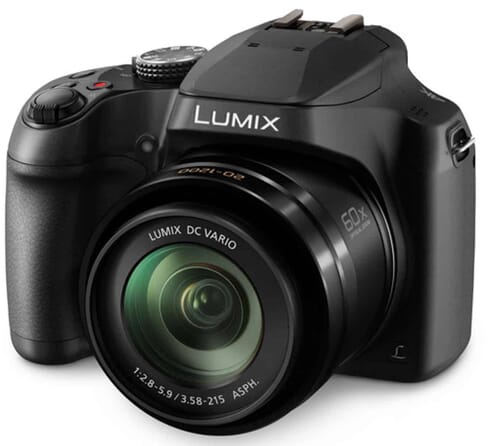 Powered by an 18.1 megapixel 1/2.3″ MOS sensor, the Panasonic Lumix DC-FZ80 is a bridge camera. It is basically a point & shoot camera that looks a DSLR and comes with a high zoom lens. The lens on the Panasonic Lumix DC-FZ80 has a focal length equivalent to 20 – 1200mm on the 35mm format.
Despite being a point & shoot camera, the Panasonic Lumix DC-FZ80 comes with a viewfinder (albeit electronic) apart from a touchscreen LCD monitor. The viewfinder has a resolution of a 1.166m-dots electronic viewfinder. The 3″1.04 m-dots LCD screen is the logical choice when shooting stills because it is a larger composing window. Plus it allows you to use the touch to focus feature of the camera.
The lens comes equipped with Power O.I.S. This is useful for shooting hand-held. Especially when doing macro work. There are two interesting features on the Lumix DC-FZ80 that will interest you. One is Post Focus, and the other is Focus Stacking. Post Focus allows you to shift the focus of your images after they have been taken.
Related Post: 50mm vs. 35mm – Which DSLR Prime Lens should I buy?
This is how it is done. When this feature is turned on the camera will record images as if they are 4K MP4 files at 30 fps. In each of the frames, the focusing point will be shifted around. So, when you select the point where you want your focus to be the Lumix DC-FZ80 will create an 8 megapixel JPEG with the corresponding frame.
The other feature is Focus Stacking. We are familiar with the focus stacking feature somewhat. It involves combining several frames and creating one frame that has a large depth of field. I also love the focus peaking feature. Manual focusing without some sort of visual reference like focus peaking is difficult. The presence of focus peaking greatly eases manual focusing.
The dedicated macro mode on the camera can focus as close as 0.4″ or 1 cm giving you excellent close-up shots of small subjects.
5. Nikon Coolpix W300 Digital Camera
The Nikon Coolpix W300 is a tough all weather camera built around a 16 megapixel 1/2.3 BSI CMOS sensor. BSI sensors are a good technology from the perspective of a small sensor size. It tends to produce cleaner image files and produce better results in low light. Native ISO range of the camera is 100 – 6400.
The camera is strapped with a wide zoom lens with a 35mm format equivalent focal length range of 24 – 120mm. The 3″ 921k-dots LCD monitor at the back of the camera is the only way to compose images.
Being an all-weather camera the Nikon Coolpix W300 is capable of withstanding some abuse. It is shockproof from a fall from a height of 7.9′, as well as waterproof up to a depth of 100′. It can even operate at temperatures of up to 14 ˚ F without issues.
Vibration reduction is built-in to the lens which minimizes handshake and unintended camera blur when shooting both video and stills.
However, the two features that make the Coolpix W300 a good macro photography camera option are the 1 cm minimum focusing distance and the built-in LED lights. The 1 cm minimum focusing distance gives a great working range for shooting small subjects. Plus, the built-in light comes in handy because when you are at such short distance away from your subject, you are likely to block the ambient light. A white LED light ensures that you have that aspect covered.
Related Post: How to Buy a Second-Hand DSLR Camera (3 Best Shops)
6. Panasonic Lumix DMC-LX10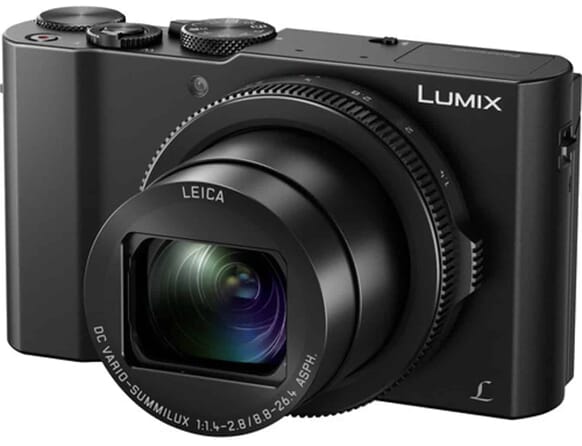 Powered by a 1″ MOS sensor capable of churning out 20.1-megapixel stills (both RAW and JPEG) the Panasonic Lumix DMC-LX10 is a powerful little camera. The 1″ MOS sensor is the largest in the segment that we are in. Therefore, theoretically, the camera should be able to provide better quality imagery and handle low light situations better than the smaller 1/2.3″ sensors. Since the sensors have more room to capture light they produce less noise.
There is no built-in viewfinder, but there is a large 3″ LCD touchscreen with a resolution of 1040k-dots offering 100% frame coverage. The screen tilts all the way to 180 ˚ which ensure that you can shoot from those crazy angles that are impossible to be utilized with any other lens.
The built-in Lumix, DC Vario lens, has a focal length range of 24 – 72mm (in 35mm format equivalent). Normally, the lens can focus from 30cm to infinity. But when switched to the wide mode it can focus as close as 3 cm.
Assisting the focal range of the lens is the dual image stabilization (optical and digital). This system can compensate 5-way giving you better control over your shots, especially when hand-holding your camera.
Related Post: How to Use Off-Camera Flash
Some DSLR Macro Photography Camera Choices
As already described above, when it comes to shooting macro photography the DSLR camera body is not that relevant. It is not about the best macro photography camera but the lens. But even then there are some parameters that you need to look into.
Sensor size
A larger sensor will let in more light. But a crop sensor will get you closer. Crop sensors only use part of the light coming into the camera, thereby creating the illusion that you are getting a tighter image.
Weather Sealing
Weather sealing is not an optical requirement. It is necessary because you need a camera that you can take with you anywhere and shoot with it. Some amount of weather sealing will ensure that you can work in inclement weather. So the best macro photography camera must have some amount of weather sealing.
Weight
A lightweight camera would be better suited, especially if you would be shooting handheld for an extended period. Otherwise, your camera will quickly become cumbersome and a source of pain.
Based on the above I feel the following cameras are a good option. Though, at the end of the day when it comes to macro photography with DSLR, it's your skill and the lens that counts for everything and not the camera body.
7. Nikon D7500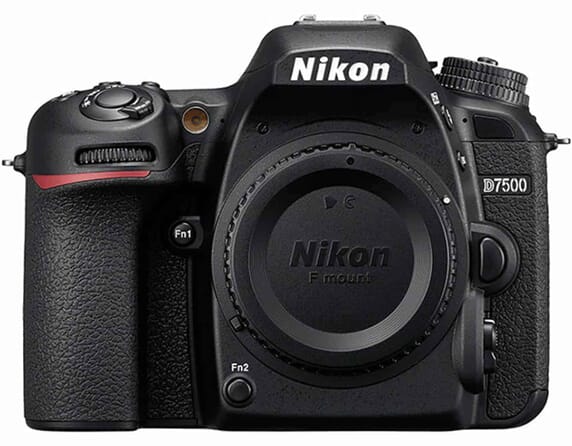 The latest APS-C DSLR from Nikon the D7500 has a formidable spec sheet and one that should excite most macro photography enthusiasts. This is a reasonably lightweight camera weighing just 640 grams. You should be able to hand-hold the camera for any length of time necessary to get you the shots.
The camera comes with a 20.9-megapixel sensor and the 51-point Multi-CAM 3500FX II auto-focusing system. 15 out of these AF points are cross-type and should give you fast focus lock in most lighting situations.
The tilting touchscreen at the back of the camera needs a special mention. When shooting macro photography, especially in low lying and dimly lit environments, such as a forest floor or a rapid, you need to be able to compose and focus pretty accurately. If you have to use the viewfinder in these circumstances, it will become extremely difficult.
A tilting LCD screen gives a much larger window to compose and focus through. You can raise the screen upwards so that you don't have to stop down to an awkward level to compose. Being a touchscreen, it also gives you better control over where you are focusing. Even with a tripod / Gorillapod, a tilting touchscreen is what you absolutely need.
It also helps that the camera comes with an excellent build quality and most importantly weather sealing. The overall construction of the D7500 is a lot denser than the previous D7200 which assists the weather sealing of the camera.
Related Post: Best Macro Lenses for Nikon DSLRs (10 Amazing Picks)
8. Nikon D500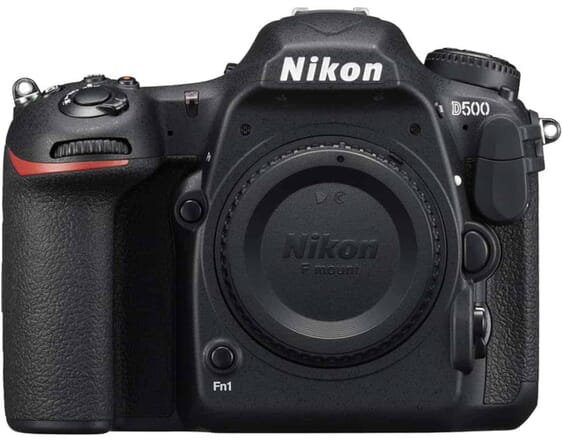 The Nikon D500 is the current APS-C flagship of the Nikon line-up. The D7500 I stated above and the D500 both are formidable APS-C shooters. But the D500 edges out the D7500 ultimately in terms of performance and quality.
This 20.9-megapixel sensor powered APS-C shooter comes with the latest Multi-CAM 20K 153-point auto-focusing system. With 153 AF points, you are never going to run out of AF points to focus on. 99 out of these AF points are cross-type. These give dual sensitivity in both horizontal and vertical planes.
The tilting 2.36m-dots resolution touchscreen at the back of the camera is a tool that you would love to use especially for macro work. I have already explained above why so would refrain from repeating myself.
The magnesium alloy chassis of the D500 is well protected from dust and the element. You can pretty much use this camera in any environments, and it would not disappoint you.
The low light capability of the D500 is exemplary too. It certainly is much better than the D7200 when you combine the fact that the new camera is also a faster shooter. All that information has to be processed and then the noise handling that goes with it.
9. Canon EOS 77D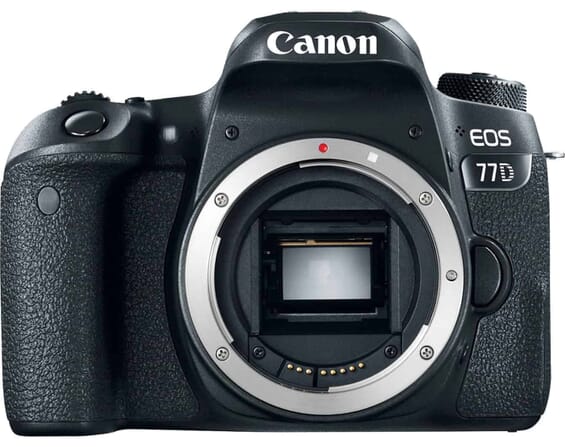 I would have picked the 7D Mark II. That is an excellent all weather camera. But it does not have a tilting screen, and as I have been saying all along, you need one in case you are working at anywhere other than your studio.
The EOS 77D comes with a 24.2 megapixel APS-C CMOS sensor and DIGIC 7 image processor (the EOS 80D that the 77D borrows heavily from comes with a DIGIC 6 image processor). The camera has a 45-point all cross-type phase detection AF system. Auto-focusing is powered by dual pixel CMOS AF which is helpful when shooting in live-view.
The only gray area for the camera is the build quality. It does not have the same build quality you would have expected from the 7D Mark II. But having said that the EOS 77D is more than just a Rebel. It has dual control dials like professional (and mid-range EOS cameras have) and has a top plate that comes in handy when shooting from below the eye level.
Related Post: Comparing the Best Macro Lenses for Canon (10 Top Picks)
---
Note: As an Amazon Associate we earn from qualifying purchases. Certain content that appears on PhotoWorkout.com comes from Amazon. This content is provided 'as is' and is subject to change or removal at any time.