Macro photography is a unique genre. Something that requires oodles of patience, planning, and of course the right set of tools. There are few cameras which can be rated as dedicated macro cameras, much less as one of the best macro cameras.
Today, we'll be looking at the best macro cameras out there.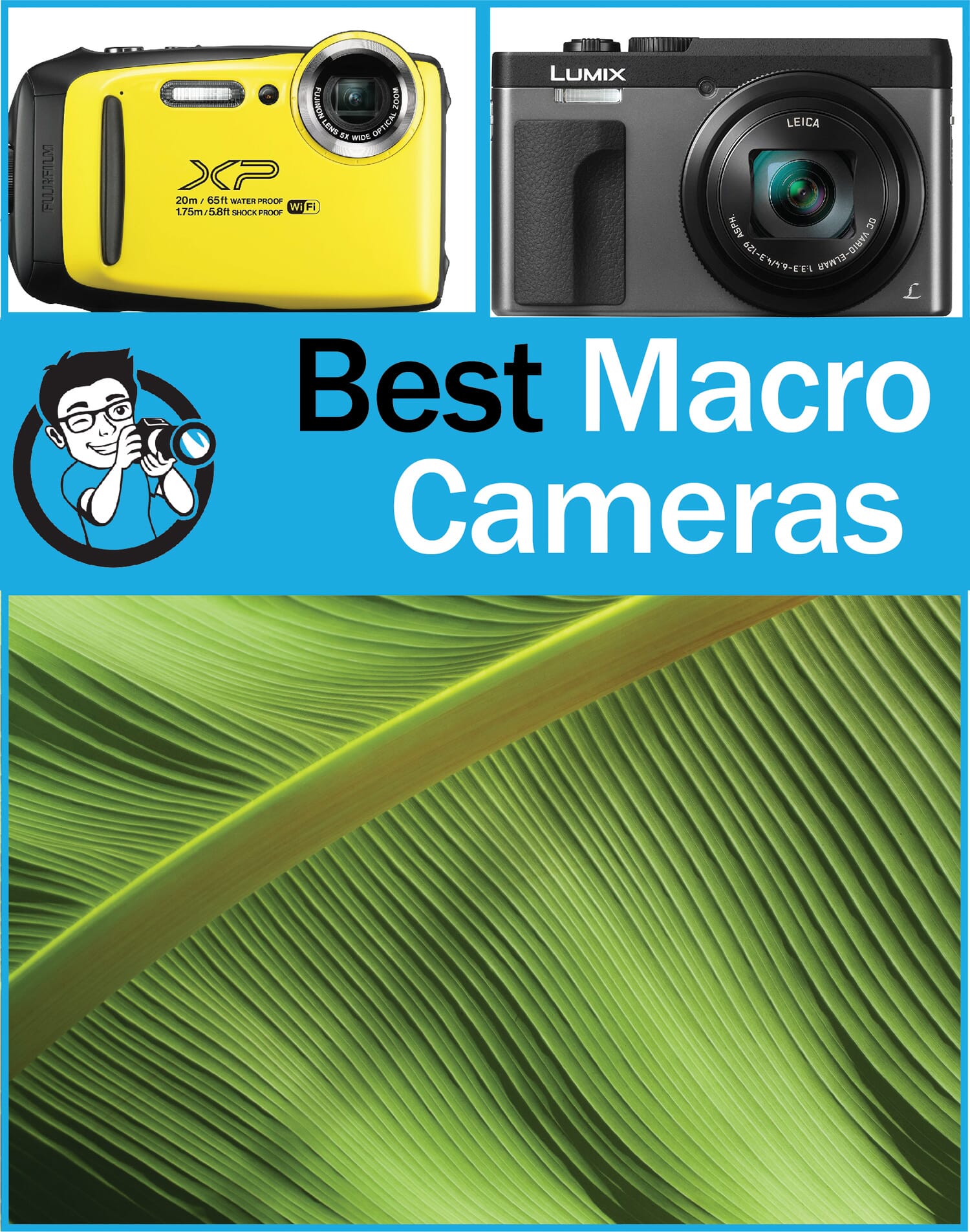 The Best Macro Photography Cameras
A point & shoot system designed for shooting images in all types of conditions, the Olympus TG-5 is a versatile camera. It's waterproof, dustproof, crushproof, shock and freezeproof.
At the heart of the camera is a 1/2.3″ CMOS sensor. It can produce 12-bit RAW and JPEG images at 4000 x 3000 pixels. It has a sensor-shift type image stabilization system.
Related Post: The Best Diving Cameras You Can Buy Right Now
The Lens of the Olympus TG-5
The aspect of the camera we're interested in the most is the lens. The lens has a focal length range of 4.5mm – 18mm which is the 35mm format equivalent of 25 – 100mm.
The TG-5 is a great tool for shooting macro photos. It normally focuses from a minimum distance of 10cm to infinity in the normal mode.
But when switched to the macro mode the lens focuses from a minimum distance of 1 cm (to infinity) for life-size reproduction of the subject being photographed. Thus, making it one of the best macro photography camera choices.
Olympus TG-5 Waterproof Camera with 3-Inch LCD, Black
New 12 MP Hi speed image sensor for improved low light performance and noise reduction
Bright F2.0 high speed Lens; Focal length (equiv 35 millimeter ) : 4.5 millimeter to 18.0 millimeter (25 millimeter to 100...
Dual Quad Core TruePic VIII Image Processor and special features is action track sensor system, zero lag pro capture mode,...
Field sensor system with GPS, Manometer, Compass, and temperature sensors; Battery Life : Approximately 340 images , 50...
Waterproof to 50 feet, F, Dust proof, Crush proof to 220 lbf, Shockproof from 7 feet, Freeze proof to 14 degrees, AntiFog...
Related Post: Best Cameras for Safari (to Make that Wildlife Trip Amazing)
Some cameras are designed specifically for macro photography. That is of course apart from being useful in a few other areas of photography as well. The Fujifilm FinePix XP-130 serves as such, an all-in-one camera.
This is a point and shoot system with a fixed zooming lens. Pretty much like the Olympus TG-5 that we just discussed.
The camera uses a 16.4 megapixel BSI CMOS sensor (1/2.3"). It produces JPEG images of 4608 x 3456 pixels.
The lens has a focal length of 28-140mm (35mm format equivalent). The maximum aperture ranges from f/3.9 to f/8.
The macro mode details are as follows:
In wide macro mode the lens can focus at a

minimum

distance of 3.54" to 6.56'.
In tele macro mode the lens can focus at a

minimum

distance of 3.28' – 9.84'.
This lens has 13 elements arranged in 11 groups.
The rule Of thumb is the more the elements, the more complex the lens design is.
The camera body has a sensor-shift type image stabilization system. The design is a weatherproof one and should survive the worst of conditions without issues.
Fujifilm FinePix XP130 Waterproof Digital Camera w/16GB SD Card - Yellow
16.4 MP BSI CMOS Sensor
Waterproof to 65ft/20M, freeze proof to 14 Degree/-10 Degree, Shockproof to 5.8ft/1.75M, and dustproof
Fujinon 5x (28-140mm) wide angle optical zoom
Bluetooth capability - the newly installed Bluetooth low energy technology allows automatic and instant image transfer to...
Geo Tagging Capability - Choose whether location data downloaded from your smartphone is embedded in pictures as they are...
Related Post: The Best iPhone Macro Lens in 2020
The camera features a 20.3 megapixel 1/2.3″ CMOS sensor. The camera has a Leica DC Vario-Elmar 30x zoom lens. The lens has a focal length range of 27-720mm in 35mm format equivalency.
The lens can focus from 50cm to infinity in its normal mode. But when switched to wide macro it can focus as close to 3cm to all the way to infinity.
A 5-axis HYBRID optical image stabilization mechanism helps especially when shooting in low light conditions. The extra leverage you get by not having to bump up the ISO means you can shoot handheld in low light at the lowest ISO possible and still get away with clean images.
Related Post: The 8 Best Point & Shoot Cameras Under $200
The rear of the camera has a 1.166m dot electronic viewfinder and the 1.04m-dot tilting touchscreen LCD. The LCD touchscreen ensures that you can select focusing just by a tap of your finger, just like a smartphone.
The tilting screen is great when shooting macro photos as you have a larger area to compose with.
It's All About The Focus Stacking Mode
The feature I like most is the Focus Stacking mode.
Focus stacking is a technique frequently used in macro photography. It's useful to generate a larger depth of field than what's possible in a single frame.
The Panasonic Lumix DC-ZS70 is a point & shoot camera that comes with this feature. Normally, you can shoot at ten fps but for focus stacking the camera combines the 4K burst mode with the focus stacking feature.
In this mode, the camera records at 30 fps with varying focusing points. These images are combined to create an image with a large depth of field. This technique is particularly useful for a macro photography camera.
PANASONIC LUMIX DC-ZS70S, 20.3 Megapixel, 4K Digital Camera, Touch Enabled 3-inch 180...
20.3 Megapixel MOS sensor plus 30x Leica DC VARIO-ELMAR Lens (24-720 millimeter), plus 5-axis Hybrid o.I.S. (Optical image...
0.2-Inch 1, 166k-dot EVF (electronic view Finder) with eye-sensor for easier viewing under sunny outdoor conditions
4K QFHD video recording (3840x2160), plus exclusive LUMIX 4K PHOTO and 4K Post Focus with internal Focus Stacking feature
Lens barrel mounted control ring enables quick, intuitive operation of important functions
Wi-Fi plus a 180 degree front flip-up touch feature-enabled screen simplifies selfie photography, and framing for unusual...
This is the upgraded version of the very popular Ricoh GR II. The Ricoh GR III camera incorporates a powerful 24.2 megapixel APS-C CMOS sensor.
It's capable of producing large fine JPEGs and DNGs of size 6000 x 4000 pixels. One of the best on our list today.
The built-in lens has a fixed focal length of 28mm with a reasonably quick aperture of f/2.8. The lens has a total of 6 elements arranged in 4 groups. A rather simple design, but it doesn't seem to take away from the quality of the images it produces.
The camera uses a body-based image stabilization system. It is of sensor-shift type.
But the feature that we love the most is the built-in macro mode. The lens has a minimum focusing distance of 2.36" to 4.72" or 6cm to 12cm in macro mode.
The back of the camera is a 3" LCD screen. The screen has a resolution of 1037,000 pixels and gives 100% coverage of the view captured by the lens.
The other features that round-off the list are built-in Wi-Fi, Bluetooth LE, and a USB Type-C port. The camera also has a built-in stereo mic and full HD video recording at 60 fps.
Ricoh GR III Digital Compact Camera, 24mp, 28mm f 2.8 lens with Touch Screen LCD
24 MP CMOS Sensor with accelerator unit helps achieve remarkable image quality; 3 Axis; 4 Stop Shake Reduction ensures sharp...
3 inches Air gapless Capacitive Touch LCD Screen makes controlling the GR III event easier with complete menu control as well...
The GR III features a hybrid AF system combining a contrast type AF mechanism superior in focusing precision with a phase...
Full HD movie recording (1920 x 1080 pixels, 60 frame rate) in the H.264 recording format
Compatible with Pentax AF 201, AF360 FGZ II & AF 540 FGZ II Flashes
The Panasonic Lumix DMC-TS30 is often criticized because of its poor weather sealing. Some users have complained that the camera is not at all weather-sealed and waterproofing is just a sham.
We are, however, concerned only about the macro photography capabilities of the camera. In macro mode, the Panasonic Lumix DMC-TS30 is capable of focusing at a minimum working distance of 2".
The fixed lens has a 35mm format equivalent zoom range of 25 – 100mm. The lens consists of 11 elements.
The maximum aperture of the lens is f/3.9 to f/5.7.
The Panasonic Lumix DMC-TS30 is powered by a 16.6 megapixel 1/2.33" CCD sensor. The sensor is capable of producing large fine JPEGs 4608 x 3456 pixels.
PANASONIC LUMIX Waterproof Digital Camera Underwater Camcorder with Optical Image...
QUAD-PROOF TOUGH CAMERA – Made for active lifestyles, this rugged camera is waterproof (to 8m/26ft.), shockproof (to...
MEGA O.I.S. CAMERA LENS - Automatically compensates for blurring caused by hand-shake movement. Detected instantly by a...
BEAUTIFUL UNDERWATER SHOTS - The red color reproduction of Advanced Underwater Mode easily compensates for the red tones...
MP4 HD VIDEO RECORDING - Recording dynamic MP4 HD video in 1280 x 720p** starts with the simple push of an independent motion...
220MB BUILT-IN MEMORY - When the camera's SD card is full, built-in memory automatically provides 220MB of additional...
Powered by an 18.1 megapixel 1/2.3″ CMOS sensor, the Panasonic Lumix DC-FZ80 is a bridge camera. It's basically a point & shoot camera that looks a DSLR and comes with a zoom lens.
The lens on the Panasonic Lumix DC-FZ80 has a focal length equivalent to 20 – 1200mm.
Despite being a point & shoot camera, the Panasonic Lumix DC-FZ80 comes with an electronic viewfinder as well as a touchscreen LCD monitor.
The viewfinder has a resolution of a 1.166m-dots electronic viewfinder. The 3″ LCD screen is the logical choice when shooting stills because it's a larger composing window. Plus it allows you to use the touch to focus feature of the camera.
The dedicated macro mode on the camera can focus as close as 0.4″ or 1 cm giving you excellent close-up shots of small subjects.
Two Powerful Macro Modes
The lens comes equipped with Power O.I.S. This is useful for shooting hand-held. Especially when doing macro work. There are two interesting features on the Lumix DC-FZ80 that will interest you. One is Post Focus, and the other is Focus Stacking.
Post Focus allows you to shift the focus of your images after they have been taken.
This is how it's done. When this feature is turned on the camera will record images as if they are 4K MP4 files at 30 fps. In each of the frames, the focusing point will be shifted around.
So, when you select the point where you want your focus to be the Lumix DC-FZ80 will create an 8 megapixel JPEG with the corresponding frame.
Related Post: 50mm vs. 35mm – Which DSLR Prime Lens should I buy?
The other feature is Focus Stacking.
We're familiar with the focus stacking feature somewhat. It involves combining several frames and creating one frame that has a large depth of field.
I also love the focus peaking feature. Manual focusing without some sort of visual reference like focus peaking is difficult. The presence of focus peaking greatly eases manual focusing.
Panasonic Lumix FZ80 4K Digital Camera, 18.1 Megapixel Video Camera, 60X Zoom DC...
Point and Shoot Long Zoom Camera: 18.1 megapixel MOS sensor plus 60X zooms DC Vario lens (20 1220 millimeter and Power...
High Resolution View Finder & LCD Display: High resolution 1,170K dot view finder and rear touch enabled 3 inch LCD Display...
4K video Capture: 4K QFHD video recording (3840 x 2160) with three unique 4K ultra HD video pause and save 4K photo modes...
Low Light Performance: Low light capture lets you enjoy photography during your nightlife again with impressive results;...
USB Charging and Wi-Fi Connectivity: Enjoy travel ready technologies like USB charging and Wi Fi connectivity to your mobile...
The Nikon Coolpix W300 is a tough all-weather camera built around a 16 megapixel 1/2.3 BSI CMOS sensor.
BSI sensors are good technology from the perspective of small sensor size. It tends to produce cleaner image files and yiled better results in low light.
Native ISO range of the camera is 100 – 6400.
The camera is strapped with a wide zoom lens with a focal length range of 24 – 120mm.
The 3″ 921k-dots LCD monitor at the back of the camera is the only way to compose images.
This Camera Will Take A Beating
Being an all-weather camera the Nikon Coolpix W300 is capable of withstanding some abuse. It's shockproof from a fall from a height of 7-foot 9-inches, as well as waterproof up to a depth of 100′.
It can even operate at temperatures as low as 14˚F without issues. ⛄ 👌 📸
Vibration reduction is built-in to the lens which minimizes handshake and unintended camera blur when shooting both video and stills.
However, the two features that make the Coolpix W300 a good macro photography camera option are the 1 cm minimum focusing distance and the built-in LED lights.
The 1 cm minimum focusing distance gives a great working range for shooting small subjects.
Plus, the built-in light comes in handy because when you are at such a short distance away from your subject, you're likely to block the ambient light. A white LED light ensures that you have that aspect covered.
Nikon W300 Waterproof Underwater Digital Camera with TFT LCD, 3", Orange (26524)
Waterproof, freeze proof, shockproof and dustproof adventure camera with extra capabilities
Stunning high resolution photos, 4K Ultra HD videos, Time-lapse videos, Super lapse videos and music montages
5x optical zoom NIKKOR lens with telephoto power and Hybrid VR image stabilization
Wi-Fi, Bluetooth, GPS, eCompass, altimeter, depth gauge and more
Operating environment: Temperature: -10 to +40°C (14 to 104°F ) for land use, Temperature: 0 to 40°C (32 to 104°F) for...
Related Post: How to Buy a Second-Hand DSLR Camera (3 Best Shops)
Powered by a 1″ CMOS sensor capable of churning out 20.1-megapixel stills (both RAW and JPEG) the Panasonic Lumix DMC-LX10 is a powerful little camera.
The 1″ CMOS sensor is the largest of the cameras we're looking at today.
Therefore, the camera should be able to provide better quality imagery and handle low light situations better than the smaller 1/2.3″ sensors. Since the sensors have more room to capture light they produce less noise.
No Viewfinder, But The Touchscreen Is 💯
There's no built-in viewfinder, but there is a large 3″ LCD touchscreen with a resolution of 1040k-dots offering 100% frame coverage.
The screen tilts all the way to 180˚ which ensure that you can shoot from those crazy angles that are impossible to be utilized with any other lens.
The built-in Lumix, DC Vario lens, has a focal length range of 24 – 72mm. Normally, the lens can focus from 30cm to infinity. But when switched to the wide mode it can focus as close as 3 cm.
Assisting the focal range of the lens is the dual image stabilization (optical and digital). This system can compensate 5-ways giving you better control over your shots, especially when hand-holding your camera.
Panasonic LUMIX LX10 4K 20.1MP Digital Camera with Leica 24-72mm Lens (Black), 64GB...
BUNDLE INCLUDES: Panasonic LUMIX LX10 20.1MP 4K Digital Camera (Black), 64GB SD Card, and Camera Case with Storage
STUNNING PICTURE QUALITY: The 1-inch 20.1-megapixel High Sensitivity MOS sensor records 4K and high-quality photos in...
HEART OF 4K: Inside the LUMIX LX10 beats the heart of a photographic enthusiast. And with a 1-in, 20 MP 4K sensor, Leica lens...
POWERFUL LENS: Photo creativity is based on light, and it all begins with the lens. With the LUMIX LX10 a crystal-clear...
PANASONIC AUTHORIZED DEALER: Includes USA Manufacturer Warranty
Related Post: How to Use Off-Camera Flash
The Ricoh WG-60 is powered by a 16 megapixel 1/2.3" CMOS sensor. The sensor is capable of capturing excellent images in most lighting conditions.
Speaking of lights, the lens mount area has an array of 6 LED lights. These are specifically made to assist shooting macro photography.
The built-in lens has a focal length of 28-140mm (by 35mm format standards). The lens consists of 11 elements arranged in 9 groups.
There are 5 aspherical elements in the construction. The maximum aperture of the lens is f/3.5 (in wide mode) and f/5.5 (in tele mode).
The back of the camera is dominated by a 2.7" LCD screen. The screen offers a resolution of 230k-dots.
Ricoh WG-60 Red Waterproof Camera 16MP High resolution images Waterproof 14m...
High resolution with all the must have features: with a high performance image processing engine and a back illuminated CMOS...
The all weather adventure camera: a rugged chassis you can rely on In the harshest conditions
WATERPROOF 14M: With features that include uncompromising waterproofing good for 2 hours of continuous use at a depth of 14...
Underwater mode: This mode uses white balance optimized for underwater photos, making colors appear more natural by adding...
Choose from 25 shooting modes: The camera offers settings suited to every subject, including an "auto picture" mode that...
It was a conscious choice to select mainly small compact cameras. These cameras work in all environments and in all shooting situations. Thus, we're adding the Panasonic DC-TS7 to the mix.
This is an all-weather compact camera powered by a 21.1 megapixel 1/2.3" CMOS sensor. The sensor is capable of producing large fine JPEGs of size 5184 x 3888 pixels.
The built-in lens has a 35mm format effective focal length of 28mm to 128mm. The maximum aperture of the lens is f/3.3 to f/5.9. The lens has a total of 10 elements arranged in 8 groups. These include 5 aspherical elements as well.
Now for the macro shooting capabilities of the camera. The Panasonic DC-TS7's built-in lens can focus at a minimum working distance of 1.97" in wide macro mode.
Panasonic DC-TS7A Lumix TS7 Waterproof Tough Camera, 20.4 Megapixels, 4.6X Zoom Lens,...
[Waterproof] Snorkel with confidence down to 102 feet, plus enjoy drop protection to 6.6 feet and Freeze proof to 14 degrees...
[Picture quality] capture low light photos with a 20.4 Megapixel MOS sensor, and record video in smooth 4K 30P quality
[Lens] high-quality 28mm wide-angle with up to 4.6x optical zoom range
[Special features] create with 22 filter effects, Panorama, plus turn 4K video frames into pictures with 4K photo mode
[Technology] 3" LCD display and a 0.2 inch eye live viewfinder [LVF], in-camera AC or USB battery charging, Wi-Fi 2.4GHz...
The Sony Cybershot DSC-W800 is a compact camera with a fixed zoom lens.
The sensor inside the camera is a 20.1 megapixel 1/2.3" Super HAD CCD sensor. The sensor is capable of producing large fine JPEGs 5152 x 3864 pixels.
The lens has a 35mm format equivalent focal length of 26 – 130mm. The maximum aperture of the lens is f/3.2 in wide mode and goes all the way to f/6.4 in tele mode.
Not exactly super quick, but the lens can focus very close. In the wide mode, it can focus as close as 4.88cm.
The back of the camera is dominated by a 2.7" LCD monitor. You'll be able to get a large reasonably good resolution image of what you're focusing on.
The Cyber-shot DSC – W800 is an entry-level camera and, as such, there aren't too many features to write home about. Except for the hassle-free still shooting mode and the macro mode.
Sony DSCW800/B 20.1 MP Digital Camera (Black)
MP Super HAD CCD sensor for beautifully detailed images. Blink Detection
Sony Lens w/ 5x Optical Zoom and 360 sweep panorama
Reduced blur with SteadyShot Image stabilization.Recording Format:Still Images: JPEG , Movie: AVI (Motion JPEG)
Capture your videos in 720p HD Movie mode
Simplify camera menu with Easy Mode; Digital Zoom- Still images: 20M approx.10x, 10M approx.7.1x, 5M approx.9.9x, VGA...
Rajib is an avid travel photographer and an overall shutterbug. He loves to test and review new photography gear. He has been writing about cameras and lenses for over 10 years now. You can consider him as your "master guide" here at PhotoWorkout.
---
As an Amazon Associate we earn from qualifying purchases. Certain content that appears on PhotoWorkout.com comes from Amazon. This content is provided 'as is' and is subject to change or removal at any time.