Over the past few years, the photographic capabilities of smartphones have skyrocketed. Now more than ever, you can capture high-quality images with your handheld device – including beautiful and creative self-portraits.
How? With the help of a great selfie tripod, which is what this article is all about. We've compiled a list of the best selfie tripods you can buy right now, with insight and information to make your purchase decision so much easier.
So if you're looking for a high-quality, reliable, and sturdy tripod to capture your own portraits, look no further.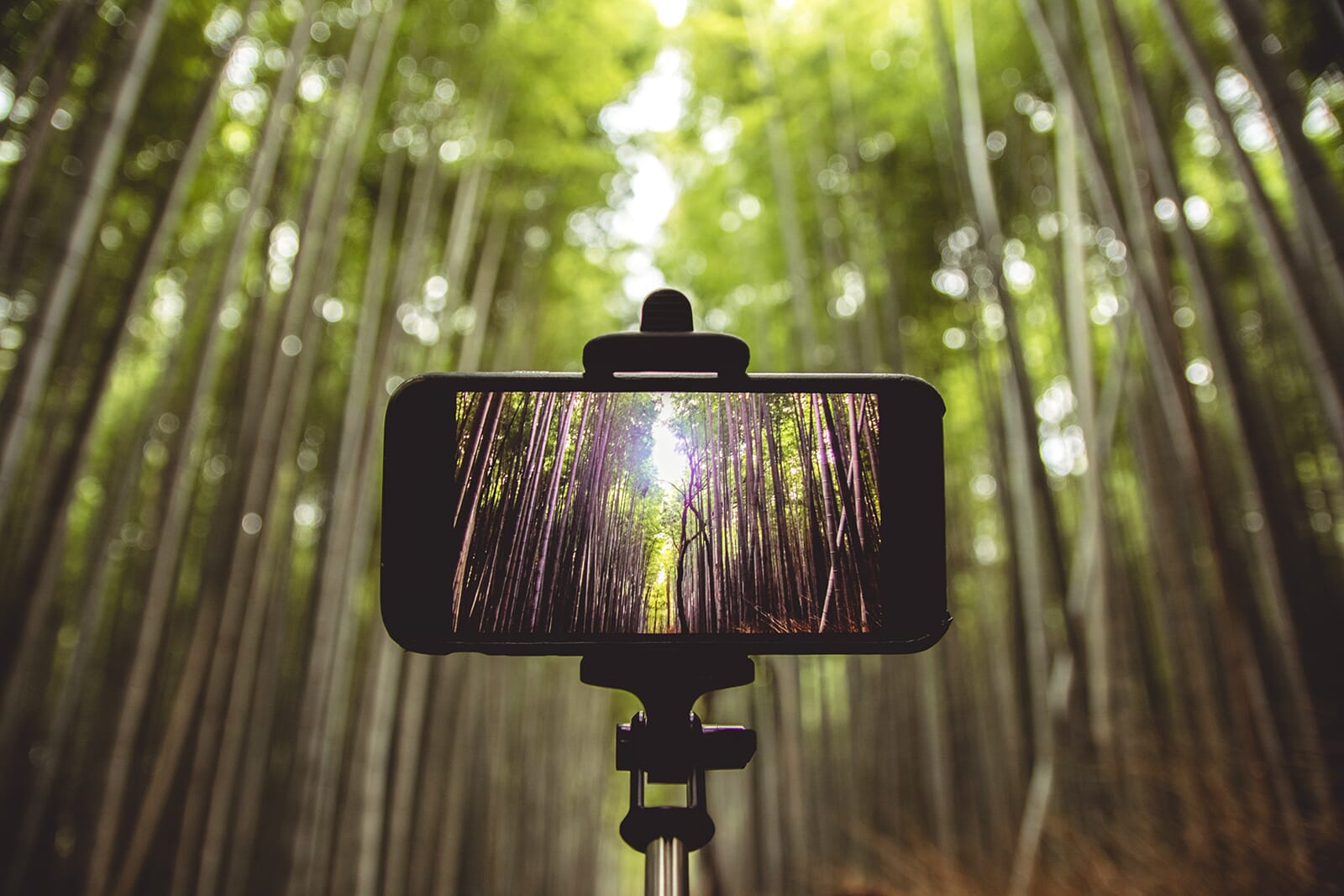 1. UBeesize Selfie Ring Light With Tripod Stand
Our Pick
Great for professional portraits
This selfie tripod has a useful ring light for beautiful portrait lighting.
High-quality ring light for portraits
Several extension levels
Simple lock mechanism for the pole extensions
Not the most compact selfie tripod
If you want to create the perfect selfie portrait, you can't forget about good lighting. Luckily, you won't have to, thanks to this combination package of an 8-inch selfie ring light with a tripod stand for your smartphone.
This selfie ring light has 3 color features: Warm Light, Cool White, and Day Light. Plus, it has 11 brightness levels, making it the perfect light source for any situation.
It also comes equipped with quick-flip locks and a weighted base for added security. It extends up to 51 inches and is made with high-quality aluminum. Affixed to the tripod stand is a rotatable phone holder that can be adjusted to fit your preferences.
This tripod is USB powered and works with most devices that have a USB port. You can flick the power on/off, switch the lighting mode, and adjust the brightness mode.
2. Yoozon Selfie Stick Phone Tripod
Also Great
Perfect for travel use
This lightweight selfie stick is compact and folds to a minimum size
Lightweight and highly compact
Supports multiple smartphone types
360-degree rotatable head
Pole may not be the most durable
If you're ready to start capturing self-portraits, the Yoozon Selfie Stick is the tripod for you. Not only do you get a tripod, but it also comes with a remote control shutter for select smartphones.
The adjustable phone holder rotates 360 degrees to capture any angle you choose. And it only takes three seconds to turn your selfie stick into a tripod; in other words, it's fast, easy, and efficient!
It has a wireless remote controller for charging the Bluetooth remote. And the remote can be used at a distance of up to 33 feet.
3. MFW Bluetooth Selfie Stick With Tripod
Great for group photos
The MFW Bluetooth Selfie Stick Tripod is good for group photos, thanks to its long 59 in/150 cm reach.
Extends up to 59 in/150 cm
Versatile clamp for multiple phone models
Bluetooth remote works with many smartphone models
The Bluetooth remote does not have the longest range
Whether it's of your family or friends, a group photograph is a great way to collect memories. But to capture an effective group shot, you'll need the MFW selfie tripod.
This tripod is long. It can extend from 15 inches all the way to 59 inches, so you can snap a large group photo with ease.
Plus, it comes with Bluetooth remote control, so you can capture your images or video from a distance, with no self-timer messiness required. It's also built for stability.
You can also switch from a selfie stick to a tripod in seconds, and you'll be ready to shoot on a desk, uneven surfaces, railings, and chairs. You won't find a better, more durable option!
4. Bluehorn Portable 40-Inch Aluminum Selfie Stick Tripod
Great for wireless control
This portable 40-inch selfie tripod has a durable aluminum pole and excellent control from its wireless remote.
Bluetooth connection up to 10 m/32 ft
Fully extendable up to 40 in/101 cm
Versatile phone clip for multiple smartphone types
Zoom function on some Android devices may not work with the remote
Next, we have the Bluehorn Portable 40-Inch Aluminum Selfie Stick tripod. It's a durable device with a maximum extension of 40 in/101 cm. We like the multiple-section aluminum pole that allows you to quickly extend the selfie stick.
The tripod legs are relatively stable and can be folded away when not in use. The tripod is portable, too, weighing just 10.4 oz/295 g. The smartphone holder provides a secure clamp and can be extended to fit most Samsung and Apple phones – plus it can even fit larger smartphones like the Samsung Galaxy Note.
For connectivity, this selfie tripod also has a Bluetooth wireless remote control. The Bluetooth connection works up to 10 m/32 ft and should be compatible with most smartphone models. The only downside is that the remote may not work with the zoom features on some Android smartphones.
5. Fugetek 51-Inch Professional Selfie Stick and Tripod
Great for professional shots
This 51-inch selfie tripod offers great stability for professional shots due to its thick aluminum frame and legs.
Bluetooth remote with up to 30 m/100 ft range
Sturdy tripod legs with multiple supports
Smartphone clip can hold multiple types of devices
Not the smallest or lightest selfie tripod available
The Fugetek 51-Inch Professional Selfie Stick and Tripod is one of the most durable selfie tripods available, featuring a thick and sturdy tripod pole. It is made from heavy-duty aluminum, and the tripod legs also have extra support connections to the main pole. This makes it stable when placed on the ground.
The Fugetek tripod extends to a maximum height of 51 in/130 cm. It is also collapsible to a minimum height of 19 in/48 cm. In other words, it's decently portable, but not one of the smallest tripods available. It also weighs 1.05 lb/476 g, which is equivalent to a midrange camera lens.
This selfie tripod has a removable Bluetooth remote with an impressive operating distance of up to 100 ft/30 m. It also has a great standby operation time of up to 300 hours.
6. ATUMTEK 51-Inch Selfie Stick Tripod
Great for creative angles
The ATUMTEK 51-Inch Selfie Stick Tripod is great for creative photography and videos due to it's 360-degree rotation capabilities.
Full 360-degree head rotation
Durable and stable tripod base
Good height extension
Bluetooth remote may not have the longest reach
The ATUMTEK 51-Inch Selfie Stick Tripod features a similar design to the Fugetek model but is considerably smaller and lighter. It has a range of 12 to 51 in (30-130 cm), and it weighs just 330 g/0.72 lb. When fully folded, it is relatively compact and could easily fit into a backpack.
This selfie tripod is compatible with multiple devices, including iPhones (iPhone 11 to 12 and iPhone X), OnePlus (6T to 3), Samsung Galaxy (S8 to S20+), and many more.
We also like the flexibility this selfie tripod provides. The head can be rotated 360 degrees, which allows you to compose photos and video from multiple angles. The tripod base is also large and durable and should support any type of smartphone, regardless of size.
The tripod has a simple control panel on one of the legs. For added convenience, it also has a Bluetooth remote, which can be detached from the tripod legs for shooting at a distance.
7. BZE Selfie Stick – 40-Inch Extendable
Great for travel use
This 40-inch selfie tripod is highly compact and can fold to a minimum size for easy storage and carrying.
Lightweight and compact design
Can also be used for action cameras
Durable pole with multiple extension points
The tripod legs are not as durable as some other models
The BZE Selfie Stick – 40-Inch Extendable is one of the more compact selfie tripods available. It also has a versatile head attachment that can be used for smartphones or action cameras like the GoPro Hero9 Black.
This selfie tripod weighs just 0.44 lb/200 g, and it has a range of 8-40 in/20-101 cm. As a result, it is compact when folded and can easily be carried. Yet the selfie stick pole is still durable, and the tripod legs offer a decent base.
As standard, this selfie stick has a standard tripod screw mount that can be used with action cameras. However, it also has an attachable phone mount that uses a standard clip mechanism. This can support a wide array of modern smartphones including iPhones and Samsung Galaxy phones. It also comes with a simple remote shutter and a charger.
8. UBeesize 67-Inch Phone Tripod Stand and Selfie Stick
Great for heavy-duty smartphones
This 67-inch tripod has a durable build that can cope with heavy smartphones like the Samsung Galaxy Note.
Excellent 67 in/170 cm extension
Durable aluminum frame and tripod legs
The head can rotate 180 degrees
Not the most compact or lightweight selfie tripod
The UBeesize 67-Inch Phone Tripod Stand and Selfie Stick is the largest selfie tripod on this list and offers the best extension. It has an excellent range of 20-67 in/50-170 cm. Also, it has a brilliant maximum load capacity of 1.5 kg/3.3 lb. This makes it the best heavy-duty selfie tripod on this list.
To support this weight and extension, the tripod has a thick and durable aluminum frame. The aluminum tripod legs also have rubber feet and extra supports that secure them to the base. We also like that the legs are easy to fold, and you can quickly change from a selfie stick to a tripod.
The smartphone head has a 180-degree rotation plate, and it also has a range of locking features to keep your smartphone secure. This is one of the best selfie tripods available for professional work and for use with heavier smartphones.
9. Obudyard Gimbal Stabilizer With Selfie Stick Tripod
Great for video recording
This gimbal stabilizer tripod is a great tool for smartphone movie making.
Anti-shake gimbal for smooth footage
Simple and effective tripod design
Bluetooth remote control operation
Does not have any tripod extension
Next, we have something a little different with the Obudyard Gimbal Stabilizer With Selfie Stick Tripod. This is a multi-functional device and is a gimbal, tripod, and selfie stick. It's perfect if you want to experiment with action shots.
The gimbal has a single-axis motor that can keep your smartphone steady. It also has super anti-shake features to minimize distortion when recording.
You can also connect the gimbal to the mobile phone tripod or use it as a selfie stick. The tripod has three sturdy legs and can easily be balanced on different surfaces. For efficiency, you can control the tripod via a Bluetooth remote control.
10. SelfieShow Selfie Stick With Tripod Stand
Great for wide-angle selfies
This selfie tripod has a 245-degree rotatable head which allows you to play with different angles.
245-degree rotatable head
The tripod legs are easy to adjust
Has a simple Bluetooth remote control
May not be as durable as some other models
Our last pick is the SelfieShow Selfie Stick With Tripod Stand. This is another compact selfie tripod that offers a decent level of extension. It can extend up to 40 in/101 cm and has a total weight of 150 g/0.33 lbs. This also makes it one of the lightest selfie tripods on this list.
For operation, there is a small Bluetooth remote control that has a maximum range of 10 m/32 ft. This remote does not have advanced control but it does have a shutter button.
The head of this selfie tripod is also quite versatile. It can be rotated 245 degrees which is great for taking photos at unusual angles or taking wide-angle group selfies. The tripod legs are easy to fold out and provide a stable base for the smartphone. The bottom of the pole also touches the ground which further helps improve stability.
Which Selfie Tripod Is the Best for You?
There are plenty of selfie tripods on the market, whether or not they're right for you is ultimately down to personal preference. We're hoping our suggestions helped you figure out what selfie tripod is right for you!
If you want a selfie tripod for action shots and sports videos, something like the Obudyard Gimbal Stabilizer With Selfie Stick Tripod could be a great choice with its built-in stabilizer. Alternatively, if you want ultimate reach and height, something like the UBeesize 67" Phone Tripod Stand & Selfie Stick could be a good alternative.
---
As an Amazon Associate we earn from qualifying purchases. Certain content that appears on PhotoWorkout.com comes from Amazon. This content is provided 'as is' and is subject to change or removal at any time.