When it comes to travel photography, a key aspect of considering what goes into your gear bag is size and weight. The reasons for this are numerous, but mainly revolve around comfort and size restrictions.
One of the main pieces of kit that can pose an obstacle in this department is your tripod. In this article, we've taken a look at all the tripods on offer to give you the best travel tripods you can buy right now!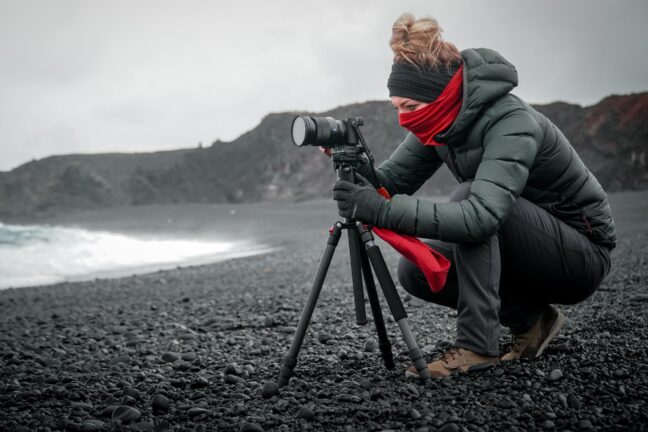 Best Travel Tripods:
When you buy through links on our site, we may earn a commission at no cost to you. We evaluate products independently. Commissions do not affect our evaluations.
1. Benro Aero 4 Travel Angel Video Tripod
A good value, reasonably lightweight tripod
This tripod is perfect for travellers with a small gear-load. It's perfect for travel in the cabin or hold and will withstand some rough and tumble.
The Benro Aero 4 is a true blue travel tripod; one of the best in its class. This is an aluminum tripod with 3-stage legs and a video head.
A video head is useful if you want to capture some footage of your favorite destinations. Video heads are also useful when shooting time lapses or hyper lapses. Of course, when you would like to record 4K video footage of the places that you visit. And you can shoot perfectly good stills using a video head too.
Related Post: Best Video Cameras Under $1000
Maximum Supported Weight
Despite the aluminum construction, the overall weight of the tripod is 2.6 kilos. The maximum load-bearing capacity is 4 kilos.
The maximum working height is 65.2" and the folded down height of the tripod is 21.7". That's small enough for a cabin bag. Just. If you are packing more than just a few clothes, a camera, a lens and a tripod, we recommend that you get a larger bag and check it in.
The other features of the Benro Aero 4 are flip locks for the three sections of the legs and independent leg sections with three stops.
Benro is offering a limited three-year warranty which you can extend to five years by registering online.
2. Benro TAD28CB2 series 2 Adventure CT Tripod
A tripod you can feel confident carrying through airline security!
If you want a tripod that can hold a lot whilst not adding a load of weight to your kit bag, this adventure tripod is perfect. The design means you'll never have to worry about checking your tripod in at the airport!
CT stands for Carbon Fiber. The TAD28CB2 is a lightweight tripod kit complete with legs, head, and quick release plate.
The magical thing about the TAD28CB2 is that it is capable of supporting a maximum weight of 12 kilos. That's 8 times the weight of the tripod itself! It's because the structure is made from carbon fiber. It is extremely tough and capable of supporting a lot of weight.
Maximum Supported Weight
The maximum height attainable by the tripod is 61.4" and when folded down for transportation it attains a height of just 20.7". Another good thing is that the legs have four sections, unlike three in some cheaper kit options.
Of course, you get independently moving legs, flip-lock mechanisms, and the ball head. What's missing is the retractable-spiked feet. But then, with the ever-changing aviation rules, spiked feet may not be welcome on board as cabin baggage in some countries.
So, you would have to check in your entire bag. You lose the ability to work with confidence on rough surfaces, but get the ability to carry your luggage inside the cabin. It is definitely one of the best travel tripods you can buy.
Related Post: Best Travel Cameras
3. Manfrotto Befree Advanced Carbon Fiber Tripod
A reliable travel tripod
This is a solid carbon fiber travel tripod option perfect for those who want impressive stability whilst still having a lightweight tripod.
It goes without saying, carbon fiber is the preferred material when it comes to travel tripod choices. And we have made sure to include some of the best carbon fiber-made tripods out there. Including the Manfrotto BeFree Advanced Tripod. The specialty of the ball head is that it has three knobs to control three independent movements of the head.
The maximum working height of the tripod is 59". That may not be the highest in the business and taller people will find it a bit of a pain in the back (quite literally) when working with it. That said, it is not too bad after all. Especially, if you are about 5'-8" or 5'-10".
Maximum Supported Weight
The tripod can support a maximum weight of 7.7 kilos which again is quite good considering that most professional cameras along with a medium zoom are less than that in weight. The tripod itself weighs about 1.25 kilos which makes it one of the lightest travel tripods that we have listed here.
4. Benro FSL09CN00 Slim Travel Tripod
The perfect balance between lightweight and durable
With two options to choose from, this tripod model is perfect for those unsure about what material they want for their tripod. The overall design is perfect for those looking for something small!
There are actually two versions of this Slim Travel Tripod from Benro. The first one is made out of aluminum and the second one is made out of carbon fiber. These are about 40 bucks apart in terms of price. Of course, the CF is the better overall option. Because it strikes the perfect balance between lightweight and durable.
The system is complete with a ball head that has a bubblehead indicator, 5 section legs, quick release plates, and rubber feet. Rubber feet allow the tripod to have a better grip over slippery surfaces.
Unlike some of the cheaper travel tripods, this one has 5 leg sections. Giving the FSL09CN00 the ability to rise to a maximum working height of 57.1". When folded down for transportation the FSL09CN00 assumes a height of just 12.9".
Maximum Supported Weight
The FSL09CN00 is made out of carbon fiber and that makes it both sturdy and lightweight. The maximum weight it can support is 4 kilos. That should be more than enough for a professional DSLR complete with a standard lens.
5. Oben CT-3565 Carbon Fiber Travel Tripod
A classic high-performance travel tripod
This tripod is small but mighty, scaling down to a perfect size for fitting in your carry-on baggage and extending to a perfect working height. A carbon fiber design makes this tripod super lightweight.
Over the years, Oben has produced some of our favorite travel tripods, the CT-3565 is no exception to this. This perfect travel tripod combination comes in the form of the BZ-217T ball head with the legs crafted out of carbon fiber. The ball head is a triple-action ball head, giving you lots of creative freedom.
Maximum Supported Weight
The entire system can support a maximum weight of 9.07 kilos. That is more than enough for any professional DSLR, complete with a telephoto lens and accessories mounted on it.
Even if you intend to use an external field monitor rig, this tripod should easily support the additional weight. Clearly making it one of the best tripods for travel you can buy.
The maximum working height of the tripod is around 61.8" and when not in use the minimum folded down height is 16.1". Small enough to fit inside any travel bag/cabin baggage that meets the cabin bag specifications.
Being a carbon fiber tripod certainly helps too because the overall weight becomes easy to lug across long distances.
Finally, the feet of the Oben CT-3565 are rubberized and spiked with retractable functionality. This ensures that you can choose the right amount of traction according to the surface you are working on.
Rubberized feet are ideal for working indoors, or on slippery surfaces. Spiked feet give a better grip when working on uneven surfaces or outdoors.
6. Zomei Z669C Portable Carbon Fiber Tripod
Low Cost CF Option!
A perfectly priced carbon fiber tripod!
The carbon fiber design of this tripod makes it perfect for travelling. Despite its light weight, you can still hold a large 19lb load on the tripod.
Zomei is a relatively lesser brand when it comes to tripods and camera supports systems, but I can assure you that they make some really solid products. For example the Zomei Z669C Lightweight Travel Tripod. There are a number of plus points that make the Z669 an ideal travel companion. Let's go through a few of those.
Maximum Supported Weight
First, the Z669 weighs only 1.54 kilos or 3.4 lb, making it extremely lightweight. Plus, when folded down the tripod is just 15" in height. That would be slightly bigger for carry-on luggage requirements.
Many times the available working space isn't just enough for using a tripod with its legs spread out. The solution is in using a monopod. Slim, super light and yet effective. But the problem is not many travel tripod has that dual functionality. The Z669 does. It converts into a 60" monopod allowing you to work in tight spaces.
Another cool feature of the Z669 is the central column is a 2 section unit. You can easily mount the camera in reverse, i.e., take it down all the way to the ground level and capture stunning images from a very low perspective. Let's say that you are across a beautiful flower-bed and want to take an image from a low angle, the Zomei Z669C will allow you to do that.
One more info and that can sway the ultimate buying decision and that is the total load-bearing capacity of the Z669C is 9 kilos / 19 lb. This means you can easily mount a professional DSLR with a telelens as well as polarizers and polarizing filter holders. If you are a professional and prefer to use a field camera, you could use that too. The weight of the tripod itself is just 1.5 kilos.
7. Geekoto 79" Travel Tripod
Geekoto, just like Zomei, is yet another unheralded brand. But they make some really cool travel tripods. And if you are interested in venturing and looking at what other brands are out there beyond the big four, then you can take a look at Geekoto.
This particular tripod, the Geekoto 79-inch, comes with a 360-degree ball head.
Ball heads are the best when it comes to complete freedom to set up a camera–lens combination for photographing. And if you love landscape which is definitely why we are talking about tripods in the first place, then ball heads are the best balance between price, convenience and image quality.
Maximum Supported Weight
This particular tripod is designed out of carbon fiber. It is both lightweight and capable of supporting a larger load. 1.54 kilos and 12 kilos are the exact statistics. Most travel tripods give you the ability to opt to use as a monopod.
In some situations, the dual functionality is useful. You can disassemble the tripod and transform one of the legs into an 81" long monopod. That will give you the ability to quickly adjust to a situation.
And speaking of the situation, just like the Zomei, you can mount your camera in the reverse. That allows you to shoot from perspectives that usually involves getting your clothes dirty.
8. Joilcan 80" Aluminum Tripod
The world of tripods is filled with big names like Joby, Benro, Oben, and Manfrotto. They seem to hog the entire limelight, making it difficult for lesser-known names to make an inroad. But if you look closely, there are some interesting products which get very good ratings from those who have used them. The Joilcan 80" Aluminum Travel Tripod is one such product.
This tripod comes with a 360-degree ball head kit. The maximum height the Joilcan can reach is 80" and that is a comfortable working height from someone who is 6-foot tall When folded down the tripod assumes a height of just 18" for convenience. It will probably not fit inside cabin baggage but the advantages far outweigh the inconvenience.
The three legs of the Joilcan can be set at angles independent of each other. Perfect for working on terrains which are uneven and when you need additional traction. Unfortunately, the tripod legs don't have spiked feet.
Maximum Supported Weight
The maximum supported weight is 8.8 kilos. Which is more than enough for someone who travels light and carries only a limited amount of equipment. One camera body and one or two lighter lenses. That said 8.8 kilos should be sufficient to support a pro body and a mid-sized telephoto lens easily.
While still on the subject of weight the Joilcan weighs about 1.53 kilos. Light enough to lug throughout the day and not feel it weighing you down.
9. Sirui T-25SK T-0S Series Travel Tripod
High-quality Option
Best for Pro Photographers
If you want a high quality tripod that's perfect for traveling, this is the best you can get. With the ball head, you get impressive flexibility to get perfect shots and video footage.
In our previous list, we had included the Sirui T-025X. It is a carbon fiber tripod with the C-10S ball head. That item has been discontinued on B&H, although you may still find a few units left on amazon. So, we decided to recommend a different and somewhat better unit. The Sirui T-25SK T-0S Series travel tripod with the B-00 ball head.
The tripod legs are a 5 section unit. The maximum working height of the tripod is 53.8" and when not in working position they can be folded down to 12.2". Therefore it can fit into almost any cabin bag very easily.
Maximum Supported Weight
The total load-bearing capacity of the tripod is 6 kilos while the weight of the tripod itself is just a kilo. As you can imagine carbon fiber is extremely tough and is capable of supporting a much larger amount of weight compared to its own weight.
Finally, about the feet of the Sirui T-25SK T-0S series tripod. The feet are made of rubber. There are no retractable spiked feet as was present in the Oben CT-3565 we discussed above.
Closing Thoughts
All the tripods we have discussed have their own unique advantages as tripods. The main factors you'll want to consider are size, weight, and how much gear a tripod can hold.
Hopefully, you've managed to hone in on the best travel tripod for you. Now all that's left to do is choose your next destination! Whether it be a photography holiday or tourist hotspot!
---
Disclosure/Disclaimer: As an Amazon Associate, we earn from qualifying purchases. Certain content was provided "as is" from Amazon and is subject to change or removal at any time.