7 Tripods for Real Estate Photographers
More so than ever before, photography plays an integral role in the real estate market. When it comes to housing, a picture really is worth a thousand words – detailed simply cannot grab immediate the attention of potential buyers in same the way a stunning photograph can. That being said, demand for talented real estate photographers is on the rise. For those looking to get into real estate, one of the single most important tools a photographer can have on hand is a tripod.
Related Post: Real Estate Photography Tips
To the less experienced, it may seem as though there isn't much of a difference between tripod brands and models. However, there are a few qualities that aspiring image makers should look out for when choosing between tripods for real estate photography:
Stability. The ability to keep things secure and still may seem like a no brainer when it comes to purchasing a tripod. Photographers invest in tripods to create crisper images, and a wobbly tripod can't guarantee those results. Some models have more safeguards in place to ensure stability, making it easier to create long exposures and bracket for HDR composites. 

Height. For the most part, keeping the camera at natural eye level is going to yield the best results. Therefore, it's important to find a tripod with adjustable legs and, ideally, an extendable center column.

Precise adjustments. While stability is a key component to a good tripod, you don't want to invest in a model that's entirely stationary. The ability to adjust the angle of the camera will open up creative avenues and ensure that you're capturing the best view possible.

Durability. When investing money into any sort of gear, overall durability should be a factor taken into careful consideration. Because of the transient nature of real estate work, photographers in the field should seek something capable of withstanding the elements as well as the occasional bump or scratch.

Portability. Naturally, real estate photography involves a great deal of moving around. Aside from bouncing from property to property, it's crucial to capture as much detail as possible by experimenting with your camera's positioning in each room being photographed.  Ideally, tripods for real estate should be lightweight and easy to assemble (or disassemble) to expedite the picture-making process.
With these key features in mind, we've rounded up some of the best tripod options for real estate photographers out there. These models go above and beyond their competition without breaking budgets. For some of the best tripods for real estate photographers, read on!
Related Post: The Best Software for Real Estate Photography (Top 3 Picks)
1. Vanguard Alta Pro 263AB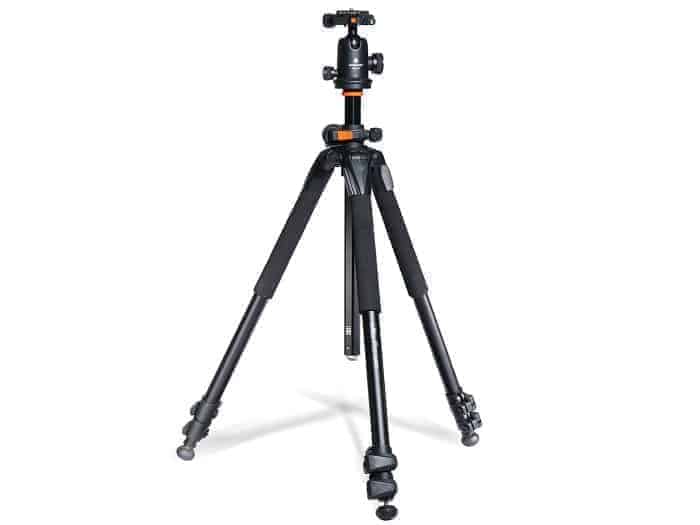 Available for 
$153.60 at Amazon.com
Looking for something with a little bit of flexibility? The Vanguard Alta Pro 263AB has you covered. What makes the Alta Pro stand out among the competition is its ability to capture shots at just about angle. The legs of the tripod adjust between 25°, 50°, and 80° angles, allowing for extreme low angle photography.
Furthermore, the central column is capable of moving from 0° to 180° with ease. The ability to get hard to reach angles can make a huge difference in getting photographs that stand out against the competition and guarantee that you can get images that best portray a properties features.
Aside from the tripod's flexibility, the Vanguard brags an impressive build. Extending to a maximum of 68″, it reaches a considerable height. It's also able to hold more than 15 lbs at a time (with the carbon fiber model having the capability to withstand even larger loads. Best of all, anti-slip spiked rubber feet and quick-flip leg locks ensure that the tripod will stay in place as you work.
Sale
Vanguard Alta Pro 263AB 100 Aluminum Tripod Kit
26mm 3 section aluminum alloy legs adjust to 25, 50, and 80-degree angles to enable extreme low angle photography
Smooth fluid-like ball head rotates 360 degrees and includes a quick release plate and bubble levels
Hexagon-shaped central column moves from 0 to 180 degrees
The Instant Swivel Stop-n-Lock (ISSL) System securely repositions the central column in one simple movement
Premium magnesium die-cast canopy and anti-shock ring. Quick shoe: QS-39
2. Manfrotto MKBFRA4-BH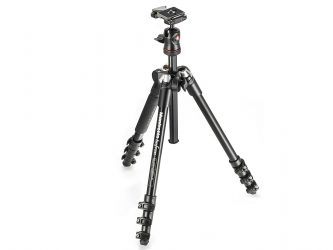 Available for 
$160.70 at Amazon.com
Manfrotto is among one of the most prolific tripod manufacturers out there, so it should come as no surprise that they have a few solid options available for professionals in a number of disciplines. Sweet and to the point, the MKBFRA4-BH is one of the best tripods for real estate photographers who find themselves on the go.
Weighing in at just over 3 lbs total, it's one of the easiest transport options available. To make things even easier, the tripod folds to a small enough size that it can easily fit inside of a backpack of piece of luggage. However, the increase in portability by no means sacrifices the quality of the product. Equipped with a locking ball head, the Manfrotto makes it easy to adjust camera positions while maintaining that your equipment remains secure.
Sale
Special June Deal: CanvasPop 45% off on all prints. Use Code PHOTOWORKOUT
Related Post: Real Estate Photography Accessories (a Buying Guide)
3. VILTROX VX-18M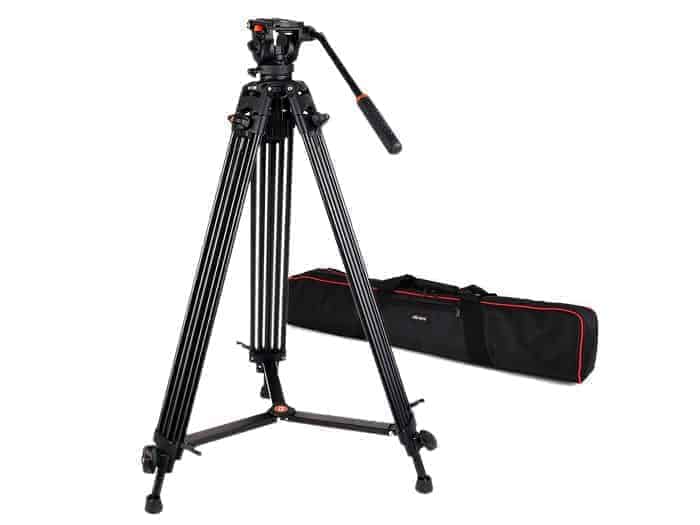 Available for 
Out of stock at Amazon.com
The Viltrox is a particularly versatile choice for real estate photographers in the market for a new tripod. The fluid drag head is capable of panning a full 360°, making it an excellent option for those looking to take panorama images. In addition, theres a tilt range between -75° – +90°., making it easy to get unusual and hard to attain angles. To top it all off, the Viltrox has one of the greatest height ranges of the pack (33″-74″)
Thanks to an aluminum alloy body, the VX-18M is incredibly high strength. In addition, the tripod has a number of features to ensure stability while in use. The metal mid-spreader keeps the legs from moving. In addition, rubber horseshoes added to the feet prevent skidding even on the slipperiest surfaces.
VILTROX VX-18M Professional Heavy Duty Video Camcorder Tripod with Fluid Drag Head...
Great Capacity . Ideal for digital camcorder weighing up to 13.2 lbs, we have tested ,making it a perfect match for...
360° Panoramic Shooting. VX-18M tripod system including a fluid drag video head features a tilt range of 90 degrees...
60mm Ball Diameter. Allows you to quickly level the head without having to readjust the legs, simpler to create Dutch...
A sliding QR plate. The side lock system allows the sliding QR plate to be aligned and slid in from the back, a sliding...
Practical Design. A padded carry bag as a gift to keeps your tripod and head together and a lock ring attached to the...
4. MeFOTO Globetrotter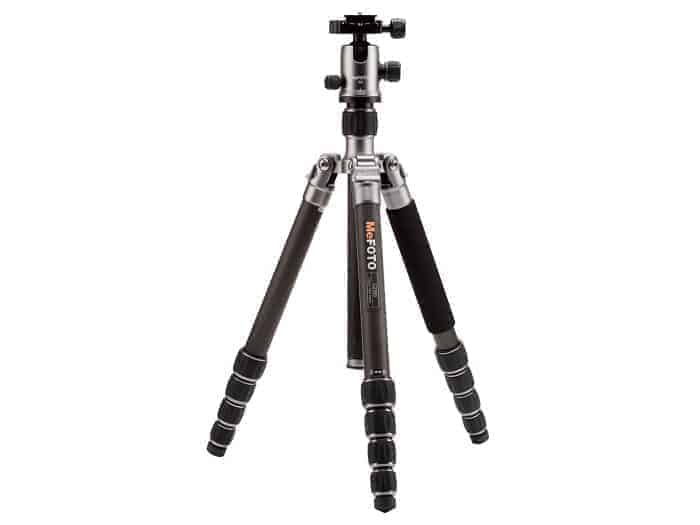 Available for 
$348.99 at Amazon.com
With carbon fiber and aluminum models available, the MeFOTO Globetrotter is an excellent choice for a gamut of photographers with a variety of needs. Real estate photographers will be sure to appreciate the tripod's perfect balance of strength and portability – despite weighing in at less than 5 lbs, it can impressively support weights up to 26.4 lbs. Photographers dabbling with videography and large specialty equipment will be able to breathe a sigh of relief. A precision Q-series ballhead complete with bubble level will ensure that whatever gear you do use, everything will remain balanced and even.
The legs of the MeFOTO are particularly impressive. Each leg can be locked individually, making it an ideal choice should you find yourself on uneven footing. Furthermore, the legs can be inverted and folded backwards, making it perfect for any sort of compact storage. At its smallest, the tripod measures in at just 16″!
Sale
MeFOTO Classic Carbon Fiber Globetrotter Travel Tripod/Monopod Kit - Titanium...
Only products shipped from and sold by authorized resellers such as Amazon.com can ensure that you will be receiving...
360-degree Panning: Accurate panoramas can be easily orchestrated using the graduated panning scale for accurate image...
Recessed Center-Column Hook: A spring loaded recessed hook, located in the bottom of the center-column, allows you to...
Precision Matched Q Series Ballhead: Dual action heavy-duty ballhead with Arca-Swiss style compatible quick release...
Compact: The tripod legs can be inverted and folded back 180 degrees making it small enough to carry just about...
5. Orion 5378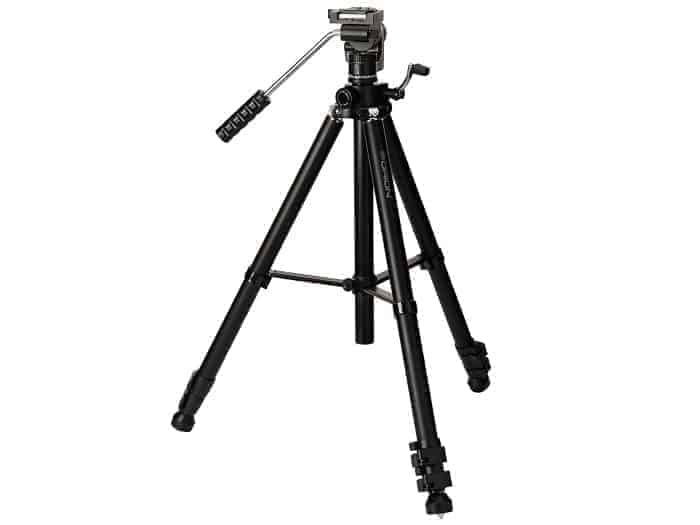 Available for 
$99.99 at Amazon.com
Don't be fooled by the Orion's relatively inexpensive price tag. The 5378 Paragon HD-F2 is a heavy duty tripod capable of faring well in the field. Reinforced with a tribrace center and rubber-spiked feet, it's sturdy and stable. Yet, even with safeguards in place, lever locks and graduated marks make set up quick and easy.
Of course, there are plenty of durable tripod options available. Never fear – the Orion has a few additional features that make it an appealing choice. A fluid pan head has adjustment knobs that allows for smooth, controlled movements along two separate axis. Furthermore, the Orion can reach an impressive extended height of 72″ – meaning that cameras can rest at eye level for almost all photographers.
Orion 5378 Paragon HD-F2 Heavy Duty Tripod
Adjustable heavy-duty field tripod provides stable support for spotting scopes, giant binoculars, cameras, and...
Adjustable aluminum-tube legs with lever locks and graduated marks for quick and easy setup
Two-way fluid pan head with tension adjustment knobs on both axes provides smooth, controlled motion
Legs are tri-braced to center elevator for enhanced stability and feature spike-feet with removable pads for any viewing...
6. Induro CLT204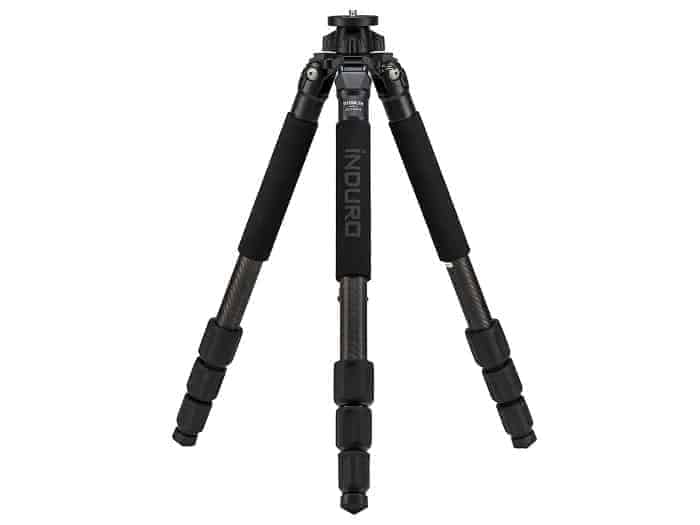 Available for 
$399.00 at Amazon.com
With a load capacity of 35 lbs., it's hard to believe that the Induro CLT204 weighs only 3.5 lbs! Able to compact down to 12.6″, the CLT2014 can expand up to exceed heights of 5 feet thanks to 4 separate leg adjustment segments.
The Induro has a few goodies to offer its consumers. Included with purchase is a tool kit for making quick adjustments and a shoulder carrying bag to increase the device's portability. In addition, the  tripod has both rubber feet and stainless steel spikes that can be changed accordingly to accommodate whatever situation you may find yourself in. Last but not least, the tripod is available with a PHQ1 panhead.
Induro Tripods CLT204 No. 2 Stealth Carbon Fiber Tripod, 4 Sections
Includes $50.00 instant savings
Each Grand Induro tripod includes a machined aluminum top plate with hard anodizing, oversized weight hook and set screw...
INCLUDES: CLT204 tripod, carbon fiber short column, toolkit with spiked feet, wrench and carrying case.
Warranty: 5 years. By registering online, your warranty is extended 5 years, for a total of 10 years.
7. SLIK Pro-700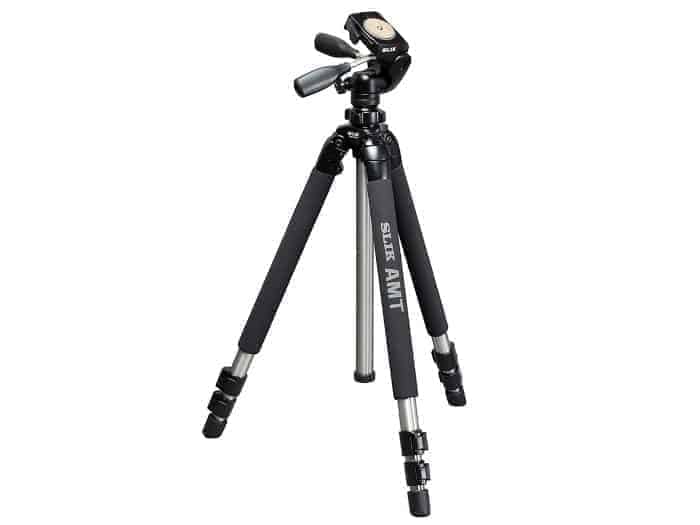 Available for 
$139.95 at Amazon.com
Since 1948, Japanese based SLIK tripods have been used by professional photographers. As you might expect, there's good reason as to why business has survived for the past 70 years. The Pro-700, like the rest of the models featured in SLIK's PRO series, offers a great user experience at an affordable price.
Related Post: Best Travel Tripods
To reduce the weight of the tripod while maintaining strength and integrity, the legs are made with a combination of aluminum, magnesium, and titanium alloy. Of all the tripod's we've included on this list, the Pro-700 has the tallest reach at 75″. To top it off, the 3-way pan-head includes a quick release  that makes transfer from tripod to handheld with ease.
Sale