Sometimes, a standard monitor just doesn't cut it when you're previewing, editing, or showcasing your photography. Most computer monitors top out around 34 inches. If you're craving more screen space and flexibility, a high-definition TV might be the way to go.
The best photo editing TVs dwarf regular monitors in size, with some models stretching to a whopping 85 inches. With so much screen space, you're able to process and view photos in amazing detail, and you can present your work to clients, friends, and family in a far more captivating way.
If you've ever thought your monitor was too small, then you'll love my rundown of the seven best TVs for photo editing. This list has something for everyone, from budget-friendly choices to 85-inch premium models that'll make your photos look better than ever.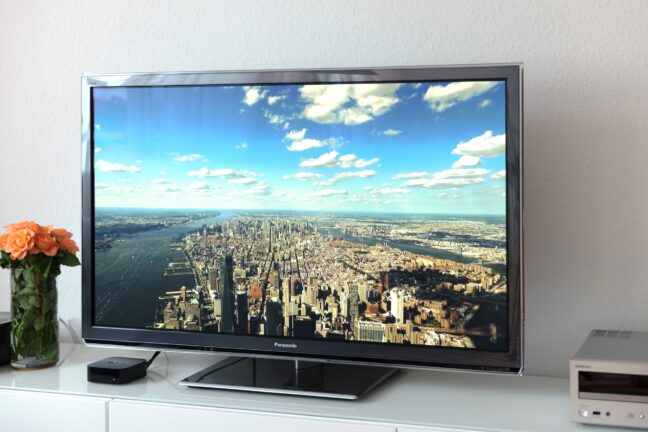 The Top 7 TVs for Photo Editing:
When you buy through links on our site, we may earn a commission at no cost to you. We evaluate products independently. Commissions do not affect our evaluations.
1. Samsung Q70A (65-Inch)
Our Pick
Great for connectivity
The Samsung Q70A comes with 4 HDMI ports and 2 USB ports, making it a breeze to connect your computer, external devices, or even a gaming console.
Pros
Slimline bezel design to maximize impact
Nice TV stand
Fast and responsive
100% color volume with Quantum Dot technology
Cons
Doesn't include an HDMI cable
Some customers have reported dead pixels on delivery
Topping my list of the best photo editing TVs is the Samsung Q70A (65-Inch). This QLED TV strikes a nice balance with its large size, top-notch image quality, and various connection options for your photo editing rig.
The connectivity panel is neatly positioned at the back, allowing for a tidier setup with fewer visible cables. You get two USB ports, four HDMI ports, an ethernet port, and, of course, a standard TV antenna port. This means you can seamlessly connect your favorite photo editing computer and even plug in game consoles like an Xbox or PlayStation.
With a 65-inch 4K display, you'll have ample room for photo editing. You can multitask easily, running a post-processing program, Google Chrome, and a powerful AI photo organizer all at once, which is the setup I recommend to ramp up productivity.
The visual quality of this TV is top-tier. If you need color accuracy, this TV delivers. It can reproduce a billion colors and boasts Quantum HDR technology, ensuring everything is sharp, vibrant, and true to life.
2. Amazon Fire TV (55-Inch)
Also Great
Great for beginners
The Amazon Fire TV combines a reasonable cost with real quality. It's an excellent choice for budding photographers not yet ready to splurge on pricier options.
Pros
Multiple HDMI ports for easy connectivity
Realistic color recreation with Dolby Vision IQ
Support for HDR10+, HDR10, and HLG
Stylish and minimalistic design
Excellent price
Cons
The leg stands might be too wide for some desks
The user interface to set up the TV can be clunky
Investing in a quality TV can be costly. However, a budget-friendly option like the Amazon Fire TV (55-Inch) is an excellent alternative. This affordable QLED TV costs less than $500 but offers 55 inches of screen space and a raft of features suited for photo editing, and it's the model I'd buy if I were just getting started with post-processing via a TV screen.
Its display quality is genuinely impressive, and your photos will appear lifelike thanks to the Dolby Vision IQ and HDR10+ adaptive technologies. Plus, the TV's enhanced contrast settings mean deeper shadows and brighter highlights that look gorgeous.
Connectivity isn't an issue. The side panel sports an Ethernet port, HDMI 2.0 and 2.1 ports, a USB port, and a headphone jack. This ensures you can effortlessly connect your computer for a glitch-free experience.
Aesthetically, this TV looks amazing, featuring reduced bezels and dual leg stands. Just make sure your desk or workstation can accommodate both stands before buying. Even cooler is that it's a smart TV that you can operate hands-free with Amazon Alexa.
3. Samsung QN90A (85-Inch)
Great for screen size
The Samsung QN90A is a true giant in the TV world that's ideal for those looking to edit the finest details in their photos.
Pros
Central TV stand to use on smaller desks and workstations
Beautiful color and contrast
Fast performance
Cons
Relatively heavy despite the slimline design
If you're looking for sheer size, the Samsung QN90A (85-Inch) is an amazing TV for photo editing. This behemoth boasts 85 inches of screen, so make sure you have enough space for it. What I especially appreciate is its sturdy central stand, so you don't have to stress about the width of your computer desk or workstation.
With its 120Hz 4K capabilities and the Samsung Neo Quantum processor, this TV will effortlessly match your workflow requirements; you'll experience very minimal delay, making real-time photo editing smooth and efficient.
Despite the TV's massive size, the display quality is top-notch. It uses Quantum HDR 24X technology for vivid colors and outstanding contrast. This means your photo's highlights and shadows will be both accurate and deep.
Worried about setting up your new purchase? No problem. This model comes with four HDMI 2.1 ports for easy connectivity – and it even offers smart TV features via Tizen plus voice control options including Bixby and Alexa.
4. Sony BRAVIA XR A80L (65-Inch)
Great for all-around use
The Sony BRAVIA XR A80L is great for photo editing thanks to its premium 4K XR OLED Contrast Pro display, and it's perfect for movie buffs and gamers, too.
Pros
4 HDMI 2.1 ports
Superior contrast and colors due to the XR OLED technology
Slimline TV design with a thin bezel
Cons
Dual leg stands mean the TV may not fit on some desks
The Sony BRAVIA XR A80L (65-Inch) is another fantastic choice for photographers due to its strong focus on image quality. The beautiful 4K display combines XE OLED Contrast Pro and XR Triluminos Pro technologies to enhance colors and contrast. On the A80L, your photos will come alive!
Connectivity is straightforward with four HDMI 2.1 ports. However, do note that there aren't any USB ports, which means direct photo display from a USB drive or external hard drive won't be possible. But the HDMI 2.1 ports do ensure speedy connections.
Design-wise, this TV stands out. If you're planning to place your editing TV somewhere noticeable, its aesthetics won't disappoint. I'm a fan of the ultra-thin bezel and the sleek rear panel. It's not bulky, so fitting it onto a desk or workstation should be a breeze, as well. That said, it's worth noting that the TV uses two leg stands, which means you'll need a desk that can support it from end to end; be sure to check your current workspace to be sure it'll fit!
For your regular TV needs, this model uses the user-friendly Google TV smart system. The settings menu is also pretty accessible, allowing you to tweak settings like brightness and contrast to taste.
5. Samsung S90C (55-Inch)
Great for professionals
The Samsung S90C offers an amazing display that'll make your photos shine, and it also boasts excellent connectivity with its 4 HDMI and 2 USB ports.
Pros
Quantum OLED HDR technology for accurate colors
Slim bezel and nice stand
Fast processing due to the Neural Quantum processor
Cons
The stand can be difficult to attach to the TV
The home screen is difficult to use
For photographers obsessed with color accuracy, the Samsung S90C (55-Inch) is a standout choice. Especially handy when showcasing photos in galleries or editing professionally, this TV's incredible display will ensure your images are both vibrant and sharp.
Specifically, the Quantum OLED HDR technology accurately renders photos to consistently deliver lush and accurate colors. In terms of the screen specs, this 55-inch TV features 4K resolutions, a 120 Hz refresh rate, and a Neural Quantum processor for outstanding 4K upscaling.
Design-wise, the unit's sleek look will certainly draw the eye – I'm a huge fan of it, myself! – and the TV should fit nicely on most computer desks thanks to the single central stand. While the port positioning on the back panel is a little strange, the S90C can certainly connect to quite a few devices. It features four HDMI ports, two USB slots, an Ethernet port, and a microphone jack.
Finally, this Samsung model is good for more than just photo editing! For general TV viewing, it supports a variety of streaming services, including Apple TV+, Netflix, and Prime Video.
6. TCL Q650G (85-Inch)
Great for color accuracy
With the TCL Q650G's support for various HDR formats and its 4K Ultra HD display, your photos' tones and colors will always look outstanding!
Pros
Ultra-thin bezel is especially stylish
LED backlit so the display is always bright
85-inch screen
Reasonable price
Cons
It is quite heavy and bulky
There can be occasional lag
If you're on the hunt for a massive screen without the hefty price tag, the TCL Q650G (85-Inch) might just be the perfect TV. This 85-inch behemoth is excellent for multitasking. Whether you're switching between photo editing software and photo management tools or diving deep into full-screen edits for those precise local adjustments, this TV has you covered.
Despite its affordable price, this model doesn't skimp on image quality. Thanks to a 4K QLED display with Quantum Dot technology, your photos will look amazing, even if you shoot with a high-megapixel camera. And because the TV can render a billion colors, you'll get plenty of lifelike detail, plus your photos will appear accurate and reflect your edits perfectly.
Its compatibility with multiple HDR formats like HDR PRO+, Dolby Vision, HDR10, and HLG further enhances color accuracy. And when compared to other photo editing TVs, the almost invisible bezel is quite impressive, especially given the Q650G's size.
The slim design emphasizes the screen, drawing you into your work; in fact, it's one of my favorite things about this impressive unit. For those keen on other features, it runs on the Google TV OS for smart functionality and offers Dolby Atmos sound quality for a cinematic experience during movie nights and gaming sessions.
7. LG C3 (65-Inch)
Great for brightness consistency
The LG C3 TV ensures consistent brightness thanks to its Brightness Booster and a9 AI processor. You'll get the same clear view regardless of the lighting conditions.
Price at publication: $1696.99
Pros
OLED 4K display quality
Ultra-thin bezel and durable stand
AI to maintain the correct brightness
4 HDMI ports and 3 USB ports
Cons
Instruction manual is poorly written
Cables are highly visible
Some of the settings can be unintuitive
Finally, I'd like to highlight the LG C3 (65-Inch). This sizable TV looks great, and while it is on the pricier side, it's especially nice if you want consistent brightness no matter the room lighting.
I've dealt with plenty of photo editing monitors and TVs that gave off an annoying glare or just looked dull, but that won't be an issue with the LG C3. Thanks to its a9 AI processor and Brightness Booster tech, you're guaranteed a vibrant display with fantastic contrast and colors, making photo editing a breeze no matter the situation.
The 4K OLED display will make your photos pop with rich colors, and the almost non-existent bezel and central stand add a sense of sleekness. Of course, the stand will also ensure the TV remains stable on your computer desk!
Comparing the Best TVs for Photo Editing
Still trying to decide if you should buy a TV specifically for photo editing? There are a few factors that can help simplify your decision. Start by assessing the space you have and determine whether an 85-inch giant will actually fit in your home or office! Then decide if you'd like more conventional TV features such as Smart TV functionality and voice control.
With your preferences determined, narrowing down your options becomes easier. For hobbyists and semi-professional photographers, I'd recommend the Samsung Q70A. It stands out for its competitive price, impressive processing power, and outstanding image clarity.
For folks who are on a budget and/or don't have lots of space, the Amazon Fire TV offers fantastic image quality at an affordable price point, and the screen is large without being massive. It features HDMI connectivity, an HDR display, and impressive contrast for an outstanding editing experience.
Last, if you really want a massive screen for editing, the Samsung QN90A and the TCL Q650G won't disappoint.
---
Disclosure/Disclaimer: As an Amazon Associate, we earn from qualifying purchases. Certain content was provided "as is" from Amazon and is subject to change or removal at any time. Product prices and availability: Amazon prices are updated daily or are accurate as of the date/time indicated and are subject to change. Any price and availability information displayed on Amazon.com at the time of purchase will apply to the purchase of this product.