Anyone who's seen a shaky video clip probably knows the important role a tripod plays in capturing motion. Be it in vlogging or in shooting live events and advertisements, stability is a critical element that you simply cannot take out of your digital mix.
A sturdy tripod helps you avoid unnecessary movements that can ruin the overall quality of your videos. By putting balance and control into the equation, you can keep your lens focused on what's really important: clearly (and unshakingly) telling a story.
To narrow down your options, we've gathered some of the most reliable video tripods that can help you produce great moving images.
Images from Amazon
When you buy through links on our site, we may earn a commission at no cost to you. We evaluate products independently. Commissions do not affect our evaluations.
Video Tripod Buying Guide
Structure-wise, tripods aren't really complicated. Designed with a fluid head and tripod legs that can be purchased separately, the best tripod can provide firm support and grip for every type of videography project. 
But how can you tell if a tripod fits your specific needs as a videographer? Tripods come in different shapes and sizes, making it important to carefully review and compare brand specs before investing in one.
To give you a better overview, let's dismantle the typical video tripod system before jumping into our top buying considerations:
Main Parts
Video Tripod Head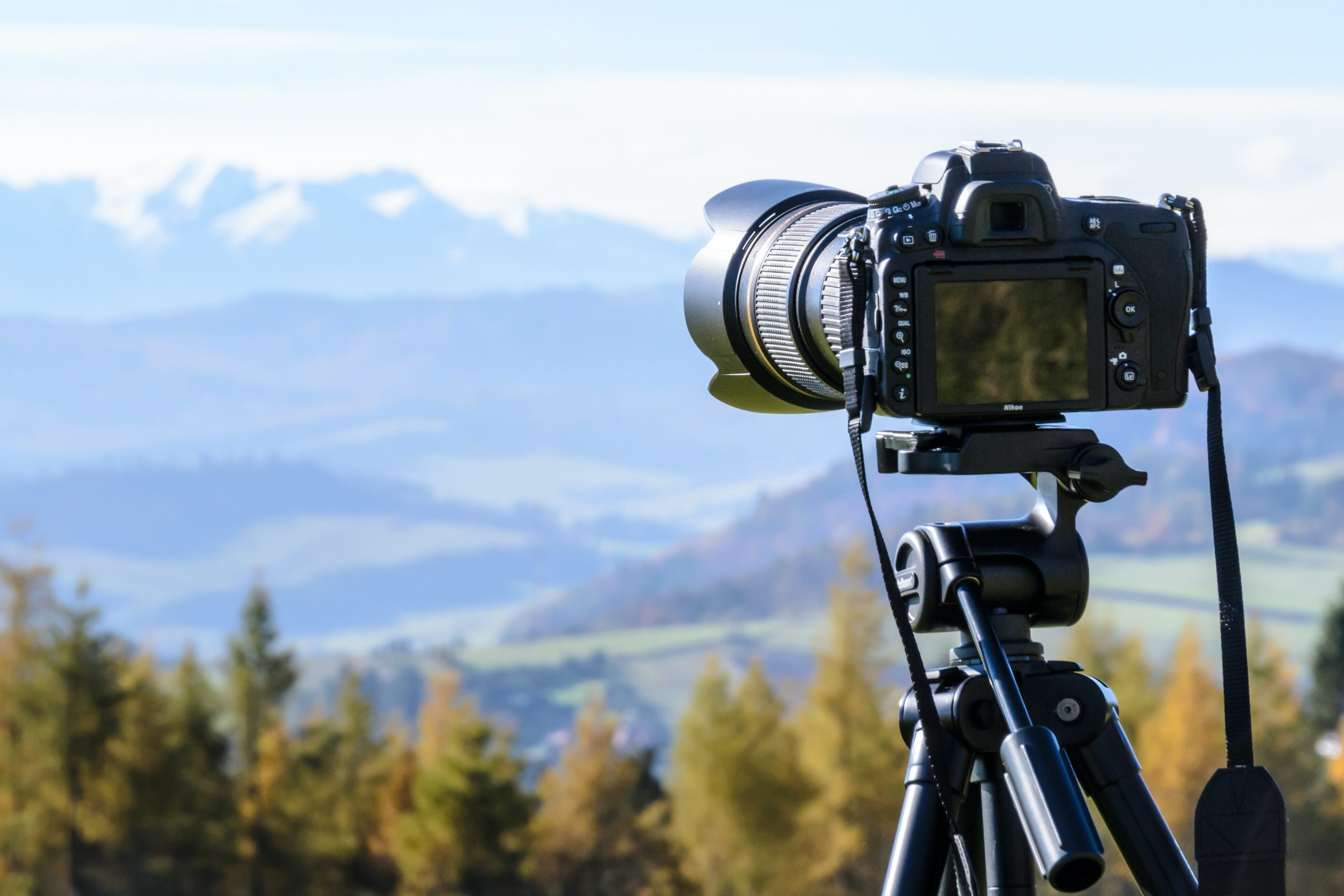 Every great video is a collection of perfectly-stitched, seamless movements, which a fluid tripod head is (mostly) responsible for. A highly-functional tripod head can provide you with smooth transitions, which include left and right panning and up and down tilting options – movements that are made possible by fluid-filled modules that serve as lubrication. 
The damping mechanism of a video tripod head can make all the difference not just in terms of price, but functionality as well. Basically, tripod heads are classified into two major categories when it comes to fluidity: 1) true fluid heads and 2) fluid-effect heads. True fluid heads are more expensive and more flexible than their cheaper counterpart, fluid-effect heads. Both have pros and cons and choosing between the two is all a matter of your need for functionality. 
Video Tripod Legs
Unlike capturing still images, videos require movement, which should be integrated into a video tripod legs' working mechanism. When hunting for tripod legs, you should look for torsional support regardless of tilting or panning mechanisms for that added balance and stability. You may also want to explore other additional features such as locking systems and leg removability, which advanced versions can offer.
Key Considerations
Stability: Is the video tripod made up of sturdy materials that won't easily snap or bend even during sudden angular movements? Does it provide a firm grip and support? When it comes to video tripods, stability should always be one of your top priorities. 
To check for stability, review the tripod's safety payload weight, which is the maximum device weight it can carry without losing stability. It's also a huge plus if the tripod has a great counterbalancing feature, which maintains a balance between the camera and the tripod head.
Size: From sturdy studio tripods to mini versions, there's definitely something out there that can fit you like a glove. As a rule of thumb, never buy anything you're not comfortable to use or carry around. If, for instance, you mainly shoot travel documentaries and vlogs, it's wiser to invest in portable travel tripods that can give you both form and function.
Weight: Weight and size go hand-in-hand in terms of convenience. Lightweight tripods that are made up of carbon fiber are lighter and more expensive as compared to aluminum-made models.
Equally important is your device type and its weight capacity. There's no point buying a tripod that can't support your equipment, so always check for its payload weight, which we already mentioned earlier. 
1. Manfrotto MVH502A Fluid Head and 546BK-1 Tripod Legs
The best studio tripod for heavy cameras
Sturdy and efficient, this tripod system provides excellent support and stability even for video cameras that fall at the heavier side of the spectrum.
As a leader in providing top-quality tripods and gears, Manfrotto is dead set at bridging videographers to better shooting experiences through its amazing line of products, and the MVH502A and 546BK-1 are no exception. 
Head: The kit comes with an intelligently-designed 75 mm half ball fluid head that makes tilting and panning smooth and hassle-free while providing a great counterbalance action that can support up to 8.82 lbs. The fluid head alone ensures easy positioning and stability.
Legs: Developed for either an interchangeable lens camera or an HDSLR, this tripod system also comes with a heavy-duty, mid-level telescopic spreader that facilitates better angling. It also doesn't disappoint when it comes to aesthetics as it has a quick collapsible design that makes it easy to use and stow.
Extra Features: A huge bonus is its easy link connectors, which allow you to attach accessories for different video applications. Connect lights, microphones, or external monitors – this kit is definitely up for it. Once fully set up, its locking system guarantees unparalleled grip, support, and stability, making it an ideal tripod, especially for beginners. 
Final Thoughts: All in all, the MVH502A and 546BK-1 is a great tripod for a wide range of video projects. But because of its heavy aluminum build and its hefty fluid head, it's not ideal for shoots on the go.
Pros
Fluid head facilitates smooth panning and tilting system
Great counterbalance action
Sturdy design and build
Comes with two easy-link connectors for external accessories
Highly-efficient locking system
High safety payload weight; ideal for heavy cameras
Cons
Large fluid head is not ideal for small video cameras
Heavy fluid head and tripod system makes it unideal for frequent travelers
Most expensive tripod system on our list
2. Benro BV6 Video Tripod Kit
Best Tripod for Outdoor Shoots
Perfectly combining functionality and durability, this tripod system flaunts great panning and tilting mechanisms ideal for even the most demanding shoots.
The Benro BV6 is no stranger to videographers who love taking their creativity to the next level by the use of sleek, highly-functional gears.
Head: Only a fraction of the price of high-end systems, the BV6 rolls function, form, and adjustability into one through its efficient head, which can be converted to a flat base to independently accommodate sliders. The system is designed with 4-step panning and tilting controls, along with an 8-step counterbalance mechanism that can be controlled via smart, built-in dials.
Legs: The BV6's tri-sectioned legs are made with aluminum to offer firm support and stability. For easy use and storage, it features a quick flip leg locking mechanism, which is a great feature if you are constantly moving from one shoot to another.
Final Thoughts: If there's one thing users don't like about the BV6, it's its plastic head, which can have durability issues in the long run.
Pros
Great value for its price
Its head can independently accommodate sliders
Designed with 4-step panning and tilting controls
Easily controllable counterbalance mechanism
Heavy-duty tripod legs
Cons
Head is made up of plastic
3. Benro S7 Tripod Kit
Most Flexible Tripod Head
A versatile tripod that has smooth panning and tilting mechanisms, S7 is a thoughtfully-built system that focuses on functionality.
Merging thoughtful features of the S6 and S8, the Benro S7 Tripod Kit hits the sweet spot when it comes to providing you with diverse videography functionalities. Whether you are newly transitioning to video production or you are already a pro, there is definitely something about the S7 that you're bound to love. 
Head: The system's multidirectional movements, which include pan & tilt drag and pan & tilt lock, are made possible by S7's head and plate, but what makes its flat-base head a standout is its versatility. Built with a 65mm base that has a ⅜" thread, the S7's head can attach to monopods, sliders, and jibs even without the 75mm half ball adapter. As if this unique feature isn't enough, the head is also equipped with a 4-step counterbalance system, which provides your camera unwavering stability and support. On the other hand, its tilting range is at -50° – +90°. 
Legs: With legs made of a combination of aluminum and magnesium alloy, the S7 won't disappoint when it comes to stability and durability. Our favorite part: its legs' multi-angular locking mechanism, which gives you maximum maneuverability and versatility in terms of leg placement. It also comes with ground spikes made with stainless steel for ground traction.
Extra Features: Just like the Manfrotto MVH502A, the S7 also gives you the option to attach external accessories like monitors and camcorders.
Final Thoughts: A great, reasonably-priced system, the S7 is close to perfect, with only one great downside based on other users' experiences: the center riser and its other locking features need tweaking to provide better device support. If used carelessly, it can fall off, along with your precious HDSLR.
Pros
Its flat-base head can attach to monopods, sliders, and jibs even without the 75mm half ball adapter
Features pan & tilt drag and pan & tilt lock mechanisms
Highly-durable legs with multi-angular locking system
Designed with stainless steel ground spikes
Cons
Needs tweaking on its center riser and its other locking features for better device support
4. Manfrotto Befree Live Tripod Kit
Best Tripod for Travelers and Vloggers
A game-changer when it comes to portability and functionality, BeFree Live is perfect for videographers who are always on the go.
It's easy to associate Manfrotto's BeFree Live Tripod system with leisure and travel, thanks to its smart naming and marketing approach. Just one glance at its mountain-filled ads and you'd know that this kit is made for the outdoors.
Head: True to its name, BeFree Live gives you the full vlogging/traveling experience with its fluid video head that flaunts panning and tilting movements. This, along with a leveling ball joint, keeps your shots perfectly aligned even when your tripod is standing on uneven grounds. 
Legs: Another feature that makes this system remarkable is its lightweight legs that can collapse inversely – a function built for portability. To complete the package, its legs are matched with a powerful core that can offer you maximum stability.  
Final Thoughts: An A+ system that ticks all the boxes in terms of portability and ergonomics, the BeFree Live Tripod system is the perfect companion for videographers who have an unquenchable thirst for exploration. The only downside many users can't let pass is its plastic video head that falls short in providing smooth panning and tilting actions. 
Pros
Easy to use and fold
Lightweight build made for videographers on the go
Leveling ball joint keeps shots perfectly aligned even on uneven grounds
Solid core offers stability
Cons
Video head is made of plastic
Panning and tilting mechanism needs improvement
5. Geekoto 72" Tripod System
Heavy-duty Tripod System with Versatile Head
As if its durable legs aren't enough, Geekoto wins over pro videographers with flexible panning and tilting mechanisms that are great for its price point.
Its incredibly low price may turn heads, but it's the Geekoto 72" Tripod System's distinct features that make it a solid buy in the eyes of professional videographers. Whether used indoors or outdoors, this kit can give your video clips an enormous advantage. 
Head: Geekoto really pays close attention to the needs of videographers, and this system can attest to that. Starting strong with a fluid head that has a 360° panoramic panning and a +90° / -70° tilting action, the Geekoto 72" keeps stability in check through its pre-set counterbalance mechanism. Another plus is its integrated 3/8″-16 thread flat base that attaches to sliders, jibs, tripods, and other accessories.
Legs: Stability-wise, the Geekoto 72" reigns supreme when compared to other similarly-priced models because of tri-sectioned, aluminum legs built with high payload capacity.
Final Thoughts: The downside: some users experience problems with its panning mechanism specifically when shooting long-distance shots.
Pros
Designed with a fluid head that has a 360° panoramic panning and a +90° / -70° tilting action
Made with a counterbalance mechanism
Can attach to sliders, jibs, tripods, and other accessories
Sturdy legs with high payload capacity
Cons
Its panning mechanism needs improvement
6. VILTROX VX-18M Tripod
Best Heavy-Duty Tripod for Rugged Terrains
Surmounting rugged terrains with great video clips is now just a tripod away, thanks to VX18-M. Made with solid telescopic legs and a panoramic mounting feature, this tripod is a great bargain if you love shooting outdoors.
A hardwearing device that answers to the call of rugged terrains, the VILTROX VX-18M tripod system is built to offer you reliability and flexibility at a decent price point. It is made for heavyweight cameras, along with hefty lenses that other tripods simply cannot support. 
Head: More than its durability, the VX-18M helps you catch crisp panoramic shots through its 360-degree mounting feature that's paired with forward and backward tilting actions that extend up to 90° and 80°, respectively. Its fluid head facilitates smooth movements, which are pivotal for capturing realistic views.
Legs: The VX-18M's biggest selling point is the unrivaled durability that its aluminum, tri-sectional legs play a huge part in. Its guarantee: your entire tripod system won't move even when it is in the middle of an uneven terrain unless you need it to, thanks to its sturdy legs and mid-level spreader.
Final Thoughts: A beast that can carry bulky cameras, the VX-18M is a tough contender to beat considering its price and its exceptional features. However, some advanced users complain about its panning and tilting action, which is not as smooth as other models.
Pros
A solid device that has a high safety payload weight capacity
Built to offer stability even in uneven grounds
Has a 360-degree panoramic mounting feature
Very durable and stable legs and mid-level spreader
Cons
Panning and tilting action needs improvement
7. Cayer BV30L Tripod System
Sturdy Tripod with Great Height Adjustability Features
For a low-priced gear, the BV30L is packed with great features that include high adjustability levels, a stable support system, and a flexible tilting and panning mechanism.
Debunking misconceptions about buying low-priced gears is the Cayer BV30L Tripod System, which is proof that you don't always get what you pay for because sometimes, you can get more.
Head: The BV30L is paired with a K3 video head that flaunts fluid +90° to -70° tilting and 360° panning mechanisms. It attaches to a 75 mm ball adapter designed to offer you maximum maneuverability without having to adjust your tripod legs when you need to make tweaks on your device.
Legs: Aside from its heavy-duty aluminum legs and mid-level spreader, the BV30L made it on our list because of its height adjustment range. With its maximum height adjustability peaking at 72.7", it stands next to VILTROX VX-18M when it comes to gear elevating capacity. Plus, it can be folded down to around 35" for easy storage. 
Final Thoughts: It's hard to find a huge downside in the BV30L's working mechanism as it is a solid tripod for its price range. But if you're after more advanced panning and tilting action, this product may not be for you.
Pros
Great value for its price point
Maximum height is higher than most tripod systems on our list
Provides fluid +90° to -70° tilting and 360° panning mechanisms
Made with heavy-duty aluminum legs and mid-level spreader
Cons
Panning and tilting system is not advanced
8. Magnus VT-3000 Tripod System
Best for Lightweight Cameras
The VT-3000 gives you more than enough reasons to pack your camera and explore the outdoors with its lightweight build and solid ground traction.
Providing value at a lower price range, the Magnus VT-3000 Tripod System puts basic videography needs at the center stage by focusing on features that can make every creative shoot seamless and hassle-free. 
Head: In terms of panning and tilting mechanism, the VT-3000's two-way, 65 mm half ball fluid head won't bow down to its competitors as it has a 360-degree pan range, which is matched with a fixed counterbalance system that facilitates smoother tilting actions.
Legs: The tripod legs are made with anodized aluminum, which is lightweight and easy to carry around. And despite its low price, this tripod system doesn't sacrifice small features that make shooting outdoors easier. Its ground spikes provide better ground traction, while its head can be easily adjusted for better angling, so you won't need to adjust the legs one by one.
Final Thoughts: Inexpensive, lightweight, and functional, the VT-3000 is great for outdoor shoots, but unlike carbon fiber or aluminum-made systems, this tripod isn't the best in terms of durability. Also, it has a low safety payload weight, which makes it unideal if you're handling heavy cameras.
Pros
Great value for a low price
Lightweight
Features a 360-degree pan range
Made with a two-way, 65 mm half ball fluid head that provides smooth panning actions
Easily adjustable fluid head
Ground spikes provide ground tractions
Cons
Not as durable as carbon fiber or aluminum-made systems
Low safety payload weight
9. Neewer Professional 61" Tripod System
Best Value for Its Price
Inexpensive doesn't mean cheap, and Neewer made sure of that. As the best-valued tripod on our list, this system proves superior in terms of stability, safety payload capacity, and tilting mechanism.
Integrating high-quality features in one pocket-friendly package, Neewer raised the bars higher when it released this ergonomic, 61-inch tripod system. From head to legs, this kit is built around providing consistency and functionality, making it a great buy if you're on the lookout for a reasonably-priced system.
Head: With a fluid head that has a high payload capacity, Neewer is proof that you don't need to splurge on a high-end accessory just to get perfectly-balanced video clips. Its video head helps you get crystal-clear, multi-angular views through its 360° panning system and its +90°/-70° tilt angles.
Another advantage of this product over other models within its price range is its versatile head, which can be attached to a 75mm half ball mount or a flat base that can support jibs, sliders, and other external accessories.
Legs: Stability is key to getting smooth, quick-moving shots, and that's what the Neewer 61-inch tripod is out for. Its tri-sectional aluminum legs and its reliable mid-level spreader minimize vibration and other movements that can keep you from getting steady angles.
Final Thoughts: If there's anything Neewer has to improve on this tripod system, it's its panning mechanism. But considering its price, this kit is overall a great bargain.
Pros
Great value at a low price
High safety payload capacity
Features a 360° panning system, along with +90°/-70° tilt angles
Its sturdy legs and mid-level spreader provide great support and stability
Cons
Panning system needs improvement
10. Geekoto 77" Tripod System
The Geekoto 77" Tripod System is jampacked with functional features that can add diversity to your video projects. Even better news: it's the most inexpensive kit on our list.
Head: Just like its high-end counterparts, the Geekoto 77" gives you limitless control and precision through its 360° panoramic ball head and its 90°/ -70° tilting action, which facilitates smooth, moving shots.
Legs: Geekoto's telescopic legs are made with aluminum alloy, a premium material that gives you stability even when you are moving between shoots. But what makes this system extraordinary is its versatility. Functioning more than just a tripod, it can be easily converted to a monopod, making it a great steal if you're a vlogger or a travel videographer.
Final Thoughts: This 77" system is generally a good bargain, but just like other tripods, it's far from being perfect. If there's an area that its manufacturers can work on, it's the quality of its ball head.
Pros
Can be converted into a monopod
Features a 360° panning system, along with +90°/-70° tilt angles
Easily collapsible legs
Cheapest tripod on our list
Cons
The quality of its ball head needs improvement
Final Say
Shooting may already be second-nature to you, but if there's one thing we can pick up from all these gears, it's that it always pays to look for products that can help you streamline your activities as you capture a wide range of movements. By understanding your personal needs as a videographer, you can find a system that can help you get the sense of stability you need as you tell creative stories one frame at a time.
PRODUCT
WEIGHT
SAFETY PAYLOAD WEIGHT
COUNTER-BALANCE SYSTEM
HEIGHT ADJUSTMENT RANGE
DEVICE TYPE
DIMENSIONS
Manfrotto MVH502A Fluid Head and 546BK-1 Tripod Legs
12.13 lbs
15.43 lbs
Fixed; 8.82 lbs
17.32″ – 66.14″
HDSLRs or interchangeable lens cameras
32.68 x 7 x 7 inches
Benro BV6 Video Tripod Kit
9.4 lbs
13. 2 lbs
8-step system
12.2" – 64.2"
Video cameras
31.1 x 7.1 x 12.2 inches
Benro S7 Tripod Kit
8.53 lbs
15.4 lbs
4-step system
11.6″- 63.18″

HDSLR cameras with long lenses and rigs or other newly-released video cameras

30.31 x 4 x 4 inches
Manfrotto Befree Live Tripod Kit
3.62 lbs
8.82 lbs
—
15.75″ – 59.06″
DSLRs, portable camcorders, and compact video cameras
15.75 x 1 x 59.06 inches
Geekoto 72" Tripod System
10.88 pounds
33 lbs
Pre-set
33″ to 72″
HDSLR and interchangeable lens cameras
—
VILTROX VX-18M Tripod
9 lbs
13.2 lbs
—
33″ – 74″
Hefty cameras or heavy zoom lenses
—
Cayer BV30L Tripod System
8.8 lbs
13.2 lbs
—
33.3″- 72.7″
DSLRs and camcorders
36.61 x 7.01 x 6.69 inches
Magnus VT-3000 Tripod System
7.75 lbs
6.6 lbs
Fixed
28.6″ – 61″
Lightweight cameras or SLRs
32.2 x 6.1 x 6.3 inches
Neewer Professional 61" Tripod System
8.08 lbs
13.2 lbs
Fixed
28″- 61″
DSLRs, video cameras, and digital cameras
32.3 x 6.3 x 6.3 inches
Geekoto 77" Tripod System
3.1 lbs
17.6 lbs
—
33.3″- 72.7″;
if used as a monopod: 35″ to 82″

DSLRs and compact camcorders
24.45 x 5.6 x 5.3 inches
---
As an Amazon Associate, we earn from qualifying purchases. Certain content was provided "as is" from Amazon daily and is subject to change or removal at any time.