It's true–our world is constantly being digitized. But, ask any small business owner or freelance artist out there… We still have to deal with physical documents from time to time. And that's where the Fujitsu ScanSnap iX1500 scanner comes into play.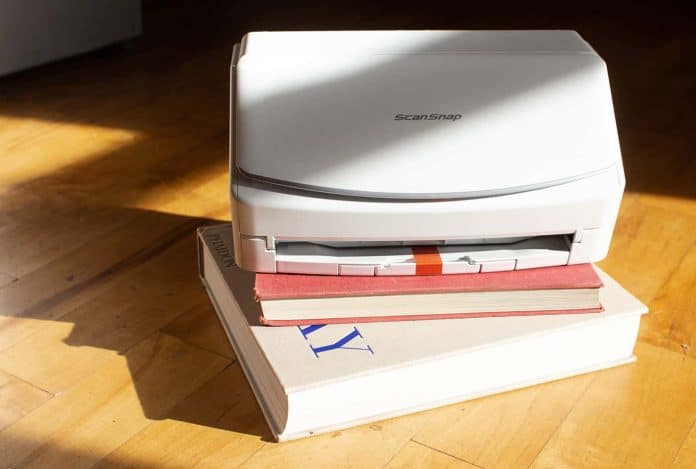 When you buy through links on our site, we may earn a commission at no cost to you. We evaluate products independently. Commissions do not affect our evaluations.
Update: New model available
Fujitsu ScanSnap iX1600 Deluxe Versatile Cloud Enabled Document Scanner with Adobe Acrobat Pro DC for Mac or PC, Black
Includes 1-year subscription to Adobe Acrobat Pro DC for Mac or PC - Turn scanned documents into editable searchable PDFs
Optimized user experience: ScanSnap iX1600 features an intuitive 4.3inch touch screen for complete end to end scanning and...
Customize your preference: The scanner supports up to 30 customizable profiles; Customize the profile on the touch screen...
Scan anywhere you want whenever you want: Wi-Fi compatibility allows you to directly connect to your smart devices or cloud...
Ideal for team sharing with stress-free usability: One scanner supports up to 4 user licenses each, allowing user profile and...
As one of the world's oldest IT companies, Fujitsu is known for excellent customer service.
And today we're looking the flagship product of their ScanSnap series, the iX1500. Fujitsu boasts decades of customer satisfaction on the manufacturer's end. Plus, seals of approval from trusted sources like B&H really speak to the quality of the scanner in question.
But to what extent can ScanSnap help photographers on a day-to-day basis?
Well, I'm about to tell you!
About the Fujitsu ScanSnap iX1500 Scanner
The first thing that struck me when interacting with the iX1500 was how compact it proved to be. This scanner is sleek!
I've worked with many scanners over the course of my photographic career. I guess you could say I've grown accustomed to dealing with bulky machines.
At about 7.5 lbs, I didn't realize a scanner could be so lightweight. For those working with a small home office, this thing hardly takes up any room on a desktop.
It's small but mighty!
Don't let the small size throw you off guard. TheScanSnap iX1500 scanner is capable of scanning at an impressive 600 dpi. Furthermore, it can handle more than your standard piece of printer paper. Attachments allow the device to handle different types of materials like delicate receipts.
When lifting up the lid, an LCD touchscreen becomes accessible. This control panel contains everything you need to navigate and operate the device.
Related Post: The Best Epson Photo Scanners
Once connected, scanning is as simple. Just load a document and let the machine take care of the rest.
So how do you connect?
Connect Instantaneously
Syncing up your computer and scanner is as simple as connecting a USB port.
Tada!
But Fujitsu goes the extra mile. You can send digital documents directly from the scanner to your smartphone via WiFi.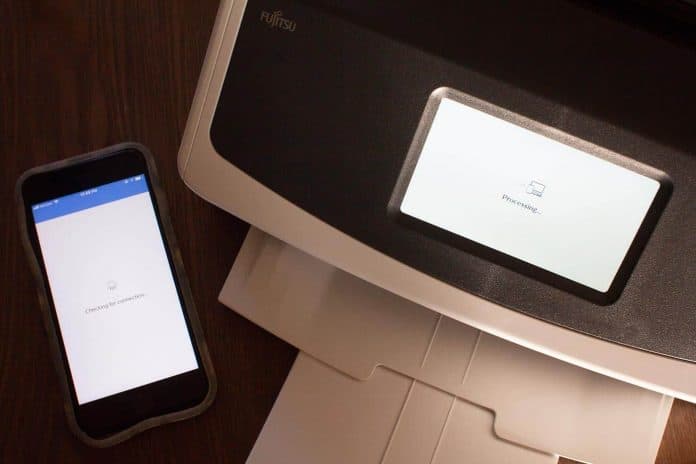 Just power on your new scanner and a wizard guides you through the setup process. From there, all there is to do is download the ScanSnapCloud app onto your mobile device.
Now, it does take a moment for the two to fully sync up. But waiting is essentially the hardest part of the process.
Load your documents into the scanner's tray, open the application and press scan. Just like that, the files automatically become available on your phone or tablet.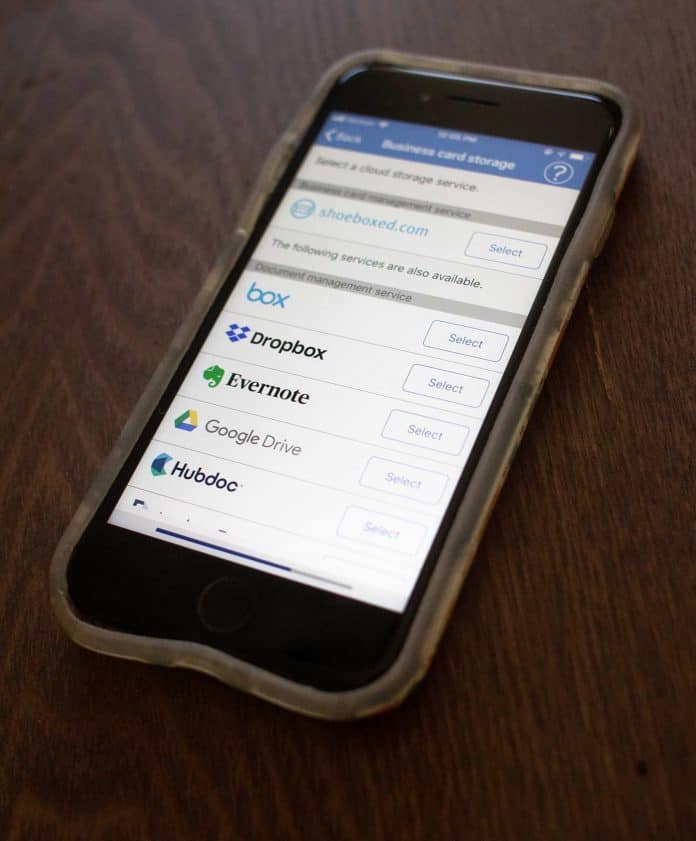 Now, get this…
The Fujitsu ScanSnap iX1500 lets you upload JPEG and PDF files to your favorite cloud storage service. I loved how easy it was to scan documents directly to Google Drive and Dropbox.
That was a real time saver! And made the process of retrieving and sharing files incredibly easy.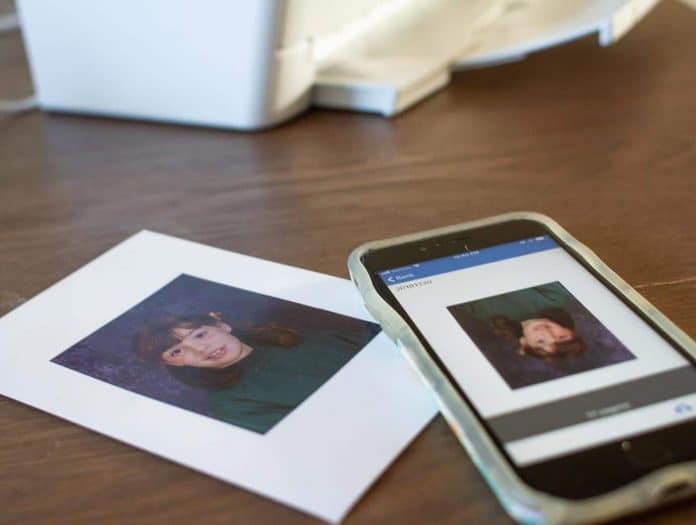 I experimented with my own school portrait from when I was in second grade.
I have to say I was pretty impressed.
The details were clear, the color was spot on, and best of all, it was easy to access from the comfort of my phone. What more could a person want?
Related Post: Best Mobile Photo Printers
TheScanSnap iX1500 Scanner is Lightning-Fast
In my opinion, the greatest asset of the ScanSnap iX1500 scanner is its speed.
Have some overflowing filing cabinets?
This scanner is for you.
It's effective and it's efficient. Combine those and even the most involved, cumbersome projects go by in a snap.
It took me 30 minutes to scan about 150 2″x3″ photographs – a task that would have taken hours to accomplish with an average flatbed scanner.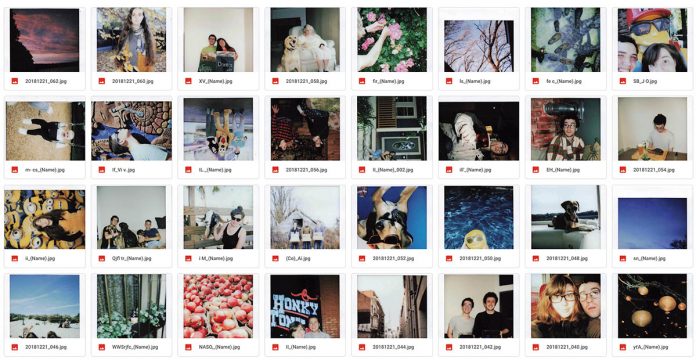 Putting my new scanner to the test, I pulled out a box of some recent Instax film. When I got to work, the results I received were nothing short of astounding.
In less than an hour, I had a full-fledged digitized collection. All of which was accessible via my personal Google Drive. And, thanks to dust detection and streak reduction technology, every file looked pretty good!
It's easy to see how this device could have a positive impact on your workflow. Paper invoices, personal records, and business cards are scanned in seconds.
The Fujitsu ScanSnap iX1500A Does Have A Few Kinks to Work Out
I'll be honest. It was really difficult to find something to fault this device on.
For such a small package, the efficiency of this scanner left me in awe. However, it's important to have realistic expectations.
One of the biggest issues I ran into was some difficulty in personalizing my scan options.
ScanSnap automatically calculates scan settings and organize documents for you.
In practice, this often proves to be a helpful asset. But, I ran into an issue with this. The device assumed that my credit card sized Instax prints business cards.
Related Post: Best Portable Photo Printer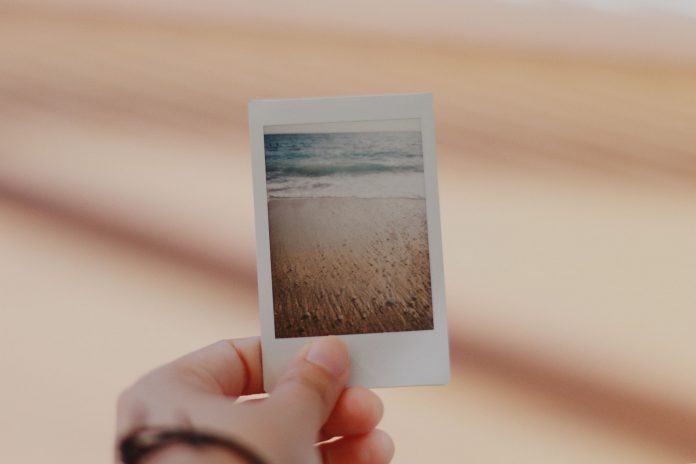 Now, the semantics didn't matter to me. But, because the machine didn't recognize my photos as images, my photo scans were automatically scanned at a super low resolution.
Admittedly, it was a bit difficult to work out how to rectify this issue. Luckily, the scanner's support page and a few helpful YouTube videos. Those did help me learn how to customize my settings moving forward.
Professional photographers should know that the Fujitsu likely won't take the place of a film scanner or advanced flatbed.
I didn't want to risk feeding through any of my personal 35mm film strips. The Fujitsu ScanSnap iX1500 simply isn't built for dealing with them.
RELATED POST: Best Slides Scanners to Digitize Your Negatives
What's more, Fujitsu deals exclusively with JPEG and PDF files. For those looking for lossless or more print-friendly file formats, the ScanSnap won't offer a solution.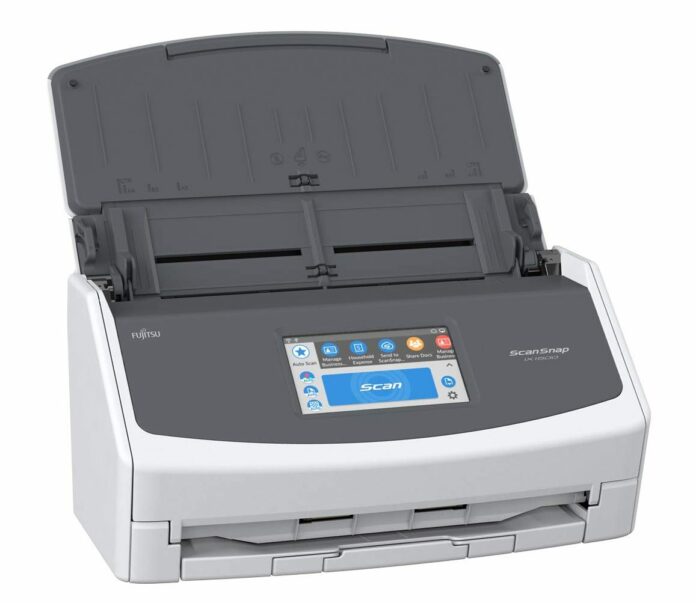 Our Thoughts On The Fujistu ScanScnap iX1500
A price tag of $495 (at the time of publishing) may seem over the top for a tiny desktop scanner. However, we see theScanSnap iX1500 scanner as worth every penny.
Yes, hardcore photographers may find points to gripe at.
The Fujitsu is highly automated and the process of applying customized settings can be something of a chore. What's more, it can't produce replications beyond 600dpi or convert to complex file formats.
However, almost anyone can find a use for this device in their home or office. Its super-fast speeds make even arduous tasks go by quickly.
RELATED POST: Best Professional Photo Printers (at different price points)
The ScanSnap delivers workable results within a matter of seconds. Not minutes. And, as an added bonus, Fujitsu has managed to trim down the fat by removing the computer from the scanning process altogether.
So, don't discount this little scanner until you give it a try! It could be the key to optimizing your workflow for years to come.
Fujitsu ScanSnap iX1500 Color Duplex Document Scanner with Touch Screen for Mac and PC [Current Model, 2018 Release]
Large, intuitive 4.3 inch touch screen for easy one-touch scanning
PC less scanning - Easily scan to your preferred destination, popular cloud services such as Google Drive and Dropbox, your...
Sharing capabilities with multiple users via one scanner: Create unique user profiles and save information to user-specific...
All in one solution to optimize your productivity. Includes ScanSnap Home to capture, organize, manage your business, home,...
The LCD Panel, WI-FI, and USB connections makes it easy to setup and start scanning
---
As an Amazon Associate, we earn from qualifying purchases. Certain content was provided "as is" from Amazon daily and is subject to change or removal at any time.