Looking for the Best Inkjet Photo Paper?
Our Pick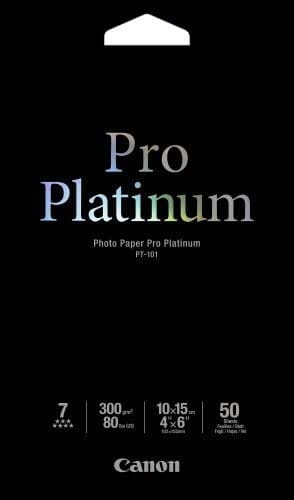 Professional grade photo paper
The Canon Pro Platinum photo paper is the best in terms of quality to cost ratio and the best all around pick for your prints at home. The texture of the paper is sturdy but thin, high gloss and your pictures will turn out amazing.
Printing a photograph has become somewhat of a lost art, like the art of writing letters. Once photographers paid as much attention to the process of printing a photo as much as they did into the art of making one. For them, the process of developing and printing and watching their work come to life was the ultimate gratification. There is no better reason to do something than the happiness you derive doing it.
These days, however, the process of printing has been relegated only to the domain of commercial photography. Nowadays consumers rarely print.
This article is aimed at those who think of their photography more than just shooting selfies or the occasional group photo at home. This is aimed at those who want to print their best photos once in a while or maybe even print their postcard photos at home.
First, let me show you a brief overview and summary of the various photo papers you can buy today. Later on, we will have a look at each of our picks and answer some FAQs.
Here are the 8 best photo papers that you can buy for your inkjet printer in 2021:
1. Canon Photo Paper Pro Platinum (Our Pick)
The Canon photo paper pro platinum is a high-quality photo paper which is rated to last for over 200 years when maintained well. This is currently Canon's highest rated photo paper.
It has a color receiving layer that is broken down into two independent layers – one is the color reproduction layer and the other is the absorbing layer.
Related Post: Best Fine Art Paper for Photography
On top of it, a chromogenic enhancer has been added which amplifies light. Additionally, the ink receiving layer has been thinned which ensures that the water in the ink overflows to the paper's surface and prevents the dye from spreading to the bottom. The result is deeper and saturated colors. This is a pack of 50 sheets of 4 x 6″ size.
2. Canon Luster Photo Paper Letter
This Canon luster photo paper comes in a pack of 50 sheets. The beautiful finish has a natural capacity to resist smudges. There is almost no glare when the photo has been printed. Perfect for a wide variety of projects including portraits, landscapes, wedding and even fine art.
3. CanonInk Photo Paper Plus Glossy II 8.5″ x 11″
The CanonInk Photo Paper Plus Glossy II is a pack of 20 sheets of 8.5″ x 11″ photo papers.
By default, this photo paper produces an exceptionally vibrant color scheme and glossy finish to your photos.
The brightness rating of the paper is 92 lm which means the final colors will be bright and vibrant with little or no artificial fluorescent elements used to reflect more light.
4. HP Premium Plus Photo Paper Glossy
This is a packet containing 100 sheets of 4 x 6″ glossy photo paper. The paper has a quick drying property which ensures that it can be shared almost instantaneously as soon as it is printed. Additionally, the prints are smudge and water resistant so, it should be able to take a bit of abuse. The brightness rating of the paper is 90.
Related Post: Best Professional Printing Services on the Internet
5. HP Photo Paper Advanced Glossy
This HP Photo paper of the glossy type is slightly lighter than the HP Premium Plus Photo Paper that was discussed above.
This paper too is of the glossy type. This one too comes with some amount of water and smudge resistance. Plus, the instant ink drying technology ensures that the prints can be shared almost instantaneously after they have been printed.
6. HP Photo Paper for HP Inkjet Printers Everyday Glossy
This slightly lighter paper (200 g/m²) is more suitable for everyday prints and project works.
Related Post: Best Photo Book Printers
The pack consists of 60 5″ x 7″ sheets. These are marked as everyday glossy. Essentially these are glossy surfaces. This means you can print landscapes, portraits and anything vibrant and colorful with great results. These have been made out of recyclable material and are therefore environment-friendly.
The sheets have a quick drying technology which ensures that they can be shared almost instantaneously after they have printed. The coating is smudge and water resistant.
7. Epson Premium Photo paper glossy
This is the Epson Premium photo paper (glossy type). This particular pack comes in a size of 8″ x 10″ and contains 20 sheets. Slightly on the lighter side, the print quality is good and bright.
Related Post: Best Photo Printers
Being a glossy paper, this one is more suited for vibrant landscapes, portraits, flowers and these sort of images. The coating on the paper is made out of a resin-based substance. This coating is water and smudge resistant.
8. HP Sprocket Photo Paper (for HP Sprocket Portable Photo printer)
The HP Sprocket Photo Paper as the title suggests is designed exclusively for the HP Sprocket portable photo printer.
This packet containing 20 sheets of sticky backed 2 x 3″ photo papers is slightly pricey. These are perfect for a wide variety of work including school and home projects.
HP Sprocket 2x3" Premium Zink Sticky Back Photo Paper (20 Sheets) Compatible with HP...
Sticker photo paper for use with HP Sprocket Portable Photo Printer
Peel-off & sticky-backed photo paper (20 sheet count)
2x3-inch fun size to print and share
Durable prints: smudge resistant, water-resistant and tear-resistant. These glossy, colorful photos are ready to be shared...
What's in the Box: 20-sheets of 2x3-inch HP ZINK Sticky-Backed Photo Paper
Related Post: HP Sprocket II Review
Photo Paper Buying Tips – Questions to Ask Before You Buy
The thing about selecting photo papers is that there are so many types and so many varieties. There is no single type of variety that will work for each and every type of photography. It might so happen that you may like the texture and the feel of a particular type of paper. But that paper might not work for the photo you want to print on it.
So, evidently, it boils down to this. You have to keep experimenting. Find out about different paper types and textures and then try to match the kind of result (and mood) that you want to see on paper by selecting the right paper type. This process of judgment will obviously get better as you gain more experience, learn about new paper types and experiment more and more.
What do You Want to Print?
Believe it or not, the format of the paper can set the mood of a print. A high glossy paper will create a cheerful and happy feel and that is what you need at times. Depending on the subject matter and the composition of course. So, if you want to print a vibrant landscape shot with beautiful colors in bright tones, a glossy photo paper is probably what you would go for.
A matte paper with texture, on the other hand, will set the right mood for a darker somber mood. It is a great choice for a black and white print. These papers have an ink absorbent surface that traps the ink pigments inside the irregularities on the surface. Let's say that you processed a portrait picture in monochrome. It has a lot of textures and levels of brightness and is only possible to be transferred by printing on a paper type that is a good match. A matte paper will be a good choice for that image. So, choose your photo paper carefully by considering what you need to print.
Formats
All photo papers can be broadly segregated into three categories. These would be Matte, Semi-Gloss, and Glossy.
✔ Matte
Matte denotes a textured surface, which is the opposite of glossy (we shall learn about it shortly here). Matte comes in different variations of textures. Some are flat, almost textureless to the point of being smooth. Others are more textured. But they are never glossy or reflective. In either case, matte is the preferred choice for a specific type of photo printing requirement. They are capable of producing a flatter image which is perfect for a specific type of photography – black and white prints, as well as for somber or moody type images.
✔ High Gloss (Glossy)
High gloss or glossy paper mimics the photo paper that we receive from the printing labs. These are the more popular photo papers around. But interestingly they have lesser life compared to the Matte versions which I discussed above. High gloss or glossy is widely used for printing vibrant bright images which have a cheerful mood to them.
✔ Semi-Gloss
Semi-gloss is somewhere in the middle between glossy (high-gloss) and matte. They are textured in some variations and can be shiny. But not as much as the high-gloss variations. Because of this, these papers are perfect for subjects where you don't need a lot of glare.
Depending on the paper type that you pick you will need to pair it with the right kind of ink. Matte paper is best printed on with pigment ink and glossy and semi-glossy paper is best printed on using dye-based inks. Interestingly, when you frame an image in glass printed on any of the three paper types they all tend to show up similar kind of glossy result.
Related Post: Matt vs. Glossy: Which one is Better?
Color Brilliance (TAPPI Rating and ISO brightness rating)
There are two standards which measure how bright the colors on a paper are reflected.
These are:
the TAPPI Scale and
the ISO Brightness Scale.
We are considering the first for our discussion. Always go for a paper that has a TAPPI rating of around 90. Anything above 90-92 and it means that the paper contains artificial fluorescent material that reflects light.
Though the whiteness of such paper is brilliant and colors are more saturated with deeper blacks, in the long run, the ink fades quicker than a lower TAPPI rating paper. This is because the artificial whitening (or fluorescence agents) will start to wear off and the paper will revert back to its normal creamy color appearance. This happens quicker when the print is exposed to UV light. This is not acceptable and that is why it would be unusable over a period of time.
Type of Photography
As you probably have realized by now, among many factors that determine the choice of the printing paper, the subject of your photo is a critical one.
Landscape: is best printed on a glossy (and even a semi-gloss) paper.
Portraits: depending on the specific subject, can be printed on both glossy and matte paper.
But then it does not always have to be a rule. It is perfectly okay to experiment and try out different paper types for different photos.
But after a while, you would probably be able to say what works best for what.
Type of Printer
✔ Wide Format Printers
We have recently discussed the best wide format printers. These are the sort of printers that do the best kind of exhibition quality prints. However, these are not the kind of printers you could afford easily. They cost several thousand dollars. Not to mention the number of ink tanks you will need to buy in order to make your prints. Also, they print very large sizes. So, unless you need to print very large sized prints consistently (like on an everyday basis) there is no point in investing in one.
Related: Best Commercial Wide Format Photo Printers
✔ Desktop Printers
If you are going to print smaller sizes like 4 x 6″ or 5 x 7″ then buying one of the smaller desktop printers makes more sense. These are much smaller and are easier to afford. They accommodate a lesser number of color tanks but their running costs are lower than the large format ones.
✔ Portable Printers
Portable printers are best for onsite printing at events and get-togethers. The Epson PictureMate PM-400 Personal Photo Lab is a great example of such printer type. These printers will only accept 3.5 x 5″, 4 x 6″ and 5 x 7″ photo papers for what is known as a postcard sized print.
Paper Thickness
Paper thickness is an important consideration when choosing the variant you wish to print on. A heavier thicker paper gives the same feel as a photo that has been printed at a lab. For some prints, you need a textured matte finish. These papers can be heavier than normal paper. The weight of the paper is expressed in GSM (grams per square meter). Sometimes you will also come across another metric – mil. This is the equivalent of 1/1000 of an inch. The average A4 sheet paper that you print your documents on is about 90 GSM. This is thicker than newsprint but thinner than the average photo paper.
Consider the maximum thickness of the paper that your printer can handle. A thick paper is more likely to jam inside the printer than a thinner one. A lot of photographers prefer not to use the automatic paper feeding option when printing with thicker paper and especially when printing multiple prints. The printer might load two sheets at one time or it may jam because of any number of reasons.
The best option when working with thicker paper would be to use the manual feeding option. Manual feeding takes away the odds of paper jamming and also the accidental transference of ink from one print to the other when the prints are stacked at the end of the print run. That is essentially why you should never stack your prints until they are dry. Even with the quick-drying inks of today, this habit should be maintained.
---
As an Amazon Associate we earn from qualifying purchases. Certain content that appears on PhotoWorkout.com comes from Amazon. This content is provided 'as is' and is subject to change or removal at any time.