If you're a pro-shooter, you're going to want pro-grade prints to showcase your work. Whether it's for an upcoming exhibit or sales to clients, having one of the best professional photo printers is sure to set your work apart.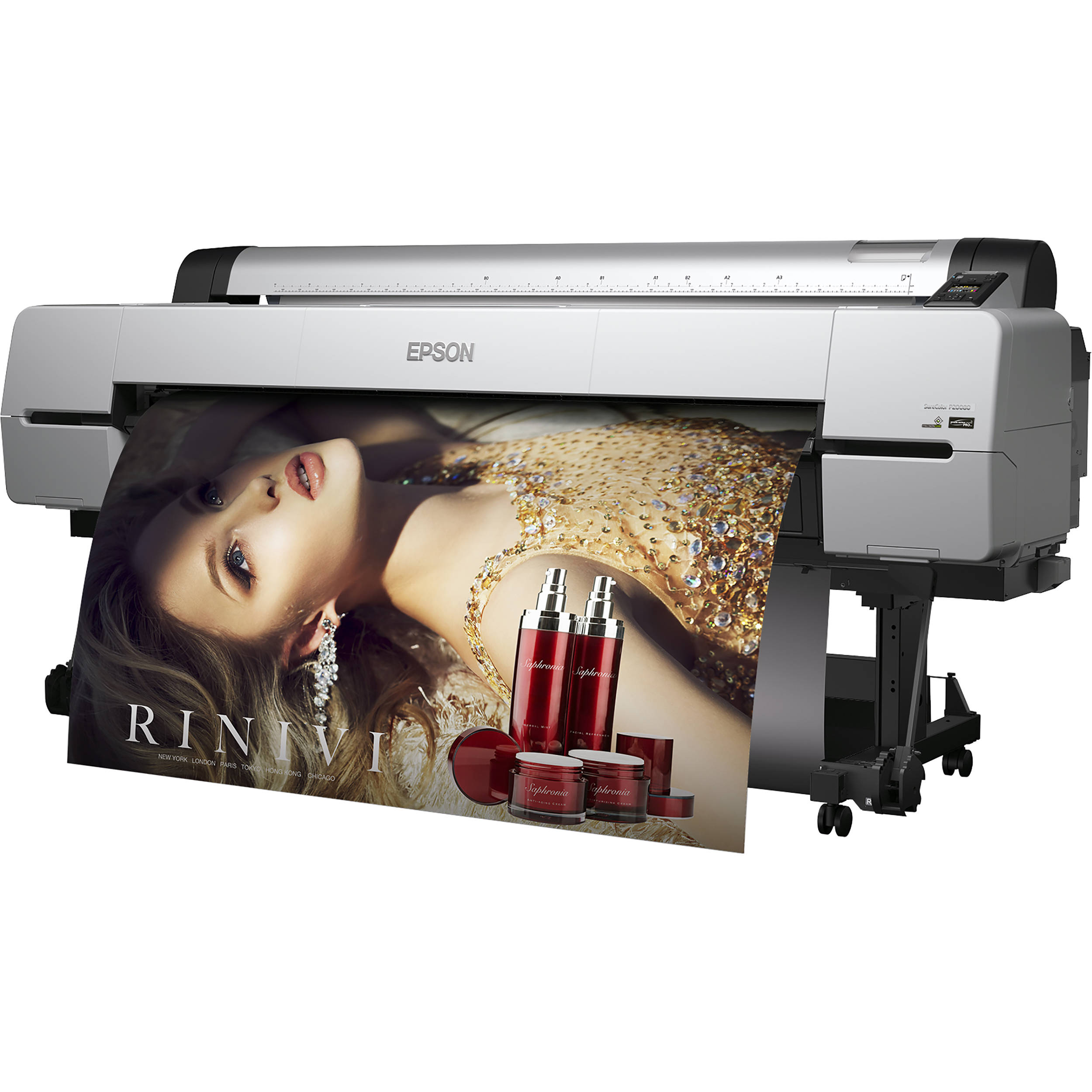 Epson SureColor P20000
OUR PICK
Incredible 64-inch professional quality printer!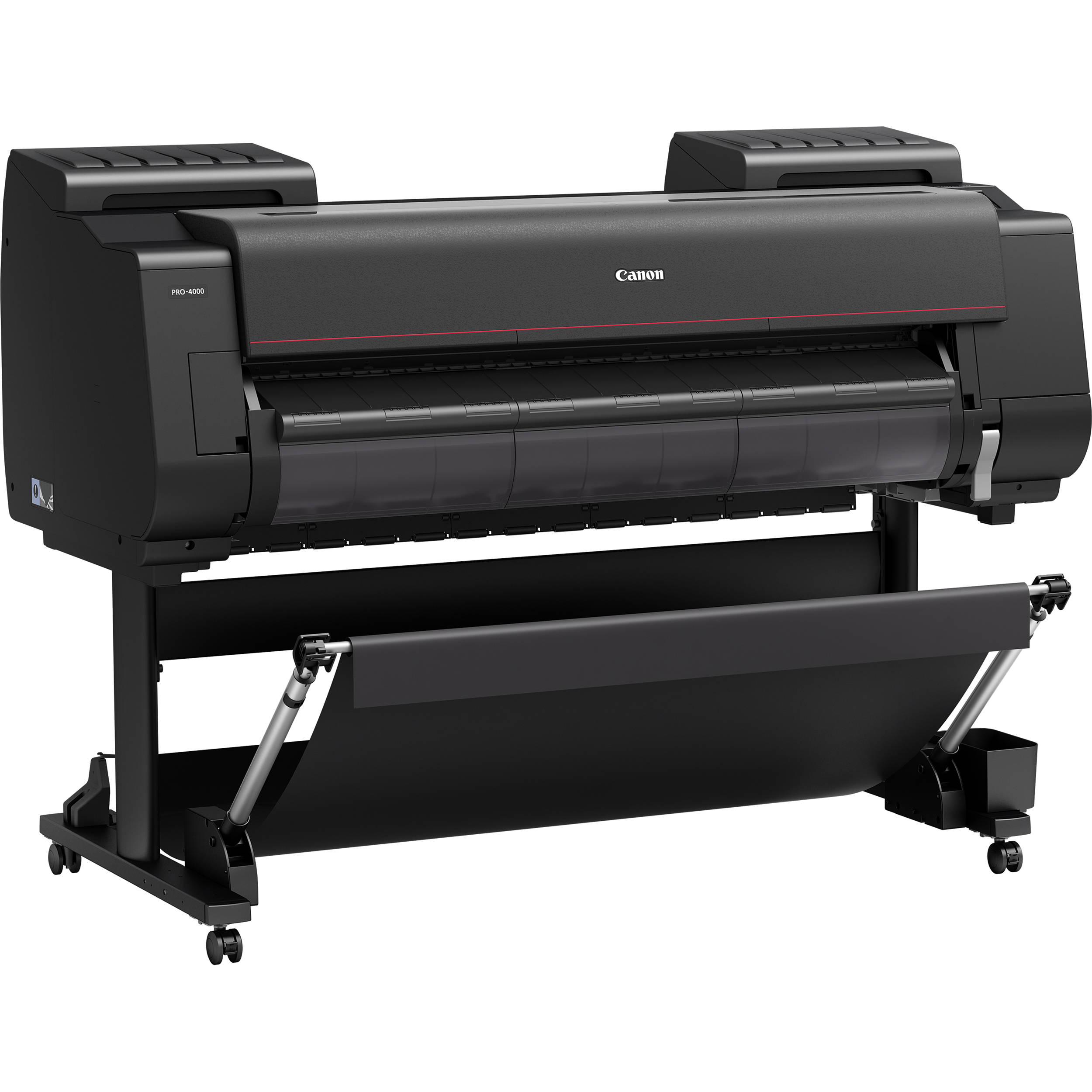 Canon imagePROGRAF PRO-4000
ALSO GREAT
A fantastic 44-inch printer option with great ink mazimization features
In this article, we look at ten of the best professional photo printers, from large format multi-ink solutions right down to something that can sit on your desk!
When you buy through links on our site, we may earn a commission at no cost to you. We evaluate products independently. Commissions do not affect our evaluations.
1. Epson SureColor P20000
Our Pick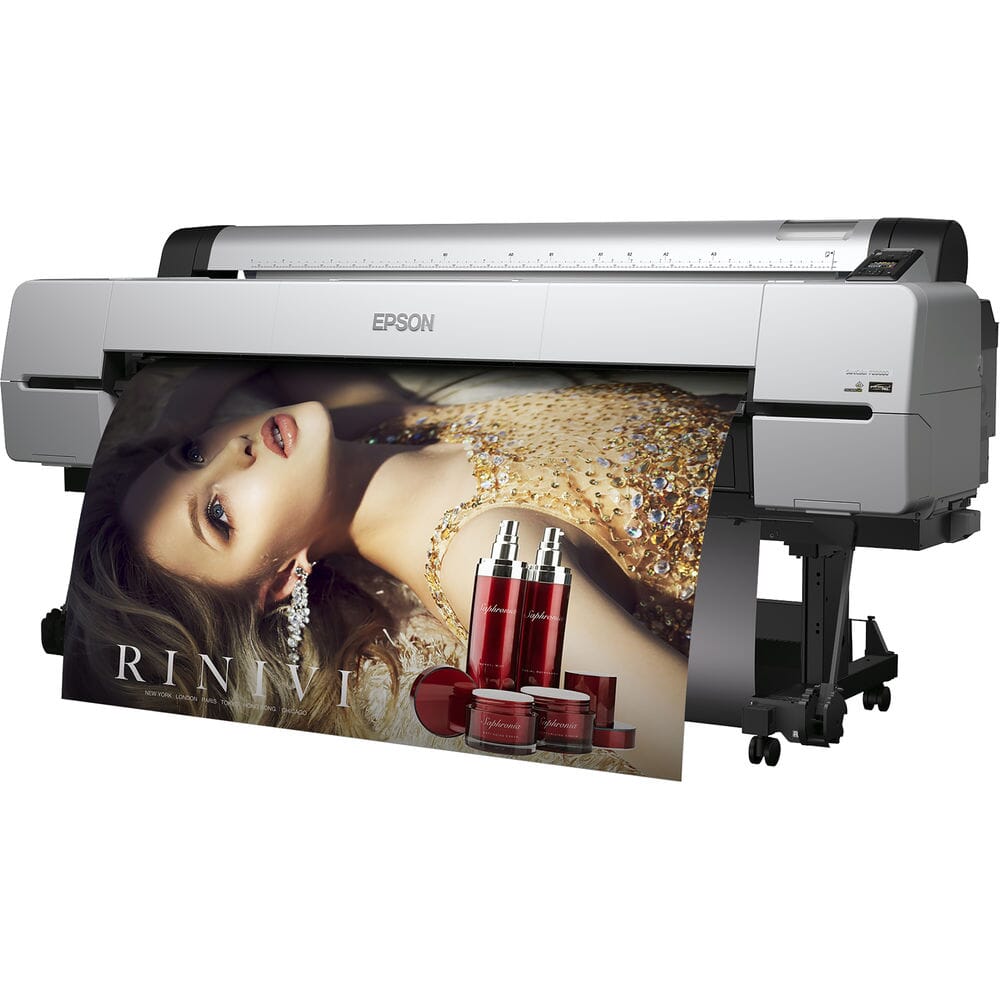 A 64-inch printing masterpiece
The Epson SureColor P20000 is a large format, professional grade printer that survived the test of time by still ranking on top (despite having been released five yearsa go!).
Last checked on 23 July 2022
Pros
Prints up to 64-inch
Great color and grayscale tonality
Efficient use of ink
Prints archival quality
Cons
Very large up-front investment
On the older side, having been released in 2016
Originally released in 2016, the Epson SureColor P20000 has stood the test of time by remaining a top contender in the world of professional imaging. Created by one of the best-known printer companies in the world, this is a massive 64" large format printer. There's no doubt, this will produce prints that take your breath away. It has maximum print size of 64", meaning you can create stunning wall art for your clients (or yourself!) at virtually any size.
This particular printer uses high-performance 9-color archival standard pigments, which means that its color rendering is beautifully precise. The printhead on the SureColor P20000 has a total of 8000 nozzles over the ten color channels. It is capable of producing four levels of gray for the purpose of smooth tonal gradations and suppressed grain for brilliant archival quality prints. If your print looks like it belongs in a museum, you've definitely found high quality!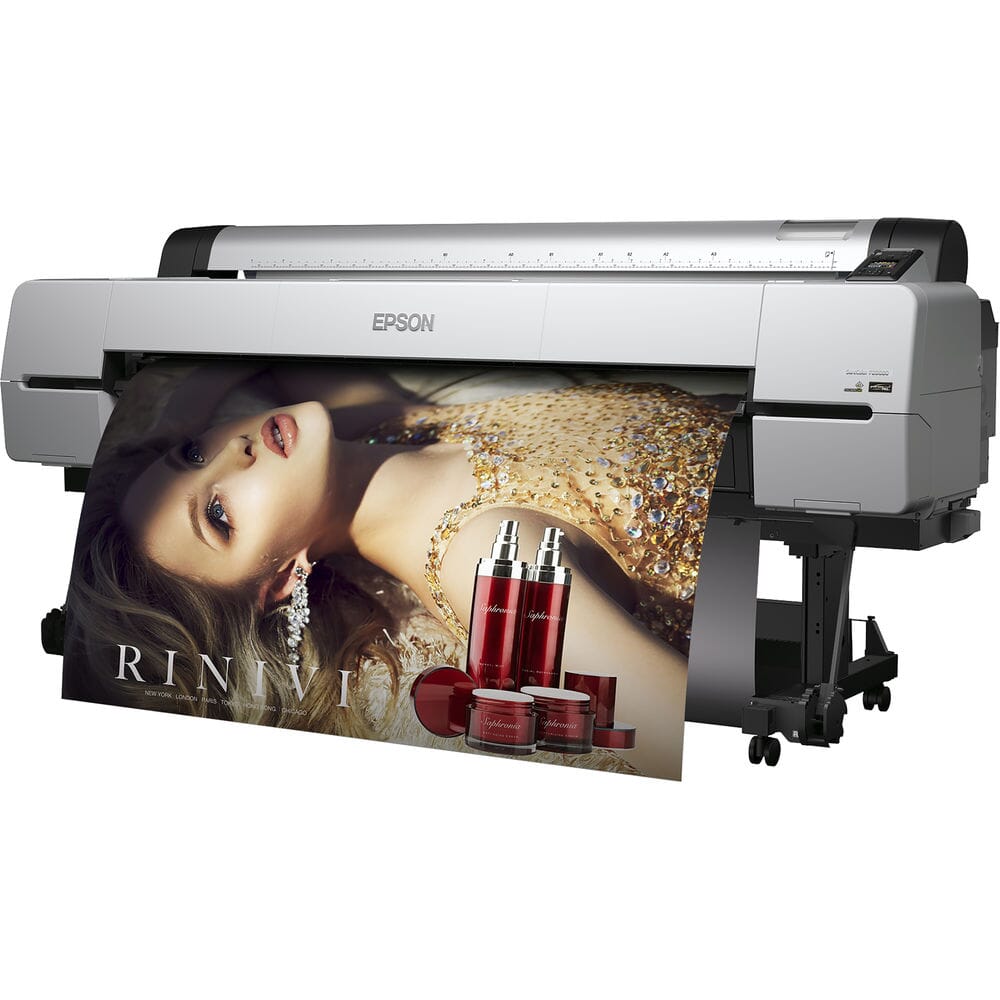 To help alleviate the need to change inks frequently, Epson created large 700 ml capacity ink tanks for extended print work. The printer uses a smart ink management system which extends individual ink tanks, reducing printing costs. Additionally, the internal memory of the printer is 320GB which ensures a smoother print run over a network connection – which is a nice added touch.
All of these nifty features do come at a price though – and you can expect to pay four digits for this printer. However, if you're a photographer who has a large print turnover, the Epson SureColor P20000 quickly pays for itself.
2. Canon imagePROGRAF PRO-4000
Also Great
Another exceptional option for professional photographers
This 44-inch professional photo printer offers a great set of features for efficient ink management!
Pros
Prints up to 44-inch
Redesigned to be smaller in size
A large set of features to maximize the ink
Ability to self-calibrate
Ranking at the top of any professional photo printers list is at least one Canon product! Just as much industry-standard as Epson, the Canon imagePROGRAF PRO-4000 is a 44″ professional photographic large-format inkjet printer.
This little monster is one of the best large format photo printers around. It can offer prints with a maximum width of 44″. The Canon imagePROGRAF PRO-4000 comes with the L-COA PRO high-speed processing engine. In terms of ink, it uses 12 LUCIA Pro pigment-based inks along with a Chroma optimizer. What this means is that your colors will be bright, poppy, and accurate to your computer screen.
Canon really focused on ink performance with a variety of great advancements. This printer uses a sub-ink tank system which ensures maximization of the printer ink utilization. For print photographers, this is a biggie because you don't want to blow all of your cash buying ink.
What is also very cool about this model is that the Canon imagePROGRAF PRO-4000 comes with the option to slot in large capacity cartridges for extended print runs. If you're working an event or printing a large number of products, this perk is substantial. Additionally, you can change cartridges in the middle of a printing job without any issues at all. The printer uses a high-precision mechanical platform. You don't even need to switch when changing from matte black to photo black inks.
Compared to other wide-format photo printers, the print head in the imageProGraf 4000 is larger. Because of this, there is only one print head, which incidentally, also means that the printer is quite narrow, fitting more easily in your space.
For the detail-oriented photographers, this printer comes with an integrated color densitometer with a three-color LED and a condenser lens. This allows the Canon imagePROGRAF PRO-4000 to be recalibrated whenever required.
3. HP DesignJet Z9+
A printer known for speed
A speedy alternative to many professional printers, the HP DesignJet Z9+ is heavily oriented towards visual artists.
Pros
Uses excellent fade resistant inks
Prints high quality images faster than comparable models
Able to do unattended, overnight prints without supervision
Cons
Has issues with the HP software included
Needs to be used frequently to preserve print head quality
Completing the trio of known brands is HP and its HP DesignJet Z9+ is an easy addition to this list. A printer that is oriented exclusively for visual artists such as photographers and graphic designers, the HP DesignJet Z9+ is a workhorse that is able to produce large images without intense supervision. You do not need to baby this printer to ensure the quality comes out well. In fact, you can leave the Z9+ overnight and wake up to great work!
Fully customizable as well, this printer model can have its head replaced to help you print anything you desire. Additional production options include parts replacement with various metals or the adding of specific features. That being said, the printer is designed and intended to be used frequently. If you leave it sat idle for too long, parts begin to break. However, if you're a large production photographer, this shouldn't be much of an issue for you!
Something notable to mention is this printer's focus on speed – you can print significantly faster than comparable models. This helps you crank those products out as quickly as possible. Even with its speed, the printer doesn't sacrifice on quality, as the color gamut and ink capability are beyond the valley of superb. The printer's maximum print size is 24" x 66".
Unfortunately, reviews have noted that the software tends to be riddled with problems. However, there are plenty of workarounds and alternative software to pair this printer with. Once you can get past the technical bumps, the quality is superb.
4. HP DesignJet Z3200ps
Great for color grading photographers
With 95% PANTONE color coverage, this printer is great for photographers who need accurate color rendering in their images.
Pros
Very fast printer
95% PANTONE color coverage
Very high resolution
Cons
Quite large and bulky
As we continue forth on our chat about HP printers, if you're looking for something more budget-friendly than the Z9+, the HP DesignJet Z3200ps Inkjet Photo Printer could be for you. With a gorgeous resolution of 2400 x 1200 DPI, this printer is a sound option for exceptional large renderings. If our sudden inclusion of DPI is confusing, DPI stands for dots-per-inch; the more dots, the higher the quality. You can be assured that this option has outstanding quality with so many dots!
Related Post: Print Resolution: The Essential Guide
Even more impressive is HP's continued commitment to speed. You can make a 22" x 34″ print in 120 seconds flat! Powered by HP Thermal inkjet technology, this is HP's way of saying that the end result equates to gallery quality. The printer uses 12 pigment-based photo inks for a great color array. The inks are even paired with gloss enhancers to get that lovely sheen for your clients.
This printer also has 95% PANTONE coverage, which means that the printer mixes ink together to create the exact color in the image profile. Color grading photographers, come hither!
5. HP DesignJet T730
A great diversified printer
Diversified in its use, this is a somewhat all-in-one printer that finds itself right at home in your office or job site.
Pros
Able to print charts, graphs, and more alongside photography
Mobile connectivity
More compact in size than comparable printers
Large LCD screen with intuitive interface
Cons
Still on the pricey side
Ending the HP suggestions is the HP DesignJet T730. This is a great business solution printer, for more than just photographers. With features that allow its use in printing charts, graphs, and so much more, this printer is a bit of an all-in-one in the best way.
It includes many of the features of the above printers, with some tweaks here and there. What's really nice about the HP DesignJet T730 is its screen – the front panel genuinely looks like someone slapped a phone on there, and the interface is just as similar. Very intuitive and detailed, it's quite easy to navigate this printer. The size of the printer itself is also great. As far as large format printers go, this is a fairly compact model. You can easily set it up in a home office.
Even more fun is its inclusion of mobile connectivity – allowing you to operate and print using your smartphone! How convenient is that?
6. Canon imagePROGRAF PRO-2000
Great for the more every-day photographer
This printer holds many similar features to other Canon models, but with a few extra features.
Pros
Great image processing engine
Uses a great quality ink
no switching requirement with matte black and photo black
Cons
Smaller print sizes
Back to Canon, the Canon imagePROGRAF PRO-2000 is similar to the Canon imagePROGRAF PRO-4000, but with some notable differences that place it on our list.
Starting right off, the Canon imagePROGRAF PRO-2000 is a 24″ professional photographic large-format inkjet printer with the ability to print at a maximum resolution of 2400 x 1200 DPI. It is smaller in size than the 44" PRO-4000. That size difference also means it can only print a maximum width of 24″. That being said, this is a great solution for the more everyday photographers out there.
Arriving with a FINE Print Head Technology and the L-COA Pro high-speed processing engine, no image is too heavy in resolution to work with this printer. Allowing the color enthusiast photographers to work their magic, the Canon imagePROGRAF PRO-2000 comes with a Color Densitometer for calibration.
This printer is efficient with its ink – especially since the ink is quite a specialty type. The printer uses a 1.28″ wide 12-channel print head which uses a 12-color LUCIA PRO pigment ink along with a Chroma optimizer.
What is also great is that there is no switching required when working with various black ink requirements. Additionally, the printer uses a three-color LED and condenser lens to ensure that the printer produces fine results no matter what the printing requirements are.
7. Canon ImagePrograf Pro-1000
A fantastic choice for event photographers
This particular printer is also desktop size, but has a lot of wireless connectivity functions that make it great for event photographers
Pros
Small, compact size
Compatibility with wireless and mobile apps
Cons
Pricey for its size
The compact Canon ImagePrograf Pro-1000 also likes to play the small game, squeezing into the lineup of Canon's various Pro printers. This is a small yet powerful photographic printer designed for the discerning photographer looking for something extra. Like the OKI C844dnw, this desktop-standing printer is nothing to laugh about.
The maximum print size may only be 17 x 22″, but it is capable of printing borderless prints of that size – a very beloved feature. This baby can pop prints out in approximately four minutes, which may not be a record-breaking time but it is certainly fast enough not to test anyone's patience.
This professional photo printer is compatible with the Canon PRINT app and PIXMA Cloud Link, making for great wireless and mobile usage. There's no need to plug this printer into the computer! This makes the Canon ImagePrograf Pro-1000 an excellent choice for event photographers, offering them the ability of printing right on site for customers.
8. Epson SureColor P800
Unavailable
An alternative to the Canon Pro-1000
If you're a photographer that favors Epson products, this one has a lot of the same features as the Canon equivalent.
Pros
Great wireless functionality
Borderless printing
Compact size
Likely the highest DPI resolution printer on our list, the Epson SureColor P800 is an inkjet printer that can print at a maximum resolution of 2880 x 1440 DPI. Talk about tremendous detail!
This really is the Epson version of the Canon ImagePrograf Pro-1000, featuring several similar capabilities. Sitting at the same size as the Canon above, the Epson SureColor P800 prints at 17 x 22″ using sheet media and offers borderless printing.
Where it differs is in Epson's reputation of 9 UltraChrome HD pigment-based ink tanks. These tanks create colors that appear pretty Epson exclusive (to the professional eye). The printer has, what is termed as, Automatic Black Ink Switching. This technology allows for the black ink type to be switched from matte to photo black ink when different print media are loaded.
Wireless functionality was not lost on this model either, as the Epson SureColor P800 supports Wi-Fi Direct, Apple AirPrint, and Google Cloud Print.
9. DNP DS820A
Great compact dye sublimation printer
Using a different method than inkjet printers, this dye sublimation printer creates lovely uniform tones.
Pros
Extremely small
Very uniform tones due to dye sublimation technique
Ability to add watermark to the back of the prints
Cons
Maximum print size of 8-inch x 12-inch
A bit dated
Lastly, we have the DNP DS820A – a dye-sublimation thermal printer. Besides the technique difference, on a visual level, the dye process produces more uniform color tones than is possible with an inkjet printer, making it a great choice for photographers who need something more tonally uniform.
Looking quite dated in appearance, the DNP DS820A is an oddball, but it works great, earning it a strong presence on our list. Officially the smallest printer on the list, it teeters on not being a large format due to its maximum size of 8" x 12" photos. However, the prints it can create are really wonderful. The speed is notable too, being capable of completing a 4 x 6″ print in 8.3 seconds.
Two different finishes are possible – matte and glossy. You can use the same roll feed to produce the two effects without changing much! Additionally, there is also an option to add a watermark to the back of the photos.
Which Professional Photo Printer Is Right for You?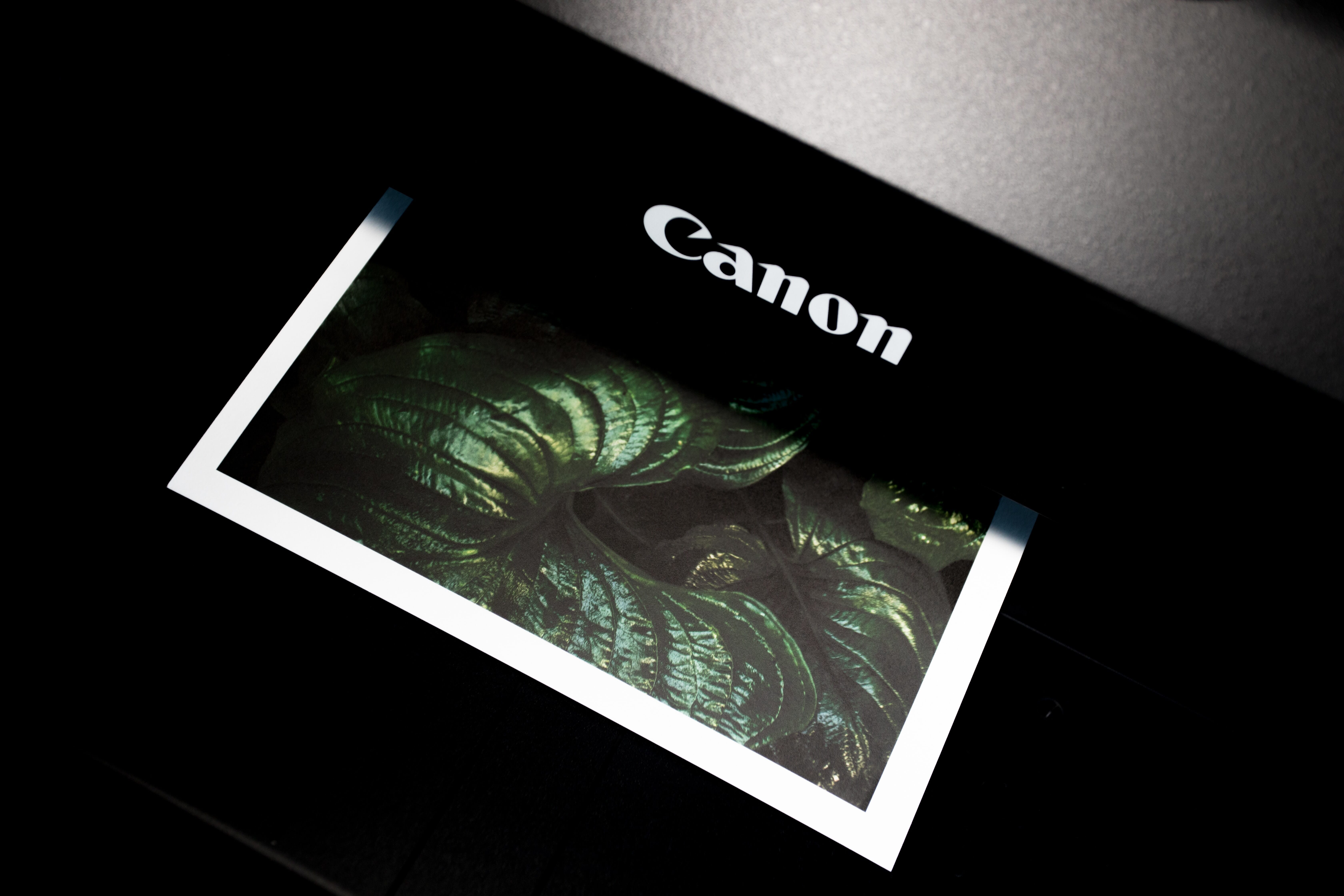 Right off the bat, what makes the printers on our list stand out from the rest is that they are designed for photo printing as the primary purpose. As such, the creators were able to perfectly tailor their functionality to producing the best quality products they could. While all-in-one printers do produce respectable quality prints, they are not the best when it comes to producing magazine quality or professional quality. Plus, the media size is limited to A4 sheets.
For those looking at the best of the best, the Epson SureColor P20000 is a grand choice. Pricey but worth it, the feature-full printer still ranks very high regardless of its five-year age. Another great option if Epson isn't your style is the Canon imagePROGRAF PRO-4000, offering a multitude of performance upgrades to preserve your ink.
---
As an Amazon Associate, we earn from qualifying purchases. Certain content was provided "as is" from Amazon daily and is subject to change or removal at any time.