We spend time and effort taking beautiful photos, yet they often sit on a hard drive and never see the light of day. However, by buying a great printer, you can ensure your treasured memories and photographic artwork is available to share with your friends and family.
With your prints, you can create photo albums for the holidays or make stunning wall art to brighten up your home. The possibilities are endless, and one of the best inkjet printers can help make it happen. We have selected eight excellent inkjet models for your consideration, which we share in the guide below.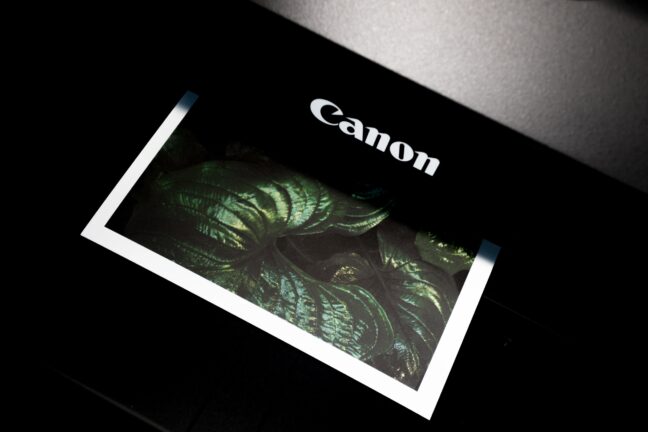 Best Inkjet Printer for Photos:
When you buy through links on our site, we may earn a commission at no cost to you. We evaluate products independently. Commissions do not affect our evaluations.
What to Look for When Choosing the Best Inkjet Printer for Photos
Understanding what to look for when buying a printer is tricky. You may not, for example, have in-depth knowledge of printer specifications. Three of the most important factors that you should consider are print resolution, connection type, and print speed.
Print Resolution
Print quality is determined by the maximum resolution of the printer. The higher the resolution, the better the prints look. Always consider the print resolution offered; you want the highest resolution possible so that your photos are sharp and clear.
Connection Type
A printer is an external device that is not natively connected to your computer or laptop. You can connect to printers either via a cable or through a wireless connection.
Both connection types have their merits. You must consider what connection types you can accommodate. Do you have a wireless receiver? Or do you have spare USB ports? Look at the connection type and ensure you can support it.
Print Speed
Different inkjet printers have varying print processes and times. Before buying, look at the color print speeds. Ideally, you want a fast printer that still delivers high-quality photo prints. Furthermore, you must consider whether the speed is actually important when printing your photos.
Ink Cartridges
Finally, consideration must be given to the type of ink cartridges and their cost. Different printers have different ink cartridge requirements. Some printers, for example, require six ink cartridges, while others only need four. It is therefore important to weigh up the associated costs. How much can you afford to spend on cartridges? Does the manufacturer have any special deals or ink replacement services?
The Best Inkjet Printer for Photos: Our Top Picks
1. Canon Pixma TS8220
Our Pick
Great for simple controls
The 4.3-inch LCD touchscreen of the Canon Pixma TS8220 makes it easy to use and gives you direct access to print settings.
Pros
High-quality LCD touchscreen
6-color ink system for superior color prints
Works with voice control
Cons
The rear feeder tray could make it difficult to store on a shelf
Our top pick is the Canon Pixma TS8220 which has some useful features for printing various sizes of color photos at home. If you want beautiful detail and vibrancy, the six-color ink system will ensure you get what you're after.
While some printers have a clunky LCD display with button navigation, this device benefits from a nice 4.3-inch LCD touchscreen. As a result, you can quickly select different options, change print settings, and check the print progress of your snaps. Furthermore, if you are itching to print the photos you've just captured with your camera, there is an SD card slot on the left-hand side.
Although the Canon Print app can be a little temperamental, having the capability to print wirelessly helps reduce the need for untidy cables. Additionally, multiple family members can connect devices like smartphones and laptops to print directly. In terms of size, you should be able to fit this printer on a desk or a unit shelf – although it could be tight when the rear paper feeder is fully extended.
2. HP Envy 7640
Also Great
Great for photo management
The high-quality borderless printing, combined with color scanning, means that you can print new images for albums and scan old photos to make digital copies.
Pros
Sideways paper feeder saves space
Accepts glossy photo paper
High resolution
Cons
The color print speed may not be the fastest
Next, we have the HP Envy 7640 which is part of the basic HP Envy line that mostly includes home printers with great color functionality. If you want to create photo albums, this printer is a great choice due to the borderless printing feature. It also means that you don't have to spend time and effort trying to resize your images.
We also like the sideways paper tray. To save space, the paper is fed sideways into the printer, and this design gives the machine a lower profile.
The HP Envy 7640 includes color scanning and copying features, too. You can not only print color photos on glossy photo paper, but if you have old physical photo collections, you can also use the scanner to turn them into digital files. Essentially, this printer allows you to completely manage your treasured memories and make sure you have them exactly as you want.
3. Epson Expression Home XP-4100
Great for saving space
The Epson Expression Home XP-4100 has a compact, rectangular flat-top design that can easily fit in a home office without taking up too much space.
Pros
Instant-dry ink for photo prints
Wireless connectivity and voice activation
Large paper tray that accepts 100 sheets
Cons
The supplied ink cartridges may not last very long
The Epson Expression range has some fantastic printers, but their best option for photographers is the Expression Home XP-4100. One of the handiest features has to be the instant-dry Claria ink. With it, you can immediately handle and touch your color photo prints without risking smudges.
We also love the compact size compared to some other desktop models. The rectangular and flat-top design means that the printer can fit in confined spaces so you won't clutter up your office desk.
The fact that this printer is wireless (apart from the power cable) is a huge bonus. Multiple people from your family can connect to the device using Wi-Fi, and it even has a voice activation feature that works with smart hubs like Alexa. Therefore, family members don't need access to your computer to print.
And the price is fantastic, too. It's a great sub-$200 printer pick, which makes it perfect for photographers on a budget.
4. HP OfficeJet Pro 8210
Great for multiple print sizes
The HP OfficeJet Pro 8210 has excellent support for a wide range of photo sizes, including standard options like 4×6 and 3×5.
Pros
Includes USB, Ethernet, and wireless connectivity
Large input tray with up to 250 sheets
Professional-quality color prints
Cons
Only has a small display
If you want a printer mainly for standard business and work documents as well as the occasional photo print, the HP OfficeJet Pro 8210 is a great buy. It's primarily meant for black and white documents and thus could be perfect if you work from home. However, it still prints high-quality color photos (and can even do borderless printing).
We like that you can easily print multiple photo sizes. Template sizes include 4×6 and 3×5, which are both standard sizes for photo albums. Alternatively, you can print larger, borderless images at A4 if you want to make framed images for your walls.
You can connect a camera or laptop directly via the front-facing USB port. And if you want to print social media pics or snaps from your phone, you'll appreciate the Wi-Fi connectivity (you can use the HP Smart app).
5. Canon Pixma TS202
Great for stationary use
The wired USB connection of the Canon Pixma TS202 makes it a solid choice if you simply want to print photos from your desktop computer.
Pros
Fast color print speeds
Simple USB connectivity
High-quality fine hybrid ink
Cons
No wireless connectivity
The Canon Pixma TS202 is a smaller, simpler, and more compact device compared to our top pick. It is noticeably smaller and has a flat-top design with a rear paper input tray so you can easily store it in your home. Just watch out for the paper input tray as it does need some additional room to extend properly.
If you want to make color prints that look good enough to show your friends and family, you will love the fine hybrid ink system. It results in far greater detail and vibrancy in your photos without any smudges or imperfections. You should also be able to print large volumes of images as the machine has a decent speed of 10 color pages per minute.
Due to its wired connection, we recommend the Canon Pixma TS202 only if you are planning to print photos straight from your desktop or main laptop computer.
6. Brother MFCJ491DW
Great for simple ink changes
The Brother MFCJ491DW printer has high-yield ink cartridges that are easy to change and should reduce expenses.
Pros
Compact and lightweight design
Multiple connection options
High-yield ink cartridges to reduce running costs
Cons
The control panel could be a little basic
Brother has some fantastic printers, but its best inkjet option for photos is the MFCJ491DW. This device is a great choice if you don't want to constantly spend money on color cartridge replacements. And the official Brother cartridges have a special high-yield design that also helps save on costs.
We like how easy the cartridges are to insert due to the simple pop-in and pop-out mechanism. Therefore, if you don't have much experience with printers, you should find this model simple to maintain.
If you live a connected life and want to print images from multiple sources, it's also a great option. You can connect your smartphone and use services like AirPrint and Google Cloud Print. This printer also offers cloud connectivity for printing from services like Dropbox, Google Drive, and OneDrive.
7. Epson Expression Photo HD XP-15000
Great for HD photo prints
The Epson Expression Photo HD XP-15000 offers outstanding color print quality with HD photo finishes and borderless prints up to 13×19 inches.
Pros
6-color Claria ink system for greater depth
It supports wireless, USB, and Ethernet connections
Large input and output tray capacity
Cons
The display screen is relatively small
Epson has a range of HD printers that excel at color prints, and one of their top models is the Epson Expression Photo HD XP-15000. It's ideal if you are a professional photographer who wants to display your work or wants to create high-quality prints for clients. The amazing photo quality, borderless prints, and print sizes of up to 13×19 inches offer lots of versatility!
Furthermore, if your photos are typically vibrant and bursting with energy, you'll love the 6-color Claria ink cartridges, which are designed to show a much wider color gamut in your final prints. And the addition of a gray cartridge means black and white prints will have far more depth and contrast, so it's a great printer for black and white shots, too!
You'll like the ultra-wide format that can support A3 prints. Additionally, both the front and rear input and output trays have a high capacity so you don't have to constantly monitor the printer's progress when batch-printing photos.
8. Epson EcoTank Photo ET-8550
Great for high-quality bulk printing
The EcoTank system, superb print quality, and high-yield ink cartridges make the Epson EcoTank Photo ET-8550 perfect for professional photographers who need to regularly print large volumes of photos.
Pros
Superb and detailed print quality
Low-cost ink system with a high print yield
Excellent 4.3-inch touchscreen
Cons
Quite a large and bulky printer
Our last pick is for professional photographers due to its exceptional print quality and versatility. The Epson EcoTank Photo ET-8550 sits above the standard Expression range and excels if you want to print a large volume of photos.
This is due to the EcoTank system and the 6-color Claria ink set. It will give you unbelievable longevity. Even after hundreds of top-quality color prints, the ink levels won't have diminished much. Combine this with ultra-fast print speeds of up to one 4×6 photo every 15 seconds, and you have the perfect device to support your photography studio.
In our experience, the clarity, detail, and colors in even larger photo prints are amazing. If you have ultra-detailed work and use high-quality inkjet photo paper, the end result really is phenomenal. This is one of the absolute best inkjet printers serious photographers can buy.
Start Printing Your Epic Photos Using a High-Quality Inkjet Printer
There are lots of high-quality, affordable inkjet printers available. Consider the factors we've listed above and the specifications of each printer; that should help you make an informed choice and select a device that's suitable for your needs.
Finally, when printing photos, it's important to look at paper quality and paper types. We advise using quality glossy photo paper. Most printer manufacturers such as HP and Epson provide their own photo paper or recommend specific brands.
Why not start printing your superb image collection today using the best inkjet printer for photos? Share your work with the world!
---
Disclosure/Disclaimer: As an Amazon Associate, we earn from qualifying purchases. Certain content was provided "as is" from Amazon and is subject to change or removal at any time.