What is a Stabilizer for DSLR Video?
With DSLR cameras becoming increasingly powerful, equipped with higher resolution sensors and incredibly powerful image processors, it is but natural that filmmakers, both indie and professional are resorting to shooting with these relatively smaller cameras rather than the big and bulky professional cine cameras.
Smaller cameras are incredibly portable compared to larger cine cameras, allowing camera operators to move, pan and follow the action with consummate ease.
Wielding a large camera on one's shoulders and doing quick maneuvers is physically daunting if not likely to cause injury. They also induce camera shake. The big advantage of DSLR cameras is that they are lightweight. Notwithstanding, when the camera operator is moving around, visual jerks are unavoidable.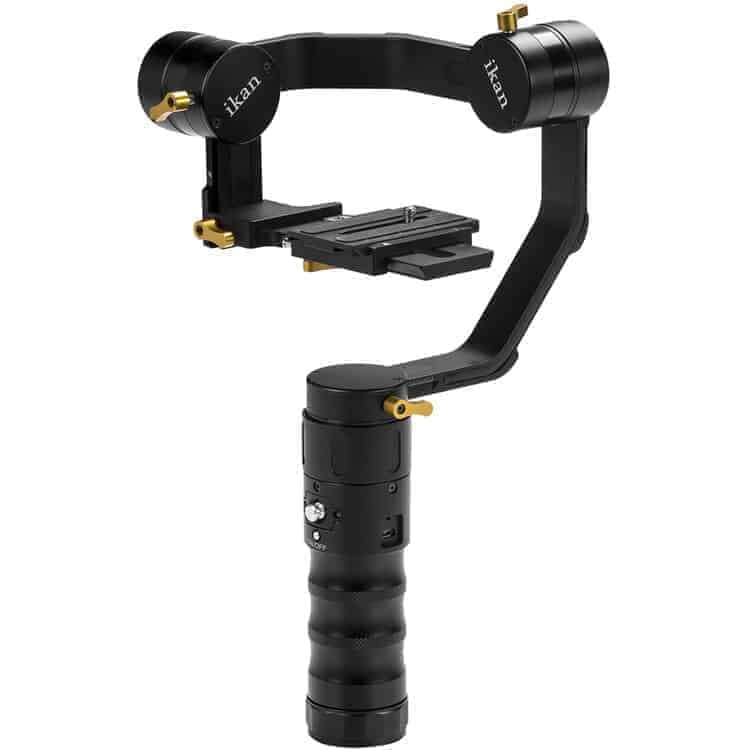 To avoid visible bumps, and more importantly to ensure that your footages are super-smooth, hand-held or body-worn stabilizer for DSLR video are used.
For lower budget productions or for indie productions or even family video requirements the hand-held variety is ideally suited.
The iKan EC1 Beholder 3-Axis handheld gimbal stabilizer is a good choice in that sense.
The iKan EC1 Beholder 3-Axis Gimbal Stabilizer
The iKan EC1 Beholder 3-Axis gimbal stabilizer was launched recently.
This 3-axis 360 ˚ motor powered hand-held stabilizer can support a camera system weighing between 2 lb. and 4.5 lb (0.9 – 2 kilos).
The stabilizer has an advanced 32-bit controller, a 12-bit encoder system as well as a PID algorithm.
There are a total of three motors that work in tandem to keep your camera steady irrespective of the amount of panning, tilting and maneuvering you may do with this stabilizer for DSLR video.
It also has a total of five different Profiles or Modes. These modes can be selected via the mode button on the handle of the stabilizer.

Three of these are Follow modes.
The fourth is an Auto-Inversion mode, and
the fifth is a Lock mode.

The Auto-Inversion mode facilitates the camera to be used inverted.
The Lock mode facilitates the camera position to be locked.
The profile modes give the stabilizer an incredible amount of flexibility. For example, the lock mode is Profile 1. When you turn it on the sensor stays on the same plane, and that means no matter in what direction you turn the stabilizer the camera remains pointed in the same direction. This mode can be used together with any of the other follow modes.
At the back of the EC1 is an OLED display that indicates the particular mode that the stabilizer is set to.
Related Post: Best DSLRs for Video Making
Point and Lock
The advanced 360 ˚ motorized gimbal is truly ingenious. Minor touches or brushes will not affect it as the gimbal returns the camera back to its original position. However, if point and hold the camera in any direction for a couple of seconds, the gimbal will lock the camera in that position automatically.
A set of three powerful 18650 model rechargeable Li-Ion batteries power this stabilizer for DSLR video. A full charge is rated to last for a full day of shooting.
You can recharge the batteries via the MicroUSB adapter that is provided with the iKan EC1 Beholder.
A separate iKan charger is also available that allows you to remove the batteries from the stabilizer and charge them using a wall AC outlet.
Quick Release Plate
The base quick release plate of the iKan EC1 Beholder has a set of two knobs. These one turn knobs hold the camera in place as per your preferred X and Y axis location.
For the purpose of attaching accessories like lights etc., the EC1 has a ¼"-20 threaded mounting hole as well as a 3/8"-16 threaded mounting hole, in case you need to mount the gimbal onto a tripod or a shoulder worn rig or other advanced stabilization systems.
Price
Priced at
Check on Amazon, the iKan EC1 Beholder 3-Axis stabilizer for DSLR video is a powerful tool for the discerning video shooter. Handheld stabilizers are nothing new and we have seen plenty of models in the recent past. Some are a real pain to set-up and properly balance before getting started.
The
iKan EC1
is an excellent tool, one that is bound to make video shooting on the go a breeze. It is easy to set-up and balance, and the gimbal is super smooth to work with.
Related Post: Best Tripod for DSLR Video Making
Alternative Option
There is another very good alternative available to the EC1 Beholder, the 3-Axis Gimbal Zhiyun Tech Crane. See the comparisons in ratings and price below.
EC1 Beholder 3-Axis Stabilizer Vs. 3-Axis Gimbal Zhiyun-Tech Crane
10 Tips for Filming with Stabilizers
---
As an Amazon Associate we earn from qualifying purchases. Certain content that appears on PhotoWorkout.com comes from Amazon. This content is provided 'as is' and is subject to change or removal at any time.