Sometime last year I wrote an article on the best video tripods with your DSLR. In that list, I mentioned the Magnus VT 4000 tripod as one of my favorite picks.
This Magnus VT 4000 tripod review is a follow-up of that earlier article.
It is aimed at amateur cinematographers who are looking to find more information about the product and its features before making a final buying decision.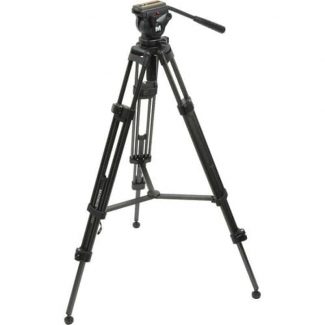 For a tripod that retails just under $150, the Magnus VT 4000 is a solid piece of equipment!
It is designed for the budding cinematographer in you. Don't be fooled by its price tag. This tripod is built for serious video work.
Though you can also shoot stills with it, this is not a tripod that would be ideally suitable for that kind of work. But if you like to make videos with your DSLR and don't have a lot of money to invest in a tripod, this is the one to go with.
Highlights of the Magnus VT 4000
In spite of the fact that this tripod weighs only about 8 lb / 3.6 kilos, it is rated to support up to 8.8 lb / 4 kilos of equipment.
It should be enough for a semi-pro grade DSLR mounted with a wide angle lens or a semi-pro video camera.
For heavier video cameras or pro photo gear, this is however not the right tripod to shoot with. There have been reports of heavy wobbling when used with heavier HD cams, which is not at all confidence boosting.
Tip: if you plan on using heavy lenses and or cameras, opt for something that has a total weight support rating of more than 1.5 times the weight you plan on mounting on your tripod.
The panning handle is ubiquitous with all video tripod heads. The Magnus VT 4000 comes with a video head that has a panning handle attached to the right side by default.
This handle can be taken off and mounted on the other side of the video head. The video head is fixed in position and cannot be moved.
There are two level adjustment mechanisms on the VT 4000. The half-dome adjustment is pretty good. There is also a mandatory bubble-level indicator for more precise level adjustments when shooting on uneven terrains.
Related Article: Best DSLRs for Video Shooting
This Magnus VT 4000 tripod review will fail it it's objective if it does not mention anything about the build quality. The whole tripod is designed out of anodized aluminum. Build quality is reasonable for the price tag. When compared with carbon fiber made tripods the construction may seem a bit dated. Since it is not very heavy, pro cinematographers will find it a bit disconcerting while in use. But then this tripod is not aimed for pro cinematographers.
Quick Release Plate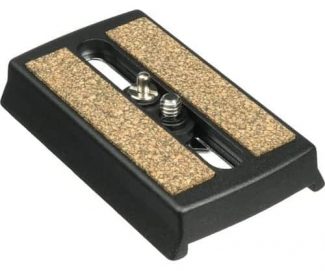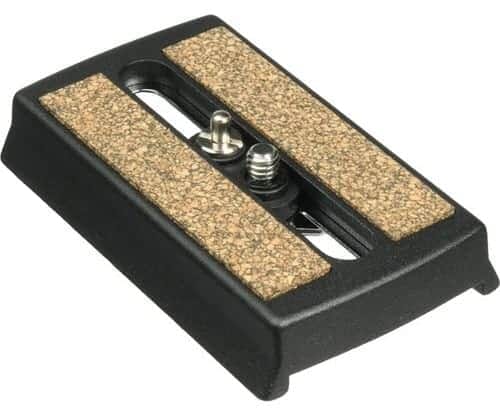 The quick release plate on the video head comes with a double lock feature. There is a snap lock that activates when you slide the quick release plate over the video head.
The quick release plate can slide over the video head without being removed until you press a red button which unlocks it.
The second locking mechanism is the lever that is on the other side. Flick it in place and the quick release plate is fixed in position.
Tripod Legs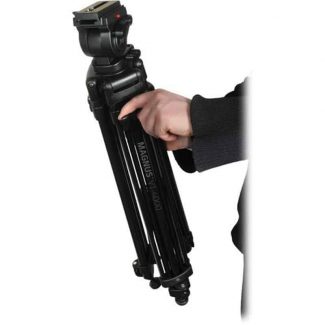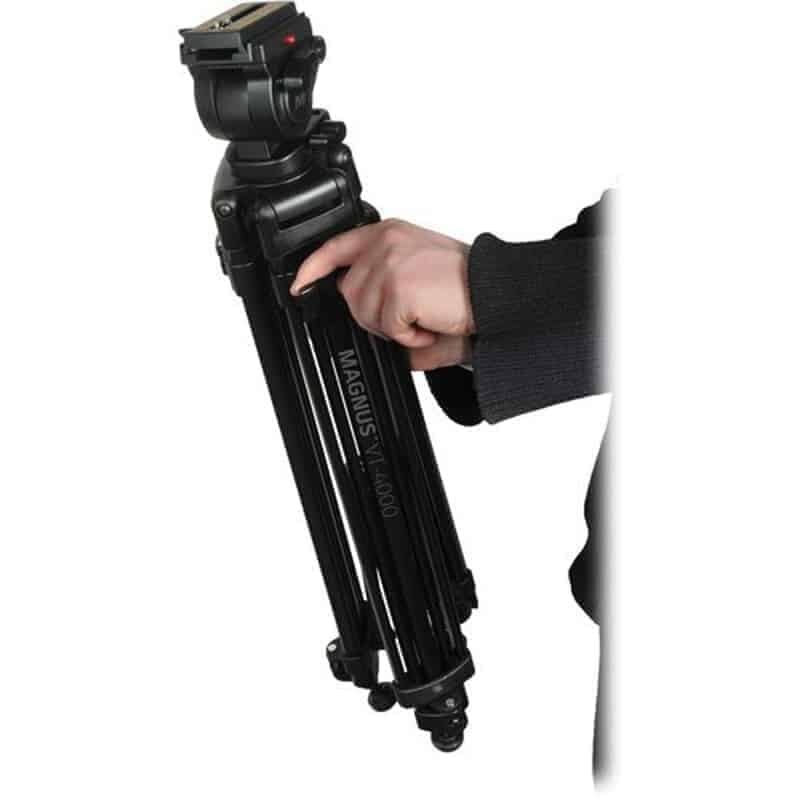 Though this is a Magnus VT 4000 tripod review, some comparison with its sibling, the VT 3000, is unavoidable because they are just a few dollars apart in price.
The legs of the VT 4000 open in two stages. The 'smaller' sibling of the VT 4000, the VT 3000 does have some known issues with the leg lock.
Not the VT 4000. When fully extended the VT 4000 reaches a height of 59". It is smaller to the VT 3000 by 2" but that shouldn't be a deal breaker since you would in most likelihood be shooting with the LCD screen of your DSLR turned on.
In case, you plan to use an external field monitor you wouldn't even notice the difference. Plus, the VT 4000 is more stable than the VT 3000 and has a better fluidic movement in the video head.
This Magnus VT 4000 tripod review would be incomplete without a mention of some of the top features of its legs. The legs have retractable spiked feets. This is extremely useful when shooting outdoors and on uneven terrain.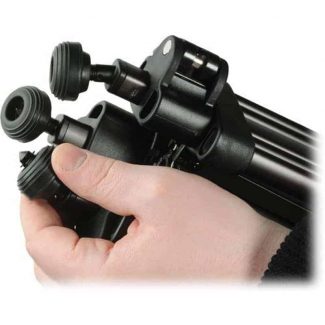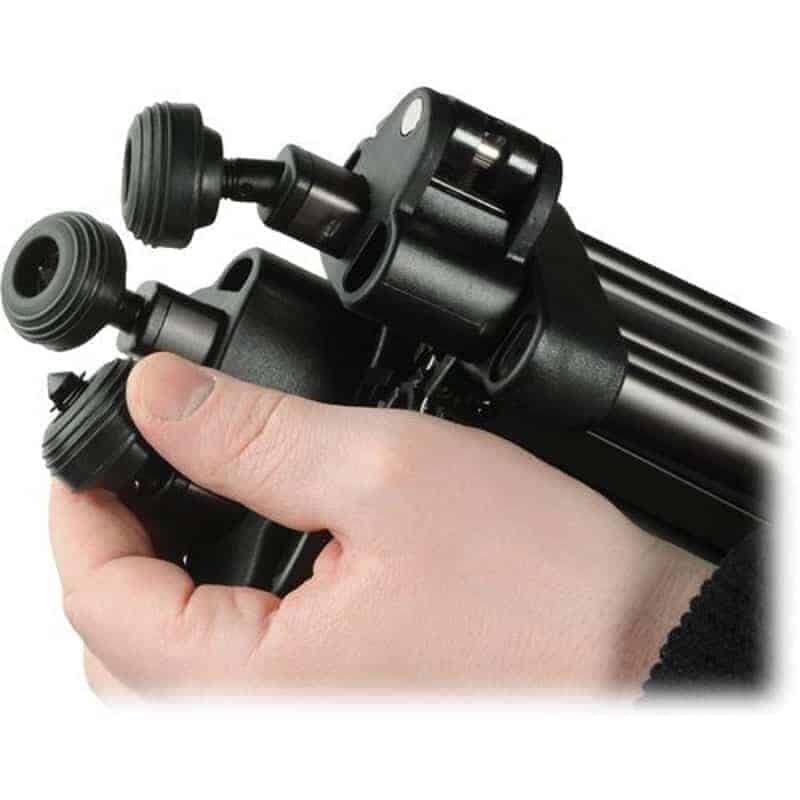 These are places where the tripod could benefit from extra traction. When needed simply turn the rubber feet to expose the spikes. When not required or when shooting indoors and on scratch-prone surfaces, the rubber feet do a good job of holding the tripod firm.
Related Post: Best Manfrotto Tripods
There is a middle spreader which along with the leg locks and the retractable spiked feet give added stability to the tripod.
The Magnus VT 4000 made by Magnus is definitely one of the best tripods for shooting videos using your DSLR!
Magnus VT-4000 Tripod System with Fluid Head
Supports 8.8 lb (4 kg) | 65mm Ball Diameter | 2-Stage Leg Design
Height Adjustment Range - 27.6" to 59" | Middle Spreader | Fixed Counter Balance
Fixed Pan / Tilt Drag | +20/-25mm Slide Range | Lightweight Tripods | With Quick Release Plate
Tilt Angle +90° / -60°
In The Box: VT-QRP400 Quick Release Plate, Carrying Case, Allen Keys (2), Limited 1-Year manufacture Warranty
---
As an Amazon Associate we earn from qualifying purchases. Certain content that appears on PhotoWorkout.com comes from Amazon. This content is provided 'as is' and is subject to change or removal at any time.