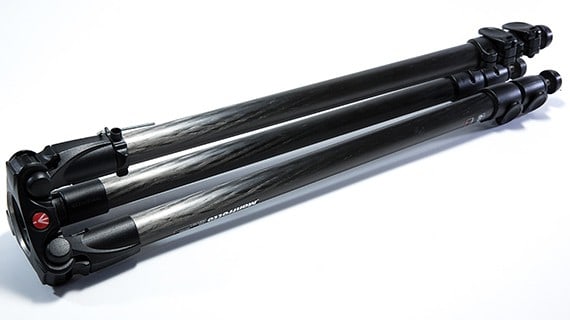 The Manfrotto 535 Video Tripod
The Manfrotto 535 Video Tripod is crafted out of carbon fiber. It is lightweight, durable and ideal for those long haul shoots where every session of shooting is punctuated with a re-jig of the entire set-up. The Manfrotto 535 has a weight of 2.3 kilos. Thus, carrying it is a lot more convenient compared to most others.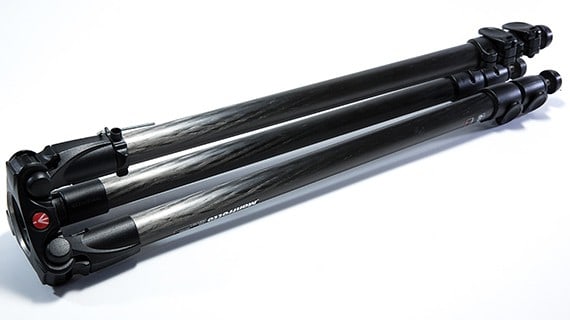 The three section legs can be opened at an angle of 23, 50 and 70 ˚. It supports up to 20 kilos of weight. Thus, it is suitable for a range of heavy-duty DSLRs and cine cameras as well.
Make no mistake, this is a sturdy tripod designed for an extended workload.
The two stage three-section legs of the Manfrotto 535 extends it to a maximum height of 67". It can be lowered down to a minimum height of 10.63". When wrapped up it reaches a length of 28.94". There is a 75mm half-bowl to mount fluid heads, mandatory if you are serious about shooting professional videos.
Flip locks on the legs keep the sections from collapsing and keeps everything secure. There are no spiked retractable feet on the legs. The feet are rubber. There is no built-in bubble level indicator on the tripod either.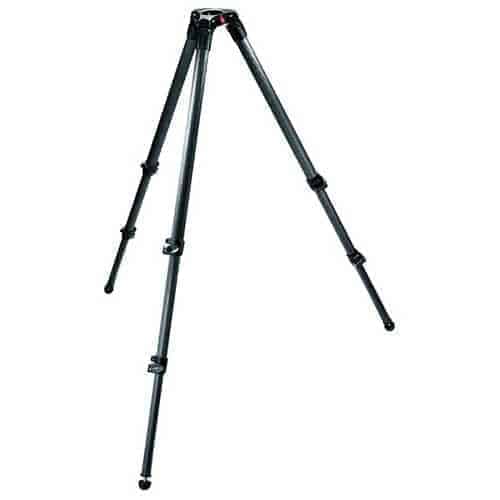 The tripod is very tall,  sturdy and well built. Having single legs makes it easier to work with, more compact, and quicker to set up.
The good part about this 535 Manfrotto Video Tripod, are however the excellent sticks, which pair well with the Manfrotto 504HD Video Head.
Have a look how the 535 Manfrotto Video Tripods together with the Manfrotto 504HD Video Head shoots video:
Match Made in Heaven
The Manfrotto 535 Tripod & The 504HD Video Head
The Manfrotto 504HD Video Head is the perfect head for your 535 Manfrotto Video tripod! Here are some of the plus points:
Big tip plate, giving your camera rig an incredibly stable, rock-solid platform
Regulations (tightening, loosening PAN, tension tilt) is easy and spontaneous
The many counterbalance settings are better than the single setting on the 501HDV
The action is astonishingly accurate and very smooth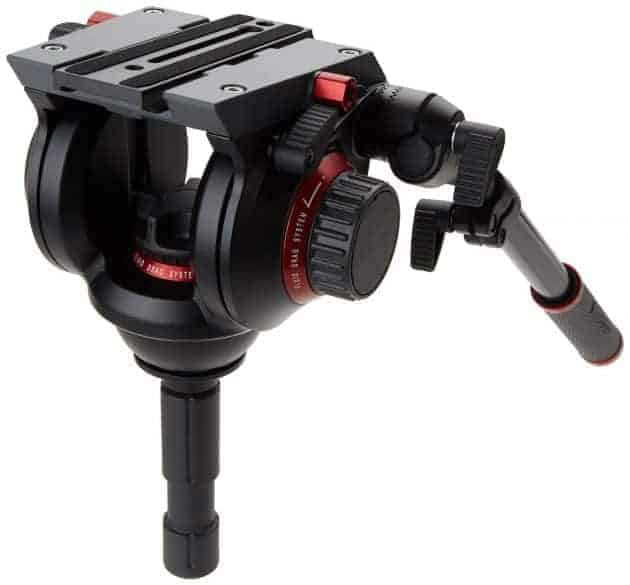 The 504HD head and a 535 Carbon Fiber leg kit is the perfect system for lightness and rigidity. The 504HD offers a perfect balance between design and performance.
The Manfrotto 504HD offers a perfect balance between design and performance and the carbon fiber tubes and magnesium die castings of the Manfrotto 535 tripod give your DSLR video shooting setup exceptional stability.
You can buy this dream set for around USD 1,000 from Amazon.