As much as we focus on the camera and lens to create our photographs, the memory card inside is equally as important! The SD card is the most quintessential of all items when it comes to recording your work.
Although various formats of memory cards exist, it all comes back down to the good ol' SD card – and here is our nifty guide to the best SD cards for photography. With one of these cards, you're ensuring your images are written quickly and efficiently, and that they're stored safely!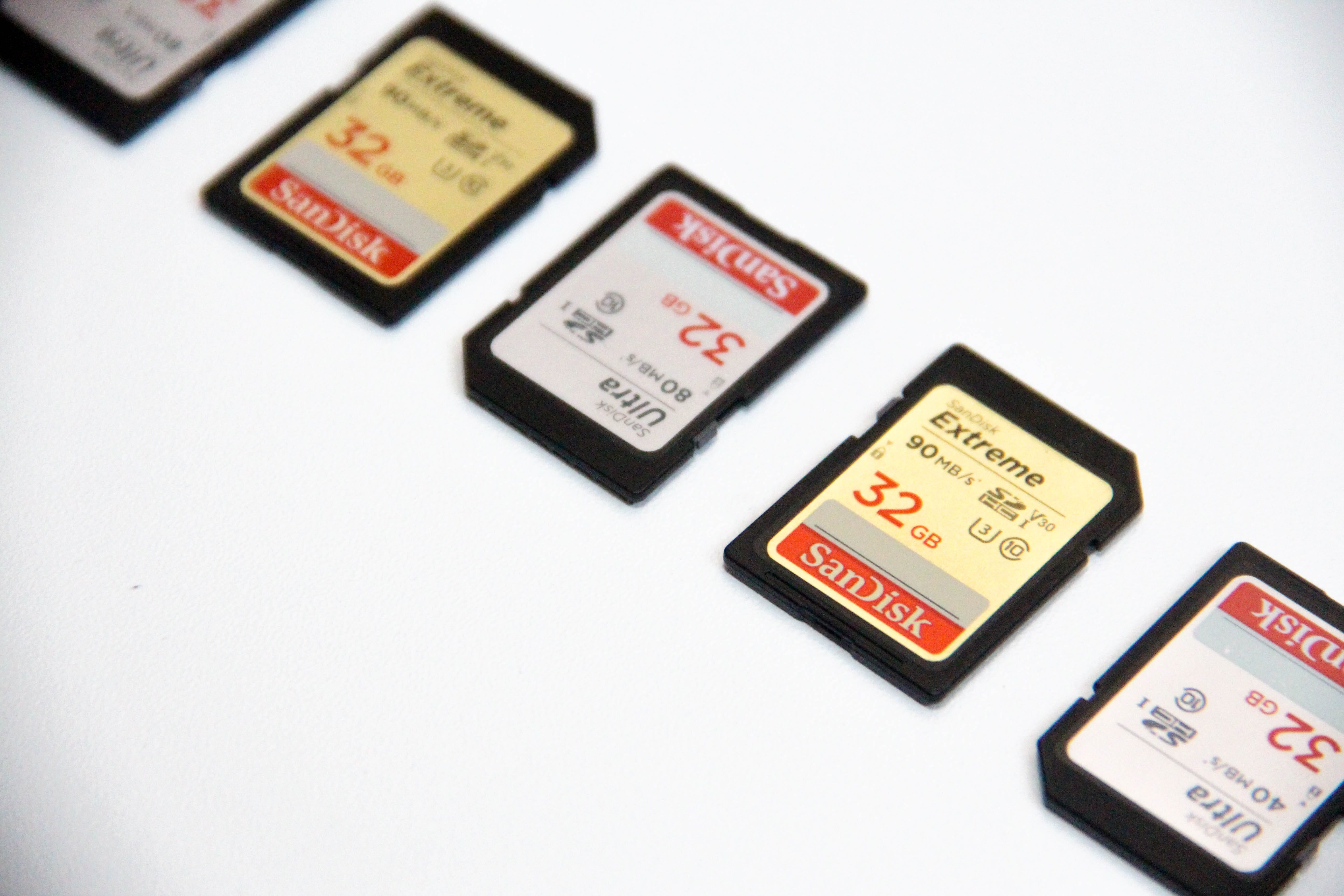 When you buy through links on our site, we may earn a commission at no cost to you. We evaluate products independently. Commissions do not affect our evaluations.
All You Need to Know About SD Cards
Now, before we get into our list, there are a few facts about SD cards you ought to know.
To start with the basics, if you've never purchased a card yourself, you may not be familiar with some of the card terminology. There are several types of memory cards available for photography, here is a quick glossary of them all: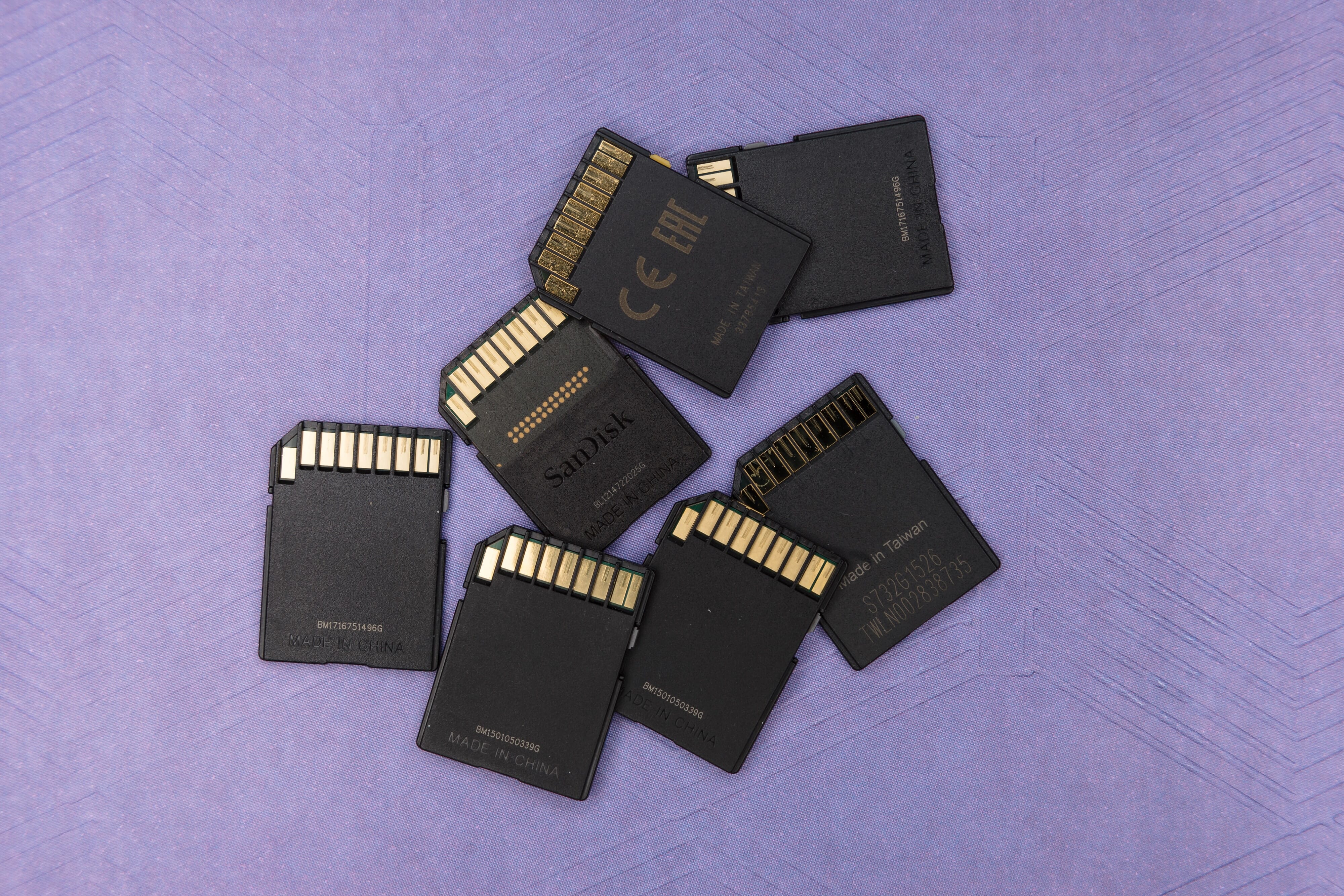 SD card – The "SD" stands for "Secure Digital". A memory card format specifically designed for use in portable devices. Most digital cameras, regardless of brand or quality, store photographs on SD cards.
SDHC card – Stands for "Secure Digital High Capacity". This is an SD card designed to hold between 4GB and 32 GB of data.
SDXC card – Stands for "Secure Digital Extended Capacity". An SD card designed to hold more than 32 GB of data.
microSD card – A miniature version of the standard SD card. Often used in smaller devices such as mobile phones, drones, or action cameras.
CF card – Stands for "Compact Flash card". Another memory card format commonly used in high-end cameras for photo storage. While not all cameras are CF-compatible, many prefer them because of their high memory capacity and overall durability.
XQD card – A memory card format targeted toward high definition, high-resolution cameras and camcorders. The format boasts quick read/write speeds and massive storage capacities.
For this article, we are focused on SD, SDHC, and SDXC cards. Make note that not all cameras are compatible with SDHC and SDXC cards. With this in mind, make sure trefer to the user manual to check for compatibilty with your camera.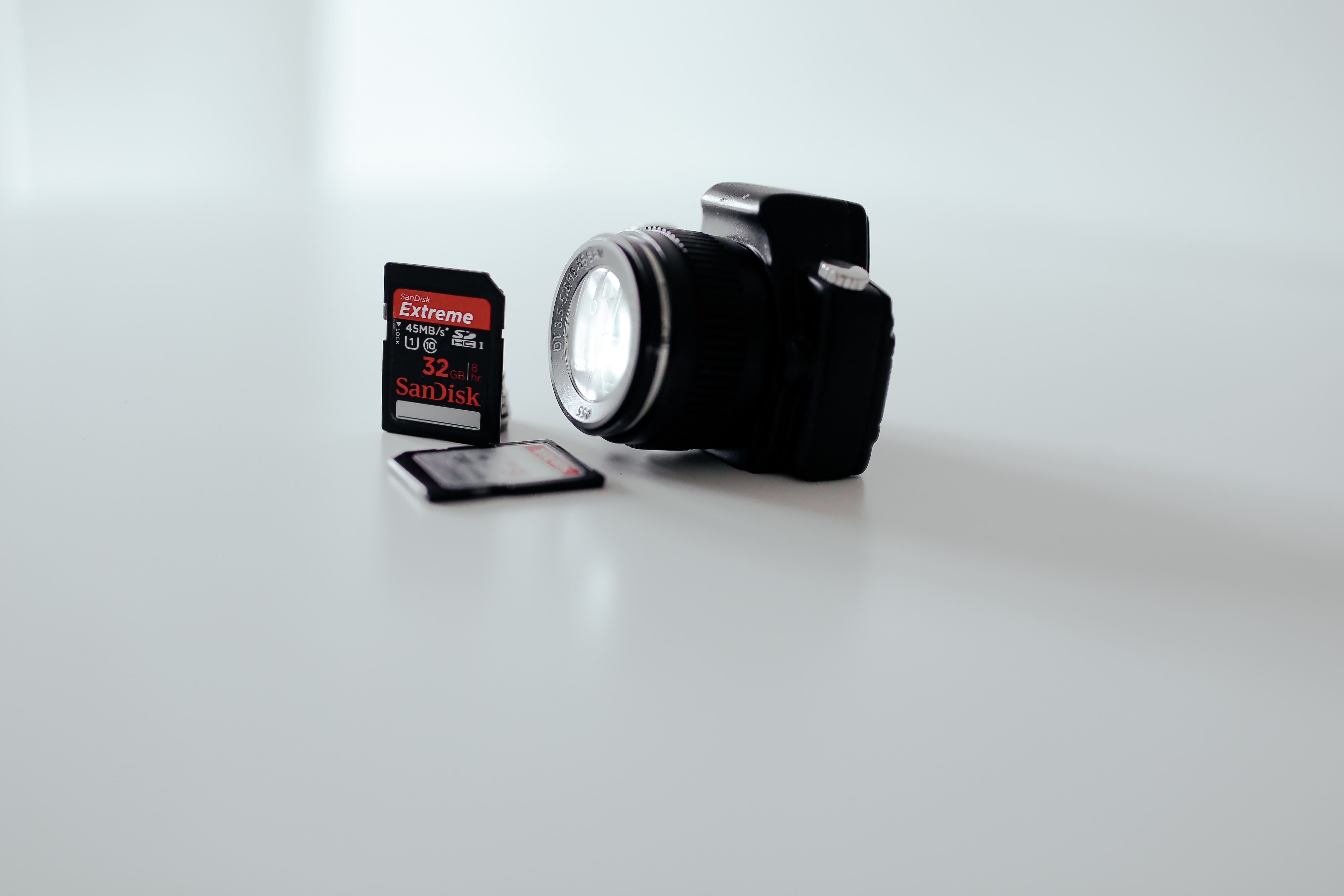 Now, not all cards are created equal. Alongside the storage capacity, you also want to look at the writing speed. When you look at a memory card, you'll see a notation that states a number and MB/s. This stands for how many megabytes the card can record per second. As you can guess, the larger the number, the faster it writes. A card that is stated to write 170 MB/s will record information much faster than 90 MB/s. For photography, your goal is to find a card that writes very quickly.
The writing speed can actually impact how well your camera works. Say your camera can shoot up to 14 frames per second. If your memory card isn't fast enough to record these frames, your camera will never reach its maximum potential of 14 frames per second (bye-bye action shots…). This is also true for cameras that are touted to have no lag with RAW files. If your memory card isn't powerful, you will still experience the writing lag. So it is safe to say you need an SD card that matches the power and capability of the camera you are using.
1. SanDisk 128GB Extreme PRO UHS-I SDXC
Also Great
A large capacity reliable card
SanDisk has a very favorable reputation in the industry, and for right season! This 128 GB card is excellent for high volume photographers.
Pros
Very large storage capacity
Shockproof, waterproof, and temperature proof
Reliable company
Cons
UHS-I with a writing speed of 170 MB/s, can be a negative for those looking for faster writing speeds
Right off the bat, it is impossible to start a list of the best SD cards without mentioning SanDisk. Regarded as one of the absolute best in the industry, SanDisk is a reputable brand that many photographers turn to with absolute confidence.
The SanDisk 128GB Extreme PRO UHS-I SDXC is a powerful memory card beloved by all sorts of photographers in a variety of niches. Built with incredible durability, the Extreme PRO line is tested to be shockproof, waterproof, and able to withstand temperatures between -13°F and 185°F. If you travel or like to put your gear through the wringer, this is definitely the card for you!
Hosting a writing speed of 170 MB/s, this is an ultra-fast card that will ensure your gear works at its highest capacity in any situation.
2. SanDisk 64GB Extreme PRO UHS-II SDXC
Our Pick
The ultimate SD card
This is the crème de la crème of memory cards for professional photographers, boasting fast writing speeds in a reliable build.
Pros
All of the SanDisk Extreme Pro perks
UHS-II card with 300 MB/s speed
Cons
Expensive
Not all cameras accept UHS-II
Very similar in features to the SanDisk 128GB Extreme PRO UHS-I SDXC, the SanDisk 64GB Extreme PRO UHS-II SDXC has a key difference (not pertaining to storage capacity): the UHS-I versus UHS-II.
UHS-II cards are the fastest on the market for read and write speeds. This is because these cards are made with videographers in mind. If you're shooting a lot of high-speed RAW files, you can benefit greatly from UHS-II as well. UHS-I is considerably slower than UHS-II, but works just fine for the average photographer who shoots normal stills or works heavily in JPEG.
As you can gather, despite having half the storage capacity of the 128 GB UHS-I card above, the SanDisk 64GB Extreme PRO UHS-II SDXC works at a much faster threshold. It offers 300 MB/s writing speed! Of course, this does come at a hefty price tag. But if you're able to shell out the extra cash, it will be worth it.
3. ProGrade Digital SD V90 UHS-II 64GB
A powerful workhorse SD card
Rightfully named, this card is build with professionals in mind; both in capability and durability.
Pros
300 MB/s speeds
Each card is personally inspected for quality assurance
Built-in file recovery software
Cons
Expensive
Not all cameras support UHS-II
Rightfully named, the ProGrade Digital SD V90 UHS-II 64GB is a professional quality memory card. The most impressive quality right off the bat is the 250MB per second write speed paired with read speeds of 300MB per second, which ensures your patience will not be tested when it comes to writing or accessing your images! This does come from the fact that this card is a UHS-II, but it is priced very competitively against the SanDisk equivalent.
Another special feature with the ProGrade SD card is that the company itself actually takes the extra effort to ensure the quality of its product. Each card is personally inspected before being sent out and the serial numbers are laser-etched to help prevent counterfeits.
This card has recovery software in it as well, which means that if the images are accidentally deleted or magically vanish you can have a higher likelihood of saving the lost photographs. The included Recovery Pro Software is rated quite highly amongst user reviews, which is a nice peace of mind to have.
4. PNY Elite-X 64GB
Most Budget Friendly
Best bang-for-your-buck
The least expensive card on the list, despite the low price the PNY Elite-X 64GB performs brilliantly and offers a lot.
Pros
Inexpensive
Magnet proof, fall proof, temperature proof, and waterproof
Cons
Writes slower than its promised 100 MB/s
Can have some formatting issues with specific cameras
If cost is a factor, the PNY Elite-X 64GB is the most budget-friendly on our list, coming in at under $20 US dollars for 64GB! Don't let the price fool you – this card's capability isn't too shabby either. Writing at 100 MB/s, it's certainly not slow and is plenty for most still photographers. Videographers and those playing with 4K cinema would probably prefer a faster card, but you also get what you pay for.
This card is also surprisingly durable for its lower cost, with the company stating that the PNY cards are magnet-proof, fall-proof, temperature-proof, and waterproof. Its downsides tend to come from performance reliability, with some users stating that the card actually writes slower than 100 MB/s in most cases, but this tends to be dependent on different factors. As well, this card doesn't always format correctly to some very specific types of cameras, such as Lumix models (so it is best to test it out prior to going on a paid photo session or a magnificent vacation).
5. Lexar Professional Class 10 UHS-II 2000X 64GB SDXC
Another industry standard for good reason
The Lexar Professional Class 10 UHS-II 2000X 64GB SDXC has many of the same features as its SanDisk competitor but also comes with a high speed SD reader.
Pros
Reliable and consistent in performance
Comes with a high speed SD card reader
Cons
Not all cameras support UHS-II
Expensive
Considered pretty much a direct competitor to SanDisk in the industry, Lexar is another brand name commonly referred to in photography. Sporting the same reliability, grand reputation, and consistent performance – the Lexar Professional Class 10 UHS-II 2000X 64GB SDXC is a great choice if you're willing to dish out the cash.
Boasting many of the same features as cards in the UHS-II class, the Lexar Professional Class 10 UHS-II 2000X 64GB SDXC also comes with its own high-speed UHS-II SD reader – a good two-in-one action when purchasing this product. This helps transfer all of your rapid-fire action shots to the computer quickly and easily, as this card really is built for high-quality shooting.
Just be mindful that not all cameras support cards that are this powerful, so double check your gear of choice.
6. Sony 32GB SF-G Tough Series UHS-II SDXC
Most Durable
The Nokia phone of SD cards
If you like to abuse your stuff, this card can handle it all with no problems.
Pros
Strongest SD card available on the market
Fast and powerful UHS-II card
300 MB/s speed
Cons
Expensive
Not all cameras support UHS-II
With the Sony brand having a hand in every technology industry, it would be surprising for them to not have also stepped into the world of memory cards. But to differentiate themselves from the large herd of SD cards, the Sony Tough series focuses on strength – literally.
The Sony 32GB SF-G Tough Series UHS-II SDXC holds the title for the strongest SD card out there, thanks to its special construction. The Sony 32GB SF-G Tough Series UHS-II SDXC has an 18 times greater bend strength than other SD card model on the market, thanks to its one-piece molded construction and strong material composition. The card is also completely waterproof. This is a fancy way of saying that the Sony Tough card is the Nokia phone of SD cards and you'd be hard-pressed to break it!
This is a UHS-II card, so you can expect 300 MB/s speeds on an average storage capacity of 32 GB.
7. Transcend UHS-II U3 64GB SDHC
Another nice option
Nothing particularly stands out about this card, but is performs very well and deserves a spot on the list.
Pros
Works as well as comparable options
File recovery software included
Cons
Slightly slower in writing speed at 285 MB/s
This card is a bit slower for a UHS-II card (writing at 285 MB/s versus 300 MB/s), but the Transcend UHS-II U3 64GB SDHC is an excellent value card that still offers that top-tier speed. Many RAW format users like this card due to the fact that it doesn't cause any sort of lag when writing such large files and has been proven to be quite reliable (especially for a company you don't hear about often).
The Transcend UHS-II U3 64GB SDHC includes RecoveRx software in it and is quite a durable build as well. This card doesn't have anything that particularly stands out in it when compared to our list, but it's a great performer and deserves its spot as number 7!
8. Ritz Gear Extreme Performance High Speed UHS-I SDXC 128GB
Heavy duty performer with great storage size
With very favorable reviews on Amazon, this card is an excellent performer with 128 GB capacity at a great price.
Pros
Excellent price
128 GB storage capacity and UHS-I type
Very liked by consumers
Cons
Slow writing speed at 90 MB/s
A mouthful of a title, the Ritz Gear Extreme Performance High Speed UHS-I SDXC 128GB is a pretty powerful UHS-I card if I do say so myself! This is a highly rated card and there is little to dislike about it, even if the brand is not a recognizable name.
The price is very good for the immense amount of storage capacity in this card, it'll certainly last you through an entire vacation and likely leave room for more images! Although it is the slowest writer on our list, coming in at 90 MB/s, this is more than enough for the hobbyist photographer or one whose camera doesn't write incredibly large files.
If you're working with a 61-megapixel camera, this card might be slow. However, not that many people have such high-spec gear. Plus, the card is only around $30 US dollars, so finding a 128 GB storage capacity at that rate is already pretty impressive!
9. Everything But Stromboli 64GB
A quirky name for a good everyday card
A card with the average user in mind, the Everything But Stromboli 64GB is targeted towards the layperson user.
Pros
Decent quality card
Great price, often a good value pack deal
Cons
Only 90 MB/s writing speed
Not as durable as competitors
A brand most have never heard of unless they're pursuing Amazon deals, the Everything But Stromboli 64GB cards hold a fun title on a useful product. Definitely aimed at soccer moms and casual photographers, this quirky brand makes pretty good SD cards and can very often be found in multipacks for a great price.
Recording data at 90 MB/s, it's not a poor speed and the majority of cameras accept this nice little card. For those not looking for anything terribly serious, the Everything But Stromboli 64GB is the option for you.
10. SAMSUNG EVO Plus for Creators SDXC 256GB
Made with artists and photographers in mind
The largest capacity card on our list, the SAMSUNG EVO Plus for Creators SDXC 256GB is really made for the artists.
Pros
Incredible 258 GB storage capacity
Can handle quite the workload at 100 MB/s speed
All components made in-house (not by a third party)
Excellent price
Cons
Slower than comparable cards
Samsung is a recognizable electronic company (primarily for their cell phones and TVs) so it's not out of this realm to see them embark on the SD card voyage! Already aiming towards the artists out there, the SAMSUNG EVO Plus for Creators SDXC 256GB packs a mighty big punch with a storage capacity seldom seen for such a great price!
At 100 MB/s, it's not slow and can handle a pretty heavy workload. One of the company's biggest claims to fame with this particular SD card is that all of the components and software are produced in-house and not by third-party companies. This can aid in-house tech support should something potentially go amiss! Many favorable reviews go along with this product, notably those stating that even purchasing the card used was fine (something not commonly accepted) – because it continued to work great!
Bonus Advice
On our list, you'll notice that we don't have any cards listed at under 32 GB in storage capacity. The reason for this is that photographers really shouldn't be using anything less! 64 GB and up is actually the more ideal number. Many modern cameras are very high resolution which leads to larger file sizes… in turn, leading to a need for more storage space.
On this similar note, it's a well-regarded fact that no photographer should ever be shooting on only one card – always have more than one on hand, the more the merrier! Aside from the obvious, "you don't want to run out of data on a shoot", memory cards are not fool-proof and instances of data corruption are very possible. Make sure to check your photographs every few shots to ensure they are properly writing and have extra cards in your pocket just in case.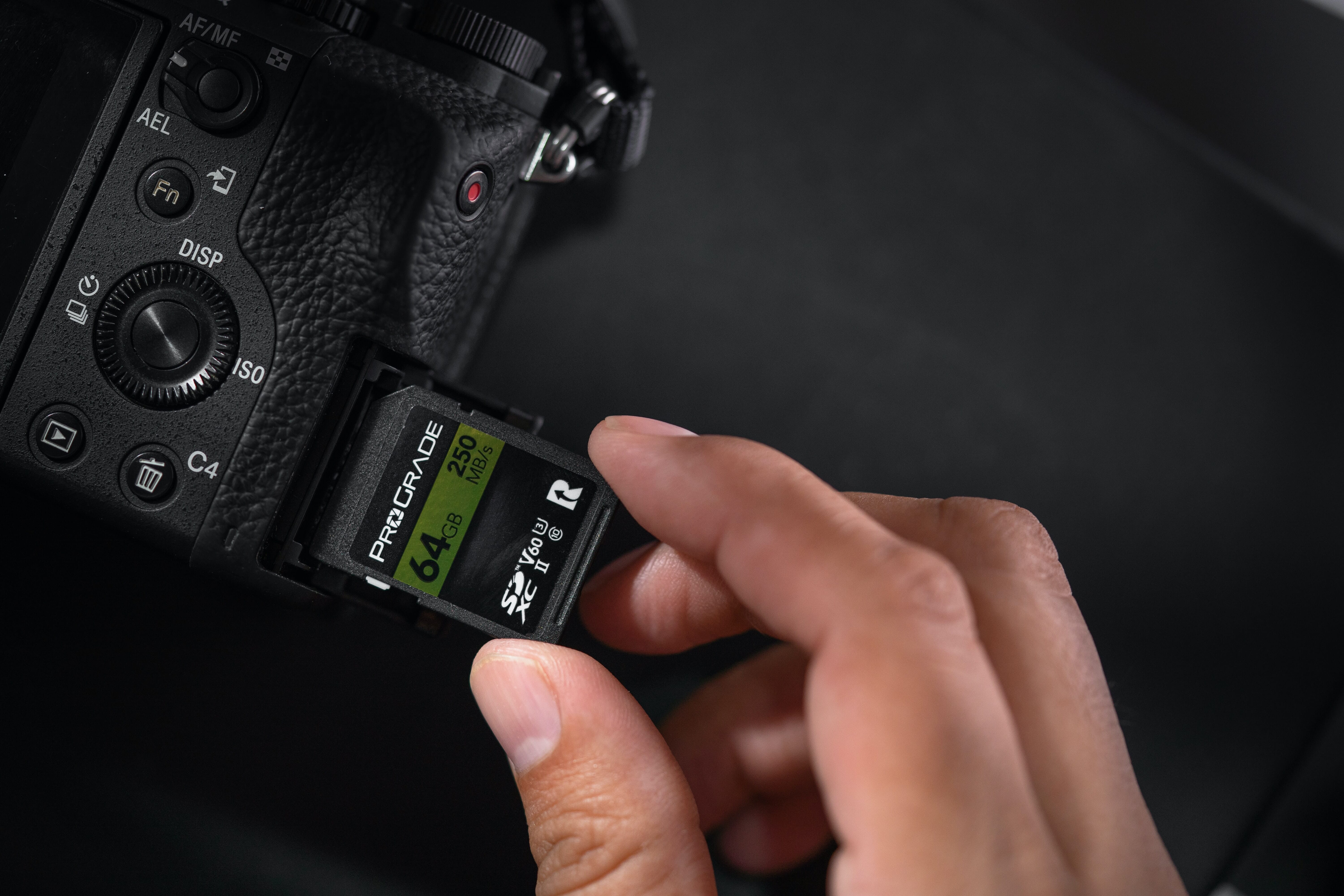 If your camera uses dual card slots, definitely use both slots. Weddings, portraits, and events are all far too risky to capture on only one SD card. When using both slots, if it's a once-in-a-lifetime event, set the camera to write to both cards simultaneously; if one card ends up corrupted or having trouble, you have copies on the other card as a backup! 
SD cards do go bad after time, so it's not unusual to purchase cards every few years. This is an expense you should be prepared for. An additional expense would be to pick up a good card reader as well, you don't want to wait hours for all of those gigabytes to transfer to your computer!
Which SD Card Is Right for You?
Before running out and buying all of the cards on our list, it's best to determine what SD card is right for you and just buy multiples of that card. Assuming that your camera can handle all of the above card formats, we like the SanDisk 64GB Extreme PRO UHS-II SDXC as our ultimate favorite.
A brand that upholds its reputation for exceptional performance, a great warranty, and incredibly fast writing speeds, that card can do no wrong to you. The SanDisk 128GB Extreme PRO UHS-I SDXC is also great as a more cost-effective option in the same quality category.
The PNY Elite-X 64GB is an excellent card for the budget-conscious as it won't break the bank and still offers great performance. For those that like to put their gear through the wringer, there is no doubt that the Sony 32GB SF-G Tough Series UHS-II SDXC is the strongest SD card available on the market!
---
As an Amazon Associate, we earn from qualifying purchases. Certain content was provided "as is" from Amazon daily and is subject to change or removal at any time.