Video editing is a demanding task that requires a powerful computer. Running software like Adobe Premiere Pro and Final Cut Pro X takes up a lot of system resources and processing power.
But even with a top-spec computer, something that you will always find yourself needing, as a video editor, is storage. That's why we're going to look at the best external hard drives for video editing as a solution to limited storage space.
With countless hours of high-resolution video footage, you're bound to have huge file sizes and find yourself running out of storage space at some point.
External hard drives are invaluable tools that allow you to expand your storage capabilities and work with files on different devices when needed.
When buying an external hard drive for video editing, you not only need to consider the storage size, but also the transfer speed. That's what we did when writing this buying guide. Below you can find the best option available in 2022.
Best External Hard Drive for Video Editing – Our Top 8 Choices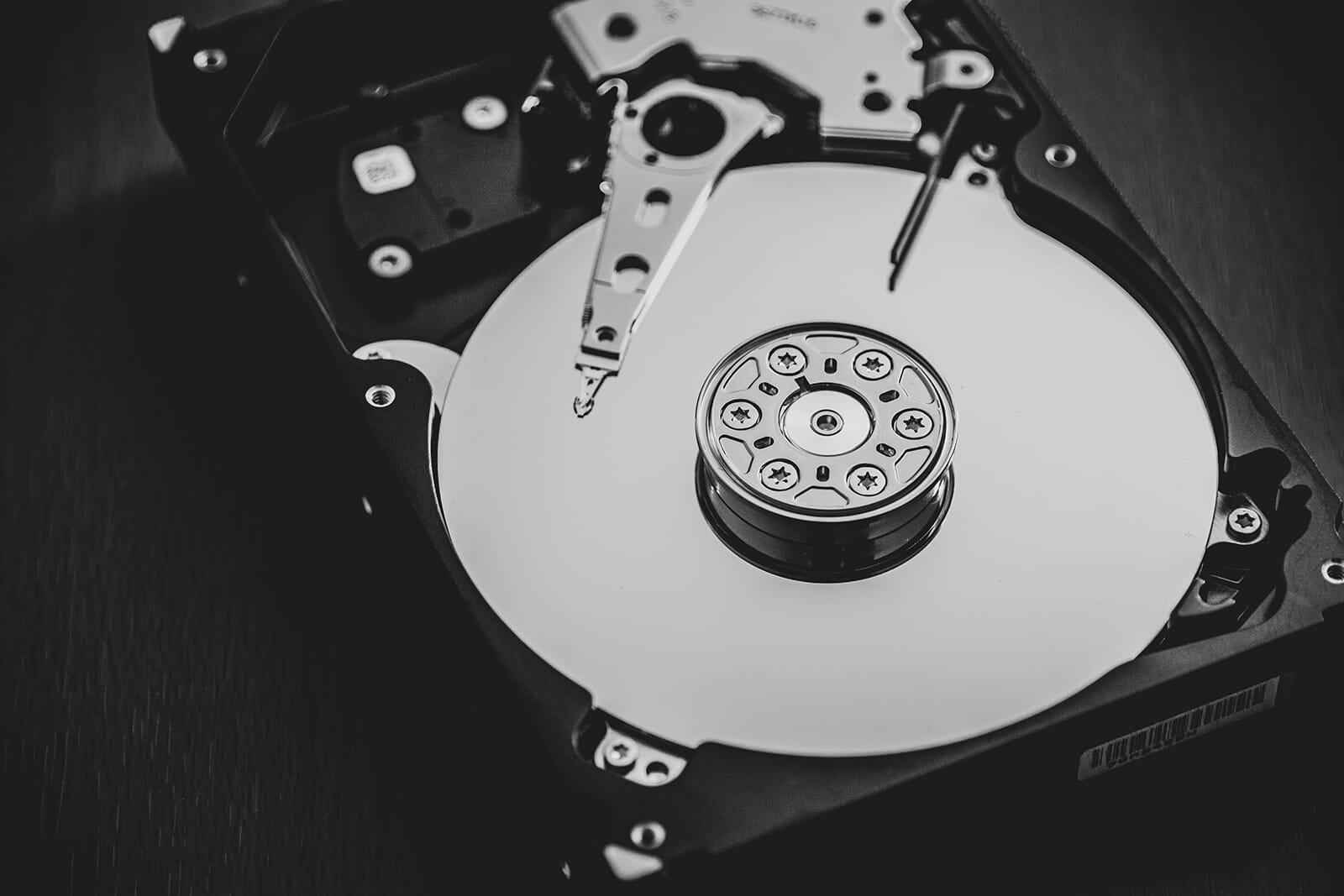 We have chosen a selection of external drives, covering a broad range. From inexpensive models with a high storage capacity to premium models that offer ultimate transfer speeds for 4K and 8K video. Whatever it is you're looking for, we're sure you'll find something that suits your needs!
1. SanDisk 2TB Extreme PRO Portable SSD
Best overall SSD for video editing
Portable design, excellent transfer speeds, and utilizes advanced USB connectivity.
Our top choice when it comes to the best external hard drives for video editing is the SanDisk 2TB Extreme PRO Portable SSD. SanDisk has a great reputation for making robust and high-quality portable SSDs and this model is no exception. 2TB of storage should be more than adequate for even a large video library.
We like the exceptional transfer rates of this SSD and it is capable of read/write speeds of up to 2000MB/s. Also, it has a forged aluminum chassis and comes with a 5-year manufacturer's warranty. This SSD is also decent for travel as it is waterproof to IP55 standards and can be dropped without damage from a height of 2m.
Waterproof to IP55 standards
Excellent read/write speeds
Durable and robust design
Some may find the SSD difficult to encrypt
2. G-Technology 1TB G-DRIVE Mobile Pro SSD
Fastest SSD for video editing
Incredible transfer rates of up to 2800MB/s and a robust drive design.
G-Technology produces some fantastic drives and the G-Technology 1TB G-DRIVE Mobile Pro SSD is one of their best options. This SSD has some of the quickest read/write speeds of up to 2800MB/s which is perfect for transferring HD video. It is also available in 500GB, or 2TB variations, so if you're looking for slightly more or less storage, this is a great option.
The drive is quite robust and it is shock resistant. It offers advanced Thunderbolt 3 connectivity and comes with a cool aluminum core to help give consistent performance. Despite its quality, this G-Technology drive is still quite compact and won't take up too much space in your office (or backpack).
Superb read/write speeds of up to 2800MB/s
Shock resistant case
Some may find 2TB limiting in capacity
3. LaCie Rugged USB-C 4TB External Hard Drive
Most durable HDD for video editing
Perfect for traveling and using in unpredictable conditions.
The LaCie Rugged USB-C 4TB External Hard Drive is one of the most durable external drives on the market and is our choice as the best external hard drive for video editing on the go. Its exterior casing is virtually indestructible and will survive drops, bumps, and even rain.
The HDD itself still performs well. It has decent read/write speeds of up to 130MB/s and uses a USB-C connection. We also like that when buying this product, you gain complimentary access to Adobe's Creative Cloud storage service for one month.
A rugged and durable design
Easy to use
Could have better read/write speeds
4. Seagate Barracuda Fast SSD 1TB
The Seagate Barracuda Fast SSD 1TB offers a good mix of excellent design, durability, and high performance for video editing. It is available in 500GB, 1TB, and 2TB variations, and offers read/write speeds of up to 540MB/s. Also, it offers a quick USB-C connection, and it has an automated sync feature so you can easily keep backups of your videos.
In terms of design, this SSD looks sleek and it has a slimline chassis. It also features a bold LED accent light, and can easily fit anywhere in your office or computer room.
Stylish and slimline design
Fast read/write speeds of 540MB/s
Some may find 2TB of storage not enough
5. SAMSUNG T5 Portable SSD 2TB
The SAMSUNG T5 Portable SSD 2TB is one of the best Samsung SSD drives available and is excellent for video editing due to its fast read/write speeds of up to 540MB/s. It also offers a decent amount of storage at 2TB. We feel this SSD is decent value for money given the quality and features you get.
It does have optional AES 256-bit encryption, too, which is great for protecting your editing work. For connectivity, it has both USB-C to USC-C and USB-C to USB-A cables which make it versatile for newer and older computers.
A small and compact design
Multiple cables for different USB connections
Some people may need more than 2TB of storage
6. G-Technology 10TB G-DRIVE USB-C
This stylish G-Technology 10TB G-DRIVE USB-C has the largest storage capacity in this list and is the best external hard drive for video editing if you have a large video library. With 10TB of storage, you should never run out of space!
It also has a great design and is enclosed within an aluminum chassis for extra protection and sealing. It comes with a 3-year manufacturer's warranty and is relatively easy to set up and create backups from.
Huge storage capacity
Sturdy and durable design
Could have faster transfer speeds
7. Buffalo MiniStation Extreme NFC USB 3.0 1 TB Rugged Portable Hard Drive
Most secure HDD for video editing
Excellent security with hardware encryption.
The Buffalo MiniStation Extreme NFC USB 3.0 1 TB Rugged Portable Hard Drive offers some of the best security and encryption available for an external HDD. This makes it a great choice if you have sensitive videos or videos relating to your business. It also has amazing read/write speeds and is compatible with both Mac and Windows devices.
For durability, this HDD is dust and water-resistant and features an integrated USB cable to help prevent damage and wear.
Excellent security features
A solid and protective design
Some could find 1TB of storage limited for larger video libraries
8. WD 2TB My Passport Ultra USB 3.0 Type-C External Hard Drive
Best HDD for travel
Lightweight and stylish but still offers great performance.
The WD 2TB My Passport Ultra USB 3.0 Type-C External Hard Drive is a highly portable drive that is compact and lightweight. It also comes with a water-resistant carry case for travel.
For video editing, it has decent read/write speeds and benefits from both USB Type-A, and USB Type-C cables.
Excellent for video editing while traveling
A good range of connection cables
Could have a greater storage capacity
How to Choose the Best External Hard Drives for Video Editing
So now you have an idea of what the best external hard drives for video editing are. But which one is the best for you? To make your choice easier, first look at your circumstances. How often do you edit videos and what size are they usually? Do you travel often and need a drive for your travels? What type of budget do you have available?
Answering these questions should narrow your choices considerably. To further help, we have created a short buying guide below with four other important considerations:
Storage Capacity
Without a doubt, the storage capacity of your drive is important. This largely depends on how often you will edit videos, and how large your video library is.
To give you an idea of size, a typical 1080p HD video equates to approximately 20-30MB per minute. Therefore, a 30-minute video could be up to 900MB in file size. That's just for a 1080p HD video – if you are recording in 4K or 8K, the file size is increased
Ideally, you want an external HDD with a minimum storage of 1TB (1000GB). Whether you want a higher capacity or not depends on your intended usage.
Physical Dimensions
You should also consider the size, weight, and portability. Some external SSDs and HDDs are incredibly bulky and heavy and are only suitable for stationary use. Others, however, are much lighter and can be used as portable devices.
Some external drives have special robust casings that make them great for travel. This again comes down to personal usage, and where you intend to take the drive.
Transfer Speed
Aside from the storage, another key feature of the best external hard drives for video editing is the transfer speeds. When working with video, you will be transferring large files from your computer to your drive. As a result, you want fast transfer speeds so the files are copied quickly.
Most of the drives in the list above have read/write speeds of 540 MB/s. Theoretically, that means a 10GB video file would take approximately 20 seconds to copy – that's not bad at all! Some drives are capable of speeds greater than this, however, and this would be beneficial if you constantly work with long-form video content and large file sizes.
Improve Your Flexibility and Productivity When Video Editing with a Quality External Hard Drive
We hope this article has helped you decide which external hard drives are best for your video editing needs. If you regularly edit videos for a hobby or your profession, having the best drive will help greatly.
As a final piece of advice, we advise backing up your external drive regularly either to a cloud storage service or to a secondary drive as an additional safeguard.
Do you have a favorite hard drive for video editing? Let us know in the comments below!
---
As an Amazon Associate we earn from qualifying purchases. Certain content that appears on PhotoWorkout.com comes from Amazon. This content is provided 'as is' and is subject to change or removal at any time.