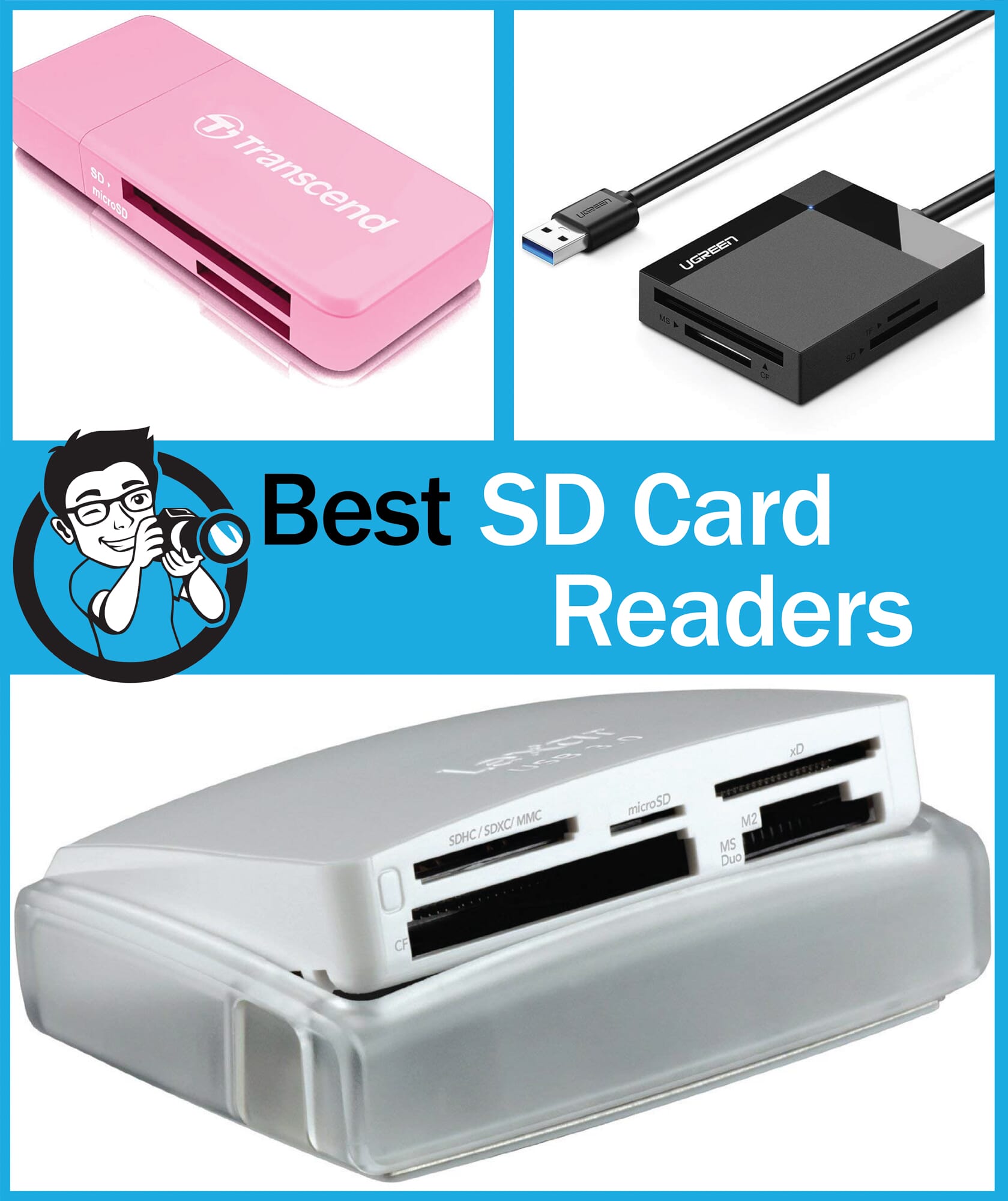 Have you ever asked yourself what you can do to speed up the file transfer process? No one wants to watch loading bars fill as images transfer at a snail's pace. What you may not realize is that the best sd card readers can drastically reduce post-production time.
Learn To Talk The Talk
Before we dive deep into our reviews, let's go over some basic SD card reader jargon. We've pulled together a small glossary to help differentiate between some of the most common memory card formats.
SD card – The "SD" stands for "Secure Digital". A memory card format specifically designed for use in portable devices. Most digital cameras, regardless of brand or quality, store photographs on SD cards.
CF card – Stands for "Compact Flash". Another memory card format commonly used in high-end cameras for photo storage. While not all cameras are CF-compatible, many prefer them because of their high memory capacity and overall durability.
XQD card – A memory card format targeted toward high definition, high-resolution cameras and camcorders. The format boasts quick read/write speeds and massive storage capacities.
SDHC card – Stands for "Secure Digital High Capacity". An SD card designed to hold between 4GB and 32 GB of data.
SDXC card – Stands for "Secure Digital Extended Capacity". An SD card designed to hold more than 32 GB of data.
microSD card – A miniature version of the standard SD card. Often used in smaller devices such as mobile phones.
RELATED POST: The Best Software to Organize your Photos on a Windows PC
The Best SD Card Readers We Found
PhotoWorkout Budget Pick!
This card reader's bright pink coloring isn't the only thing that sets it apart from the crowd. The TRANSCEND RDF5 USB SD/microSD MEMORY CARD READER keeps things as simple as possible to optimize the way you transfer your data.
The Transcend RDF5 accepts SDHC/SDXC and microSD cards, sporting separate slots for each format.
Each purchase includes free data recovery software.
The RDF5 has a USB plug for instantaneous connection.
With the help of an adaptor, the Transcend is compatible with tablets and Android phones with OTG capabilities.
This card reader has a compact, lightweight build akin to standard thumb drives.
Transcend USB 3.0 SDHC/SDXC/microSDHC/SDXC Card Reader, TS-RDF5R (Pink)
Superspeed USB 3.0 interface; backwards compatible with USB 2.0
Supports SDHC (UHS-I), SDXC (UHS-I), Micro SD, microSDHC (UHS-I), and Microsoft (UHS-I)
Led card insertion and data transfer activity indicator
Ideal for transferring high-resolution images and video recordings
Supports SD and security functions - USB powered
3. Apple Lightning to SD Card Reader
Die-hard Apple users, look no further – this is the choice for you. The Apple Lightning To Sd Card Camera Reader is designed to cooperate with your existing Apple devices.
In other words, it makes the process of transferring images a no-brainer.
The Apple Lightning accepts standard SDHC/SDXC as well as microSD cards.
Works seamlessly with iPhone and iPads. As soon as you plugin, the images from your SD card will begin to transfer into your Photos app without prompting.
Small size makes it easy to stow away and travel with.
Great choice for photographers working on location that need to deliver results quickly.
They say the greatest things come in small packages.
Certainly, the old adage is true for the TekRepublic TUC-300. With high data capacity, this little powerhouse is among the best SD card readers around.
The TUC-300 works with SDHC/SDXC as well as microSD cards
Compatible with Mac, Windows, and Linux operating systems.
Incredibly fast data transfer speeds of up to 5 GB/second.
Compact design prioritizes portability and can easily slip into a pocket.
Tek Republic TUC-300 Portable 12-in-1 USB 3.0 Card Reader
USB 3.0 for maximum speed performance. Backward compatible with USB 2.0
Support SDXC (up to 2TB), SDHC, SD, Micro SDXC, Micro SDHC, Micro SD, MMC, MS Cards
SD, SDHC, and SDXC cards are support in UHS-I mode up to 104 MB/Sec
Plug-n-Play & Hot-Swap; Backwards compatible with USB 2.0 and 1.1
Supports Windows, Mac and Linux
RELATED POST: Best SD Card for Your Canon 6D and Nikon D3300
What's not to love about this perfect marriage of functionality and affordability? The ANKER 2-IN-1 USB PORTABLE CARD READER may not look like much, but it's fully capable of handling all of your image transfer needs.
Works with SDXC/SDHC, microSD cards, and more!
Plugs directly into a USB port, no wires necessary to make a connection
Transfers data quickly at 5GB/second
Despite being smaller than the average USB flash drive, sports an ultra-durable plastic build.
The Anker 2-in-1 has the ability to read and write on multiple cards simultaneously.
Anker 2-in-1 USB 3.0 SD Card Reader for SDXC, SDHC, SD, MMC, RS-MMC, Micro SDXC,...
Simultaneously read and write on two cards to save yourself the effort of constant unplugging and re-plugging.
USB 3.0 enables data transfer rates of up to 5Gbps for faster Sync times, backward compatible with USB 2.0/ 1.1.
Fully powered via your USB port — no additional power supply required.
No drivers required for Windows 10/ 8/ 7/ Vista or Mac OS X 10.2 and above.
Package contents: Anker SD/TF Card Reader, hassle-free 18-month warranty.
The LEXAR MULTI-CARD 25-IN-1 MEMORY CARD READER is a great choice for photographers that aren't sure exactly what they want from their card reader.
It's versatile and supports just about anything you can throw at it.
Accepts CF cards as well as standard SDHC/SDXC and microSD cards. Also works with less prominent memory card formats.
The Lexar can transfer data from more than one card at a time. In addition, it can transfer data between cards.
Pop-up design helps keep card slots protected when not in use.
Works at speeds up to 500 MB/second.
Lexar Multi-Card 25-In-1 USB 3.0 Reader - LRW025URBNA
Extremely versatile reads 25 popular memory card formats
Leverages SuperSpeed USB 3.0 technology for high speed file transfers, with a USB interface speed up to 500MB/s
Enables concurrent downloads and card to card file transfer
Pop up design protects card slots
Quickly and easily transfer photos, videos, music, and files
A PhotoWorkout Favorite!
What makes the UGREEN SD Card Reader one of the best SD card readers out there?
In short, it's the total package. As if its broad compatibility and impressive performance weren't enough, its price tag makes it an even more tempting offer.
Slots support CF, SDXC/SDHC, and microSD cards
UGreen can work with Mac, Linux, Windows, and Chrome operating systems.
Can support cards with up to 512 GB of data.
Works at impressive transfer speeds of up to 5GB/second.
The card reader can read multiple cards simultaneously.
UGREEN SD Card Reader USB 3.0 Card Hub Adapter 5Gbps Read 4 Cards Simultaneously CF...
One Reader for Multi Cards: Ugreen USB Card Reader is designed with 4 card slots: SD, Micro SD, CF, MS slots and USB 3.0...
Super Speed&High Capacity: Ugreen USB Memory Card Reader support SD/Micro SD card up to 512G and allows super fast data...
Compact Design&Premium Quality: So useful but so compact. Easy to grab and go. Reinforced cable, Tin-plated pure copper core...
Broad Compatibility: Compatible with Windows XP/Vista/7/8/8.1/10, Mac OS, Linux, Chrome OS and etc. It could read and write...
One-sec Installation: Plug and Play. No driver needed. Hot swapping and auto detection.
PhotoWorkout Budget Pick!
Don't let your eyes deceive you – the COASD SD Card Reader is much more than a run-of-the-mill thumb drive. Transferring your images is as simple as plugging in with this little card reader.
Slots for SDHC/SDXC cards as well as micro SD products.
The Coasd has a USB and a microUSB plug built-in. That means that it's compatible with tablets as well as Android smartphones with OTG functionality.
Small enough to fit in a pocket, this card reader weighs in at less than an ounce.
COASD SD Card Reader,Micro SD Card Reader,SD Card Adapter,Memory Card Reader,USB SD...
1. SD Card Reader and Micro SD Card Reader with standard USB-A and Micro-USB ports to make it as SD Card Adapter and Micro SD...
2. Memory card reader to support on all OTG device to playback videos and music directly from external memory without...
3. As a SD Card Reader for Android, it can manage all your data across multiple platforms for Create Copy Edit Move Delete...
4. Universal Compatibility and Easy Use Powers via Micro USB USB port No additional power supply needed Easy to take. use and...
5. Note NOT include SD Micro SD cards Does NOT support memory cards over 64GB because of limited current provided by mobile...
RELATED POST: Best Compact Flash Cards
The SONY XQD/SD Card Reader has the alluring and unique feature of being XQD card compatible. However, if you're not ready to switch over to the emerging format, it's plenty capable of working with SD card formats as well.
Outside of standard SDHC/SDXC cards, Sony's card reader also works with XQD cards.
While the price is a bit higher than the average card reader, Sony offers a one year warranty with purchase.
Manufacturers claim that the device can back up an impressive 64 GB of data in less than three minutes.
Excellent choice for Sony and Lexar users that would like to take advantage of latest memory innovations
Sony MRW-E90/BC2 XQD USB 3.0 Reader
Compatible with all XQD Series and UHS-II SD Memory cards
Super speed USB (USB 3. 1 Gen 1)
Xqd high speed driver and XQD drive letter recognition are available for free download from the Sony web site
Sleek, simple, and straightforward, the SANDISK IMAGEMATE PRO is a solid candidate as one of the best SD card readers around. SanDisk has always been at the forefront of flash memory technology, and they don't disappoint with the Imagemate
Slots for microSD, CF, and SDHC/SDXC cards.
Can transfer up to 500MB of data per second.
A little bulkier and sturdier than the pocket-sized card readers.
Works with both Windows and Mac operating systems.
SanDisk ImageMate PRO Multiformat Reader/Writer, Multi Color (SDDR-489-A47)
WORKS WITH MULTIPLE CARDS: Whether your card is a UHS-II, UHS-I or non-UHS SD or microSD card, the SanDisk ImageMate PRO...
FAST TRANSFER SPEEDS FOR IMPROVED WORKFLOW: With transfer speeds of up to 312MB/s for SD and microSD and up to 160MB/s for...
WORKS WITH USB 3. 0 AND 2. 0 PORTS: The SanDisk ImageMate PRO Multi-Card Reader features a USB 3. 0 interface that can move...
WORKS WITH WINDOWS AND MAC COMPUTERS: The SanDisk ImageMate PRO Multi-Card Reader works with your PC or your Mac computer
SANDISK AUTHORIZED DEALER: Includes USA Manufacturer
The XCELLON 4-SLOT PRO USB CARD READER may be the priciest option on our list, but the reliability it provides makes it worth every penny. Designed for professionals looking for the best results money can be, the XCellon smoothly transfers data.
Two slots support SDHC/SDXC, while the other two slots handle CF cards.
Aluminum build keeps the device from overheating/breaking down when working with large files.
Data transfer speeds are as high as 800MB/second
The device can read multiple cards at once.
In addition, it's possible to transfer data from one card to another for convenient backups.
RELATED POST: Comparing Sandisk Extreme vs Extreme Pro
Deciding On The Best SD Card Reader For You
We've covered a wide range of readers and included something for every budget. In fact, deciding on what your budget will be is a pretty good place to start when you're shopping for the best SD card reader.
As you've noticed, the prices can vary from a few bucks to close to a hundred!
Once you know what kinda money you're willing to drop, consider the speed you want, what kind of cards you need it to read and make the best choice!
---
As an Amazon Associate we earn from qualifying purchases. Certain content that appears on PhotoWorkout.com comes from Amazon. This content is provided 'as is' and is subject to change or removal at any time.