Time is money, as they say – and as photographers, we spend a lot of time waiting for photo files to transfer. Have you ever asked yourself what you can do to speed up the file transfer process? Turns out, there is an easy solution for this: a faster SD card reader! The best SD card readers can drastically reduce the most boring part of post-production time.
We've done the research and narrowed down the best SD and microSD card readers on the market today, saving you the annoyance of having to wait for those slow loading bars to fill!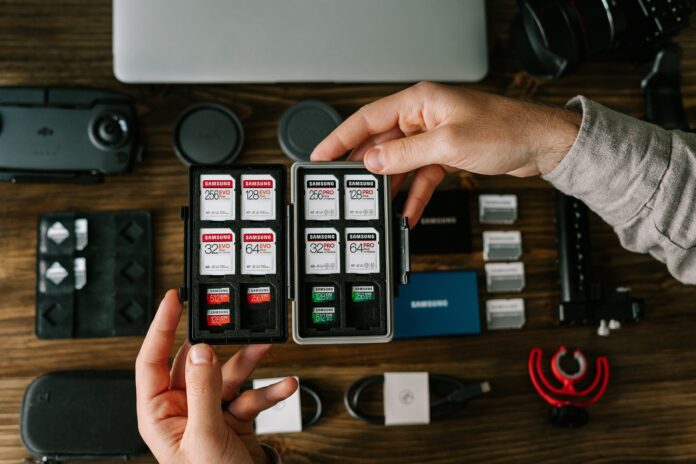 Top 10 SD Card Readers in 2023:
When you buy through links on our site, we may earn a commission at no cost to you. We evaluate products independently. Commissions do not affect our evaluations.
1. Anker USB-C and USB 3.0 SD Card Reader
Our Pick
Great for any situation
This SD card reader is incredibly versatile and can be connected to both smartphones and laptops via the USB-A and USB-C ports.
Pros
Supports both SD and microSD card formats
Fast file transfers of up to 104 MB/s
Slimline and lightweight design
Cons
The end caps can be a little tough to remove
Our top pick for the best SD card reader is the Anker USB-C and USB 3.0 SD Card Reader due to its portability, fast file transfers, and excellent connectivity options. This lightweight device will easily fit in your pocket and is an essential kit for travel photographers or when you are shooting at different locations.
You will find it versatile too as it has dual slots for SD cards and microSD cards. That's just the cards you can use – it has dual connectors (USB-A and USB-C) too so you can couple it with a wide range of external devices including laptops and smartphones. Therefore, you can use it in many situations and always be able to get your photos from your camera when needed.
Your workflow will be improved due to the fast file transfer speeds of up to 104 MB/s. We like the design and style of this card reader too. The card slots fit neatly on the side and the two connectors are located at opposite ends so it can be used in tight spaces too.
2. Lexar Dual Slot USB 3.0 Reader Professional
Great for stationary work
This Lexar card reader is best suited for office use or at your home computer and supports a great range of card types including UDMA CompactFlash.
Pros
Supports UDMA 7
Fast file transfer speeds of up to 500 MB/s
Simple pop-up design
Cons
It is not the best card reader for portability
If you need to work fast and regularly have large volumes of photos to download, the Lexar Dual Slot USB 3.0 Reader Professional is a top pick. It is great for professional work if you have a set office or location where you always upload photos. This is because it has a larger chassis with a flat base so it can sit neatly on a computer table, for example.
In terms of utility, it has slots for the latest types of card technology including UDMA CompactFlash (Like UDMA 7 CF 6.0), SD, SDHC, SDXC, and SD UHS-I. Therefore, you should be able to transfer files from multiple devices from different eras easily. The design of the card reader is neat too – it has a pop-up section where the card slots are located to reduce the overall height of the device.
Compared to some other models, this product has great file transfer speeds too. It can work at 500 MB/s which means it will take roughly less than a minute per RAW file. Additionally, it will transfer JPEGs in seconds so you can quickly upload entire photo sessions to your computer.
3. UGREEN SD Card Reader
Great for RAW file transfers
This card reader has potential file transfer speeds of up to 5GB/s which is perfect for large volumes of uncompressed RAW photos.
Pros
All four card slots can work simultaneously
USB-A and USB-C connectivity
Slimline and compact design
Cons
The cards insert with contacts up which could leave them vulnerable
The UGREEN SD Card Reader has some of the fastest file transfer speeds available. For example, it has a microSD card adapter that enables transfer speeds of up to 5 GB/s. As a result, you could download RAW files with an average file size of 25GB in a few seconds. This makes it much easier for editing large amounts of uncompressed photos.
Aside from that, this card reader is highly versatile and supports virtually every type of portable card. This includes MS, CF, SD, and TF. It has four different slots for convenient use and each one is clearly labeled with an arrow pointing to it so you should never get mixed up.
You can easily connect this device to external items too like a smartphone or laptop. It has USB-C and USB 3.0 ports and offers file transfers via USB-A or USB-C (with Thunderbolt 3 support). If you have minimum experience using a card reader, this UGREEN model has plug-and-play functionality too for multiple operating systems including Windows 11, mac OS, Chrome OS, and Linux.
4. COASD SD Card Reader
Best for Mobile Use
Great for photographers on the go
An SD card reader that can plug into mobile devices, this nifty tool is great for the traveling photographer or those that like to use their tablets.
Pros
Small and lightweight
Can plug into mobile devices
SD and microSD compatability
Cons
No CF compatibility
Don't let your eyes deceive you – the COASD SD Card Reader is much more than a run-of-the-mill thumb drive. Small enough to fit in a pocket, this card reader weighs in at less than an ounce and is the best on-the-go reader out there.
Speaking of being mobile, transferring your images is as simple as plugging in with this little card reader. What really strikes our fancy, however, is the fact that the COASD SD Card Reader isn't just built to attach to a computer USB port; the COASD has a USB and a micro USB plug built-in. That means that it's compatible with tablets as well as Android smartphones with OTG functionality.
For those that rely heavily on their tablet or mobile devices, this can be a game-changer. Remember, Adobe's nifty editing software is free on phones and tablets, and now you can edit on the go right from your camera! The slots the COASD SD Card Reader includes are compatible with SDHC/SDXC cards as well as micro SD products, so little is off-limits for the travel photographer.
5. SanDisk ImageMate PRO
Great for versatile use
The SanDisk ImageMate PRO supports SD, microSD and CF cards and gives fast file transfers via the USB 3.0 connection on the rear.
Pros
Works with CF UDMA 7 and SD UHS-II
Slimline and compact design
Supports all three major card types
Cons
The card slot labelling may not be clear
The SanDisk ImageMate PRO is another intuitive device and the best SD card reader for laptop use. You can connect it to your laptop via USB and the slimline cable and coupling can sit neatly next to your device without taking up too much space.
Regardless of what type of cards you have, this SanDisk card reader should support them. This is because it has three individual slots – SD, microSD, and CompactFlash. It is relatively future-proof too as it works with UHS-I and II, and CF cards up to UDMA 7. Fast file transfer speeds are enabled via the USB 3.0 port which is up to 10x faster than the older USB 2.0.
Transfer speeds vary, but you can expect up to 312 MB/s for SD and microSD, and 160 MB/s for CompactFlash. This card reader could potentially be used for travel purposes too – it isn't the smallest, but it could still easily fit in a rucksack or luggage or even your laptop case. It looks great too, and you can benefit from the well-known reliability of SanDisk products like their external hard drives.
6. Apple Lightning to SD Card Camera Reader
For the Apple lovers out there
The Apple Lightning to SD Card Camera Reader helps Apple products to be able to read SD memory cards.
Pros
Original Apple MFi certified product
Can be used with iPads and iPhones
Fully integrated with Photos app
Cons
Limited to use with Apple devices only
Costly
Apple is pretty notorious for making certain things a nightmare when you want to hook up a non-Apple gadget to your Apple device. Considering Apple hasn't yet gotten its hands on professional SD cards, finding a decent solution as an Apple user can be tricky.
Die-hard Apple users, look no further – this is the choice for you. The Apple Lightning to SD Card Camera Reader is designed to cooperate with your existing Apple devices.
The Apple Lightning reader accepts standard SDHC/SDXC as well as microSD cards, so once more, your most commonly used cards are readily accepted.
The Apple Lightning to SD Card Camera Reader works seamlessly with the iPhone and iPads. As soon as you plug in, the images from your SD card will begin to transfer into your Photos app without prompting.
This card reader was designed with convenience in mind and its rather small size makes it easy to stow away and travel with. A great choice for photographers working on location that need to deliver results quickly. Plus, it looks stylish too (a pretty important characteristic for Apple products. We can't deny how stylish they all are!).
7. Sony MRW-S1 High-Speed Card Reader
Great for on-the-go photography
This Sony card reader is tiny with dimensions of just 2.26×1.25×0.44 inches and is the perfect travel companion for those who need to travel light.
Pros
Incredibly small and lightweight design
USB 3.1 port for fast transfers
Supports both SD and microSD cards
Cons
It does not support CF cards
The Sony MRW-S1 High-Speed Card Reader is the best SD card reader for portable use. Its overall dimensions are just 2.26×1.25×0.44 inches and it weighs next to nothing. Therefore, you could keep it in your pocket, laptop case, or even your camera bag and it wouldn't take up too much space.
Regardless of its tiny size, this card reader is still highly functional and versatile. It has a simple endcap that protects the USB port (which is also an ultra-fast USB 3.1 port), and the card slot is easy to access too. The only downside is that you can only use it with SD and microSD cards and it does not have CF support. However, it supports UHS-II and therefore has brilliant transfer speeds.
When you are using this device, there is a small light indicator that shows when it is reading and/or writing data. This is useful so you never disconnect it before transfers are complete. This really is an excellent option for photographers who are continually on the go and don't have loads of room for bulky card readers.
8. Unitek USB SD Card Reader
The future-proof option
Sporting a USB-C compatible design, the Unitek USB SD Card Reader is looking to ensure this is the card reader you use for a long time
Pros
USB-C compability
Reads SD, CF, and microSD cards
Very fast transfer speeds
Cons
Reliability issues on occasion, over time
With every passing year, new upgrades are being done to our good friend the USB, consistently updating its connections on new devices. Where laptops, desktops, and other such electronics sported USB-A, they've now begun changing to USB-C technology. The next reader on our list, the Unitek USB SD Card Reader, is looking to future-proof their device for when all electronics host USB-C by, well, having USB-C as its primary connection.
Reading (and writing to) SD, CF, and microSD – this really is the only device you need to get those photographs onto your computer. With the ability to transfer a whopping 30 GB of data in less than eight minutes, you'll save yourself precious time with this gadget! It is a plug-and-play reader, there's no need to install drivers or any fancy software to get your photographs to the computer at record speed.
9. Transcend USB Card Reader
Great for CF Express Cards
This is the best card reader for larger CF Express cards and benefits from fantastic transfer speeds of up to 1700 MB/s.
Pros
Simple and compact design
Ultra-fast USB 3.1 connection
Includes data recovery software
Cons
Only supports CF Express cards
If you exclusively use CF Express cards then the SanDisk Extreme PRO is the best card reader available. It only has a CF Express card slot but because of this, boasts far greater transfer speeds for that format. You can transfer uncompressed RAW photos with speeds of up to 1700 MB/s via the USB 3.1 connection.
Due to the larger size of CF cards and these fast speeds, this is a brilliant card for professional work with DSLRs and mirrorless cameras that have CF slots. It is also perfect for downloading high-quality 4K video footage. This card reader is also backward compatible and thus you can use older XQD cards with it but always check for compatibility to be sure.
If ever your own recovery software doesn't work, the SanDisk Extreme PRO includes RescuePRO Deluxe recovery software to download. We like the simple and compact design too. It is quite small measuring 4.19×2.48×0.93 inches and could be a viable portable card reader too.
10. ProGrade Digital
Great for dual use
You can use both the SD UHS-II and CF Express Type B card slots simultaneously and benefit from the write speeds of up to 1.25GB/s.
Pros
Durable and lightweight design
Magnetised strip on the back to connect to a laptop
Ultra-fast write speeds
Cons
It does not support microSD cards
The ProGrade Digital SD Card Reader is a flexible device that can support multiple camera types and cards including both CF Express and SD. The two card slots are located on the front of the reader and are clearly labeled to reduce any potential confusion. It supports CF Express Type B, and SD UHS-II which are both newer technology and offer faster transfer speeds.
For connectivity, you can benefit from the USB 3.2 ports that operate with write speeds of up to 1.25GB/s. Additionally, don't worry about waiting for one card to finish downloading. You can operate both card slots simultaneously for a much faster workflow.
We like the portability this card reader gives too. It isn't the smallest on this list, however, it has a special magnetic adhesive strip on the rear so you can clip it to your laptop to create a stable workspace and keep your devices together. The chassis itself is also really tough and meant for outdoor use.
Learn to Talk the Talk: SD Card Jargon
Going through the list, you may have noticed a series of terms that may be somewhat unfamiliar if you've not shopped for an SD card or an SD card reader before. We've put together a small glossary to help differentiate between some of the most common memory card formats.

SD card – The "SD" stands for "Secure Digital". A memory card format specifically designed for use in portable devices. Most digital cameras, regardless of brand or quality, store photographs on SD cards.
CF card – Stands for "Compact Flash". Another memory card format commonly used in high-end cameras for photo storage. While not all cameras are CF-compatible, many prefer them because of their high memory capacity and overall durability.
XQD card – A memory card format targeted toward high-definition, high-resolution cameras and camcorders. The format boasts quick read/write speeds and massive storage capacities.
SDHC card – Stands for "Secure Digital High Capacity". An SD card designed to hold between 4GB and 32 GB of data.
SDXC card – Stands for "Secure Digital Extended Capacity". An SD card designed to hold more than 32 GB of data.
microSD card – A miniature version of the standard SD card. Often used in smaller devices such as mobile phones.
Choosing the Best SD and microSD Card Readers
Having an SD card reader is essential to improve your workflow and make sure you can quickly transfer those important photos from your camera. Instead of directly connecting your DSLR or mirrorless device, you can simply slide your SD, microSD, or CF card into the reader and benefit from far greater read and write speeds.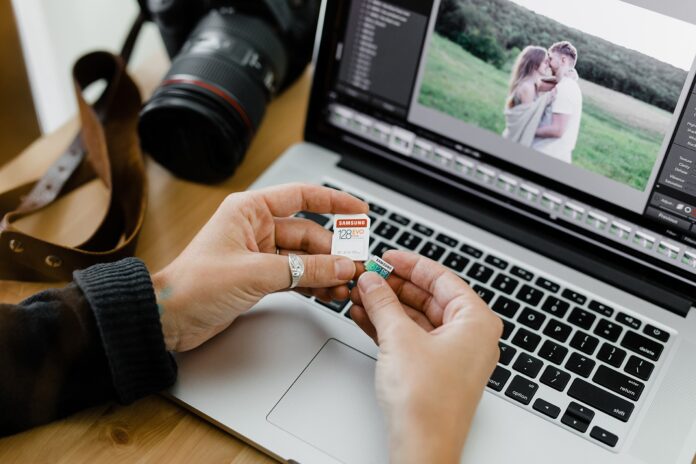 If you work with CF Express cards, the ProGrade Digital SD Card Reader is the top choice and has excellent write speeds. Alternatively, if you have a variety of card types, versatile devices like the UGREEN SD Card Reader, Anker USB-C and USB 3.0 SD Card Reader, and SanDisk ImageMate PRO are all great options.
---
Disclosure/Disclaimer: As an Amazon Associate, we earn from qualifying purchases. Certain content was provided "as is" from Amazon and is subject to change or removal at any time. Product prices and availability: Amazon prices are updated daily or are accurate as of the date/time indicated and are subject to change. Any price and availability information displayed on Amazon.com at the time of purchase will apply to the purchase of this product.