As a photographer, an external hard drive is a must. Keeping your photos safe and backed up is essential to your photography ventures. If you're looking for the best external hard drive for photographers, you've come to the right place.
We've handpicked hard drives for every photographer – from the casual shooter with a small library to the pro on the go with masses of photos.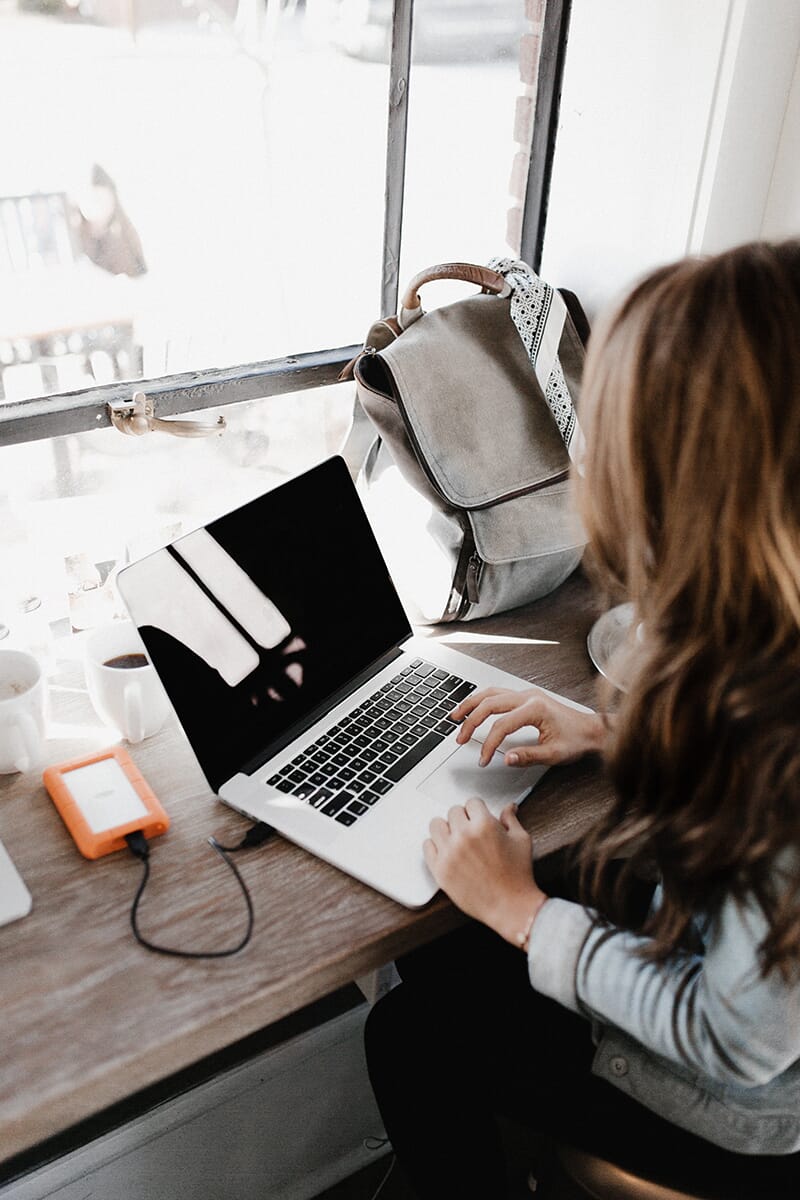 When you buy through links on our site, we may earn a commission at no cost to you. We evaluate products independently. Commissions do not affect our evaluations.
Choosing an External Hard Drive for Photographers
When it comes to picking your external hard drives, it can be difficult to determine what drive you want. More often than not, external hard drives are costly and come with varying features.
We'll break down these features to hopefully give you a better understanding.
To start off, there are two major types of external hard drives: desktop, and portable. Desktop hard drives are larger and usually offer more storage space. They also require an AC power supply, in most cases. Portable hard drives, on the other hand, are small, easy to carry around, and require no external power. They typically have smaller storage space options, but there can be overlap.
Other features that come into play are structural integrity, noise levels, aesthetics, and most importantly, storage space.
With this in mind, let's take a look at the best external hard drives for photographers.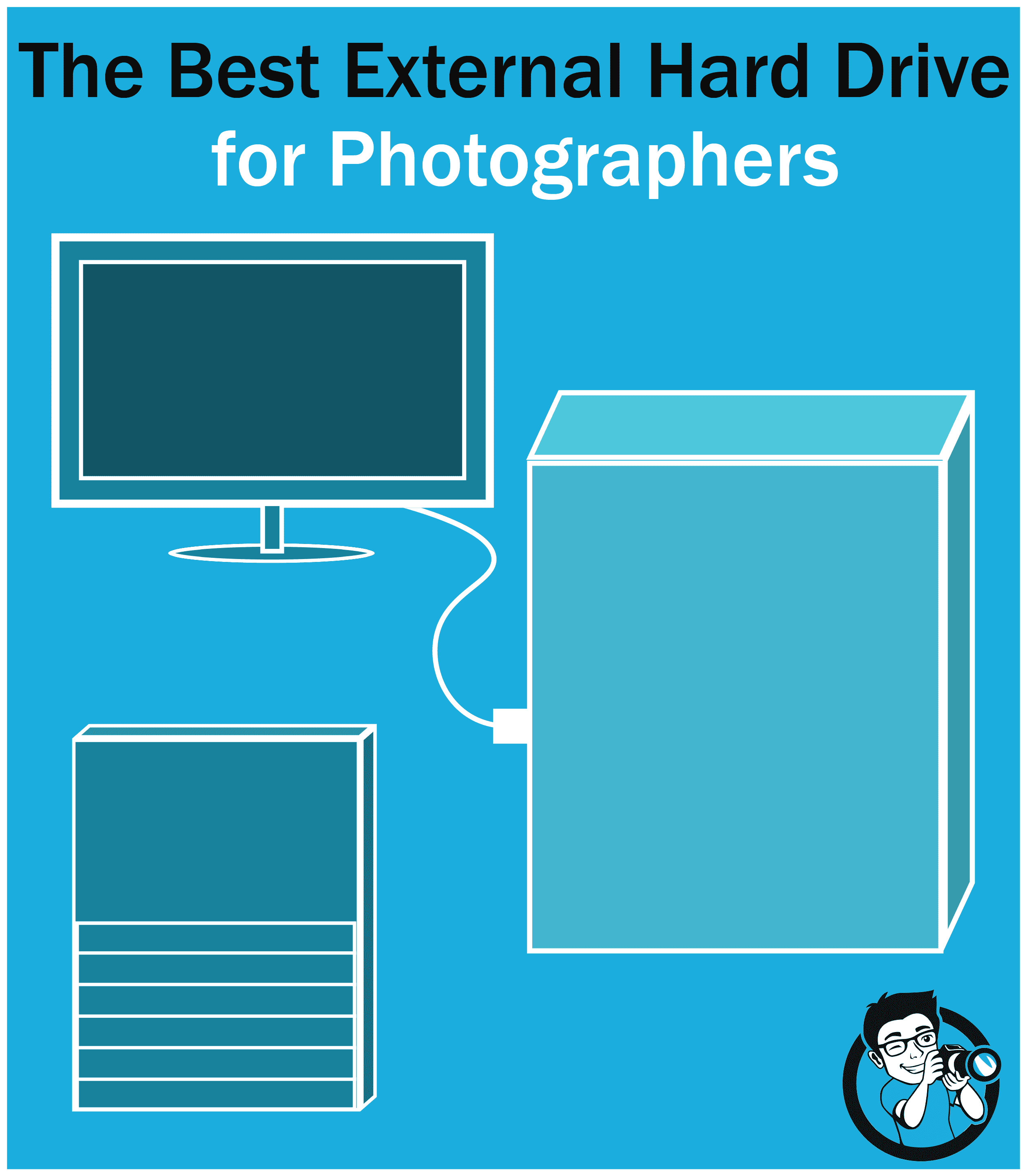 Images from Amazon
The Best External Hard Drives for Photographers
Best for Reliability
With such precious content, most photographers can't afford to take chances with their drives. In our opinion, the reliability of a drive primarily depends on the following aspects:
The ability to keep data safe and secure
The ability to withstand any and all harmful external elements
A long running-life of the hard drive itself
Here are two drives that are sure to offer good protection for your files.
1. Portable: LaCie BOSS SSD
Best Overall
Rugged and durable design
The BOSS SSD is one of the most durable SSD drives available and has a decent capacity.
Pros
Shock-resistant
Dust-proof
Highly portable
Cons
Some may not like the vibrant design
LaCie has had our praises in the past with their Thunderbolt model. And while this is still a solid option, it might be time for an upgrade. This is why we're naming the LaCie BOSS SSD in our list of external hard drives for photographers. The BOSS SSD goes above and beyond to keep files protected without compromising accessibility.
Like its predecessor, the moving parts of the BOSS are cushioned with durable, protective materials, making it an ideal choice for all-terrain use. LaCie claims that the drive is drop-proof and dustproof, as well as splash resistant.
Unlike most portable drives, this external hard drive is powered by a battery and can be accessed by an app on your mobile. Through this, you can review, rename, and delete files. You can also upload images directly to the drive using its built-in SD card reader.
When it comes to computer usage, the drive is compatible with both Mac and Windows operating systems.
No matter what situation you happen to find yourself in, you can confidently depend on the BOSS drive to be able to do its job.
2. Desktop: Toshiba Canvio Desktop
Also Great
A versatile HDD with great security
This Toshiba HDD looks great and offers a relatively compact storage solution.
Pros
Secure backups with passwords
Compatible with USB 3.0 and USB 2.0
Has preloaded software ready to go
Cons
Not the lightest of HDD's
While the Toshiba Canvio Desktop may not be as rugged as LaCie's BOSS, it offers similar peace of mind. For Mac and Windows users alike, it's a device trustworthy enough to guard your most important data.
This external hard drive offers local and Cloud backup options to add an extra layer of recoverability. This means that should the drive fail, you'll have access to the files through cloud storage, too. It's spacious enough to house plenty of large image files, and Toshiba goes the extra mile to ensure that all of it is secure. Beyond providing a place to house your images, users may also apply password protection for sensitive material.
We cannot praise the reliability Canvio offers to homes and offices enough. Even skeptics can breathe a sigh of relief. With purchase, Toshiba offers a 2-year warranty that covers any mishaps you may run into with your drive.
Best for Storage Space
For photographers, storage space is a crucial factor in choosing an external hard drive. Beginners may be able to fair with smaller drives. However, professionals working with bulky RAW files will need a lot of room for extensive archives. The following should be able to accommodate even the most prolific picture-takers.
1. Portable: Seagate Backup Plus 5TB
A stylish and functional HDD
This Seagate 4TB HDD looks great but also is easy to use for PC's and laptops
Pros
Brushed metal exterior casing
Simple plug-and-play functionality
Single-click backups
Cons
Not the smallest of HDDs
Seagate is one of the most trusted names in the data storage industry, and it does not disappoint with its Seagate Backup.
Unlike most portable external hard drives, which generally cap out at about 4TB, the Seagate can hold up to 5TB at any given time. It's no bulkier or slower than other similar hard drives, but it's a clear-cut winner because of its storage capacity. What's more, springing for extra space doesn't cost much. According to Amazon, that extra terabyte costs just 15 dollars.
Aside from its spaciousness, this external hard drive is also quite simple to use. Once the drive is plugged in, all you need to do is drag and drop your desired files into place! The drive automatically backs up the rest, regardless of whether you're running a Mac or Windows operating system.
2. Desktop: WD My Book Duo
High storage capacity
This mighty Raid HDD has a huge capacity for those large photo collections.
Pros
Large storage capacity
RAID optimized for better performance
Compatible with USB 3.0 and 3.1
Cons
Large and bulky – takes up a lot of space
It really doesn't get much better than WD 24TB My Book Duo when it comes to storage space. The drive comes at a steep cost but it can host up to 24TB of information.
For those with extensive archives to manage, that equates to storage for about 3.5 million images. Even the most prolific photographers will likely struggle to fill the entire drive. Of course, if you feel that 24TB is a bit excessive, you can save a few dollars and downsize to the 12TB or 16TB Duo models.
Best of all, the MyBook Duo avoids many of the hangups that crop up when storing so much information. For instance, it can read and write files at speeds of up to 360MB/s.
Best on a Budget
For obvious reasons, a price tag can make or break a deal. In the case of external hard drives, there's a sliding scale on pricing, ranging from $50 to well over $1000. To get something worthwhile, you don't have to break the bank. These two drives do an excellent job balancing quality and performance whilst still being low cost.
1. Portable: WD My Passport
Budget Pick
A reliable budget option
The WD My Passport is a solid choice, is highly usable, and still offers a decent storage capacity.
Pros
Has an auto-backup feature
Can have password protection and encryption
Compatible with USB 3.0 and 2.0
Cons
Smaller storage capacity compared to others
The WD My Passport is without a doubt one of the best all-around options available, whether you're working with a tight budget or not. Though the price fluctuates a bit depending on color and storage size, you can easily pick up a 4TB model for under $100 via Amazon.
Just because the WD Passport comes at an affordable price doesn't mean that it skimps in other areas. The outer casing is shock-tolerant and durable enough to withstand bumps and bruises. Installed within, is encrypted security software and automatic backup capabilities.
It is worth noting that by default, this external hard drive is made for Windows OS but can easily be reformatted for Mac OS users. If you're looking for a versatile option that won't break the bank, the WD My Passport could be just what you're looking for.
2. Desktop: Seagate Backup Plus Hub 8TB
A great high-capacity option
The 8TB model of the Seagate Backup Plus is a great choice and affordable.
Pros
High-capacity 8TB storage
Can work seamlessly with both Windows and Macs
Two-year manufacturers warranty
Cons
Not the smallest of drives
No matter how you put it, 8TB for under $200 is a deal that can't be beaten. And that's exactly what you'll get with the Seagate Backup Plus Hub.
This external hard drive for photographers is the epitome of versatility, both internally and externally.
On the outside of the device are two USB ports that can be used to connect and charge other devices while the hard drive is in use. And on the inside, you get compatibility with both Mac and Windows OS without the need to reformat. The drive is also capable of combining local, mobile, cloud, and social media backups with ease.
The mobile Backup app even allows users to transfer data from their smartphones directly to the drive. Seagate secures ALL of your data – not just the files living on your computer – for no extra cost. Talk about a bargain!
Best for Low Sound
Sure, it may seem a bit superficial. But some buyers take the sound a hard drive makes into serious consideration when making a purchase.
When in use, it's not uncommon for moving parts to vibrate, spin, and click at volumes ranging from hardly audible to quite loud. If you can't afford the distraction of a noisy piece of equipment, here are a few options you should look into.
1. Portable: Silicon Power NAND
A unique low noise SSD
The Silicon Power NAND has great features including a vibration-proof and shock-proof casing.
Pros
Low latency and low noise
Fantastic transfer speeds
Stylish design
Cons
Only has a 1TB capacity
For a quiet external hard drive, the Silicon Power NAND is a no-brainer. This slim, stylish hard drive is virtually silent.
As a solid-state drive, the Silicon Power 1TB 3D NAND lacks any moving parts. This means that when the drive is activated, there aren't any interior parts revved into action. Silence isn't the SSD's only advantage, though – in general, they also work faster. The Silicon Power 1TB 3D NAND is no exception, capable of reading at 520MB/s and writing at 420MB/s.
There are plenty of great SSD drives out there, but the Silicon Power stood out despite sporting a slightly more expensive price tag.
The drive's military-grade construction more than makes up for the cost. The housing is temperature and impact-resistant. It is worth noting that, despite its ultra-slim design, this drive is no lightweight.
2. Desktop: Fantom Drives Gforce3 Pro
Simple plug and play use
The Fantom Drives HDD looks great and has fast transfer speeds and makes virtually no noise.
Pros
Stylish aluminum case
Users SuperSpeed USB 3.0
Plug and play functionality
Cons
Quite heavy and bulky
Wrapped in a sleek aluminum casing, the Fantom Drives Gforce3 is more than a pretty package. In fact, its design is carefully engineered to create a virtually silent user experience.
The culprit behind the whirring, spinning, and humming in most hard drives is the internal fan. Usually, it plays a crucial role in preventing the system from overheating. However, the aluminum build of the Fantom works as a natural heat sink. This completely eliminates the need for noisy, sometimes faulty fans.
Don't be fooled by the Fantom's quiet demeanor. This powerhouse can accomplish massive tasks with relative speed and ease. For these reasons, it's also a favorite among audio and video professionals who consistently work with large files.
Best for Design
Looks aren't everything, but they certainly don't take away from a product's appeal. External hard drives often aren't the most glamorous accessories out there, but there are a few exceptions. These following drives aren't just aesthetically stunning – they utilize innovative designs to function as efficiently as possible.
1. Portable: Kexin Portable SSD
Best Design
A highly compact SSD
The Kexin Portable SSD is incredibly small but still has great performance.
Pros
Support for USB-C and USB 3.1
Compatible with multiple platforms
Small and compact design
Cons
Not the largest storage capacity
At just a quarter of an inch thick and 3 inches in length, the KEXIN 250GB Portable External SSD is small enough to fit in your pocket or palm. Nevertheless, it's a drive that's not to be underestimated
Despite weighing just under 1.5 ounces, this Kexin SSD drive is anything but fragile thanks to its solid aluminum build.
The design of this drive eliminates internal moving parts, minimizing the chances of something coming loose inside the device.
Available in vibrant shades of blue and red, this little drive can even add a little flair to your collection of accessories
Though it can't hold as much as the other drives mentioned in today's article, it's a great option for photographers on the go with not much space to spare. And since a 250GB drive costs under $50, it's a fairly inexpensive backup to keep in a bag in case of emergency.
2. Desktop: LaCie Mobile 5TB External HDD
A solid design and great capacity
This LaCie Mobile Drive is simple to use and has a slimline design
Pros
Decent 5TB storage capacity
Compatible with Windows and Mac
Single-click backups
Cons
Not as fast as some other drives
Our last option is the LaCie Mobile Drive 5TB External Hard Drive. This model has an excellent design with a simple grey casing and a slimline look. It could be used as a portable drive, but also makes a great solution for your home office or photography studio.
For compatibility, it works with both USB 3.0 and USB-C, and can also work with Windows and Mac devices. We also like that you can back up your files with just a single click. Moreover, you can schedule automatic backups to keep your photo collection protected. With 5TB of storage, this HDD should provide more than enough space for even large photo collections.
External Hard Drives for Photographers: Closing Thoughts
No matter what it is you're looking for, there's a hard drive out there capable of sorting through and backing up your images. For example, the LaCie BOSS SSD is great for traveling, whereas the WD 24TB My Book Duo is more suitable for home use.
---
As an Amazon Associate, we earn from qualifying purchases. Certain content was provided "as is" from Amazon daily and is subject to change or removal at any time.