A constant challenge faced by photographers is photo storage. RAW files are often 20 MB+ in size, which means you can run out of hard drive space fast! And that's not accounting for JPEG copies, 4K video files, and photo editing software packages.
For me, a single internal storage drive isn't enough, and that's where external hard drives become essential. Plus, having a separate external hard drive for your photos allows you to keep things organized. You can install software and games on the primary drive and have your external drive as a dedicated photo storage unit.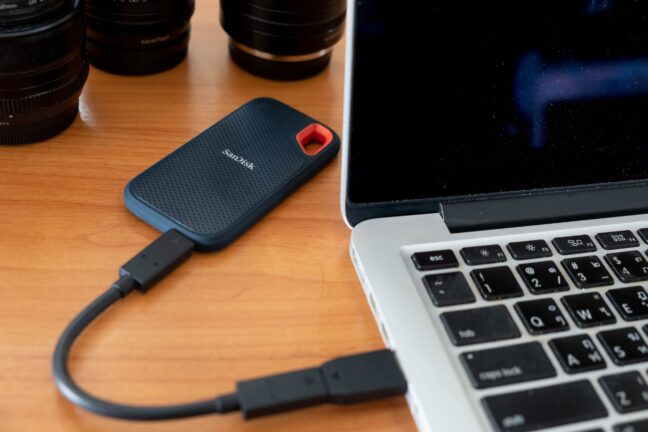 Additionally, how many times have you wanted to back up your photos as a protective measure just to make sure you have a copy should anything happen? A portable external hard drive allows you to do just that. It's a safeguard that ensures you always have a backup.
If you're looking to expand your computer's storage capacity or you simply want to keep your precious photos safe, you don't have to slog through page after page of confusing product listings. I've done the research for you and selected the 10 best external hard drives for photographers – including portable units for travel use as well as desktop models that you can place next to your main computer.
The Top External Drives for Photography:
When you buy through links on our site, we may earn a commission at no cost to you. We evaluate products independently. Commissions do not affect our evaluations.
Best Portable Drives
I like to have a portable hard drive that I can fit in my backpack or laptop case for traveling, which means I can back my photos should something happen to my SD cards. Below, I have selected six portable options that offer fast speeds, lightweight designs, and decent storage capacities.
1. SanDisk Extreme Portable SSD V2
Our Pick
Great for durability
The SanDisk Extreme Portable SSD V2 is highly durable with IP55 water resistance and drop protection of up to 2 m so you don't have to worry about using it while traveling.
Pros
4 TB storage capacity
Excellent read/write speeds of up to 1050 MB/s
256-bit AES encryption for hardware
It includes a carabiner loop to attach it to your belt
Cons
It can heat up quickly during prolonged use
The absolute best external hard drive for photographers is the SanDisk Extreme Portable SSD V2; it has everything you need if you travel regularly or want a drive to take to your photoshoots.
In terms of portability, I can easily fit it in my pocket and can travel light with no problems. Despite this, you still get a durable device that has up to 2 m drop protection and IP55 water resistance. Obviously, it should be clean and dry before you use it, but the added durability means you don't have to worry about keeping it wrapped up while traveling.
The 4 TB storage capacity is a huge plus and should be more than enough for weeks of travel photography, multiple photoshoots in a day, or even lots of 4K video footage. As it is an NVMe SSD, you get fantastic read and write speeds (1050 MB/s and 1000 MB/s, respectively), which should keep your file transfers and backups fast even when you are handling larger RAW files.
2. Toshiba Canvio Advance
Great for style
The Toshiba Canvio Advance is perfectly functional and is one of the more stylish external drives (with four colors to choose from!).
Pros
Stylish casing and color options
USB 3.0 and 2.0 connectivity
No AC power cord require to run the drive
Access to password protection and backup software
Cons
Smaller storage capacity of 2 TB
The USB cable connection can be temperamental
If you want something that looks sleek, the Toshiba Canvio Advance is a top pick. It offers the perfect combo of style and functionality, plus you get a choice of color. You can pick from four different hues – red, black, green, and white – and I like the stylish textured surface on the top and bottom.
This drive is really easy to use and comes with backup software for Windows PCs. It also gives you access to some pretty powerful password protection programs so you can keep your photos and videos secure while on the road.
It does have a smaller storage capacity of 2 TB, but this should be more than enough for travel use and daily photoshoots where you like to back up your image editing laptop or tablet at the end of the day. You get decent file transfer speeds due to the USB 3.0 and 2.0 compatibility, and no external power cord is required, which reduces the storage requirements.
3. LaCie Rugged Mini
Great for travel use
The LaCie Rugged Mini can be used in any conditions due to the 4 m drop protection and dust and water resistance.
Pros
Incredibly durable and robust design
USB 3.0 connectivity for fast transfers
Built-in password protection for peace of mind
Compact and lightweight for easy storage
Cons
2 TB storage could be limiting for larger collections
Must be reformatted for Mac use
I love the durable and brightly colored design of the LaCie Rugged Mini. These external hard drives are perfect for active photographers like me who love to get out, explore, and traverse difficult terrain to capture shots.
This is easily the best option when it comes to durability. It offers drop protection of up to 4 m as well as dust and water resistance. It's basically suitable for any environment, so whether you're hiking in the mountains or editing your photos at home, it's a reliable device.
It's also incredibly compact, which means you can fit it into your pocket or even a pouch on your camera bag or backpack. I appreciate that it doesn't require a separate power cable; it's powered directly through the device via a USB 3.0 cable.
4. Seagate Portable
Great for beginners
The Seagate Portable is a fantastic beginner option with an affordable price and decent storage capacity for day trips and frequent backups.
Pros
Very usable
USB 3.0 connectivity for fast transfers
It can work with both Windows and Mac devices
Lightweight and compact design
Cons
The 2 TB storage capacity isn't suitable for larger photo collections
Doesn't work out of the box with Macs
If you're looking for a budget option and only need occasional backups for your vacations or photography day trips, the Seagate Portable is an affordable drive with great features. It's even suitable for game consoles.
It offers 2 TB of storage, which may not be enough for huge photo collections but is perfect for temporary backups until you can transfer your photos to your main device. The drive is compatible with both Windows and Mac computers, although you may need to reformat it for use with Macs.
If you're new to external drives, you'll find the plug-and-play function really simple. All you have to do is plug in the USB 3.0 cable, and you can then access the drive directly through a file management solution like Windows Explorer.
5. WD Elements Portable
Great for storage
The WD Elements Portable is roughly the same size as a wallet so you can fit it in your pocket or laptop pouch without compromising your camera equipment storage setup.
Pros
Easy to use with Windows PCs
Small and lightweight design
Decent data transfer speeds with USB 3.0 connectivity
Cons
The 2 TB capacity may not be suitable for 4K video
Cabling options may be limited
The WD Elements Portable is great for anyone seeking an easy-to-use drive. It's plug-and-play ready for Windows PCs, but it can also be used with iMacs and MacBooks, so it should be compatible with all of your devices.
I like its compact design; the drive is essentially the same size as my wallet. You can easily slip it into your pocket or laptop bag without taking up too much space. And since it's powered by a USB cable, setup is minimal.
This drive offers a 2 TB storage capacity, which is ample if you're simply looking to store photos at the end of each photoshoot or during a trip. You can then transfer the files to your main device. It also works well as a permanent backup drive, although if you plan to store 4K videos, you might want to consider the 5 TB version.
6. Samsung Portable SSD T7
Great for photography hobbyists
The T7 is a great starter SSD for those just getting into photography due to its smaller 1 TB capacity, but it also offers excellent read/write speeds and some real durability.
Pros
Very fast
Simple plug-and-play functionality
Shockproof aluminum casing
Cons
Limited storage capacity
The instruction manual is difficult to read
I like the Samsung Portable SSD T7 as a starter option or as an external drive for hobbyist photographers who haven't yet amassed large photo collections. With a 1 TB storage capacity, it should be more than sufficient if you occasionally do photography work or trips.
The sleek and stylish design is also fantastic, making it one of the best options for photographers who like a splash of color. It's available in gray, red, and blue, and I personally prefer the blue because it really stands out.
Since it's a PCIe NVMe drive, you'll get incredible read and write speeds of up to 1050 MB/s and 1000 MB/s, so transferring large RAW photos should be a speedy process. And while it may look sleek, this Samsung drive is built to last – it's shock-resistant and has a robust aluminum body.
Best Desktop Drives
It's a great idea to have a reliable external hard drive at home or in your photography studio. Desktop external hard drives usually offer larger capacities, extra security features, and improved connectivity. Below, I've found four suitable models that could be your perfect permanent storage solutions for photos.
1. WD My Book
Our Pick
Great for business use
The WD My Book boasts a large storage capacity, encryption and security measures, and fast file transfers.
Pros
256-bit AES encryption
Large 8 TB storage capacity
USB 2.0 connectivity for quick transfers
Password protection for backups
Cons
It is not the smallest HDD available
It can be quite noisy during file transfers
The WD My Book may look chunky, but its large storage capacity is invaluable. It also comes with a variety of software and security features, making it an excellent choice if you're a photography professional.
This model offers 8 TB of storage, but you can upgrade to as much as 22 TB (for an additional cost, of course). This should be more than enough space for large photography collections. To keep your client's work secure, the drive features 256-bit AES encryption and password protection for backups.
Transferring photos from your laptop or editing PC should be a breeze thanks to the SuperSpeed USB 2.0 connectivity, which reaches speeds of up to 5 Gbps. I appreciate the drive's upright design, too; it easily fits next to your computer and photography workstation.
2. LaCie d2 Professional
Great for enterprise use
The LaCie d2 Professional is suitable for larger photography businesses that need both reliability and speed.
Pros
USB 3.0 connectivity
Large 10 TB storage capacity
5 years of recovery service included
Cons
It's not the smallest external drive available
Not really suitable for hobbyist photographers due to the cost
If you need enterprise-level storage for your photography business, the LaCie d2 Professional is a top external hard drive for photographers. It offers an excellent warranty and a reliable recovery service should anything happen to your photos.
While it may not be ideal for hobbyists due to its higher price, it's a great investment if you run a photography business. The unit offers 10 TB of storage, which should allow you to store client photos and business files for years and ensures you can also use it as a drive for video editing. Transfers and backups are quick thanks to USB 3.0 technology, which can achieve speeds of up to 240 MB/s.
I love the attention to detail in the hard drive casing. It features aluminum construction to minimize noise and vibration, so even if you place it next to your computer, it shouldn't be a problem. Plus, when you buy this HDD, LaCie provides five years of data recovery services.
3. Seagate Desktop
Great for convenience
The Seagate Desktop has plug-and-play functionality so you can start transferring files immediately without the need to install software.
Pros
No software required to view files
A great range of storage variants from 1 TB to 18 TB
USB 3.0 connectivity
Lay-flat design to save space
Cons
It's still quite large
The Seagate Desktop is perfect for photographers who use desktop computers or Windows laptops. (But don't worry, it's also compatible with Macs!) If you're looking for a no-fuss approach to backups and file transfers, this is a fantastic pick.
That's because it offers plug-and-play functionality. All you need to do is connect it to your computer with the USB 3.0 cable, and you'll have instant access to the drive; no need to install any annoying software.
What's great is the range of storage options. You can tailor this drive to fit your needs whether you just want to back up your vacation photos or need more storage for your photography business. Capacities span from 1 TB up to 18 TB.
4. SanDisk Professional G-DRIVE
Great for Mac users
The SanDisk Professional G-DRIVE is fast, durable, and designed for Macs; it can also be formatted for Windows use.
Pros
USB-C technology for fast read and write speeds
Fast performance with the 7200 RPM drive
Anodized aluminum casing for durability
6 TB storage capacity for large photo collections
Cons
Not Windows-ready
It's not the most visually appealing drive
If durability is your top priority and you use a Mac for photo editing, the SanDisk Professional G-DRIVE is an outstanding choice. The premium industrial casing might not win any beauty contests, but it makes the drive nearly indestructible and incredibly durable. You can count on it lasting for years.
It's relatively compact for a desktop drive, so you shouldn't have any trouble finding a spot for it next to your computer. In terms of capacity, it offers 6 TB, which should be plenty for larger collections of RAW photos.
This is a USB-C device that goes at 250 MB/s when reading and writing; therefore, you'll find backups and file transfers to be quick and painless. One thing to note is that this drive is primarily set up for Mac devices. However, you can reformat it if you use a Windows computer for editing instead.
Helping Photographers Choose the Best External Hard Drive
Before purchasing a drive, consider where you plan to use it, what you want to use it for, and the storage capacity you need.
If portability is key and you're looking for a backup drive for travel, models like the LaCie Rugged Mini, the SanDisk Extreme Portable SSD V2, and the Toshiba Canvio Advance are all small, durable, and secure.
On the other hand, if you want a permanent external hard drive to keep your photography work organized, desktop models like the WD My Book, the LaCie d2 Professional, and the Seagate Desktop all offer large capacities and excellent security features.
---
Disclosure/Disclaimer: As an Amazon Associate, we earn from qualifying purchases. Certain content was provided "as is" from Amazon and is subject to change or removal at any time. Product prices and availability: Amazon prices are updated daily or are accurate as of the date/time indicated and are subject to change. Any price and availability information displayed on Amazon.com at the time of purchase will apply to the purchase of this product.