A waterproof camera bag is an essential item for the bold explorer. Picture the scene – you are hiking in the middle of a national park, and have your camera exposed at your side. Suddenly, clouds roll in and you become engulfed in a rain shower. As a result, your camera gets damaged from moisture exposure! This could have been avoided if you had one of the best waterproof camera bags.
This type of product allows you to protect your expensive photography equipment in adverse weather conditions. Also, a waterproof camera bag allows you to keep your gear organized, and easy to access. In this guide you can find seven top-quality waterproof camera bags – from full backpacks to simple shoulder bags, there is something for every type of outdoor photographer.
When you buy through links on our site, we may earn a commission at no cost to you. We evaluate products independently. Commissions do not affect our evaluations.
1. CineBags CB23 Backpack
Best Waterproof Camera Bag
The CineBags CB23 is a durable bag with excellent camera storage options.
Pros
Made from durable nylon
Large main storage compartment
External 15" laptop compartment
Cons
Doesn't offer as much storage as some larger backpacks
Our top choice is the CineBags CB23. This is a highly functional backpack that is made from 100% waterproof material. The exterior is made from 1680D ballistic nylon which is a heavy-duty type of nylon. Also, the zippers are weather-resistant too.
Aside from its advanced waterproofing, this backpack has a large central storage compartment for your camera and equipment. It has a host of dividers that you can remove and configure to suit different lens sizes and other items.
There is also a top storage compartment that could be suitable for clothes, accessories, or other essentials. For comfort, the CB23 also has padded shoulder straps that can be fully adjusted to suit different heights. It is a well-made product and definitely one of the best waterproof camera bags available.
2. CADeN Camera Bag Sling Backpack
Best shoulder camera bag
This CADeN product offers less storage, but looks great and is incredibly durable.
Pros
Made from high density waterproof nylon
Plenty of padding and additional protection
Available in 5 colors
Cons
Limited storage capacity
The CADeN Sling Backpack offers a smaller alternative and a compact storage solution for your DSLR camera. Inside the main compartment, there is enough space for a DSLR camera with an attached lens, and two additional lenses.
The dividers are also made from a padded material to keep your camera gear protected. This camera bag also has other pockets for accessories like SD cards, smartphones, and spare batteries.
For waterproofing, the CADeN Camera Bag is made from high-density nylon. It has multi-layers which means it is breathable but still waterproof. It also has an advanced buckle system that works as an anti-theft mechanism. For shorter outdoor adventures, this is an excellent waterproof camera bag.
3. Lowepro Fastpack BP 250 AW II
The Fastpack BP 250 is a great waterproof option with ample storage.
Pros
Large storage capacity
Various security flaps and anti-theft zippers
Additional water bottle and tripod holders
Cons
Only available in black
If you want a backpack with larger storage capacity, the Lowepro Fastpack BP 250 AW II is a good option. This backpack offers storage compartments for your camera gear, and general items needed for outdoor exploration.
The bottom compartment is dedicated to camera gear and has several removable dividers. You can comfortably fit a DSLR camera with an attached lens, and two to three extra lenses. You can even access this compartment from the side.
There is a spacious top compartment that could be used for additional camera gear, or your outdoor essentials like spare clothes, food, and water. It is made from high-quality waterproof materials and also features padded shoulder and waist straps to give support when hiking long distances.
4. Think Tank Photo Spectral 8 Camera Shoulder Bag
This bag is small but functional and offers easy access for your camera.
Pros
Easy to access storage compartment
Separating barrier for extra waterproofing
Relatively lightweight and easy to carry
Cons
Smaller storage capacity compared to backpacks
The Think Tank Photo Spectral 8 is another smaller waterproof camera bag that can be used to store your camera plus a couple of lenses. It measures 11" x 8.3" x 6.1" and is easy to carry thanks to its smaller size. At a push, you could probably fit a DSLR camera or mirrorless camera with an additional two to three lenses.
This bag is made from waterproof materials and has a durable waterproof tarpaulin base. It also has an internal zippered flap that gives additional weather protection and separates the main opening from the storage compartment.
The magnetic locking feature of the lid is a great addition which makes it incredibly easy to access your camera and accessories. The shoulder strap has padding, and it can be adjusted too. There is also a small zip compartment on the outside that could be used to store camera accessories or your smartphone.
5. Lowepro ProTactic BP 450 AW II
The ProTactic BP 450 offers great protection and waterproofing for outdoor adventures.
Pros
Large storage section for multiple lenses
Fantastic padding and protection
Removable dividers to configure storage
Cons
No separate storage space for outdoor essentials
Our second Lowepro product is the Lowepro ProTactic BP 450 AW II. This is a high capacity backpack that puts functionality and protection over style. It has a molded top armor section and protective waterproof padding all around the bag.
Inside, the main storage compartment has ample space for a large DSLR camera with an attached lens, and seven to eight additional lenses. Alternatively, you could use the other storage dividers for accessories like an external flash, and spare batteries.
This backpack is also comfortable to wear as it has padding on the back, and the straps have several extra clips to provide support. Additionally, there is an external rain cover that you can pull over the backpack for further protection from the elements.
6. Domke 701-83A F-803 Camera Satchel
Most stylish design
This Domke product looks great and provides a retro storage solution for your DSLR camera.
Pros
Stylish design
Available in 4 colors
Made from durable canvas
Cons
Limited storage capacity
Limited security features
If you want one of the best waterproof camera bags for style, the Domke F-803 is a great option. This small satchel is extremely stylish and is available in four designs. The satchel is made from weatherproof canvas that is still breathable.
Inside, there is enough space for a DSLR camera and a couple of lenses. There are also several external pockets where you can store camera accessories like SD cards and batteries. You can also use the supplied ointment to treat the canvas and keep it in its original condition.
7. Manfrotto Pro Light 3N1-36
The Pro Light 3N1-36 has a large main storage compartment for serious photographers.
Pros
Plenty of storage for lenses and accessories
3 carrying modes
External tripod holder
Cons
No separate storage for traveling gear
Manfrotto specialize in tripods but they also produce some of the best waterproof camera bags like the Pro Light 3N1-36. This waterproof backpack is made from robust protective materials and it also has a rain cover that you can quickly pull over.
For storage, you can easily fix a DSLR camera plus a heap of lenses and accessories. This backpack could also be used to store a photography drone and its accessories.
The main compartment also has a range of dividers that are padded. You can also remove and adjust the dividers to suit your gear requirements. The side access flap is a neat addition that lets you quickly remove your camera or drone.
How Can I Choose the Best Waterproof Camera Bags?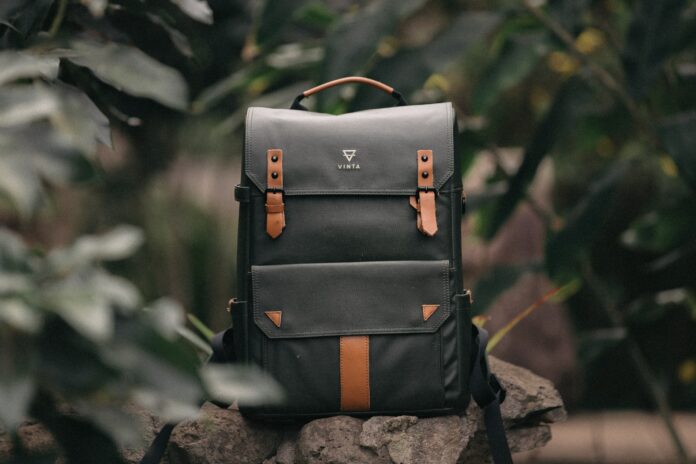 There are many considerations to look at when choosing a waterproof camera bag.
Carrying capacity and storage compartments are important. What do you want to carry in your bag? Do you require space for several spare lenses and an external flash? Or do you just require a simple bag to store your camera and attached lens in?
You might also want to consider the style of the backpack? While style might not be a priority, you still want a camera bag that looks nice whilst still being highly functional.
Waterproofing is a final major component. Generally, there are two types of waterproof bags. There are bags that are made from waterproof material. These offer greater protection with the need to take additional action. Or there are bags that have retractable waterproof rain covers. These are still effective but require you to physically attach the cover if it starts raining.
By looking at these factors, you should be able to choose a waterproof camera bag that suits your individual circumstances and needs.
---
As an Amazon Associate, we earn from qualifying purchases. Certain content was provided "as is" from Amazon daily and is subject to change or removal at any time.