If you're a travel photographer, you probably already know the importance of protecting your gear with one of the best anti-theft camera bags you can find. And even if you're not a travel photographer, keeping your equipment safe around town and on short outings is still essential, so we highly recommend you carry a secure bag.
The good news is that we've found the 10 best anti-theft backpacks available in 2023. Some of our picks are expensive, but others are much more budget-friendly. No matter your price range, you'll be able to keep your gear safe while taking photos!
Most recommended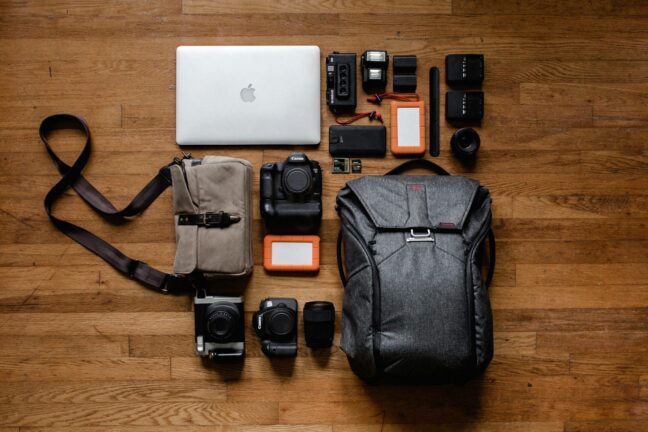 When you buy through links on our site, we may earn a commission at no cost to you. We evaluate products independently. Commissions do not affect our evaluations.
Two Big Problems the Best Anti-Theft Camera Bags Solve
In a perfect world, photographers would always be able to keep their cameras on hand wherever they go. However, photographers often leave their gear behind for two reasons:
The inconvenience that comes with having to carry around camera bodies, lenses, and accessories
The threat of losing valuable camera gear to theft
Fortunately, we've found some solutions that address both issues. Check out how each of our favorite anti-theft camera bags keeps your possessions safe.
Best Anti-Theft Camera Bags:
1. Peak Design Everyday Backpack V2
Our Pick
A premium backpack for stylish photographers
This option from Peak Design offers a unique and creative camera-carrying solution for every photographer.
Pros
Looks great
Theft-deterrent zipper straps
Very tough build quality
The Peak Design Everyday Backpack V2 is a really sleek backpack that can be designed to meet your every need. We reviewed the Everyday Backpack and loved its look, build quality, and size, plus it features many key anti-theft mechanisms!
In addition to being very stylish, the Everyday Backpack does a great job of keeping your gear secure. The inside features RFID protection, which is great for when you're on the go and you want to store your passport or credit cards.
The theft-deterrent zipper straps are easy to tighten up after you've packed everything in, and the metal clasp is durable and designed to outsmart your average pickpocketer. A very specific maneuver is required to open the bag, which also deters theft.
The fabric is great quality, so you know it won't rip on you during use. There are plenty of straps and pockets so you can carry everything you need, and the hidden laptop compartment is an added bonus!
2. Neewer Pro Camera Case
Also Great
A rugged option
This Neewer bag is made of high-quality materials, yet it's cheap enough to satisfy enthusiast photographers.
Pros
Bag includes a combination lock
Secure zippers
Hidden security whistle
Cons
Great price for the features, but still expensive
It's no secret that Neewer puts out some of the best gear money can buy. So it should come as no surprise that we included one of the company's bags on our list! The Neewer Pro Camera Case is durable, effective, and reasonably priced.
Regarding the safety features: The main compartment of the bag is equipped with an intimidating combination lock. And it's TSA approved, so you won't have to worry about issues at the airport.
Additional features like zip-tie points add another layer of protection. There are a few hidden surprises, too; for instance, we're fans of the hidden security whistle built into the button connector.
Other perks of this bag include the ergonomic design (with lens-friendly strap pouches), breathable materials, and strong stitching that'll help your bag stand up to wear and tear. A durable plastic frame holds together the internal nylon, and the interior is adjustable and removable.
With careful arrangement, the Neewer Pro Camera Case holds multiple camera bodies and up to six lenses.
3. BAGSMART Camera Bag
Best Budget
Safety doesn't have to be expensive
This camera bag will keep your gear safe for under $30, and the quality is surprisingly good!
Pros
The sling design helps you carry the bag on the front of your person
Non-scratch inside
Affordable
Cons
Only fits one camera and a couple of lenses
BAGSMART is a brand with a slew of different camera-carrying products to choose from, and the BAGSMART Camera Bag is an especially effective anti-theft option. It's also just the right size for a day outing with your camera.
Although the bag isn't big enough to hold a full arsenal of equipment, it'll let you carry one camera, two to three lenses, and some camera accessories (such as batteries and extra memory cards). The sling bag's unique shape makes it comfortable to hold in any scenario, and for extra security, you can even strap it to the front of your body.
Additionally, the BAGSMART Camera Bag features anti-theft zippers, which tuck away into a little elastic band strap. The inside is made up of a suede material that won't scratch, and all of the pockets are on the bag's interior (so there is nothing to steal from the front).
This really is the perfect little bag to keep your gear safe from prying hands.
4. Pacsafe Venturesafe EXP55 Anti-Theft Travel Pack
A premium anti-theft backpack
If you're willing to dish out a few extra bucks, the Venturesafe EXP55 certainly won't disappoint!
Pros
The entire backpack is made of RFID-blocking fabric and material
Very stylish
Includes a security clip
Yes, it's expensive, but if you have the cash and safety is your main priority, consider the Pacsafe Venturesafe EXP55 Anti-Theft Travel Pack.
The Venturesafe EXP55 fits a lot of great features into a very discrete-looking design. The entire backpack is made of RFID-blocking material, so you'll be able to put all of your belongings wherever you need them for your own convenience.
The bag has a handy security clip to prevent bag-snatchers from ripping the backpack off of your person. The straps and fabric are all anti-slash, so you won't need to worry about someone trying to cut the bag off of you when you're not looking. The zippers are all lockable, and a second locking system secures the straps nice and tight.
You can be confident that all of your gear will be safe in this bag!
5. K&F Concept Multi-Functional Camera Backpack
The most flexible anti-theft bag
If you need a good-looking bag that can be adjusted as needed, this is the product to buy.
Pros
Camera section is fully removable
No front access to the camera
Can use the main compartment to store other belongings
Cons
Can only hold one camera and one lens
The K&F Concept Multi-Functional Camera Backpack offers a host of great features. First, the camera insert is actually fully removable and turns into its own bag with handles, which is great for those times when a full-size camera backpack is overkill.
There is a hidden compartment for a laptop or tablet, and the sleeve is quite difficult to reach from the outside, so it'll deter those who might want to snatch your electronics.
The camera compartment can be accessed from either the small side pocket or through a hidden area in the back of the backpack. In other words, you'll know well in advance if somebody is trying to grab something!
The main compartment can be used to store any of your other travel items, such as extra clothes or shoes. And for those who take safety especially seriously, this is a great way to disguise the true purpose of the bag.
6. NEWT Fully Waterproof Padded Camera Shoulder Bag
Best for portability
Want a camera bag that's small, light, and doesn't look like a camera bag? Check out this option!
Pros
Looks like a lunch box
Completely waterproof
Portable
Cons
No dedicated anti-theft features
The NEWT Fully Waterproof Padded Camera Shoulder Bag is probably the most unique-looking product on this list. After all, it looks like a lunch box!
Some of the best bags for safe traveling are those that don't advertise that you're carrying expensive photo equipment, and this NEWT bag does just that thanks to its square design. Photographers may find it aesthetically pleasing as well!
Although this shoulder bag doesn't feature many of the key anti-theft characteristics offered by other bags on this list, we really do think that its unusual design should act as a theft deterrent all on its own.
What makes this NEWT option so awesome is that it's a waterproof camera bag! It closes up so tightly that water isn't able to reach your camera gear, which also means that it'll take some real effort for someone to pry the bag open.
The strap is removable, so you can even carry this bag like a lunchbox if you so desire!
7. Pelican 1615 Air Case
Best for serious travel photographers
Pelican's Air Case may not be especially portable, but it'll keep your gear safe and secure while traveling!
Pros
Basically indestructible
Fully customizable foam insert
Locking mechanism
If you're a frequent traveler and you have lots of gear you need to store, the Pelican 1615 Air Case is the product to consider. Designed for air and car travel, the Pelican 1615 Air Case boasts a crushproof exterior that's also fully waterproof; it's shock-absorbent, too, just in case it gets tossed around all over the place.
This Air Case is designed to be checked at airports, and thanks to the customizable foam insert, you can be certain that your gear will come back in top-notch condition.
What makes this case so secure is the option to lock the container. There is a lock built-in, though you can also add your own. The latches require a good amount of effort to open, and thieves don't generally want to mess with latches that are difficult! You can travel confidently with the Pelican 1615 Air Case.
8. Endurax Leather Camera Backpack
An inconspicuous option
This bag doesn't rely on the more traditional anti-theft features, but it still has plenty of mechanisms to keep your gear safe.
Pros
Stylish leather design
Flaps hide the access zippers
Great warranty
Cons
No locks anywhere on the bag
The Endurax Leather Camera Backpack may appear unimpressive as there's a distinct lack of the locks or buckles that other bags rely on. However, there's a bit more to this product than initially meets the eye.
You see, rather than relying on auxiliary locks or clunky security mechanisms, the bag's design deliberately deters unwanted access. For instance, the bag's flaps hide access zippers, making vulnerable spots difficult to locate.
Other perks of the Endurax Leather Camera Backpack include modular dividers that can be switched around at your leisure. And if you need to use the bag for something other than a photographic endeavor, the dividers can be removed entirely.
Your purchase is also paired with an 18-month warranty that's backed up by 24-hour customer service.
9. Pacsafe Metrosafe LS250 Anti-Theft Shoulder Bag
Small and very safe
This bag is highly portable and features an impressive anti-theft design.
Pros
Steel-wire mesh for extra protection
Clips to keep zippers secure
Anti-RFID pocket
Very lightweight
The Pacsafe brand is designed for security and reliability, so not including the Pacsafe Metrosafe LS250 Anti-Theft Shoulder Bag would be a major oversight. This camera bag is filled with features that are practically guaranteed to keep all of your valuables safe.
Pacsafe goes above and beyond to ensure your gear is secure. For starters, steel-wire mesh inside the fabric prevents thieves from slashing the bag open. The strap also has a slash guard.
Exterior zippers secure to discreet clip hooks, stopping pickpockets in their tracks, and a security hook buckles everything down. On the inside, an RFID-safe pocket keeps credit cards, passports, and other valuables safe.
On top of all those features, there are other big bonuses that this bag offers. The strap is well-made and can be adjusted to your liking, ensuring constant comfort. Overall, this bag is a small but impressive option; it weighs just 1.5 lb (680 g) but offers you 12 liters of storage space!
10. AERFEIS Camera Backpack
Perfect for flying
This backpack is designed to make traveling with your camera gear as painless as possible, and it's very reasonably priced, too.
Pros
Hidden pocket on the shoulder strap
Removable reinforcement belts everywhere
Very affordable price
Cons
A limited number of pockets
Travel smarter, not harder! The AERFEIS Camera Backpack aims to make your trips hassle- and worry-free with its comfortable design, plus it has some nice travel-oriented features that are great for the frequent flyer.
To start, there is a hidden pocket on the shoulder strap closest to your face where you can store travel cards, passports, a wallet, or anything else that requires easy access. Since the hidden compartment is so close to you, it's almost completely protected from prying hands.
The various removable reinforcement belts keep everything tight and secure, and they also help with weight distribution! The zippers are sturdy and won't rust or break on you. And the inside of the bag is lined with velvet.
Additionally, the interior design is completely adjustable, so you can quickly change it to suit your needs. And the AERFEIS bag doesn't cost too much, either, making it a good camera backpack for budgeters.
Keep Your Gear Safe and Secure!
Keeping your gear safe is of the utmost importance, and the various bags on our list all aim to do just that!
For those who want a stylish backpack that is also incredibly functional, the Peak Design Everyday Backpack V2 is bound to be a hit.
If you're looking for a more affordable option, the BAGSMART Camera Bag is highly effective without breaking the bank.
---
As an Amazon Associate, we earn from qualifying purchases. Certain content was provided "as is" from Amazon daily and is subject to change or removal at any time.