Travel photographers already know the value of protecting their gear with one of the best anti-theft camera bags they can find. And even if you're not a travel photographer, keeping your equipment safe around town and on short outings is totally worth upgrading your backpack to the best.
The good news is we've found the 5 best anti-theft backpacks and…there are some budget-friendly options too!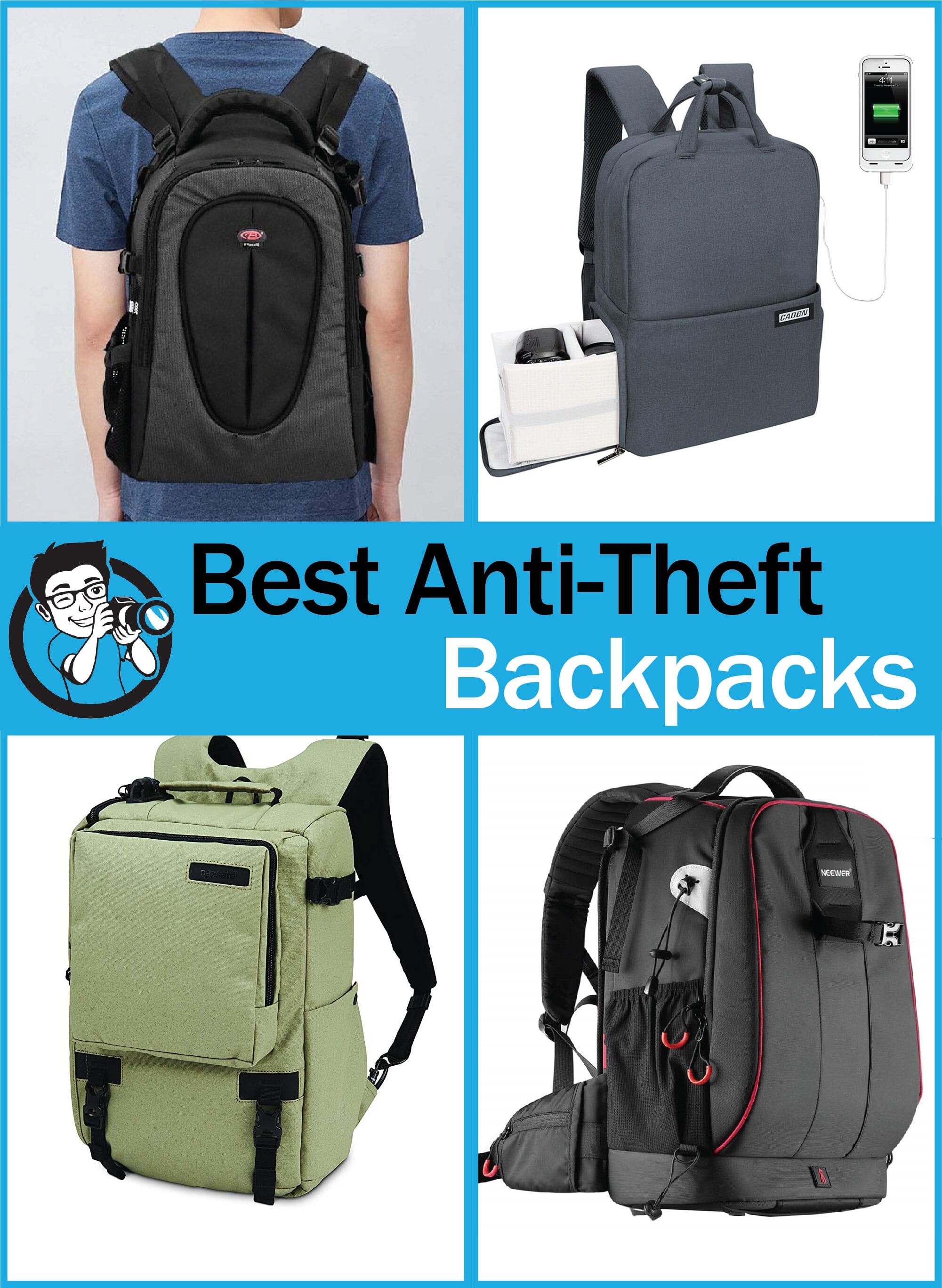 Two Big Problems The Best Anti Theft Backpacks Solve
In a perfect world, a photographer would always be able to keep their camera on hand wherever they go. However, two factors all too often convince photographers to leave their gear behind.
The inconvenience that comes with having to carry around bodies, lenses, and accessories
The threat of losing valuable camera gear to prying hands.
So, we've found some solutions that address both issues. Check out how each of our favorite anti-theft camera bags works to keep your possessions safe.
The Best Anti Theft Backpacks To Protect Your Gear
Though Baoluo isn't one of the best-known brands out there, their camera bag immediately caught our eyes. With some impressive specs to brag about, it's an easy bag to fall in love with. And that's not just our opinion – this product has been awarded 5 stars by nearly 90% of Amazon customers
Product highlights:
Keeps comfort in mind. Adjust the shoulder straps, waist belt, and chest band to the tension most comfortable to you. What's more, the areas in contact with your body are breathable.
Organize on your terms. Inside the bag, you can configure the dividers to suit your needs. If you need a little bit of extra space, the upper pouch extends.
A smart and stylish build. The bag is lightweight and soft, yet durable. The firm, cushioned dividers are cradled in the main compartment, completely sealed off from the elements. Both the inside and the outside are waterproof, dustproof, and resistant to pressure.
Safety Features:
The anti-theft features on the Baoluo are subtle, yet effective. Small details, from reinforced stitching to extra-wide zippers, make it a secure from breakage and build failures.
And that's on top of the standard safety features that keep your gear safe from theft. More on those just below…
First, the waist belt, chest band, and shoulder straps physically keep everything close to you. The stealthy buckles are easy to release but deter potential snatchers.
Most importantly, zipper access points can be secured to prevent unwanted access into the main compartment.
DSLR Camera Bag Nikon Waterproof Backpack with 12" Laptop Compartment Camera Case...
Large Capacity: Holds and protects 1 camera + 3 lenses + laptop + camera tripod + accessories; Laptop compartment fits for...
Easy Organization: 18mm thickness Inner padded dividers are removable and upper main pouch is extendable. Flexible to convert...
Build to Last: Professional utx flex stealth buckle, low temperature resistance; Lightweight, firm, soft and cushioning...
Ergonomic Design: Adjustable padded shoulders straps, waist belt and the chest band with breathable air-mesh well relieve the...
What You Get: Camera Backpack, Rain Cover. 30 Days Free Of Retun, 1 Year Warranty, 100% Satisfaction Guarantee.
RELATED POST: Guide to Purchasing Perfect Photography Gear
It may not seem at first glance that there's much substance to this Zecti bag. There's a distinct lack of locks or buckles that some other bags rely on.
However, there's a bit more to this product than initially meets the eye.
A few clever tricks incorporated into the design keep thieves at bay…
Product highlights:
Remove and reconfigure. Modular dividers can be switched around at your leisure.

If you need to use the bag for something other than a photographic endeavor, they can be removed entirely. The Zecti bag is great for those seeking an option that doubles as an everyday backpack.
Keeps the elements out. The bag is made with sturdy, waterproof canvas. A breathable back panel also improves ventilation. There is also an included rain cover to protect against additional elements like rain and sand.
For the versatile photographer. For the discreet, style-oriented photographer, the Zecti is a great choice. It sports a small build and a more casual appearance than the standard camera backpack.
Related Post: Best Waterproof Camera Bags
Safety Features:
Though it may not look like there's a lot to this backpack, built-in mechanisms do deter potential thieves.
Rather than relying on auxiliary locks or clunky security mechanism, the bag's design deters unwanted access.
Here's how:
Notably, the bag utilizes a back opening structure making it difficult for prying hands to grab into. Further, when the back strap is applied, there's little space between bag and body for someone to sneak in.
What's more, flaps hide access zippers, making vulnerable spots difficult to locate.
Your purchase is also paired with an 18-month warranty that's backed up by 24-hour customer service.
Camera Backpack, Zecti Waterproof Large Canvas Camera Bag Professional DSLR Camera...
Back Unzip Design-- This camera bag has an awesome design to have it open up in the back so accidents with photo gear...
Waterproof Camera Bag--The high-density waterproof canvas backpack is made of durable, water-repellent, easy-to-clean and...
Compact But Large Space-- The inside of this photography bag provides flexible and large capacity for all your necessities...
Sturdy and Comfortable Backpack-- The canvas material is heavy duty and the product has a good weight to it. Ergonomic Air...
Versatile DSLR Backpack-- The customizable compartments inside makes it ideal for various professional photography aims which...
RELATED POST: Trying Out The Peak Design Everyday Backpack
It's no secret that Neewer puts out some of the best gear money can buy. So, it comes as no surprise it was one of the first places we visited on the search for great anti-theft camera bags.
Their Pro Camera Case did not disappoint, living up to our high expectations of the brand.
Product highlights:
Built smart. The ergonomic design, including lens-friendly strap pouches, mean easy access to all of your things. Neewer uses breathable materials and strong stitching to make your bag stand up to wear and tear,
Strong but flexible. Neewer utilizes multiple layers of durable materials for this bag. A durable plastic frame holds together the internal nylon padded with a layer of shock-proof sponge. An exterior water-resistant nylon fabric holds it all together.
Customize the inside. Like other options, the inside is adjustable and removable. With a little careful planning, the Neewer anit theft camera bag holds multiple camera bodies and up to 6 lenses.
Safety Features:
Neewer's security practices are fairly straightforward but extremely effective. Like some of our previous features, there's a subtle design that makes stealing the bag a bit tricky.
However, that's not to say they're hiding all the safety features…
Most visibly, the main compartment of the bag is equipped with an intimidating combination lock. Because it's TSA accessible it also helps prevent issues at the airport.
Additional features like zip tie secures add another layer of protection.
That being said, there are a few hidden surprises with this bag. We're fans of the hidden security whistle built into the button connector.
Neewer Pro Camera Case Waterproof Shockproof Adjustable Padded Camera Backpack Bag...
Great Capacity: (13.4x10.2x20.5 inch/ 34x26x52cm) It can hold a DSLR camera(Canon 5d mark III 5d mark VI, Nikon d750, Sony...
Durable Material: Made of waterproof polyester and durable nylon with tough reinforced stitching for easy carry and...
Padded Customizable Dividers: The fastening taped cushions inside the bag is removable and adjustable. It could be...
Upgrade Features: Easy to shoot, no need to take off your backpack. Straps and two buckles on both sides can securely hold...
Widely Use: Ideal for photographing, hiking, mountaineering, traveling, even shopping. It is not only a camera bag, but also...
Need to recharge while out and about?
The CADeN Travel Bag is made for you. But there's much more to love outside of the novelty of its charge. Organize to suit your needs, and then secure it all inside!
Product highlights:
Organizational options. Despite its minimalistic appearance, this bag sports eleven pockets! The main compartment is divided into two fully configurable parts for easy access.
Balancing strength and comfort. Memory foam decompression shoulder straps for top of the line comfort. The bag's padding is shock and drop-resistant. The waterproof, scratch and wear-resistant bag can bear loads up to 110-pounds!
Charge on the go. One of this bag's main selling points is a USB charging port. It's ideal for juicing up cameras, phones, and other devices on the run.
Safety Features:
Don't be fooled by the simplistic exterior – the CADeN travel bag is packed in terms of protection. A password-protected padlock secures all exterior zippers in place, making it impossible for a thief to sneak in unnoticed.
Bar tack reinforced stitching prevents slash-and-run theft.
On the inside, zippered pockets keep smaller accessories secure and in place. There's even an RFID-safe pocket for stashing ID and credit cards securely potential from hackers.
CADeN Travel DSLR SLR Camera Backpack Waterproof Anti-Theft Camera Bag with USB...
【Large capacity】Dimensions:33*17*43 cm / 12.99*6.69*16.93"(LxWxH).Fits 1 camera body + 2 lens + tripod + 15.6" laptop +...
【Multi functions】①Access on side, quick reach in and get camera in 2 seconds; ②USB charging port that used for...
【Multi functions】⑦Quick stash RFID pocket on shoulder strap for VIP card, access card, word ID; ⑧Shoulder strap are...
【Perfect Design and Good Quality】①Each shoulder strap that connected with camera backpack used crossing reinforcement...
【Satisfied Services】1 Years warranty, any problem within 1 year, we will offer a new one for you; 20 Years factory...
RELATED POST: 6 Best DSLR Leather Sling Bags
The Pacsafe anti-theft camera bag is by far the priciest product we've covered today. However, the peace of mind it provides makes it worth every penny.
This anti-theft camera bag is filled with surprises that keep all of your valuables safe.
Product highlights:
Space to spare. This bag weighs in at just 3-pounds. However, it stores up to 25 liters worth of materials!
Adjust to fit your body. A sternum strap and hip belt evenly distribute weight. You can adjust it to your liking, ensuring long-lasting comfort over long days,
Stylish and smart. The Pacsafe bag features modular padded dividers to organize your gear. Equipped with velcro, you can personalize the insides to fit all of your lenses and accessories with ease.
Safety Features:
Pacsafe goes above and beyond to ensure your gear is secure. For starters, steel-wire mesh inside the fabric prevents thieves from slashing the bag open.
The strap also has a slash guard.
Exterior zippers secure to discreet zip clip hooks, stopping pickpockets in their tracks. A Roobar anchor also keeps zips secured at one anchor point. Finally, a turn and lock security hook locks everything down.
But that's not all. On the inside, an RFID-safe pocket keeps credit cards, passports, and other valuables safe.
How's that for covering all of your bases?
Pacsafe Camsafe Z16 Anti-Theft Camera and 13-Inch Laptop Backpack, Slate Green
Rugged canvas anti-theft camera and laptop pack fits most DSLR cameras with lens and 2 extra lenses; ideal for any city,...
Lightweight, hidden eXomesh Slashguard stainless steel wire mesh embedded into fabric helps protect against slash-and-run...
RFIDsafe Blocking Material built into pocket helps protect IDs and credit cards from hacker scanning
Adjustable wire-reinforced Carrysafe Slashguard Strap helps prevent cut-and-run theft; smart zipper security attaches zipper...
Turn and Lock security hook and Roobar anchor locking system for additional security; 13-inch laptop compatible sleeve;...
Searching For The Best Anti-Theft Camera Bags
Finding the right anti-theft camera bag is a personal choice. On top of the security features you desire, there's also a design element for you to settle on. Luckily, we've found some great options we think will satisfy a variety of preferences.
Did you find the perfect anti-theft camera bag? If so, let us know in the comments below!
Related Post: Best Gimbals for Mirrorless and DSLR Videographers
Meghan is an artist and writer based out of Boston, MA. With an interest in everything from instant film to experimental videography, her work has been featured internationally in a variety of photographic exhibitions and publications. As a regular contributor, she uses her broad background in fine art and varied professional experiences to inform her articles.
---
As an Amazon Associate we earn from qualifying purchases. Certain content that appears on PhotoWorkout.com comes from Amazon. This content is provided 'as is' and is subject to change or removal at any time.