Best DSLR Leather Bags
Are you looking for the right camera bag to fit your needs and all your gear? And you would prefer a leather bag? Great, because here you will find an overview and review of the six best DSLR Leather Bags.
Few questions before buying you new bag:
What kind of equipment do I want to bring with on my shoots?
How much additional storage do I need for my items?
Whether or not I also want to haul around a laptop or tablet?
These are some of the key things that will determine what kind of DSLR camera bag will work best for you.
It's likely that you'll go through a few bags before finding the right one for you, but this guide will help narrow down your choices by reviewing some of the best DSLR leather bags available on Amazon.
Related Post: The Best Camera Backpacks under $50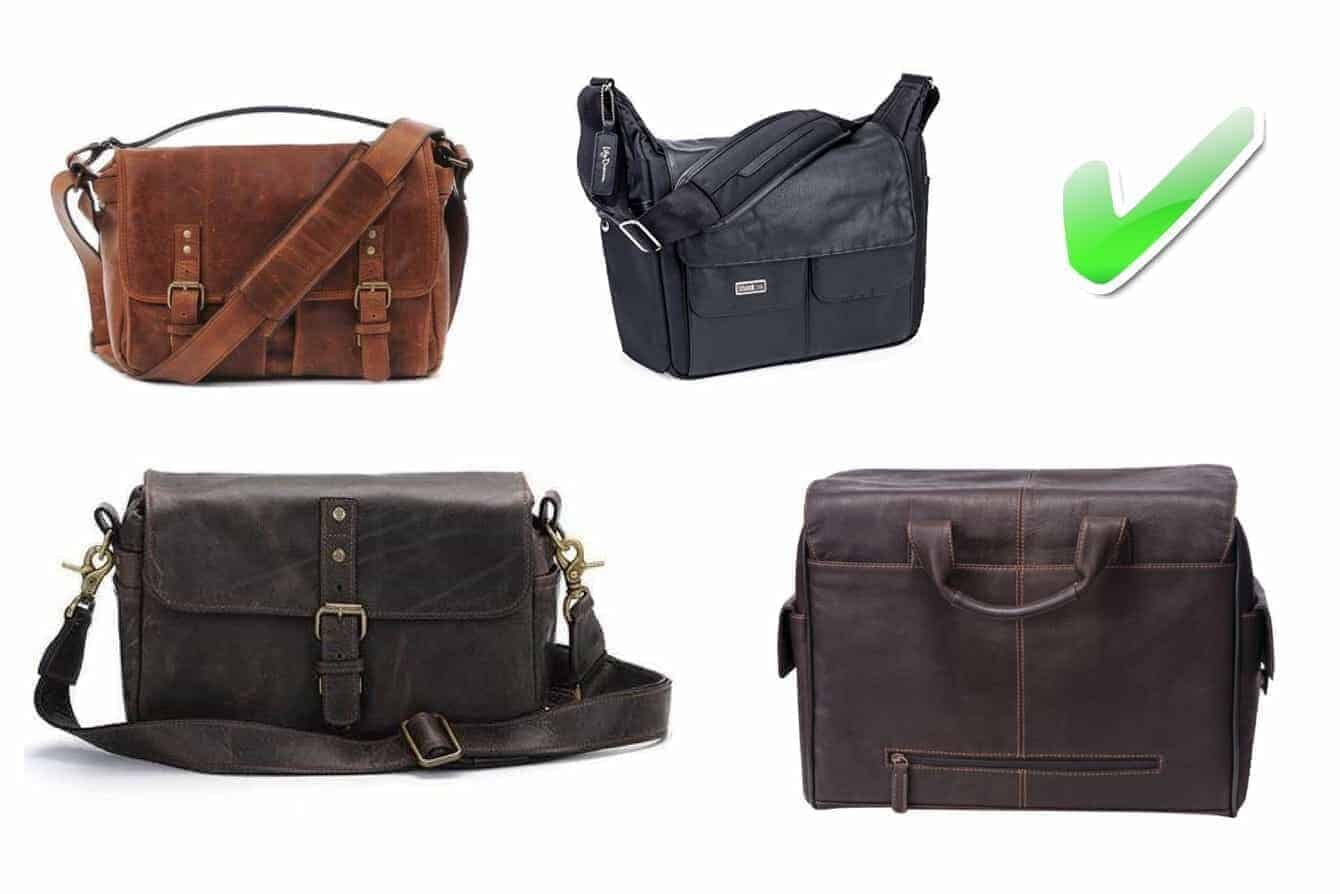 1. ONA The Bowery Camera Messenger Bag
Our Pick

for Best DSLR Leather Bag

For photographers who are looking for a stylish and functional leather camera bag for their DSLR equipment, ONA offers a great solution with the Bowery Bag. This is one the best leather bags, especially if you're only looking to carry just enough equipment for one shoot. Because of this bag's compact size, it's not ideal for hauling around a ton of lenses or camera bodies, but it's a comfortable and attractive way to carry your gear for a few hours.

This camera bag is very well-crafted, featuring Italian-tanned leather and beautiful antique brass accents, with plenty of room for a variety of equipment. The interior of the bag can comfortably hold one DSLR with an attached lens, as well as one additional lens, but there are another five exterior pouches that can hold more gear if needed.

While some photographers may be intimidated by the limited amount of equipment that this bag will hold, it can help you be more selective with the lenses you choose to take on specific shoots and prepare accordingly. You'll also impress clients with the professional look of the ONA Leather DSLR bag, making this a great option for photographers who shoot a lot of weddings or other special events.

Still, landscape photographers who have to deal with changing conditions, or who will be spending a lot of time outdoors might want to consider a larger, more durable bag. But there is no question that the Bowery is one of the best leather camera bags available, especially when style is concerned.

Related Post: Peak Design Everyday Backpack Review
2. FeatherTouch Leather Camera DSLR Travel Camera Bag
FeatherTouch Leather Camera Dslr Travel Camera Bag 12X9X5 Inches Brown
New genuine Cow leather camera bag handcrafted with vintage style
Dimensions: 12 inches (length), 9 inches (height), 5inches (depth)
Strong & durable brass fittings & buckles, quality zippers, heavy duty lining
Adjustable shoulder strap and hand carry
Soft Cow Hunter Oiled Leather, Light Weight Bag, Very Sturdy Not bulky and heavy like other buffalo leather
This beautifully crafted FeatherTouch DSLR Bag comes with a much lower price tag than many other leather alternatives but doesn't sacrifice on style – or usefulness. Crafted by "fine Indian artisans," this soft brown cow leather satchel is highly durable and quite versatile.
Substantial padding on the inside of this bag makes it one of the best DSLR leather bag options out there since it provides plenty of protection for your valuable camera gear. The closures are very efficient and provide plenty of security to keep your equipment safe even if the bag gets tossed around in the backseat of a car or an overhead compartment on an airplane.
The bag itself suffers from some durability concerns, however, particularly the strap which is sewn directly to the body of the bag. If it breaks, it won't be easy to reattach. It is adjustable, though and users will find that it does seem quite secure.
Related Article: Best Camera Backpacks
While the removable configuration does somewhat limit the amount of gear you can carry, the spacious compartments will allow you to bring a relatively substantial amount of equipment. More space means that this bag is useful for longer photo shoots or the ones where you'll need to deal with changing conditions. Still, photographers who enjoy having plenty of lenses to choose from will find themselves having to pick lenses to leave at home.
The design of this bag is professional and vintage-looking, so you'll feel confident bringing this bag to prestigious events or on high-profile shoots. Many reviews add that this bag looks even better with use. Scuffs and scratches to the bag's soft leather serve to enhance the retro style this DSLR bag showcases.
3. Jack by Jill-e Hudson Leather Camera Bag
Jack by Jill-e Designs, Hudson All Leather Camera Bag, Brown (464064)
There's room for a full DSLR set-up in this close-fitting bag that meets today's requirements for performance, protection and...
Full Colombian leather exterior
Rear exterior storage pocket for quick-access items
One-touch buckles open flip lid for total interior access
Nylon Velcro compatible interior
The Jack byJill-e Designs Hudson Columbian Leather Camera Bag provides stylish protection for a limited amount of equipment, making this DSLR bag ideal for quick shoots where you don't want to be weighed down with a bunch of gear. With high-quality leather and great hardware fittings, you'll be able to feel confident that your camera will be safe, but the bag's slim and attractive design means you won't look like you're carrying a camera bag.
You'll be able to carry your camera body, one additional lens, and some personal items, like your phone and your watch – more than enough for an afternoon photo shoot or out on a hike to shoot some landscapes. While you will have to select which equipment you want to bring along, it's nice to have a smaller bag that won't be a burden if you're traveling or spending a lot of time on foot.
Not so Good: Bag's Strap
Some users have mentioned that the bag's strap is made of nylon, not leather. The nylon strap does make the bag somewhat less comfortable to carry around. But this is quickly addressed with a padded cover or even a new leather strap that can be attached to the hooks on the side of the bag.
Apart from the not so good nylon strap, it's a great compact bag that allows you to carry your DSLR and some additional equipment in style.
4. Jill-e 144744 by Jill-e Hudson Leather Bag
Jill-e Designs Professional Leather Camera Messenger Bag, Multi-Use, Brown (144744)
GEAR PROTECTION: Easy access padded exterior walls and configurable dividers to protect your gear
HIGH QUALITY: Made from durable, weather-resistant Colombian leather in deep brown
SPACIOUS: Fits a 15"" computer, 1-2 DSLR or SLR camera bodies, 3 to 4 moderately sized lenses, 1 long telephoto lens and...
COMFORT: Adjustable shoulder strap provides better control, comfortable fit
DIMENSIONS: 16.0" L x 9.0" W x 12.0" H
With a look more similar to a briefcase or a laptop bag than a traditional camera bag, the Jill-e 144744 is one of the best leather DSLR bags for people who don't want to be obviously carting around a ton of gear. However, despite this bag's discreet profile, it holds a remarkable amount of equipment.
Velcro adjustable dividers allow you to configure the inside of this padded leather bag to suit your needs, whether you're carrying around multiple camera bodies or just a selection of favorite lenses. There's also pockets on the front and sides, which are perfect for filters, SD cards, batteries, or even your cell phone and keys. And the zippered laptop pouch means you won't need to carry around a separate bag for your computer.
Due to this bag's larger size, it's not ideal for longer treks through the wilderness if you plan to shoot wildlife or landscapes, or for street photography where you might prefer a more compact bag. However, this one of the best DSLR camera bags for hauling plenty of gear – in style. Thanks to the bag's weather-resistant Columbian leather, it also holds up to all kinds of conditions.
Not so nice: Nylon Strap
Some users have taken issue with the bag's detachable shoulder strap, made from nylon rather than leather. However, this strap is well padded and relatively durable, and there are dual carrying handles attached to the top of the bag, as well.
Related Post: The Best Travel Camera Bags Reviewed
5. ONA Prince Street Camera Messenger Bag
The silhouette of a refined messenger bag makes the Ona Prince Street Camera Leather DSLR Camera Bag a popular option for fashionably-minded photographers. The handcrafted Italian leather offers a well-traveled aesthetic, and the slim design of the bag makes it comfortable to carry around. Still, you'll have room for a camera with attached lens, up to two additional lenses, a laptop or tablet, and some other personal items.
For those who prefer to carry a bag instead of strapping it over their shoulder, the Prince Street bag does feature a removable top-grab handle. However, thanks to this bag's practical design, you can use it as a messenger bag without worrying about it being too bulky and awkward.
Photographers who enjoy bringing with them a wide selection of equipment will feel limited by this bag, which requires you to be choosy about which lenses you bring with you on a shoot. Still, there is plenty of space in the flexible, open design interior to accommodate many configurations.
Bag's Limitation: Top Handle
Other than the space limitation, this bag could stand to have a better well-designed top handle, with a D-ring, to enable efficient and effective swiveling. However, it's a small gripe about an otherwise ideal camera bag. There's no question that ONA camera bags are some of the best leather DSLR bags available.
6. Think Tank Photo Lily Deanne Mezzo Bag
While the Think Tank Lily Dean Mazzo Bag was designed with female photographers in mind, the dark leather and streamlined look of this DSLR camera bag make it versatile enough to be used by men, as well. With plenty of storage, soft and sturdy Dakota leather, and magnetic closures, there is plenty to love about this camera bag.
Available in two different sizes, this bag allows photographers to either limit themselves to specific equipment or bring more along with them to shoots. There are also several expandable pockets for additional items like batteries, SD cards, flashes, filters, and even a small tablet. Even with all this storage space, photographers who have purchased this bag say it never feels bulky or uncomfortable to carry around.
The Lily Deanne Mezzo bag features an adjustable shoulder strap that allows it to be worn across the back like a messenger bag or slung over one shoulder, like a more traditional bag. The strap is also well-padded, so no matter how much equipment you have in the bag, you won't feel weighed down.
Many happy users praise this bag's solid construction and clean design, but the magnetic closures are a bit of a worry for those with more expensive gear, especially as wear and tear could make them less effective. Still, this is a great leather DSLR bag for serious or hobby photographers who want to easily access their equipment on the go.
Conclusion: Which is the Best DSLR Leather Bag for You?
While these bags might be some of the best leather DSLR bags you can find, they might not be exactly what you're looking for. It's important to find the right camera bag to suit your photography needs, to make sure you can work efficiently.
Spend some time thinking about what you want from a bag, and don't be afraid to invest in a quality product. Not only will your camera bag protect your valuable equipment, but it will also make a statement to clients about what kind of photographer you are.
Related Post: Famous Youtubers (& What Cameras they Use)
Bonus Pick: The Mini DSLR Leather Bag (on a Budget)
Best DSLR Leather Bag on a Budget
Topixdeals Vintage Camera Bag, DSLR Shoulder Camera Bag with Removable Inserts,...
Premium Quality: Made from PU leather, feels very soft, which features special scratches. High quality alloy lock is more...
Multiple Pockets: With one main compartment pocket, it has enough room to hold an DSLR camera, there's open pocket either...
Protect Your Camera Well: Adjustable inner divider to hold camera more sturdy and keep Lens apart. interior flap and cotton...
Vintage Style Design: With brown vintage and fashion design, it will be a perfect gift for traveling photographer, shoot...
Wide Application: 8.2" Length x 5.5" Wide x 7.8 " Height and will fit most the D/SLR digital camera, Sony/Canon/Nikon/Pentax,...
Jennifer is specialized in photography writing and has regularly contributed articles to sites like PictureCorrect, Phlearn Magazine, and PhotoWorkout. Photography and art has always been a huge passion of hers.
---
As an Amazon Associate we earn from qualifying purchases. Certain content that appears on PhotoWorkout.com comes from Amazon. This content is provided 'as is' and is subject to change or removal at any time.