What do the best camera backpacks all have in common? Well, for starters, they all made it to our of the best camera backpacks out there.
And that says a lot about the backpacks! After all, we hand-selected each of the backpacks on our list quite carefully!
Why'd we go through the all the effort? Well, we know what it's like lugging a bunch of gear around.
Such a hassle!
It's like this: as a photographer, you carry an abundance of gear with you every day. (Maybe more that's what's reasonably necessary if you're anything like me…). Whether it be your camera bodies, lenses, laptops, or accessories, you need something sturdy and reliable. What you need is the best camera backpack available.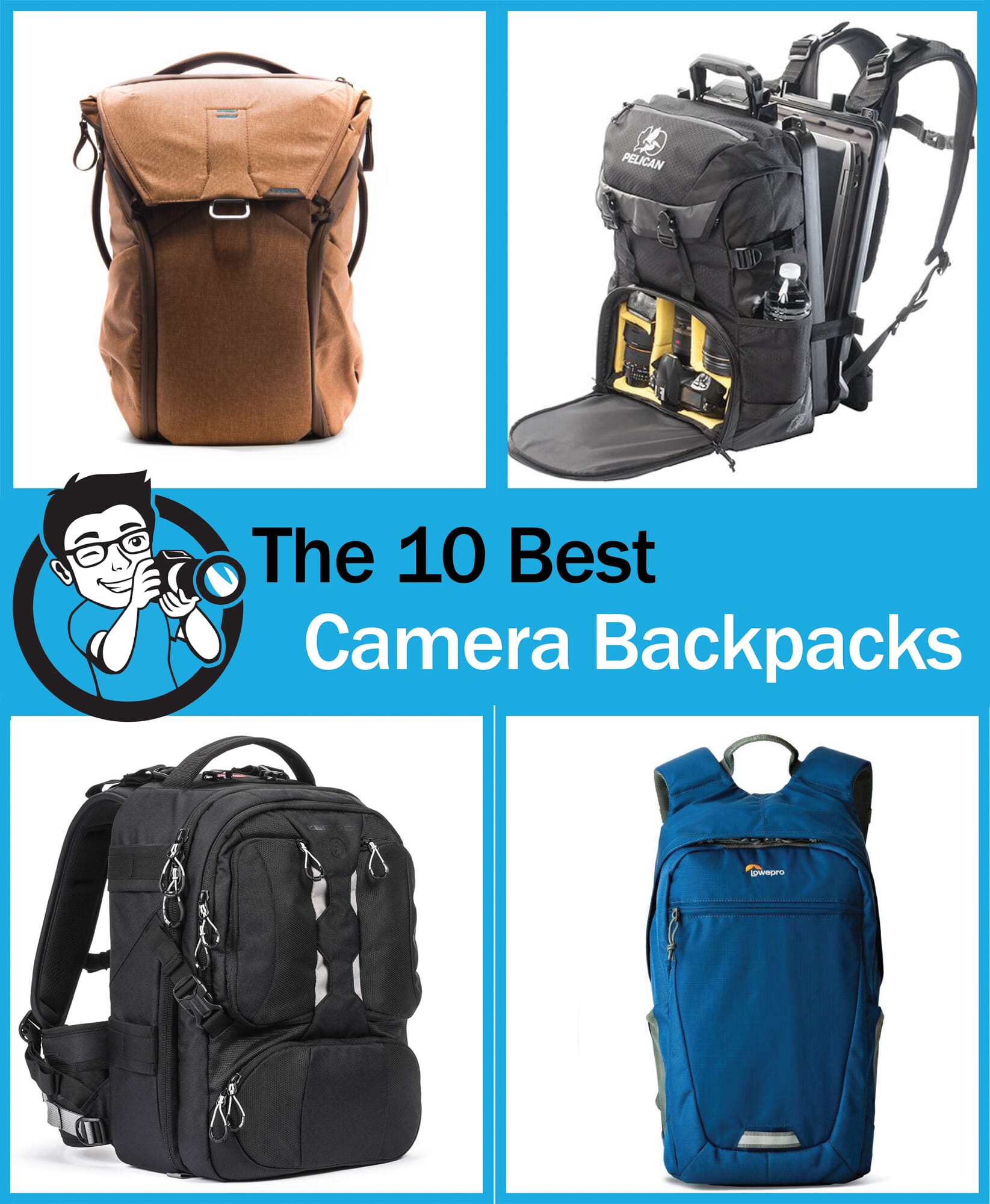 What Makes A Good Camera Backpack?
Yet, you may be wondering – what exactly defines a good camera backpack?
Is it the level of comfort? Ample storage space? Extra pockets?
In our opinion, the best camera backpack checks each of these requirements off the list:
Keeps your gear safe
Is comfortable on your back and neck
Is easy to carry around
And, has plenty of storage space for all of your items
Plus, if it's stylish, then that's an added bonus
Of course, there are some other factors that sure sweeten the deal too. Decide which is the best camera backpack for your needs with our reviews of the bags. Let's check out our list of the top camera backpacks of 2020:
10 Best Camera Backpacks of 2020
The first option on our list of best camera backpacks is the Estarer SLR/DSLR.
It's compatible with most camera bodies and lenses such as Canon, Nikon, and Sony. And, it can store up to a 15.6″ laptop.
With the front loading feature, you can easily access and store your gear. Plus, it comes with velcro dividers that allow you to change the shape of your compartments depending on which items you need that day.
Additionally, the outside of the bag is made with black nylon, which makes it water-resistant.
Whether you use it to carry your equipment or swap out the dividers for an everyday backpack, fit for your laptop, the Estarer is a top-notch bag choice.
Estarer SLR/DSLR Camera Backpack for Nikon Canon Sony Digital Lens GoPro Accessories...
External size:16.5"*6.3"*9.8". Weight:1.1kg,2.4lb. perfectly store your DSLR/SLR camera, lens, flash and accessories, tripod,...
Front compartment: with 10 movable velcro dividers, adjust the way you want to fit any type of equipment like drone or...
Rear laptop pocket: with padding 15.6 inch laptop compartment, and a zipper closed pocket on the wall of backpack.One side...
Material:water-resistant nylon, YKK smooth zippers. reinforcement top handle and strap that can use longer in...
Multi-purpose: photography bag change into casual laptop bag by just taking out the velcros to organize your various daily...
The second best camera backpack we looked at is the Pelican S130.
The Pelican brand is known for being one of the toughest and most durable camera bag providers. Whether you choose a hardshell case or camera bag, like the S130, you know that your gear is protected with Pelican.
It comes with a built-in watertight, crushproof laptop case. And, it has a removable padded divider used to customize the design, depending on your gear.
Plus, its rigid front plate is made for impact protection. This Pelican Sport Backpack will, without a doubt, keep all of your gear secure and in place. But, given it's made by Pelican, we weren't too surprised to see it excel.
Lowepro is another brand known for making some of the best camera backpacks and bags on the market. So, of course, the Lowepro Photo Hatchback made our list.
This backpack comes in either black or midnight blue. Designed with a hatch style opening, it's secure and gives you side access to your gear.
You can store and organize all your gear within the removable camera compartment.
Plus, it stands alone as a full daypack. Nice.
Are you the type of photographer who needs to carry additional tools? Things like a tablet and whatnot? Well, this bag lets you easily and securely do that with the built-in 8-inch cradle slot.
Finally, the Lowepro hatchback is made with comfort in mind. It has moisture wicking padding around the shoulders and lower-back to make this an easy to carry, on-the-go bag.
Lowepro Photo Hatchback BP 150 AW II Camera Backpack
Secure, body-side access with a hatch-style opening
Store, organize and protect your photo action video gear in the removable camera compartment
Remove the camera compartment and use as a full daypack
Keep your 8-inch tablet right at hand in the dedicated cradle fit pocket, it suspends and protects your go-to device from...
Comfortable, moisture-wicking padding at the shoulders and lower back helps make this an easy, day-long carry solution
We reviewed the 20L version of the Peak Design Everyday Backpack before and loved it. Not surprisingly, the added size with on this model has easily earned a title as one of the best camera backpacks.
Although, it's also one of the more expensive options on the list is this 30L sized backpack. Considering this backpack was designed with the professional photographer in mind, it totally warrants the price tag.
Here's why it's great for the pros: it's big. Really big.
It's able to hold 2 camera bodies and 3-6 lenses.
Plus, the bag comes with a padded laptop sleeve that holds devices up to 16-inches.
The Flexfold Dividers protect cameras, drones, and lenses. And, it's designed with a waterproof camera shell that makes it durable in any type of shooting condition.
Peak Design Everyday Backpack 30L (Charcoal Camera Bag V1)
The expandable design offers 30L of storage to hold 2 DSLR/SLR camera bodies and 3-6 lenses.
Padded laptop sleeve/pocket holds laptops up to 16" (See listing for exact measurements).
3 Flexfold Dividers protect cameras, drones, and lenses. Works as a professional camera backpack.
Waterproof 400D nylon canvas shell. DWR impregnated and poly-coated. Premium weatherproof zippers.
Exterior & sub-divided Interior pockets carry memory cards, batteries, pens, filters, and more.
5. Case Logic CPL 109 DSLR Camera and iPad Backpack (Currently Unavailable)
The customizable interior and side entry make this one of the best camera backpacks we'll look at today.
It can fit your camera body, 1-2 lenses, a flash, and accessories. Plus, it has a dedicated iPad compartment to carry your everyday tools on each shoot.
The dividers are adjustable and padded. And, they can be customized to act as a side-entry camera compartment.
That's one of our favorite features–so handy!
Additionally, this bag is ready for any weather. The weathering hood slips over the bag and protects your gear from the elements. This backpack is functional, spacious, and safe for storing your expensive gear.
Related Post: Tarion XH Backpack Review
If you want function and form, the Bagsmart Backpack might be the best camera backpack for you.
Just look at how sharp looking this backpack is!
And what's really great is the Bagsmart backpack comes in three color options:
Plus, it works as an everyday backpack. Convert it to a DSLR camera travel bag, just by removing the center compartment. Easy peasy.
But here's what really hooked us:
The bag has two main sections in the back making it impossible to steal from when walking.
That means your DSLR and 3-6 lenses that easily fit inside the bag are safe and secure.
There's a padded compartment for 15.6″ laptops and more.
Oh, did I mention the backpack has padded shoulder straps that adjust for comfort?
Need to use the backpack in the rain? Just open up the rain cover for any unexpected weather. ☔
Camera Bag, BAGSMART Camera Backpack for SLR/DSLR Cameras, 15.6" Laptop with...
Dimensions: 12.59"L x 17.3"H x 6.3"W; Fully convertible from an everyday backpack into a DSLR camera travel bag by taking out...
This professional backpack has two main compartments in the back so it's steal proof when walking, the upper one is for...
The separate padded compartment for 15.6" laptops/notebooks, tablets, books and more. Side and Front Compartments for Easy &...
The heavily padded shoulder straps and wide, adjustable waist and chest straps make the backpack comfort on the go. The...
Include a rain cover, concealed in the bottom zippered bag for unexpected weather. You can also use it as carry on while...
The Mosiso Camera Bag is one of the best camera backpacks for travel photographers.
Its design contains modular inserts for different cameras, lenses, and flashes. And, the fully open design allows you to put accessories, such as your laptop or tablet, in the back area.
Plus, it comes with a tripod holder that's secured on the side of the bag. You can also store your water bottle and small precious items within the pockets.
Its high elastic back cushion keeps you comfortable. And, the water repellent material keeps everything safe, no matter the weather.
MOSISO Camera Backpack, DSLR/SLR/Mirrorless Photography Case Water Repellent Buffer...
Internal dimension: 13.39 x 9.06 x 4.33 inches (L x W x H), external dimension: 14.57 x 9.84 x 6.3 inches (L x W x H)....
Multifuctional use. Tripod/monopod holder is featured with 1 secure strap on one bag side. 1 mesh pocket on another side can...
Highly water repellent. Super foam padded layer can provide best buffer and protection to your internal stuff against shock...
Padded shoulder strap varied from 12.6 to maximum 35.4 inch can be adjusted per personal preference. 1 durable handle is also...
This multifunctional camera bag is professionally designed for DSLR / SLR / Mirrorless cameras of different brands, such as...
If you didn't like the previous backpack for your travel photography needs then check out the Tamrac Anvil Slim 11. It gives the others a run for the money in the best camera backpack category.
In fact, it's the perfect size for a travel camera bag. It fits in the overhead compartment of most commercial aircraft. So, say goodbye to having to check your camera gear.
With its 10 custom foam dividers, this backpack has more storage space than you could imagine. You can fit your DSLR bodies, lenses, and your 15″ laptop.
Plus, it's tough with a lightweight design, making it easy to carry wherever you go. Need extra support? Just strap on the backpack's additional belt system.
Tamrac Anvil Slim 11 Photo Backpack with Belt
PERFECTLY SIZED CAMERA BACKPACK fits in the overhead compartment of commercial aircraft worldwide
AMPLE STORAGE SPACE for multiple pro-sized DSLR bodies with attached lenses. Bring your 15" laptop and gear in 10...
FULLY WATER SEALED with included rain fly; the ideal choice for photographers in all weather
TOUGH, LIGHTWEIGHT DESIGN to carry the load without weighing you down.
INNOVATIVE BELT SYSTEM - The removable Arc and M.O.L.L.E. compatible belt system makes any amount of gear easy to carry
If you're looking for a 2-in-1 bag, the Deco Gear DSLR Bag is a good fit.
This bag has a 2-in-1 design as it can be dually used as a sling bag. We love the versatility!
It contains a large opening that can store DSLR camera bodies, lenses and accessories. Rearrange the dividers as you wish and tailor it to your photo shoot needs.
Related Post: Best Travel Photography Lenses
Plus, it's perfect for traveling with its standard carry-on sizing. And, it can hold and protect up to 15.4″ laptops or tablets, so you never need to be without your essentials.
Lastly, it's weather protective. Just use the Rain Cover to keep your gear dry and safe.
Deco Gear DSLR Camera Backpack, Customizable Compartments for Cameras, Lenses,...
Large main opening holds pro-sized DSLR, Mirrorless, and Micro 4/3 cameras, lenses, and accessories.
Fully seam-sealed weather protective rain fly w/ included Rain Cover protects your equipment from water damage.
Protective foam dividers are fully-customizable so you can re-arrange your gear layout and tailor it to your needs.
Travelling or going on vacation? We conveniently designed this backpack to fit in the overhead compartment of most commercial...
Compatible with all major camera brands/models such as Nikon D850, D7500, D7200, D7100, D7000, D500, D5600, D5500, D5300,...
I love a good Lowepro bag and the Lowepro Road Runner Mini AW is an obvious choice for anyone's best camera backpack list.
Here's why…
The Road Runner Mini can hold a large 35mm or digital pro SLR, 4-5 lenses or a compact medium format system.
Plus, the backpack has a rolling harness that gives your back a break and allows you to roll your bag alongside.
This backpack comes equipped with internal pockets that are customizable and protective for your gear. And, you can add any additional Lowepro accessories to your bag with its Sliplock attachments.
Lowepro Road Runner Mini AW Camera Backpack
Road Runner Mini AW Capacity: Large 35mm or digital pro SLR; 4¿5 lenses (up to a 400mm f/2.8); flash and accessories; or...
Backpack harness and rolling harness are on opposite sides so the rolling frame does not dig into your back when carrying,...
Fully customizable interior for any system.
Lowepro's patented All Weather cover to protect bag and contents from extreme weather, sand, dirt, etc.
SlipLock attachment slots allow you to attach additional Lowepro accessories and pouches to the Road Runner Mini AW.
RELATED POST: 6 Best DSLR Leather Sling Bags
10 Best Camera Backpacks of 2020: Conclusion
As you can see, there are so many high quality and reliable options for you to choose. So, which is the best camera backpack for you?
Share your experience with us in our comments below!
Shannon Ciricillo is photographer working with digital and film formats, she is currently based in New York City.
---
As an Amazon Associate we earn from qualifying purchases. Certain content that appears on PhotoWorkout.com comes from Amazon. This content is provided 'as is' and is subject to change or removal at any time.