High-quality storage and protection for your camera equipment are important. As photographers, we spend lots of money on our gear, so it makes sense to store it properly and keep it safe while in the field. Enter the camera backpack!
The best camera backpacks typically have a dual purpose. They allow you to keep your camera gear safe, and they offer a convenient way to carry equipment while on your photographic adventures. These versatile products usually feature dedicated compartments for cameras and lenses, and they also have additional space for traveling essentials. If this sounds like something that could work for you, we share our nine favorite camera backpacks below.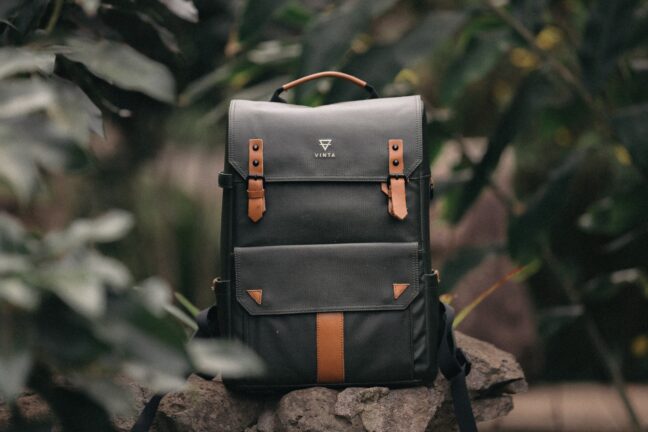 The Best Camera Backpacks in 2023:
When you buy through links on our site, we may earn a commission at no cost to you. We evaluate products independently. Commissions do not affect our evaluations.
1. BAGSMART Anniston Camera Backpack
Our Pick
Great for photography and editing
The BAGSMART Anniston Camera Backpack has space for a 15" laptop, giving you the flexibility to take photos and edit on the go.
Pros
Stylish design
Ample storage in main compartment
Adjustable chest and luggage straps
Laptop compartment
Cons
Not waterproof without rain cover
If you want a stylish product that looks great but is also very functional, the BAGSMART Anniston Camera Backpack is a solid choice. The backpack is made from canvas material and is available in five different stylish colors. It is certainly one of the better-looking designs on the market.
This backpack features a large central storage compartment with adjustable dividers. You can comfortably fit a full-frame DSLR camera together with four lenses. The main compartment pocket also has a sleeve for camera accessories like cables and spare batteries.
We also like that there is a separate laptop compartment. As a result, you can comfortably pack a laptop up to 15" in size along with your camera, which means you can edit your photos on the go.
To make sure you have everything you need when you travel, there are two sizeable side pockets that can hold a water bottle, a tripod, and more.
2. CADeN D6 Generation III Camera Backpack
Also Great
Great for comfort
The CADeN D6 Generation III Camera Backpack has reinforced shoulder straps to reduce the strain on your body during long outings.
Pros
Amazing price
Configurable storage dividers
Has a separate laptop sleeve
Cons
Not the largest of backpacks
For those on a budget, the CADeN D6 Generation III Camera Backpack is one of the cheapest options available. If you regularly travel outdoors and are often battling against poor weather, the backpack's waterproof materials will protect your valuable gear.
In the main compartment, you can store one large camera, four lenses, and plenty of photography accessories. We also like that you can adjust the dividers for different equipment configurations. The dividers are made from fabric and have Velcro edges, which means you can adjust your backpack organization quickly.
Despite the low price, this CADeN product is still durable. For example, the zippers are manufactured with alloy metals and are incredibly strong.
Also, the shoulder straps are made from reinforced materials and offer superb support, so when you embark on those long hiking trips, you'll remain completely comfortable. Regardless of the look you like, you're bound to be satisfied; the backpack is available in quite a few colors.
3. Lowepro Fastpack BP 250 AW III
Great for professional work
The Fastpack BP 250 AW III is made from durable fabric that offers impact resistance and is waterproof.
Pros
300D ripstop fabric
Multiple compartments for easy organization
Can fit a 13″ laptop
Fits lots of gear
Cons
Much larger than most backpacks
Fairly expensive
The Lowepro Fastpack BP 250 AW III is the perfect option for those longer photography trips where you need to take all your expensive gear with you to get the best shots. It offers excellent protection due to the 300D ripstop fabric, so your lenses and accessories should never get wet or damp.
If you do happen to drop the bag, your gear shouldn't sustain any damage due to the robust materials. If you're working in poor weather and you only want to get your camera out when you're ready to take photos, the side-access zip will make a huge difference. You can simply swing the backpack around to your side and instantly grab your camera.
So you can keep an organized kit, there are two main compartments. These let you separate things like lenses and accessories while keeping your camera more accessible at the bottom. And the storage space is large enough to fit a camera drone and a 13″ laptop in addition to your primary photographic equipment.
4. Altura Photo YZ0286 Shoulder Bag
Great for shorter photography trips
If you only need to carry a camera and a couple of lenses, this shoulder bag is just the right size.
Pros
Lightweight and easy to carry
Adjustable shoulder strap
Made from durable polyester
Very cheap
Cons
Not suitable for longer trips where more gear is needed
If you don't need a full camera backpack and instead prefer something smaller and more convenient, the Altura Photo YZ0286 Shoulder Bag is a top option. It's the perfect accessory for those days when you're venturing out on shorter photography adventures or when you know you only require one or two lenses.
The bag features a universal design so you can store any type of camera inside, including Nikon, Canon, and Sony mirrorless models. Your camera should sit in the main compartment with a lens attached, and you can also fit a second lens in the adjacent compartment.
The bag also gives you ample space to take your batteries, SD cards, and lens filters. It is constructed from durable polyester, so it'll keep your gear safe. The security factor is enhanced by reinforced stitching and robust zips. When you're ready to head out, you can simply sling the bag over your shoulder (and the strap is adjustable to suit your height).
5. BPAULL BL-1301 Sling Backpack
Great for quick access
The one-shoulder design of this backpack means you'll never miss a photo opportunity.
Pros
Includes a rain cover
Lightweight design
Central compartment has adjustable dividers
Unusual carry approach
Cons
Not suitable for a large amount of gear
The sling design isn't as supportive
The BPAULL BL-1301 Sling Backpack is a smaller product that is perfect for quick trips where you don't need a huge array of equipment. It also looks great and is available in two styles: plain black and camouflage.
You can easily fit a DSLR camera together with several lenses in the main compartment. The backpack also has pockets and sleeves for smaller items like memory cards, cables, and batteries. There is even a handy zipped pocket on the side that can hold a large smartphone.
The one-shoulder design also means you can quickly access your equipment by simply swinging the bag around from your back to your chest. We also like the straps underneath the backpack that are designed to hold a travel tripod.
6. MOSISO Camera Backpack
Great for camera protection
The hard-shell design of the MOSISO Camera Backpack is ideal if you have expensive equipment that needs protecting.
Pros
Hard-shell waterproof front
Excellent padding
A large main storage compartment
Cons
Not the most stylish of designs
The MOSISO Camera Backpack may not be the most stylish model on the market, but it is highly functional. This medium-sized backpack has an excellent main compartment that can store all the gear you could ever need. You can easily fit a full-frame DSLR camera together with four lenses and quite a few accessories.
The lid of the main compartment also has two sleeves: a mesh sleeve for smaller items and a large sleeve for a tablet. The internal compartment has padded dividers that can be removed and adjusted to suit your requirements. This means you can easily set up the backpack for different photography trips depending on the number of lenses (or even cameras) you need.
This MOSISO product also has great padding. For instance, it has an elastic cushion to support your back and shoulders. The hard-shell front is also completely waterproof, so your gear should never get wet, even in a downpour.
7. Lowepro ProTactic BP 350 AW II
Great for quick trips
The Lowepro ProTactic BP 350 AW II is large enough to store all your gear; that way, it's ready to go for those unexpected photography trips.
Pros
Made from 64% recycled materials
SlipLock system to hang tripods and water bottles
Huge main storage compartment
Extremely durable
Cons
Large and heavy
Very expensive
Design isn't stylish
If you want a camera backpack that offers outstanding flexibility, the Lowepro ProTactic BP 350 AW II is an amazing option. It gives you so much space in the main compartment that you can easily fit a main camera with four or five lenses plus accessories.
Instead of constantly swapping lenses and changing your bag configuration, you could simply keep everything in this bag so that it's ready to go at a moment's notice. Of course, you do have the option to change the dividers inside, and you will find them quick to move thanks to the Velcro attachments. We like that the backpack is wide enough to fit a larger telephoto lens on its own or attached to your camera.
If you're environmentally conscious, you'll be pleased to know that this backpack is made from 64% recycled materials. And even though it's a larger backpack, you'll have quick access due to the four-point strap system – you can sling it around to your front and open the side zip quickly.
Finally, on the rear of the straps, you'll find numerous clips and compartments so you can conveniently hang various items, including a water bottle and even a tripod.
8. TARION TB-S Camera Backpack
Great for comfort
The padded and adjustable shoulder straps of the TARION TB-S Camera Backpack make it a perfect choice for longer journeys.
Pros
Bargain price
Tripod straps at the bottom
Includes a rain cover
Cons
The design and style is pretty basic
Not many compartments
If you want a flexible, compact backpack that won't break the bank, the TARION TB-S Camera Backpack is one of the best options available. The build quality is solid, so the bag should withstand the rigors of your outdoor photography adventures, yet the price is impressively low.
The backpack gives you fantastic organization capabilities as it's split into plenty of handy dividers. You can store your camera and up to six lenses, and there's even a 13″ laptop sleeve.
We like the straightforward access; you can easily open the main compartment to pull out your camera or change lenses while on the move. And the included rain cover is perfect for those days when rough weather starts to roll in but you don't have time to find shelter.
If you have to carry the backpack for a long time, you'll find the padded shoulder straps a great comfort. They shouldn't dig into your skin, and the length can easily be adjusted to suit your height. Don't worry if you like to use a tripod or a monopod – there are some handy tripod straps at the bottom so you can hang your camera support freely underneath the backpack.
9. Manfrotto Advanced2 Gear Backpack M
Great for style
This Manfrotto backpack looks great and will last for years thanks to the high-quality materials.
Pros
Premium quality
Very easy access
15″ laptop sleeve
Comfortable straps
Cons
Relatively expensive
Manfrotto specializes in tripods, but the company also offers a great range of backpacks, including the Manfrotto Advanced2 Gear Backpack M.
This premium camera backpack looks fantastic and is made from durable materials. Additionally, the brushed fabric finish means it is comfortable and soft to the touch (unlike some products that can be abrasive).
The backpack can comfortably hold a full-frame DSLR camera and up to five lenses. There is also space for a 15″ laptop as well as other accessories. Alternatively, if you have a drone for still photography, you could fit it inside with the legs folded.
The external fabric is water-repellent, and there is also a detachable waterproof rain cover. We also like the padded straps, which offer excellent comfort and can be freely adjusted.
Because the bag is reasonably large, nothing is a tight squeeze and you can move your items around comfortably. Don't worry about safety, either – the zippers are durable and will keep your gear protected. It's not exactly a budget product, but if you're looking for a high-quality option, the Manfrotto Advanced2 is a stellar choice.
How to Pick the Perfect Camera Backpack: Buying Guide
As you can see, the top camera backpacks come in many shapes and styles. You should now have a good idea of the different types of camera backpacks available. But how do you choose the right one for your needs? To help make your choice easier, we have compiled a simple buying guide discussing the different features worth considering.
Storage Capacity
When buying a camera backpack, it's important to evaluate what each model is capable of storing. The carrying capacity of camera backpacks varies greatly. Some can hold two DSLR cameras plus a variety of lenses, and others may only be able to hold a single camera and a couple of lenses.
The capacity you require depends on the equipment you have and what you plan to take with you when you use the backpack.
Waterproofing and Protection
One of the main uses of a backpack is to protect your equipment. It should therefore be made from durable materials. Also, you ideally need a waterproof camera bag if you intend to take it outdoors in rough weather conditions.
Bear in mind that there are different levels of waterproofing. Some backpacks can withstand any amount of water, whereas other backpacks may only be able to withstand a light rain shower. Make sure you also check for additional features, like a separate rain cover that can be pulled over the backpack for extra protection.
Other Storage and Compartments
In addition to space for your cameras and lenses, what other storage does the backpack have? Ideally, a backpack should have a selection of compartments and pockets so you can store various accessories, including SD cards, cables, filters, and spare batteries.
Some of the most useful camera backpacks have separate spaces for travel items. If you're hiking, you may want to carry spare clothes, food, and a water bottle. You can also find backpacks that have dedicated sleeves for your photo editing laptop.
Price
The price is obviously an important factor, too. Fortunately, you have plenty of options!
There is a great range of budget camera backpacks, many of which you can grab for less than $50. Alternatively, you can spend hundreds of dollars on larger backpacks with lots more storage space and features.
Comfort
You should also look at how easy the backpack is to carry and wear. If you intend to take it with you on long journeys or outdoor expeditions, it needs to be comfortable. The weight of the backpack can affect this; if the bag is heavy, it may put unnecessary strain on your shoulders and back.
Also, be sure to check the straps. Ideally, they should have padding to prevent shoulder pain, and they should also be adjustable. Some backpacks have a waist strap to provide extra support and remove some of the strain from your back.
Ease of Access
Finally, consider how easy each backpack makes it to access your gear. Different camera backpacks have different main access points. Some have a top zip, for example, whereas others have a side opening so you can access your camera and lenses while walking.
Think about how you intend to use the backpack and if you will even need quick access. You can then look for a specific access style and a main compartment zip design.
Pick a Backpack and Get Shooting!
Hopefully, you're ready to select a camera backpack! For shorter trips where you only need a few items, smaller products like the Altura Photo YZ0286 Shoulder Bag and the BPAULL BL-1301 Sling Backpack are great choices.
However, for those long photography trips or weekend adventures, larger options like the BAGSMART Anniston Camera Backpack, the Lowepro Fastpack BP 250 AW III, and the Lowepro ProTactic BP 350 AW II will allow you to store all your lenses and accessories plus some travel essentials.
Best Camera Backpacks FAQ
Do you really need a camera backpack?
That depends on your situation. If you rarely travel and you generally do studio photography, then maybe not. However, if you're always on the road and take your camera to different locations, a backpack is essential!
Are all camera backpacks waterproof?
No. It is important to check the backpack specifications, which will specifically state if the exterior material is waterproof.
Are camera backpacks only for cameras?
Definitely not! The best bags include space for accessories, laptops, and even clothing.
---
Disclosure/Disclaimer: As an Amazon Associate, we earn from qualifying purchases. Certain content was provided "as is" from Amazon and is subject to change or removal at any time. Product prices and availability: Amazon prices are updated daily or are accurate as of the date/time indicated and are subject to change. Any price and availability information displayed on Amazon.com at the time of purchase will apply to the purchase of this product.