Kodak's announcement that they are entering the digital rights management platform using the blockchain technology opens up a new avenue for photographers.
It helps to not only safeguard their intellectual property rights but also monetize their property using a secure platform. Blockchain has been the most happening thing over the past 2-3 years. You have probably heard about it, thanks to the meteoric rise of cryptocurrencies like bitcoin – a digital currency system that uses blockchain as the underlying technology.
We are not concerned with bitcoins or other cryptocurrencies for that matter. What we are concerned about is how we, photographers, can benefit from the underlying technology that Kodak promises to use for their rights management platform. But given the statement by Kodak that they also propose a new payment mechanism in the form of a new cryptocurrency – KodakCoin, we should at least pay some attention to how it will work and how we can benefit from it.
Advantages of the Blockchain Technology
The most significant advantage of the adoption of the blockchain technology in photography is the establishment of instances of intellectual copyright infringements. With the open ledger architecture, it is possible to embed copyright information right into the block which makes it impossible to change it afterward. That is unless a vast majority of the network is also modified, which is almost impossible to achieve.
With the distributed nature of the network and the absence of any centralized governing mechanism, the blockchain architecture is secure by its very nature of distributed or decentralized consensus. There are additional layers of safety which ensures that the copyrights of the photographer are safeguarded by embedding the information with the image data.
Intellectual Copyright Misuse Prevention
One of the underlining features of the adoption of blockchain technology is that it promises to prevent, or at least identify, instances of violation of intellectual copyright far more efficiently than previously used methods.
Once intellectual copyright violation has been identified one can take the next remedial course, ask for compensation or seek other legal recourses as available.
However, it is still to be seen how this can be achieved. The matter is still quite confusing as to how acts of intellectual copyright violation will be traced and subsequently, the law enforced.
Related Post: Stock Photography Common Legal Terms Explained
Copyright Registration with the US Copyright Office
In this regard, it is pertinent to mention that services like KodakOne will offer photographers the benefit of a U.S. copyright registration by default when they list their images on the Kodak platform.
Web Crawling for Detection of Intellectual Property Violations
Kodak states that they would be resorting to active crawling of the internet to find instances when images licensed on their platform have been misused. But there is more to just finding cases of misuse.
A solid mechanism has to be in place as well to execute the remedial course of action, as there are copyright laws involved and international laws. So, even if instances of copyright violation have been identified legal help will be required.
Compensation
What remains unclear, however, is how the compensation part will work. Sure, what Kodak promises is excellent, but that is only the ideal world scenario.
Leslie Burns, an attorney who works mainly on matters of artists has recently written a lengthy article on the topic why blockchain copyright services won't work. It is worth a read.
Payments and Licensing Fees
Photographers up until now had a plethora of payment options.
Apart from the electronic fund transfer method via Bank which is popular in the US as well as for international photographers, there are a variety of other payment solutions as well. PayPal is one of them. But with the advent of cryptocurrencies like bitcoin photographers have started accepting these as well.
The thought of using cryptocurrency for receiving payments is, however, not that readily acceptable in all countries. I am sure some of you might already be using it. Many of you will challenge my statement that cryptocurrency is unreliable, but frankly, it is not just me. Industry stalwarts like Warren Buffet and Jack Ma don't quite believe that it will work in the long run.
Kodak's announcement of KodakOne concept and the cryptocurrency KodakCoin is not just one more cryptocurrency. Photographers, especially, have a valid reason to smile. KodakCoin is aimed at photographers mainly. Anyone registering and uploading on KodakOne will get paid using KodakCoin. Therefore, photographers will be able to receive payments using the new cryptocurrency.
Related Post: Best Microstock Sites to Sell Your Images
Additionally, KodakCoin is going to be exchangeable for American dollars which should give it more solidity and make more users willing to receive it in return for their work.
There is, however, the undeniable question of value instability of cryptocurrencies. We have seen that bitcoin and other cryptocurrencies. Their prices swing wildly.
Though over the last 2-3 years even with wild swings the general trend has been a sharp upward curve. Some known economists, however, complain that values of cryptocurrencies swing too much for it to be a meaningful currency that you can use on a daily basis.
To be fair with the KodakCoin, it has not been launched yet (ICO starts on 31st January 2018), and no one knows precisely how it will behave. But going by the general nature of other cryptocurrencies, KodakCoin should take off too once launched.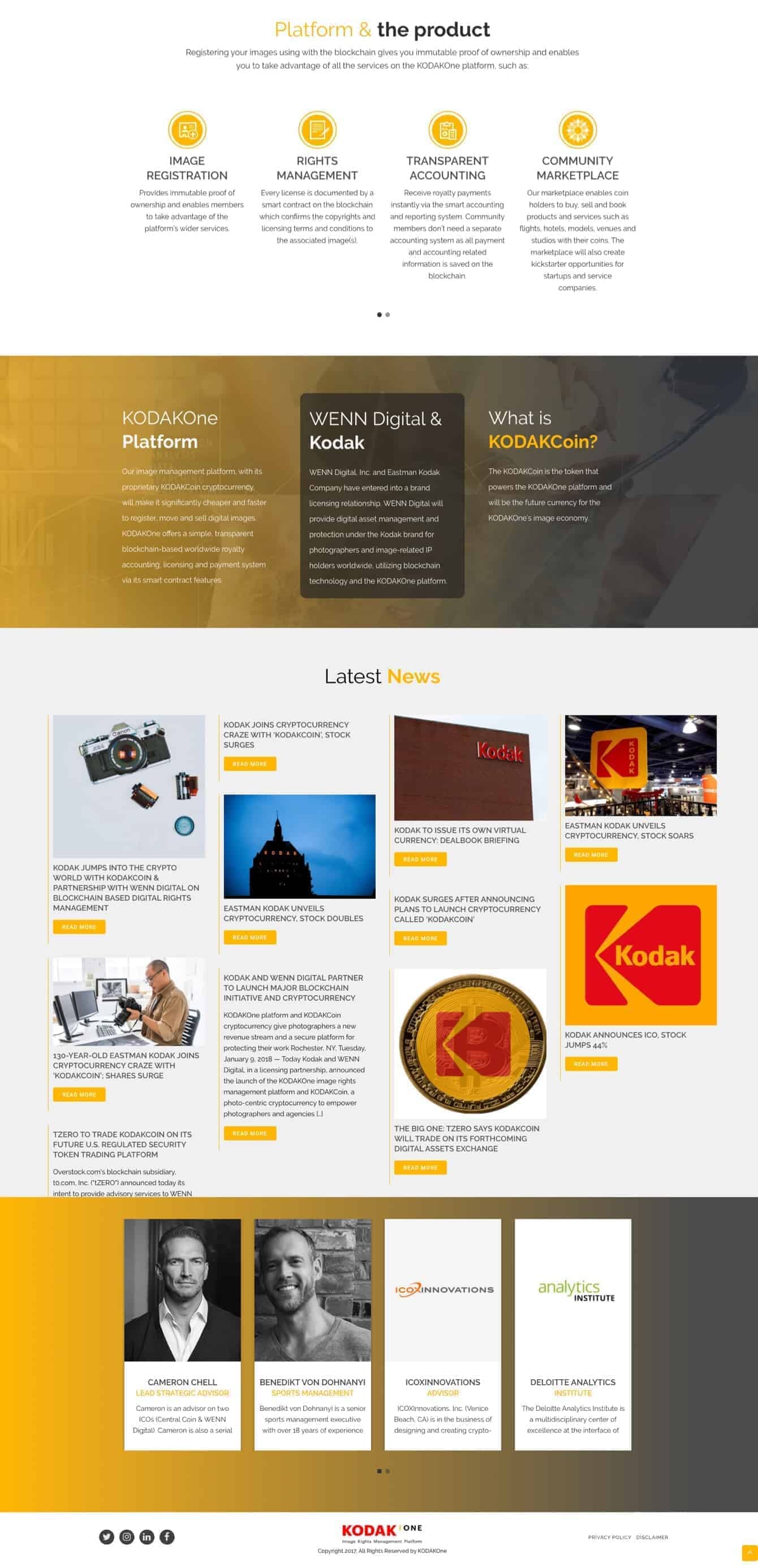 Smart Contracts
An inherent advantage of block chains as prescribed by some industry experts is the advantage of Smart Contracts. Blockchain can be used to create these 'Smart Contracts.' These are contracts that are initiated between two software applications harnessing the power of the blockchain architecture.
Let's say that a photographer licenses an image to a client. This deal takes place via a smart contract that is automatically stored on the blockchain.
When the licensee uses the images by the provisions of the smart contract the licensing fee will be automatically transferred to the photographer by the instructions that are contained in the smart contract.
If the licensee uses the images in ways that are in contravention of the provisions of the smart contract, then such violations will be immediately identified.
To make matters worse for the infringer the information about the infringement is also recorded in the blockchain for all posterity.
In a nutshell: the smart contract concept assumes the nature of an automated monitoring and payment application.