As many of us already realize, stock photographs are incredibly useful tools for advertisers, directors, and editors working across a number of different industries. But as time has gone on, demand for high quality, easily accessible video footage has skyrocketed. Thus, stock footage is now more readily available than it ever has been before. It's no longer a question of where royalty-free video media can be found – rather, the question is which one will best serve your needs?
Related Post: Stock Photography Trends in 2021
Today, we'll be reviewing some of the most frequently sourced professional stock footage sites. Looking for a certain set of licensing rights? Working on a tight budget? Whatever your needs happen to be, there's a place that will cater specifically to you. Check out our in-depth coverage of what each resource has to offer!
An industry leader for over 20 years, Getty Images is an excellent choice for those seeking out a wide selection of traditional media. Aside from forming partnerships with smaller stock companies worldwide, Getty also collaborates with heavy hitters like National Geographic and Time Magazine. Getty Images also owns royalty-free microstock provider iStock. However, Getty also sources images from individual photographers from a variety of backgrounds. Taking that into consideration, it's no wonder that the media giant has garnered a reputation for providing quality material.
Getty does not require users to make profiles in order to claim purchases. However, it's important that Getty customers pay mind to what their stock footage will be used for – with both Commercial (Creative) and Editorial licensing available, usage rights vary. What's more, quality comes at a cost. Getty users can expect to pay more out of pocket than they might with a competing company.
Related Post: Best Stock Photo Sites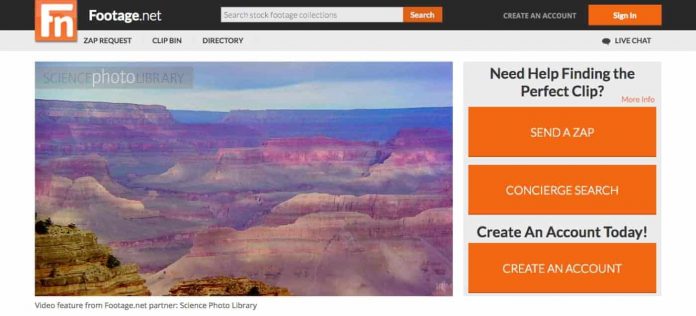 Footage.net is an aggregator, collecting and curating clips from a variety of sources. In fact, the site allows users to filter through thirty of the world's top stock footage archives to find clips. Utilizing an intuitive search engine, it's also possible to find footage based on keyword, location, and year produced. And for users seeking out an ultra-specific piece of content, the site offers "Zap Requests", where the folks at footage.net will scour the site for clips that contain specific usage rights or follow a certain format. It's even possible to set deadlines and mark footage requests as urgent.
For most, the thought of using footage.net to eliminate the hassle that comes with an in-depth search is a tempting process. However, there are a few downsides to this particular method. Footage.net leads content seekers to third-party websites to make their purchases. In some cases, this means it's necessary to request full access to clips through the stock footage agency itself. This means that footage.net lacks the instant gratification of on-demand purchases offered by competitors. What's more, a variety of stock sources means that there is a large range in what customers can expect to pay in usage rights.
Shutterstock is another huge name in the stock content industry, and definitely an option worth taking into consideration. The site has a whopping 4.7 million footage clips to choose from, most of which are available in 4K or High Definition. Equipped with an intelligent search engine, it can carefully analyze content to best match a user's query. Over time, Shutterstock will even organize collections featuring specific artists and directors that might appeal to a customer's tastes based on past purchases and searches.


There are a few different payment options available through Shutterstock. Clips can be purchased a la carte, with prices ranging from $19 to $199. For frequent footage users looking to save some money, there are also video bundle packs that allow downloads of anywhere between 5 to 25 videos for one up-front fee. However, one of the site's biggest drawbacks is its lack of subscription buying option – a major drawback for bulk buyers.

A brand new service, Adobe Stock is a worthwhile endeavor for any filmmaker already invested in Adobe products. Adobe Stock integrates seamlessly with existing creative cloud resources, making it possible to search licenses and download content directly into Adobe's video editing apps. Everything the service offers is HD quality, and available for a flat fee of $79 (HD) or $199 (4K). Best of all, the content's enhanced licenses give users access to the material they buy forever, without distribution limits.
There are a few growing pains that Adobe Stock still has yet to overcome. For instance, the system's search functionalities are still rather basic. At times, this can make it difficult to find certain clips. In addition, there are no discounts or promotions currently available for bulk shoppers. That means that frequent buyers must stick to pricy a la carte purchases.

Alongside photos, music, and sound files, stock media outlet Pond5 offers approximately 5.5 million clips for its customers to take advantage of. Coming in a variety of styles, themes, and formats, it's one of the fastest growing major marketplaces in the industry. The content provided comes with a flexible royalty-free license, which allows users multiple uses of footage over one payment. But be warned – pond5 does not offer extended licenses to cover extra rights not covered by the standard licensing agreement.
Luckily, it's easy to forgive Pond5's licensing pitfalls thanks to the plethora of payment options the site offers. A la carte clips can start as low as $5 each (though they can rise up to $500 for premium 4K productions). Pond5 also offers monthly and annual subscription plans that allow users to download from a collection 20,000 clips. Best of all, the site has a reward program that provides frequent downloaders with credit, which can be used toward a future purchase.

They say that the best things in life are free, and we feel that the popularity of Pexels may back the old adage up. With every piece of content protected under Creative Commons, footage can be sourced from the site for absolutely no cost, regardless of what your end product is bound to be. Users don't even need to credit the original content creator to take advantage of what the site has to offer. With a good variance of high-quality videos and photographs, Pexels is an incredibly helpful resource for artists forced to work on a budget.
That being said, the site isn't perfect. Though there's plenty to work with on the site, its selection lacks when compared to giants like Getty and Shutterstock. What's more, the quality of the content availability varies. Some clips are crystal clear, visually appealing shots while other clips look as if they were sourced by amateurs. Furthermore, the site does not provide any 4K footage at all, which could be a drawback for some.
Conclusion
To summarize, picking the best stock footage website depends on your budget and the type of footage & quality level you are looking for.
A good quality/price ratio which should work for most publishers and online content creators are the ShutterStock Footage Subscription Plans starting at a relatively low price for decent quality web footage clips.