A number of portfolio hosting platforms exist in cyberspace, and from a passing glance, it can be incredibly difficult to decipher the differences between them.
Luckily, we've gone through the trouble of digging up the best (and worst) each service has to offer. Below, we've compiled everything you need to know about some of the best photography portfolio websites.
Best Photo Portfolio Websites:
When you buy through links on our site, we may earn a commission at no cost to you. We evaluate products independently. Commissions do not affect our evaluations.
1. Pixieset
Our Pick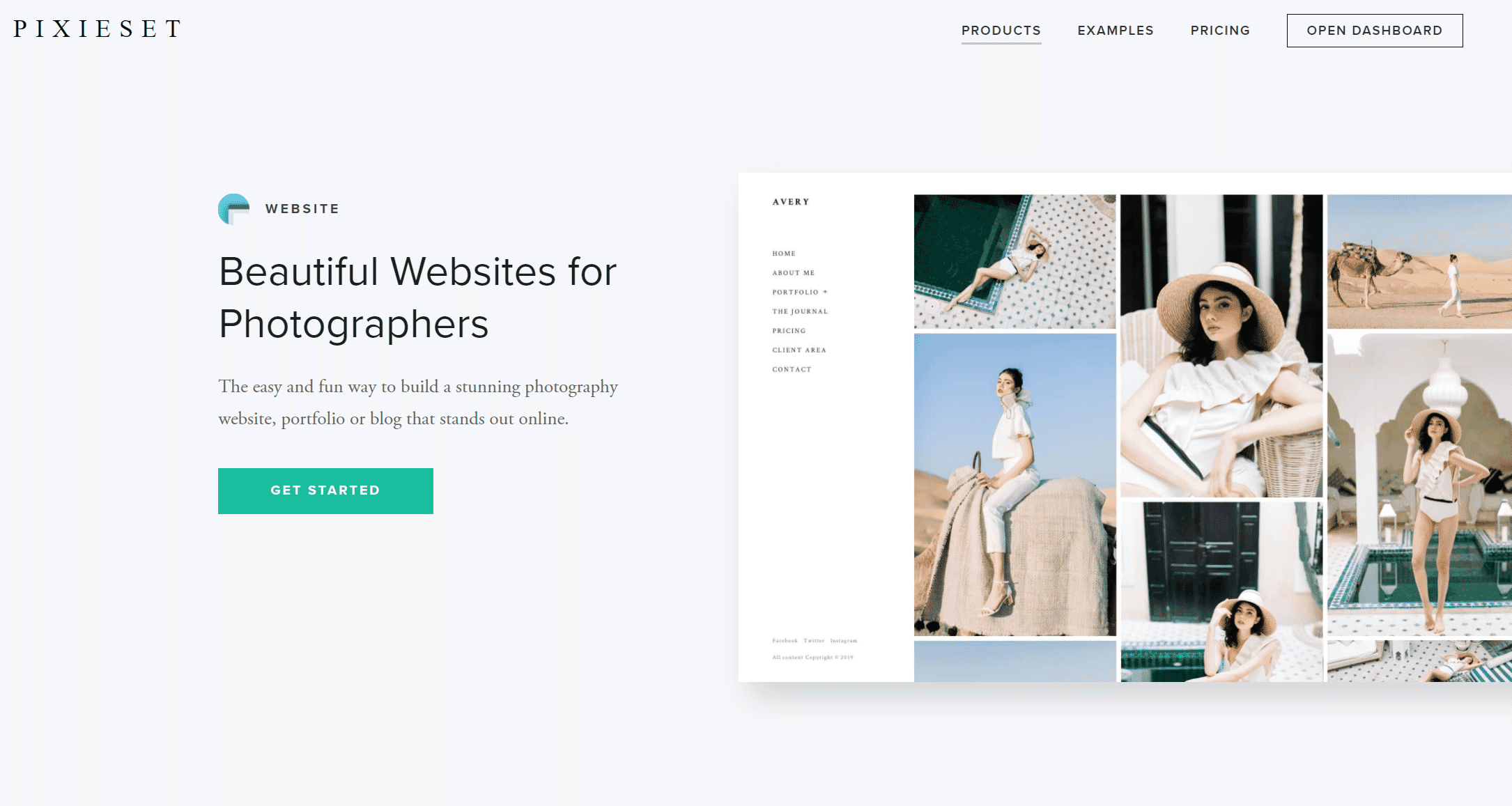 Best of All Worlds
For a true one-stop business shop, Pixieset is here for you. From portfolio websites to proofing galleries and business management, you can find it all in one place.
Pros
Portfolio website templates are aesthetic and simple
Includes proofing gallery, online store, business management system, and more
Many great features such as SEO and analytics, no-coding website building, and a Lightroom plugin
Cons
Websites are minimally customizable
Limit on how many images can be displayed per page (or per website)
In the desire to have a one-stop shop, Pixieset offers everything you could possibly imagine. From a personal website (which seamlessly turns into a portfolio) to proofing galleries and even an integrated business management system, Pixieset is so much more than just a photography portfolio.
Pixieset was founded in 2013 by a group of individuals whose mission is to make the life of photographers easier. The staff consists of image makers in various levels of the industry with the goal of catering to all of the above with simplicity.
Pixieset includes websites and a studio manager tool, with the goal of becoming a one-stop shop for all elements of the photographic company. Essentially, you can handle your complete photography business from one location. The studio manager handles billing, contracts, and the booking process, while the website generates a landing page for your business.
What this has to do with a photography portfolio is that each facet of Pixieset intertwines perfectly with one another – so your photography portfolio website instantly becomes a booking site, payment processor, and proofing / store gallery! You can set up distinct pages on the website to show off your photography, while also adding pages to take clients into the various galleries.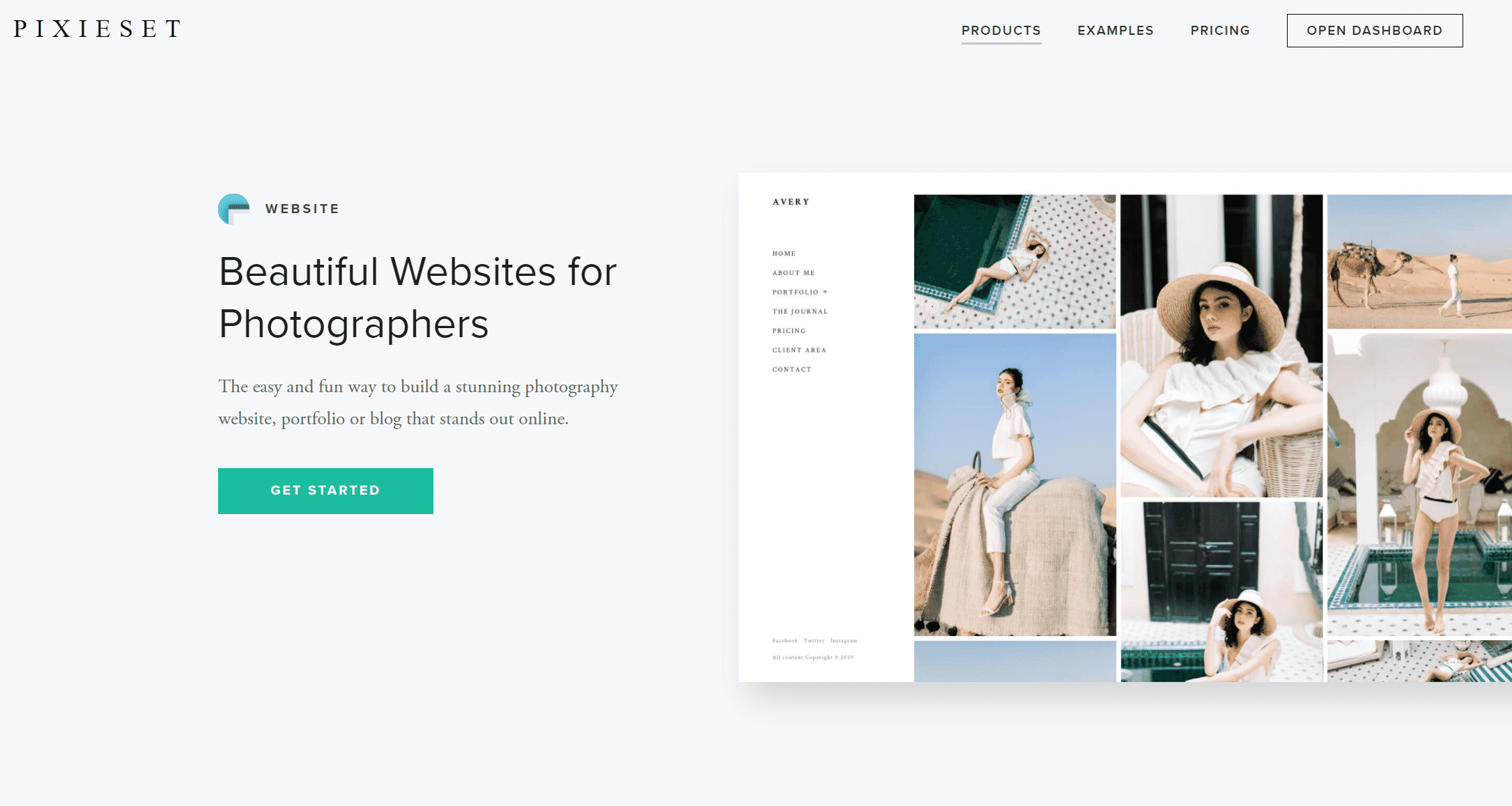 Pixieset also has a neat feature that lets you make a mobile app for each gallery, giving you a new option to communicate photos to your customers. The website portfolio is mobile-friendly by default, but the addition of custom mobile applications allows you to send specific image galleries uniquely. Your recipient may quickly download this mobile app and use it to view, order, and create lists from the gallery.
Pixieset's website builder is easy to use, offering several layouts and formats that can be somewhat customized. The clean interface ensures that your photography is the true center of attention. SEO and analytics services are included as well, helping track client behavior on your portfolio website to give you better insight into what pages are the most viewed. The platform can also circle all client correspondence and emails back to your website and/or storefront.
Price-wise, Pixieset is moderately priced, with five options:
Basic: $10/month
Plus: $20/month
Pro:: $30/month
Ultimate: $40/month
The Suite: Price Varies
Pixieset does allow you to try all of their services risk-free for no cost at all. Each free account allows photographers to sell their work to clients at a 15% commission to the host. This 15% fee is waived on all paid subscriptions.
Also read: Pixieset vs Pic Time
On the downside, Pixieset's bandwidth does limit how many images can be displayed effectively on their website – but it is not limited to their galleries, so it is a possibility to use the gallery option as a portfolio interface for yourself. Pixieset also has a pretty set-in-stone aesthetic that cannot be changed, so some photographers may be miffed at the lack of customization options as compared to other options.
2. Wix
Also Great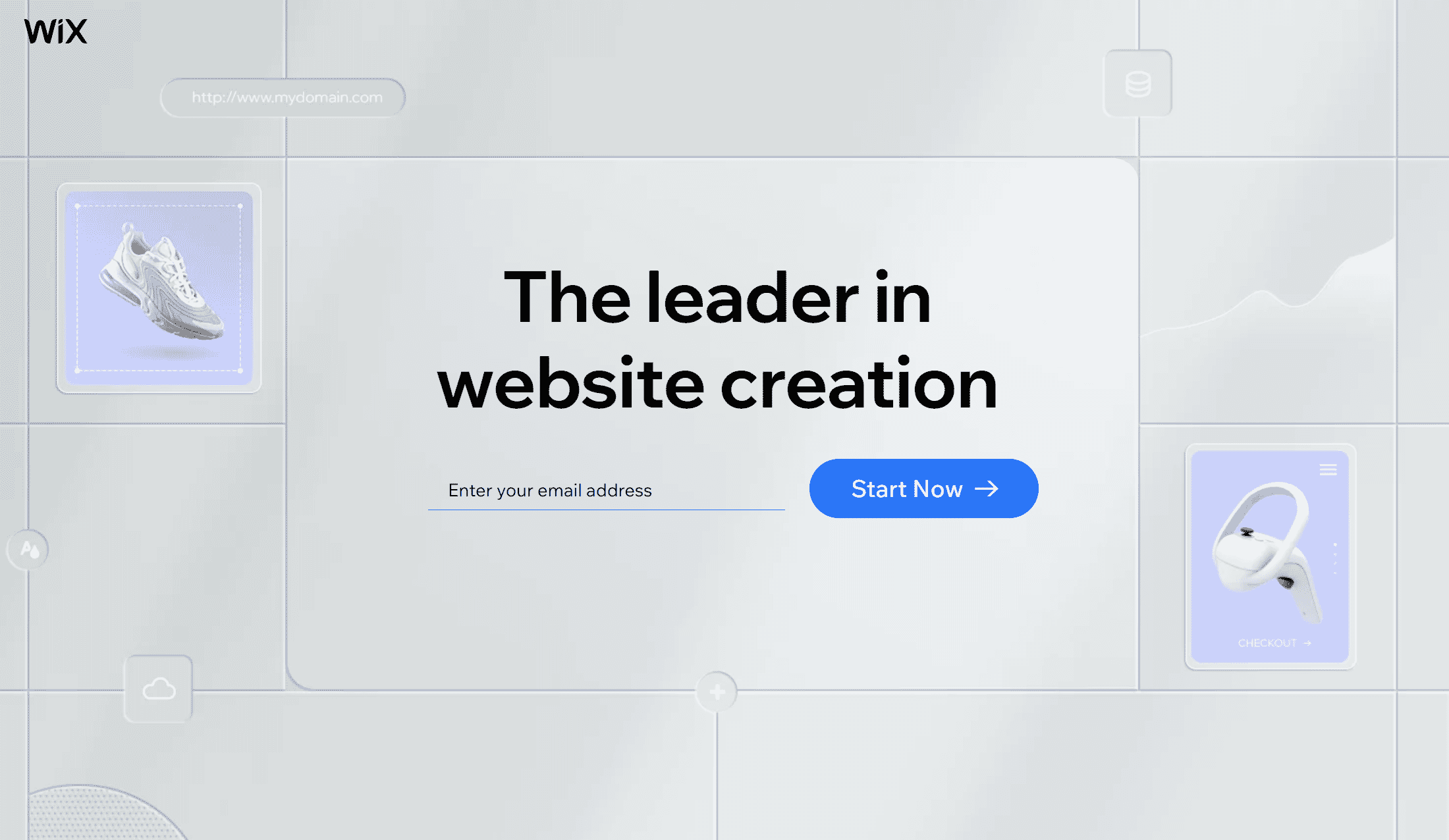 A Fully Customizable Website Building Platform
A fantastic website builder that lets you try out all the features at no cost to you.
Pros
Free to try and use
Ultimate website builder with a slew of tools to create whatever you desire. Plenty of different gallery options
Great SEO, marketing, analytics, blog, and other such tools included
Easy to share portfolio with social media
Cons
Too many payment tiers, so sorting through them can be complex
Limited cloud storage space
Unlike most portfolio-building options available, Wix actually allows users to build websites at no charge. However, for those who want to have a more comprehensive experience with the platform, Wix offers a variety of payment options designed to fit the needs of professionals of all shapes and sizes.
Wix includes SEO campaign management software to optimize a portfolio's Google ranking, as well as the tools needed to create personalized ad campaigns. In addition, the site's backend reveals web stats detailing how visitors interact with content.
This platform, in particular, makes it easy to share portfolio work through Facebook, Pinterest, Twitter, and beyond. Wix even comes with management tools designed to help track and manage social media activity. With Wix, users can easily link Etsy shops or create digital storefronts of their own to market their work. It's even possible to take care of invoicing and create price comparison tables for the convenience of clients.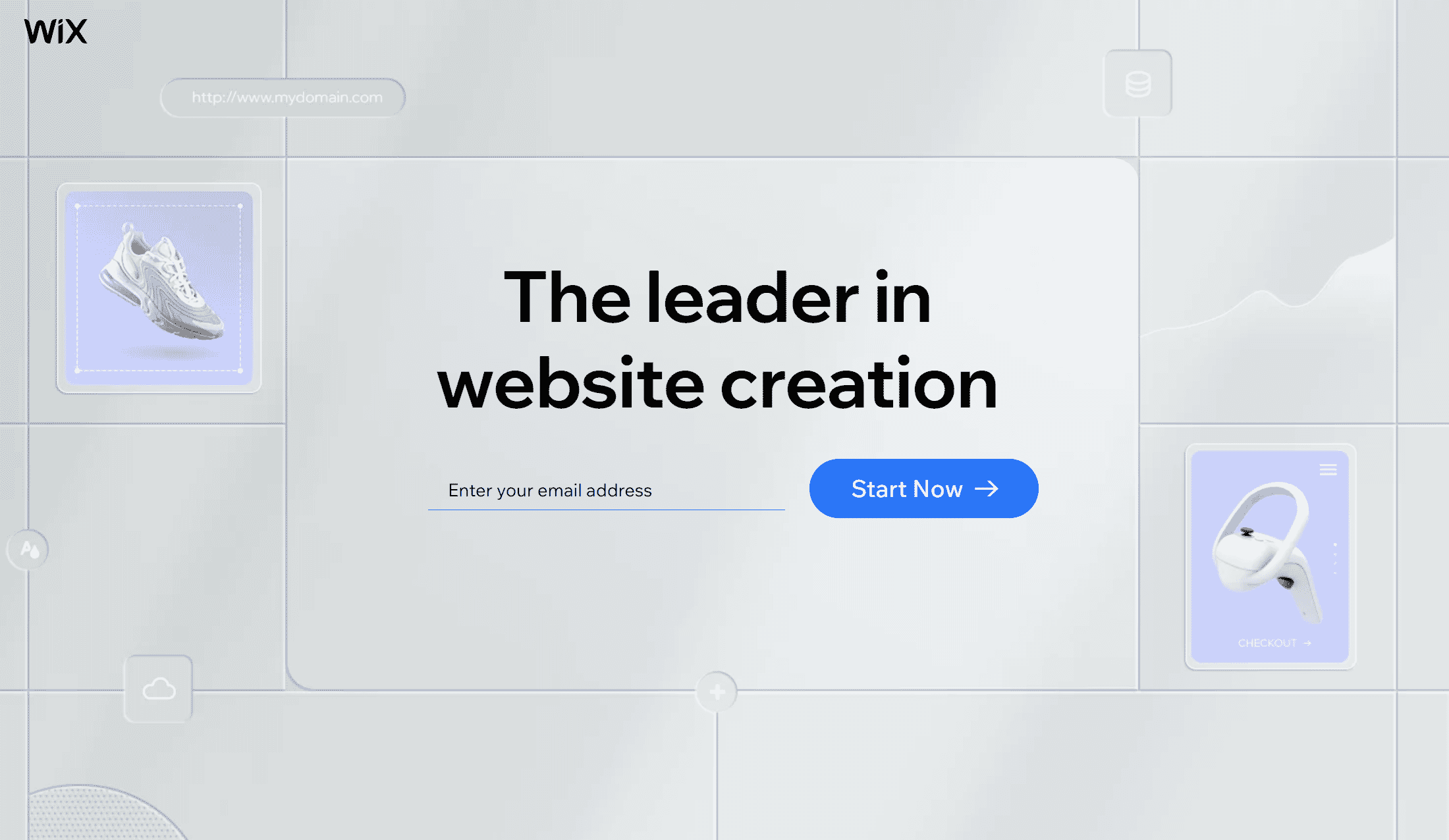 Wix offers users access to a detailed help center filled with articles on just about every technical subject out there. If the answers aren't in their archives, all it takes is a ticket submission to get the help of a Wix associate.
Wix is one of the few websites that allows users to create a portfolio at no cost. However, the site also offers five unique payment options that bypass some of the restrictions in place for free users:
Connect Plan: $5/month.
Combo: $11/month.
Unlimited: $14/month.
eCommerce: $17/month.
VIP: $25/month.
It can be a bit overwhelming to skim through Wix's payment options. But, on the other hand, increased options grant users more flexibility to cater their payment to fit exactly what their needs happen to be. For those wary to pay for features they may not utilize, Wix is worth taking a look at.
There's plenty to love about Wix. It's an affordable, established name that has many options for its users to choose between. But there is one category in which Wix falls short compared to the competition – storage space.
Increasingly so, cloud storage has become an important factor for photographers looking to share high-definition images and videos. It comes as a disappointment to learn that even the priciest plans from Wix offer just 20GB of space. Many services offer unlimited cloud storage for no additional costs, putting the web development platform at a significant disadvantage.
3. Weebly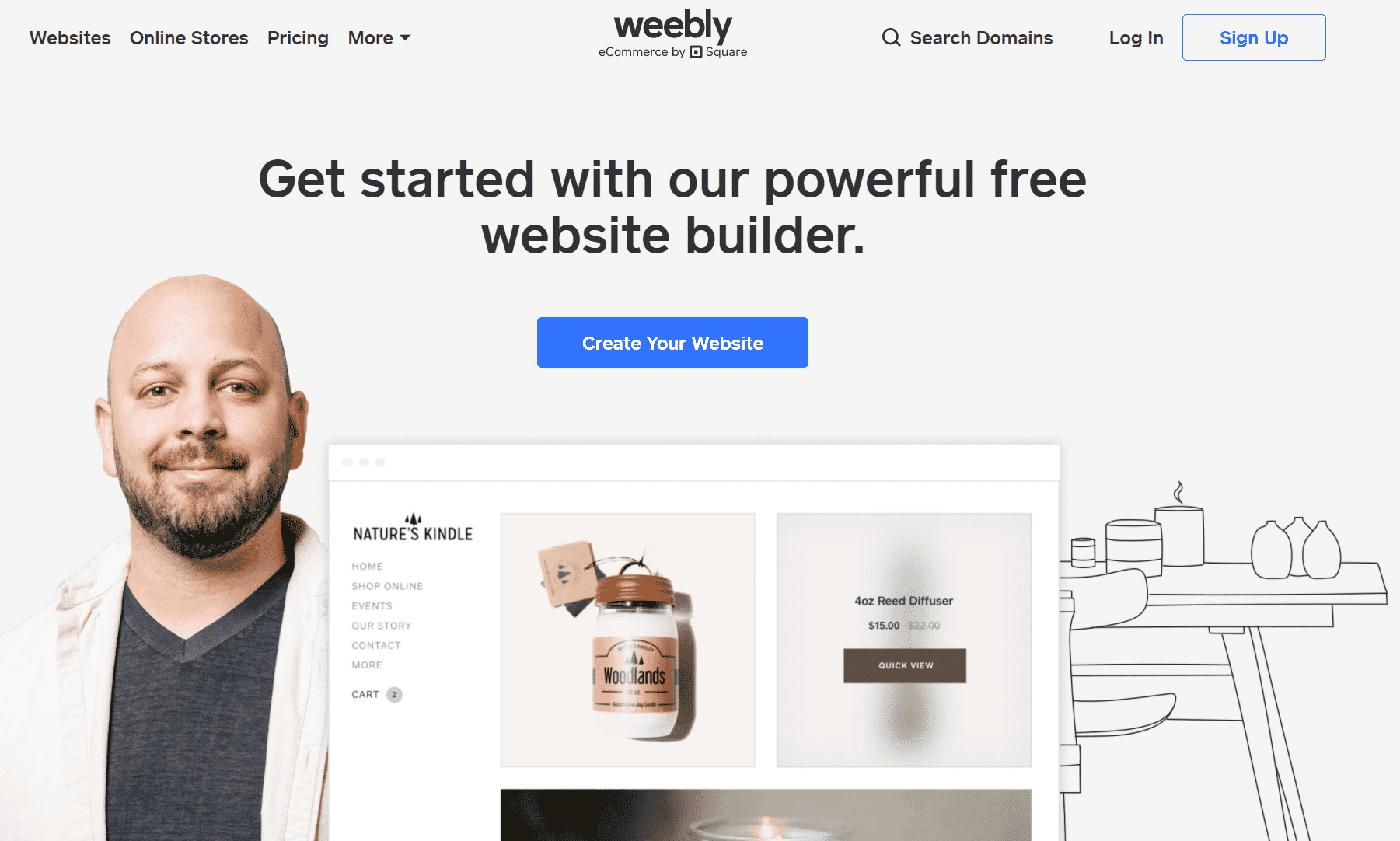 Another Good Website Design Option
Similar to Wix, this is another website design platform. However, the intuitve mobile app makes a huge difference when managing your portfolio.
Pros
Similar website building platform to Wix
Great mobile app for portfolio management
Makes selling prints from your portfolio fairly easy
Cons
Doesn't have any big standout feature
For the wandering photographer, Weebly is a dream come true. With an intuitive, reliable mobile app, the company makes it easy to make updates – even when you're unable to access a computer.
Selling any product through a personal domain or through Weebly is made fairly simple. Higher paying customers can also use Weebly to keep inventory, offer coupons and shipping discounts, and calculate taxes. Weebly is also perfectly integrated with the payment processor Square to make your business a one-stop shop.
Weebly offers an array of templates to choose from. But, for profiles that stand out, Weebly also makes it possible to build easy-to-navigate personal galleries and custom-made backgrounds.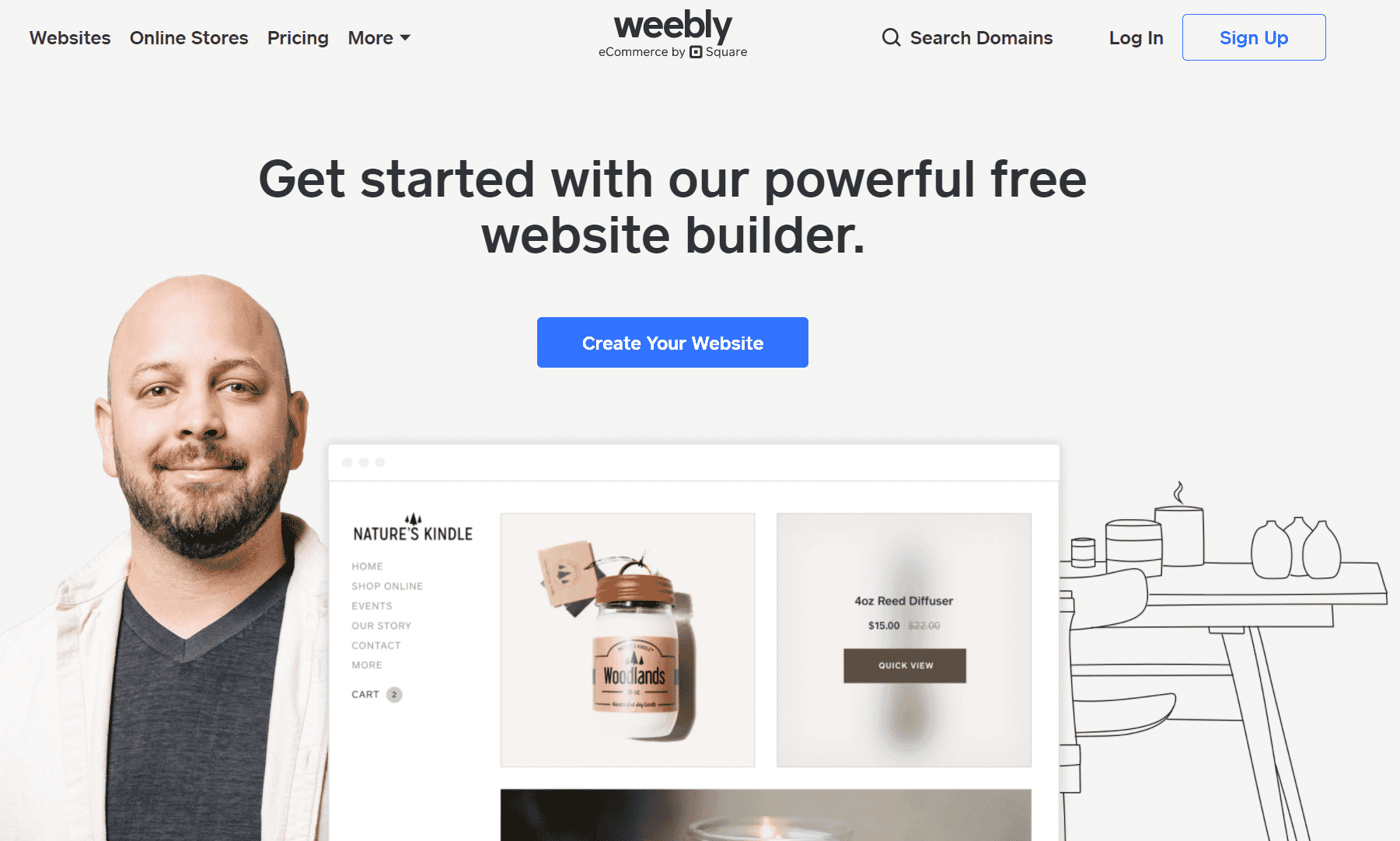 Ready on the go. Weebly has a mobile app that's capable of editing and managing a website. For bloggers and those who like to make up-to-date changes, it's easy to check up and add content from the convenience of a mobile device.
Stats are updated in real-time to keep photographers informed on the effectiveness of their website. Weebly provides specific information on how many hits a portfolio garners and how viewers make their way to a specific site.
Aside from standard chat and email support, those in need of help may also refer to the platform's community forum with all questions. Certain users can also get live support by phone.
Like Wix, Weebly also offers artists the opportunity to create a portfolio at no charge. However, to take advantage of everything the site has to offer, users must pay one of the following premium fees:
Starter: $8/month
Pro: $12/month
Business: $25/month
Much like Wix, the differences between the site's paid and unpaid versions are hard to overlook. Weebly users that opt into paying have access to infinitely more tools and resources, such as unlimited cloud storage.
On many levels, Weebly and Wix share similarities. However, one thing that Wix has over Weebly is the sheer number of payment plans that it has to offer. If a potential customer wants something other than the bare minimum or the best the site has to offer, it may be worth looking into the more nuanced plans at Wix that may cater more so to an individual's specific needs.
On the same note, Weebly fails to stand out from the crowd on some levels. Pricing is moderate, and the tools and features live up to industry standards. However, among such stiff competition, it can easily blend into the fold.
4. SmugMug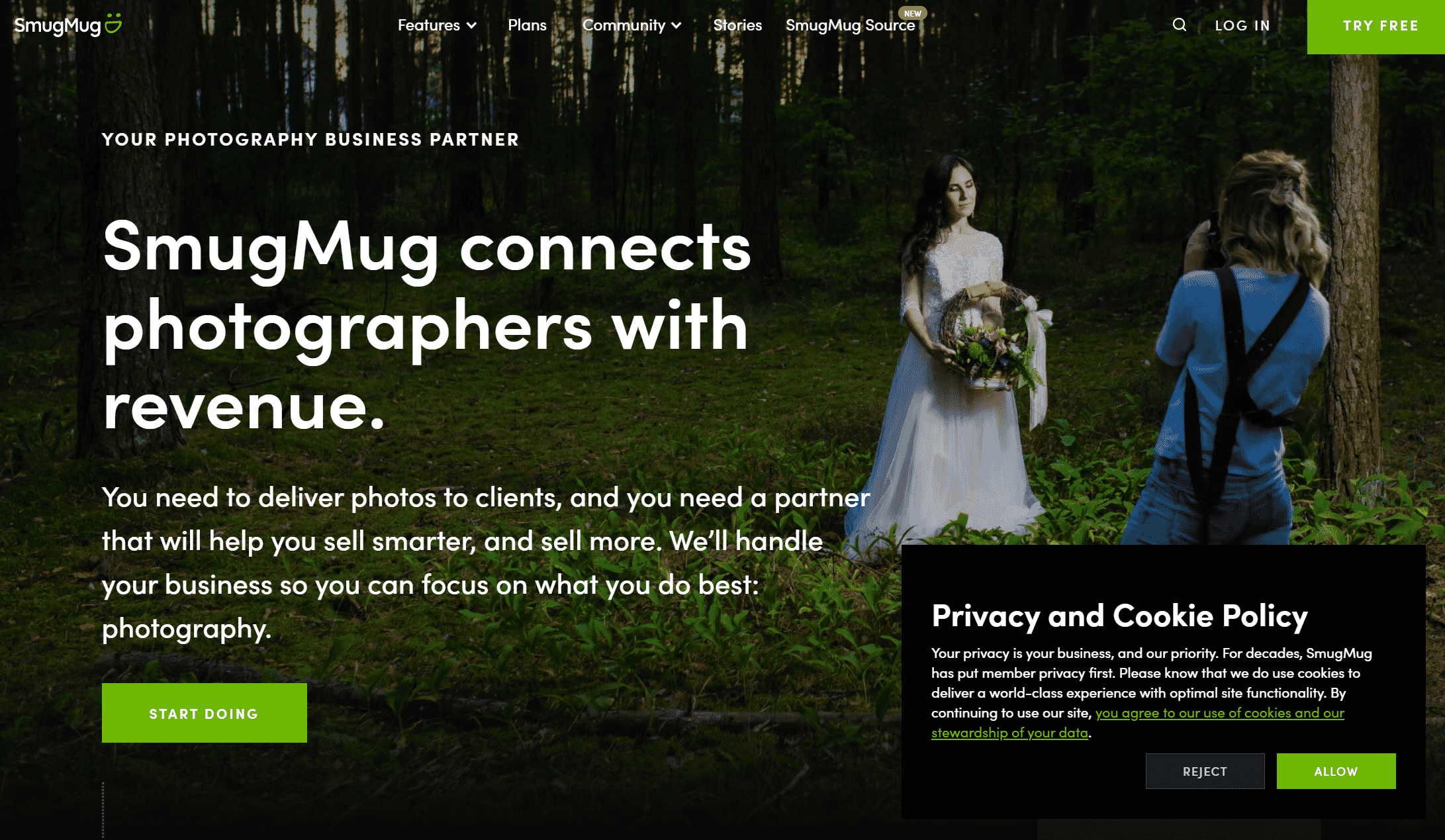 Unlimited Is Their Middle Name
One of the few services to offer unlimited bandwidth and cloud storage, this platform is a popular choice with photographers.
Pros
Offers unlimited cloud storage and image bandwidth
No host platform advertisements
Websites are SEO optimized and has built-in stat tools
E-commerce options available
Cons
Integrated storefront is only on the most expensive payment tier
Can be harder to use and navigate than competitors
With SmugMug, a little can take you a long way – even the most limited plans boast unlimited bandwidth and cloud storage space. A popular choice among professionals, there are very few "catches" for potential users to worry about.
SmugMug has many notable features that entice photographers to choose them over competitive brands. One of SmugMug's points of pride is that the folks running the site only take one day off per year. Support from live representatives is available to users 24 hours a day, 7 days a week.
As well, SmugMug users won't have to deal with site advertisements, regardless of how much they opt to pay. Websites are SEO optimized, and the site itself has built-in stat tools to help photographers understand just how users are interacting with their images. Those who opt into SmugMug's Business package will also have e-commerce tools at their disposal.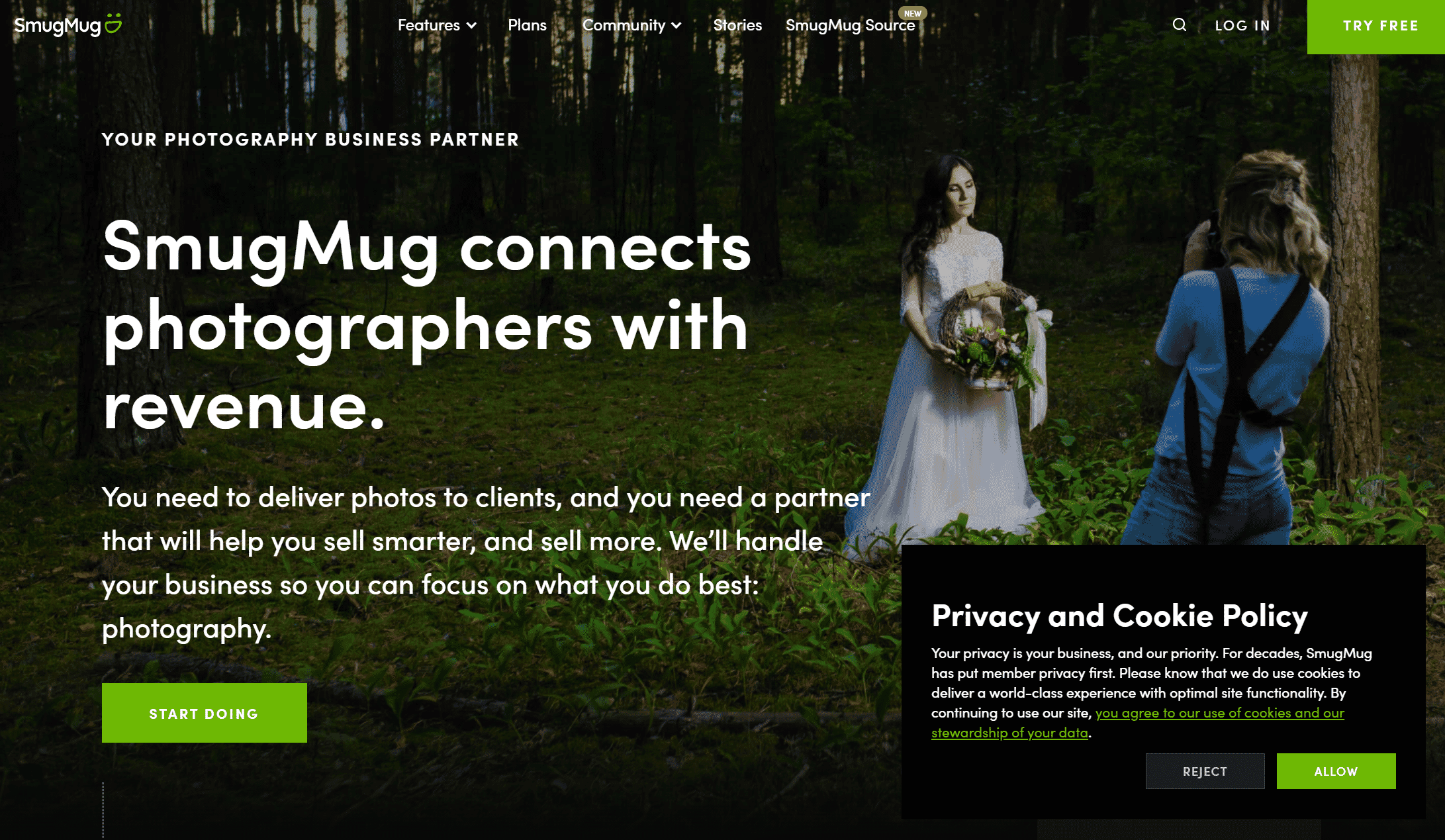 For convenience, SmugMug has a free Lightroom Plugin which makes it easy to sell photos using SmugMug and Lightroom. When you work with SmugMug, you can feel confident that your images will be protected. Users have the option to apply watermarks, disable downloads, and stop visitors from right-clicking/saving to deter those that might be interested in stealing work.
For the photographer interested in customization, SmugMug offers over 21 pre-made templates to help users create their portfolio. However, those that know a thing or two about coding may also customize their site with HTML or CSS.
There are four payment plans available to SmugMug users:
Basic Plan: $3.99/month
Power Plan: $5.99/month
Portfolio Plan: $14.99/month
Business Plan: $29.99/month
SmugMug's Basic package is one of the least expensive portfolio options out there, and it comes with more than the average base plan has to offer. Even those paying the absolute minimum amount can enjoy unlimited bandwidth and cloud storage space, as well as attentive customer support available 24/7.
For those with a bit more of a budget to invest in an online photo portfolio, there are some definite perks to upgrading your SmugMug account. Namely, those willing to pay into the Portfolio and Business plans may sell images and videos through an integrated Turnkey storefront.
All in all, SmugMug manages to cover all of its bases at a pretty reasonable price. However, the site isn't without its flaws. For instance, the site's UI is far less friendly to navigate than that of some of its competitors, according to former users.
Photographers aiming to make a sale from the work displayed on their website are at a significant disadvantage. SmugMug users do not have access to an integrated storefront unless they're willing to pay the highest premium prices. Moreover, SmugMug takes 15% of all profits made on the platform – a serious chunk for those making a living as professional portrait and wedding photographers.
5. Zenfolio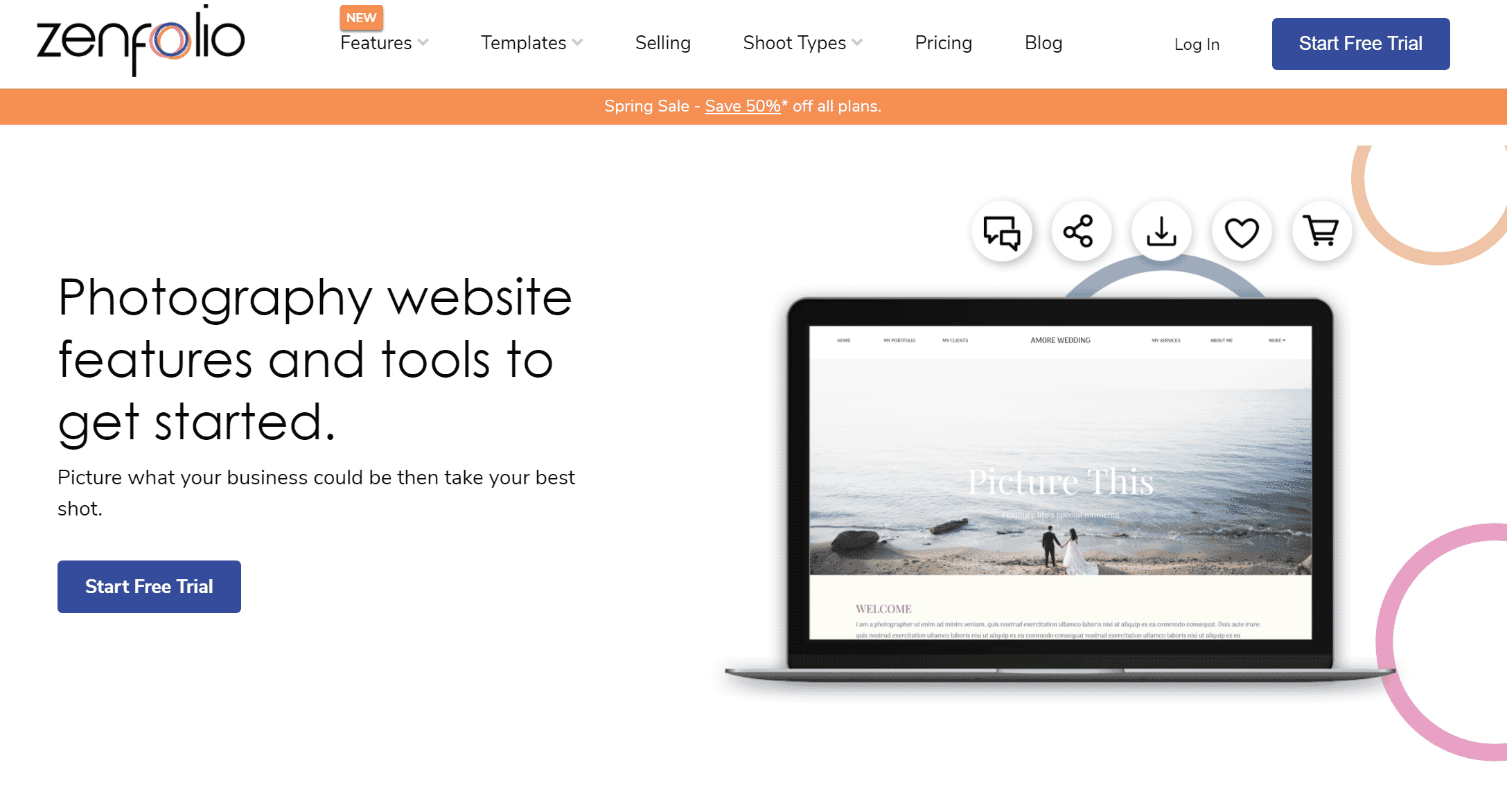 Stay Zen with This Portfolio Builder
A catchy name for a popular option, Zenfolio slips off many photographer's tongues.
Pros
Lots of marketing integrations
Integrated storefront
Live educational webinars offered at no cost
Cons
Big price jumps in payment tiers
Poor customer service
For those looking to market their work online, few options beat Zenfolio. Aside from showcasing portfolios, the site also allows users to set up an online marketplace with little to no hassle.
For store-fancied photographers, Zenfolio gives users the opportunity to sell their products via an integrated shopping cart feature. The price of a subscription grants users access to work with Zenfolio partner print labs to take on advanced projects such as photo books. Users are granted permission to define shipping methods and charges, and can even have shipments sent directly to their doorstep.
Zenfolio takes a minimal cut of the profits made through the sales of work. Customers can have funds sent directly to PayPal or Direct Deposit. As well, Zenfolio offers users unrestricted access to cloud storage. The site supports image files as large as 64MB and videos as long as 20 minutes!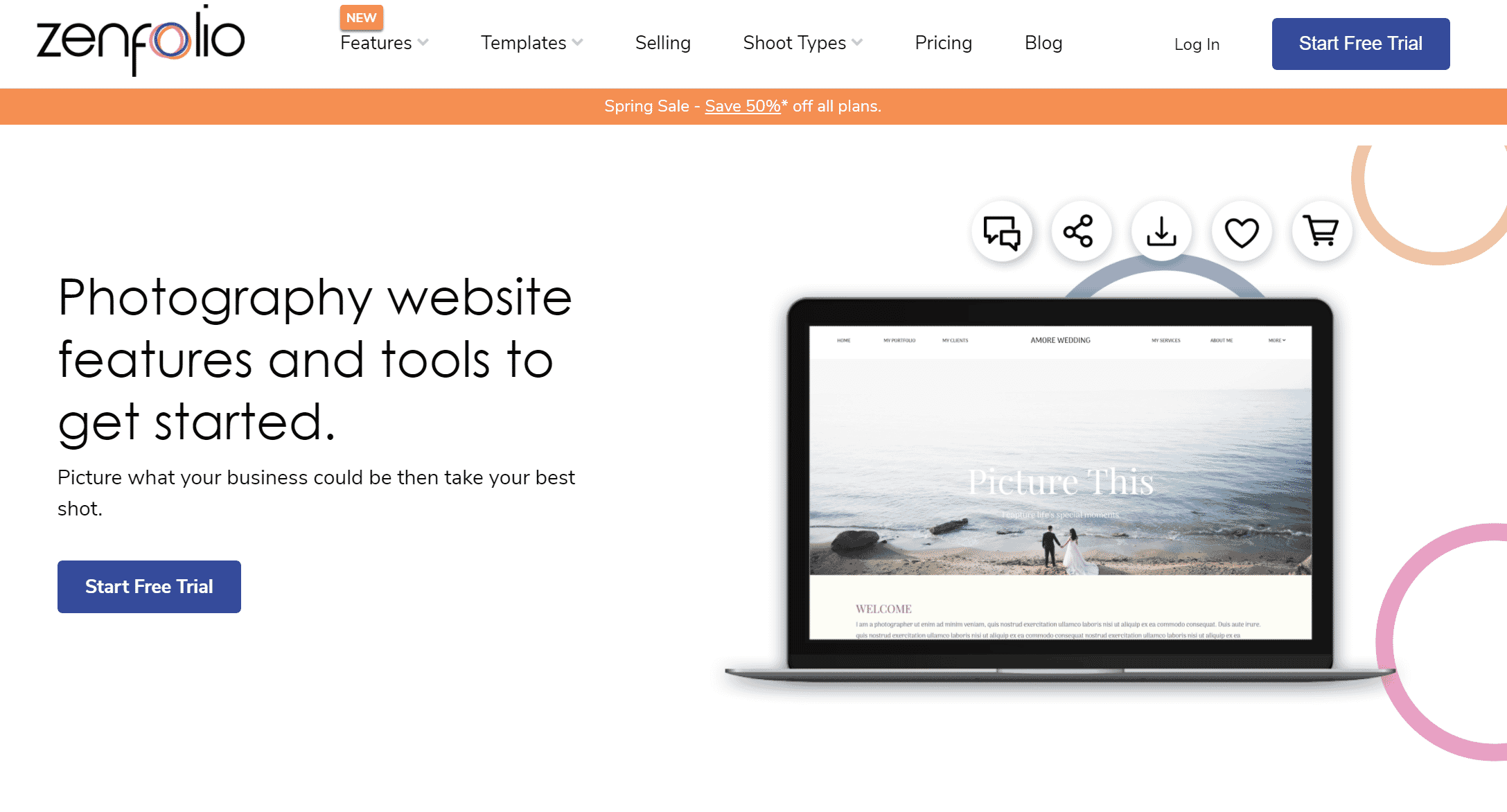 Zenfolio portfolios come equipped with marketing and SEO tools and integrate seamlessly with social media profiles. Customers may track digital downloads and other helpful statistics with ease. All users have access to a variety of video tutorials designed to help with the nuances that come with building a portfolio. Zenfolio also offers live webinars at no cost.
Zenfolio users can choose between three different payment plans:
Starter: $5/month
Pro: $20/month
Advanced: $30/month
For those just building a web presence, the Starter pack is particularly alluring. This is especially so when one takes into consideration that the base price offers a connection to a personal domain name and unlimited bandwidth and storage space. Though other companies do offer these services, they often cost premium fees to access.
Unfortunately, Zenfolio's more advanced packages come at a steeper price. By opting into them, it's possible to make the most of Zenfolio's powerful marketplace. However, if you're primarily looking for a portfolio showcase, you may want to consider foregoing pricier options.
Zenfolio has some cool features that can potentially bring out the best in a portfolio. Unfortunately, one of the site's glaring flaws lies in its customer service (or lack thereof). For those not subscribed to Zenfolio Advanced, it is virtually impossible to get in touch with a live person for help. If you can't find the answer to your issue within the site's FAQ archive, you may find yourself in hot water.
Furthermore, the site's starter bundle does NOT include the removal of abrasive Zenfolio site branding. If a person isn't willing to pay the $20/month Pro fee, their portfolio will be marked with the Zenfolio logo, bringing down the overall professionalism of their online presence.
6. Squarespace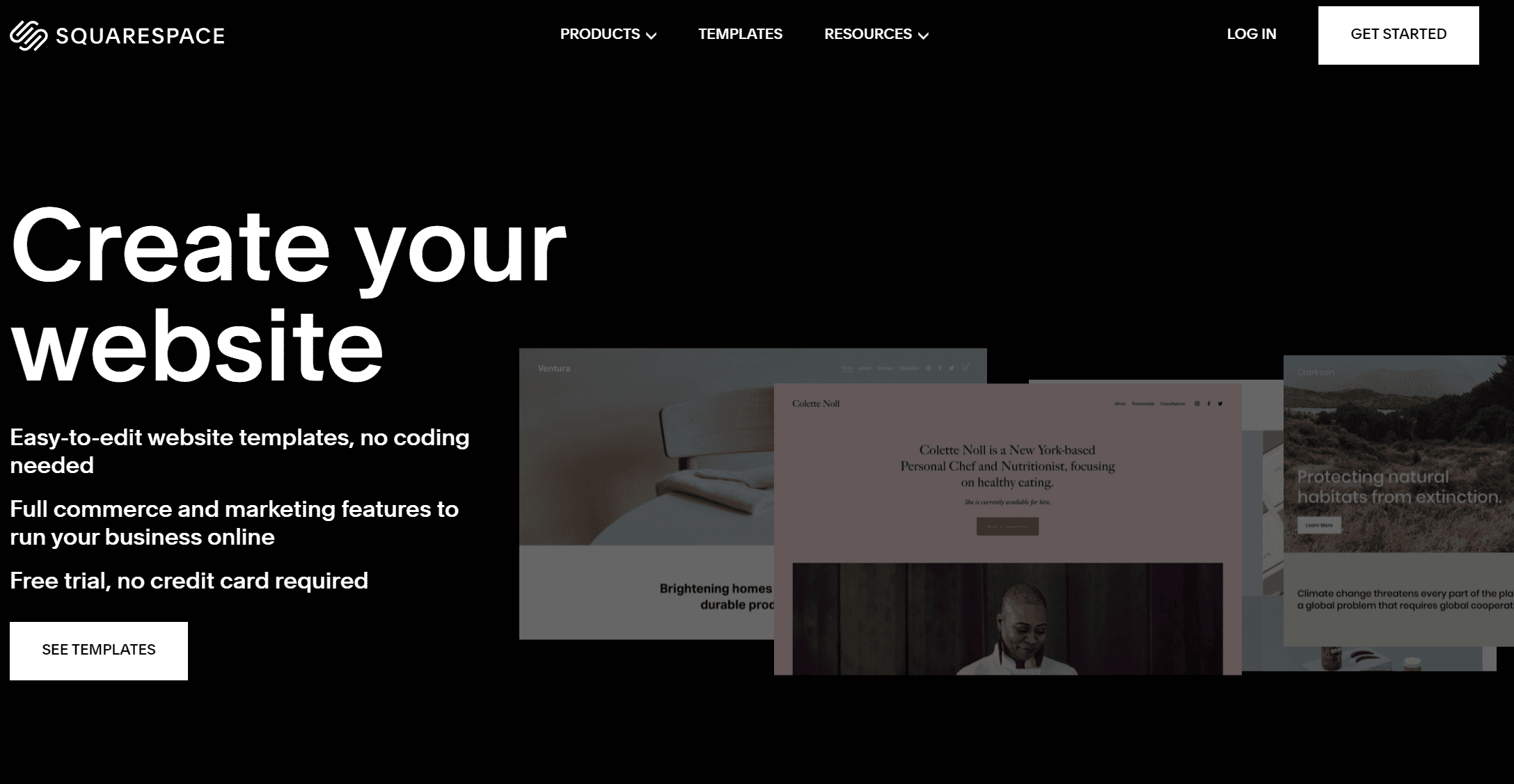 A Gorgeous Online Portfolio Builder
This platform has been long praised for their gorgeous website designs and templates.
Pros
Drag and drop website building interface
Great backend usage, such as customer purchase data, real-time carrier tracking, visitor activity logs, and traffic overviews
Cons
Expensive
E-commerce can use some work
You don't need to be especially tech-savvy to have a beautiful portfolio, thanks to Squarespace. Templates with award-winning designs are available to customers, and adding content is as easy as dragging and dropping.
One of Squarespace's most alluring features is the clean, beautifully designed templates that it provides its customers. Templates are built with customizable content areas to make personalization easy. For those not technically inclined, building an online portfolio can be an intimidating feat. Luckily, Squarespace makes the building process easy with drag-and-drop content management paired with an intuitive UI experience.
Backend tools include customer purchase data, real-time carrier tracking, and customizable checkout experience. Users can look into visitor activity logs and traffic overviews to get a more complete sense of who exactly is interacting with a portfolio. Squarespace's users won't have to deal with site advertisements, regardless of how much they opt to pay.
Squarespace offers customers four different services:
Personal: $12/month.
Business: $18/month.
Basic E-Commerce: $26/month
Advanced E-Commerce: $40/month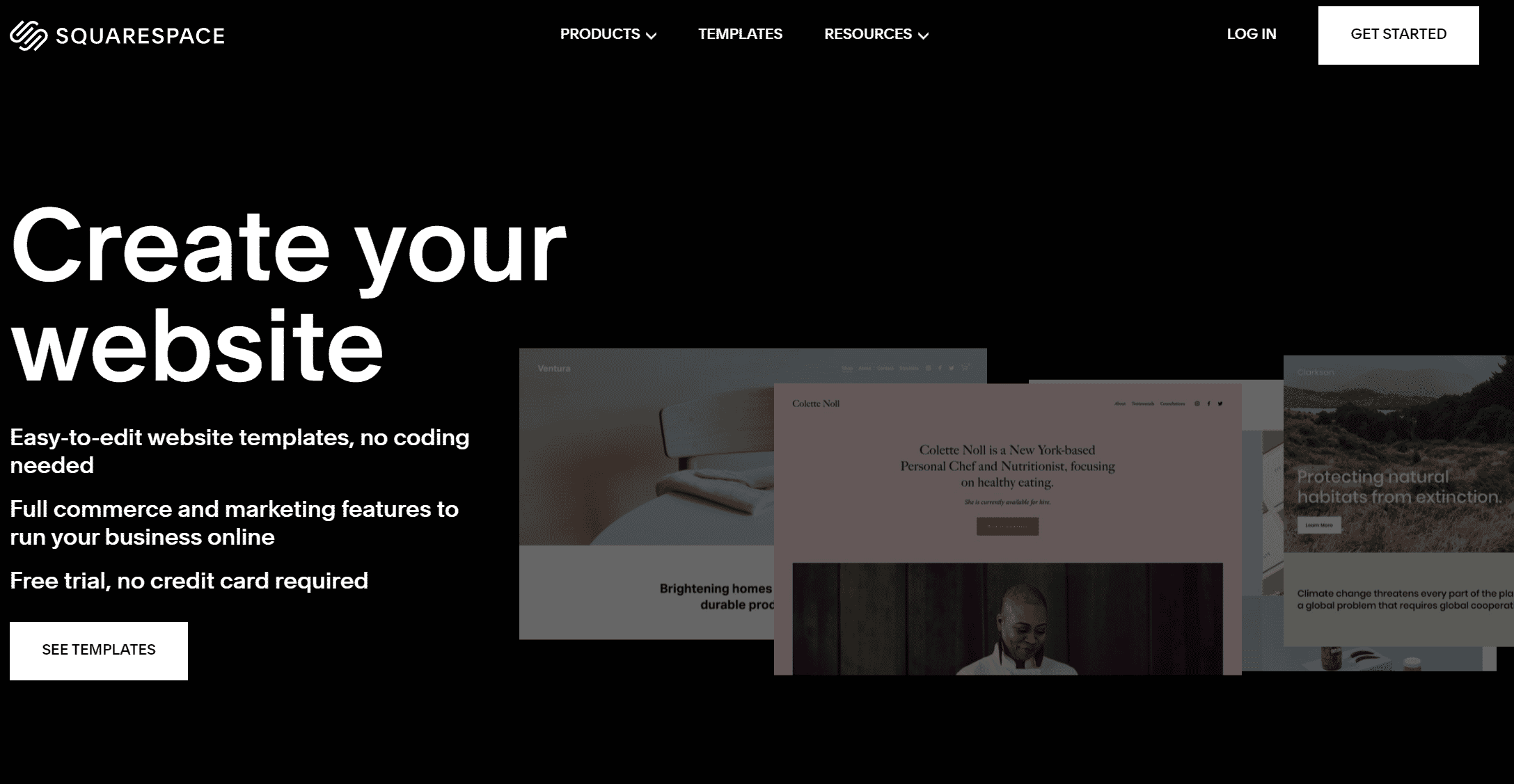 All in all, Squarespace's prices run a bit high compared to the competition. Nevertheless, fees still remain low enough to be manageable for the average run-of-the-mill photographer. Squarespace's e-commerce options are a bit difficult to get on board with, and the platform may not be the most prudent choice for those looking to sell a few prints online.
That being said, the price Squarespace charges is worthwhile on many levels. Though the entrance fees are higher than most, the users who do opt-in bypass many of the annoying warnings that come with other base portfolio plans. For instance, all subscribers have access to unlimited cloud hosting and won't be expected to pay additional fees to remove Squarespace branding.
On the surface, Squarespace is a clean and intuitive portfolio hosting option that provides all of the tools one might need to get ahead. Indeed, for many photographers, the service has more than enough to work with.
For image makers with extensive collections, however, Squarespace may fall short. The site lacks the depth of navigation, and those who choose to opt in to one of the more affordable subscriptions will only have a limited number of pages to work with. If a surface-level portfolio won't meet your online needs, think twice before signing on.
7. Pic-Time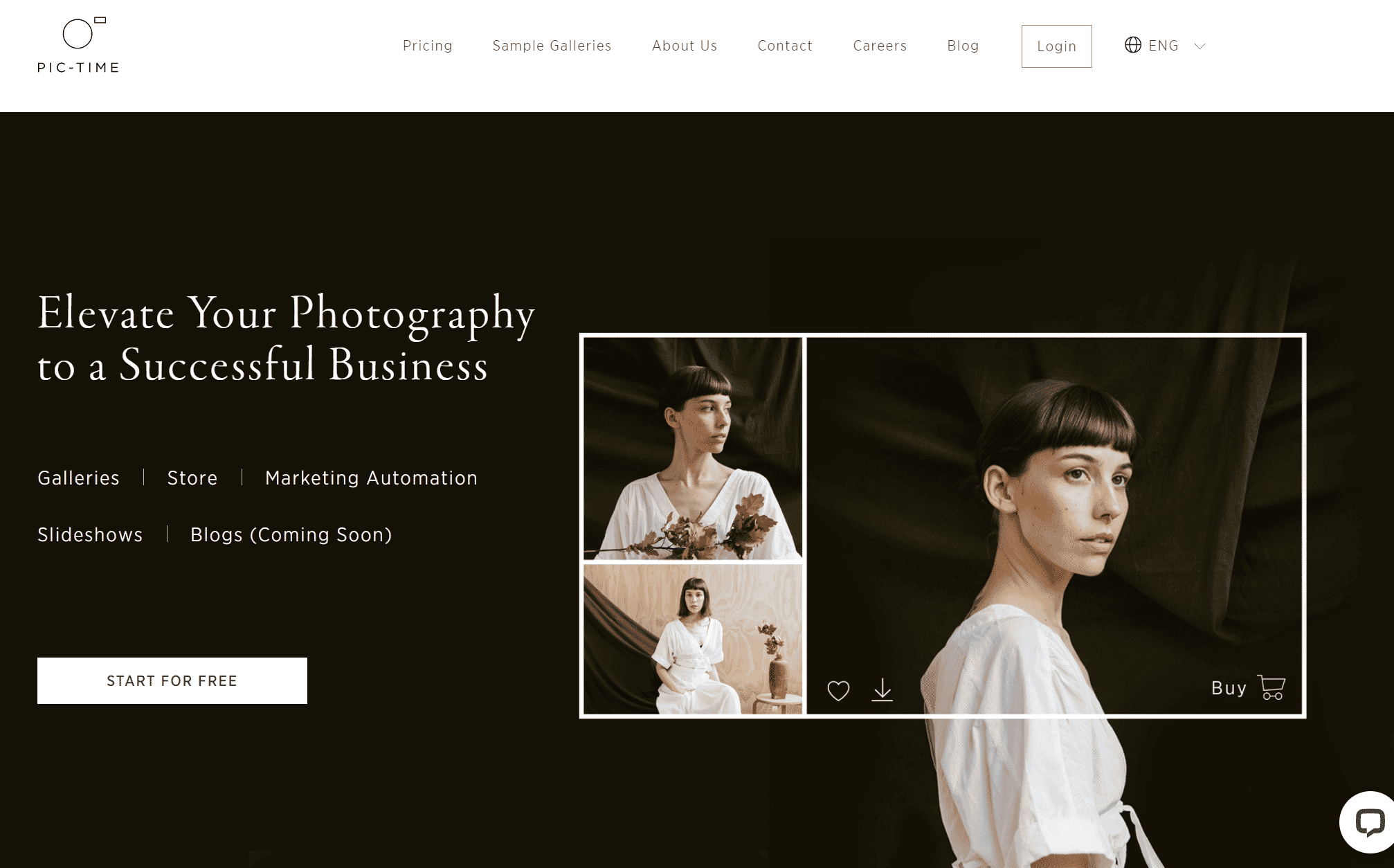 A Portfolio and Gallery All in One
A gorgeous portfolio and client gallery option.
Pros
Offers both dedicated portfolio pages and client proofing / sales galleries
A slew of automated marketing features
Free to try with 20 GB of storage included
Cons
One the pricier side
Limited customization
For photographers who need both a portfolio showcase and a proofing or selling platform, Pic-Time is a great option. Directly competing against Pixieset, Pic-Time offers many similar features with a few additional benefits that aid selling photographers.
Pic-Time's Art Gallery page template (essentially a portfolio template) features a beautiful, clean, and sleek design – akin to modern trends in the imaging world. Your work will really shine against the backdrop that Pic-Time has offered you.
If you are looking to use your portfolio as a marketing tool, Pic-Time has a slew of features that would strike your fancy; most of which are automated tools. From providing key analytics on user interaction with your page to automated emails and data, everything you need is easily at your fingertips.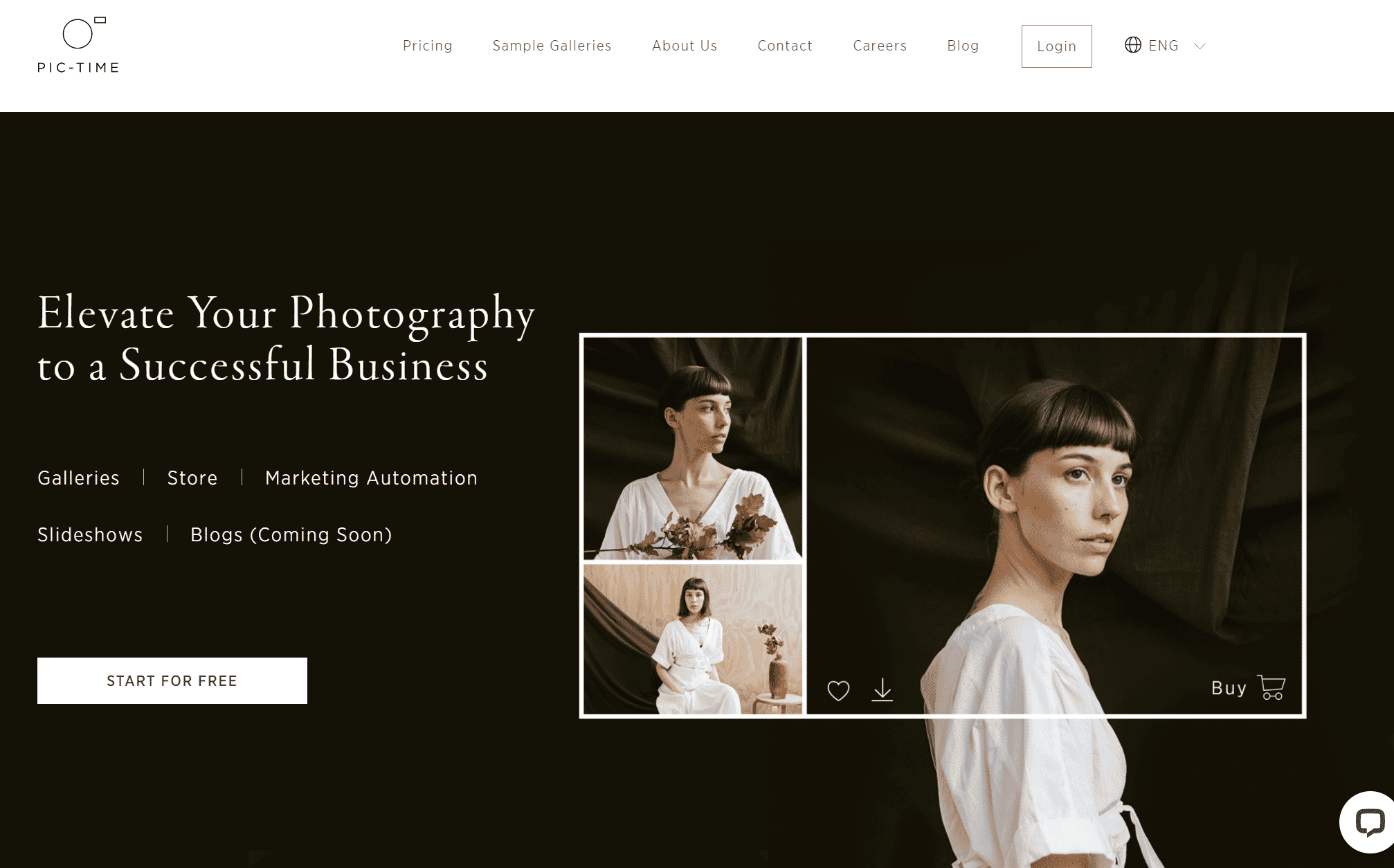 Price-wise, Pic-Time is quite comparable to its competitor. Pic-Time offers three payment tiers and tries to simplify the options:
Professional: $20/month
Advanced: $40/month
Business: $50/month
The free version (to try, essentially) is almost identical to Pixieset, except that you can store up to 20 GB of photos rather than just 10 GB. The Professional Tier for Pic-Time includes a slew of features for photographers, with higher paying tiers primarily dedicating themselves to studios.
On the downside, Pic-Time's portfolio website pages are simple and basic, with minimal customization options. Once more, this is great for some photographers, but others may not be so pleased if they are intent on adding a lot of their own personal touches. As well, bulk uploading requires a software download, which may ward off some other photographers as well.
8. Adobe Portfolio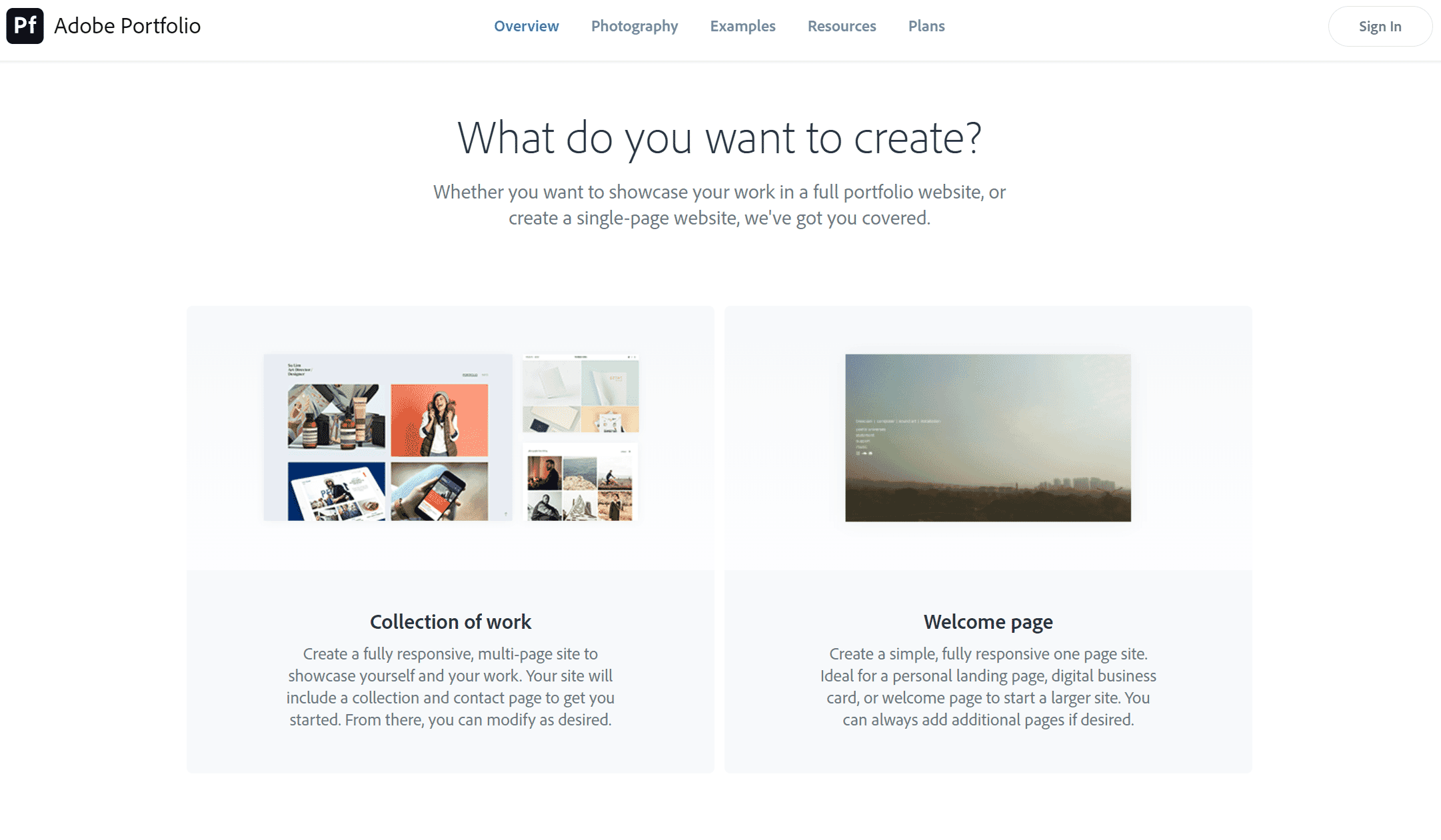 The Industry Standard Is Back at It
Adobe has taken over so many niches in the photo industry, why not portfolios as well?
Pros
Included for free with any Adobe subscription
Unlimited pages and free web hosting
Gorgeous template options
Cons
Website landing page only, no fancy features such as store integration or marketing tools
Adobe is the industry standard in the creative space, especially for photographers. From Photoshop and Lightroom to InDesign and Premier, you'll seldom find a section of the industry that hasn't already been dominated by an Adobe product. For Creative Cloud subscription users, Adobe has now implemented Adobe Portfolio.
Adobe Portfolio is a template web designer that allows users to create their own portfolio pages with ease. Web hosting and unlimited page creations are included, so there is no limit to its potential. A variety of themes are available, alongside exclusive Adobe fonts, to match any aesthetic.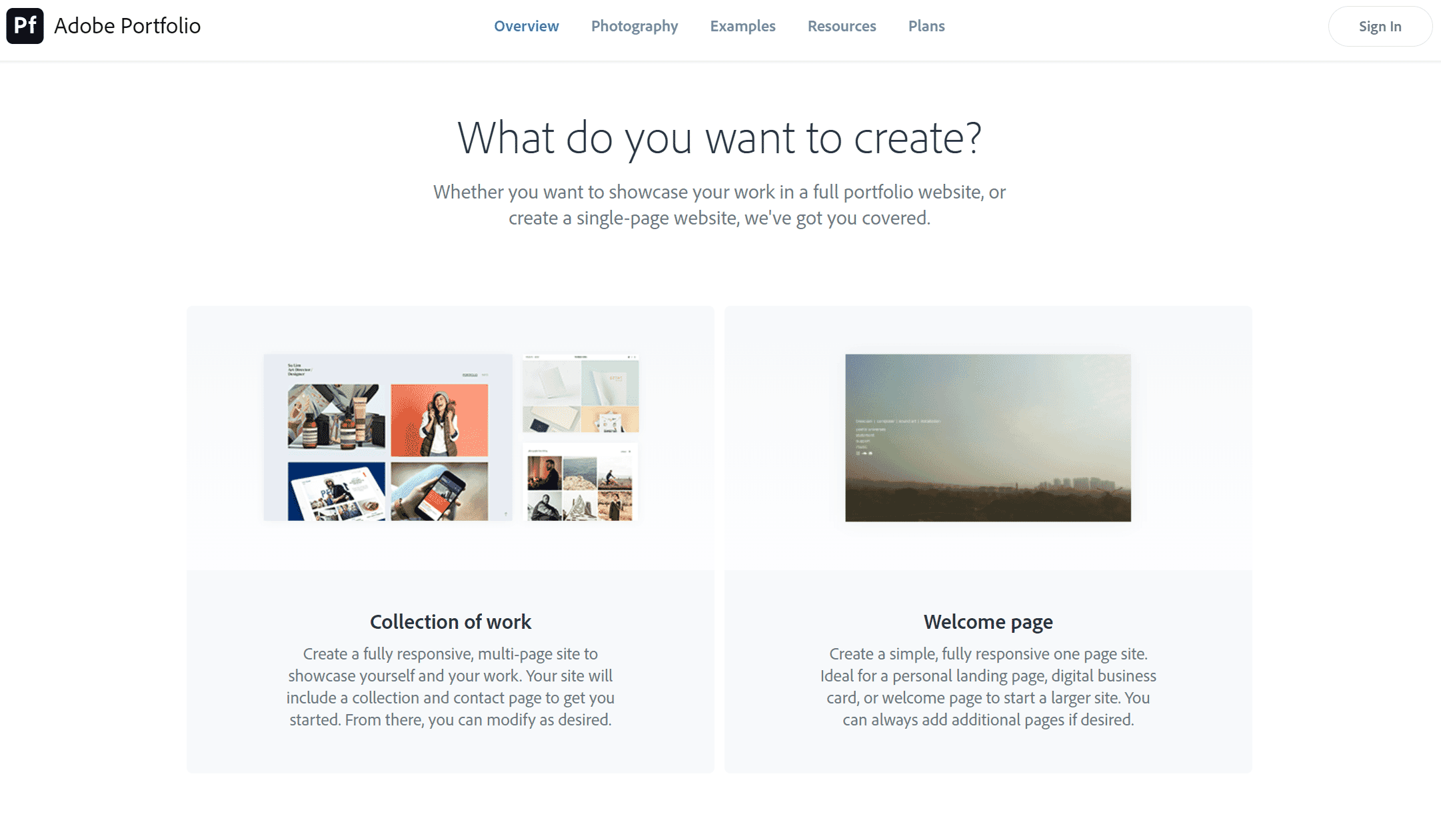 In true Adobe fashion, there is full integration with Adobe products. Adobe Portfolio can synchronize with your Lightroom catalog to import images from there. Images are displayed in responsive photo grids and the entire portfolio site itself is optimized for both desktop and mobile viewing. Designing a website is easy and only takes minutes.
Adobe Portfolio is free for any Adobe Cloud subscribers, with subscriptions starting as low as $10/month.
The warning? Adobe Portfolio has zero selling integration, unlike the other options on our list. Adobe Portfolio is a showcase website only and has absolutely no other features besides that. No marketing tools, either. But hey, for Adobe product users, free is still free – right?!
9. Pixpa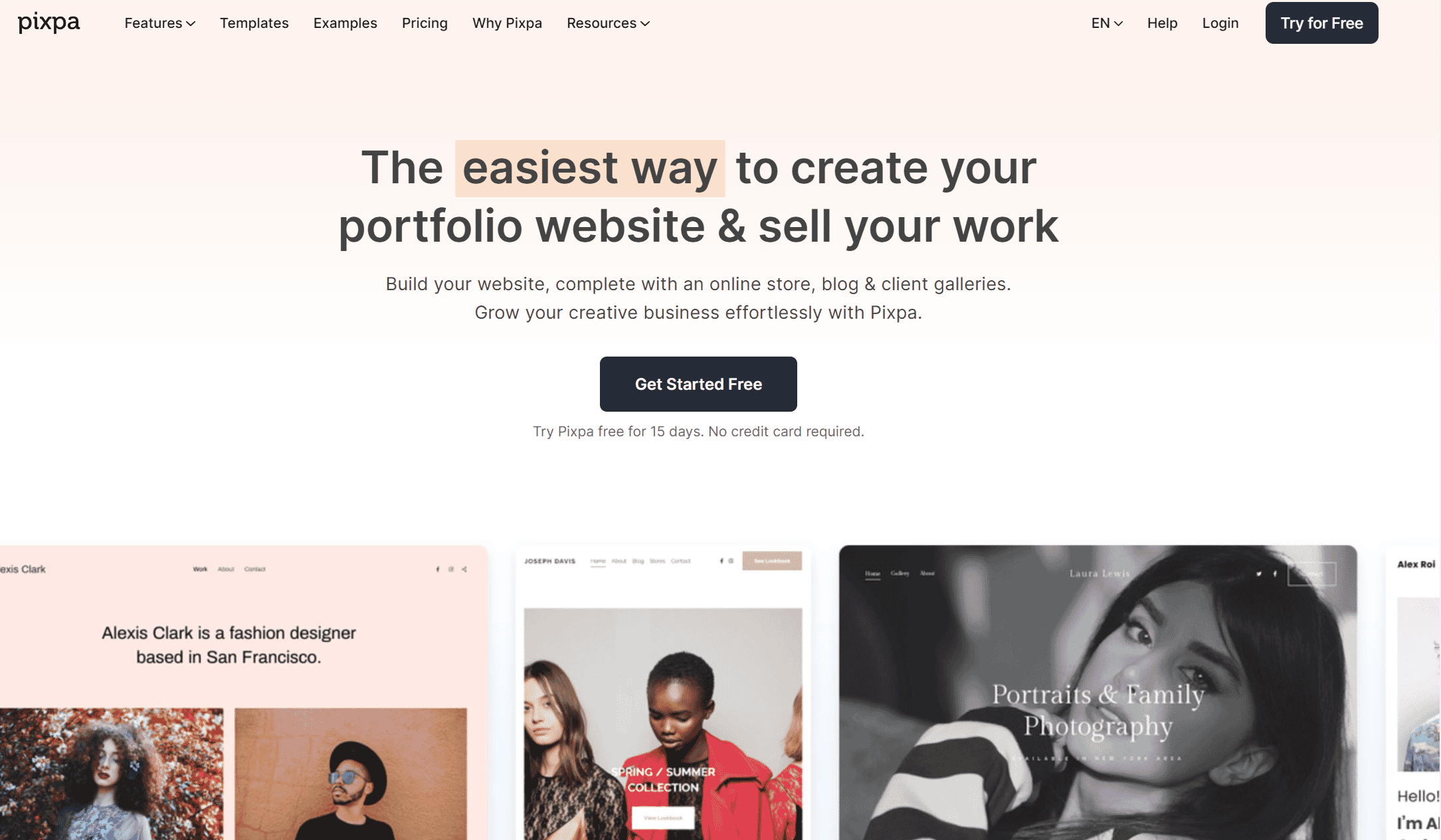 Website Builder with the Creative in Mind
Marketing to creatives (with a special push to photographers), this platform allows one to create a portfolio with a variety of useful tools.
Pros
Many gallery options
Plenty of features such as client galleries, SEO, storefront, and more included
Less expensive than competitors
Cons
The bottom two pricing tiers completely take away very useful (and in some cases, necessary) features
Upon first glance at Pixpa's website, you can tell that the entire platform was built with creative individuals in mind – notably photographers! This no-coding-necessary website building platform is similar to other builders such as Wix and Weebly, but certainly finds its own way to stand out from the herd.
Related Post: Pixpa Review: The Ultimate Website Builder for Photographers?
Pixpa offers a variety of gallery options for portfolio usage, from grids to slideshows, as well as responsive lightboxes. Extensive SEO aid and options, the ability to set up an online store, client galleries, and various other business necessities are all included alongside the portfolio aspect of the platform.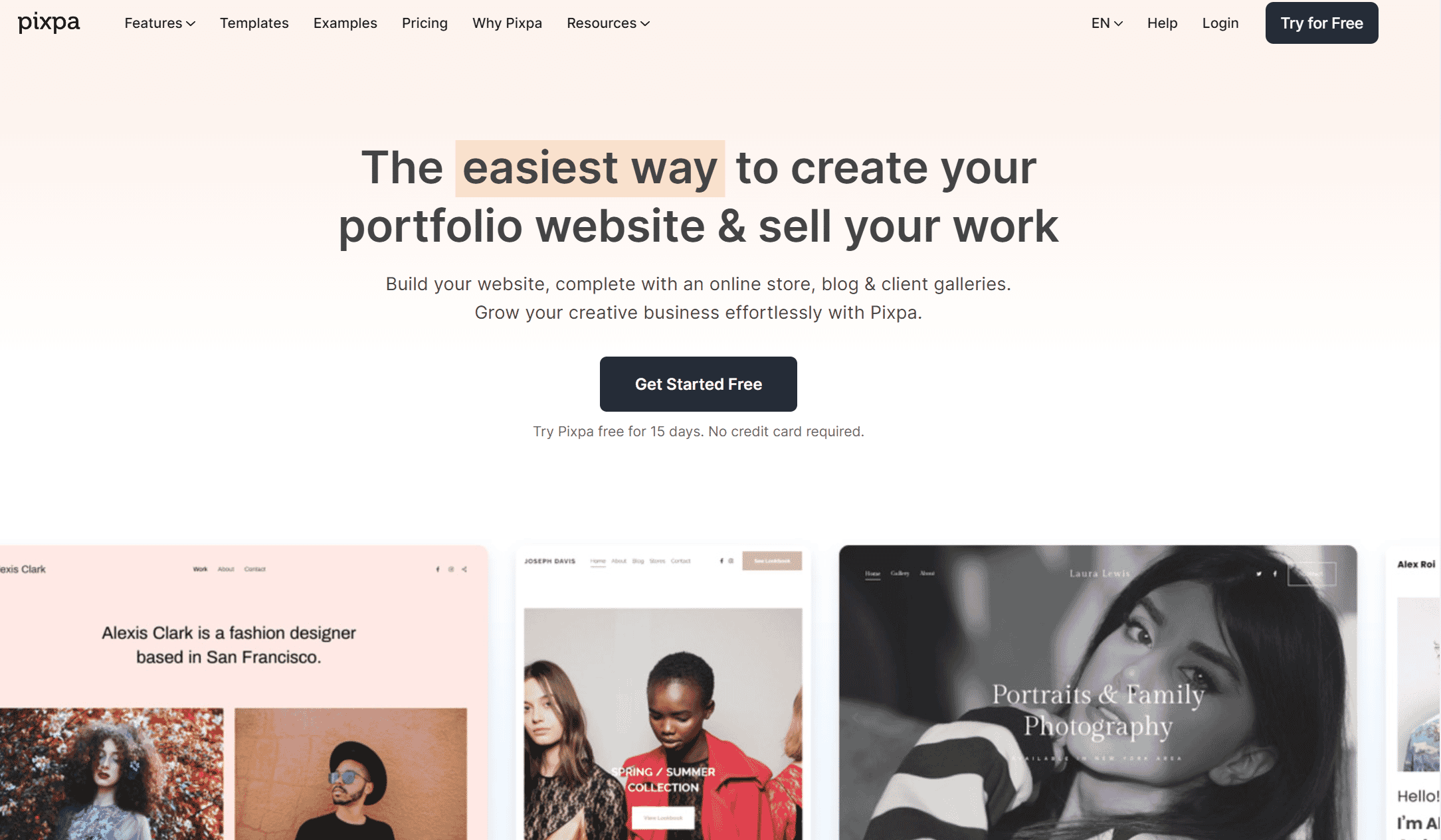 What truly pushes Pixpa ahead of other competitors is the price point – Pixpa is less expensive than many others in the same industry niche. Pixpa's price points are:
Light: $3/month
Personal: $7/month
Expert: $10/month
Business: $16/month
For Light and Personal, Pixpa does limit the number of images you can display. Expert and Business remove this restriction and offer additional features such as the ability to collect payment online, marketing pop-ups, mobile information bar, files, and so much more. Granted, it's a bummer that these options are not allowed in the Light and Personal tiers, but we understand.
10. Carbonmade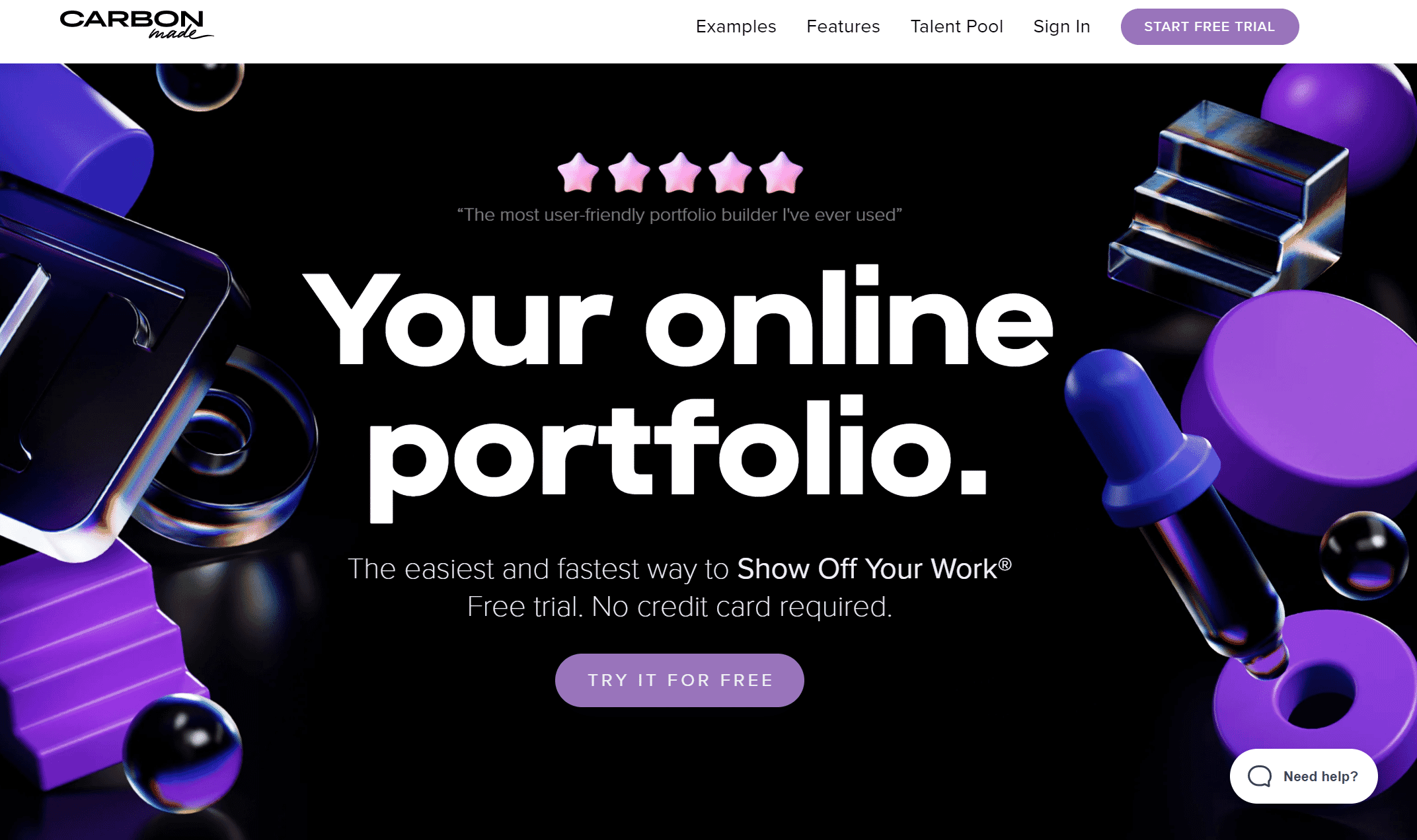 A Talent Database Portfolio
A unique approach to the online portfolio, this website host also compiles a database of creatives so potential employers can search through portfolios.
Pros
Users can be found in the site's talent search
Cloud storage is unlimited
Portfolios can be made at no charge
Cons
Limited personalization
Can be difficult to navigate
Made specifically with artists in mind, Carbonmade is worth the consideration of any artist looking to grab the attention of potential employers thanks to the site's recruiter search bar. This is one of the lesser-known portfolio websites on our list, but it does have a worthy spot here.
Carbonmade makes it possible to sift through the portfolios of thousands of creatives. All Carbonmade users can be found in the site's talent search features, which are accessible to potential clients from around the world.
Cloud storage is unlimited to all Carbonmade subscribers. The platform will archive all content automatically whenever updates are made to a portfolio. Carbonmade makes it easy to personalize portfolios to any taste. Despite the busy design of the home page, it's entirely possible to create a minimalistic, slick-looking site.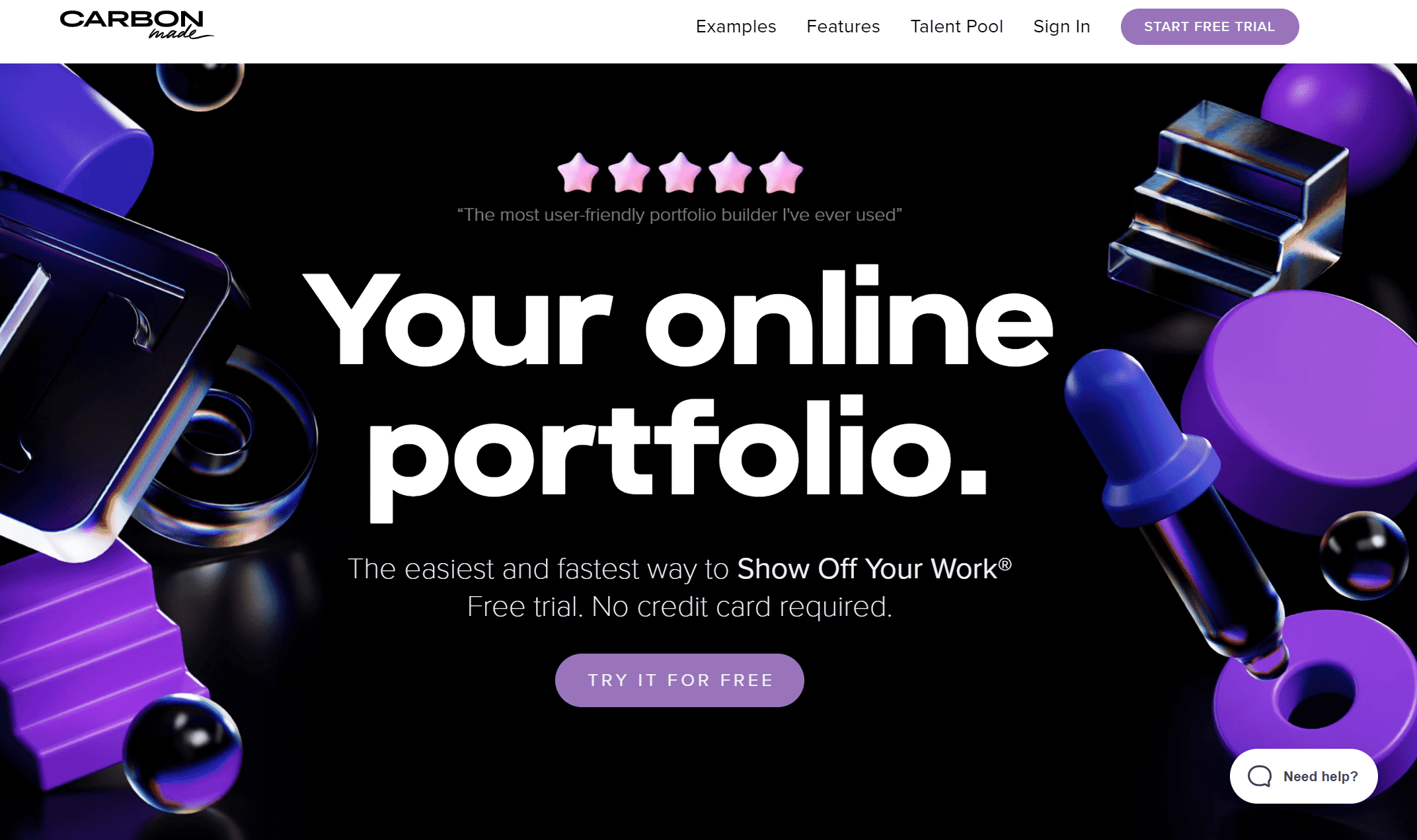 Carbonmade does allow users the option to create an online portfolio at absolutely no charge (although they don't like to broadcast the fact). Unfortunately, the free option is limited even in comparison to the free options offered by competitors like Wix and Weebly. Carbonmade does offer three pricing plans that provide a bit more breathing room for burgeoning artists online:
Okay: $59/year (or $6/month)
Whoo!: $119/year (or $12/month)
Laser Whale: $159/year (or $18/month)
Though the prospect of creating an online portfolio for free is tempting, paid subscriptions offer further personalization, archiving services, and priority support from the Carbonmade help center. Most importantly, paying customers aren't forced to limit their content. Free members, on the other hand, are only allowed to display 35 images in total.
Deciding on which Carbonmade plan is right for you can be a tricky decision. The site itself is a bit difficult to navigate, and the plan descriptions utilize confusing terminology that can be difficult to understand at times.
One thing that potential Carbonmade users should understand is that the site does not offer raw cloud storage space the way most services do. Instead, Carbonmade customers are given a certain number of images that can be hosted on their website with the exception of the Laser Whale plan, which allows users to upload unlimited content. Those that opt into the "Whoo" or "Okay" plans will only be able to showcase 500 or 100 images at any given time, respectively. For those who want to showcase large bodies of work on a tight budget, these constraints are less than ideal.
Which of the Best Photography Portfolio Website Is Right for You?
At the end of the day, the right portfolio website is one that checks all the boxes you need for your business. As many of these sites are similar but do feature key differences, deciding upon the one you prefer is a very personal decision.
All in all, our top general favorite is Pixieset, thanks to its large variety of options – from a proofing gallery for clients, a storefront to sell images, and a portfolio website all in one. The runner-up is Wix, which allows you to create a website from scratch and turn it into anything you want.
Why Portfolio Websites Are Important for Photographers
Every artist needs a place to showcase their work. In the past, photographers had to rely on binders, folders, and leather-bound books to house their finest images. In contrast, the image makers of today often opt for the portability and convenience that comes with hosting a portfolio online. Within seconds, it's now possible to bring up an artist's entire photographic archive in just about any situation.
Alongside the above, the pressure is greater than ever for artists of all disciplines to cultivate some sort of online presence. With so much of the world moving towards the internet regarding marketing and cultivating clients, having a portfolio website for potential customers to view is a fundamental part of having a successful photography business!
Instagram and Facebook may be tempting formats to use as a portfolio, but they don't offer many of the beautiful benefits that a portfolio website can.
Social media networks may however work well to amplify your visibility and get new visitors to your own portfolio site, which ideally has your business or personal photography name.