There is nothing more powerful, sexier and beautiful than the sight of a powerful automobile gleaming in the sunshine. It's enough to conjure the urge to press down the right foot and feel the wind in your face. Ever since man has developed wheels he has been obsessed with his ride.
Cars have, in the modern era, come to epitomize that obsession. Better ride have always signified a better social status, money and power. It is thus hard not to imagine that cars are one of the most photographed objects of desire.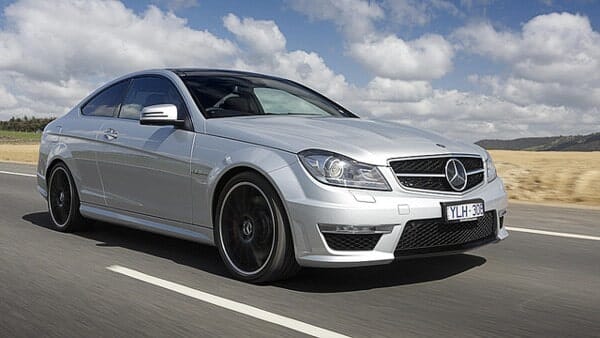 As a budding commercial photographer you must have looked, at some point of time or the other, at automotive photography as a possible avenue to shoot. While you may still be some time away from getting your first paid assignment to shoot cars, you can still look to shoot for your own portfolio whenever possible and maximize your skills; and what better place to shoot these wonderful machines but at an auto-show.
But what if you cannot make it to a premium show or the only place for you to shoot hot cars is your local car show? Here are some tips that should get you at least a few images that you can include in your portfolio.
Related Post: Best Street Photography Cameras
1. Select the right time of the day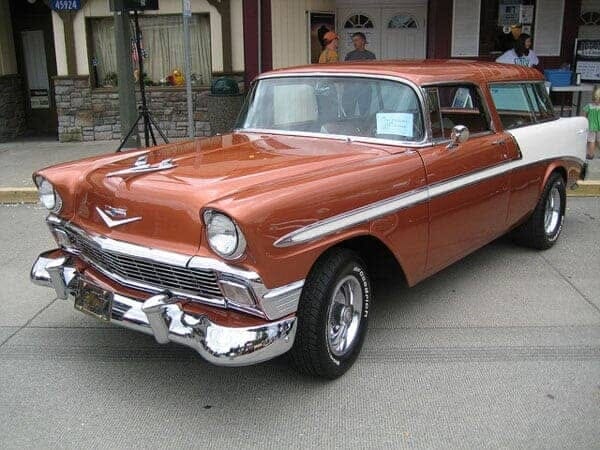 Morning and sunset times are usually preferred by photographers because the light is softer and you tend to get a slightly warmer color, which looks great in the final image.
But don't forget the mid-day light either. Cars have shiny metallic surfaces which creates glaring reflections. Some photographers hate that kind of light because they cannot seem to figure out what to do with it in the final image. But if you can manage the shiny grill, light reflecting off the chrome finish, the alloy wheels and the glittering brand logo, the final image would look straight out of a magazine page.
If you happen to arrive at the wrong time of the day and hate the fact, just use a circular polarizer to cut out the reflections.
2. The best shooting angle depends on the car
Any angle is ok in car photography, as long as you can highlight the best features of the car.
One of my favorite angles is going down and shooting almost from the concrete level. Cars with masculine profile equipped with sporty alloy tires look extremely beautiful when they are shot from a low angle.
Vintage cars with large shiny grills, metallic headlamps or big embellished logo looks beautiful when they are shot up close. A tighter framing is required when you want to highlight these aspects of a vehicle.
On the other hand if you wish to capture character lines of the car or a broad profile, you need a wider angle. You should have at least two lenses on you, one wide and the other a tele so that you can cover all the necessary angles. These are just the bare minimum ones. You can most certainly carry other exotic pieces of optics such as a fish-eye or even a macro lenses for capturing extreme close-ups of a car's details.
Related Post: Real Estate Photography Checklist (Download Powerful PDF)
3. Avoid the shadows
Avoid shooting the side that is not illuminated properly. Automobile shows always have extremely good quality lighting. But even then it may not be enough when you are shooting images or there may be subtle differences in illumination which will become apparent in the final images.
Your eyes will adjust to the lighting inside the show so you will not realize it, but your camera will.
In order for the camera to take great images you will need to shoot at higher ISO or use a flash.
Cranking the ISO is a good option, especially with all the great cameras around these days which shoot extremely good images even at hitherto unthinkable ISO numbers. Don't worry about noise, you can always correct that in post-production.
4. Play around with the depth of field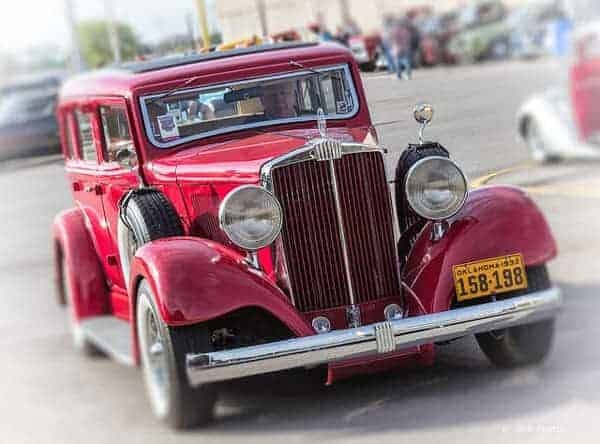 Both shallow and deep depth of fields can be used for photographing cars. For tighter compositions, where you are looking to highlight a very particular aspect of the car, a smaller f-number can help you achieve a shallow depth of field blurring out everything in front and behind the point of focus.
For a broad lit shot where you are looking to accentuate the main design elements of the car a bigger f-number is workds best.
5. Shutter speed – Pannin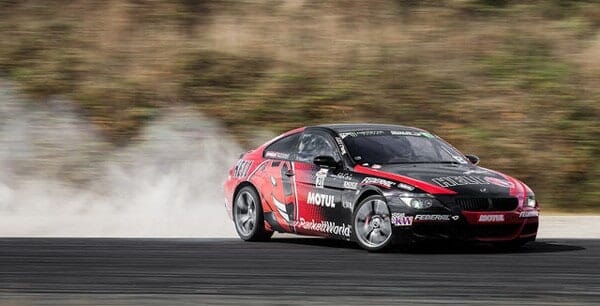 Ideally shutter speed should be commensurate with whatever aperture you decide for the proper exposure, except when you are shooting moving cars. This is a bit difficult and you will need to shoot several frames before you get the one that is just about perfect.
Always use a slower shutter speed of about 1/100 of a second and Camera Panning.
This will blur out the background and the spinning wheels but the rest of the car will be sharp. Professional photographers often use this method to capture motion in their images when shooting on assignments. The same trick is also used by sports photographers for shooting F1 and other racing events.
6. Visiting a cars show? Well, then have patience!
Automobile shows can be a great place to spot new cars and take some great car photographs. But they do attract huge footfalls and it can be difficult to get a clear shot.
But the one most important tip I want to give you here is: have patience! Allow others to also enjoy the views of a specific car, wait until they walk on and then move into capture the shot you are after.
Related Post: How to set Photography Goals (And Achieve the with EASE)