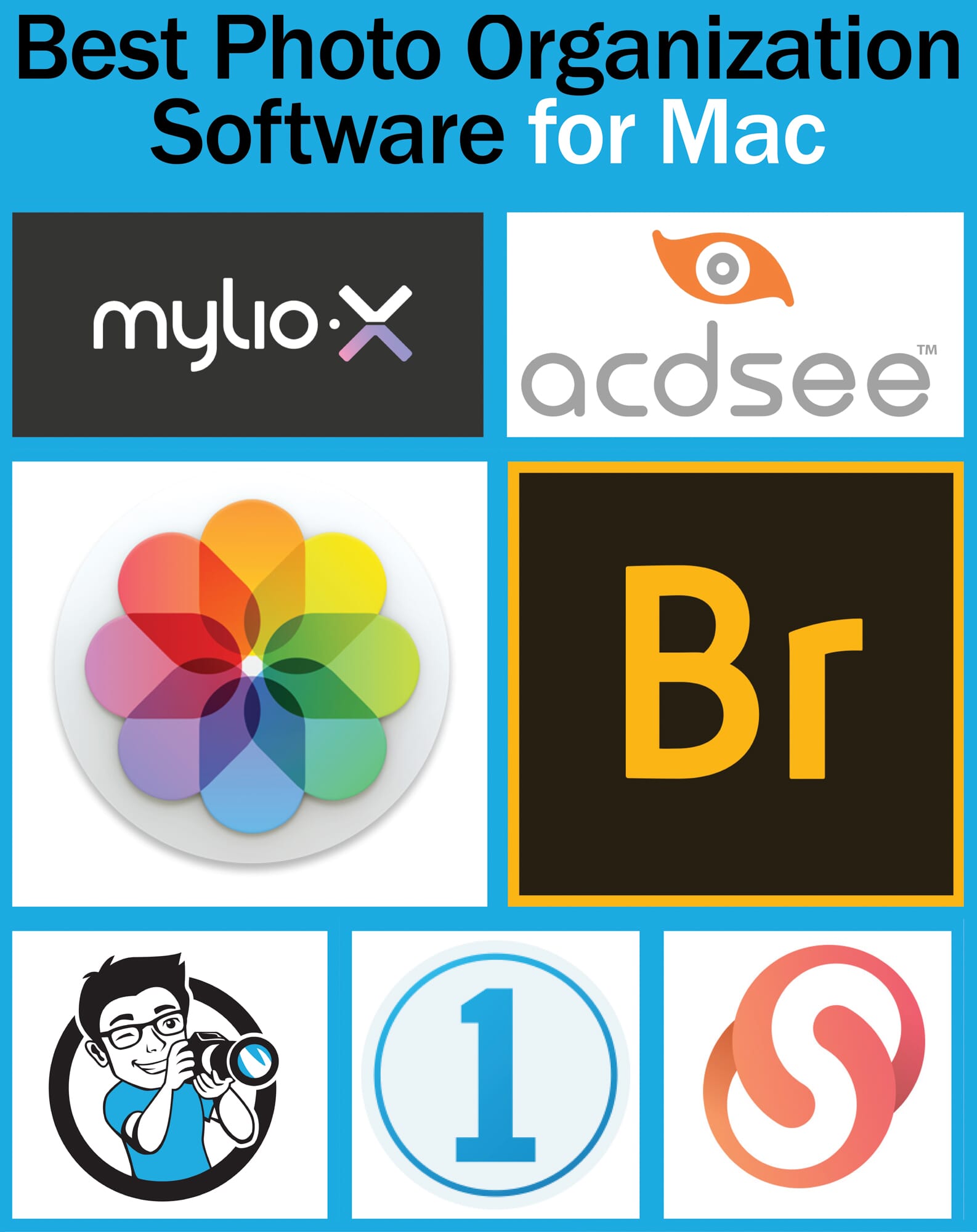 Working as a photographer, you are guaranteed to have a large and expanding inventory of images. So, how exactly do you keep everything neat and tidy? And, what image library programs are available for Mac users? Our answer: Up your organization game and install one of the best photo organizing software for Mac.
Hey Mac owners! Could your hard drive could benefit from some organization? Download one of the best photo organizing software for Mac options and get cataloging!
To help you get started, let's take a look at 7 of our top picks:
Not a Mac user? Check out our article on the Best Photo Organizing Software for Windows.
The Best Photo Organizing Software for Mac Users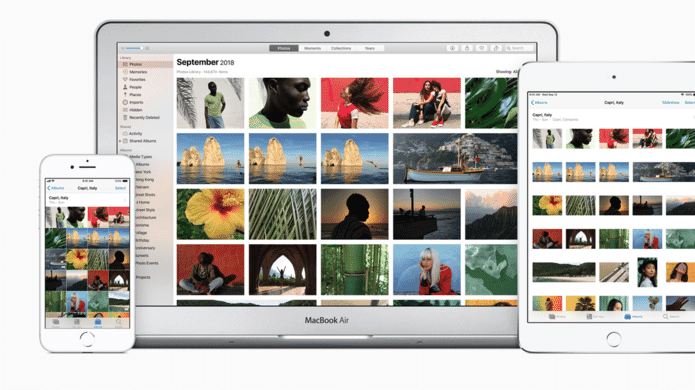 Cost: Free / Already downloaded on your Mac device or available on App Store
One of the most obvious options as far as photo organizing software for Mac goes is Apple Photos. The software is made for Mac computers and comes installed on your system when you purchase a laptop or desktop device. It's also free if, for some reason, it's not already installed on your system. This is one of the most accessible choices for Mac users.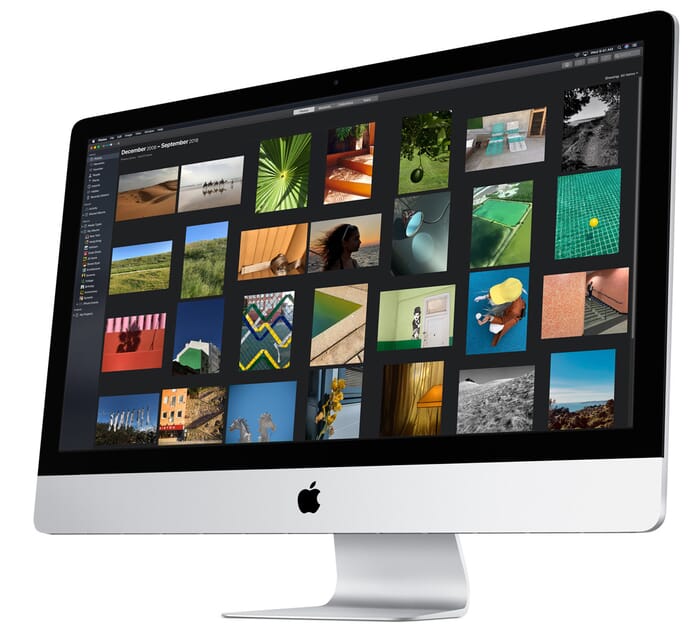 It's designed to help keep your growing library organized. This is accomplished by several methods including:
creating albums
tagging based on facial recognition
and even sorting through your files based on the date they were taken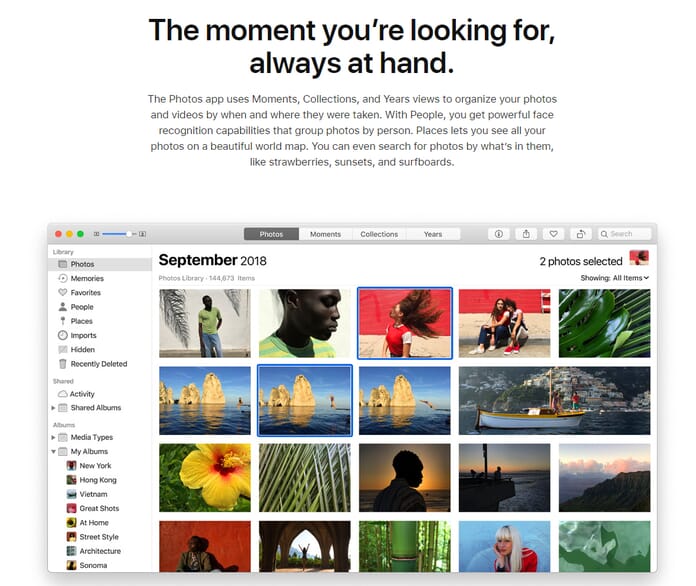 Plus, Photos has several editing tools to make any quick adjustments within the program.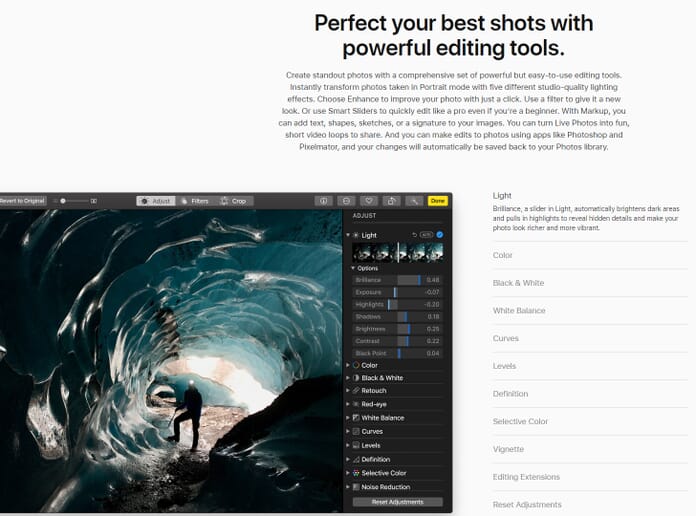 Want to free up hard drive space while you're at it?
Good news!
Photos comes with the option to use iCloud Photos. This allows you to store your photos and videos within the Cloud system. You're then able to access them all of your Mac devices.
With Photos, you can file, sort and access your images anytime, anywhere.
RELATED POST: Luminar 3.1 Review – Modern Raw Photo Editor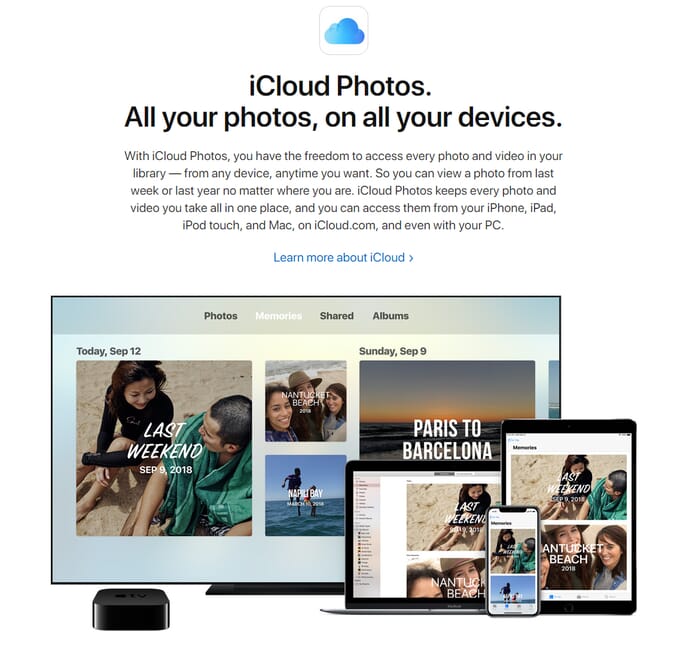 (Best Photo Organizing Software For Mac That Isn't Free)
Cost: Free for 3 devices & 25,000 photos / Premium Plans begin at $8.33 per month
The second best photo organizing software for Mac is Mylio.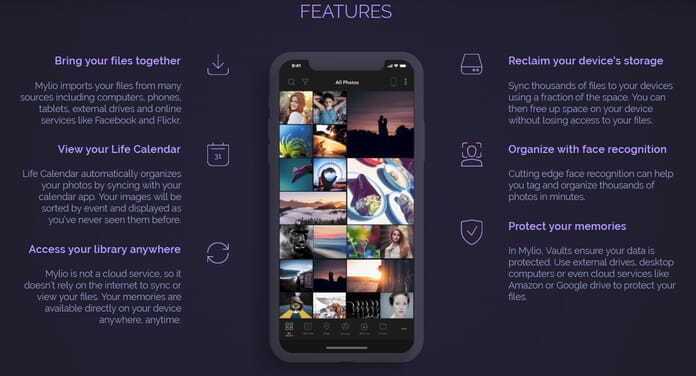 Mylio is an app to collect all your photos, videos, and documents into a single library. So you're getting a bit more than just a photo organizer.
With this program, images are manually uploaded or imported from online services such as Facebook and Flickr.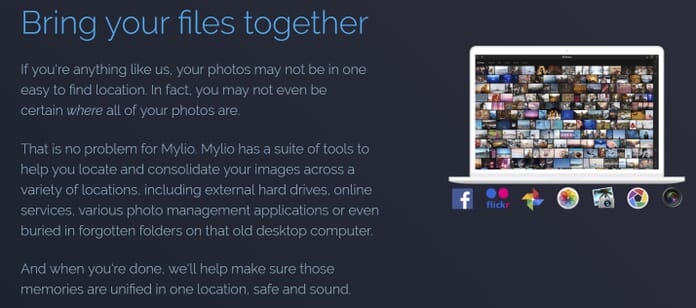 Once you add your images, they're organized using the calendar app. And, like Apple Photos, you can view them on any device – with or without Internet access. It also has useful features such as facial recognition sorting and automatic sorting.
Plus, with its free access – Mylio is great for photographers on a budget. It gives you the ability to collect, organize, and protect your memories without compromising your privacy.
Cost: Free Download Through Adobe
The third best photo organizing software for Mac is Adobe Bridge.
Adobe Bridge is a place to centralize your creative assets and a library to organize all of your creative files. With Bridge, you place your images into categorized folders, add watermarks, tag with ratings, and set centralized color preferences.
Other features of Bridge include:
Bulk import, export, and preview of Libraries assets
Export/import network cache
On-demand thumbnail and metadata generation
Drag and drop flexibility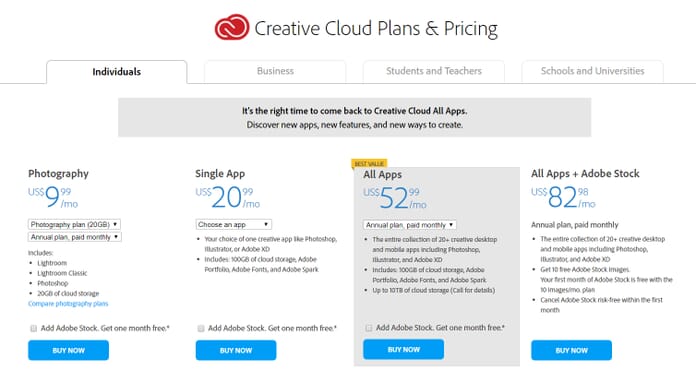 Adobe Bridge is part of the creative cloud program but can be downloaded for free. Take advantage of this high quality, professional program without a steep financial investment. Gotta love that!
Adobe Bridge users who also subscribe to an Adobe Subscription–the Photography Plan is popular–you can also edit, bulk edit, and export your photos using the Camera Raw plugin.
RELATED POST: How To Make Amazing Photographs of Lightning (Top Tips)
Cost: Capture One Pro Subscription / $20 per month
The fourth best photo organizing software for Mac is Capture One. This system is a bit different from the rest on this list. Capture One offers high-performance editing tools in addition to its library features. We're talking a complete Photoshop alternative.
RELATED POST: 10 Top Lightroom Alternatives To Try In 2019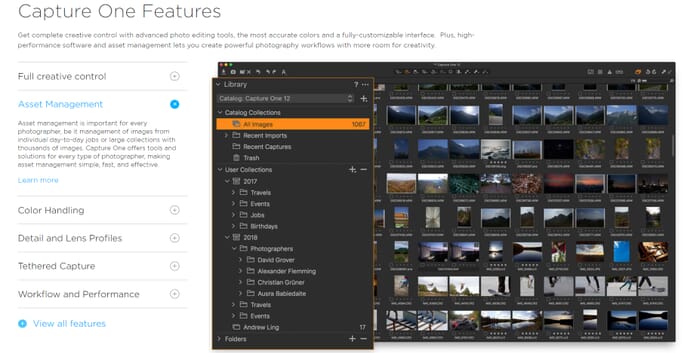 On the asset management side, Capture One allows you to store, organize, and categorize thousands of images. Plus, Capture One is the leading software program for tethering.
When tethered, Capture One uploads your photos directly to your library as you take them. This allows you and your client to view the images as they appear on your screen.
You heard us right: you can see your photos appear on your computer in real time.
No that isn't a characteristic unique only to this piece of software, but few others on this particular list can claim it.
Capture One is a truly professional solution, albeit with a hefty price tag. So, be sure you're ready for the investment before purchasing. Our advice it is to test it out first with the 30-day free trial.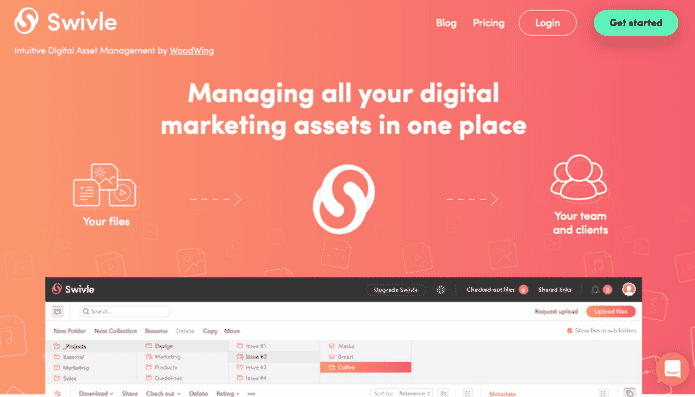 Cost: $179 per month
The fifth best photo organizing software for Mac and the most expensive option on our list is Swivle.
Swivle is an intuitive digital asset management platform that allows you to manage all of your files in one place.
As the most expensive option on the list, I bet you're curious if there's a good reason to justify the price tag.
Well, the answer is yes and no…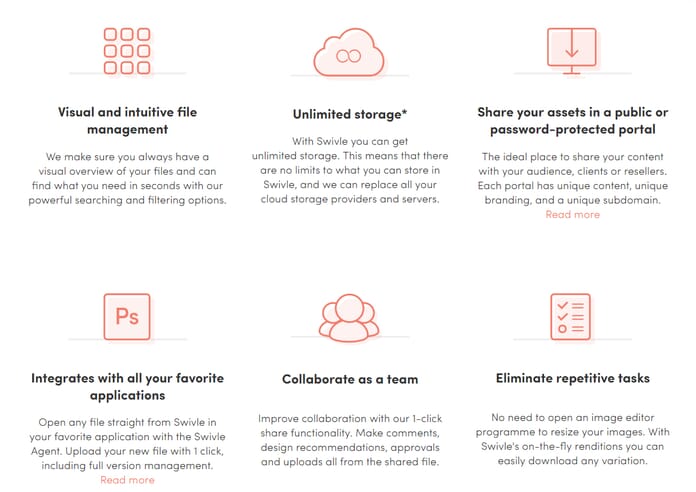 We consider Swivle to be a platform for teams rather than an individual photographer. So, if you run a photography studio or work within a visual marketing department, handling multiple accounts – this software would be great for you.
If it's for just one person, pass on this particular option.
The file management on Swivle is visual and intuitive. You can share your assets in a public or password protected portal, collaborate as a team and integrate with all of your favorite applications like Photoshop.
Swivle can be used to store and organize your images, contracts, and other files that pertain to your creative projects. More than just an image organizer, Swivle could be the next program you use to manage your growing photography business.
Cost: Free download / Upgrade Current promotional price is $49.95 / Regularly $99.99
The sixth best photo organizing software for Mac is ACDSee.

ACDSee is known for its best in class digital asset management and RAW processing power. It gives you instant, import free access to you photos.
And, it has flexible organizational tools to satisfy any workflow. It uses a location map to display the location of your images and isolate groups of files by region for processing.
RELATED POST: ACDSee Photo Studio Software Review — Great Results & Easy To Use

Plus, you can use the Image Basket to gather and hold images from different locations and the Filter by feature to single out files based on their ratings, color labels, tags, and categories.
With ACDSee, you can create as many databases as you like and swiftly and smoothly switch between them.
Is there anything this program can't do? 🤷🏼‍♀️ Test it out now with their free trial download.
Cost: $10 / Available for a free trial
The final choice on our list for best photo organizing software for Mac is Unbound.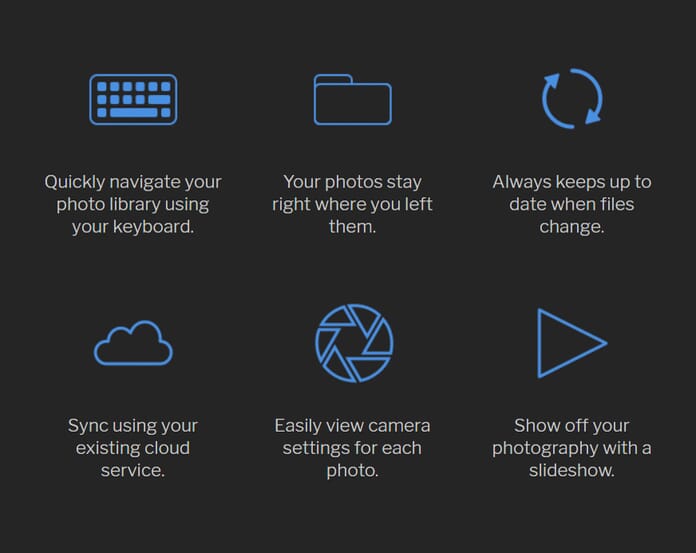 What's so great about Unbound?
It's simple.
Unbound keeps photo organization quick and easy. It allows you to store your photos in albums, not a proprietary library and uses instant search to find any album.
You can navigate your library using the keyboard, sync your files using a cloud-based service, and easily view camera settings for each photo.
For a no-frills photo organizational system, test out Unbound today with their free trial.
RELATED: How to Manage & Backup Lightroom Photos (Fast & Easy)
Best Photo Organizing Software for Mac: Conclusion
As you can see, there are several efficient and quality photo organizing software available to Mac users. Again, I recommend you try the free trial first before shelling out cash for the paid options. They're all great pieces of software and we stand by our choices, but everyone's needs will be different.
Of course, the free options are all decent too!
Do you have a go-to photo organizing software that you use on your Mac system? Share with us in our comments below.