What makes canvas art so attractive is how, as an alternative to posters, it offers the grand experience of viewing an original masterpiece. It gives off an elite feeling of authenticity and has a high level of aesthetic appeal. With the best canvas printing services, you can convert virtually any photograph, drawing, painting, or image into artwork that has the appearance of a hand-painted original.
But in order to accomplish this, it requires the use of high-resolution printing capabilities, durable and well-constructed materials, and the printing must be done by an artistically skilled designer. The people doing the printing must have a particular skill for adjusting the saturation, sharpness, and contrast of an image in order to preserve the captivating appeal of the image without distorting it. The canvases should be made of fine art paper and the wooden frames handmade.
When looking for a canvas printing service for your next print, you'll want to avoid companies that use factory assembled canvases and low-level printing technology to simply duplicate an image onto the canvas surface. These companies won't offer anything special. No designer editing, no enhancements, no ensuring the image is striking and natural-looking. What you send is what you get – and maybe not in a properly fitted arrangement.
In total, we tested 20+ canvas printers. In order to help you avoid wasting time and money searching for the best canvas printer online, we selected and shortlisted eleven of the best canvas printing services; one, in particular, stood out as a favorite.
Our favorite and most recommended printer is CanvasPop.
ElephantStock is also great (especially if you don't have your own photo and want to choose from a selection of wall art). CanvasDiscount is the best option if you are on a tight budget.
Best Canvas Prints in 2021:
CanvasPop (Best Canvas Print)
ElephantStock (Also Great)
CanvasDiscount (Best on a Budget)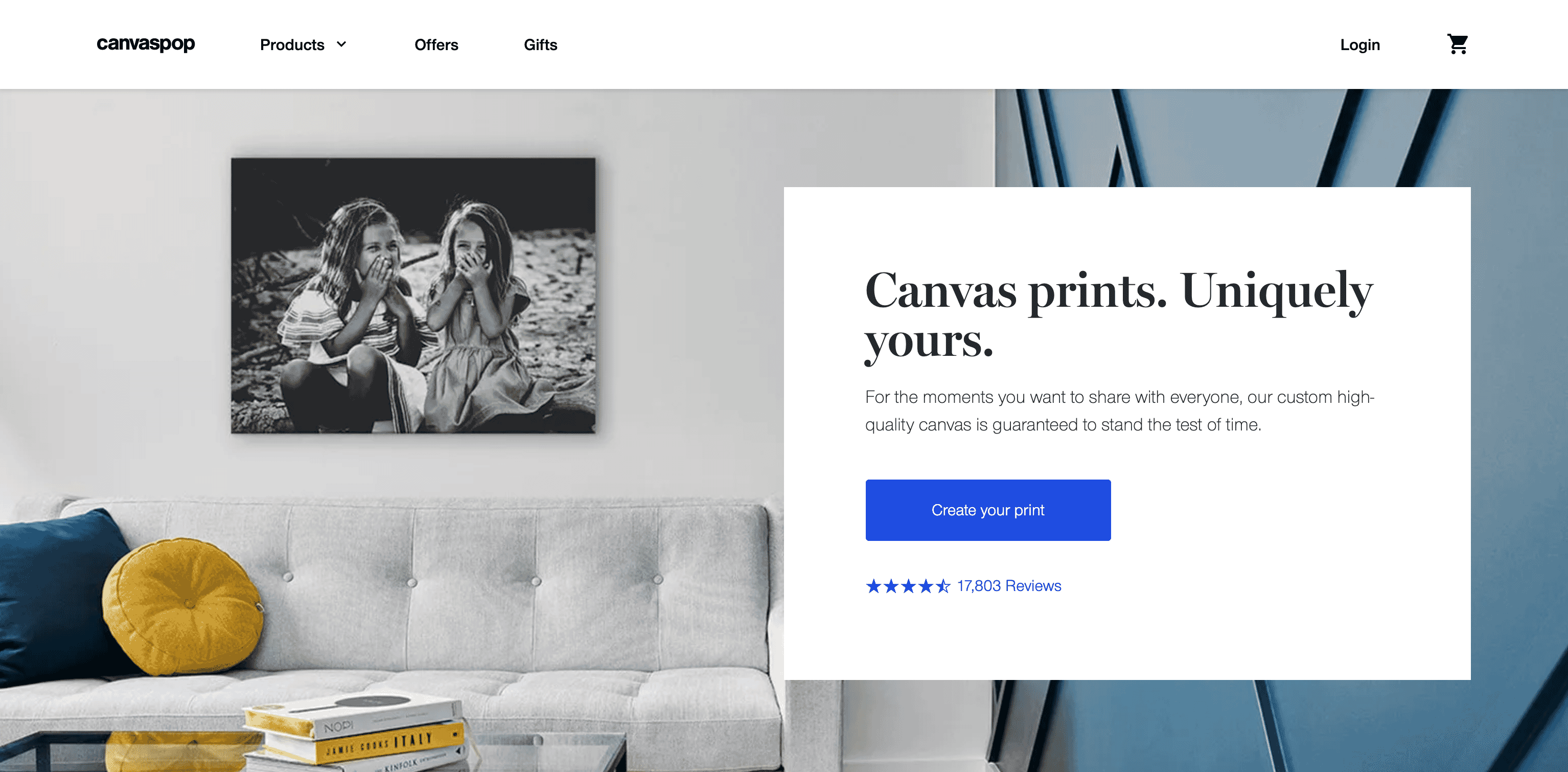 When you run down the list of things that are important for getting a high-quality product, CanvasPop came out on top in every category. Not only do they use the highest quality materials available, they are passionate about art which means they strive to create stunning art prints with each image.
With CanvasPop, it's more than just about printing an image on canvas but creating captivating art!
When you place an order with them, you are assigned to a personal designer who works with you during the process.
They're great at making recommendations that will ensure that the image is bold, vibrant, and well-orientated on the canvas for the most appealing composition.
They make adjustments to the contrast, brightness, and saturation, and will even remove red-eyes in order to perfect the image.
Even better, your designer and the world-class customer support team will be available to you by email, chat or phone so you can work collaboratively with them to get the perfect final design.
Before your image goes to print, CanvasPop sends digital proofs – and they are free. You do not get charged extra just to see the final version before it is printed on the canvas, which is huge because most other companies do not even offer digital proofs. And if they do, they'll most likely charge a fee for it.
Plus, it doesn't matter if the pictures come from Instagram, Facebook, or your smartphone. It's also irrelevant if the picture is the size of a keychain or banner-sized. CanvasPop can turn any size, resolution, or format into a piece of beautiful canvas art.
The Process at CanvasPop:
Once you approve the image, it is sent off to be printed. The printers and ink used are archival-grade, offering the highest quality application and texture in the end. The canvas that the image will be transferred to is made of premium 255gsm vibrant luster fine art paper and the wooden frame is handmade. The insert is made of low-glare plexiglass that is crystal clear. These premium materials show just how dedicated CanvasPop is to deliver a final product that you will cherish for years to come because it will stay intact for a lifetime.
Related Post: CanvasPop Review
Nothing about the process, the materials, or their professional designer skills is average or contemporary. CanvasPop is novel in that they have managed to capitalize on every aspect of the process to ensure that the canvas art they produce is distinguished and their customers are fascinated. And the fact that their service is very affordable makes them one of the best canvas printing services providers.
👉 Get 45% OFF with the Coupon Code: PHOTOWORKOUT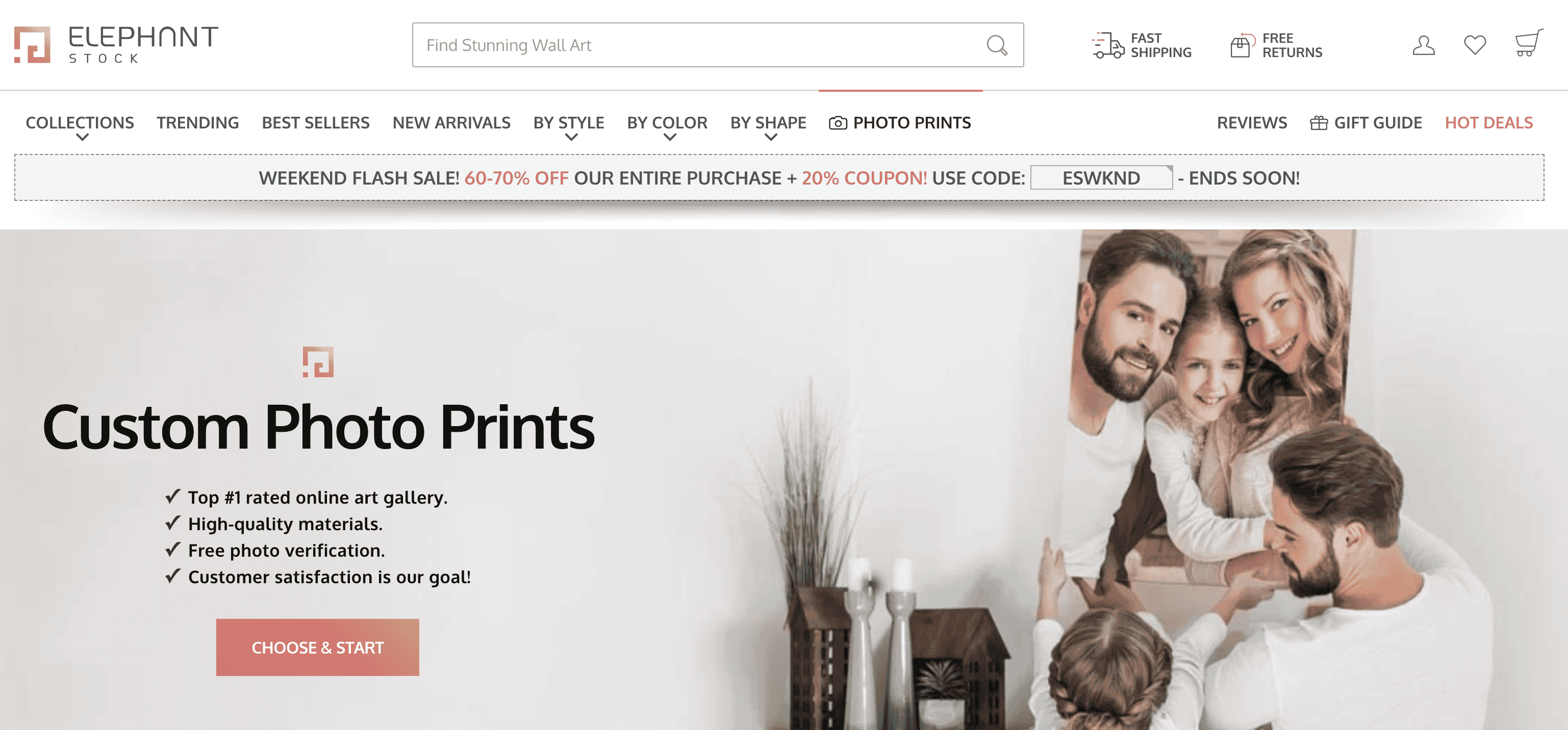 Though their name alludes to the site's massive stock image archive, ElephantStock does an excellent job when it comes to creating one of a kind canvases. With a large business sector clientele, ranging from hotel rooms to office spaces, they always provide consistent, professional-looking results.
Despite their corporate appeal, the real people behind the scenes are more than willing to help individual customers through every step of their orders, ensuring an end product they can feel good about. In our previous experience, a representative actually went out of her way to reach out and lend a hand with a potentially problematic file.
ElephantStock utilizes high-res Giclee printing processes on poly-cotton blend canvas material. Photographs are then stretched across carefully crafted North American pine frames. UV resistant, waterproof, and scratch-proof laminates work together to further protect images from harm. In short, when you purchase an ElephantStock product, you can count on it to look beautiful for years to come.
Related Post: ElephantStock Review
Both color and black and white products feature bold, rich tones that don't overpower. The craftsmanship is consistently neat and sturdy. Sizes range from 9×6″ to 48×32″, meaning that it's possible to get the perfect piece for just about any space in your house.
Best of all, for the quality offered, ElephantStock goes the extra mile to keep fees down. Frequent sales mark down canvas prices significantly. But don't let the price tag fool you – if your original piece was priced at $500, you'll be sure to receive a piece that's worth just that.
All of these aspects combine to make ElephantStock our runner up among the best on-demand photo canvas vendors. It may not have the name recognition of other printer's among the photographic community, but absolutely worthy of consideration for professionals and amateurs alike.
👉 We negotiated a special ElephantStock Coupon Code for our readers. Use "PhotoWorkout20" at checkout for 20% off.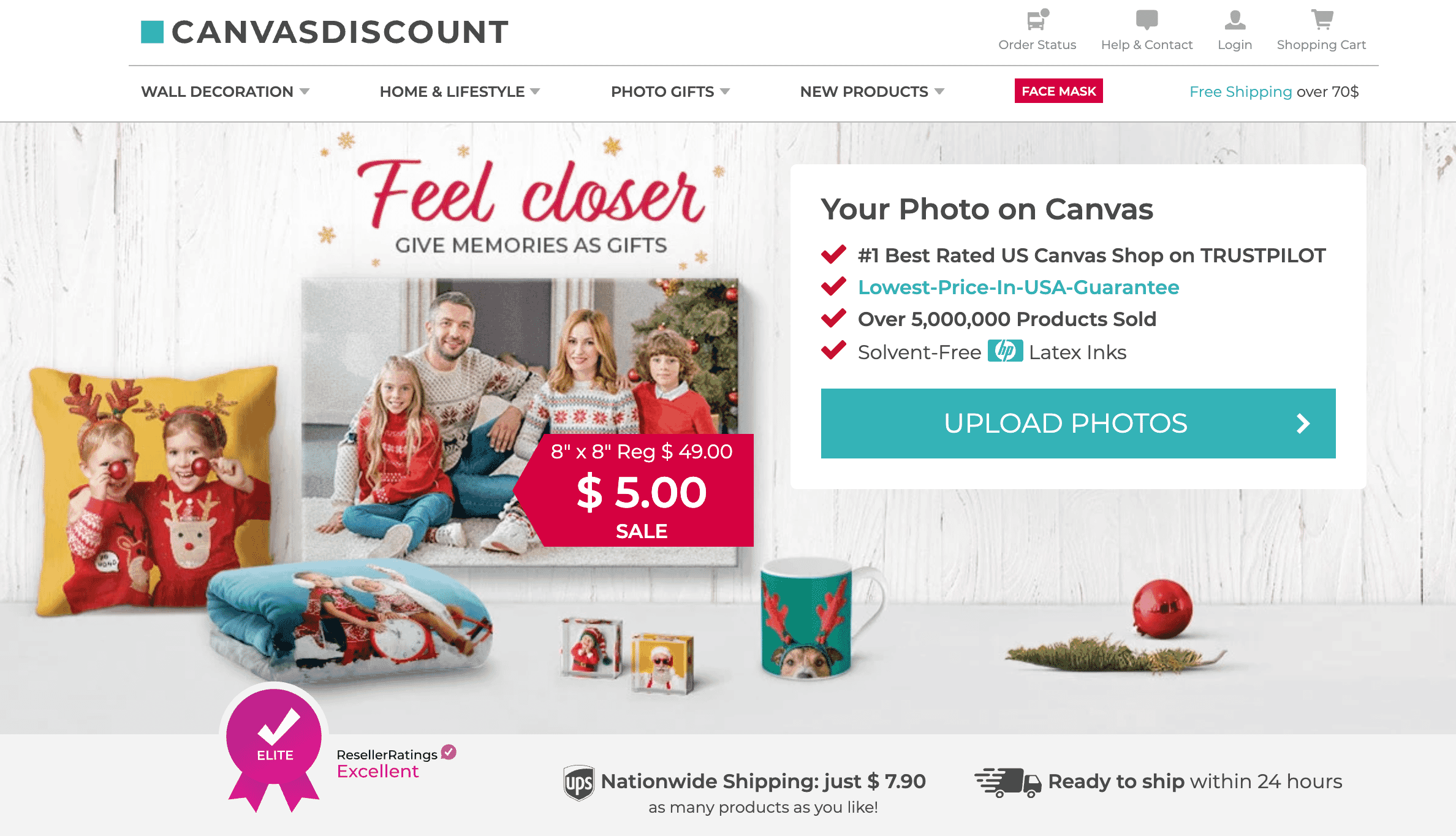 "Discount" doesn't need to mean "downgrade", as CanvasDiscount has proved through our past experiences. The service boasts the "lowest prices on the web" and offers a 110% discount guarantee to all of its customers. But, with canvases dipping as low as $5 per piece, you'll be hard-pressed to find a better bargain anywhere.
Despite their impossibly low prices, CanvasDiscount doesn't "cheap out". Prints are consistently superb, and the canvas itself has a strong texture that further strengthens the overall presentation of each piece. The site generates sizing options based on the size of the JPEG file uploaded, reducing the chances of an unpleasant pixelated end product.
It's clear in the presentation that the people behind CanvasDiscount care deeply about the quality of their products. Each canvas is stretched out by hand and prepared and delivered neatly. And, best of all, the inks are produced without chemical solvents, making it a safe choice for those with children or sensitive allergies.
Related Post: Canvas Discount Review
CanvasDiscount doesn't have much of an audience to speak of yet. However, it has plenty to offer potential new customers. If you're looking for something more than the traditional canvas, the service also offers less traditional acrylic, metal, and PVC forex prints. Also available are blankets, pillows, mugs, and even jigsaw puzzles! What's more, North American customers can count on quick production times and expedited deliveries within days of placing an order.
All in all, the CanvasDiscount service offers the perfect package of affordability and quality in one convenient place. It may not be the most popular option around, and the thought of buying "discount" might turn some naysayers off. But it has all the ingredients to quickly become a favorite for those working with a tight budget. What more could a photo lover, looking to immortalize their best photos, want?
Order Prints on CanvasDiscount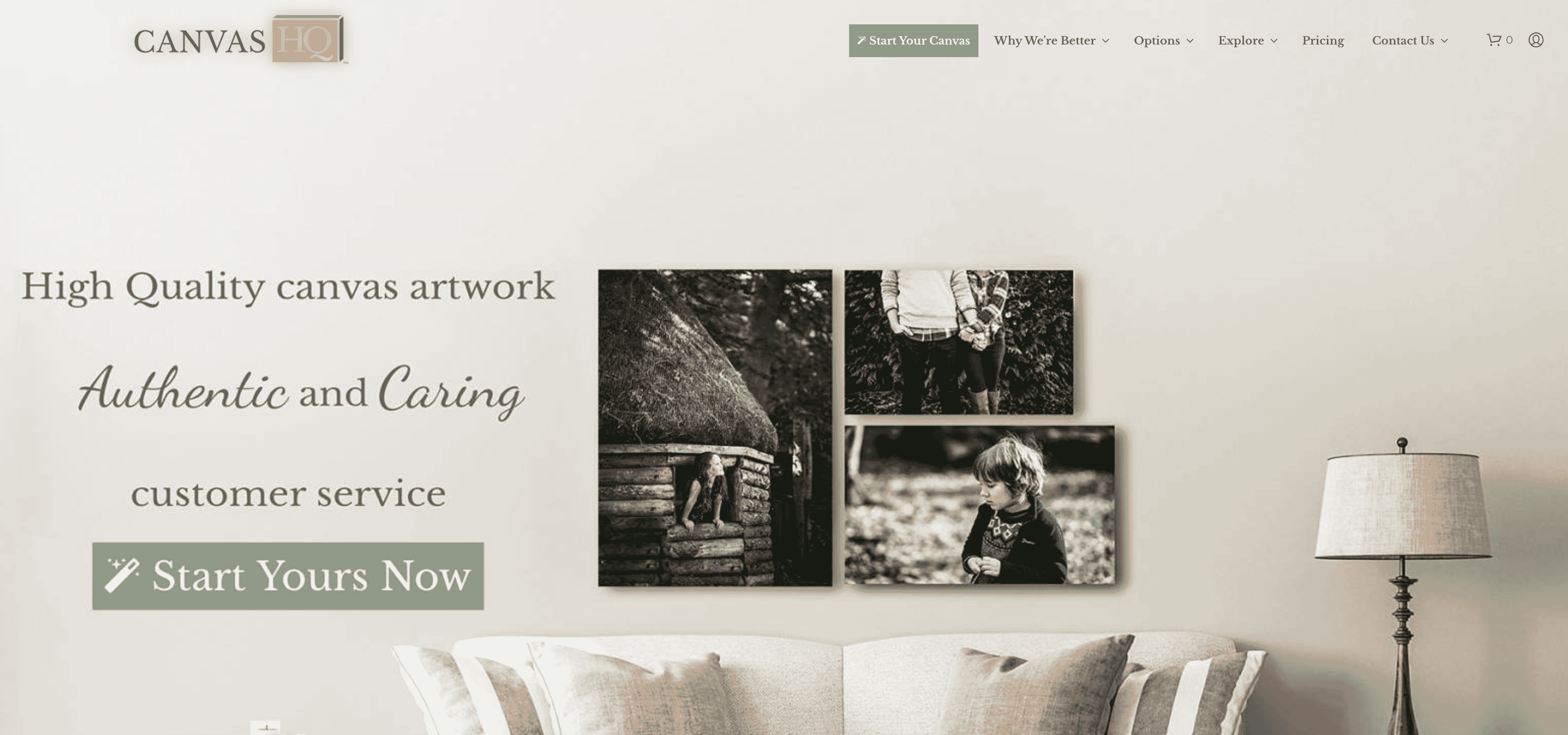 Canvas HQ is a staff favorite at PhotoWorkout for good reason. Although it's pricier than some of its competitors, the quality and care that goes into every one of their prints makes it worth every cent.
A family-owned and operated business, the folks working behind the scenes take special care to evaluate each image that's sent their way. Along with their proof, they'll often provide insight on how to optimize your order for the best print display possible. Their thoughtful, friendly customer service blows other canvas printers out of the water.
The actual canvas pieces are rendered beautifully and built to last. Every photograph is made using commercial grade inks designed to resist moisture and reduce fading. Their archival-certified canvas is sourced from the US, and kiln-dried pine frames are built to resist warping over time. In short, they go the extra mile whenever possible to ensure an image you'll love.
Related Post: Canvas HQ Review
As if that weren't enough, our experience ordering through Canvas HQ was intuitive and efficient. The website is easy to navigate, and proofs are sent within a day or two of placing an order. Once you give them the green light, your completed canvas could show up at your door in as little as a week. To top it all off, it will come with everything necessary for immediate hanging.
If you've got the money to splurge, Canvas HQ doesn't just guarantee a solid photo canvas. Their service also eliminates the headache of ordering, making the process as painless as possible.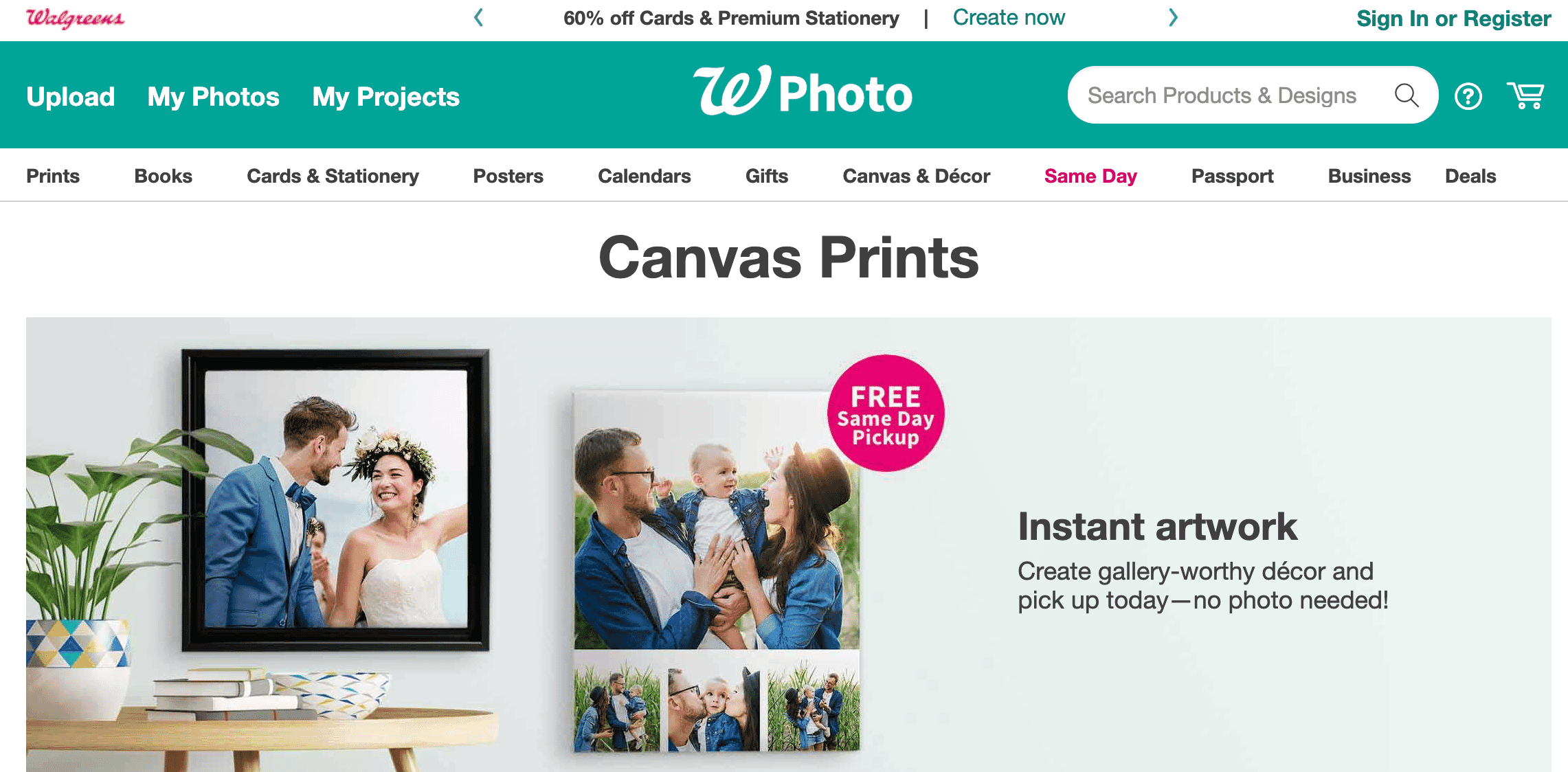 It's easy to write off Walgreens without a second thought. However, in a pinch, this neighborhood drug store does a surprisingly effective job of bringing photos to life. While their canvas prints aren't without their flaws, they surpass the expectations of many seasoned pros.
The biggest advantage when it comes to working with Walgreens is its impossibly fast turnaround time. With thousands of locations scattered across the US, your local shop can have your prints ready for pick up within 24 hours. Competitors processing orders from a single central print hub or string of small studios, no matter how efficient, simply can't match that.
However, customers thankfully don't have to give up too much in order to get their prints quickly. Walgreens actually does a pretty decent job of maintaining dynamic range and making colors pop. In addition, canvases come installed with hanging hardware so that customers can start enjoying their art right away.
Related Post: Walgreens Review
Of course, there are a few limitations that come with grabbing a canvas down the street rather than from an acclaimed pro printer. For instance, custom-sizes are a no-go. More importantly, each location has a different staff and its own set of resources. One Walgreens may be better at working with canvas than its nearest neighbor, or vice versa.
Sure, it may not be on par with what you might find in an acclaimed art gallery. But these ultra-accessible canvases aren't all bad. Perfect for gifts or decor, they offer a fast, low-effort solution that no other service can.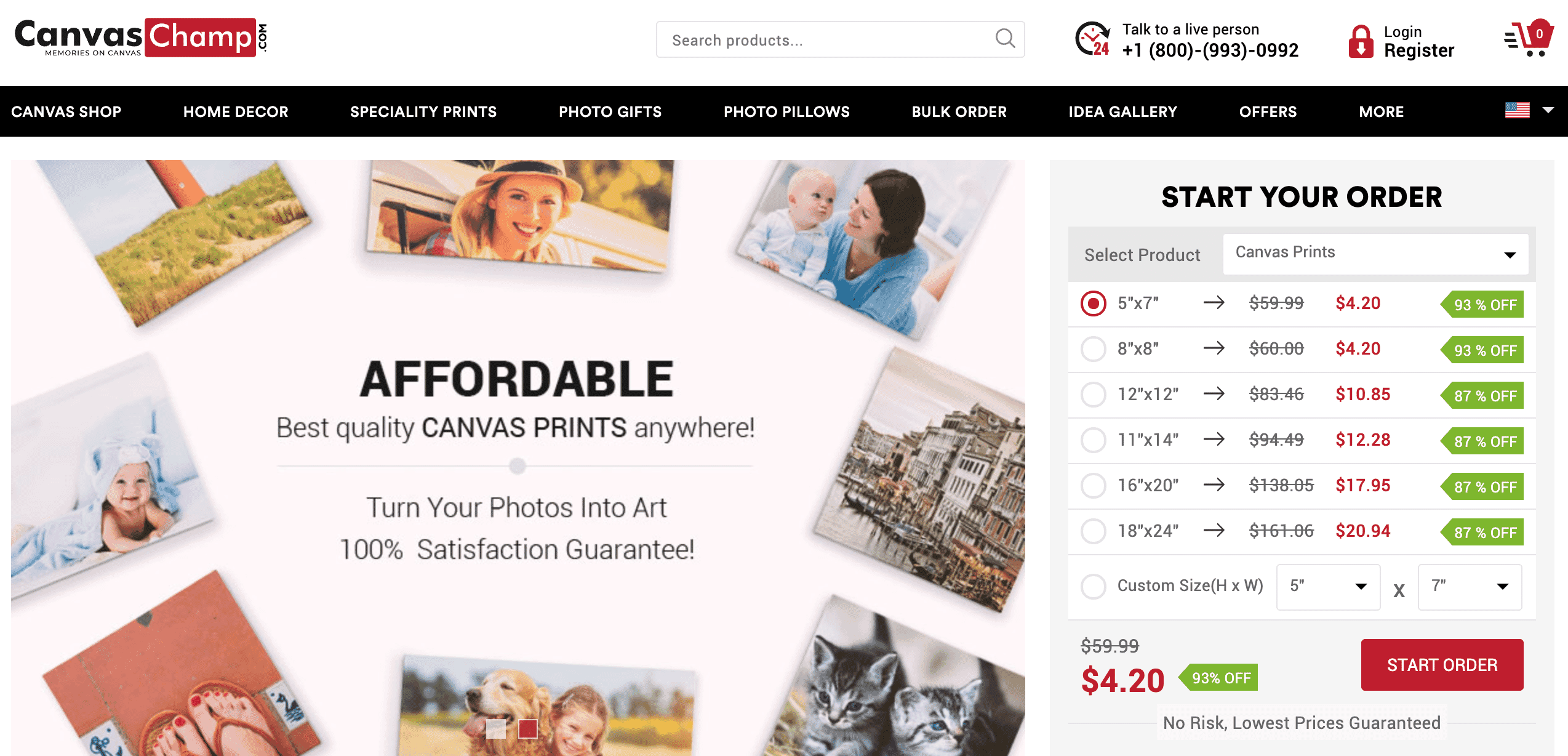 With CanvasChamp, your images could potentially be sent outside of the USA because the company focuses on lowering their overhead so that they can provide wholesale prices. Most people utilize this service when they are looking to print a high volume of canvas art rather than one-off custom pieces – although CanvasChamp will print those as well.
Related Post: CanvasChamp Review
Because they require high-resolution images, aside from vector files that maintain their own resolution, you may not be able to print thumbnail-sized images or GIF files. What makes this service distinctive among other printing services is that they offer so many other printing options. Images can be printed on metal, rolled canvases, thin and thick wraps, as well as photo boards made of dense foam.
With CanvasChamp, the traditional hanging canvas material is a manufactured cotton blend, which is not as durable and long-lasting as the material used by CanvasPop and other canvas printing companies. But whenever you're looking for wholesale printing services to handle projects that do not require a lot of digital enhancement, or prints on unconventional materials like metal, CanvasChamp is a great option.


Snapfish is a pretty popular name among amateur and professional photographers alike. So, it should come as no surprise that they produce one of the finest photo canvases out there. Being an established entity, they exceed at providing a smooth, no-hassle experience for customers.
Featuring a clean and concise website, ordering is an ultra-intuitive process. Customers can upload an image directly off of social media accounts onto a Snapfish template within seconds. The site also offers a wide selection of embellishments and personalization options that are easy to browse and navigate through. Customers can feel assured that whatever it is they need, they'll be able to find in Snapfish's extensive catalog.
Though it's one of the pricier options that we've reviewed, PhotoWorkout has found that its products prove to be worth every penny. Its canvas is no exception to the rule. Colors remain true to life without appearing overly saturated or harsh. Fine image details are crisp and clear, avoiding the "bleeding" or edge softening that often occurs when printing images on fabric. These aspects play a huge role in helping the Snapfish products grab attention and stand out from the stiff competition.
Related Post: Snapfish Review
Snapfish even goes the extra mile by using eco-friendly recycled materials whenever possible. For instance, their frames are made from 100% recycled oak. This provides an elegant look that elevates the canvas as a whole, but its purpose isn't just to sit and look pretty. Adding a frame onto an order provides an extra bit of support while making hanging infinitely easier to do. Aside from being aesthetically pleasing and convenient, it may also extend the life of a canvas on display.
Sometimes, the biggest names are the best to stick by. Snapfish is one example of a service that lives up to a large, long-standing reputation with ease.


Let's be honest. It's difficult not to compare Shutterfly to Snapfish. As two of the oldest and most renowned names in the on-demand print industry, it's hard to avoid drawing parallels between the pair. But, when discussing photo canvases, Shutterfly can take pride in sharing many of the same strong suits as its rival.
Like Snapfish, Shutterfly's services couldn't be easier to use.
Information is easy to find and orders are easy to materialize thanks to a sleek, understandable interface. The process of forwarding an order, in fact, only took a few minutes to accomplish.
Shutterfly even offers a 3-D preview prior to ordering so that customers can feel sure about what they'll be receiving before finalizing any orders.
Superficially, Shutterfly may seem like a middle of the road option for many photographers. However, additional shipping prices can put their products over the edge and into a higher price bracket. While this may come as a disappointment, the extra cost goes straight into the product and makes purchases all the more worthwhile. For instance, all Shutterfly linens are specifically treated to retain archival properties. While that may translate into a bigger payment upfront, the quality measures mean that your investment will last long after you've paid the bill.
Related Post: Best Collage Printing Services (6 Top Picks Compared)
One asset that Shutterfly can proudly boast over its arch-nemesis? With plenty of resources to back it up, the printers do an excellent job of working with files that competitors might struggle with.
In our original Shutterfly test print, we chose to submit an image sourced from an older iPhone to see if the company could conquer the challenge. They tackled the potentially problematic file with ease, delivering an end product free of distortion or pixelation that just about anyone would be proud to show off in their home.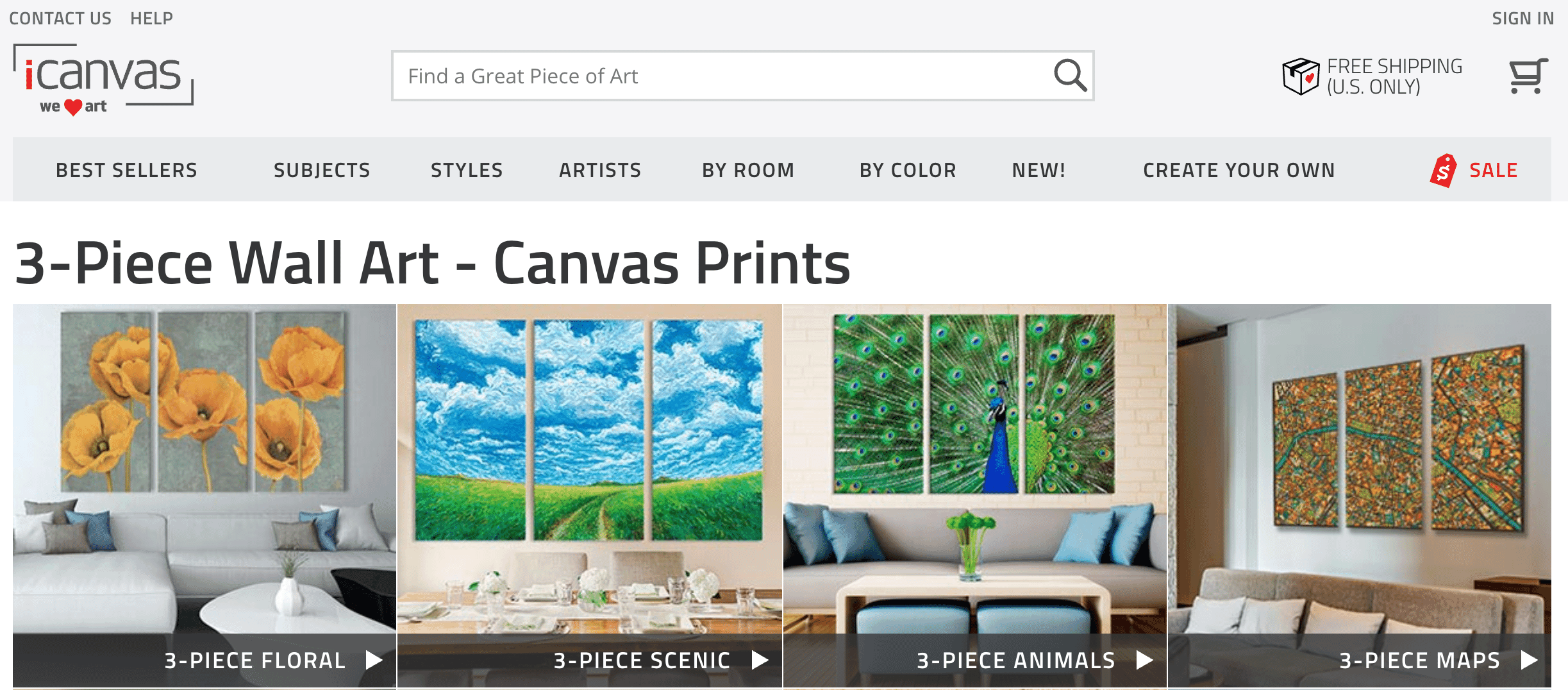 iCanvas is an easy-to-use service. You simply upload your images into your account, wait 24 hours to get your edited proofs, then after you approve them, you receive your printed canvas in 15 business days or less. This is straightforward enough for just about anyone to use, but there are some restrictions that might get in the way of getting the perfect canvas for your home or office.
First, your image must be of a certain size in order for them to print it for you. Ideally, they prefer images that are at least half the size of the canvas size you are ordering. That means that if you're planning on ordering one of their larger sized canvases, such as the 12′ by 12′, then you would need an image that is at least 6′ by 6′.
Related Post: iCanvas Review
Also, if you are expecting high-res printing, they require that your image is a minimum of 500KB. This provides a high enough resolution for them to work with – anything lower would jeopardize the clarity and sharpness of the final product.
They might not offer the best canvas printing services compared to CanvasPop, especially if you are duplicating an image with a low resolution or one that is small in size. But with a high-res, standard-sized image, you can get a pretty decent canvas printed for a reasonable price. And there are tons of options, from choosing different subjects or styles to whether you want your image printed on a plain canvas, split canvas, or framed canvas.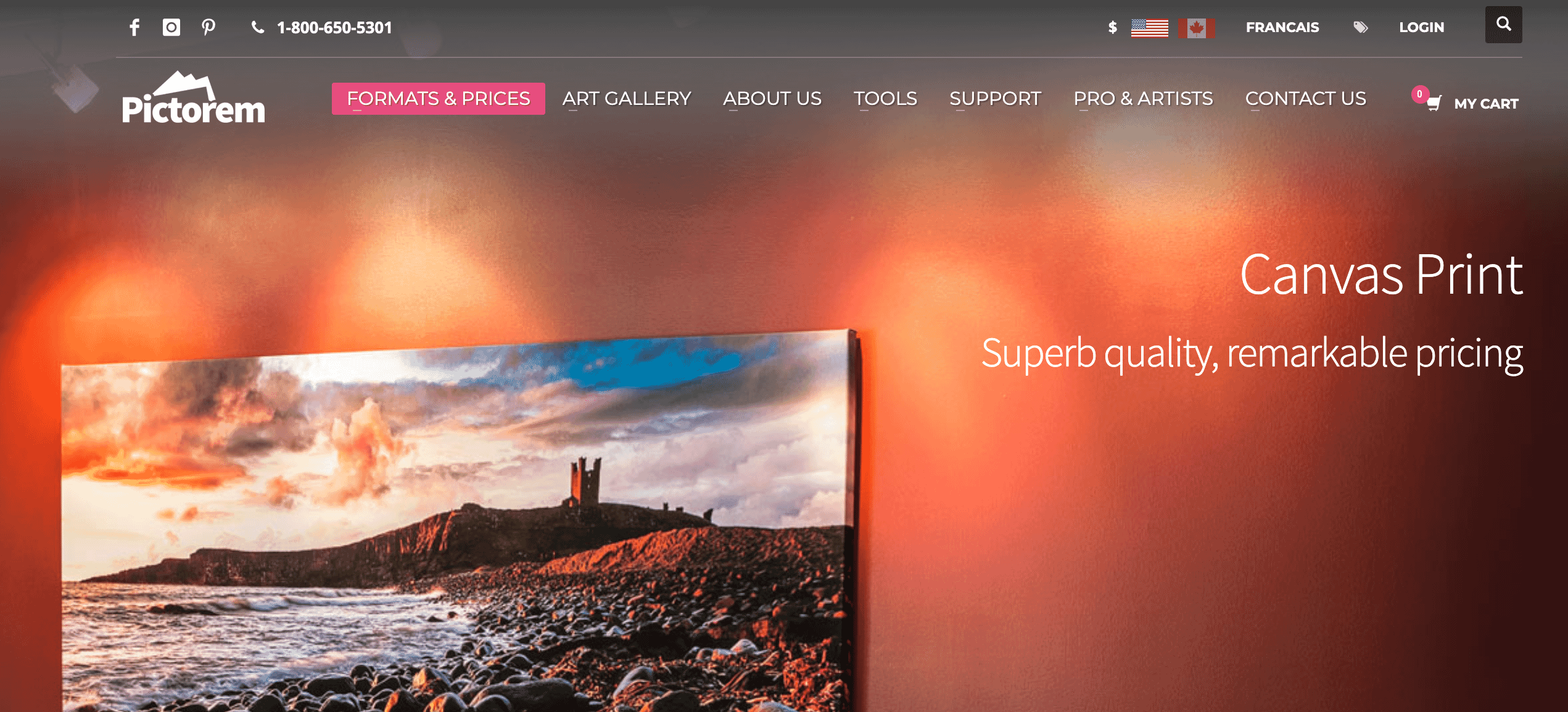 Pictorem is one of the best canvas printing services, as they specialize in wall art. They have the ability to produce gigantic, museum-quality canvas printings. What differentiates Pictorem from the rest is their collection of raw materials. They offer printings on canvas, acrylic, metal and even different picture frame materials, and they produce unique panoramic-sized prints.
With Pictorem, you are truly ordering a unique work of art that is meant to be a prominent display over a large wall space. Perhaps you want to cover an entire wall or all sides of a room. In either case, the canvas art is printed on 410g/m2 premium matte canvas and the frame is constructed using 1.5-inch thick wood.
Related Post: Best Photo Book Printing Services Compared
They use Giclee printing for a natural but high-resolution appearance, and the pigment ink is the same ink used to create gallery and museum artwork in order to increase the longevity of the piece.
In fact, Pictorem claims that the shades of their pieces can remain vibrant, bold and exact, without fading, for as long as 200 years.
Using the latest technology and premium materials, Pictorem is a great printing service when you want a panoramic canvas print that is of exquisite high-quality and resolution. This can be a bit much for someone who is looking to transfer a few family photographs onto canvas or wanting to build a canvas art collage, which is why Pictorem is regarded as a specialty printing service.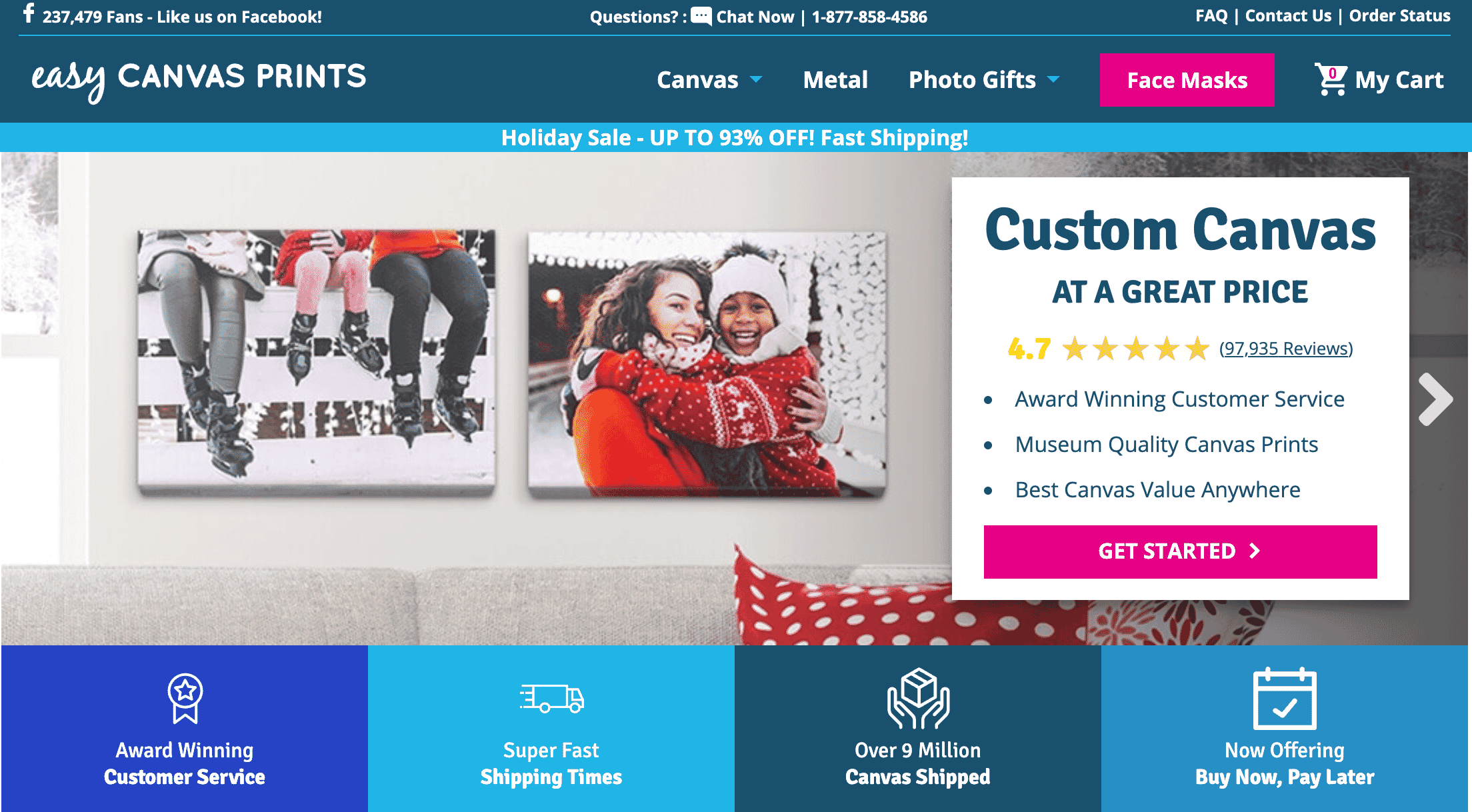 While Easy Canvas Prints is not the best canvas printing service provider, they are not the worst either (you can read our detailed EasyCanvasPrints Review).
They do not have the capabilities of improving image clarity with lower resolutions, but they do offer other enhancement and edition services, such as creating oil paint effects, removing paper wrinkles or image imperfections, and even completely removing objects from the photograph.
That means that you most likely won't be able to print any images found online unless they are large in size. But, if you have a high-quality image that you want to look like an oil painting – without a certain building or person in the background – Easy Canvas Prints can get that done for you.
Related Post: Best Professional Photo Printing Services
Also, while the canvases are not handmade, they are made of polyester and have a semi-gloss surface when finished. You have to decide which combinations of attributes are most important to you, but overall, Easy Canvas Prints is a good fit for those who do not need an extensive amount of enhancements and would like a glossier finish on the canvas.
For the most part, the best way to help ensure that you will get the final product you are expecting is to use high-resolution images. Also, by going with a company that uses handmade or high-quality materials, you will be confident in knowing that your investment has longevity and can be owned as a collectible or become a family heirloom.
It is for that reason that having your most precious photos printed on canvases serves as more than home decor. They preserve moments in time so that they can be experienced and celebrated for years, decades, and generations to come.
Order Prints on EasyCanvasPrints
We hope you have found this list of best canvas printing services helpful. If you have any suggestions, please feel free to leave a comment below.
Canvas Prints: FAQ
---
Note: this review post was first published in January 2018, but expanded and updated on a regular basis. If you feel we missed a good canvas printer, please leave a comment below.