Despite the wonders of digital cameras and computers, many of us still own printed photos (and even entire photo albums full of physical prints!). These are treasured memories, but photos will deteriorate, fade, and degrade over time. Luckily, modern technology has also provided us with great photo scanning apps, designed to save your precious photos forevermore.
Photo scanning apps let you scan your old photo prints and convert them into digital files, and this can be done using your smartphone or tablet. As a result, you can save entire albums of photos with minimum effort and time.
In this article, we have selected the 10 best photo scanning apps (for both Android and iOS devices).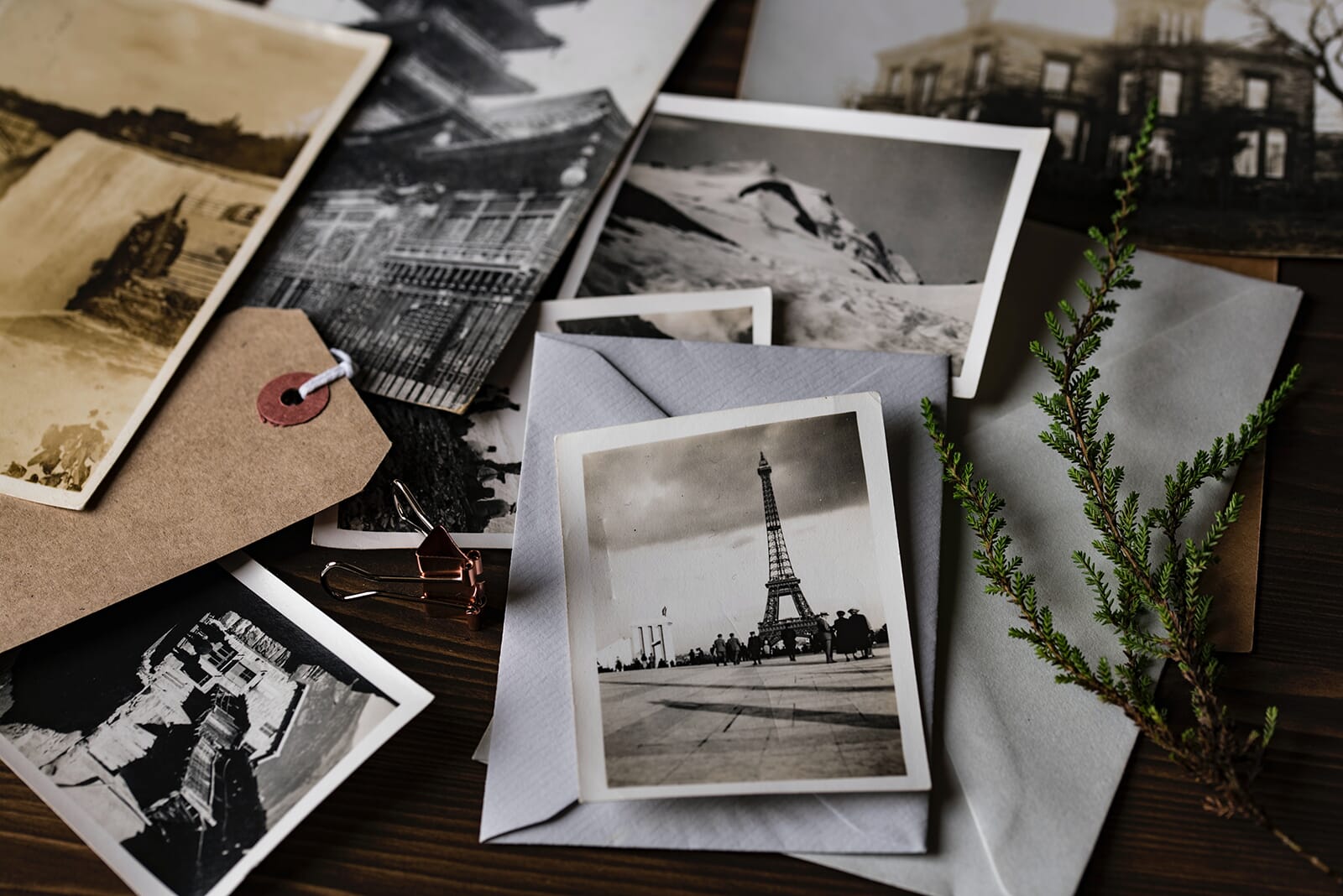 Best Photo Scanning Apps for iOS:
When you buy through links on our site, we may earn a commission at no cost to you. We evaluate products independently. Commissions do not affect our evaluations.
1. Photomyne
Best for Android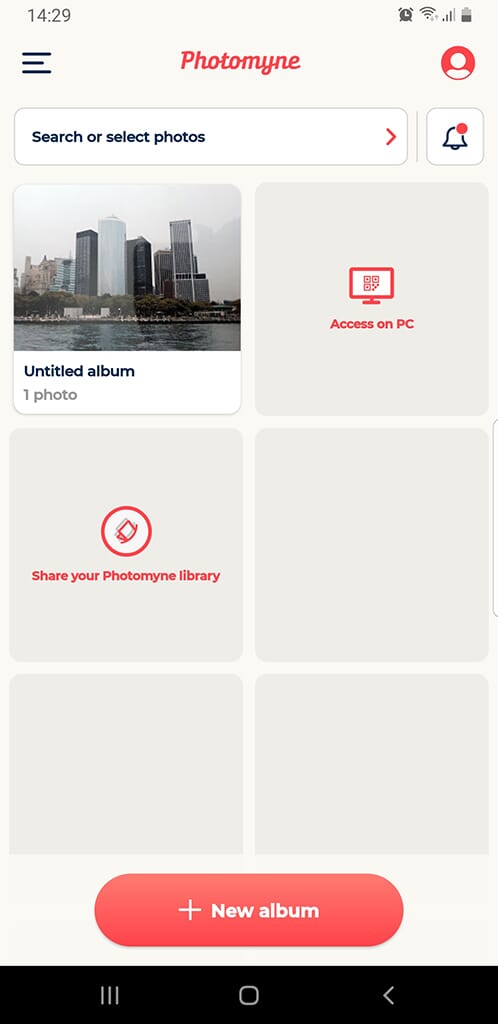 Pros
Simple scanning process
Has an automatic crop and straighten feature
Extensive folder tools
Cons
Advertising can be irritating
Our first pick is Photomyne, a free-to-use app (though there is also a premium version that unlocks additional features). Both iOS and Android users can install Photomyne.
The app functionality is outstanding; the scanning is easy to do, and once the process is complete, Photomyne will automatically crop and straighten the photo. It also improves the basic quality and brightness of the photo, though it will not remove reflections or glare.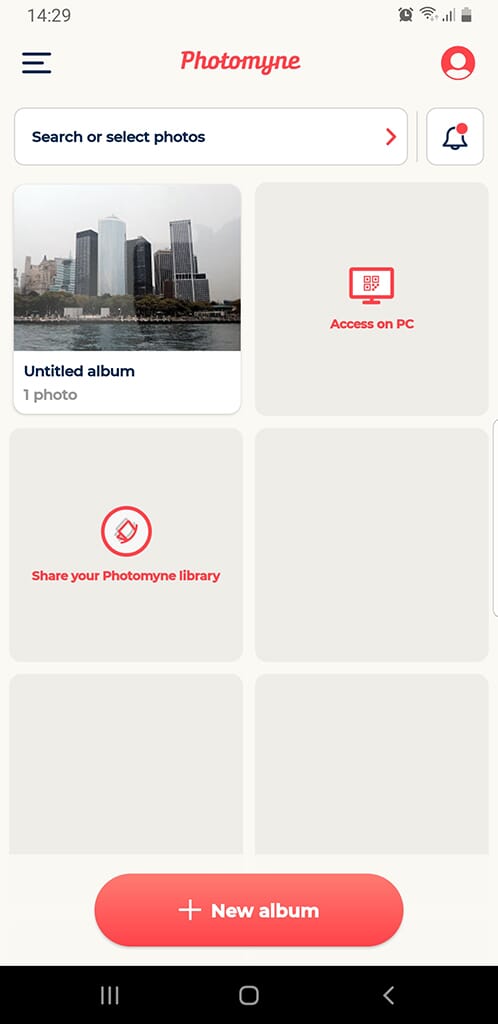 The main screen is also intuitive. You can easily create entire photo albums and add details to your scanned photos, such as a title and description. Photomyne can also be used to scan film negatives and photo slides. The only downside is the intrusiveness of the advertising and notifications, which can get annoying on the main screen after a while.
2. Microsoft Lens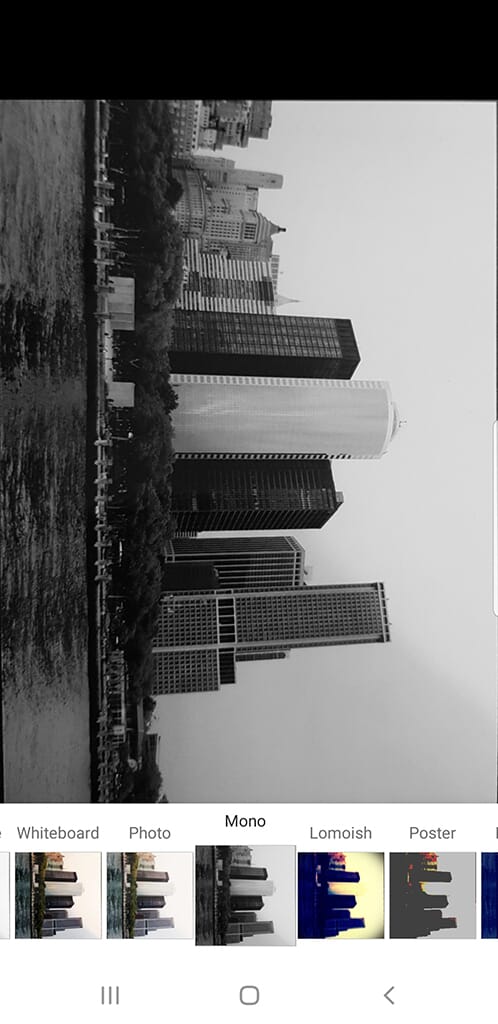 Pros
Easy-to-use interface
Can export to platforms like OneDrive
Great editing features
Cons
Not the best file management
Next, we have Microsoft Lens. This is part of the Microsoft Office Suite, but it is free to use and is a brilliant app for Android or iOS users.
On opening Microsoft Lens, you are immediately presented with the scan feature, and you can also see your recently made scans. Like other scanning apps, it shows an outline of the image boundaries that it will crop before scanning. The scanner is accurate and will automatically straighten photos so that they have the correct orientation.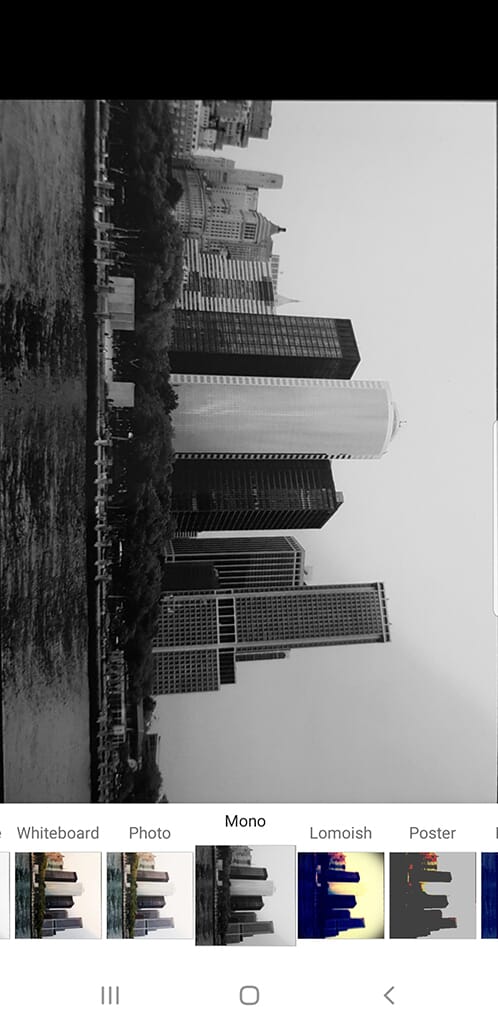 The app will not remove any reflections, but the scan quality is acceptable. One of the best features of this photo scanning app, however, is the editing tools.
Compared to some other of the best photo scanning apps, Microsoft Lens has far more editing power. For example, you can add a range of artistic filters to your photos. You can also add ink and text, plus you can rotate the image. We also like that you can easily share photos to other Microsoft programs via your Microsoft account including OneDrive and OneNote.
3. Genius Scan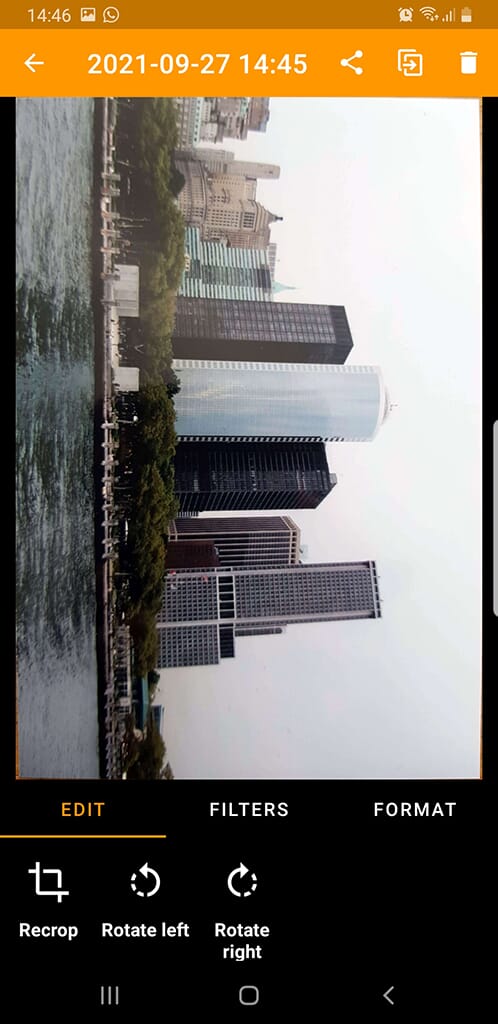 Pros
Edge detection for precise scans
Simple scanning process
Can rename photos
Cons
Only has basic editing features
Genius Scan is primarily used to scan documents like receipts and paperwork, but it also makes a fantastic photo scanner. You can download a free version of this app on iOS and Android, and you can also upgrade to a pro version for a one-off, reasonable cost of $4.39.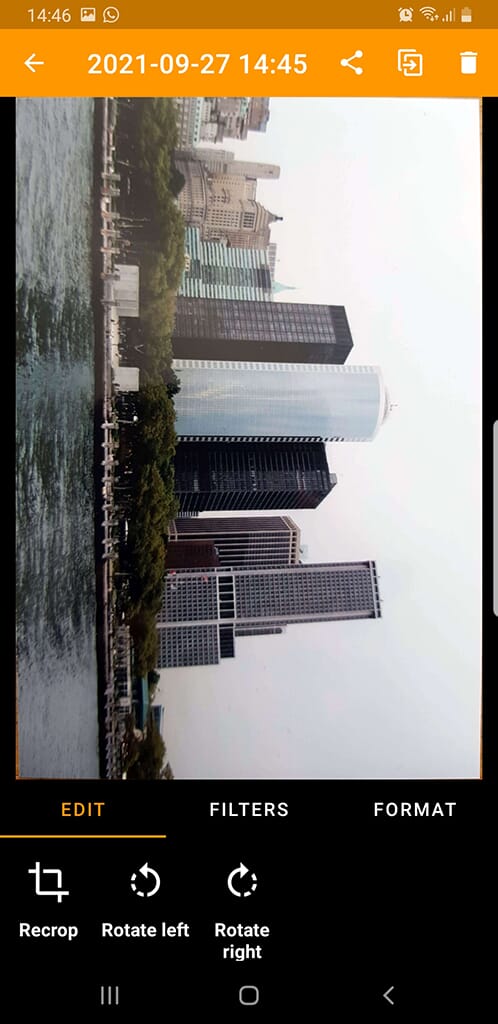 Under the right lighting conditions, the scanning function will automatically detect the borders of the photo and scan accordingly. Once it has made a scan, you can edit basic parameters, including the crop and orientation of the photo. Genius Scan also has several presets to choose from, including a specific photo preset which (marginally) improves the image brightness.
Although this app doesn't have any reflection removal, the scans are high quality, and you can rename them and even export them via email.
4. Google PhotoScan
Pros
Automatically removes glare
Simple and quick process
Free to use
Cons
Doesn't have many editing features
Of course, Google has a photo scanning app; they have an app or program for virtually everything! Joking aside, Google PhotoScan is a quality app that offers excellent functionality. It is also one of the best photo scanning apps that removes glare and reflections from your photos.
This app is free and is available for iOS and Android users. Upon opening the app, you're immediately presented with the scanning function. Then, during the process, you are given instructions to scan the photo from four different points (this is to remove any reflections and glare).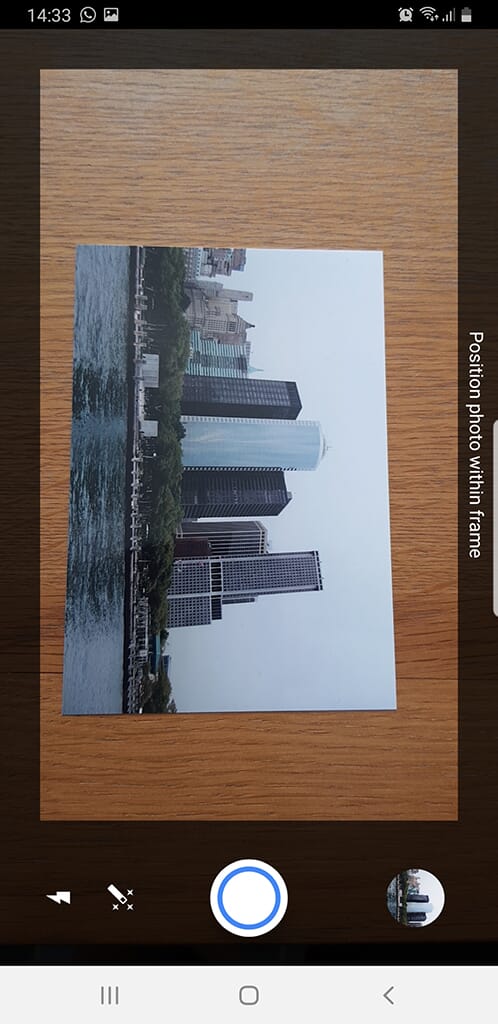 Once you've completed the scan, simply click on the circular photo icon in the right-hand corner, which shows all your scanned photos. From here, you can perform simple edits including adjusting the corners and rotating the image. There is also a sharing function, so you can easily share scanned images via social media.
5. Adobe Scan
Best for iOS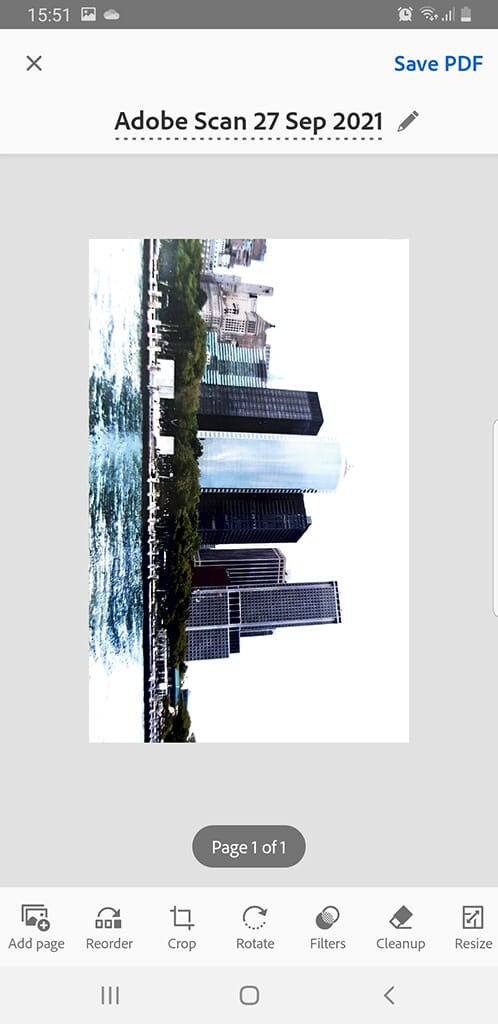 Pros
Has a great set of filters
Cleanup function helps improve image quality
Simple scanning process
Cons
Some scans may initially have poor lighting
Adobe Scan is primarily used for PDFs, but it's a versatile app and more than capable of handling basic scanning. The app is also free to use for iOS and Android, but you must have either an Apple ID, a Google ID, or an Adobe ID to use it.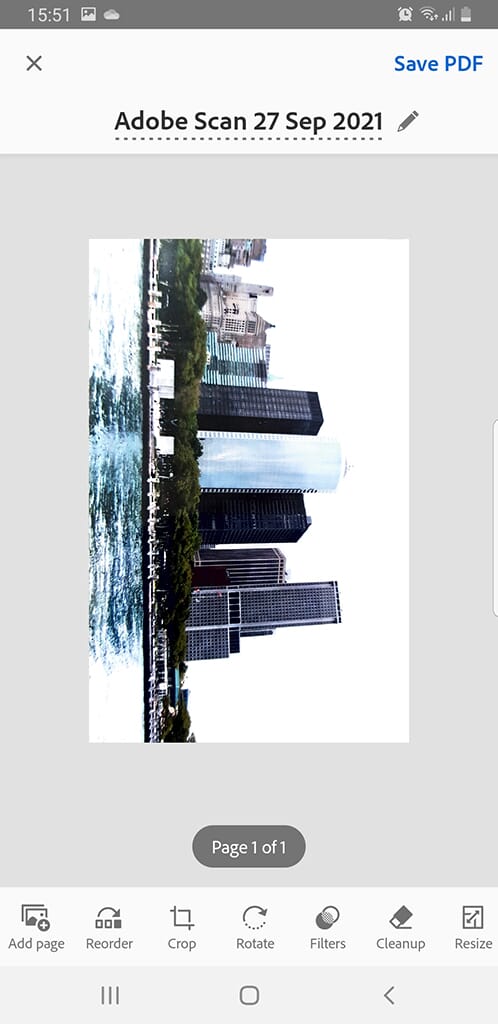 Once you have signed in, you can access the various functions. The scan feature has a list of different options including document, ID card, form, and business card (Document is the format that should be used to scan photos).
The scanning quality is okay, though I recommend scanning under even lighting conditions, as some of the photos we tested scanned with harsh bright lights. If this does happen, you can use the auto color filter, which will automatically adjust the photo and reduce any problematic lighting conditions.
Adobe Scan also has a range of other tools including Crop, Rotate, and Cleanup. The Cleanup tool allows you to manually draw over any problem areas, which can be useful for removing any blemishes or artifacts from the original scan.
6. Family Search Memories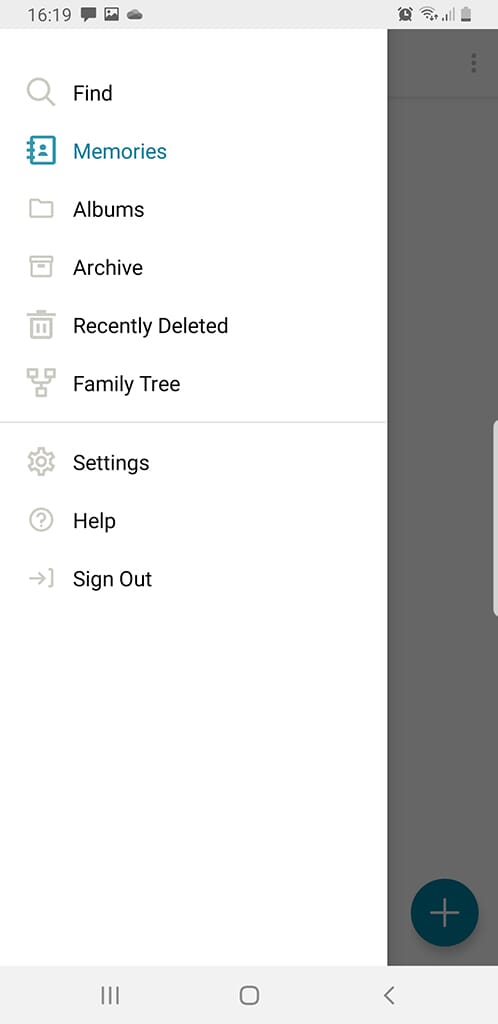 FamilySearch Memories
Great for genealogy research
Family Search Memories is an app geared toward family history but includes photo scanning features.
FamilySearch Memories is available for:
Pros
Great for building a family tree
The scan process is simple
Can easily download or share photos
Cons
Not a dedicated photo scanning app
Family Search Memories is an excellent photo scanning app for those who want to research their family history and learn about their genealogy. It includes a host of features; the photo scanning function is just a small part of what it has to offer.
Please note that to use this app, you must create a full account first – this includes entering your mobile number, email address, and date of birth.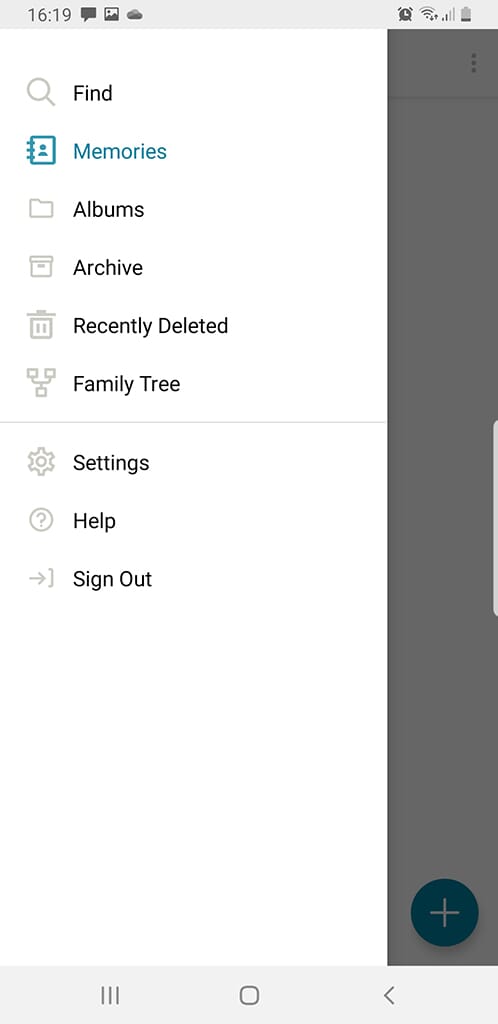 The scanning function is relatively simple – you effectively just take a photo of your photo. Once the photo is taken, you can then manually adjust the crop. There are no automated correction features, so make sure that you capture the photo in favorable lighting conditions.
From here, you can download the image, share it with other people, or associate it with a memory. (For example, you might choose to add a photo of a family member to your family tree.)
7. CamScanner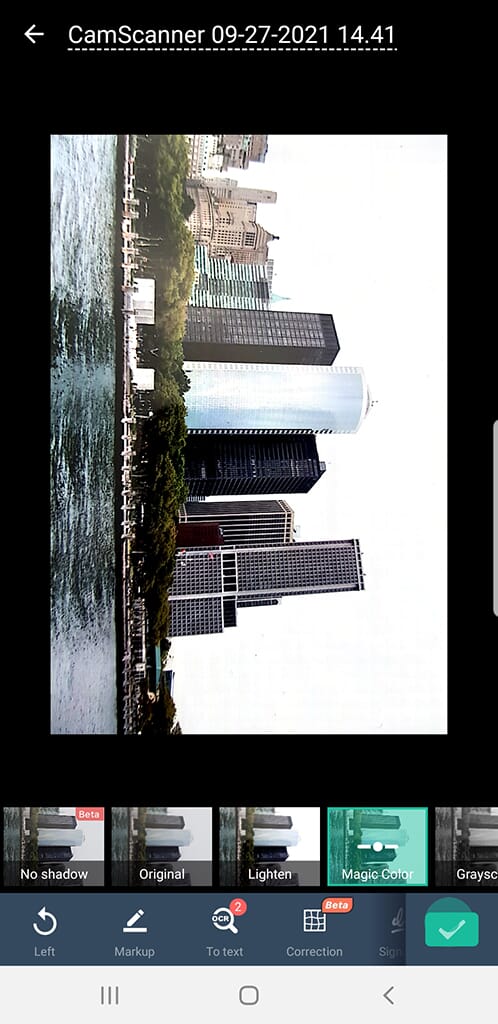 Pros
Easy to use
Can convert photos to Word
Decent file management options
Cons
Doesn't automatically remove glare
Next, we have CamScanner, which is available for both Android and iOS and can be used to scan various documents, including photos.
CamScanner offers plenty of capabilities, including scanning tools for specific types of documents. For example, you can scan images directly to word documents, and even scan photo IDs. You can also use the scanning function to scan old photos.
We like the intelligence of the scanner, as it will automatically crop your photo; it will also remove distortion and straighten the image, regardless of the angle. As far as we can see, however, it does not have a feature to remove any glare.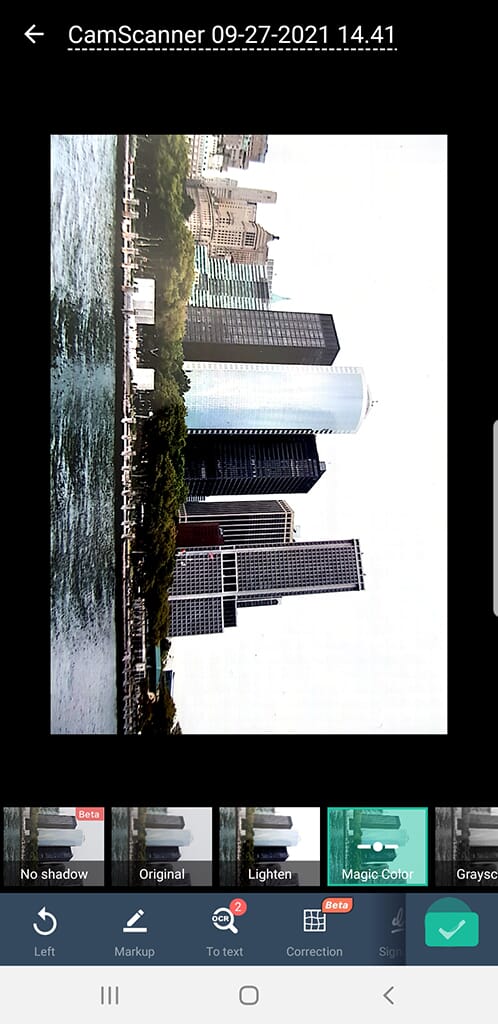 The app is easy to use and you can efficiently rename photos, create new folders for storage, and even batch-process scans.
8. Clear Scan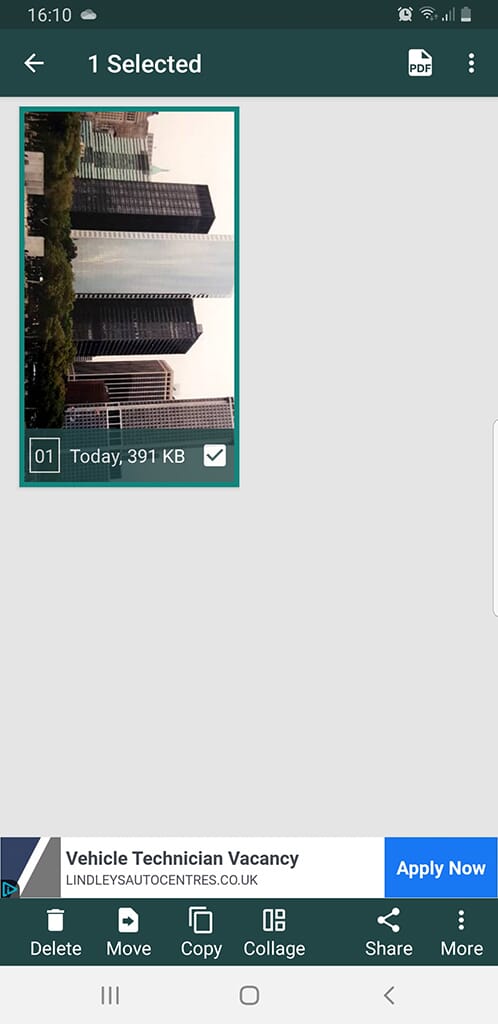 Clear Scan
Great for on-phone storage
Clear Scan is great if you simply want to scan and store photos on your smartphone.
Clear Scan is available for:
Pros
Can adjust the scan points manually
Has both a color and B&W option
Easy to use
Cons
Limited functionality
Clear Scan is a simple app for Android users, which can be used to scan various documents and has a reliable photo scanning feature.
Don't worry if the original scan looks poor quality. By default, it is set to the "Clean" setting. Simply click the "Photo" setting instead, which should retain the original look and colors of the image.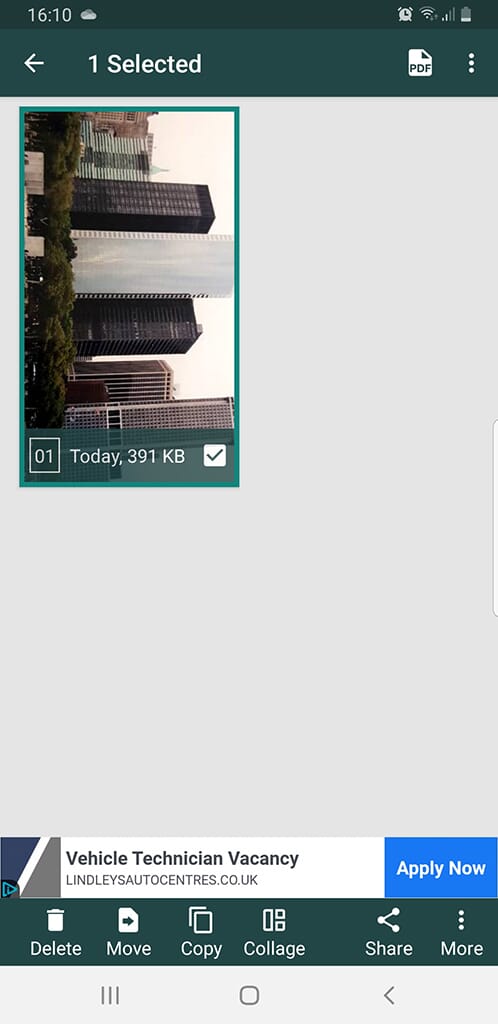 Aside from the scanning feature, this app is limited. You can only adjust the crop and rotation of the photos – there are no advanced editing tools. However, you can share your photos either to your smartphone gallery or to an external storage location.
9. Simple Scan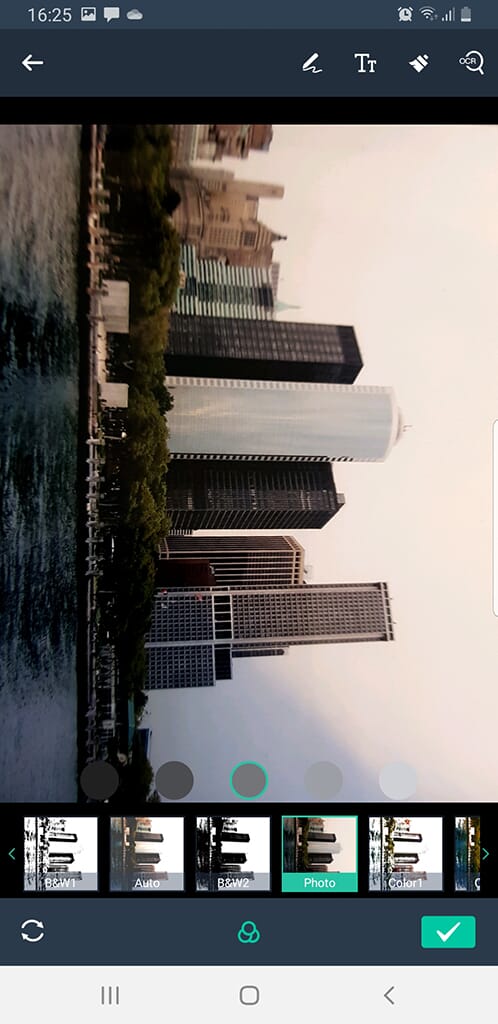 Simple Scan
Great for large scan collections
Simple Scan has the ability to add tags for search utility.
Simple Scan is available for:
Pros
Decent folder management
Can add tags to photos
Simple scan process
Cons
The quality can sometimes be inconsistent
As the name suggests, Simple Scan is easy to use and is great for those who don't have much technical experience. It has a simple scanning feature and is available for Android users from the Google Play Store, plus it's completely free.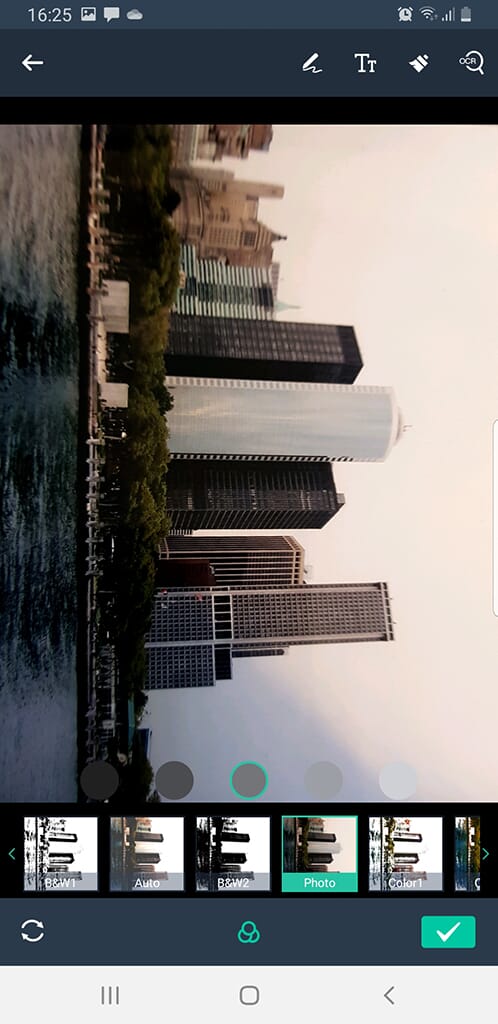 We like that the scanning tool will automatically crop your image. Also, this program has a range of presets to choose from, including black and white, color, and photo. I recommend the photo option, which gives the most realistic effect.
Related Post: Best Printers for Black and White Photos
After scanning a photo, you can rename it. The app also has a decent folder management system, and you can easily create a folder hierarchy for your different albums. Also, you can add tags to your photos so they can easily be searched. This is one of the best photo scanning apps in that regard and is great for large scan collections.
10. TurboScan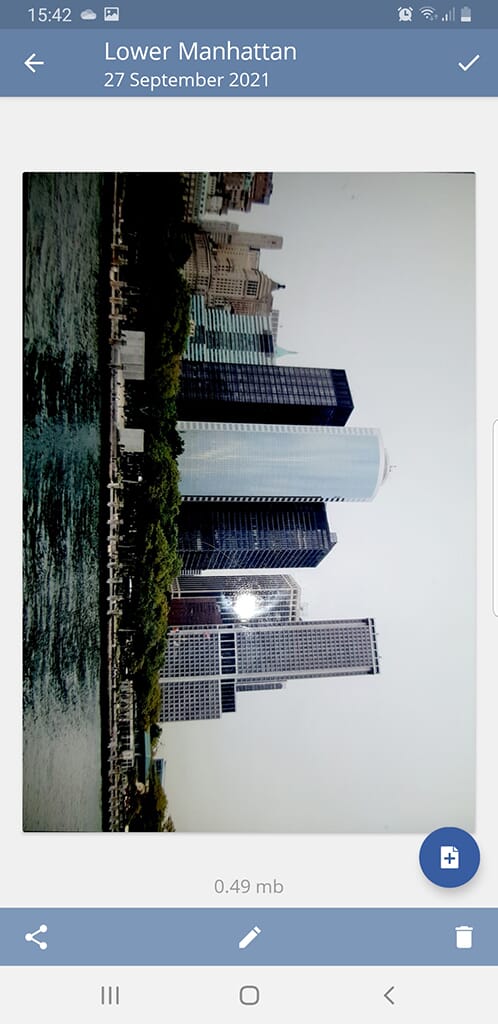 Pros
Easy-to-use scanning
Has a 3x scan feature for improved quality
Can rotate and crop the photos
Cons
Not the best in darker lighting conditions
Our last pick for the best photo scanning apps is TurboScan. This app has both free and premium versions, and the paid version is just a one-off app purchase of $3.00. Also, this app is readily available from both the Google Play Store and the Apple Store.
This scanning app can be used for various purposes, including scanning business receipts, though it also works as a photo scanner. When using the simple scanning function, make sure to work under the best possible lighting conditions. As you can see from the screenshot below, the app will not remove your camera flash, which leaves a noticeable glare on the photo.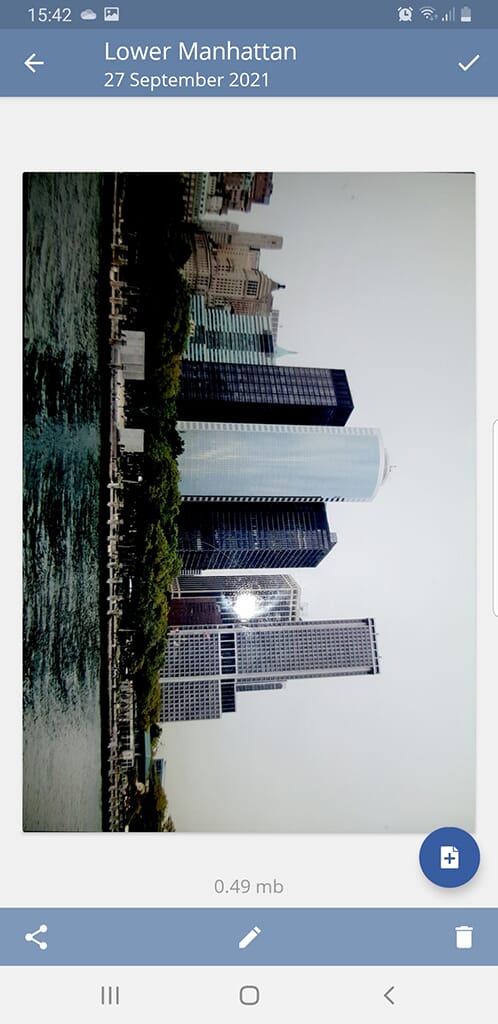 However, the scanning process is quick and easy. Once you have scanned the image, you can then edit basic details such as the document size and the file name, though the app does not offer any advanced editing features.
There is also a handy 3x feature, which takes three scans of a photo and combines them for the best end result.
Which Photo Scanning App Is Right for You?
Any of these 10 best photo scanning apps can breathe new life into your photo prints. These photo scanning apps will transform your prints into digital files that will last an eternity without fear of degradation!
If you are looking for a simple scanner to store large volumes of photos, something like Google PhotoScan is a great, easy-to-use option. Alternatively, if you perhaps want additional functionality and features, well-developed apps like Photomyne and Genius Scan offer top-notch results.