Using a light meter for shooting videos or analog photography is crucial. Unfortunately, not all devices have built-in or accurate light meters. So, what's one to do? Well, with the introduction of light meter apps for your smartphone, you're totally covered.
⚠️ If you intend to do serious & professional measurement of illuminance you need a dedicated device. But don't worry, we also wrote about the best light meters currently available online.
When you buy through links on our site, we may earn a commission at no cost to you. We evaluate products independently. Commissions do not affect our evaluations.
What Is a Light Meter & Why Do I Need One?
A light meter is a device for measuring light. This allows you to read the amount of light in your surroundings and determine your shutter stop and aperture value. These light meter tools are useful for creating properly exposed images.
Most modern DSLR's and mirrorless cameras have some sort of built-in light meter. Old school film photographers are less fortunate. Many older film cameras do not have reliable light metering systems, or in many cases, none at all.
And when shooting with video cameras, it's even rarer.
Here's an example of what an older light meter would have looked like:

Looking at how complicated and heavy that light meter works, there's no wonder the world invented light meter apps!
Do Light Meter Apps Actually Work?
Now, that we know what a light meter is, let's talk about the functionality of these light meter apps. Do they actually work? Are these tools you should download or invest in?
To put it simply, yes – light metering apps work.
In fact, these light meter apps function in a similar way to that of a camera's internal light meter. Here are a few other things you should know:
Like a camera's light meter, a phone's light meter works within the limits of your device.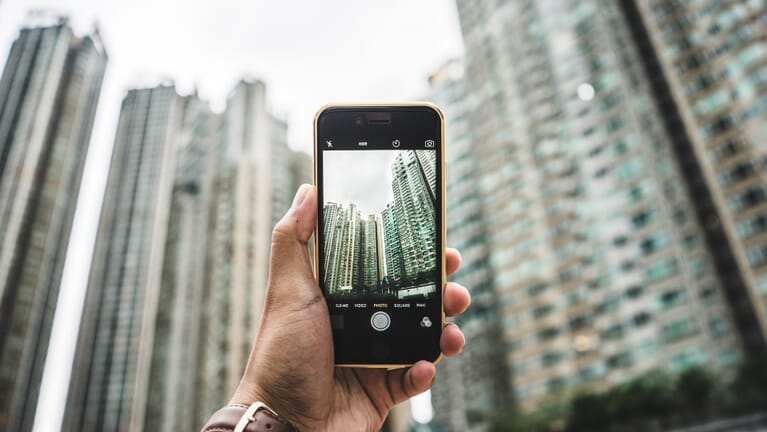 So, for meter apps, we have to expect that they work to the functions of our smartphone. If your camera performs well in low light, so will your light meter. Yet, if your camera has a poor low light resolution, you can expect that your light meter won't be able to measure this level of light either.
Makes sense so far? Then let me get to my next point, which is…
Light meter apps are accurate.
They give similar information from a given scene that's comparable to other handheld light meter devices. And, their accuracy is typically within a 1/10 stop of stand-alone devices.
So, if there is one key element to remember it's this:
You will achieve working, accurate results from your light meter app if used correctly. It's as easy as that!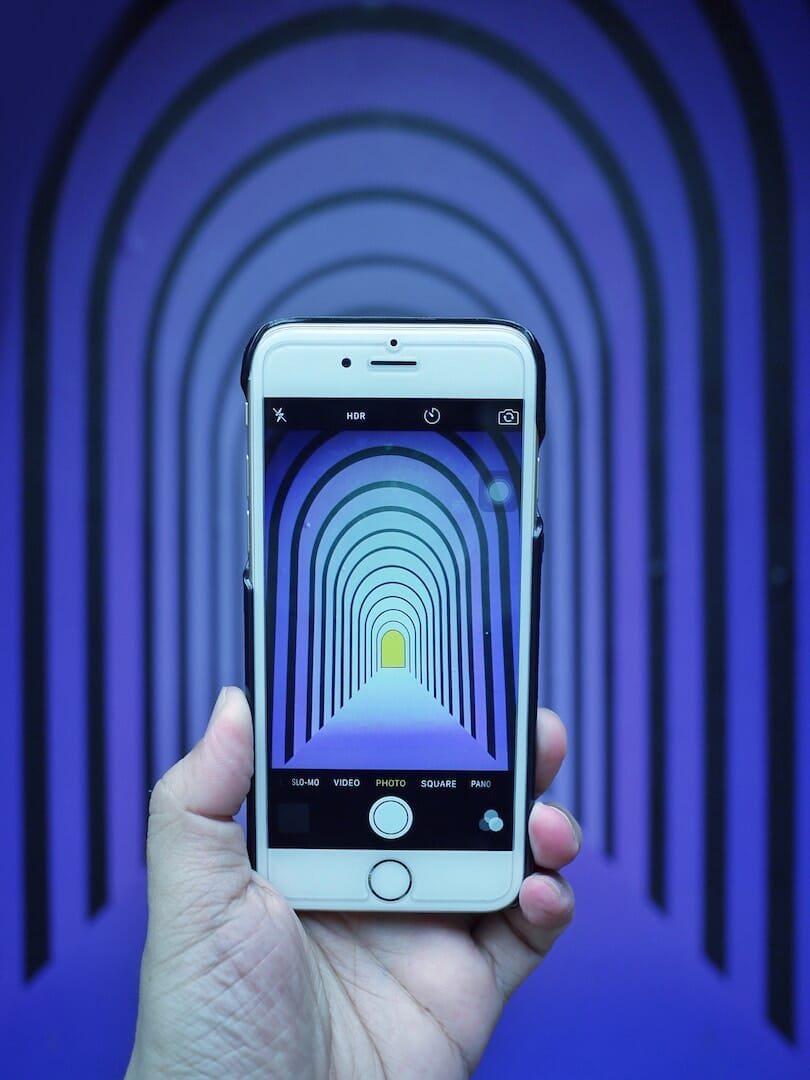 A Quick Note About Devices
The final point to note is that the effectiveness of a light meter app comes down to the app's developers in conjunction with the smartphone you are using.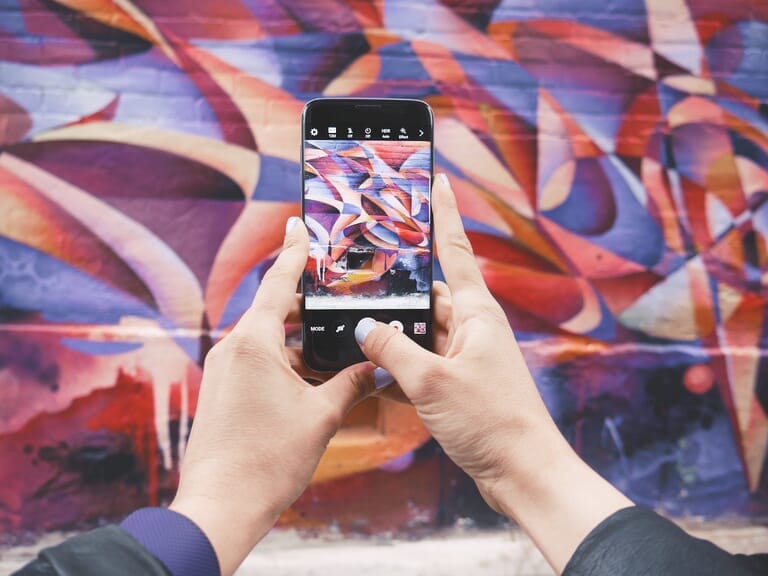 Newer versions of smartphones are equipped with the latest photo-taking technology, updated firmware, and higher phone quality overall. Naturally, lights meter apps will work better on newer devices.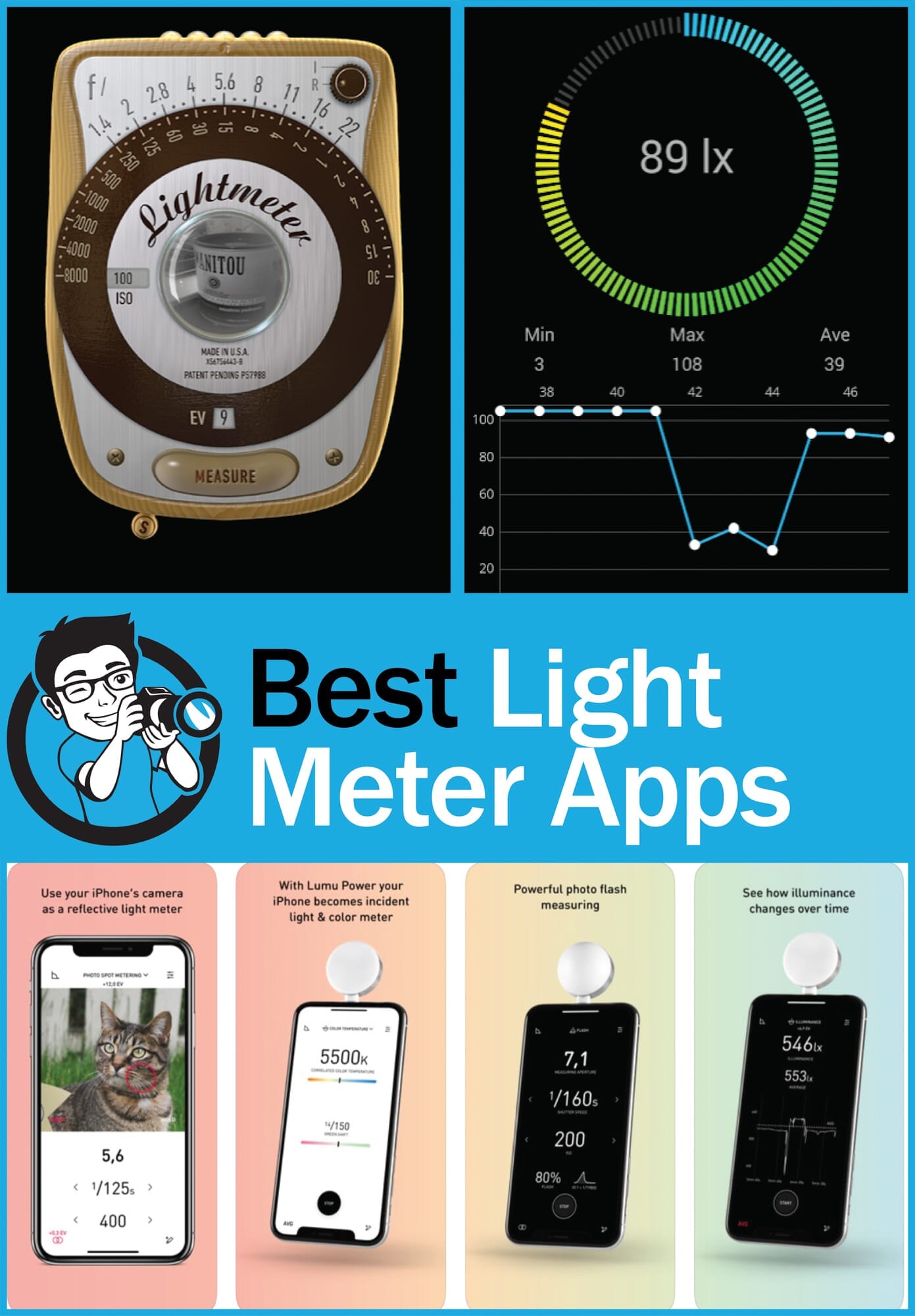 Now, that we've covered the functionality of light meter apps – let's talk about the available products you can download today.
Here is our comprehensive comparison of light meter apps for your iPhone (iOS) and Android devices.
iOS Light Meter Apps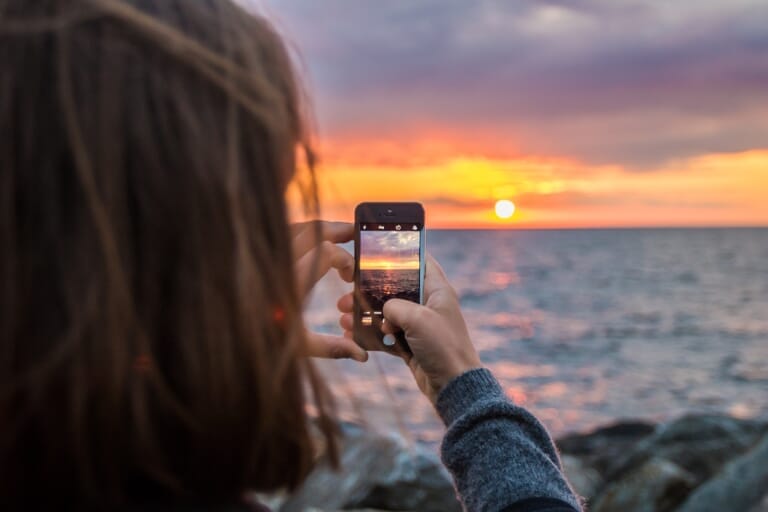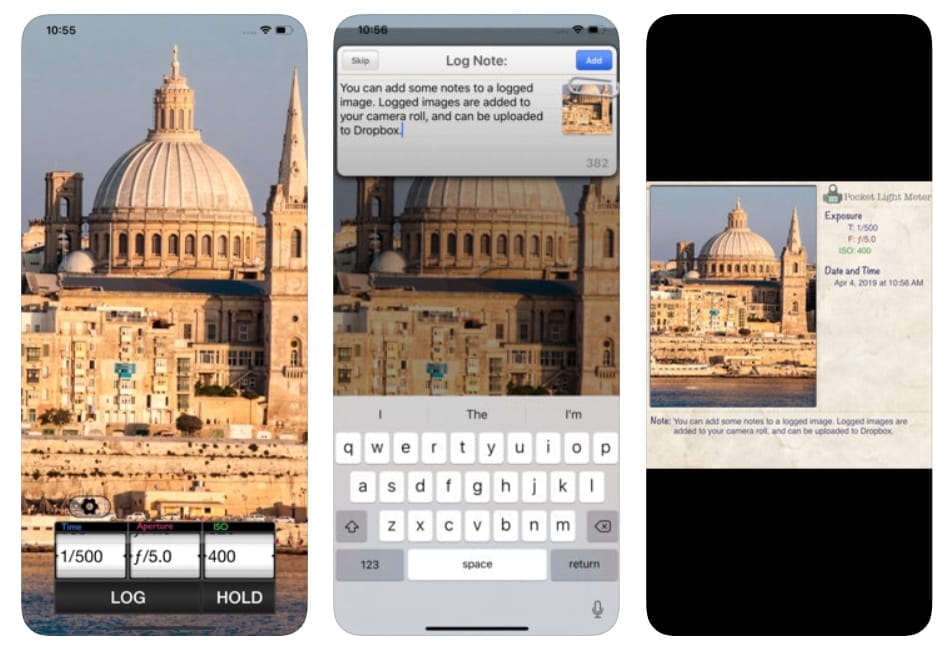 This light meter app by Nuwaste studios is made for your iOS device. It fits into your pocket, directly accessible on your smartphone. This light meter can be used for film photography shooters and those who photograph with all manual settings.
The app measures reflected light and allow reciprocity calculations. There is a note feature which allows you to create and save comments about your images. The exposure and location information of your photographs is also saved automatically.
On the app, you can adjust the shutter speed, aperture, and ISO for your image. The lighting is measured and displayed in Kelvin, for easy and adjustable white balance.
It has a simple interface and features when compared to competing apps. That can be good or bad depending on your personal preferences.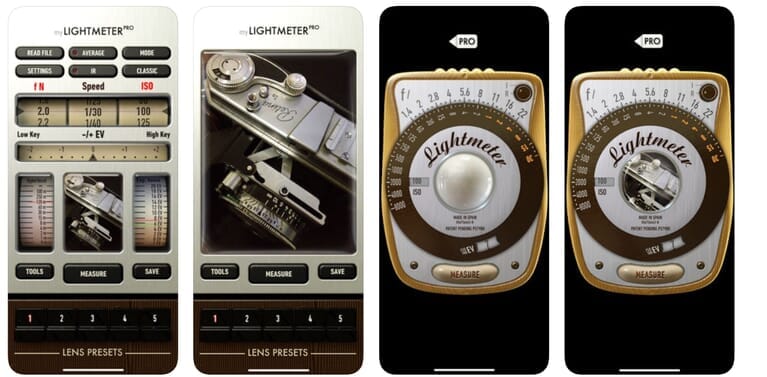 The myLightMeter Pro app works on any iPad and iPhone. Designed by a photographer, this light meter app is focused on reliability and precision for both digital and film photography and videography.
It can read dark scenes and has an incident and reflected light metering modes. Although, take note: the incident light reading needs a diffuser attached to the front of the camera.
You can select the aperture, speed, ISO and exposure compensation. Shutter speed ranges from 4 minutes to 1/8000 sec. Aperture options range from 1.0 to 512, and ISO from 3 to 6400.
Additional features include:
AV and TV mode for automatic priority
Automatic ISO
Spot metering and zoomed camera view
Reading exposure data of any photo from the gallery
Memory for 5 lenses
LED indicators to indicate unreliable measurements
In all, this light meter app is far more extensive than the Pocket Light Meter and for a third of the price. With multiple 5 star reviews, if you're going to buy a light meter app – this would be the product for you.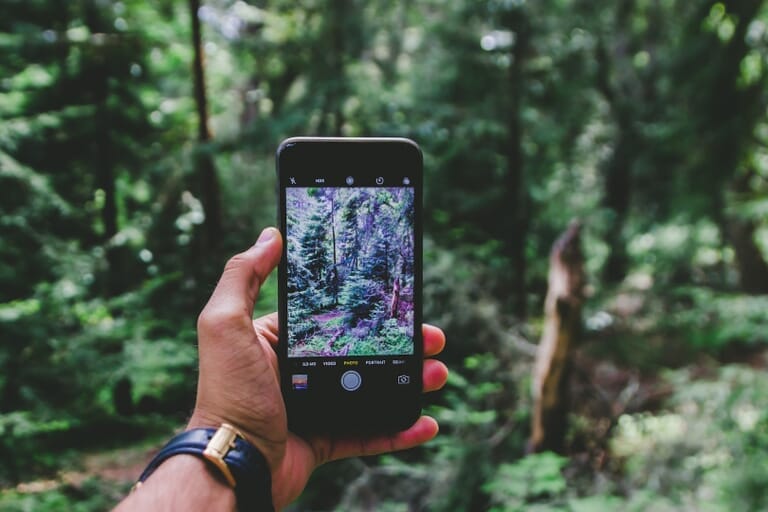 The Lux Light Meter Pro is a free application for iOS devices.
It measures light intensity and is calibrated with a professional light meter. The app is easy to use and functional. It is for measuring, comparing and adjusting lighting levels both inside and outside.
The app works by collecting light intensity data with a click of a button. It features:
Realtime measurements
One Time measurements
Average and Max Values
Front and Rear Camera
This application has multiple positive reviews and responses. It's relatively simple like the Pocket Light Meter. Since the product is free, test it out and see if the simple interface and easy to use settings will work for you.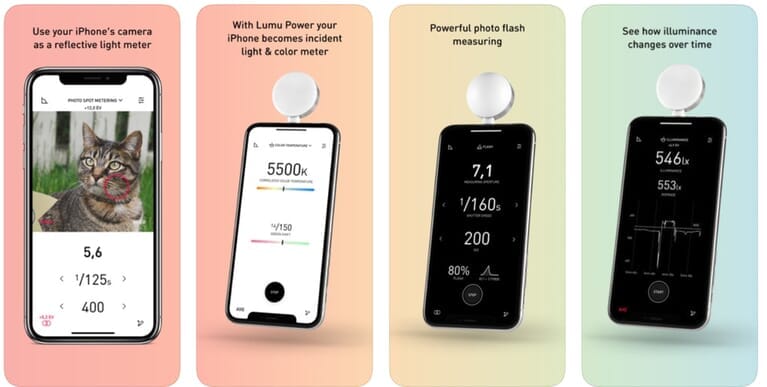 The Lumu light meter app is a powerful app more likely suited to professionals. While there is a free version, which will work for most. If you want to unleash the full powers of the app, it's gonna cost you.
The app works as a reflective light meter (free to download) or can be combined with Lumu power hardware for professional Flash and Color temperature measurements. And that's where this app really shines.
The Lumu Power app delivers color temperature, illuminance, spot, ambient, and flash exposure metering. The features of this application and hardware combo include:
Parameters of exposure, f-stop, ISO, Ev, and lux.
Contrast values
Video mode for ambient lighting
Flash Exposure
Color Temperature
Chromaticity
Illuminance
Geo-Location, Custom Notes, and Photo Storage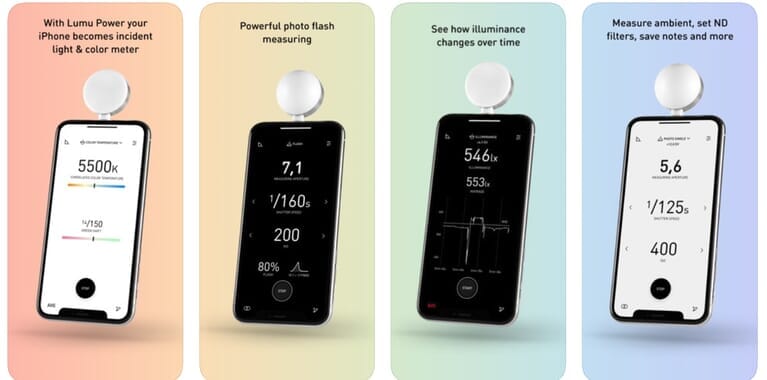 Is It Worth The Cost?
If you're just looking for a basic, free light meter, the free version will be perfectly suitable.
But, at about $200, the upgrade is more questionable. I would say, if you're a professional, the upgrade is totally worth it as it will do the work of multiple devices.
With the video features and color temperature options, the $200+ upgrade can save you money in the long run. Since a light meter and color temperature meter often cost over $1000 when purchased together.
So, although the application offers many high-quality features, the decision to upgrade will need to be a personal, financial choice for you as a professional. For our rating, this application is the most professional light meter available for your smartphone.
Android Light Meter Apps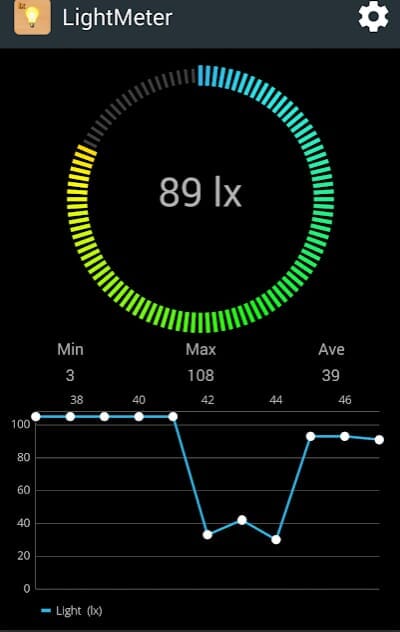 The Lux Meter is a simple application for your Android device. It measures illuminance by using your device's light sensor.
Features of this product include:
Ability to calibrate your device with the multiplier
Shows you the minimum, maximum and average value
Shows sensor data
This light meter app is simple, easy to use, and 100% free. To us, it is definitely worth downloading and testing on your own images.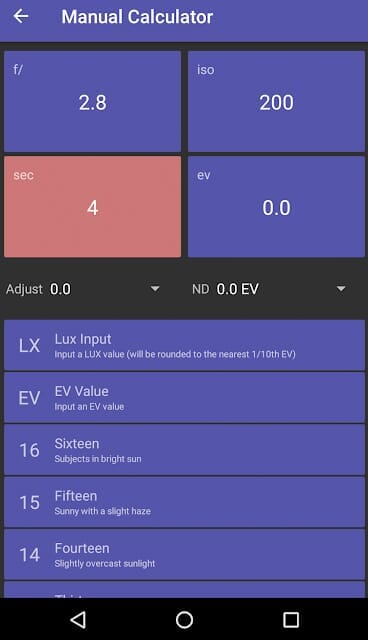 The Light Meter application is by WBPhoto. It's free and offers a reflected light meter with spot metering (which uses the device's camera) and an incident light meter (using the device's light sensor).
Tested against standard light meters for quality and accuracy, this app is perfect for film cameras of varying format – SLR, pinhole, and video as well.
The application also includes a sunny sixteen calculator, in addition to a depth of field calculator and EXIF data reader.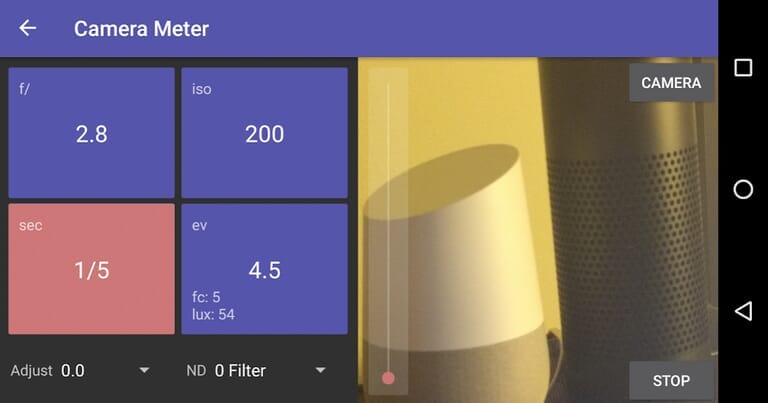 This light meter app has a simple interface. It has more features than the Lux Meter, but you could definitely test the two to see which performs best in various settings.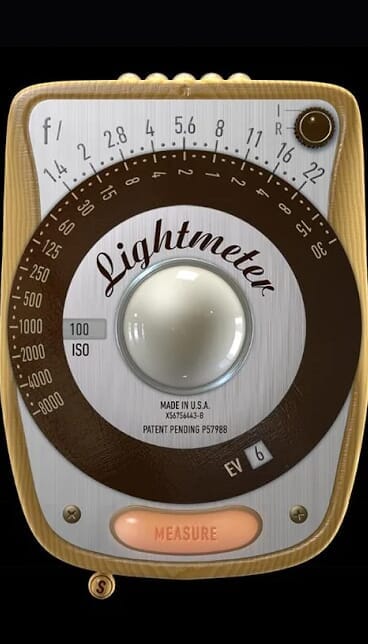 The Light Meter app by David Quiles is the Android version of the myLightMeter for iOs devices.
It is $1.99 to buy. With its old school, analog interface the app will feel very nostalgic to film photographers.
The reflected light meter works only with devices that are able to save exposure. The incident light meter works on any device but this depends on the device's quality. In fact, the developer suggests using the reflected light option for the best precision.
Features include:
ISO range from 3 to 6400
Low light alert
Calibration, vibration on measure/hold
ISO selector
Spot measure if a camera has zoom
High-resolution support for all screens.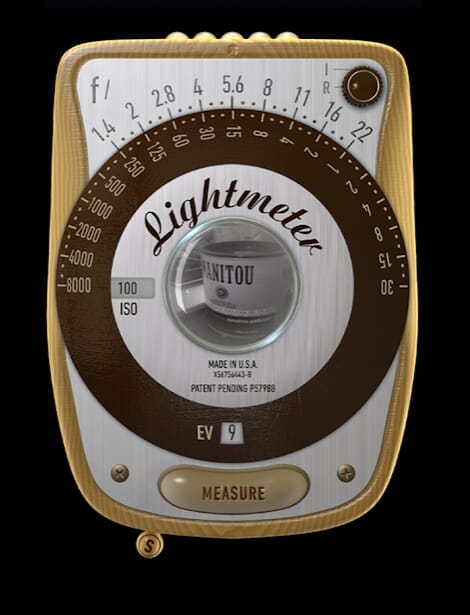 In comparison to the other Android light meters, this app has next-level settings. It offers a few more features than the other apps, so this is a perfect product if you're looking for a step up.
At a low price point, it's worth the upgrade and purchase for the high-quality results you'll receive.
Did You Find the Perfect Light Meter?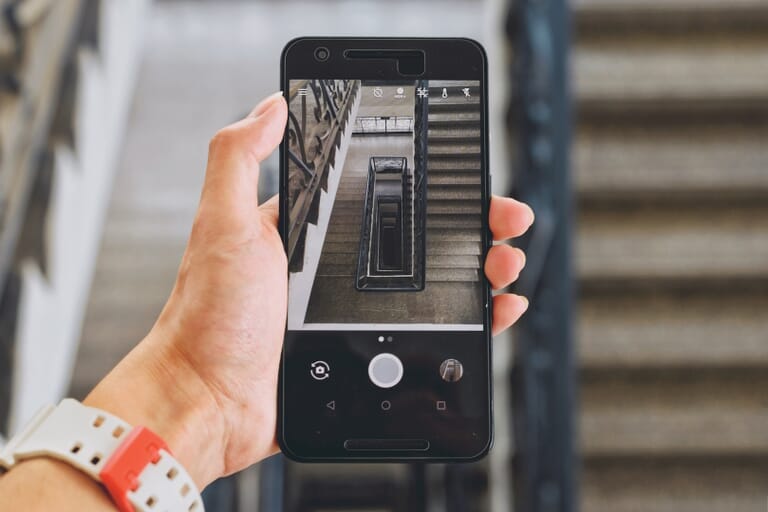 In all, light meters are working, accurate tools for your smartphone. You can use them with confidence, knowing your light and exposure will be read properly.
And, as you can see, there are multiple light meter apps for your iOS or Android device. Whether you want a simple interface or more complex product – there's a light meter app for you.
Have you ever tested one of these light meter apps before? Share with us your experience in our comments below!