Travel blogging is potentially the ultimate job (especially for those who love to travel and have a passion for writing!). Who wouldn't want to travel from city to city, explore famous landmarks and landscapes and live the life of a digital nomad? Imagine spending three nights in Paris to write an article about the Louvre, to then travel by train to Heidelberg to sample some currywurst and climb the Königsstuhl Mountain – every day presents a new adventure!
Related Post: Best Cameras for Blogging
There is no denying that travel blogging is a difficult job to succeed in, however – it takes hard work, dedication, and a certain set of talents. Remember that you are competing against hundreds if not thousands of other travelers who are attempting to do exactly the same as you; you must work to stand out from the crowd and offer something truly unique, useful and exciting.
Yes, the life of a travel blogger is not all fun, games, and exploration! If you are starting out your career as a travel blogger, you will undoubtedly need to know how to actually make money – this guide provides an in-depth look at this subject to help you on your way!
Step 1: Build your Brand, Content, Audience and Reader Base
Many travel bloggers make the mistake of thinking they can make money as soon as they have created their website and brand. This is not how it works! You may be able to get some affiliate marketing set up, but until you have really built your brand and audience, you won't be able to gain a large amount of income.
For the first few months, it is important that you work on your brand and building your catalog of content. You must create consistent articles for your site, and build up your portfolio of work. The following are some things you must look at before even considering making money:
Building your website and creating a large backlog of content
Building your social media profiles and followers (Facebook, Twitter, and Instagram are key)
Building a network of contacts within the industry who can help
Related Post: Best Photo Portfolio Websites Compared (11 Amazing Picks)
You have to think from a logical point of view – how can you make money through affiliate marketing if you have no viewers on your website? How can you host sponsored posts on your website if there are no statistical figures to show your promise to those paying for the articles? How can you create a YouTube channel without any videos to post? Content, audience, brand – remember these three concepts and work on building them and basically earning the right to make money in this industry – you must have something to offer of value!
Once you have built up your reputation and customer base you can start to monetize your travel blog! The below are six different ways that you can do this:
Step 2: Look at using Sponsored Posts on your Website
Sponsored posts are a double-edged sword, but in the early days of your travel blogging career, they will prove invaluable. Some people view sponsored posts as a sellout technique that takes away from your content. Ignore the naysayers – sponsored posts are a great way to build connections, create content and also get paid!
So how does a sponsored post work? Basically, company A will pay you to either write an article on your travel blog or post one of their articles. Let's say you have contacted a travel accessory company. They are willing to pay you*, but you must write an article reviewing one of their 30L backpacks for example. You gain content for your website and a monetary payment, the company in return gains promotion and exposure for their product and business – everyone is a winner.
(*note: make sure you follow the FTC's endorsement guidelines when you get a free product. You must disclose to your audience that have been paid or that you received a free product).
Get a Media Kit
Taking a handful of these sponsored posts per month can provide you with a steady stream of income whilst at the same time give you easy to generate content. Before you start applying for sponsored posts it is advisable to create a media kit – a media kit effectively shows to a potential client what you have to offer such as website views, social media followers, conversion rates, blog comments and more.
In essence, it shows a customer what potential audience their sponsored post could be exposed too. Create a media kit, and then reach out to a host of different complementary companies such as tour groups, accessory retailers, hotels and even national travel boards.
Step 3: Consider Selling your Photography through Stock Photo Libraries
Stock photography websites are another fantastic source of income. As a travel blogger, you will undoubtedly have a passion for photography too and enjoy taking photos of your travels – why not use your photography as a means of gaining income? The following are some popular stock image repositories you can upload your work to and potentially get paid:
Shutterstock
Fotolia
Dreamstime
Getty Images
iStock
Stocksy
Shutterpoint
To cut a long story short, you upload high-quality travel photos to these websites – if a customer purchases one of your photos, you receive a small fee. There is no guarantee that your photos will be purchased, and there is great competition too. What makes this type of work ideal for travel bloggers, however, is that it takes practically no effort at all – you can literally upload photos once a week for example and that's all you have to do – you can then simply watch the money come in!
Related Post: How to Sell Stock Photos & Make Money 
Step 4: Consider Writing Freelance through Platforms such as UpWork
Whilst this is not directly related to travel blogging, it nonetheless uses your creative writing skills and is also suited for digital nomads who are continually on the move. There are a variety of different freelance platforms that you can sign up to, to find writing work. Customers post job listings and you as a writer can apply for these jobs – you will agree terms and payment, write the requested article and get paid – simple. The following are some popular freelance platforms:
UpWork
Hub staff
Credo
Fiverr
Freelancer.com
Consider creating a profile on some of these sites (particularly UpWork and Freelancer) and use your travel blog as proof of your skill. You can then apply for writing jobs to supplement your income – you will actually find many travel-related job offerings too and the odd sponsored post.
As with any type of freelance work, ensure that you have clearly discussed the terms and conditions, and expectations for the end product so there is no room for dispute. You can literally do this type of work from anywhere which really suits the travel blogging industry – imagine being sat at a beach bar in Bali and being paid to write for a client on UpWork.
Related Post: ConvertKit for Photographers (Easy Email Marketing)
Step 5: Build an Affiliate Marketing Portfolio for your Website
Affiliate marketing for most travel bloggers is your go-to source of income – it is the small and reliable amount of income that consistently comes in week after week.
What is affiliate marketing? This type of marketing works in a similar way to sponsored posts, but instead of posts, you are hosting adverts on your website.
In the affiliate marketing chain, you have 4 involved parties: you, the affiliate network, the third-party company, and the end customer.
You sign up to an affiliate network program and receive various adverts from third-party companies. You then host these adverts on your travel blog website. When an end customer clicks on one of your adverts, the third-party customer receives business, and you receive a commission in return. The following are some examples of affiliate marketing networks:
Rakuten (top three eCommerce company in the world)
Amazon Associates (largest eCommerce retailer in the US)
eBay (Everyone knows eBay!)
As a travel blogger, you MUST use affiliate marketing and it would be stupid not too. You can literally place a variety of adverts/links on your website and then you have a constant potential source of income that is active 24/7. We advise choosing affiliate products that compliment your genres such as travel accessories, tour packages, and camera equipment.
Furthermore, you must analyze your affiliate strategy to fine tune it, and to see which merchants/products or services you recommend are not performing well. There are many analytical tools you can use to help optimize your affiliate campaigns.
Step 6: Create and Monetize a YouTube Channel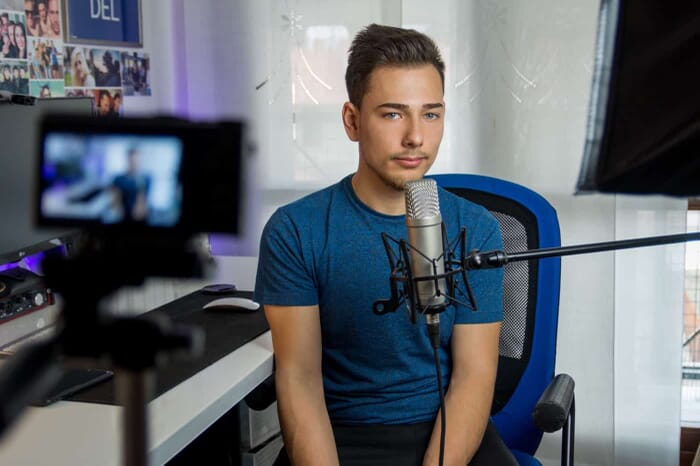 YouTube is often an area of travel blogging that some bloggers forget about but it can be hugely beneficial. Any travel blogger should ideally have a YouTube channel to start with, regardless of whether you plan to monetize it or not. YouTube presents another outlet for your creativity and a chance to share your content with your audience. Furthermore, creating travel blog videos is fun! It is quite easy to carry a GoPro camera with you during your travels and narrating a series of interesting videos.
As with our initial Step 1, you must build up your subscribers on YouTube first and also circulate your content so it generates views. Consider inserting videos into your blog articles, and also using them as part of your social media posts too. Once you have built up a subscriber base on YouTube you can look at monetizing your channel through the YouTube creator academy, partner program and through paid advertisements.
Similar to affiliate marketing, your YouTube videos will contain adverts – if a viewer clicks on these adverts, you will receive a small fee. We need to be clear that unless you have millions of subscribers, you will not be able to subsidize your travels through this media alone, but it can be an important cog within the wheels of your travel blogging venture. Aside from the revenue, YouTube can also help advertise your brand to customers and sponsors.
Related Post: Top 10 Youtubers (and their Cameras)
Step 7: Become a Professional Tour Guide
This is an eventual goal that may not be possible until you have found your feet within the travel blogging industry and have a few years' experiences under your belt. Furthermore, this isn't everyone's cup of tea – not everyone wants to become a tour guide as it can be a demanding job. For those who would consider this, however, becoming a tour guide is a logical step in the journey of your travel blogging career and for some the ultimate goal.
Many travel bloggers use their brand name and experience to offer small group tours or hire themselves out as a personal guide to earn extra income. Let's say you are a digital nomad and you have based yourself in Phuket for a month before setting off on your next adventure. You have become well-versed in what the island has to offer and you also have some free time to spare. What can you do? Take guided tours! You could do bar crawls, city tours, main tourist site tours – anything you can think of!
You could start out in this way and then eventually progress to becoming a licensed tour guide with your own travel blog brand name as the tour company! This is a superb way to earn money and still travel and experience the world at the same time. Furthermore, you can use the tours to generate additional content and exposure for your travel blog!
We hope you have found this guide useful. The main point to remember is that travel blogging income is like a recipe – you can't simply rely on one sole ingredient to carry you. You must create a mixture of various types of revenue sources to gain a healthy balance and to ensure that you have a failsafe financial situation. Don't simply rely on affiliate marketing for example – work on creating several small but consistent sources of income, and several larger but less consistent sources too. It's a balancing act for sure, but the rewards can be great!
P.S. If you are close to broke and still want to travel, we recommend you watch this YouTube Ted Talk video on how to travel the world with almost no money: