Non-fungible tokens or NFTs are anything digital that can be bought, sold, or traded on the internet. It sounds simple, right? Well, it is and it isn't.
Whether you're just doing research about an NFT or are actively looking to buy and sell one, knowing the 10 best NFT marketplaces for selling your photography is worth your time.
As a photographer, you want your works to be recognized and appreciated. One way to do this is to turn your photos into NFTs and sell them to collectors or your social media followers.
Just knowing that someone is interested enough to buy your work is, in itself, a compliment.
But it's also become effortless for other people to pirate art off the internet for their own personal gain. To prevent this from happening, consider doing your transactions through an NFT marketplace.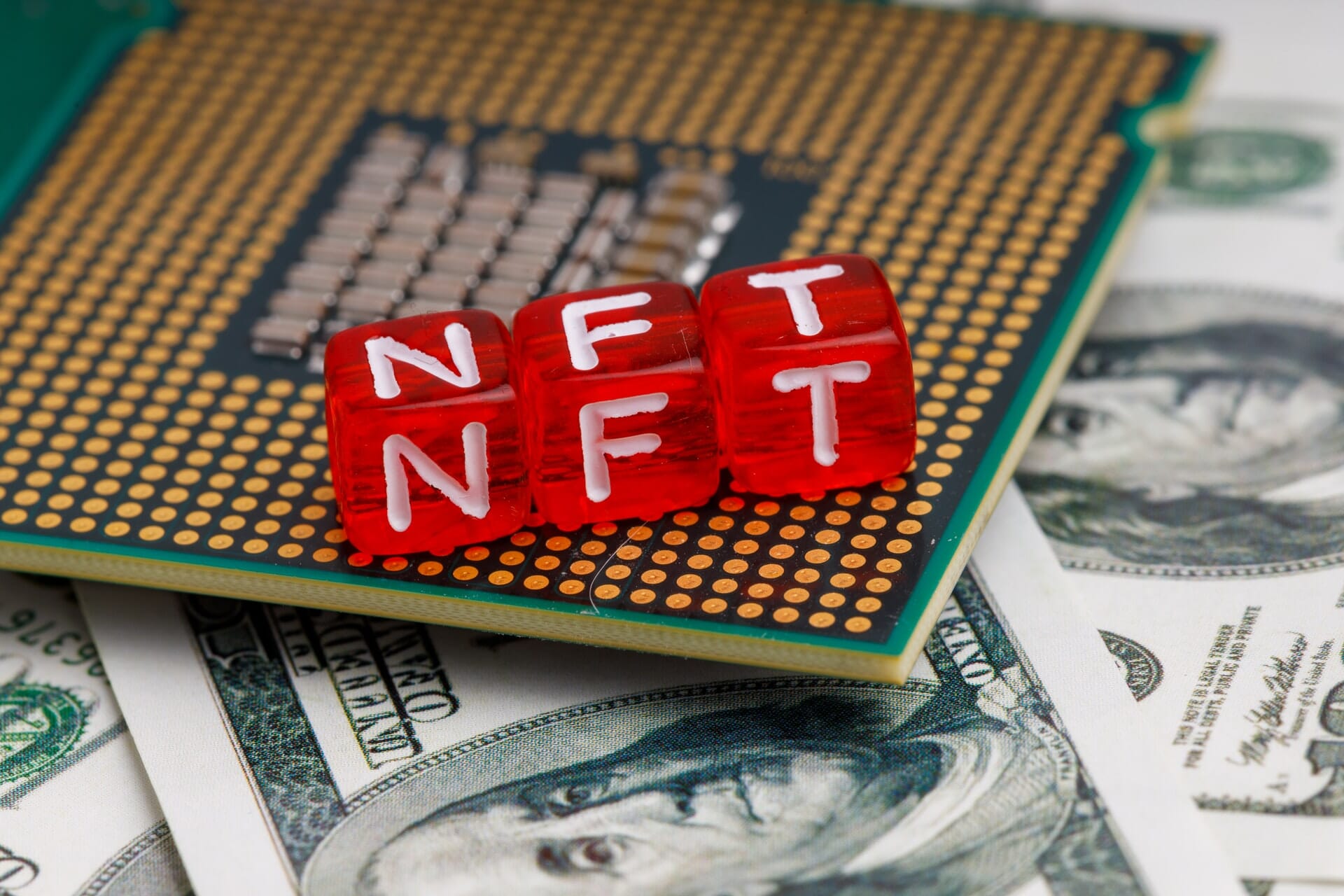 When you buy through links on our site, we may earn a commission at no cost to you. We evaluate products independently. Commissions do not affect our evaluations.
Best NFT Marketplaces for Photographers
1. OpenSea
Our Pick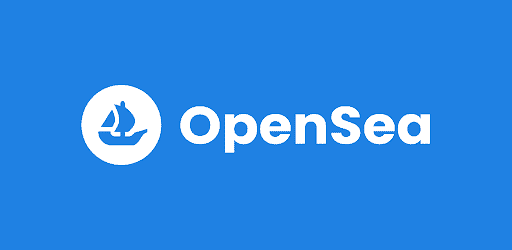 Best for beginners, experts, and traders doing a wide market research
OpenSea is the largest NFT marketplace today. As such, you'll have more options for trading to choose from, ranging from photos, art, music, and even experiences.
Pros
A wide array of collections.
Competitive commissions and royalties.
Top-of-the-line security.
Cons
Takes longer to find things because of the large collection.
The beauty of being the largest marketplace is that OpenSea can cater to customers from all walks of life, whether they are beginners or experts at finding precious NFTs. We highly recommend navigating OpenSea.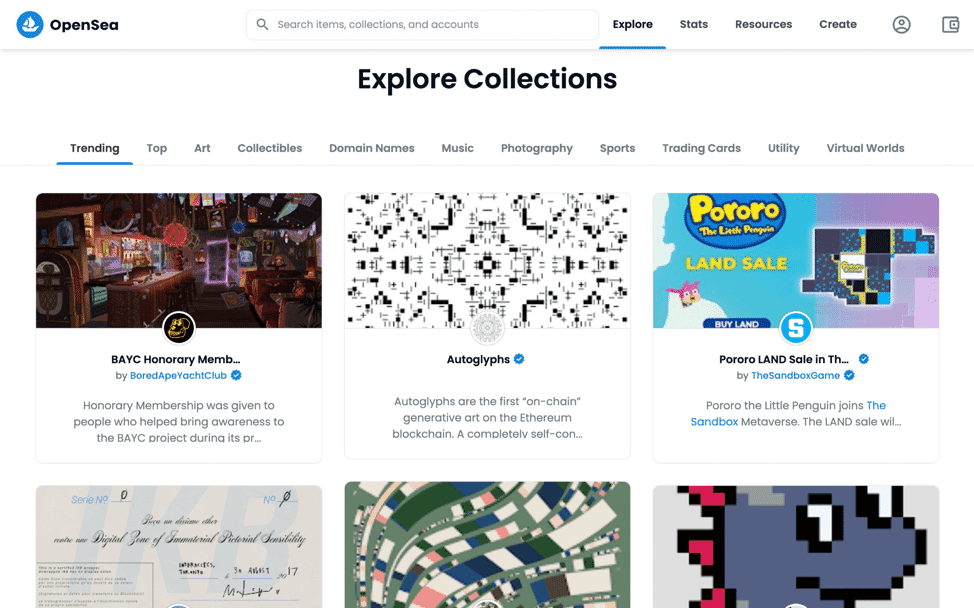 Admittedly, it can be hard to do an in-depth search with such huge volumes of information. But at OpenSea, you can take advantage of the trading history that they show you. They're very transparent, you see. Plus, you don't need to have cryptocurrency to do transactions here. They'll allow you in with whatever you have and make it work as you go along.
OpenSea lets creators make NFTs for free, too! So, if you're a bit intimidated by blockchain and other technical stuff, then you might find this NFT marketplace welcoming.
Aside from the royalties that you can get from each sale, you'll also have the freedom to curate the space you occupy on OpenSea. Regardless of whether you're a collector or a creator, self-expression is something that this NFT marketplace encourages. Designing your own, unique page makes it easier for other OpenSea members to find you.
Whether it's art, collectibles, domain names, music, photography, sports, trading cards, utility, and virtual worlds, you can find them all being traded and sold in OpenSea.
2. Nifty Gateway
Also Great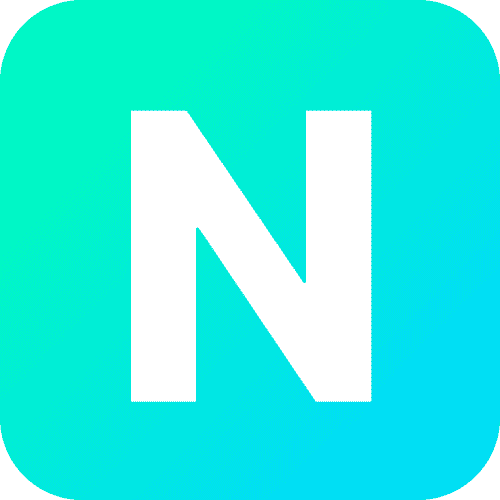 Best for people looking for works of highly exclusive artists
Nifty Gateway is the best marketplace for photographers with limited edition collectibles. With top artists showing off their works, there is a sense of exclusivity when you go to this marketplace.
Pros
High exclusivity of artists
Many payment options
Beginner-friendly
Cons
Only supports Metamask wallet
As a custodial platform, Nifty Gateway has its network NFTs secured by Gemini's state-of-the-art technology. Through this setup, members of the marketplace need not worry about gas fees, which is great since the gas fee costs and hassles can be discouraging.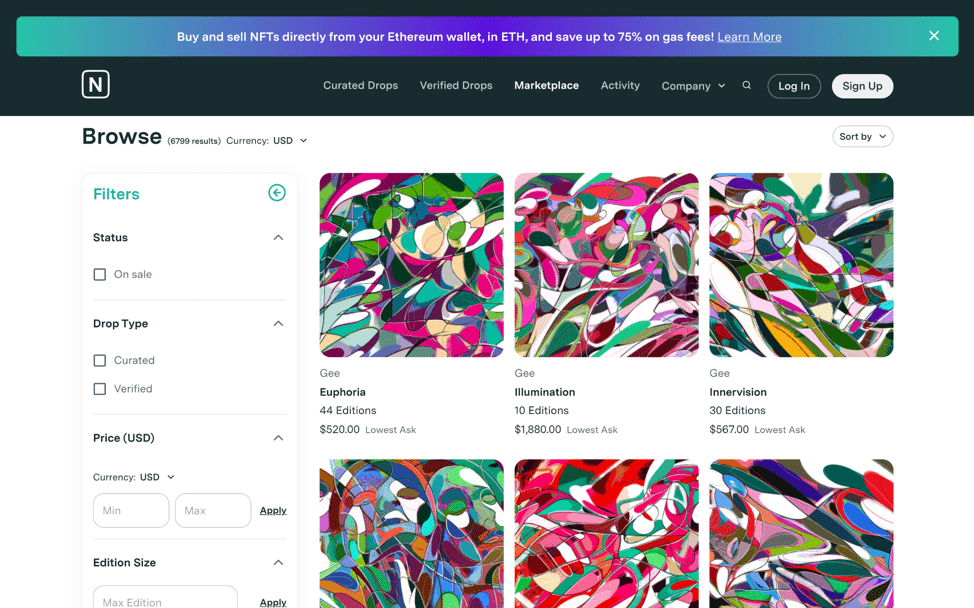 This NFT marketplace currently only supports a Metamask wallet. Aside from cryptocurrencies like ETH, you can also choose to pay via your debit or credit card, as well as your Gemini Balance. Offering multiple payment options means Nifty Gateway can cater to more participants.
Nifty Gateway also has a Drops schedule where artists sell their works within a specific time frame. It's the perfect opportunity to sell exclusive, limited edition photographs in the marketplace, as buyers will be on the lookout and ready to spend some money.
3. AtomicHub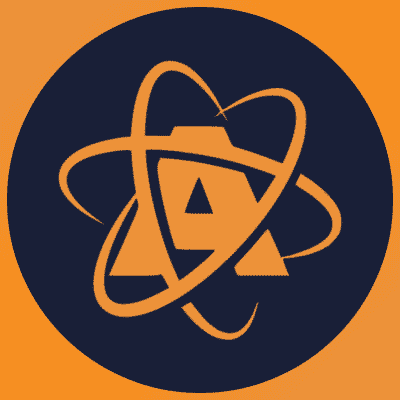 Best for NFT users on the WAX EOS blockchain
AtomicHub has an NFT Creator feature that allows anyone in the marketplace to create their own, thereby increasing the variety and quantity of the current collection.
Pros
Integrations with AtomicAssets
Lower transaction fees
Excellent customer support
Cons
Limited payment options
The EOSIO is another blockchain platform that uses the Electro-Optical System or EOS cryptocurrency. As the biggest EOSIO NFT marketplace, AtomicHub is divided into four portals that cater to the specific needs of the website's visitors. These are the Explorer, Market, Trading, and NFT Creator.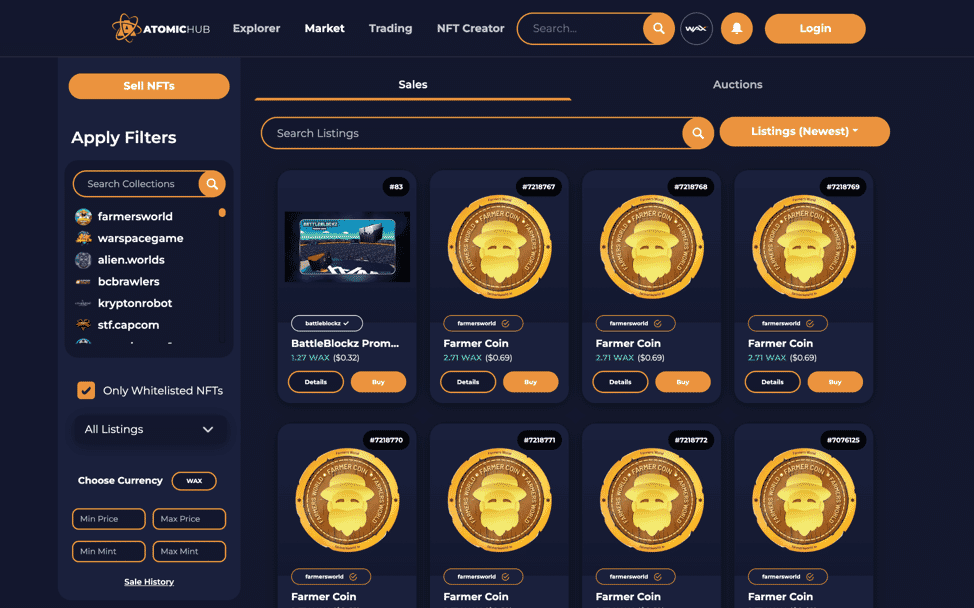 In the Explorer tab, visitors are free to browse and scour through the wide collection of digital arts that have been uploaded to AtomicHub, that may or may not be up for sale.
Then, there's the Market tab where most of the transactions happen. You can also check the Trading tab if you see an NFT you want to trade with. Of course, there are regulations for the trade-ins. But it's up to you and the trader to decide on the final details. Lastly, the NFT Creator tab is where you can birth and mint your digital brainchild as an NFT.
In this marketplace, you can trade your NFTs for WAX tokens. You may also display your sales and auctions on other marketplaces for wider exposure and more bids. As long as you have WAX, Ancgos, and Scatter wallets, you'll have no problem doing business in AtomicHub.
4. SuperRare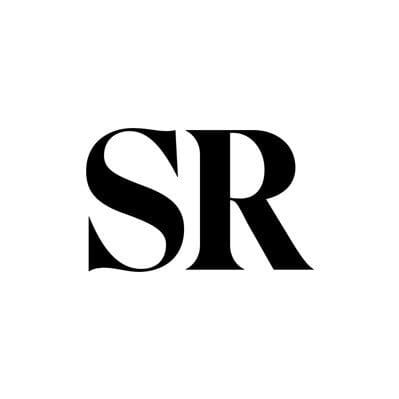 Best for traders looking for hard-to-find, authentic digital works of art
SuperRare is one of the pioneers in marketing royalties. It's a hot go-to location for caliber artists looking to sell their digital art for higher returns.
Pros
Authentic NFTs
User-friendly interface
The "Offer to Buy" option
Cons
Only works with ETH cryptocurrency
Higher commission than others
Like Nifty Gateway, SuperRare is a marketplace for works of art that are part of a limited series. Artists create their digital art and then have them tokenized and ready for the market. Since SuperRare is powered by Ethereum, all of your transactions in this marketplace will be through its corresponding cryptocurrency, called ether.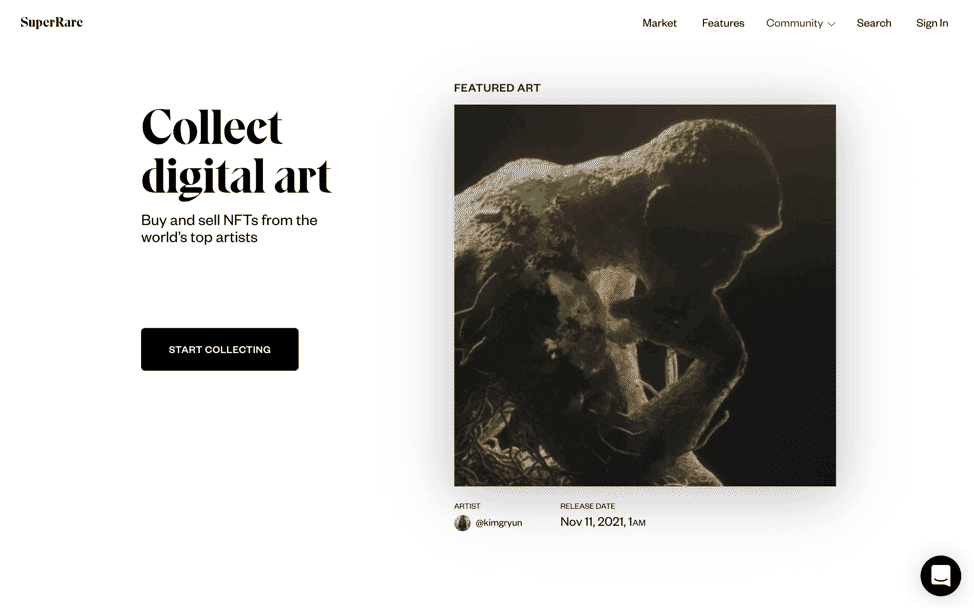 As SuperRare describes itself, it is a marketplace reminiscent of Instagram meets Christie's. It is aesthetics and functionality combined into one site, with an interface that is both user-friendly and user-engaging, making it more appealing to the internet generation.
SuperRare even has a curation token called $RARE that can be difficult to get your hands on. But you can do so by buying, selling, and trading in this marketplace. If you do manage to acquire this token, you'll have specific privileges and influence over how things work around the place. Quite an incentive, isn't it?
5. Rarible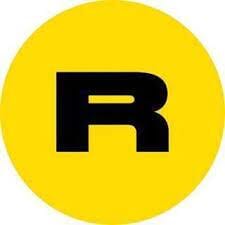 Best for NFT traders looking for GIFs and 2D images
Rarible caters to Ethereum, Flow, and Tezos blockchain users. This means that more traders can have access to the NFT collections here.
Pros
Cost-free minting
Instant purchase options are available
Cons
A relatively new marketplace
With its wide collection and user-friendly layout, Rarible actually looks like Pinterest for NFTs. It has digital art, collectibles, music, video NFTs, metaverse lands, and much more.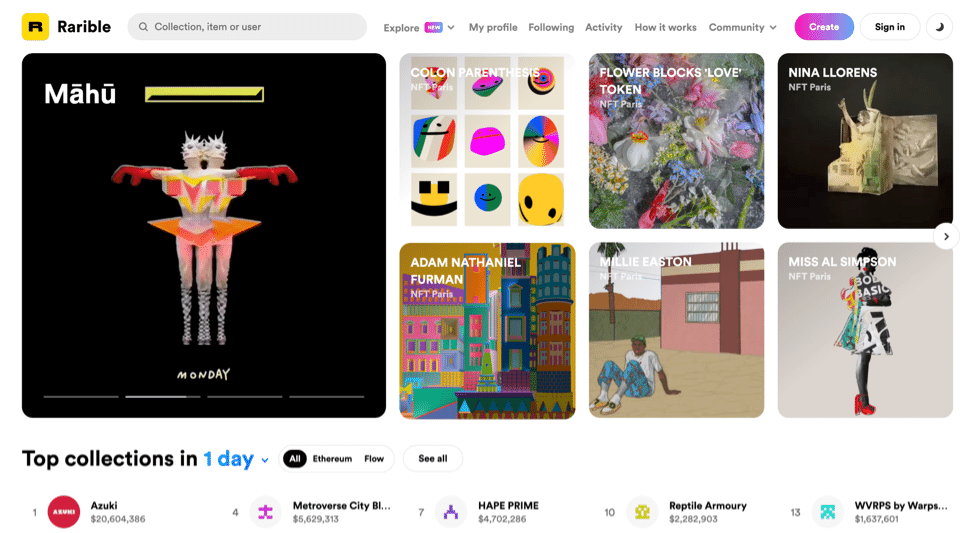 Rarible also features multiple-edition NFTs, timed auctions, royalties, messenger, and a personalized activity feed for sellers and collectors. Although it's a relatively new marketplace, it has all the basic elements needed to entice blockchain users, especially photography enthusiasts.
SuperRare isn't the only one with higher value tokens on this list as Rarible also has a token called RARI. Since having a token means that you have more influence over what's happening in the marketplace, it's best to have a few to turn the tides in your favor.
6. Ephimera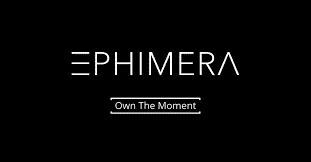 Best if you're offering ephemeral photographic elements and works of art
Ephimera is the best marketplace for NFTs of beautiful sceneries and captured moments. Specifically, Ephimera is a place for photographers looking to buy or sell movie and picturesque shots in either portrait or landscape orientation.
Pros
Highly specific market
Single/ Limited edition exhibits available
Cons
No hold over artist-gallery agreements
What's great about Ephimera is that they offer a very specific market to the public. No unrelated stuff and unnecessary clutter. Just the artworks and other digital creations that have that ephemeral vibe – lasting for just a short time.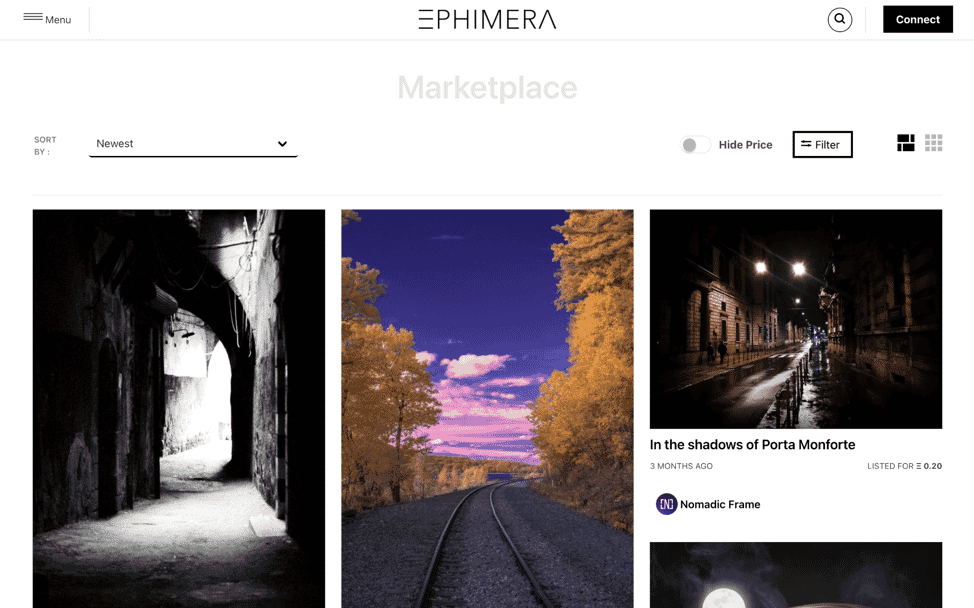 Among the famous galleries that you can find on Ephimera are OFF/ON Gallery, Urban Street Photo Gallery, #ArtProject, and #womensupportingwomen. Ephimera seeks to help gallery artists by holding exhibits of their works of art to the public. While doing so, they are immortalizing their works on the blockchain so they can sell to collectors. 
Ephimera also uses the Ethereum blockchain to facilitate all its transactions. The artists and the galleries decide how they'll split the earnings. In return, Ephimera only asks for a platform fee of 5 to 10 percent, and this will depend on how many times the item has been traded or sold in the past.
7. Foundation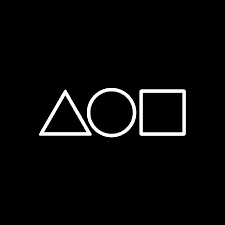 Best for NFT creators, collectors, and traders looking for charismatic and expressive digital works
Foundation has a wide selection of NFTs for photography, from 2Ds and GIFs to professional and unique digital works of art.
Pros
Sole ownership of the art you buy (1:1)
User-friendly interface
24hr auction
Cons
High commissions, low royalties
Foundation is much like OpenSea when it comes to the expansive collection of digital art collectibles. But if there's something that makes Foundation different from the largest NFT marketplace today, it's their unique buy-one-own-one scheme. This means that when someone purchases a photo from you, they will be the sole owner of that NFT until they sell it again.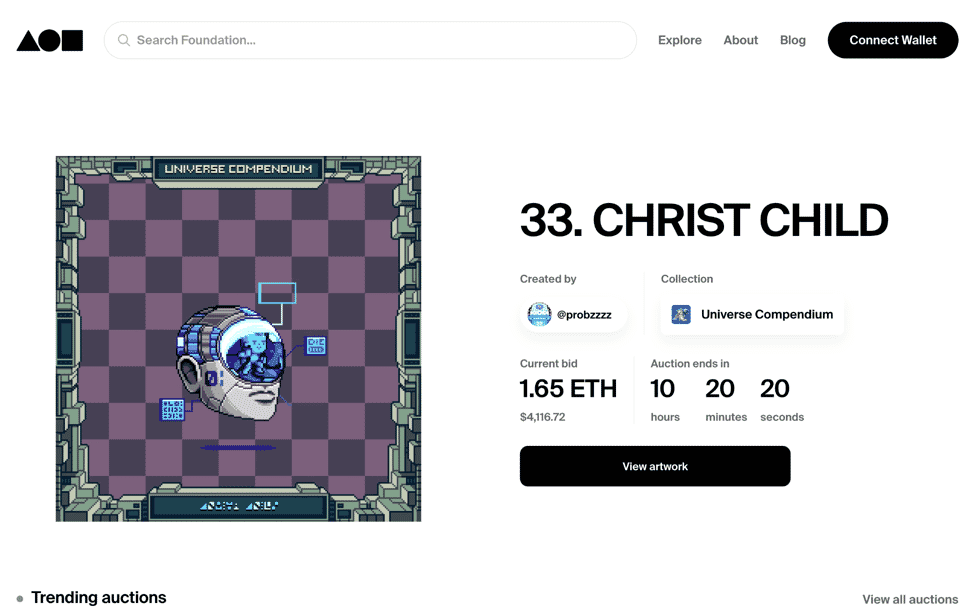 However, such a scheme entails a few more considerations that might affect your decision in joining Foundation. Creators need to pay upfront fees for minting and listing per piece of art, and there are gas (transaction) fees involved when placing bids. 
While the whole process of minting an NFT in Foundation is quite expensive, artists and collectors can take advantage of the 24-hour auction period to gain more profit. Since their digital works are put up for sale a little bit longer than usual, the bidding process can be stretched out. The 24-hour time limit also pressures collectors to buy.
8. Mintable
Best place for beginners looking to create their own digital items
Mintable claims to be the most comprehensive digital file marketplace today. It is a place where even beginners who don't have prior knowledge about coding or programming can create their own digital items without being too intimidated.
Pros
Easy to create and list NFTs
Free listings available
Cons
High transaction fees
While other NFT marketplaces sell digital items for photography, Mintable expands its categories to include more complex files from more complex programs.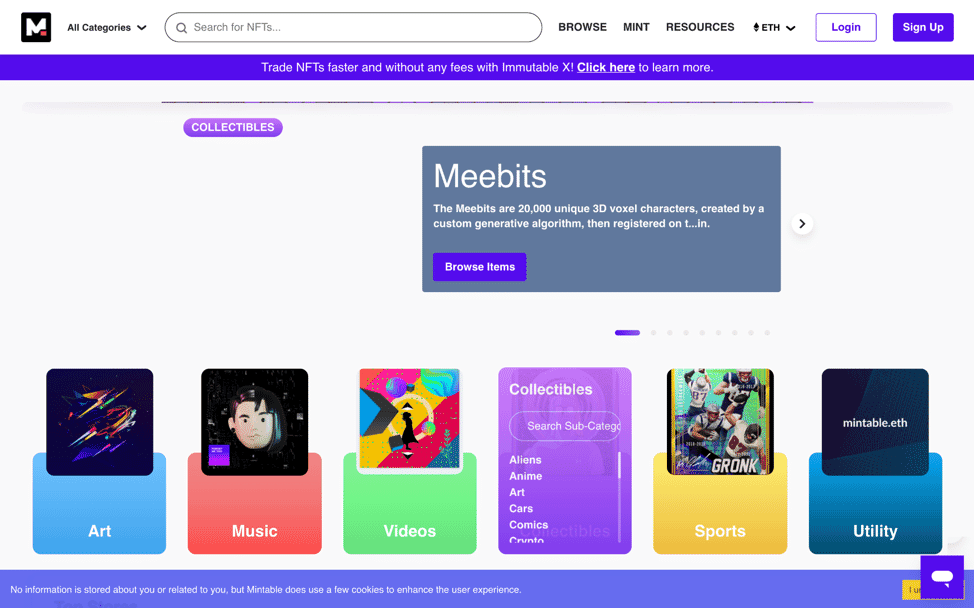 Each collection on Mintable has a preview image, making it easy to tell which ones are yours. It makes things neat and easy to verify across the blockchain.
While some NFT marketplaces allow trading of NFTs, you can only buy, sell, and mint NFTs on Mintable.
On the plus side, there are no gas fees involved in creating and selling your items, and all transactions can be made using the Ethereum blockchain and your MetaMask eWallet.
9. Unique One Photo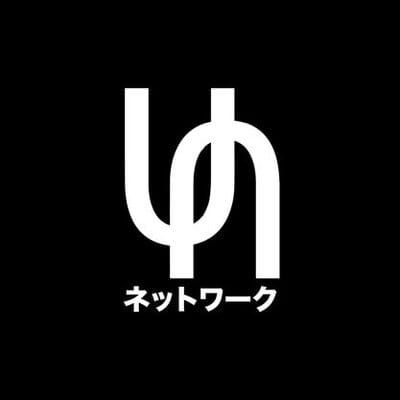 Best if you're looking for a community-led platform for the community
Instead of charging you for your work, Unique One Photo rewards you by tokenizing your work and adding them to your name before you start selling them.
Pros
Artists-friendly
Multi-location marketplace
Cons
Quick-changing marketplace dynamics
Unique One Photo is the first decentralized NFT marketplace in the world that focuses on works of photography. If you're a photographer looking for a marketplace that asks for zero commission and other hidden fees, this marketplace should be right up your alley.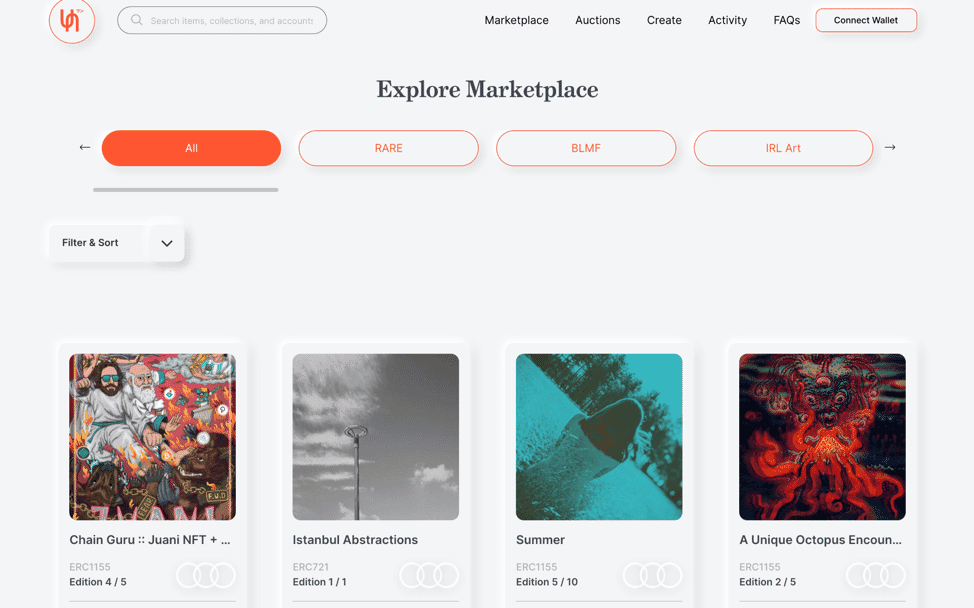 Like Rarible and SuperRare, Unique One Photo also has a token that its community can have access to. Acquiring a $FOTO token means that you are part of the Unique family and may have the right to participate in activities run by the community. In fact, for every activity you do on the platform, you get to earn $FOTO tokens as a reward.
If you want to exchange NFTs here, you can do so with Polkaswap and Uniswap. You can also find ETH, BSC, xDAi, and Polygon marketplaces as they are part of the Unique One system.
10. Known Origin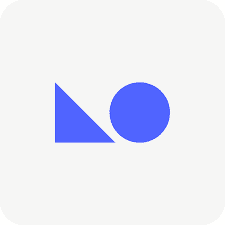 Best for images, GIFs, and videos
KnownOrigin helps artists and creators feel more empowered to share their artworks and put them up for sale. You can see the effects of such support on the quality of the artists' digital artworks.
Pros
High Royalties
Exclusive art by thoroughly-screened talented artists
KnownOrigin uses blockchain technology for three reasons. One, it's smart and transparent. Two, it's firm evidence of digital art ownership. And three, it ensures that the chain of custody and provenance remains intact and untarnished.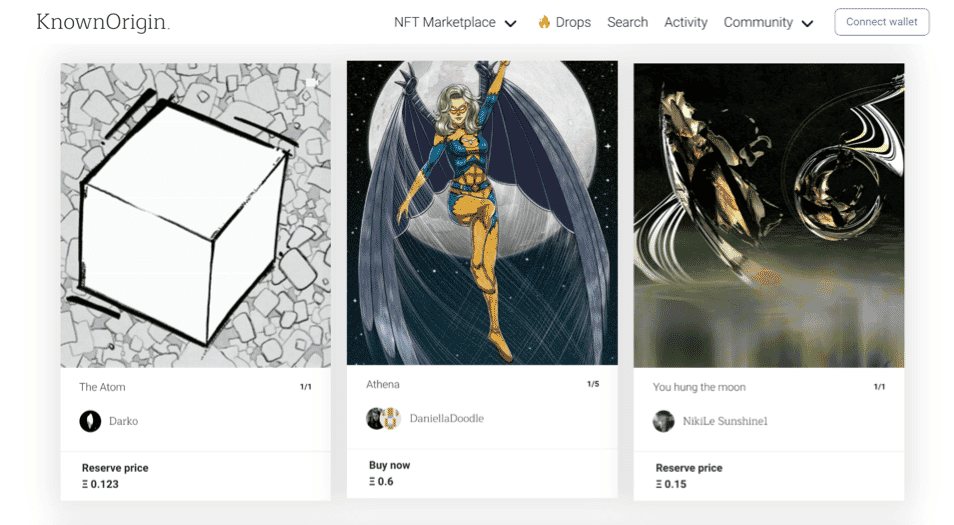 Like other NFT marketplaces already mentioned, KnownOrigin also uses ether as its cryptocurrency. For the primary sale of an NFT, the artist gets 85 percent of the profit. The remaining percentage goes to the marketplace.
If the NFT is sold a second time, you, as the original artist, will only get 10 percent of the sales. While 87 percent will go to the second seller, and the remaining 3 percent is for KnownOrigin.
As an artist-driven NFT marketplace, KnownOrigin puts a premium on the artist selection process. If you intend to apply as one of their artists, then be prepared to wait, since their approval might take a little longer than usual. While waiting, you can get the rest of the requirements ready, such as the digital wallets MetaMask or TrustWallet.
Going to the Right NFT Marketplace to Sell Your Photography
Every day, a new work of art is born. Whether it's on paper, or in the digital realm, the concept of NFTs has encouraged more and more artists to keep creating, not only for their artistic souls but also for revenue.
Following this, collectors are even happier that they get to browse through millions of digital works that they can bid on for ownership.
But, the critical factor is choosing which NFT marketplace to go to. We've introduced you to 10 of the best NFT marketplaces for photographers and photography enthusiasts. We hope it's helped you decide on your next step.