Every photographer deserves to have a sturdy bag. One they can count on. Now that I think about it, photographers probably need one more so than anybody. Especially with all those cameras, lenses, and accessories to keep track of. Consolidating is a necessity! And that's exactly what attracted us to the Peak Design Everyday Backpack.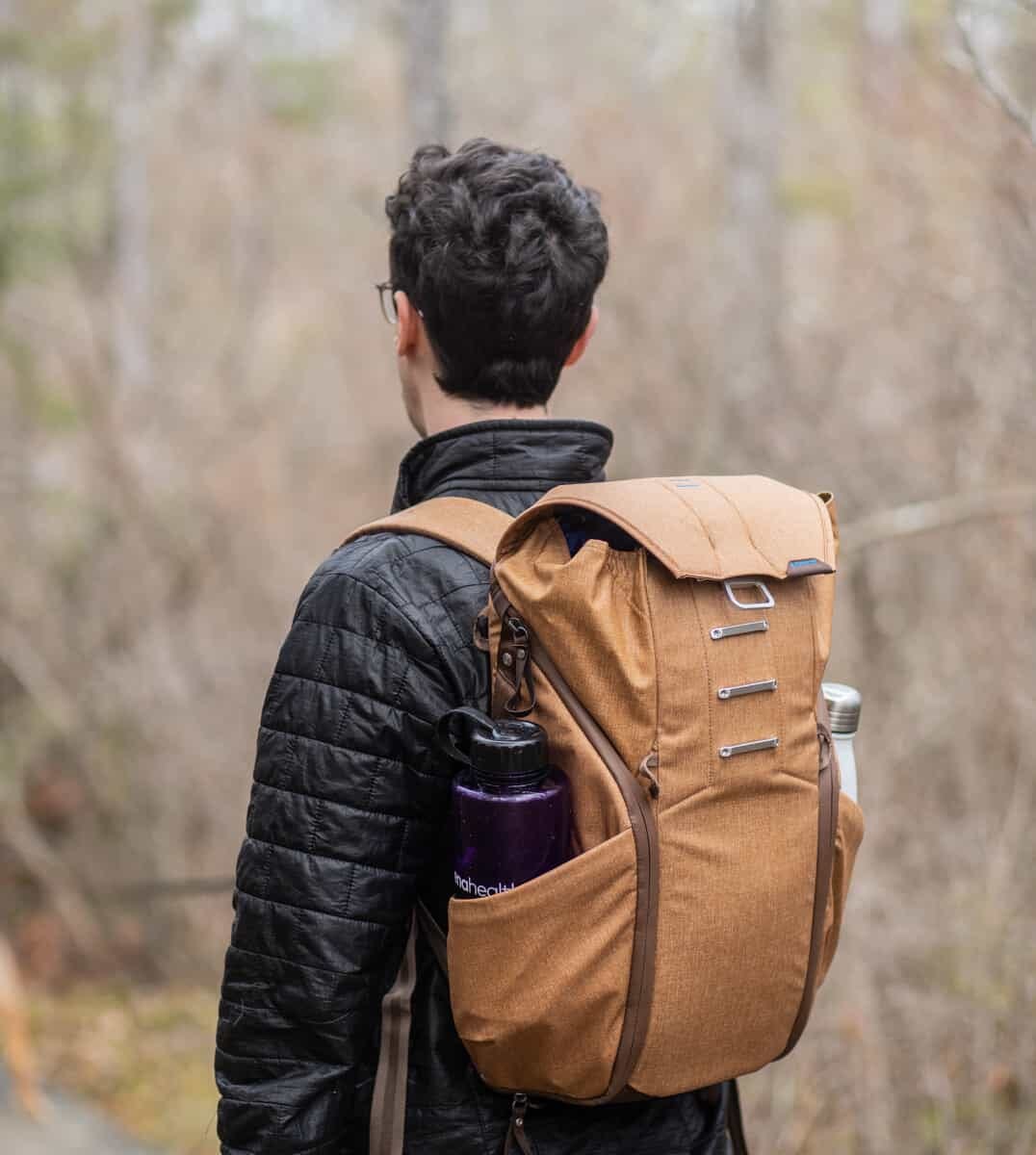 Why We Reviewed The Peak Design Everyday Backpack
Disclosure: My publisher did not have to pay for the backpack in return for this review.
It's more than the run-of-the-mill packs you find at the department store. The Peak Design bag is designed with photographers in mind. It's described by many as "adaptable" and "rugged".
Needless to say, we wanted to see what earned Peak Designs these praises. So, I got the tan 20L bag for myself (other available colors include black, charcoal, and ash. Those colors are also available in 30 Liter size). Here's what I found when the package arrived at my doorstep…
Security You Can Count On
I'll admit… It took a few minutes to figure out how to open up the front of my brand new backpack. Ooof… At the time, I felt pretty silly struggling to pry it open. But in retrospect, I can appreciate the genius security measure that kept me locked out.
Related Post: Best Camera Backpacks
The MagLatch is actually quite easy to work once you get the hang of it. In fact, it's easy enough to close with just one hand! The magnetic clasp attached to the front flap attached itself to any one of the four aluminum "rungs" attached to the main body of the bag. This system effectively keeps your bag closed, regardless of where you are or what you're doing. What's more, it makes it more difficult for people to pry their hands into than, say, a traditional zipper.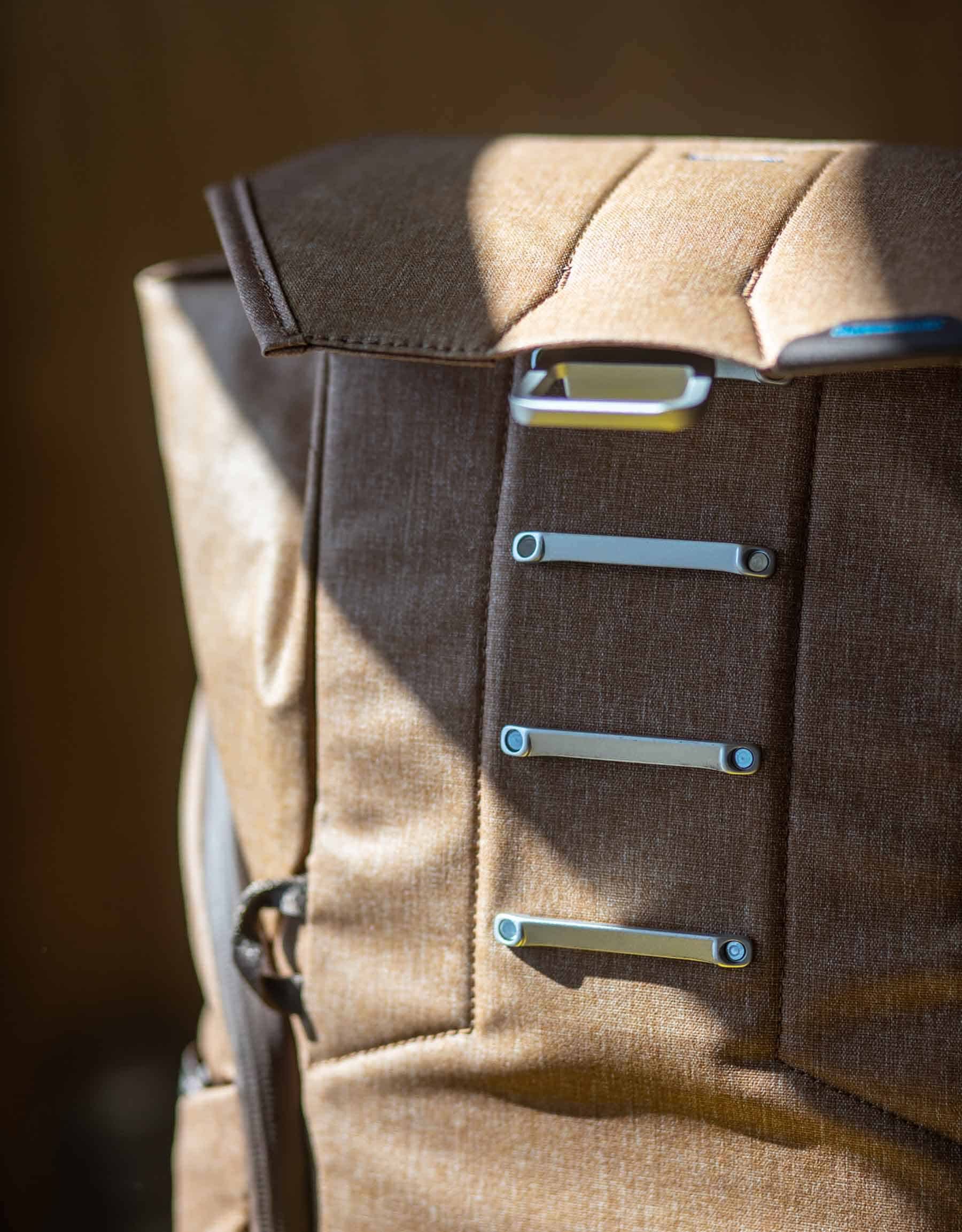 Finally, the MagLatch's different rungs make it possible to expand and fit more into your bag if necessary. Don't worry. The latch is far from the only security mechanism Peak Design has taken into consideration.
I particularly appreciated the anti-theft zipper pulls. These help keep thieves out of the side pockets. This feature is something most other bag manufacturers overlook. Plus, the zipper handles secure to discreet loops located on the corners of the bag.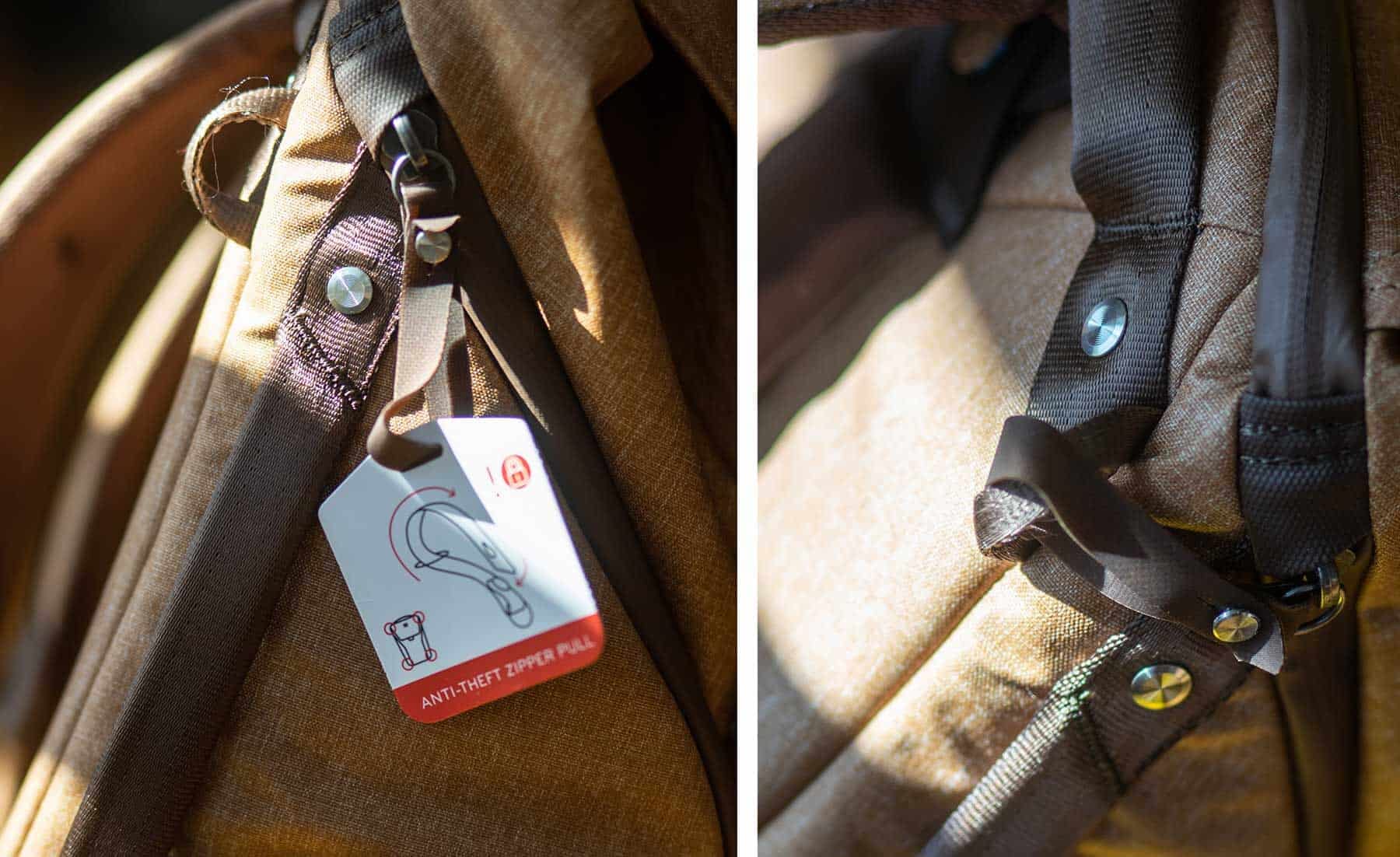 RELATED POST: Best Vacation Camera Choices
Peak Design Everyday Backpack Bonus Feature!
Another nice feature was the anchor key tether. I constantly find myself digging through my bag and pockets for my keys, concerned that I may have left them behind or somehow lost them. This neat little feature keeps them secure, yet easily in reach. Just look at how handy these are!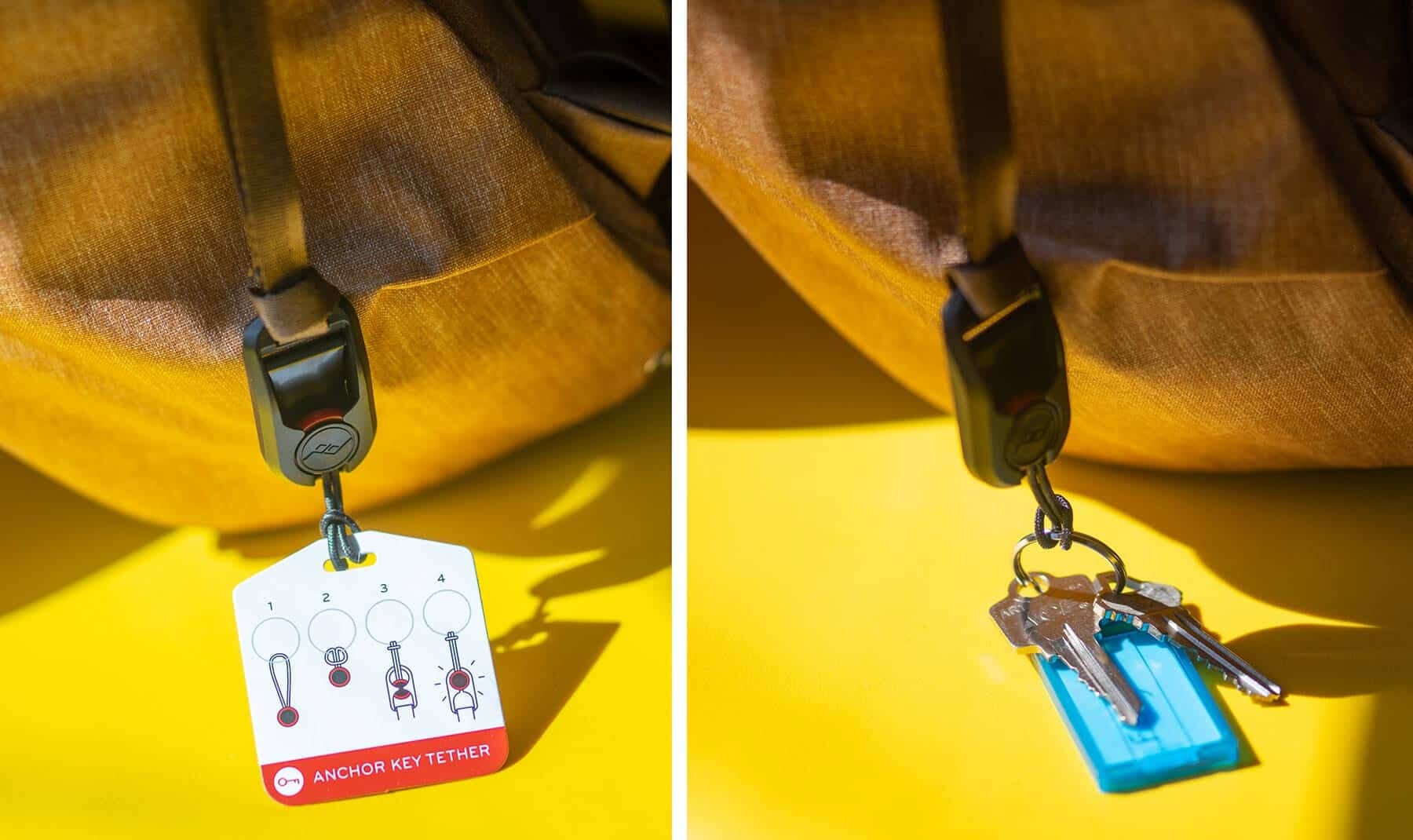 As a person that loves to travel (and take pictures while doing so), I'm appreciative of the measures in place to keep my valuable gear safe. When I'm in an unfamiliar place with my camera, I often feel as though I have to constantly watch my back. Though I haven't ventured out with my new backpack yet, I have a feeling it'll provide a little peace of mind on my next adventure.
RELATED POST: How To Take Fascinating Photos Of Cities You're Visiting
Personalizing The Inside Of A Peak Design Everyday Backpack
One of the greatest strengths of the Peak Design Everyday Backpack is its versatility. Whatever it is you need, this bag can adapt. Hidden in just about any nook and cranny of the bag are configurable tension straps. Out of context, it's a little difficult to determine their exact purpose. For the most part, they aid in securing large and/or heavy objects to the outside of the bag.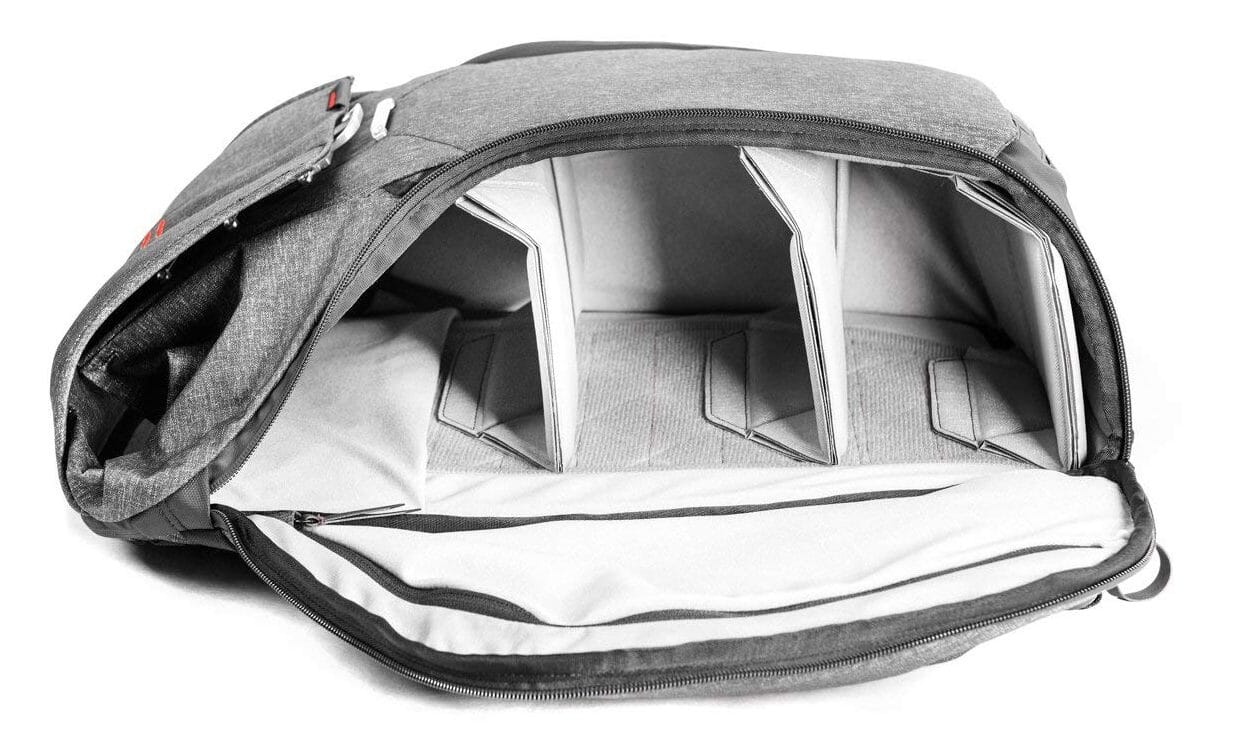 Along with the expandable side pockets, carrying clumsy equipment becomes much easier. (Here's looking at you tripod!) But what's really is cool is that these straps also serve a secondary purpose. The tension straps can also go around your chest or waist to provide support and keep your possessions close. Inside, you'll find a series of flex fold dividers secured to the soft velcro interior. Configure these dividers to accommodate whatever it is you're carrying.
Related Post: Tarion XH Backpack Review
Want to keep your lunch separate from your DSLR?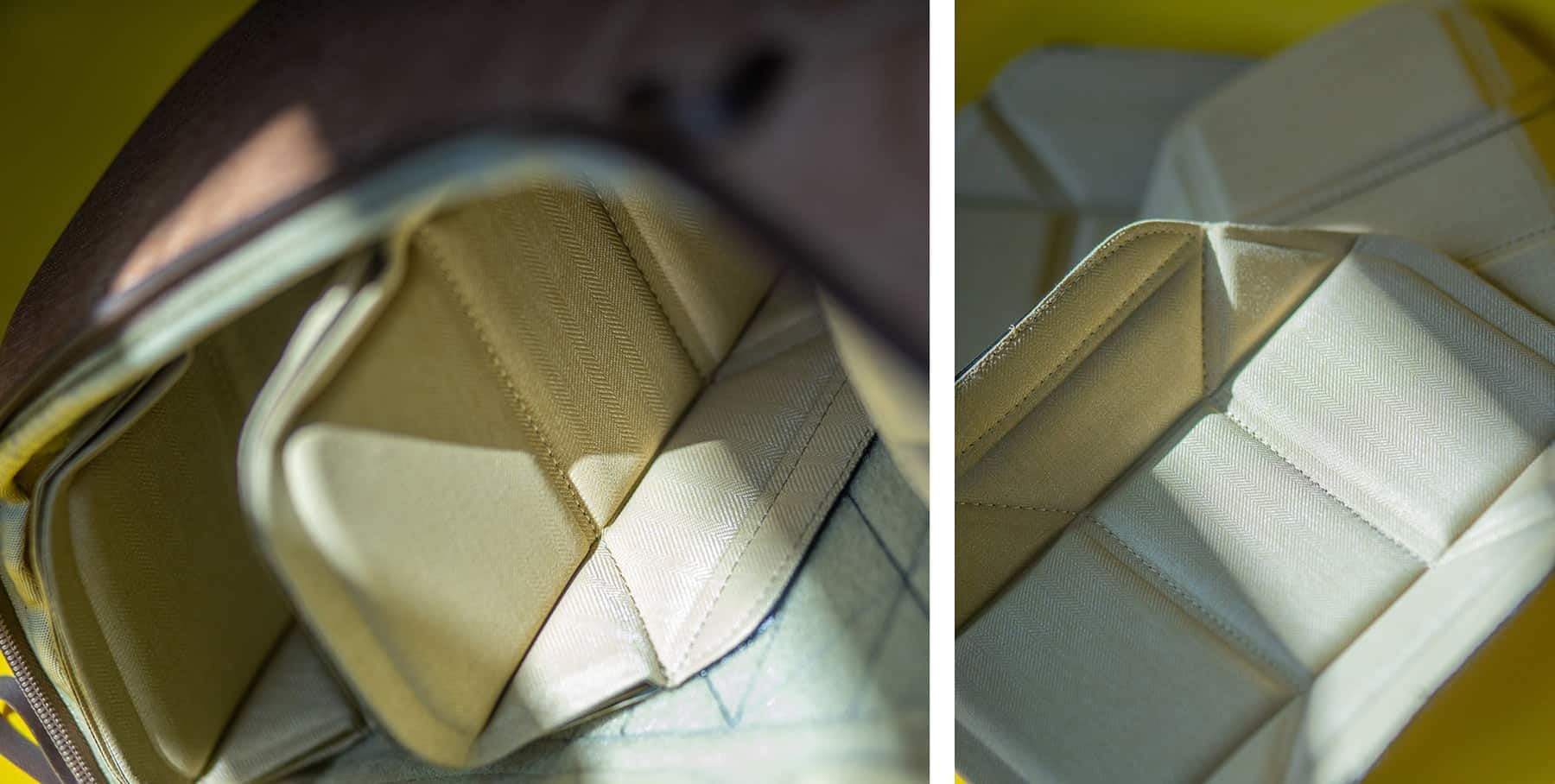 No problem. Folding a little pocket into the divider takes seconds. Photographer or not, this feature is extremely useful. That's only the beginning of the lengths Peak Design has gone through to ensure that there's a place for everything that you need. For example, a back sleeve holds a 15″ laptop. Small pockets located in the side panel provide a place for SD cards, USB flash drives, and micro SD cables.
RELATED POST: The Best Camera Backpacks Under $50
Oh, and Speaking of Side Panels…
The Peak Design Everyday Bag makes it possible to get into the main compartment via side zippers. Why is that so great? If your pack is jam-packed, you don't have to dig all the way to the bottom of your things. Instead, you can quickly grab what you need, zip up, and carry on with your business.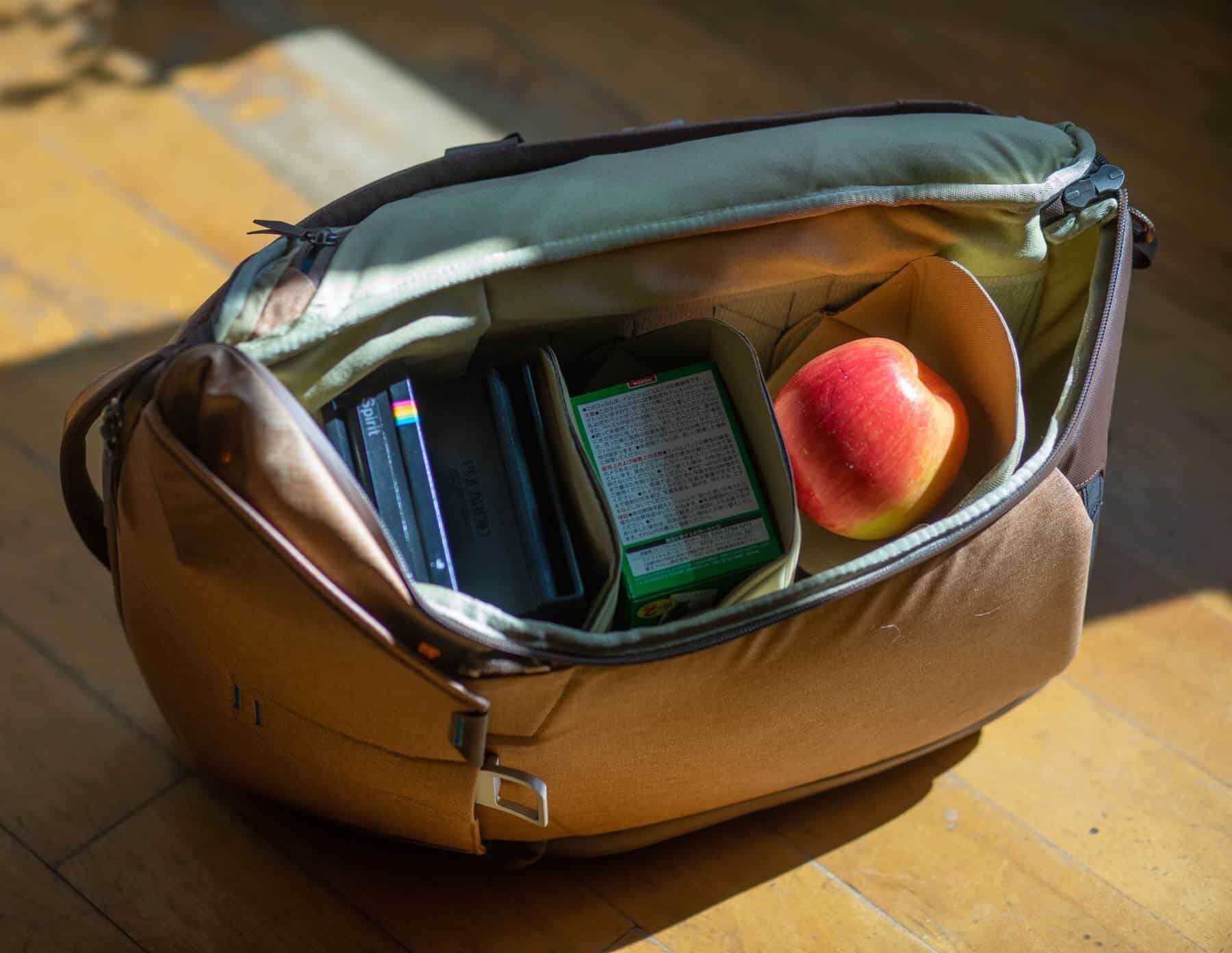 Best of all? This travel companion is small enough to fit underneath an airline seat. And, it has a sturdy strap that makes it easy to attach to rolling luggage. No matter where you're going, this bag is ready to tag along!
The security and intuitive design of this bag makes it a must-have.
The Peak Design Everyday Backpack Offers Quality Craftsmanship
Peak Design has also managed to incorporate comfort and durability into one attractive package. There's a reason Peak Design was confident enough to fork out a lifetime warranty on the Everday Bag… This thing is built to last. The nylon shell is reinforced with high-density padding and poly-coating. In other words, the bag is entirely weatherproof. It's also embedded with Hypalon, which resists chemicals, extreme temperature, and UV light.
Fear not! Your equipment is solidly protected.
But the pack isn't entirely hard. It's made with you and your gear in mind. The cotton-twill blend interior keeps your valuable hardware safe. In addition, the axial-connected straps pivot with your body. Lastly, the sternum and waist strap make for a comfortable experience. Even if your hauling heavy loads.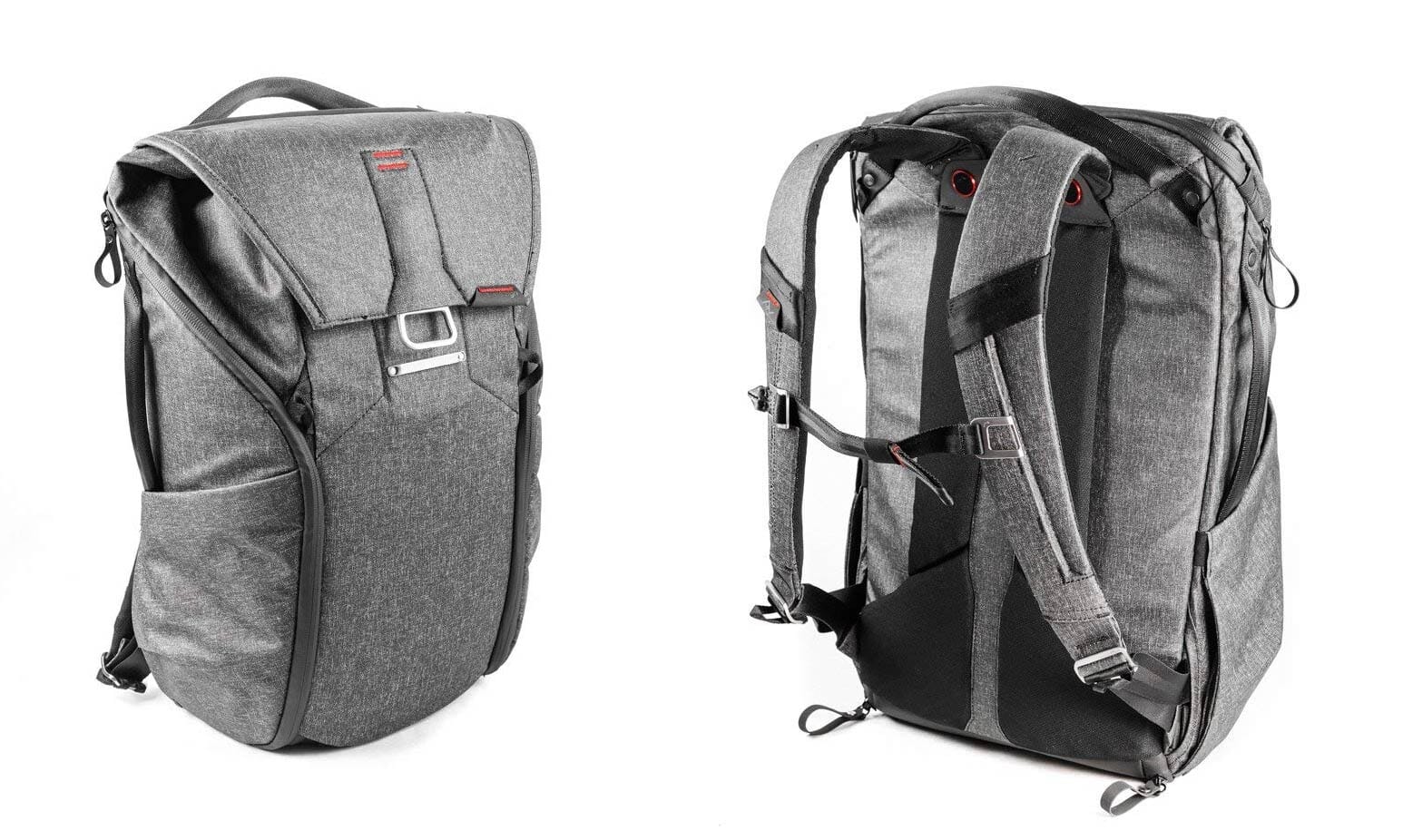 Still not sold? The Peak Design Everyday Backpack is a purchase you can consciously feel good about. Aside from making a great product, the company is a part of the 1% for the Planet network. That means that part of Peak Design's annual sales goes directly to environmental nonprofit organizations. It's a win-win scenario for everyone involved!
RELATED POST: The Best Travel Camera Bags And Travel Tips
Grab Your Peak Design Everyday Backpack and Get Going!
Lucky for me, days after receiving my backpack the first warm day of spring came to visit. Naturally, I decided to try out the bag in the field to see just how well it would work out. We packed the bag full of water, lunches, and camera equipment, then hiked for three or four hours. The pack was easy to carry and ultra comfortable.
All of the backpack's features sound appealing enough on paper. And guess what? I can now confidently say this is a bag that every traveling photographer should carry. If you want to take your work on the road, look no further than the Peak Design Everyday Backpack.
For more tips, features, and functions you can watch this useful video by Peakdesign:
Retail Price
The Peak Design Everyday Backpack 20L (version 1) costs around $210 as on 22 February 2020 .
The 30L size bags cost some $20-$30 more. The backpack is also available on Amazon and B&H Photo Video.
Peak Design Everyday Backpack 20L (Charcoal, expandable 12-20L)
The expandable design offers between 12-20L of storage to hold a full-frame DSLR camera body & 3-4 lenses.
Protected laptop sleeve/pocket holds laptops up to 16" (See listing for exact measurements).
3 Flexfold Dividers protect cameras, drones, and lenses. Works as a professional camera backpack.
Waterproof 400D nylon canvas shell. DWR impregnated and poly-coated. Premium weatherproof zippers.
Exterior & sub-divided Interior pockets carry memory cards, batteries, pens, filters, and more.
Update: Version 2 of the Peak Design Everyday Backpack is now available:
Peak Design Everyday Backpack 30L (Charcoal V2)
VERSATILE DESIGN: Customizable internal dividers make this bag ideal for everyday, camera, and laptop carry.
SIDE + TOP ACCESS: Access from top via MagLatch, plus dual side zips. Never dig through your bag again.
PROTECTED LAPTOP SLEEVE: Holds 15" laptops (see listing for exact measurements) and is accessed externally.
EXPANDABLE CAPACITY: 8L of internal expansion, plus 4 hidden straps for carrying items on bag exterior.
LIFETIME GUARANTEE: Weatherproof, 100% recycled nylon canvas shell is DWR impregnated, double PU-Coated and Bluesign...
You can see the latest models and current prices of the Everyday Backpacks on the Peak Design Online Store.
Peak Design Everyday Backpack 20L Review
Summary
The Peak Design Everyday Backpack 20L (also available in 30L) is a pricy backpack. But the build quality, unique design, versatility, and security are well worth the price. Depending on your laptop size, number camera lenses, tripods, etc. you want to carry around you should opt for the 20L or 30L version. Also, you may want to see which one is more comfortable. What's great about Peak Design is that you get free U.S. Shipping, 30-Day Returns, and Lifetime Guarantee.
Build Quality

Design

Versatility

Security
---
As an Amazon Associate we earn from qualifying purchases. Certain content that appears on PhotoWorkout.com comes from Amazon. This content is provided 'as is' and is subject to change or removal at any time.