In this hands-on review, I'm going to tell you all about the Peak Design Everyday Backpack (Version 2).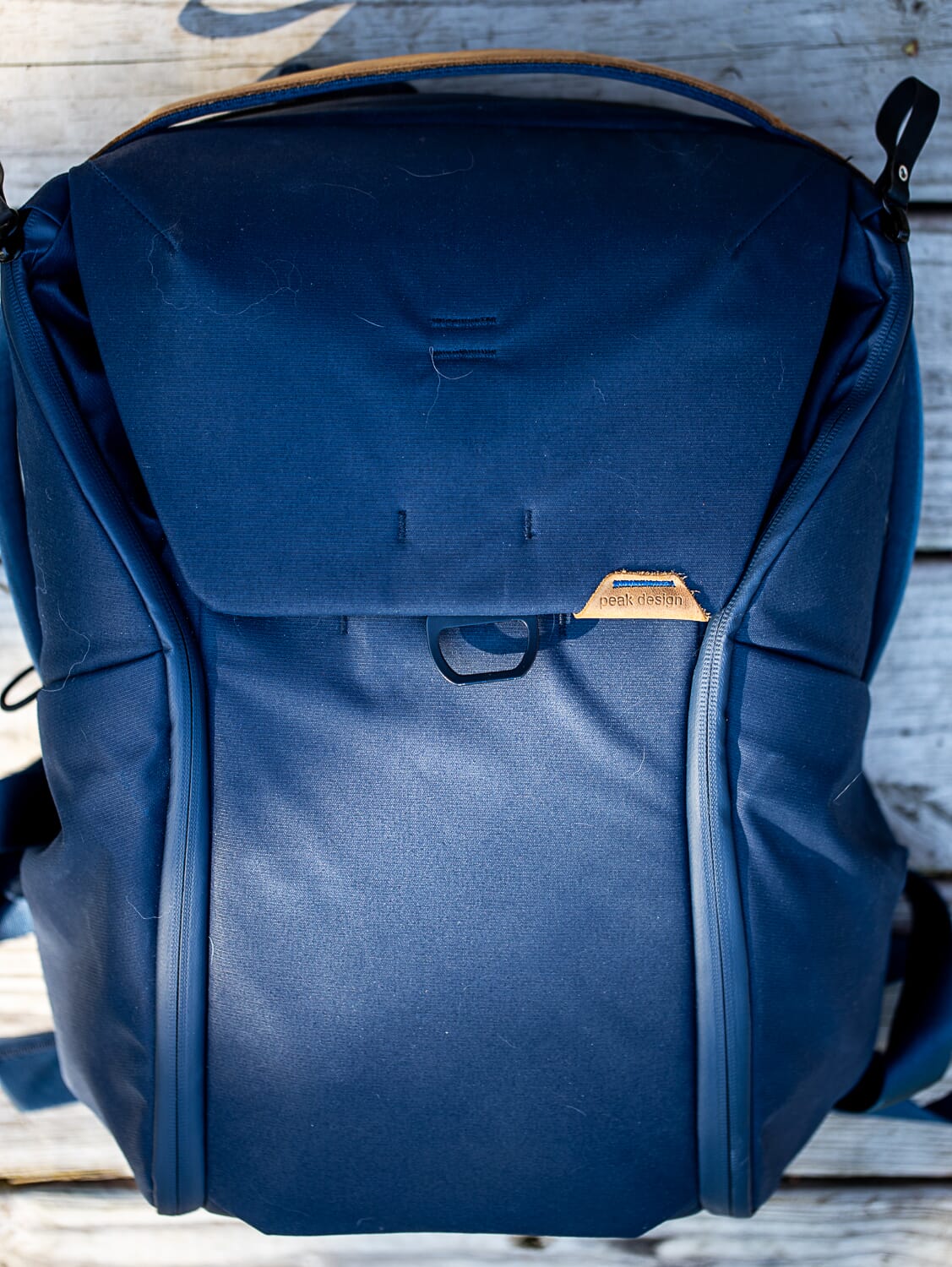 I'm going to give you the best and worst of the Everyday Backpack.
And I'm going to explain who should use this backpack, and who should look for something else.
You'll leave knowing whether the Peak Design Everyday Backpack is right for you.
Let's get started.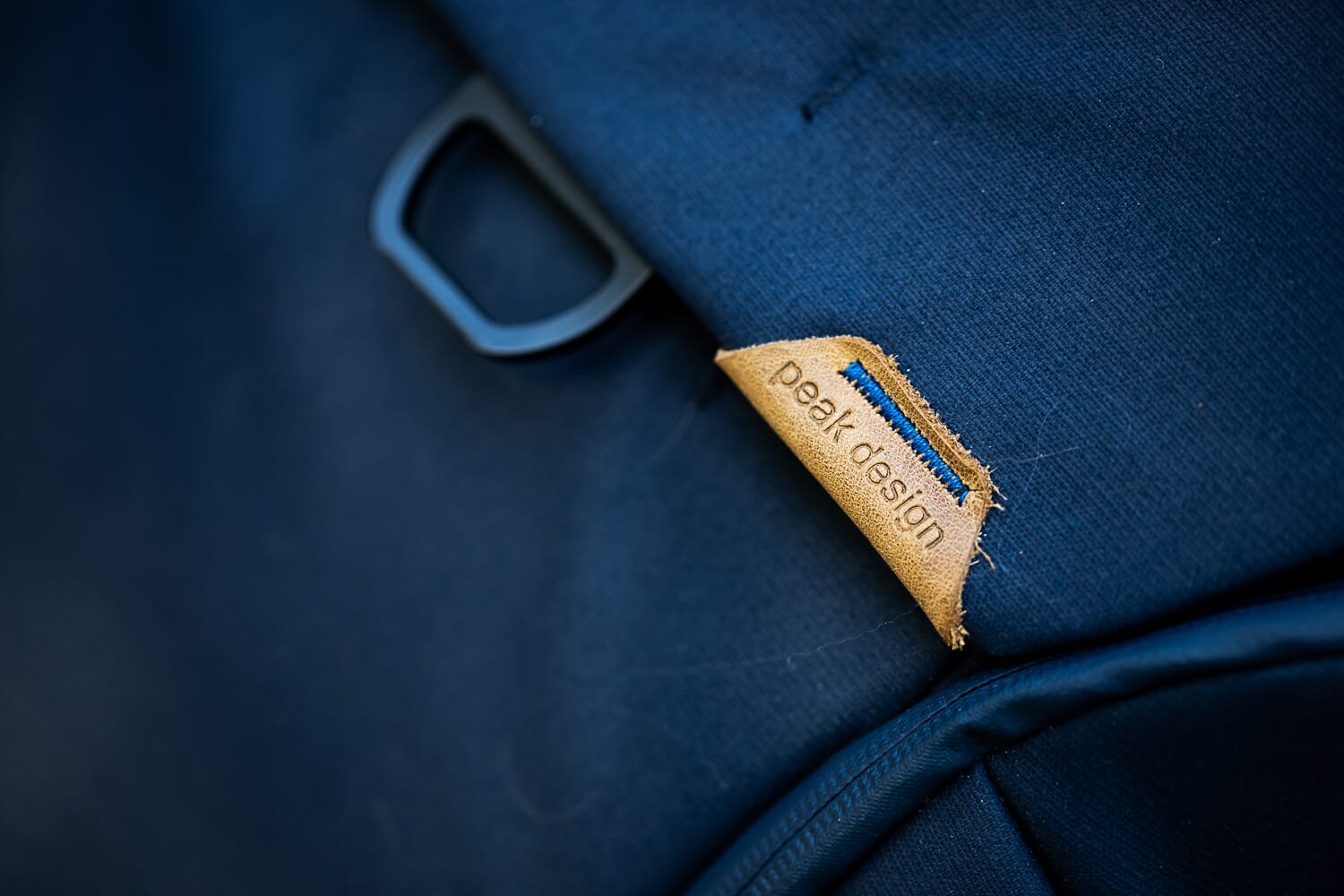 When you buy through links on our site, we may earn a commission at no cost to you. We evaluate products independently. Commissions do not affect our evaluations.
Peak Design Everyday Backpack: Overview
The Everyday Backpack comes straight from a self-described "carry" company based in San Francisco, California:
Peak Design, known for their camera bags, but also for a number of other photography-related products, including their Travel Tripod, as well as camera straps and clips.
Peak Design isn't an old company, but they've become well-established in recent years since debuting their first product on Kickstarter. Now they produce camera-carrying bags of all sorts, including the kit featured in this review, the Everyday Backpack.
The backpack is primarily meant for photographers, which means that it's going to need to do three things:
First, the Everyday Backpack needs to hold a lot of gear without letting it rattle around or become disorganized. Most photography backpacks have dedicated compartments for this purpose. The pack also needs to be easy to use and offer easy gear access.
Second, the Everyday Backpack needs to be both relatively well-built and weatherproof. Photographers put a lot of strain on their backpacks, and there's no use getting equipment that's going to fall apart in a few months.
And third, the Everyday Backpack needs to feel comfortable. This is potentially the hardest area to satisfy photographers, because it's not a question of being comfortable while empty; the Everyday Backpack needs to be comfortable while full to the brim with camera gear.
So how does the Peak Design Everyday Backpack fare?
Very, very well.
It's not a perfect backpack, and I'll go into the details later, but I'm very impressed by the Everyday Backpack. It's easy to use, it's well-built, and it's comfortable. Plus, it looks amazing, which isn't something that I particularly care about (though I know how to appreciate a nice aesthetic when it's right in front of me), but other photographers will undoubtedly feel differently.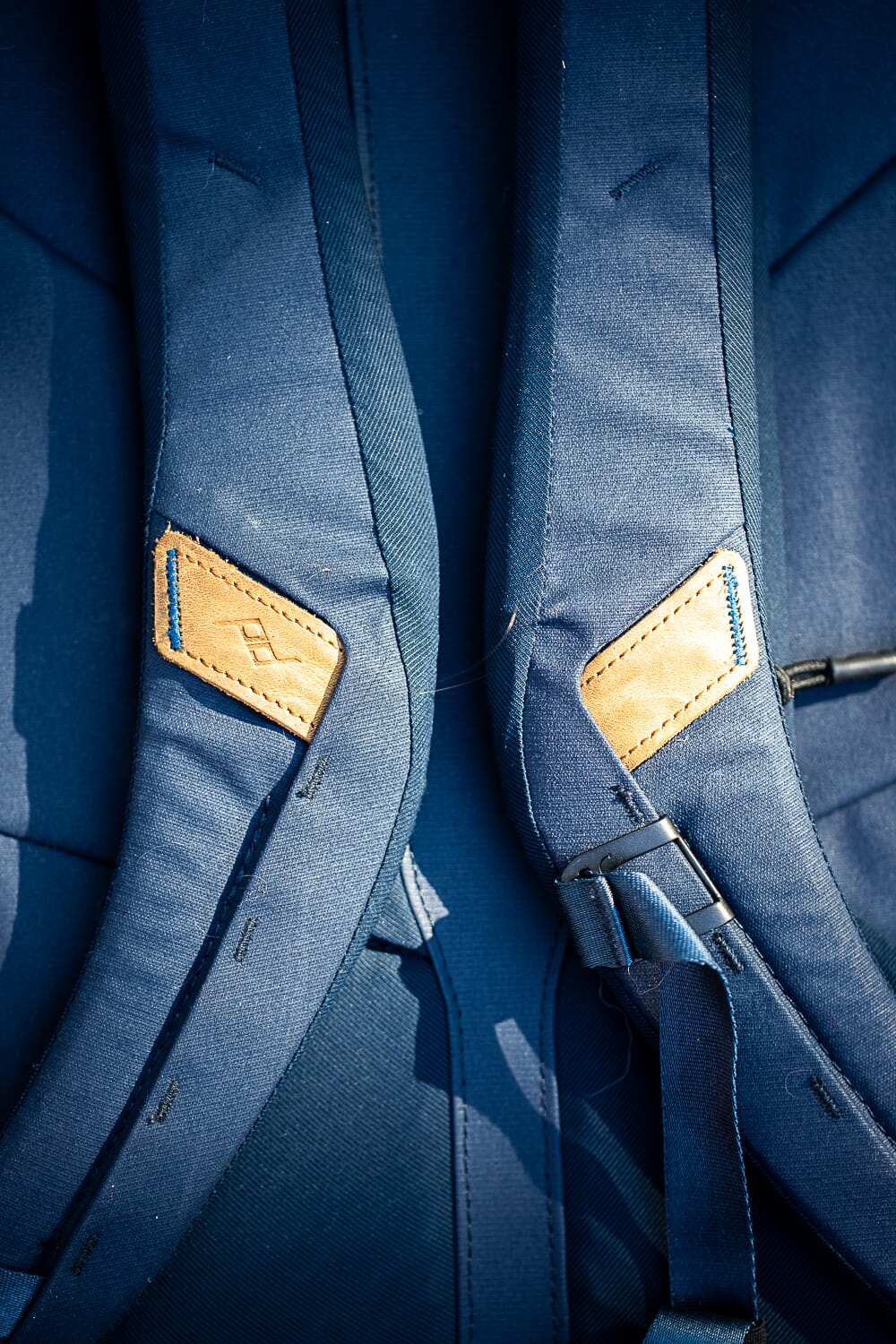 I've only had the backpack for a few weeks, which means that I can't be sure how well it'll hold up over time. But the sense I get is that this bag is impressively durable, one that I'll be able to use for years to come.
Now let's take a closer look at the Peak Design Everyday Backpack, starting with:
The Peak Design Everyday Backpack: Design and Organization
The Everyday Backpack looks simple from the outside:
A few pockets, a few zippers, but nothing too complex.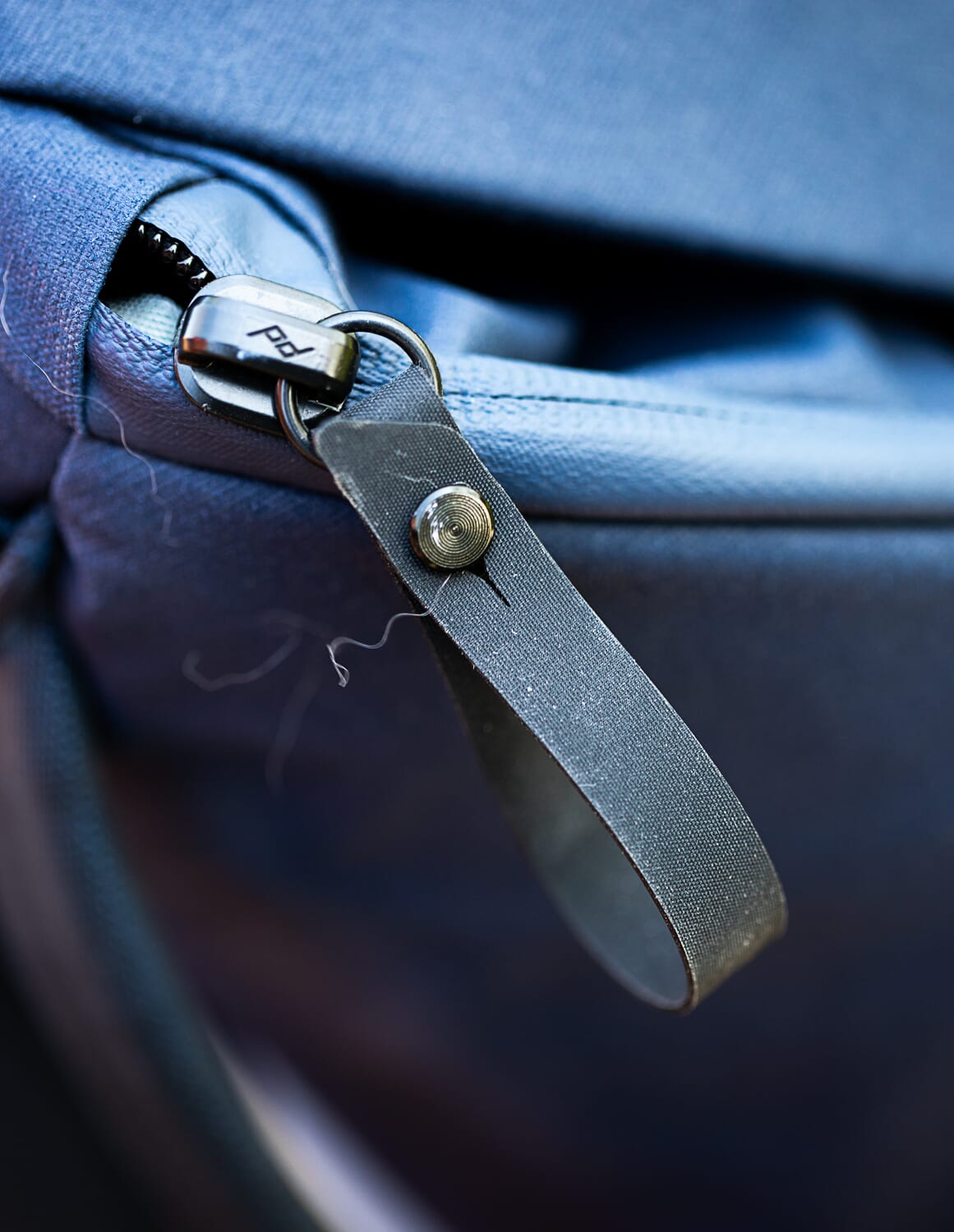 On the inside, however, things start to become more complicated–though not necessarily in a bad way.
The backpack I tested is the 20L version, which means that it can't hold quite as much as the 30L option, but it's still relatively spacious. Surprisingly spacious, in fact, considering how slim the backpack seems from the outside.
You get a number of dividers, which are a staple of camera-carry backpacks. What's nice about these dividers, however, is the flexibility they offer. You can grab part of a divider and push it inwards, and you get a new compartment to work with. In fact, you can arrange the dividers in a number of different ways, for various configurations of camera gear–all of which are helpful when it comes to packing for a shoot.

You also get several nice access points. You can unzip the backpack from either end, which means that it's possible to keep it hanging off one arm while pulling out gear (something that I've always wanted in a backpack, but never managed to find). And you have the standard top opening, which is handy for those who prefer to use a backpack as, well, a backpack.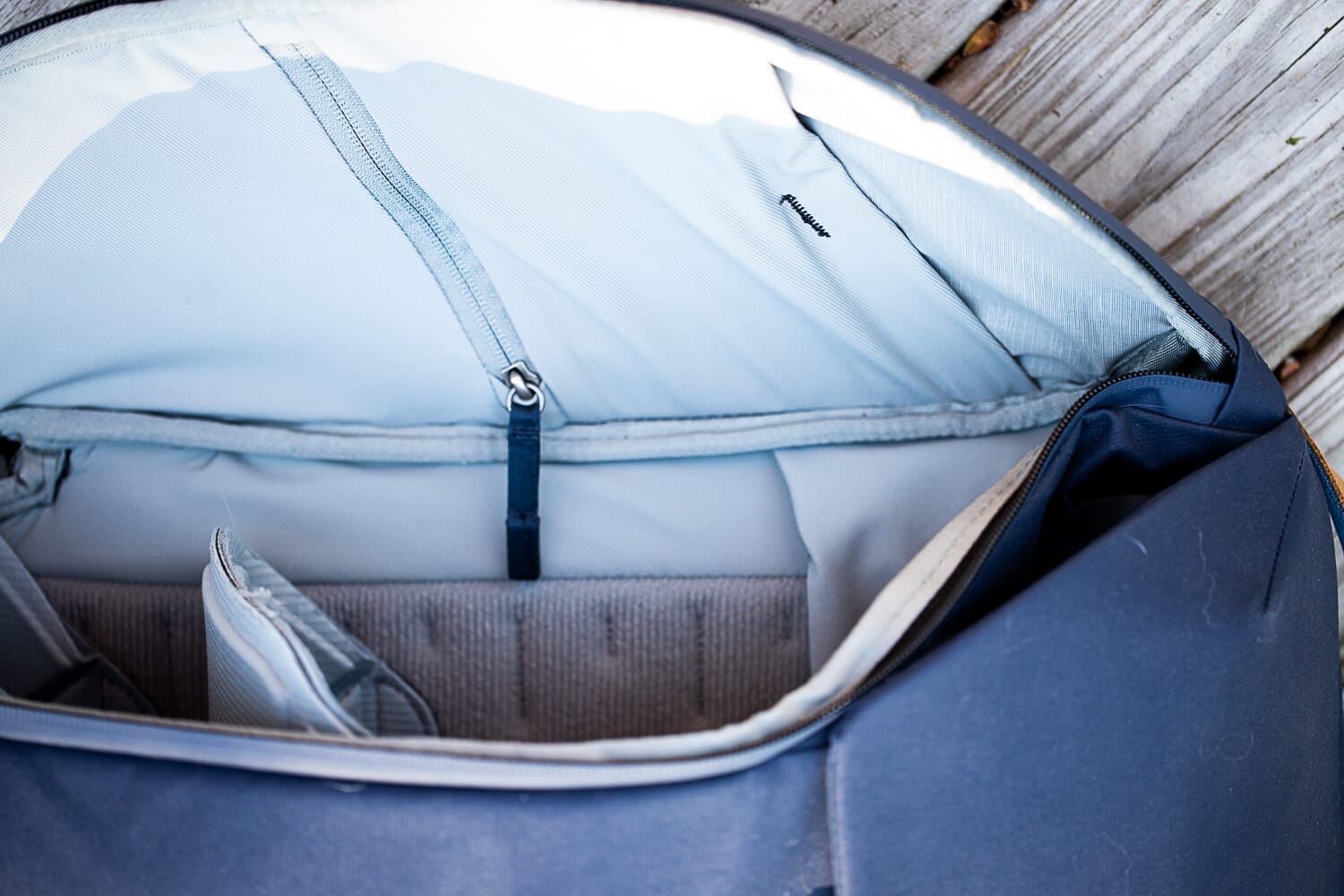 Basics aside, one of the main things that impressed me about the Everyday Backpack is its endless array of useful features. There are lots of side straps and pockets, meant to fit tripods, sleeping bags, you name it. You get a clip for your keys, which goes straight into a pocket to prevent them from getting lost or snatched.
You also get anti-theft zippers, quite a few hidden pockets, a weather-sealed shell, and a laptop sleeve that changes sizes so you never have to dig too deeply into your backpack for your laptop again. Oh, and you even get straps that are designed to attach the bag to the top of a rolling suitcase, which I can see as a major benefit when flying.
Overall, the Everyday Backpack design seems to address a lot of photographers' needs without making things unnecessarily complex. But I do think that some of the features–the side access points, in particular–may be trying to do too much, or are just underdeveloped.
While I love the idea of accessing my gear from the side, having the bag hang off one arm while pulling out gear with the other is just plain hard, plus I'm often looking to change lenses, something which you definitely shouldn't try with one hand. I'm sure there's a way to improve this, but Peak Design does need to make an adjustment or two for it to work as intended.
Related Post: Peak Design Clutch CL-3 Review
I also wonder how satisfied most photographers will be with the amount of gear the bag carries. You get a decent amount of space, and I noted above that it's a surprising amount, considering how thin the backpack seems. But I wouldn't feel comfortable using it as a true travel bag, because four lenses (including a 70-200mm f/4 and a 400mm f/5.6) plus two camera bodies just won't fit.
So for daily walk-around shoots, it's great, but for all-gear-on-deck type shooting, you're going to need something bigger. Note that Peak Design does sell a larger, 30L version–but the increased size comes with other issues, such as storage size and overall weight (which I'll discuss later on).
But bottom line:
I'm impressed with the design. It's not perfect, but it certainly manages to do a lot of things right.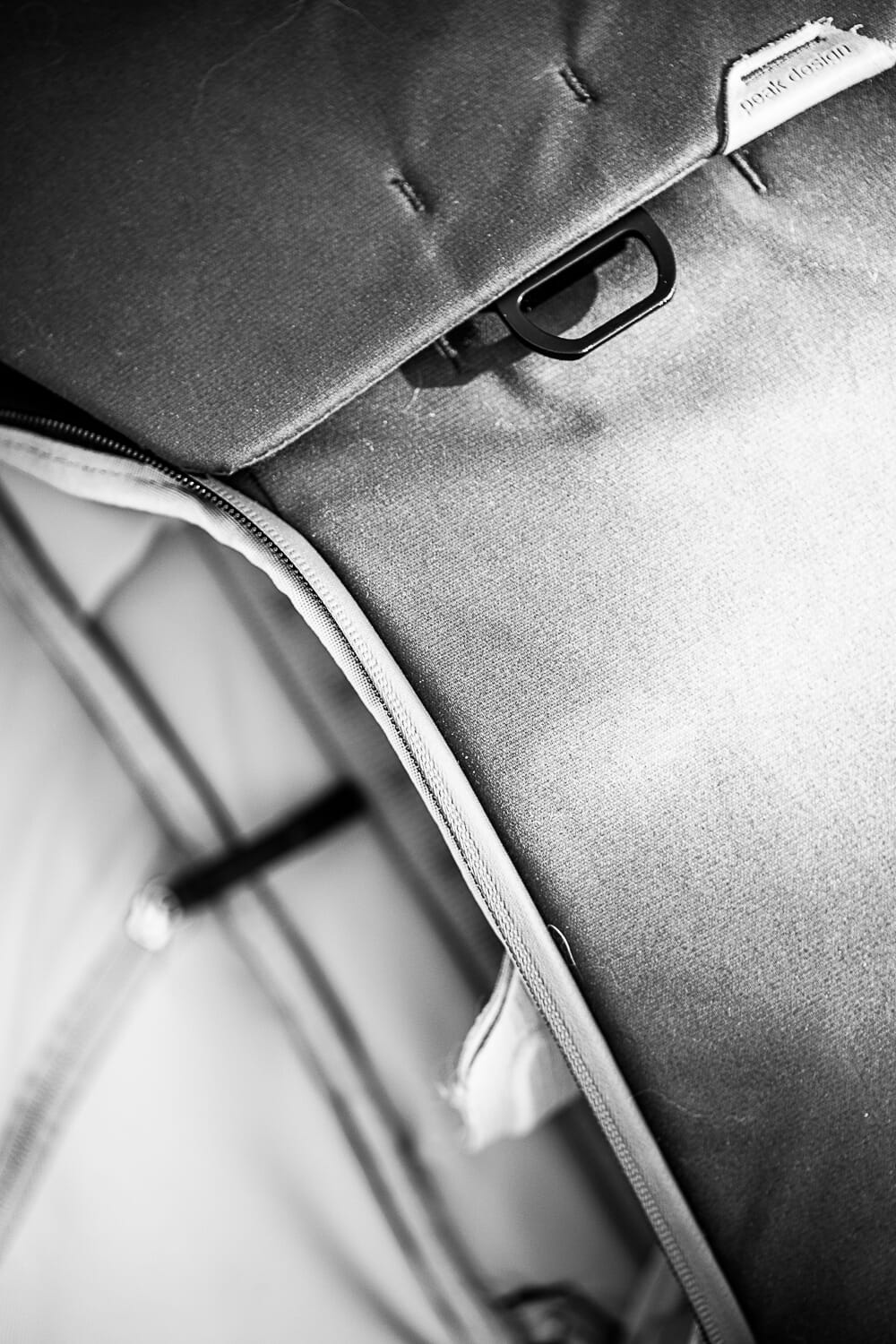 The Peak Design Everyday Backpack: Build-Quality
The Everyday Backpack seems well built, and nothing that's happened while I've been testing it says otherwise. You've got a strong, hard shell, as well as thick straps that have held up nicely. I'm not sure the bag could handle an avalanche, but it could certainly withstand a bit of a beating while keeping your gear in prime condition.
Now, any serious outdoor photographer needs weather sealing in their packs; it's just a basic requirement. A bag that's not weather-sealed just isn't worth buying, because it's sheltering expensive gear that really should not get wet.
Fortunately, the Everyday Backpack is listed as weatherproof, though I do wonder how the bag will hold up in rain. While the weather-sealing is nice, when the bag is kitted out with a large load there's a clear gap between the top flap and the backpack's contents, which makes me wonder how safe my camera gear really is.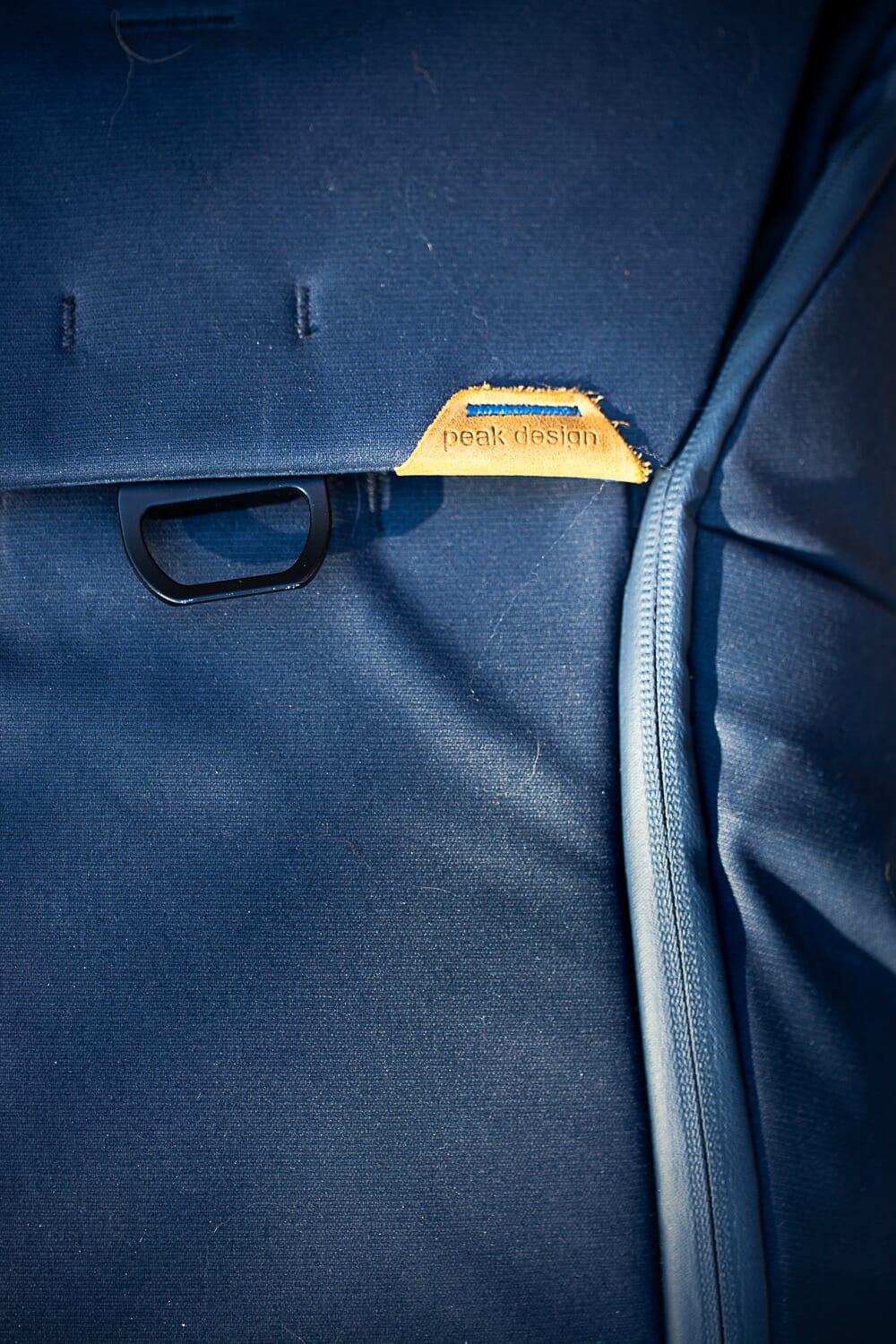 On the other hand, as long as you're carrying a smaller amount of gear, you should be just fine.
The Peak Design Everyday Backpack: Comfort
Is the Everyday Backpack as comfortable as I'd like it to be?
Not quite.
It's small, which is nice for times when you're walking around town or using public transportation. It has straps and simple-to-use strap adjusters for redistributing weight.
But it's also heavy–much heavier than I would've expected from looking at it. I imagine it's mostly due to the hard outer shell, which makes the bag feel like it can hold up under a lot of stress, but at some point I'd rather have something lightweight than a backpack with a bit of extra armor.
The backpack that I'd been using prior to the Peak Design option has no real hard frame to speak of (that is, it's all soft padding), but I've never had a situation where I wished for more padding, and I've taken across the US and even across continents.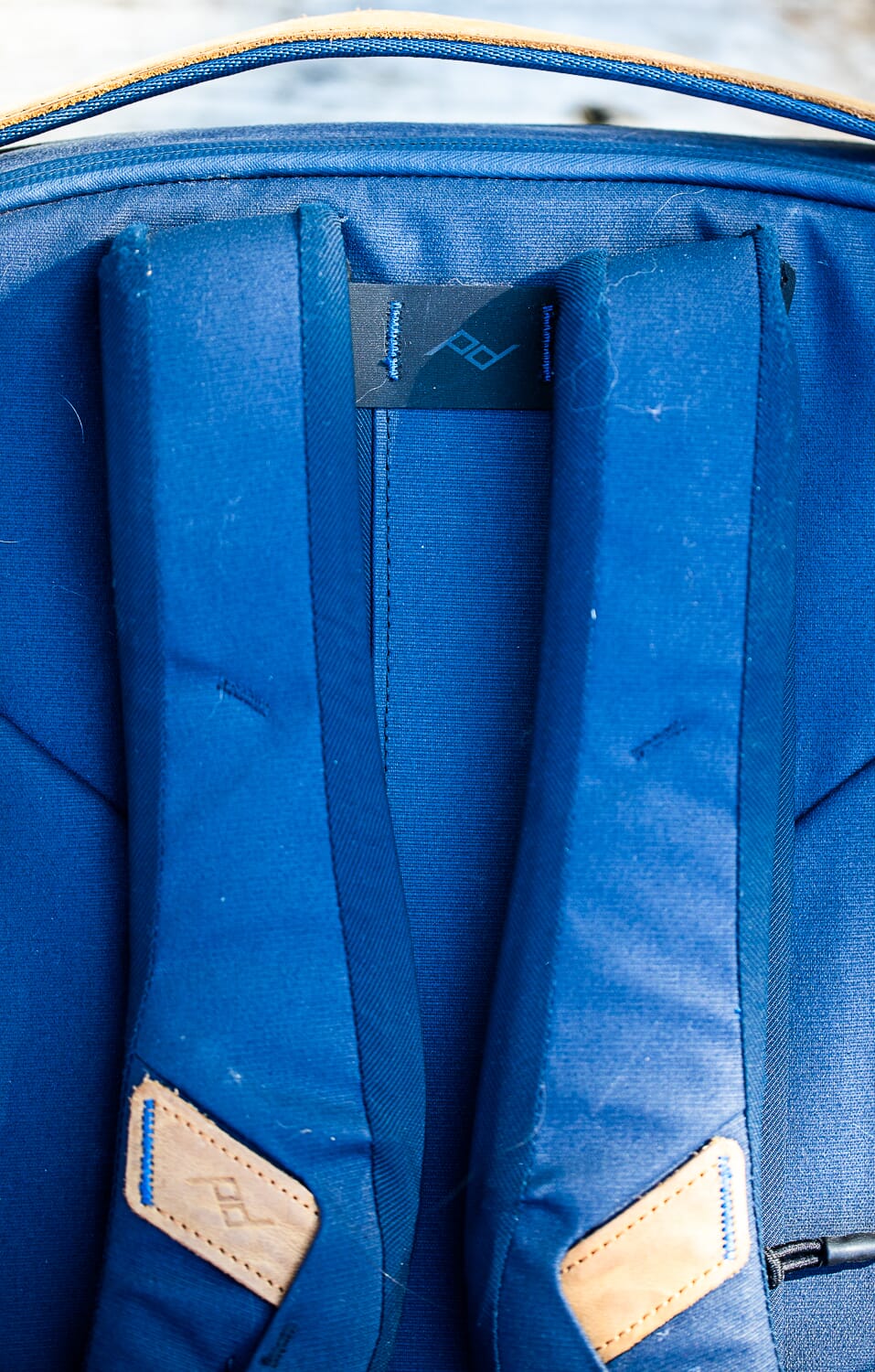 And the other issue with the hard shell is just that: It's hard. You tend to forget about it after a few minutes, but when you first put the Everyday Backpack on, it feels like you've got a hard shell on your back, and this isn't something that most photographers are interested in.
Who Should Buy the Peak Design Everyday Backpack?
The Peak Design Everyday Backpack is impressive in a lot of ways.
It offers great design, solid build quality, and a reasonable level of comfort, even if some of its features seem underdeveloped, and even if the bag itself is a bit heavy and hard.
Oh, and it looks amazing (it's probably the most fashionable camera backpack I've ever seen). You can't have it all, but Peak Design does a great job of making sure the Everyday Backpack is kitted out with everything a photographer needs.
Also read: Best Camera Backpacks in 2023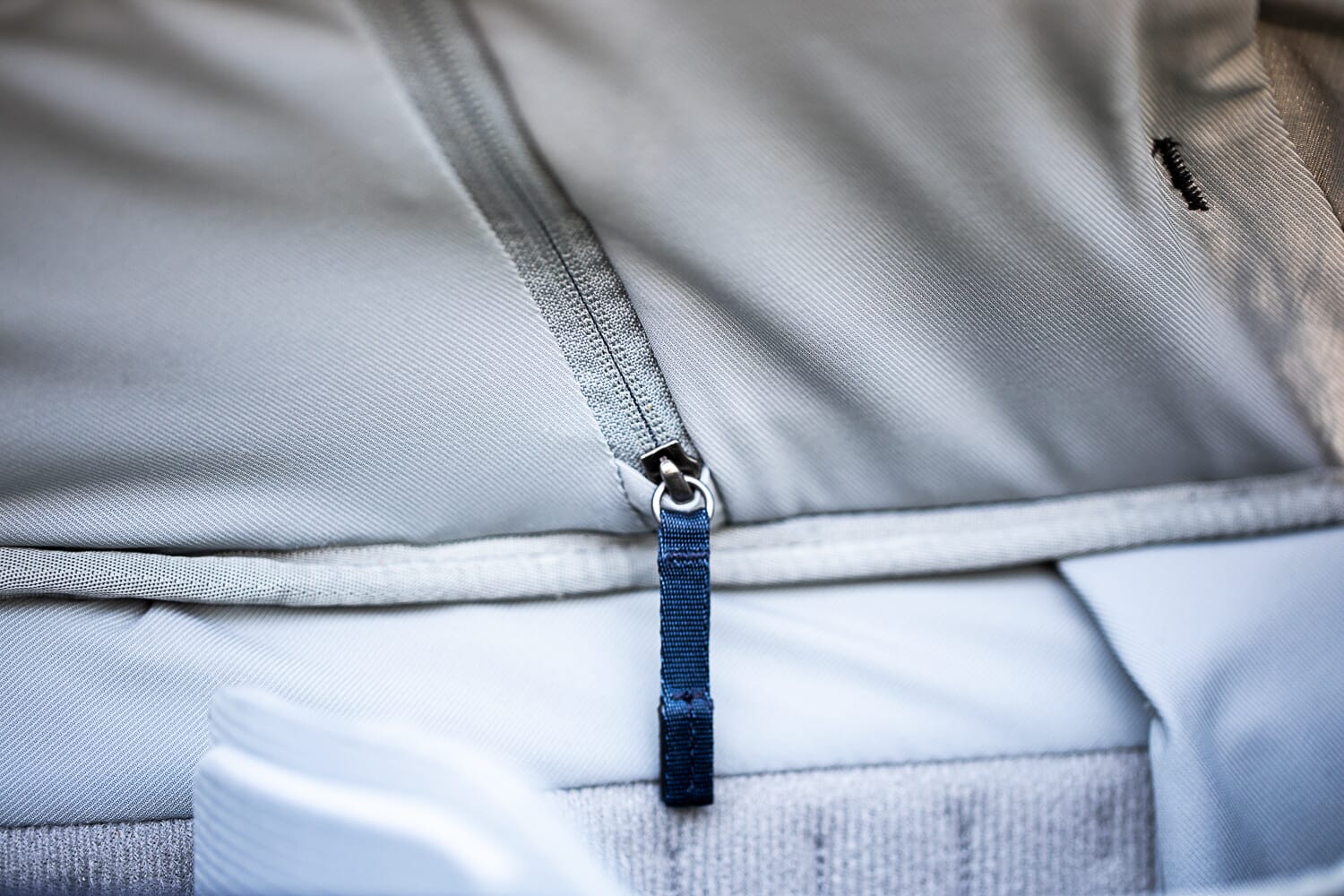 The primary obstacle facing potential customers is the price: At well over $200, the backpack is going to get written off as too expensive for a lot of users, especially given that there are plenty of decent-quality budget backpacks out there that cost about a fifth as much.
Is the backpack overpriced? That depends on what you care about. If the aesthetics of the bag matter to you, and if you're looking for something that feels slim while giving you a fair amount of space, then maybe the Everyday Backpack is worth it.
But for the average user, a photographer who just needs a way to carry their gear around when shooting on the streets, in portrait sessions, and while out hiking, there are cheaper options that can do a lot of the same things–or, at least, the things that they care about.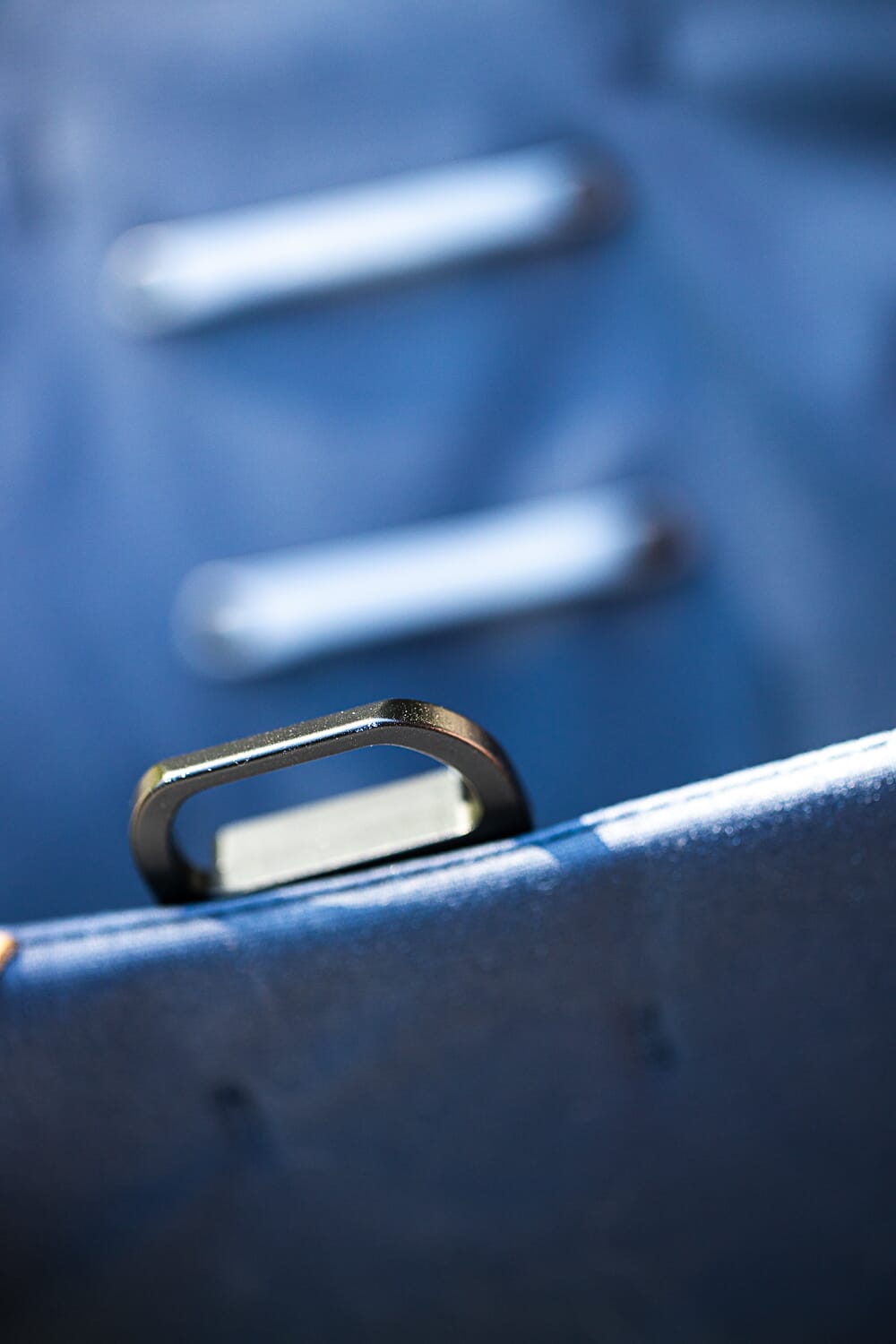 The Peak Design Everyday Backpack Review: Conclusion
Now that you've finished this review, you should know all about the Peak Design Everyday Backpack.
You should know what it offers in terms of design, build-quality, and comfort. And you should know whether it's right for your needs.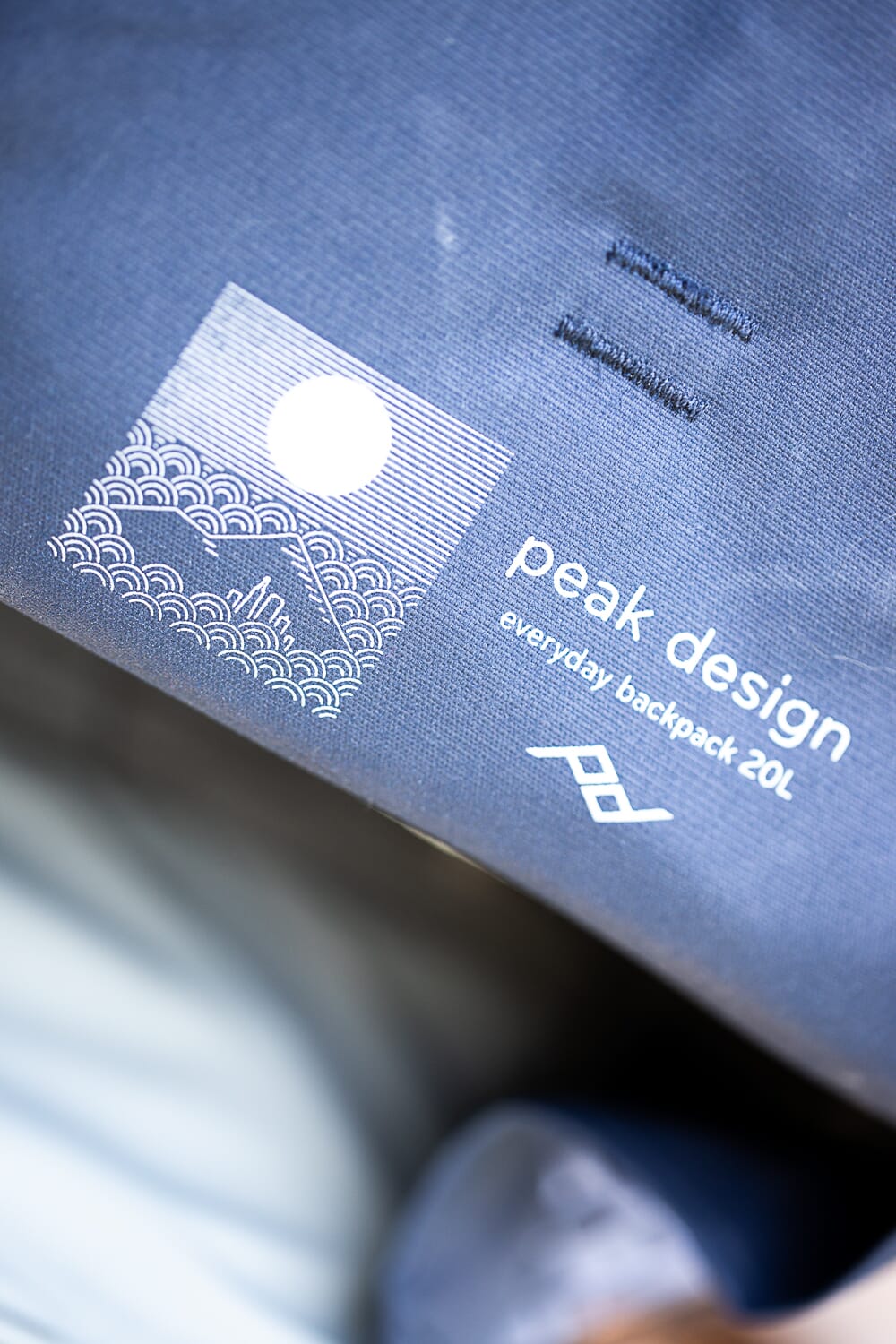 And if it is, then go make a purchase! The Everyday Backpack is a great buy for the right person; it will not disappoint.
Get the Peak Design Everyday Backpack Now
Who should buy the Peak Design Everyday Backpack?
The Peak Design Everyday Backpack is a great buy for anyone looking for a spacious, stylish, and durable option to carry their gear. It's not the most comfortable bag out there, but it offers a ton of cool features, several access points, and a superb aesthetic. The only issue is price; the Everyday Backpack isn't cheap, so you'll want to be sure it's right for you before buying.
Is the Peak Design Everyday Backpack big enough for a serious photographer?
Absolutely. It looks small from the outside, but the Everyday Backpack is surprisingly spacious. You can easily fit several bodies and lenses inside, and I wouldn't worry about being short on space unless you're a professional that likes to carry your entire arsenal of gear with you on trips.
Is the Peak Design Everyday Backpack very durable?
Yes, the Peak Design Everyday Backpack is plenty durable. I've had it for two months now and it's holding up quite well. The bag is also listed as weatherproof, though I'm not sure I'd feel comfortable taking it out in rain.