We live in a world today where social media plays a part in most people's daily lives. Everywhere we look we are confronted by social media. We see celebrities posting pics on Instagram, sports personalities arguing on Twitter, and businesses promoting their brands on social media. Never before has a type of digital media had such a grip on the world's population!
Just think about this:
How many of your close friends and family use Facebook and Twitter?
How many of those people post on social media at least once a day?
Social Media is truly infectious and as a photographer you must take advantage of it to further your business and potential exposure!
Social media can be a potent tool to help increase your audience, gain attention for your work, and also appeal to potential clients. Furthermore, social media is a great way to improve your organic SEO and to promote your website, blog, and portfolio.
This article provides eight tips for photographers that can help you improve your social media usage – we hope you find them beneficial!
8 Social Media Tips for Photographers:
When you buy through links on our site, we may earn a commission at no cost to you. We evaluate products independently. Commissions do not affect our evaluations.
Tip 1: Not Every Social Media Platform Is Suitable for a Photographer
If you wanted, you could spend all of your time creating social media profiles, and posting on every social media platform available. As a photographer, this is simply not necessary. Certain social media platforms lend themselves to photography and it is important to only capitalize on these particular platforms. In our opinion, the main three platforms you should concentrate on are:
Instagram,
Twitter, and
Facebook and we have explained why below:
👉 Instagram
Instagram is literally perfectly suited for photographers. All you do is post photos to your feed – this is essentially a digital form of your job! Instagram is the social media platform you should put the most effort into. By using the best camera for Instagram, it is easy to create interesting and engaging content in a matter of minutes.
Furthermore, Instagram is a fantastic way to interact with other like-minded photographers and gain a large following with minimal effort.
👉 Twitter
Second, to Instagram, we have Twitter. Twitter is another platform suited for photography and it does not take much more effort than Instagram to create content for. When using Twitter, you should always use relative hashtags such as #photography #photoSkills #Lightroom and #photoEditing – this can help generate more hits and increase the readership of your posts.
Twitter has a huge user base and it is another platform that you can maintain a presence on while you are on the go. For example, if you have just completed a photoshoot, you could use Twitter to post photos of your setup or to give a preview of the finished photos.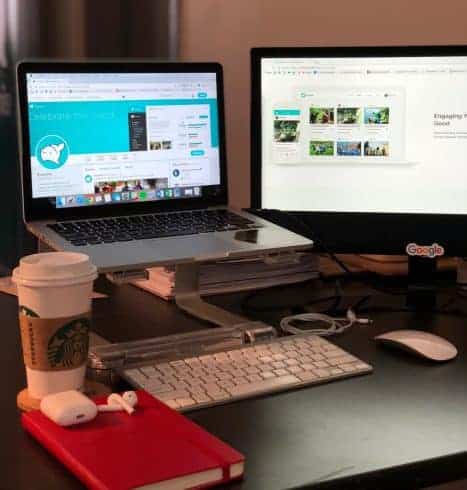 👉 Facebook
Finally, we have Facebook – Facebook is undoubtedly a social media platform that you must make use of, but we feel that it is not as well suited for photographers. Generally, Facebook takes more time to maintain and the posts have to be longer too. You can use Facebook in some interesting ways though to help further promote your photography.
Create Facebook Photo Albums & Videos
For example, you can create photo albums and post videos too – photos albums are a great way to share your content and also to give your clients access to their shots in an easy manner.
Join Facebook Groups
Furthermore, you can join Facebook groups to create a network with other photographers and businesses.
These three social media platforms are certainly the most important, but that doesn't mean you have to avoid the others completely. The only thing that you have to remember, is that to make a social media profile effective you have to update it regularly. If you try to maintain too many profiles at once you can soon become overworked and make mistakes.
Tip 2: Providing Consistent Quality Content Will Help Maintain Your Audience
This is the main area where many photographers fall short. Many photographers create social media posts with the best of intentions. They usually have a couple of weeks or months where their social media activity is through the roof, but after that, the inevitable decline starts and posts become less frequent and eventually stop altogether.
Social media should be viewed as a constant form of marketing for your photography business – you must aim to maintain your social media profiles indefinitely. This means creating consistent content for the foreseeable future.
Creating a Posting Schedule
To help, you should create a posting schedule. You can find many different tools online that can help schedule your social media posts and organize your online world. By scheduling and organizing your posts, you should be able to create content consistently.
Consistency Is King
Ideally, you should aim to post daily to at least one of your social media accounts. As Instagram and Twitter posts are easier to create, consider posting to these platforms 3-4 times per week, and post maybe twice a week to Facebook. By creating this consistent and regular content you will keep your audience interested and engaged.
Tip 3: Photos Must Be Formatted Differently for Each Social Media Platform
Obviously, photography should be a major part of your social media campaign. When using photos for your social media posts, you must be aware that different social media platforms require different image formats. You can't simply use the same photo for Facebook, Twitter, and Instagram for example.
Furthermore, you can't really use the same photo for profile images such as your Facebook profile pic, or your Twitter header image. Treat each platform separately, and use images that suit the desired format of each social media platform.
Let's look at a few different examples so you can understand what we mean.
Instagram Loves the Square Size
Instagram is a prime example – Instagram photos are small in resolution and square in shape. If you try and use a wide-angle landscape photo on Instagram, you will end up cropping half of the image. Instagram lends itself to portrait photos or vertically aligned photos instead of sweeping landscapes.
See a sample image of the Photographer Scott Kelby (who runs KelbyOne.com):
Twitter Wants Rectangular Images
Twitter, on the other hand, provides you with a rectangular image thumbnail that is roughly the same aspect ratio as a standard DSLR shot. You can, therefore, make use of landscape shots, and incorporate basic rules such as the rule of thirds. Look closely at photo format, and ensure that you match your photo usage with the ideal format for each platform.
Tip 4: Simply Posting Images Will Not Suffice
We mentioned above that your own photography should be your primary source of content for social media – that does not mean it should be your ONLY content, however.
Adding a Caption
If you simply post an image to Twitter without any caption, link, or context then how will your audience understand its purpose? Each photo you post on social media should at least have a caption or description to provide your audience with a little background info.
Use Hashtags
When posting photos on Twitter and Instagram you should use hashtags to help categorize the photo, and also write a description or tell a story. Let's say you have shared a photo of a perfect golden beach from a trip to Bali.
You could write text along the lines of:
"Beautiful golden sands of Bali – we enjoyed a walk along this strip of paradise every morning #Bali #Indonesia #beaches #travelPhotography"…
Be creative, be insightful and make your content interesting! Also, consider including links to your blog or website with your photos.
Tip 5: Taking the Time to Engage with Your Audience Will Pay Off Hugely
It is important to remember that social media isn't just about one-way traffic – if you want to make the most of social media as a photographer then you must interact with your audience. Audience interaction can go a long way – if your viewers see that you will take the time to respond to them and that you value their opinion and input, they will be more likely to continue to support you and invest in your content.
The simplest and quickest way of engaging with your audience is to respond to comments left on your social media posts. This is a great way to speak to your customers directly, and it is also a cheeky way to boost your social media traffic and rating. Furthermore, engaging with your customers is a fantastic way to receive critique on your work and to help understand where you could improve aspects of your photography.
You can quickly respond to comments on both Instagram and Facebook, and you can reply to retweets, quotes, and direct messages on Twitter.
Tip 6: Reinforce Your Brand Image and Promote Your Style of Photography
Some photographers forget that their brand and identity should be persistent through all forms of digital marketing including social media. Just because social media has a more formal setting, it does not mean that you can't use your own branding, imagery, and styling in your posts and content. As a photographer, you should have built up a brand image – maybe it's a particular type of photography, or maybe you simply have your own logo and theme.
Whatever it is, you should continue that style and theme in your social media profiles. Your image should be consistent on all outlets. If you use your branding consistently then you will build a reputation, and your customers and viewers will begin to identify with your brand as a result.
Tip 7: Understanding Your Target Audience Can Improve Your Efficiency
As photographers, we often think that we do not have a target audience – this is simply not true – our photography may appeal to a certain type of person or demographic, and we must capitalize on this through social media.
For instance, if you are a landscape and outdoor photographer, you should try and appeal to people who also share a love of the outdoors and nature, or people who love traveling. Alternatively, if you take wedding photography, you could tailor your posts to engaged couples or wedding venues and catering companies for example.
First, you must find out who your target audience is – consider your brand, what type of photography you specialize in, and who your customers tend to be.
Next, you can use analytical tools on the web to analyze your social media posts and traffic. By analyzing your content, you can see what type of person typically engages with you and likes your social media posts. You can then use all of the above information to find your target customer, and then tailor your social media posts to suit.
Tip 8: Have Fun!
This is possibly the most important piece of advice we can give. As a photographer, social media is a powerful tool but it can also take a great deal of time and also become a chore. Many photographers simply become phased and jaded with social media and the fun is sapped out of it – posting becomes an effort and thinking of new content becomes difficult.
You must always try and have fun!
Fun is what makes your job easier, and also what makes social media a more enjoyable experience. In between making your social media posts, have some fun. Look at some funny tweets and videos, interact with your users and create polls or lighten the mood with funny photos and captions of your own.
By adding an element of fun to your social media posts, your audience will have a greater interest in what you are posting, and you will also enjoy the process more too.
Social Media & Photography: Final Recommendation
As you can see there is much more to social media than first meets the eye. As a professional photographer, you must use social media to your advantage.
Photography and social media really do complement each other and you can use your own magnificent photos to make your social media content shine above the competition. Why not make use of some of these social media tips for photographers when starting your own online presence?