Tarion XH Hardshell Backpack Review
Price

Design

Durability

Comfort
Summary
While the Tarion XH Hardshell Backpack has its fair share of design quirks, it's one of the best deals on a photo bag we've come across. Specialized materials ensure reduce stress and strain on the body, and an emphasis on protection keeps gear from harm. With an affordable price tag to boot, the Tarion is hard to pass up.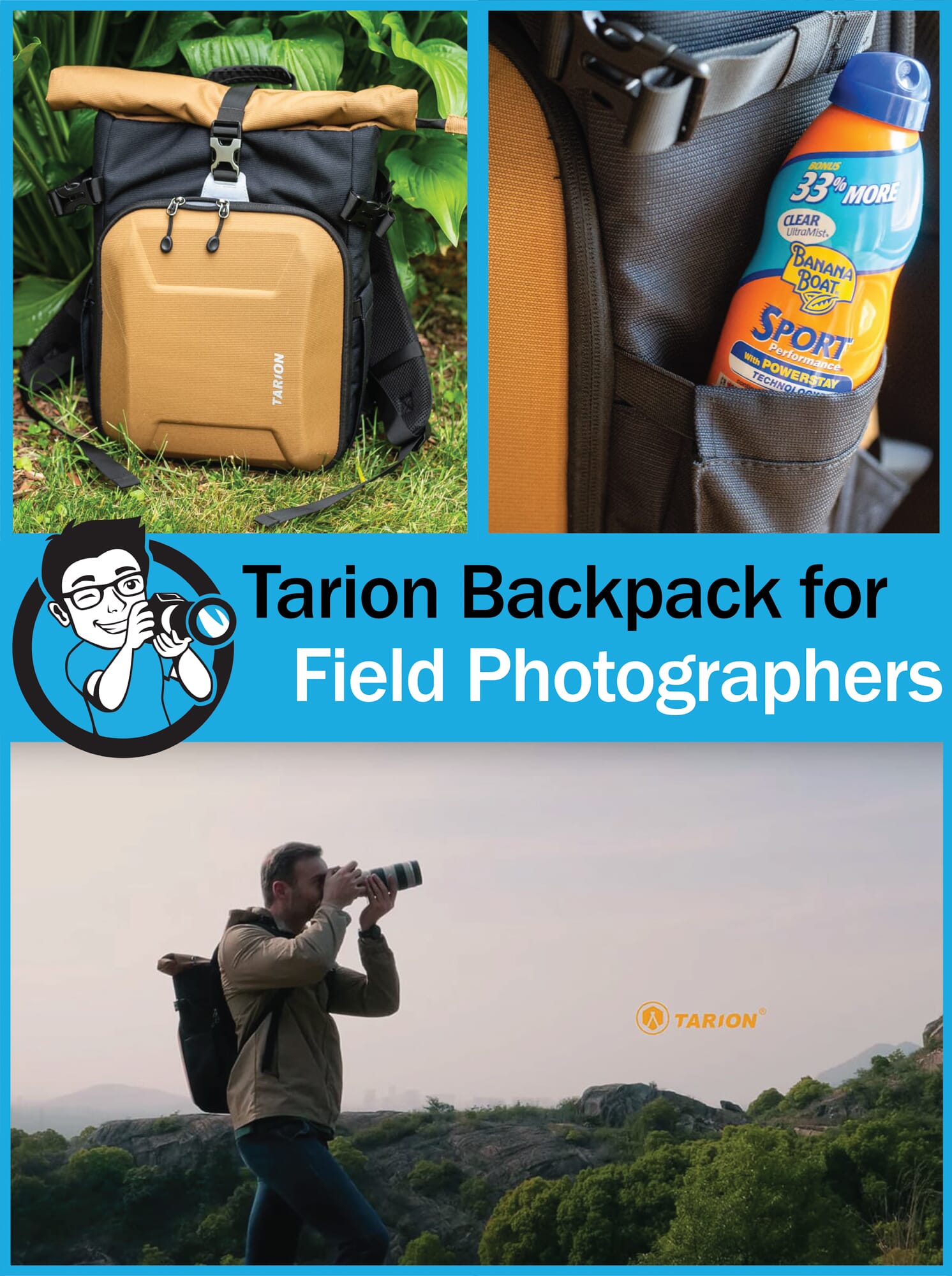 Looking to take your creativity outside of the studio? Fumbling around with your favorite photo gear? It might be time to take a look into the Tarion XH Hardshell Backpack. Tarion's latest line of backpacks was designed specifically with photographers in mind.
Producing everything from lighting to tripods to field monitors, Tarion caters toward image makers on the go. The X-series covered today is only their latest foray into manufacturing camera bags. But what exactly, does their backpack provide that others do not?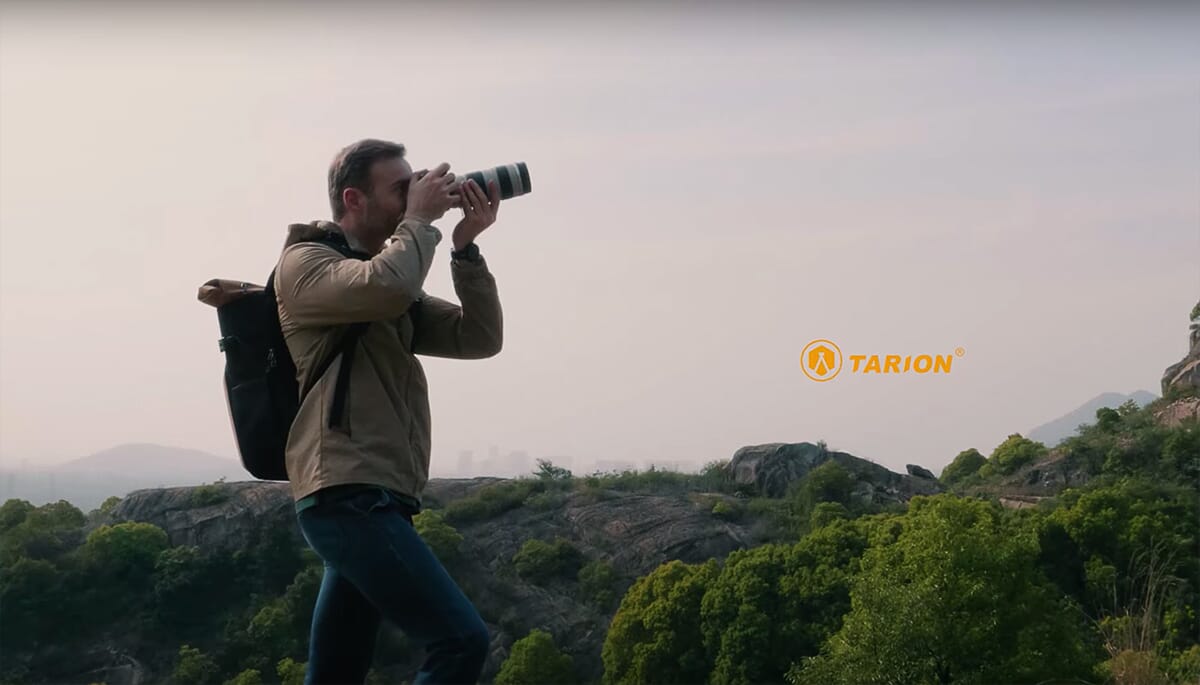 Well, we're about to find out. Today, we'll be looking into what you can expect from the Tarion XH Hardshell Backpack. Could it be the bag that you've been waiting for? Or will it be left behind when you head out on your next adventure?
When you buy through links on our site, we may earn a commission at no cost to you. We evaluate products independently. Commissions do not affect our evaluations.
About Tarion Backpacks
Although they're a relatively new name, Tarion markets to customers across North America, Asia, and Europe. In fact, Tarion is so committed to getting their product out, they cover even the costs of international shipping.
However, as of June 2019, the only places that Tarion won't ship to are in Africa and Central/South America.
Since their start, photo backpacks have been one of Tarion's premier products. Each model hones in on a certain area to fit a photographer's specific needs. For instance, packs from the RB series focuses on being lightweight and having easy access to suit the needs of urban photographers.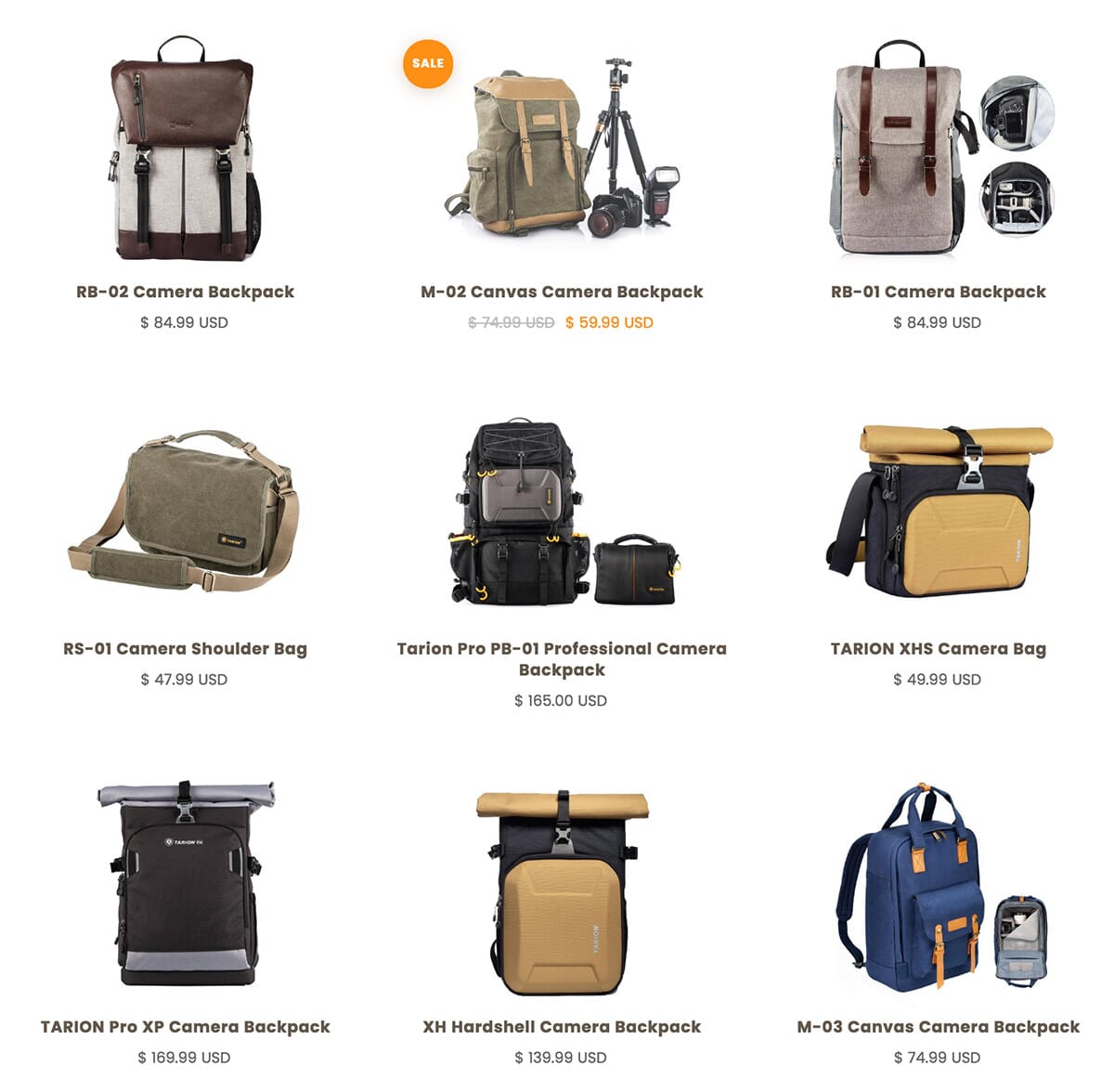 The X series, on the other hand, is designed for photographers that are willing to embark on an adventure to get the perfect shot. If you don't mind a little bit of rough and tumble action, this collection offers the security to do so freely. Resistant to whatever conditions it may encounter, they're made to be out in the field.
But what, specifically, defines the Tarion XH Hardshell Backpack?
RELATED POST: Best Beginner Tripods
What Defines the Tarion XH Hardshell Backpack?
A Unique Design
The first thing you'll notice on this pack the unique roll-top design.
While it's a bit unconventional for a camera bag, it provides quick, convenient access to the top compartment. The roll top is also capable of expanding to meet whatever your personal or photographic needs may be.
What's more, it minimizes straps, zippers, and ties that often clutter up more traditional camera bags.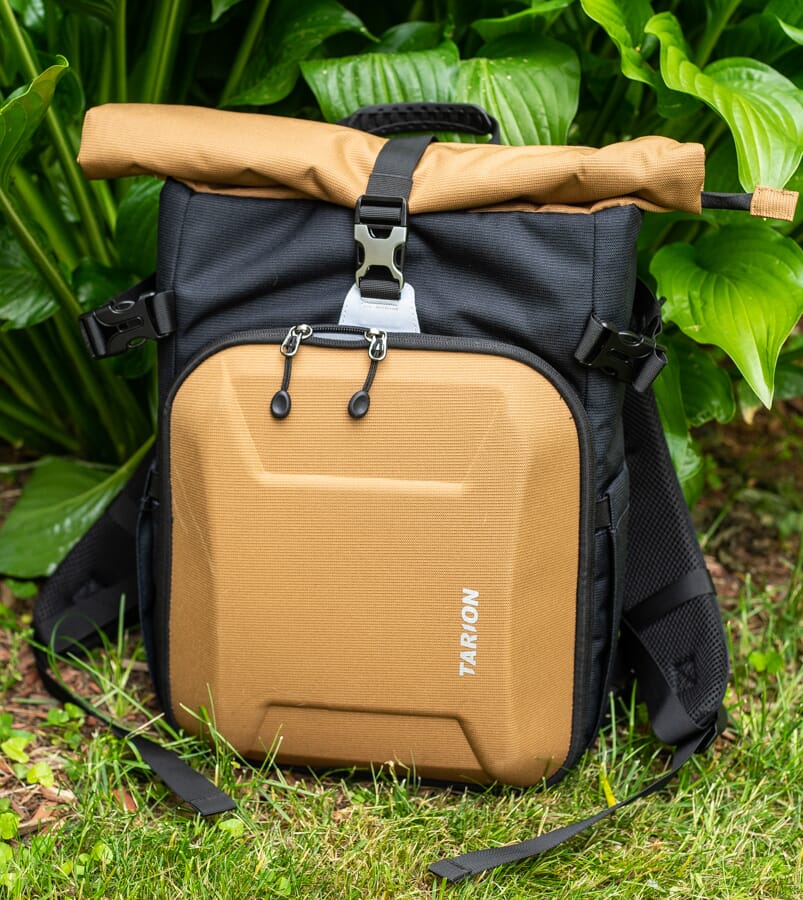 Inside, padded dividers can easily house your camera along with 3-5 accessories. On the back, a discreet zipper opens to a compartment capable of carrying laptops as large as 15″.
Side pockets with accompanying buckles secure larger accessories like tripods and water bottles.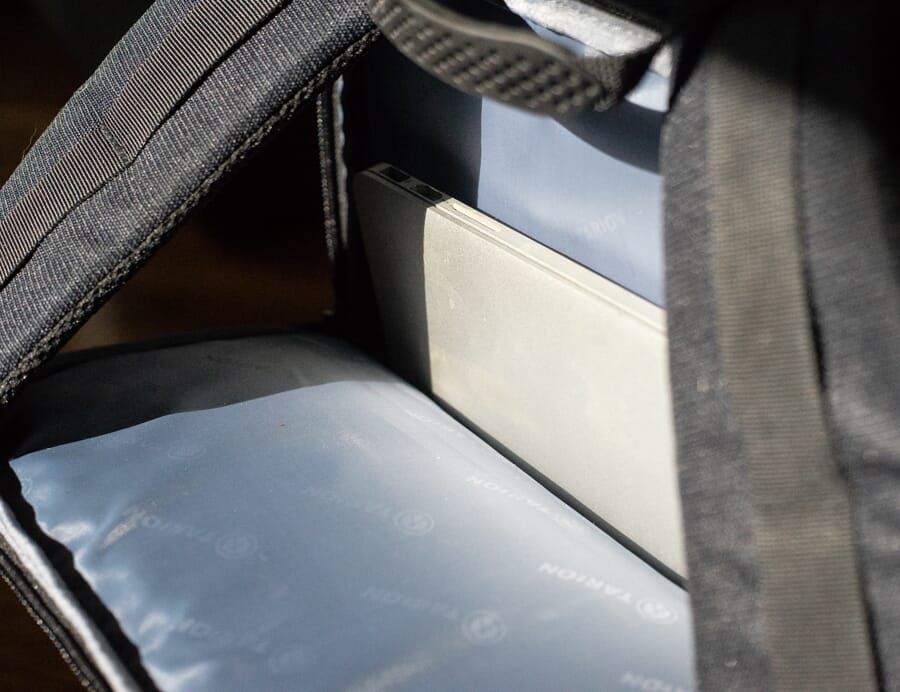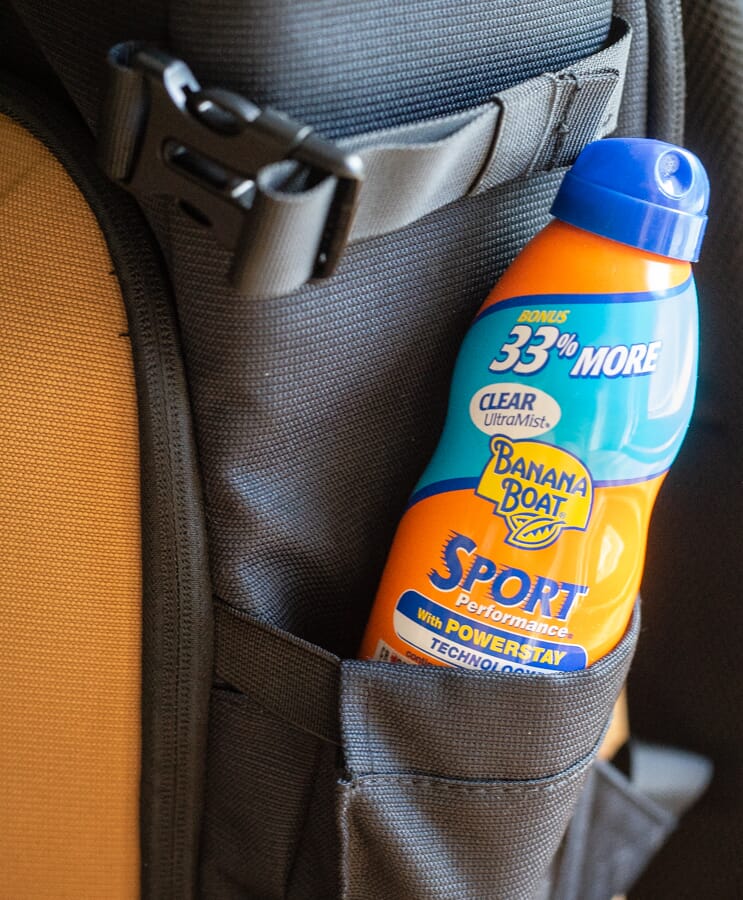 Of course, this pack's design isn't perfect…
Unfortunately, there isn't a means of customizing the compartment configuration. In addition, there's no way to access the main compartment from the top segment of the bag.
And, without a doubt, the khaki coloring and minimalist roll-top design won't suit every photographer's fashion sense. Nevertheless, its unusual attributes allow it to stand out from the crowd.
Superior Protection
Tarion's X series puts an emphasis on protection and security. As a result, the XH Hardshell has some built-in features to keep gear safe and sound.
Just as the name implies, the main compartment of the bag is protected with a hard, rigid casing. Further protected by a layer of canvas, you can head on your way with the confidence that your bag work rip, tear, or fall apart at the first sign of trouble.
But the durable outer shell is far from the only precaution Tarion has included to keep gear shielded.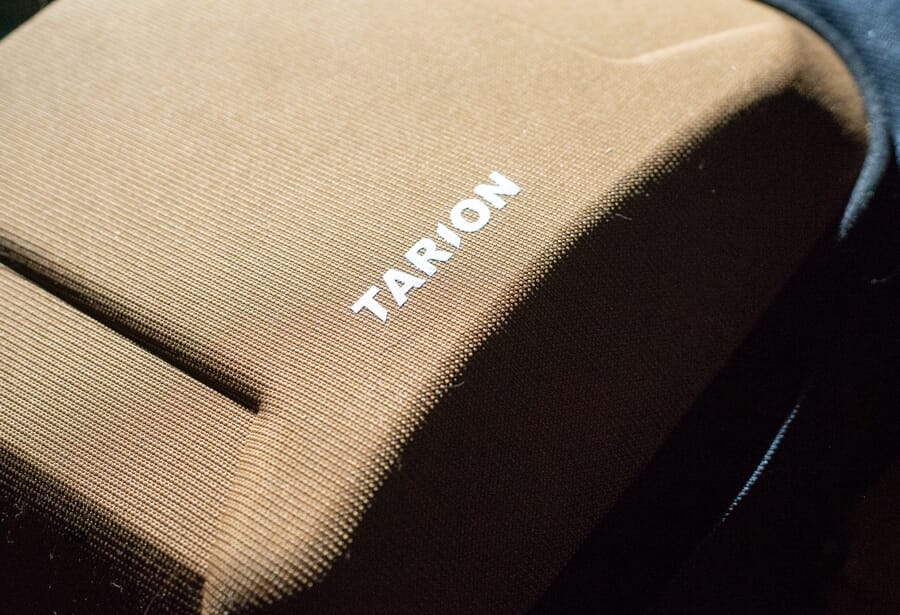 Inside, a triple-layer protective lining keeps all of your camera bodies, lenses, and accessories in place. The EPE protective foam padding is entirely shockproof, meaning that a fall or spill won't result in a bag full of broken glass. EPE also regulates temperature, preventing damage from extreme heat and freezing cold conditions.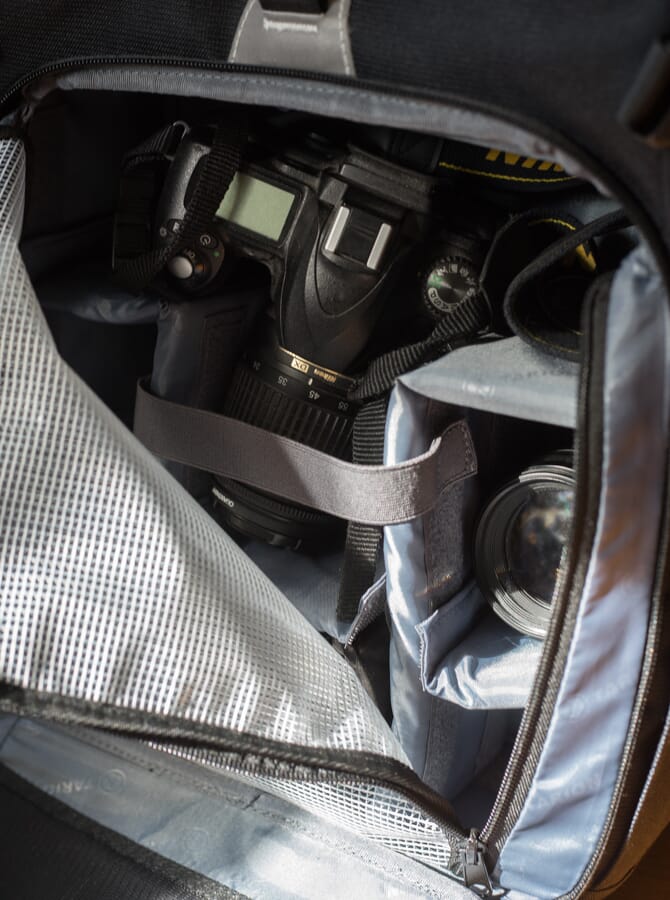 Tarion's terylene canvas exterior isn't just an aesthetic choice – it's also weather, dust, and scratch proof. Furthermore, it's treated with water-repellent materials that allow for work in wet conditions.
However, just in case you do find yourself in the middle of a storm, a rain cover included with purchase can further guard your tools from the elements.
Considerate of Comfort
It's true that design and durability are important when it comes to creating the perfect camera bag. However, wearability also needs to be into considerat. How effective is a bag with all the bells and whistles if it isn't comfortable enough to wear?
Tarion's taken several measures to ensure their product is comfortable enough for everyday use. Specifically, the straps and backing are formulated to keep your gear AND your body intact.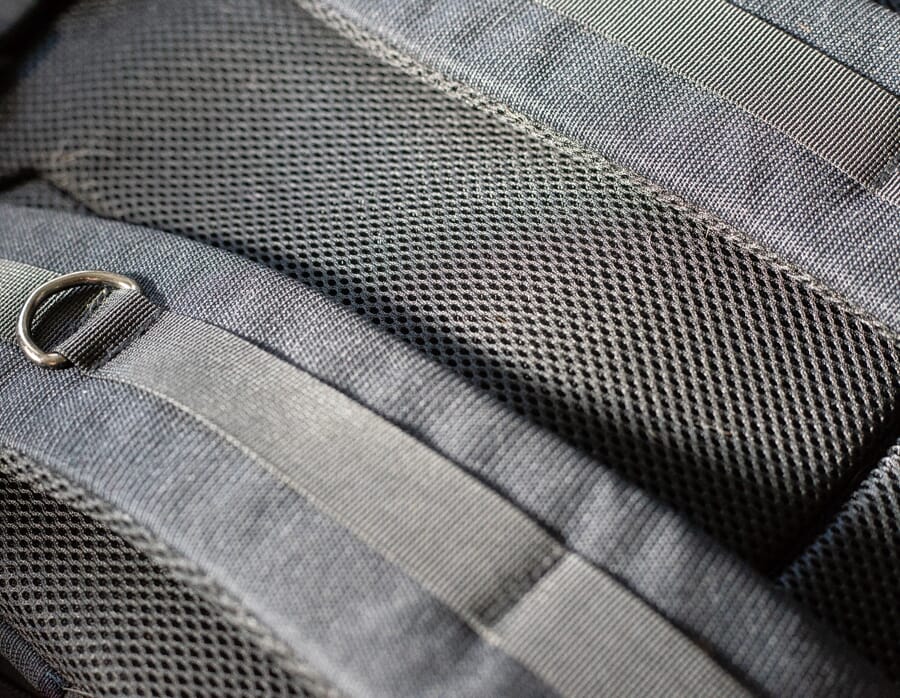 A supportive backrest incorporated into the bag utilizes air mesh to improve ventilation and reduce sweat buildup. The back is also fortified with plenty of padding, which simultaneously adds a layer of comfort and protection.
The straps of the bag are given the same level of care and consideration. Again, air mesh is used to promote circulation and keep one's body cool. However, the design also takes into consideration ways to reduce the pressure and strain that straps can so often cause.
How Does it Compare?
So, we've gone over the basics of the Tarion XH Hardshell Backpack. But how does it compare to other products out there? Is it worth the investment?
As far as Tarion products go, the answer depends on what features you prioritize. For example, the XH doesn't seem to offer any more storage space when compared to photo bags from other lines. However, the safety measures it provides far surpass those offered by its predecessors.
The answer is also dependent on where you're purchasing from. The Tarion official website values the XH Hardshell at $139.99 USD. However, Tarion's Amazon account offers the bag for just $84.99, making for a total savings of nearly 40%.
No matter how you slice it, though, the Tarion XH Hardshell Backpack offers a lot of bang for your buck – especially when compared to competitors. While it may not be quite as well crafted as the high-end Peak Design Everyday Backpack, it gets the job done at half the price.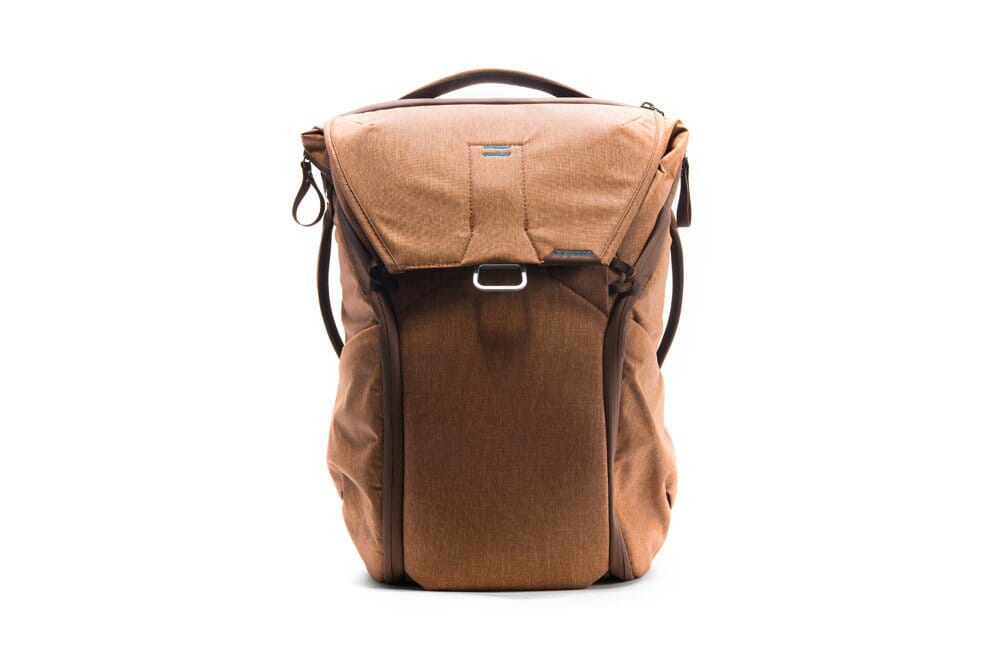 This photo bag may not be perfect on every level. However, it's a strong contender for those looking for a dependable product at a fair price. Our take – don't embark on your next adventure without this bag on your back!
---
As an Amazon Associate, we earn from qualifying purchases. Certain content was provided "as is" from Amazon daily and is subject to change or removal at any time.