Forget fancy DSLRs and mirrorless cameras; these days, you can take quality photos of the night sky using only a smartphone! Most mobile devices boast high-resolution cameras with excellent low-light capabilities, and many of these models also have dedicated nighttime shooting modes that allow for long-exposure techniques.
But which phone should you get? While there are plenty of great options on the market, they all have slightly different strengths, and it's important that you acquire a model that suits your photographic needs. Below, we share the 10 best phones for astrophotography so you can capture stunning shots of the stars, the moon, and much more!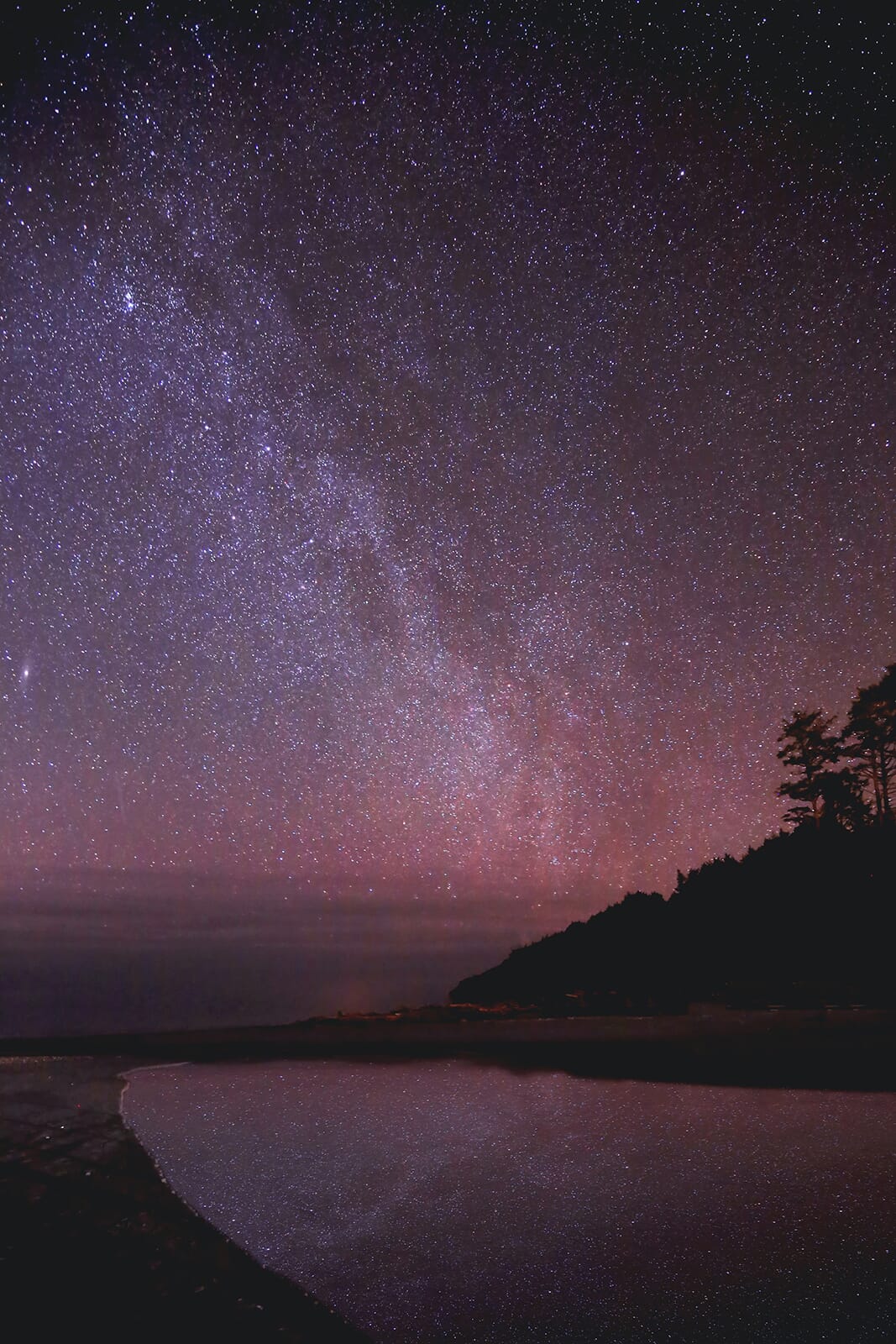 The Top Smartphones for Astrophotography:
When you buy through links on our site, we may earn a commission at no cost to you. We evaluate products independently. Commissions do not affect our evaluations.
1. Samsung Galaxy S23 Ultra
Our Pick
Great for long-exposure shots
The Galaxy S Pen can be used as a remote shutter with the Samsung Galaxy S23 Ultra so you can take amazing long-exposure photos at night.
Pros
200 MP main camera
Powerful processor for editing and gaming
Special Night mode
Cons
Relatively expensive
It can feel quite heavy
Samsung continues to push the boundaries of smartphone camera technology, and the Samsung Galaxy S23 Ultra represents the company's best. It's an amazing phone for astrophotography thanks to its Night mode, which is designed to produce beautiful low-light photos with minimal background noise.
The raw image resolution is also superb: The phone features a 200 MP main camera, which is currently the highest-resolution sensor available on a smartphone. You are essentially getting pro-level photo quality with smartphone functionality included.
We like the flexibility this camera provides for those long-exposure techniques that are often needed to create stunning astrophotography. If you are using a tripod, you can actually capture images by clicking the included Galaxy S Pen. This means you don't have to touch the phone when shooting and can therefore prevent blur due to camera shake.
You should also be able to edit your photos using this phone as it has a next-generation processor and plenty of memory for running the best smartphone editing apps!
2. Samsung Galaxy S23
Also Great
Great as an S23 Ultra alternative
The Samsung Galaxy S23 is a phenomenal phone with a 50 MP main camera and a special Night mode that produces virtually no background noise.
Pros
High-quality adaptive display for clear image previews
256 GB storage for larger photo collections
50 MP main camera
Night mode
Cons
Doesn't have the same 200 MP camera as the S23 Ultra
Still fairly expensive
If you don't quite want to spend a huge amount of money on a smartphone but still want a high-quality model with excellent low-light capabilities, consider the Samsung Galaxy S23, a great S23 Ultra alternative that's slightly more budget-conscious. It still gives you 256 GB of storage, which should allow you to capture and organize plenty of photo and video files.
Although it doesn't have a 200 MP main camera like the S23 Ultra, the S23 does offer a 50 MP camera, which is better than most smartphone cameras on the market today. You also get full Night mode functionality so you can produce superb low-light images without any noise.
Previewing your photos should also be easy regardless of the environment because the S23 has an adaptive display. This means that the screen adjusts automatically to the lighting so you always get fantastic contrast. This makes photo editing easier, too, and you can even edit your nighttime images during your photography sessions.
And don't worry about camera and editing apps draining your battery. This phone will last for ages and can charge quickly, too!
3. Samsung Galaxy Note20 Ultra
Great for work and photography
The camera is high resolution, the storage space is great, and you get plenty of processing power. What's not to love?
Pros
Premium 108 MP main camera
Fast processor for work, photography, and gaming
Expandable storage up to 1 TB
Cons
Much larger and heavier than other smartphones
The Samsung Galaxy Note20 Ultra is an awesome smartphone for photography, and it's also perfect for astrophotography, especially if you want something larger and suitable for business use.
It has a Snapdragon 865+ processor and 8 GB of internal memory. This makes using apps a breeze and also improves camera operation.
The Samsung Galaxy Note20 Ultra packs four cameras, but the best one for astrophotography is the 108 MP f/1.8 rear-facing unit. It has a focal length of 26mm plus a telephoto zoom feature, and you can use it to capture detailed, high-res Milky Way photos with ease.
This smartphone is also great for photo storage thanks to its expandable capacity of up to 1 TB (using the microSD slot).
4. Apple iPhone 14 Pro Max
Great for low-noise photos
The Apple iPhone 14 Pro Max has a 48 MP main camera and a dedicated Night mode so you can take gorgeous shots of the stars.
Pros
High-quality XDR display
Powerful A16 bionic chip
Amazing security features
Cons
Limited availability
Expensive
The iPhone 14 Pro Max is the best astrophotography phone that Apple produces. Although iPhones don't yet feature the M1 or M2 chips of iMacs and iPads, this device does use the A16 Bionic chip, which offers plenty of processing power for photo editing.
The camera setup is excellent, and with the 48 MP main unit, you can produce some beautiful photos with stunning details. Apple also has various dedicated shooting modes, including a Night mode that'll help you enhance your astrophotography even if you have zero technical knowledge. You can expect your night-sky shots to turn out sharp and free of noise.
The 6.7″ Super Retina XDR display looks fantastic, and you can preview your images in amazing detail. Colors and tones are highly accurate, too, so you can easily evaluate whether you need to retake a shot.
Please note that Amazon currently only offers Renewed iPhone 14 Pro Max products, but we expect this to change as production continues.
5. Apple iPhone 14 Pro
Great for photo storage
The iPhone 14 Pro offers a variety of storage options, including a 256 GB drive that allows you to store thousands of high-quality night photos.
Pros
Fantastic storage capacity
High-quality Liquid Retina display
48 MP resolution main camera
Cons
Currently only available as a Renewed product
Expensive
The Apple iPhone 14 Pro is another fantastic option and comes at a slight discount compared to the Pro Max. This phone not only excels at photography but can also be used to create superb videos as it supports 4K/30p recording.
Your astrophotography shots will look amazing due to the 48 MP camera, which rivals many high-megapixel mirrorless cameras in terms of raw resolution. The dedicated Night mode also helps reduce problematic elements like noise that can make your night-sky photos look grainy.
If you intend to use this phone regularly to take photos and videos, the 256 GB of storage will help. There is a 1 TB version available, but the price is considerably higher. In my view, 256 GB should be plenty for most purposes, and you can easily transfer photos to cloud storage thanks to the excellent connectivity.
As with the iPhone 14 Pro Max, this model is currently available as a Renewed Amazon product, but new units should be available soon.
6. Google Pixel 7 Pro
Great for consistent use
The Google Pixel 7 Pro has an upgraded battery that can last for up to 24 hours on one charge, which is perfect for those lengthy nighttime photo sessions.
Pros
50 MP wide-angle main camera
High-quality display
Basic storage starts at 128 GB
Good price for what you get
Cons
The ultra-wide lens is only 12 MP
Can feel quite chunky to carry
If you want a smartphone that can handle long astrophotography sessions without the need for constant recharging, the Google Pixel 7 Pro is a stellar choice.
The battery can last for over 24 hours, and when you aren't using the phone for photography, you can always switch to the Extreme Battery Saver mode, which will help your Pixel last for up to 72 hours on one charge. No matter the mode you use, the phone performs amazingly and is powered by the Google Tensor G2, which ensures fast image processing.
You get to use four different cameras, but the 50 MP wide-angle unit is the astrophotography star. It gives great clarity and detail and performs fantastically in low-light situations. There is also a 48 MP telephoto camera that'll let you zoom in on specific objects in the sky and a 12 MP ultra-wide camera for those epic galaxy-spanning photos.
Finally, the display quality is outstanding: the Pixel 7 Pro has a 6.7″ QHD+ screen so you can preview your night-sky photos accurately.
7. Google Pixel 6 Pro
Great for lengthy shoots on a budget
The Google Pixel 6 Pro has two excellent rear-facing cameras and a 50 MP wide-angle camera. It also offers plenty of battery life without a huge price tag.
Pros
Outstanding battery life
Lightweight, stylish, and compact design
Has the powerful Google Tensor processor
Good price
Cons
Does not have a dedicated telephoto lens
If the Pixel 7 Pro is a little too much for your needs, consider the Google Pixel 6 Pro instead, a premium smartphone that takes advantage of the powerful Tensor processor and boasts 8 GB of memory.
It has three fantastic rear cameras: a 50 MP wide-angle, a 12 MP ultra-wide, and a 48 MP telephoto. The 50 MP wide-angle camera is perfect for astrophotography, and you can also use the Night Sight shooting mode; it's meant for high-quality nighttime shots and will greatly aid you in your astrophotography.
The Pixel 6 Pro has a battery that can easily last for a full night of photography, and the display looks great and shows your photos with fantastic clarity.
The phone is available with either 128 GB or 256 GB of storage – not as impressive as some of the other phones on this list but still decent. It's also very reasonably priced, so if you're on a budget, it's a great buy.
8. HUAWEI P50 Pro
Great for detailed night-sky shots
The HUAWEI P50 Pro has a Leica camera system that'll give you superb detail in your photos of the night sky.
Pros
Lightweight and compact
Fingerprint recognition for improved security
Accurate color reproduction
Gorgeous image quality
Cons
Limited access to Google Services
The HUAWEI P50 Pro is an amazing smartphone for astrophotography – if you aren't interested in using Google's services, that is. Because it's the main caveat: the device has limited access to Google's applications, so you may not be able to do what you normally could on an Android phone.
However, if you need a device mainly for photography, then it's a fantastic option. It gives you amazing photo quality and renders colors beautifully. For high-quality shots of the sky at night, the HUAWEI XD Fusion Engine ensures that maximum detail is captured and displayed, and you should be able to photograph celestial objects like stars without issue.
The phone itself has been improved compared to its predecessor; it has a great battery and a compact case that allows you to carry it around as needed. If you want to use this smartphone for work or to store client photos, the security features like fingerprint recognition will also make a big difference.
9. OnePlus 11
Great for capturing a variety of shots
With the OnePlus 11's trio of high-resolution cameras, you can easily create an array of different astrophotography compositions.
Pros
Three amazing cameras
Fantastic battery life with active cooling
Top processor
Cons
Limited support for storage expansion
No wireless charging support
The OnePlus series of smartphones is often underrated, but these devices have some of the best camera specs, and the OnePlus 11 is an outstanding option that you can use to create professional astrophotography.
If you intend to go out on long nighttime adventures to capture the perfect sky shots, the impressive battery of this smartphone is perfect. It also has active cooling to prevent the phone from overheating, which allows you to use it for longer periods without issue.
The camera is where this smartphone really excels, and OnePlus has partnered with Hasselblad to give you both versatility and class-leading image quality. The trio of cameras includes a main 50 MP unit, a 48 MP ultra-wide unit, and a 32 MP telephoto unit.
Combine this with the OnePlus 11's advanced color technology, and you can easily create a variety of gorgeous astrophotography shots in both portrait and landscape orientations. Hasselblad also provides a range of tools and calibration features to help you get the most out of the cameras.
10. OnePlus 10 Pro
Great for shooting and editing
The OnePlus 10 Pro has a powerful processor that allows you to shoot and then use mobile editing software on the go.
Pros
50 MP ultra-wide camera
Accurate color rendering
Amazing display
Good price
Cons
Limited storage capacity
The OnePlus 10 Pro isn't the newest smartphone on the block, but it's still a fantastic option if you need to do both shooting and editing on a budget.
The camera system inside this device is superb and has been developed in conjunction with Hasselblad to essentially guarantee amazing clarity and sharpness. You get a primary 48 MP unit, which is certainly good enough for serious night shooting.
If you want to specialize in producing beautiful Milky Way images, then the 50 MP ultra-wide camera is also great because it'll allow you to capture hundreds of stars and other features. This device also offers breathtaking color processing and rendering for more accurate results.
You can rely on the durability of this smartphone; its chassis is incredibly robust, making it perfect for those outdoor trips in rough conditions. If you want to process your photos immediately after shooting, the Qualcomm Snapdragon 8 processor will ensure editing apps run smoothly.
Create Stunning Astrophotography with a Smartphone
As you can see, there are some amazing smartphones capable of capturing high-res night-sky photos. But which of our favorite astrophotography phones is right for you?
If you want the best in terms of photo quality and functionality, then the SAMSUNG Galaxy S23 Ultra and the Apple iPhone 14 Pro Max both have high-resolution cameras and dedicated night shooting modes for great images.
But if you just want a good all-around smartphone with a high-quality camera for occasional astrophotography, models like the OnePlus 10 Pro, the SAMSUNG Galaxy S23, and the Google Pixel 7 Pro are all fantastic choices.
---
Disclosure/Disclaimer: As an Amazon Associate, we earn from qualifying purchases. Certain content was provided "as is" from Amazon and is subject to change or removal at any time. Product prices and availability: Amazon prices are updated daily or are accurate as of the date/time indicated and are subject to change. Any price and availability information displayed on Amazon.com at the time of purchase will apply to the purchase of this product.